Bala Baya is a new restaurant, just opened in Southwark and is the creation of the ex-head chef, Eran Tibi, from Ottolenghi's Restaurant, who left to start this place up!  There was an offer for 25% off on all bookings as it was the first month so we went with a few friends to see what it was all about.  We were lucky we reserved as the restaurant is full most nights at the moment.
We walked into Bala Baya and our table wasn't quite ready so we decided to have a drink at the downstairs bar.  Set in a warehouse style building, the kitchen and bar downstairs has a very industrial feel.  Lots of aluminium, exposed pipes and an open kitchen meant it felt very busy.
Cocktails & Drinks
We started with cocktails and I had a great one, a Honey Sour.  Johnnie Walker Black Whisky, Honey Syrup and Lemon.  It was such a treat as I can't normally drink cocktails – they usually have some sort of sugar syrup in them, so this one was perfect.  The honey was the only sweetener in the syrup!  In fact, it was so delicious, I'm going to have a go at re-creating it at some point, so watch out for the blog post!  It was not too sweet which is how I prefer a cocktail and a great start to the evening.
The Artichoke Julep was also a big hit with our group.  I think they were intrigued by the Cynar, a liqueur made from artichokes and some other herbs.  It tasted similar to other herbal drinks like Jagermeister though and not of artichoke at all.  All topped up with pink grapefruit juice and grapefruit sherbet it was fruity and sour and everyone raved about it.
After 10mins our table was ready and we were shown upstairs which was in a much quieter space.  The architecture was amazing with huge arched ceilings and the most amazing light feature.  It definitely had a very cool, urban feeling.  (Apologies for  the photos of the restaurant and the food – it was quite dark in there which made for a nice, cosy environment but not a great one for photography!)
We were offered the menu and had the concept of the restaurant explained to us.  The food, I guess, if I had to describe it, is Middle Eastern (Tel Aviv is the chef's inspiration) and every plate is for sharing.  We were a table of 6 which was great as it meant we got to try more dishes.  They recommended about 10 dishes for our table.  We ordered a bottle of Old Vine Zinfandel from the USA as we looked over the menu.  It was fruity, spicy and lighter than I'd normally choose, but there were 6 of us to think about.  It tasted more of red fruits than black, but with hints of spice and cocoa it was complex enough to be interesting.
We were also brought some flatbreads to nibble on which the others all devoured.  We were starving, as, because the restaurant is so popular, we hadn't been able to get a table until 9.45pm.  It's definitely a place-to-be at the moment so book your table early if you want to visit!
We decided to order one of most things on the menu.  There were a few dishes which had ingredients in them which I couldn't eat but plenty of others that I could.  Plenty for vegetarians or meat eaters, there really was something for everyone.
Starters at Bala Baya
Some of the dishes were obviously more starter sized and we began with those.   We had a portion of the Chickpeas and also one of the Chickpeas with Ox (for the less vegetarian members of the group).  Posh hummus, just the way I like it with big, chunky chickpeas running through it, plenty of fresh herbs and it was topped with crispy onions which gave a nice crunch to the whole dish.   And one of the same topped with delicious slow-cooked beef!
This came at the same time as the Snapper Tartare which was one of my favourite dishes of the evening.  So light and fresh and cured in a citrussy green vinaigrette, it had a very delicate flavour which made a nice change from some of the other dishes which were very rich.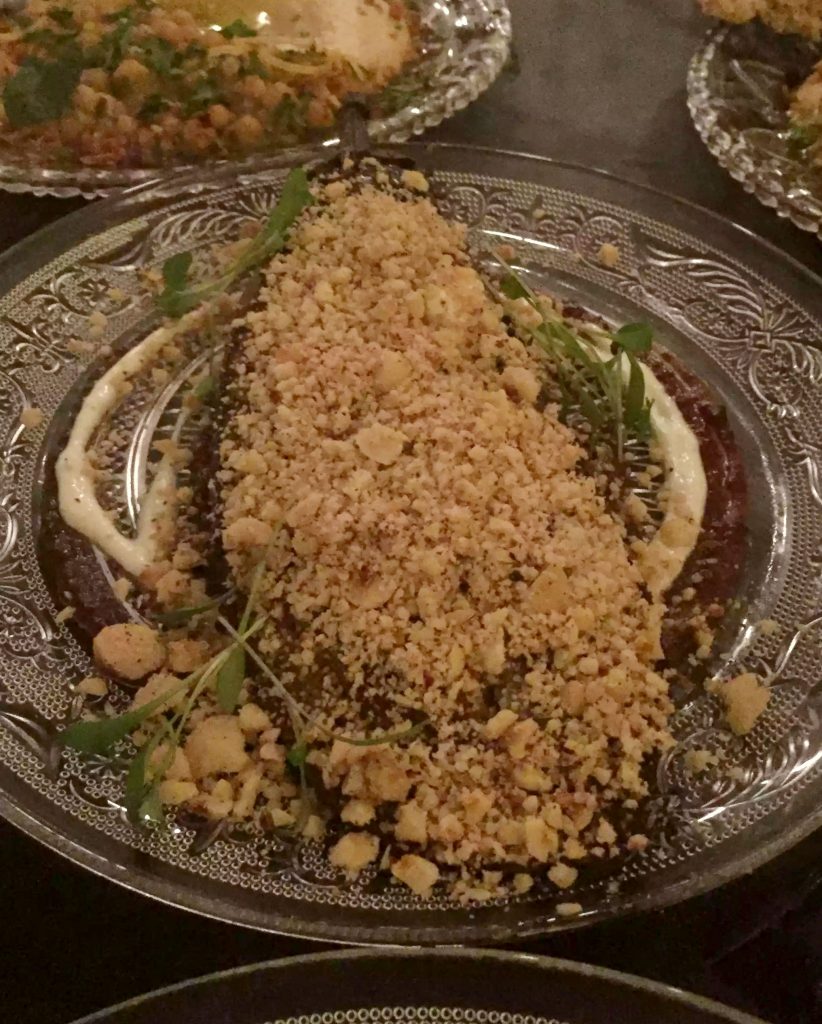 Next up came the Aubergine Tea with Milk . This one didn't sound appetising to us on the menu at all (I thought it would be a soup or something) and no-one picked it.  However, we ordered it on the waitress' recommendation – she said it was her favourite dish on the menu.  When it arrived it was roasted aubergine (eggplant) with yoghurt and a hazelnut crumb.  Absolutely delicious!  We were glad we'd listened to her.  Crunchy, tangy and earthy all in one dish!
Our final two starters were Calamari & Jam and Crispy, Sticky, Crunchy Chicken.  I couldn't eat the calamari but the others raved about it.  Crispy batter and succulent squid is a must – no-one wants chewy calamari.  These were great, served with saffron butternut jam and lime aioli to dip!
The chicken was cooked in bitter orange and harissa and served with butternut squash and kimchi.  It was lovely (I really can't fault any of the food) but it was my least favourite dish of the night that I could eat.  Not to fault the dish, it just wasn't to my taste.  Sweet and sour has never really been a flavour combination I've been a big fan of in Asian Cooking and this was quite similar to that.  I did love the Kimchi though – it's one of my new favourites after discovering it when I made my Kimchi Fried Cauliflower Rice.
Main Dishes at Bala Baya
Then it was onto the larger dishes – although they don't call them mains and starters, these were more expensive and seemed larger when they came out.
The Salmon & Tahini which was blacked pink salmon with red & green speckles.  I loved this but then again I absolutely love tahini.  The salmon was cooked perfectly and I've never had it with tahini before but it was delicious.  In fact, so much so that I didn't get a chance to photograph it.
The others also ordered the Offal & Pearls – calf brains, Lebanese pearls, Calvados & almond milk sauce.  Not my thing at all, although I am getting better with Offal these days.  In the past few months I've tried brains, heart and liver but this came served with Lebanese Pearls which seemed to be a kind of large coucous or bulgar wheat so it was off the menu for me.  Those that tried it really enjoyed it – offal is not so awful it would seem!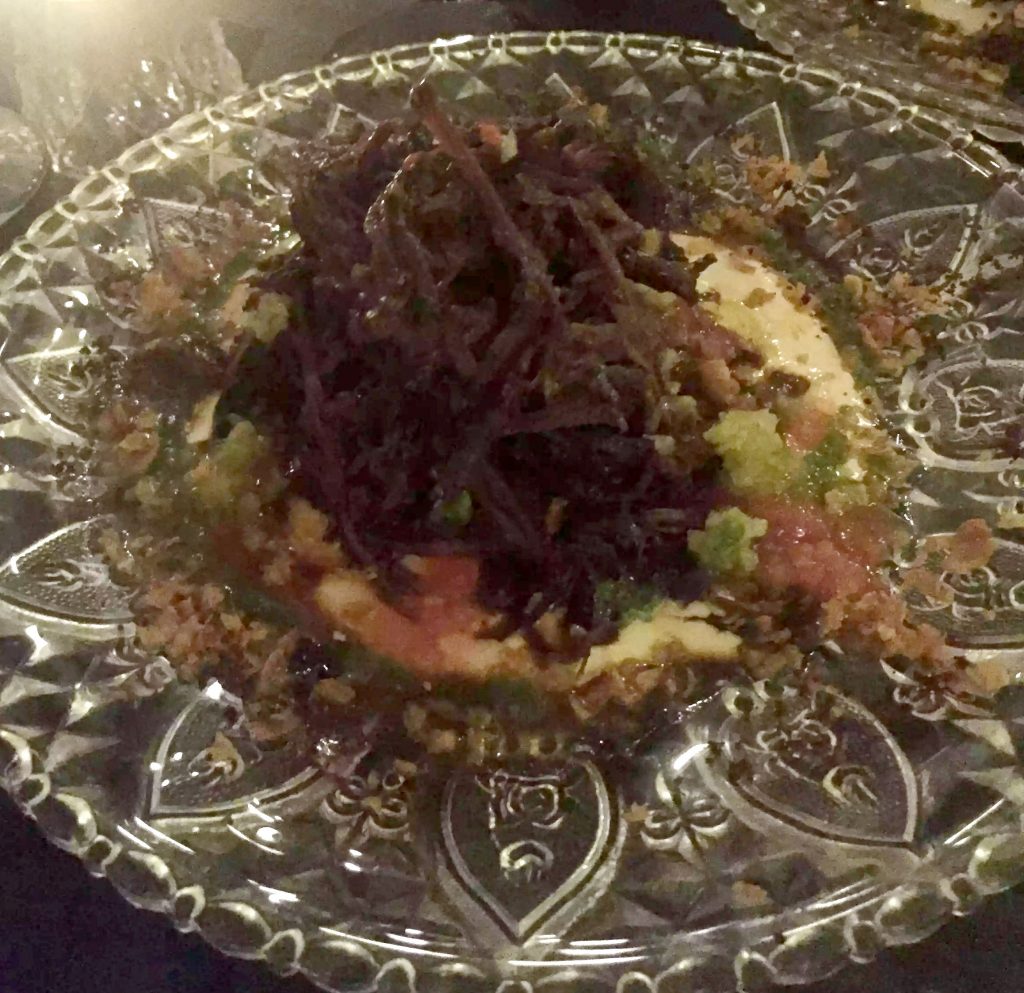 Unfortunately the Lamb was finished that evening or we would've tried that, but we contented ourselves with the Beef & Onions.  Braised Beef Shoulder on the bone, whipped tahini, pulped tomato, crisped onions, strained herbs.  This was amazing, the meat was slow-cooked so it melted in your mouth and there was yet more of that delicious tahini!  Can't get enough of the stuff!  It was a very rich dish so the tomatoes provided a nice acidity and the onions gave it a crunch!  Everything in one bite, it was great!  In fact, we ended up ordering a second one as everyone loved it so much!
Our final dish of the night was the Whole Fish & Fennel with a burnt sage and lemon, butter and onion sauce.  When it came out it was definitely a show stopper.  A beautifully grilled sea bass, cooked perfectly in a zesty, tangy citrussy sauce with lots of fresh herbs.  A really delicious and light way to finish the meal and a beautifully presented plate and plenty of it to satisfy all of us.  A nice fresh, zingy way to end the meal!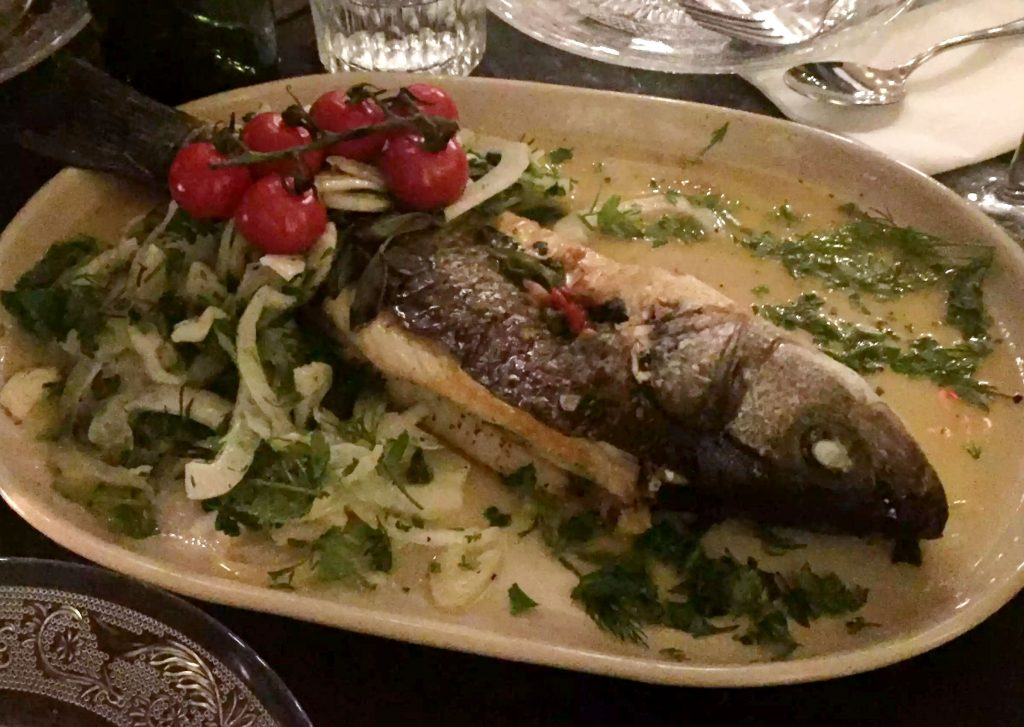 At this point we were so full, we couldn't even contemplate dessert but there is that option if you've got any room left!  They also do a fantastic Brunch which sounds absolutely amazing so maybe my next trip to Bala Baya will be during the day!  The upstairs dining room has huge windows which would be very light and airy so it would be nice to see it in the daylight.
Overall, my favourite dishes of the night were the Snapper Tartare, the Beef & Onions and the Salmon with Tahini which are ones not to be missed!  It wasn't a cheap meal.  The bill came to £65 a head and that was with the 25% off so it should have been much more.  We did have half a bottle of wine each and a cocktail which pushed the price up, and we definitely didn't leave hungry.  I thought the interesting flavours and inventive dishes were worth the price we paid  although I'm not sure I would have paid the full price for them.  Also, I felt like I'd eaten some very different, delicious food and really enjoyed the meal.
I will be back but would maybe order less dishes to keep the price down.  Or try the set menu during the day 12-6pm, two plates with sides and a drink for £20 which sounds like a really great offer!
Pin it for later