I can always count on my mum to want to visit a healthy restaurant with me.  We like the same kind of food and eat the same kind of diet (grain, gluten and refined sugar-free – amongst other things) so when I spent a day with her recently I suggested that we went to the Hemsley And Hemsley Cafe in Selfridges, Oxford St, London, for dinner that evening.
Hemsley & Hemsley is a healthy eating brand created by sisters Jasmine and Melissa Hemsley.  They advocate healthy but delicious recipes and have a TV Show, 2 cookbooks, Good + Simple
and The Art of Eating Well
 and even a Hemsley + Hemsley Spiralizer to their name.  Their mission is to create tasty, healthy, nutrient-dense dishes, without the use of grains, gluten or refined-sugar and in doing so they have become household names.  Last year they got the opportunity to open up a the Hemsley And Hemsley Cafe in Selfridges, serving their recipes to London.  As a big fan (I've got the cookbooks and watched the TV Series) I really wanted to go and try out what they had so we decided to head to Selfridges third floor to see what they had to offer.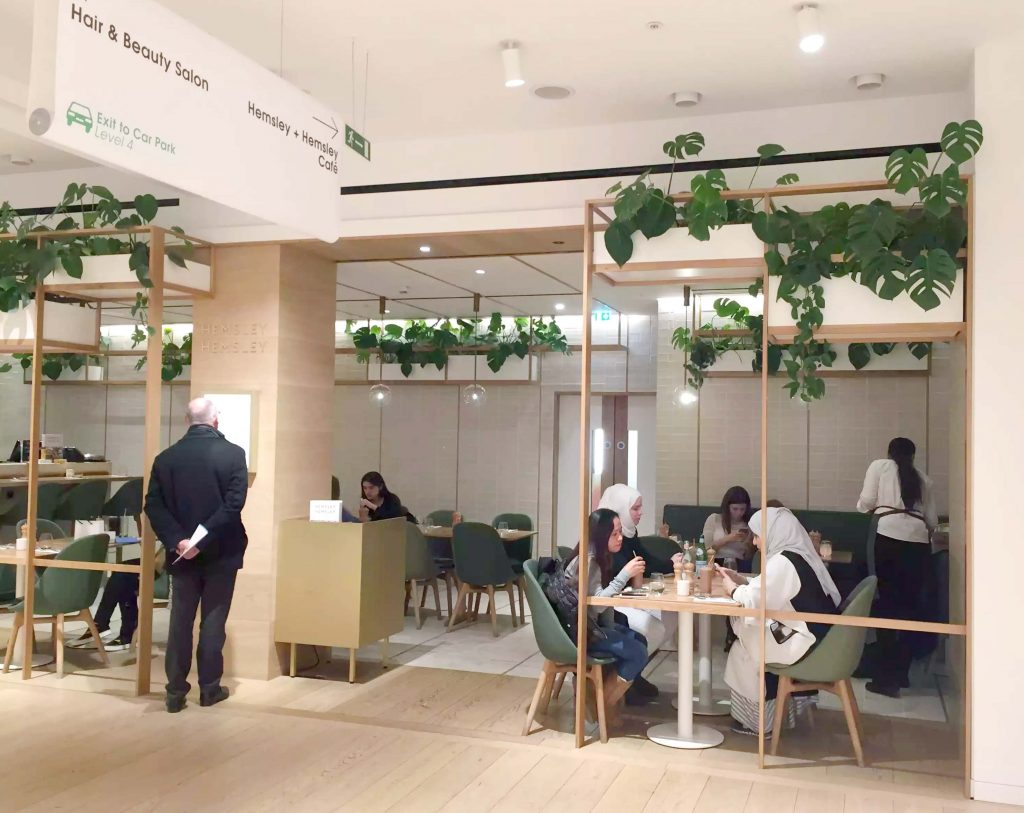 We started with a glass each of the Hardcore Green Juice, a juice made from only vegetables.  At £7 it wasn't cheap but it was absolutely delicious and you could almost feel it doing you good as you sipped it.  Made with fennel, celery, spinach, lemon, ginger, parsley and mint, it definitely had a bit of a kick from the ginger and was the perfect start to our meal.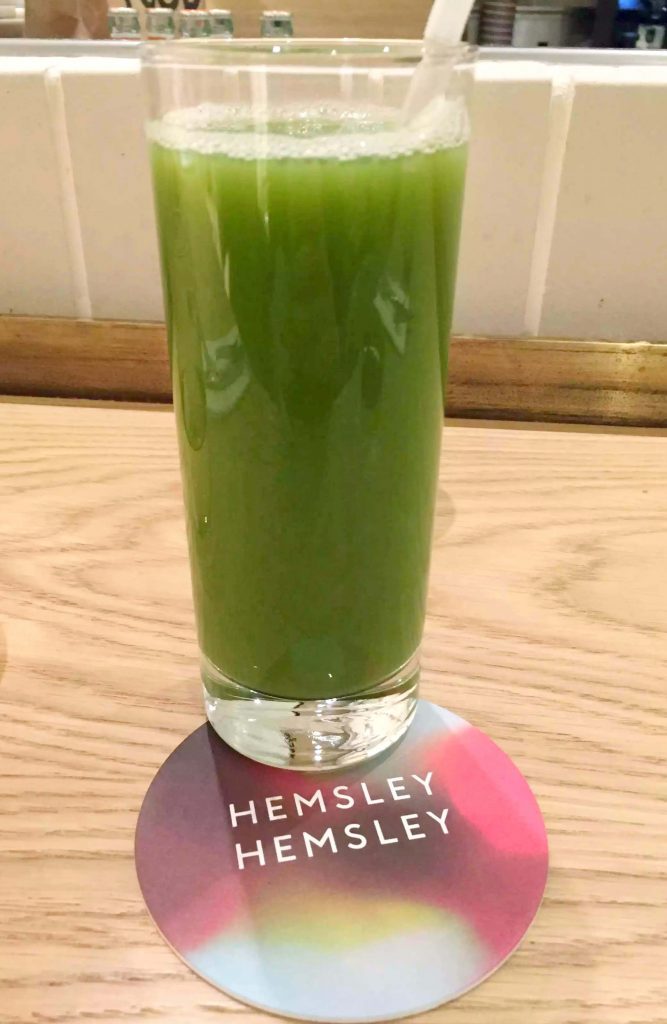 We munched on some huge Gordal Olives as a delicious starter while we looked over the menu.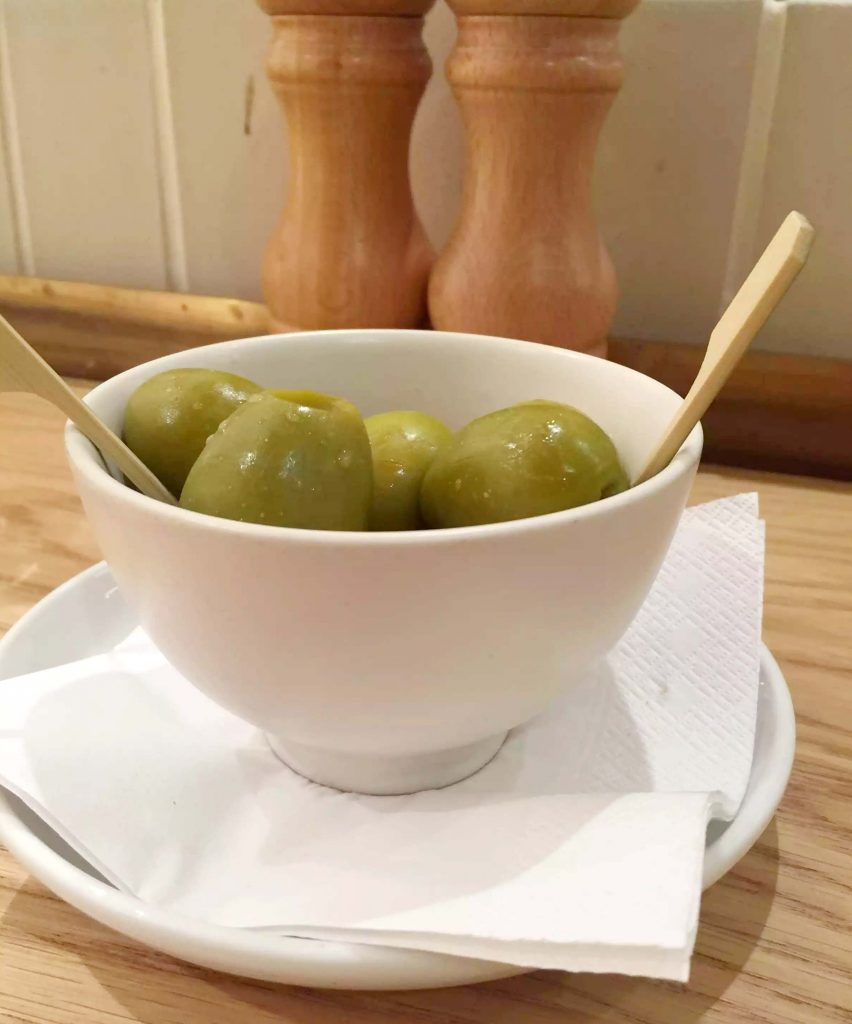 I was in heaven – it's rare that I can pick from more than one or two items on any given menu and here I had plenty of options.  The Squash & Ginger Soup sounded delicious as did the Moroccan Chicken Stew, but I settled on the Salmon Burger served with Lime Slaw and Chimichurri Sauce in a  flaxseed bun (minus the bun – flax is not my friend).  Mum chose the Beef Ragu and Courgetti, which is their version of a Spaghetti Bolognaise, a slow cooked beef ragu served on top of raw, spiralised courgette noodles.  We ordered a Green Leaf salad to share which contained cos lettuce, cucumber, rocket and spinach.
The food arrived and it looked as beautiful as it did healthy.  My salmon burger was nice, could've done with some more herbs and spices to bring it to life a bit.  It had spring onion and coriander in it but the flavours weren't very pronounced.  I would've seasoned it a bit more and maybe added some dill instead but that's just my opinion.  The chimichurri was very flavourful though which helped spice up the salmon burger a bit.  The hero of the dish though, was definitely the Lime Slaw.  A mix of red cabbage, fennel, carrots, celery, spring onions and coriander with plenty of lime juice, it was zingy and refreshing and I loved every mouthful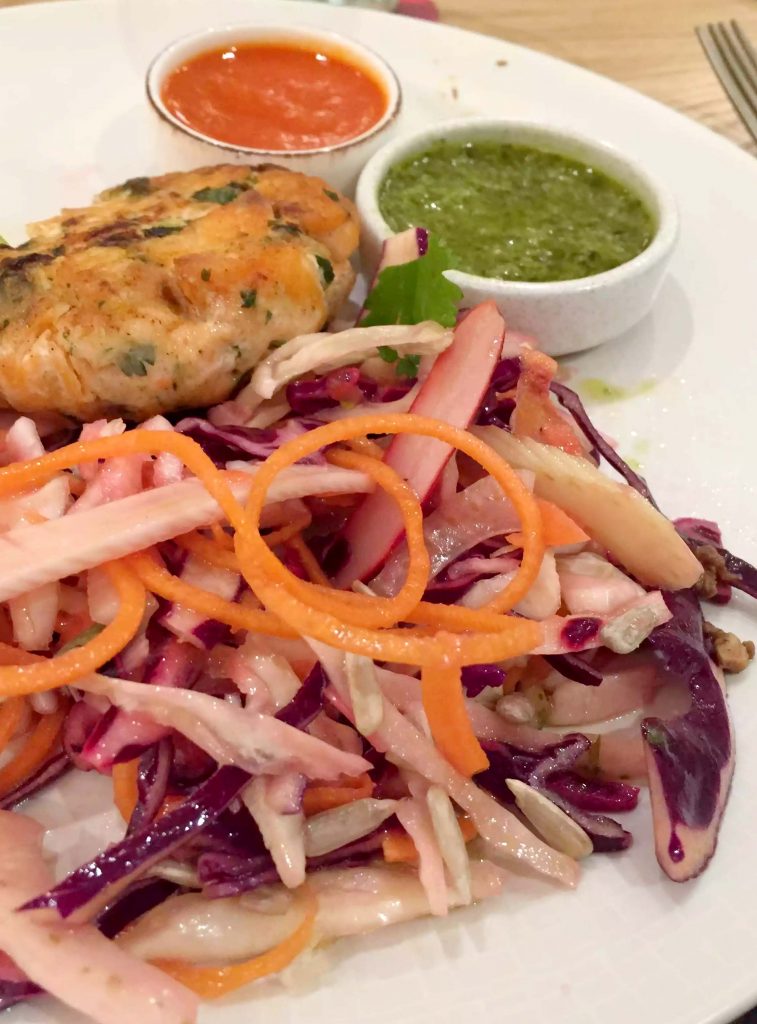 Mum absolutely loved her Courgetti Bolognaise.  Normally, when I make Courgetti Spaghetti I steam the noodles but they'd left them raw and it worked much better I think.  They had more of a bite and were less soggy.  I'm definitely going to try that in the future.  It meant that the noodles didn't get so waterlogged and leave a little pool of water in the bottom of the dish, watering down the sauce, like they normally do when I cook them!  The Ragu was hearty and tasty and topped with spiralised carrots.  You could definitely tell from the depth of flavour that it had been slowcooked for a long time allowing all the flavours to develop.  A really comforting dish but still light due to the courgette noodles.
When they brought the dessert menus it was such a treat!  I can never normally eat anything from a restaurant's dessert menu unless it's fruit salad or cheese so it was great to be able to pick their Paradise Bar!  We ordered one to share which was absolutely plenty as it was so rich and sweet.  the inside is made from raw honey, dessicated coconut and coconut oil and then the whole bar is covered in sugar-free dark chocolate.  I can't describe how delicious it was, it tasted exactly like a Bounty Bar, maybe even better!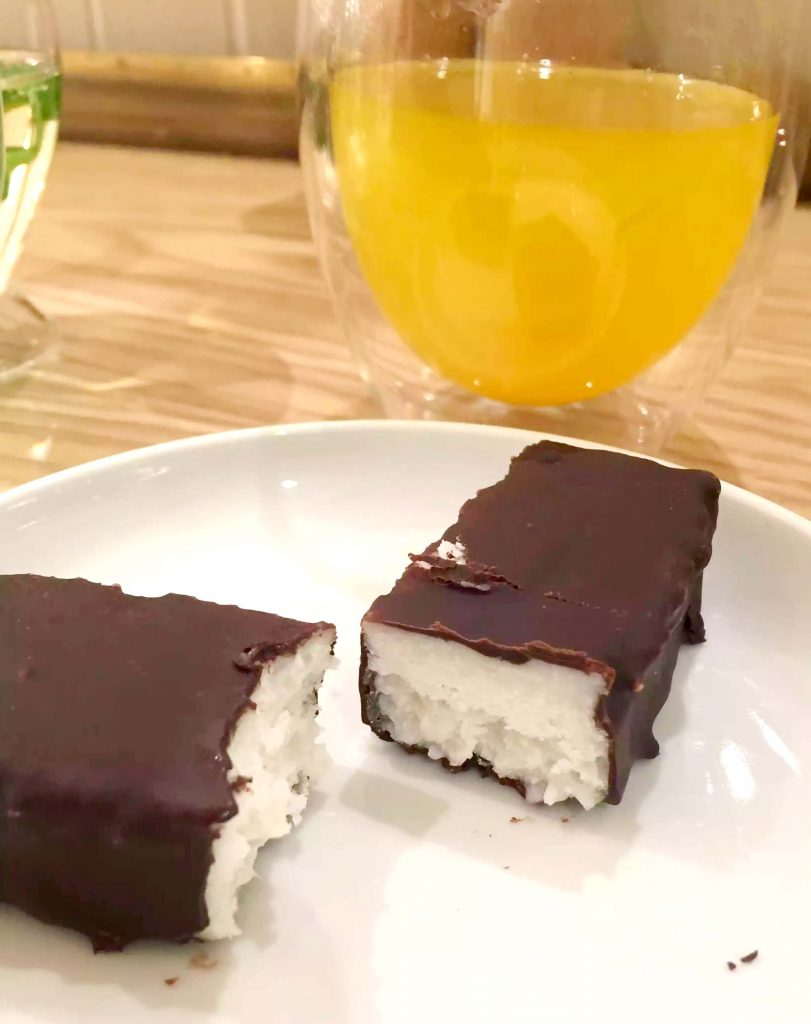 We finished up with a couple of hot drinks.  I ordered a Pep-Up tea which is a blend of ginger, turmeric, cayenne and lemon juice and mum ordered a fresh mint tea.  My drink was absolutely delicious, quite spicy from the ginger and cayenne but a real palate cleanser and the perfect way to end our meal.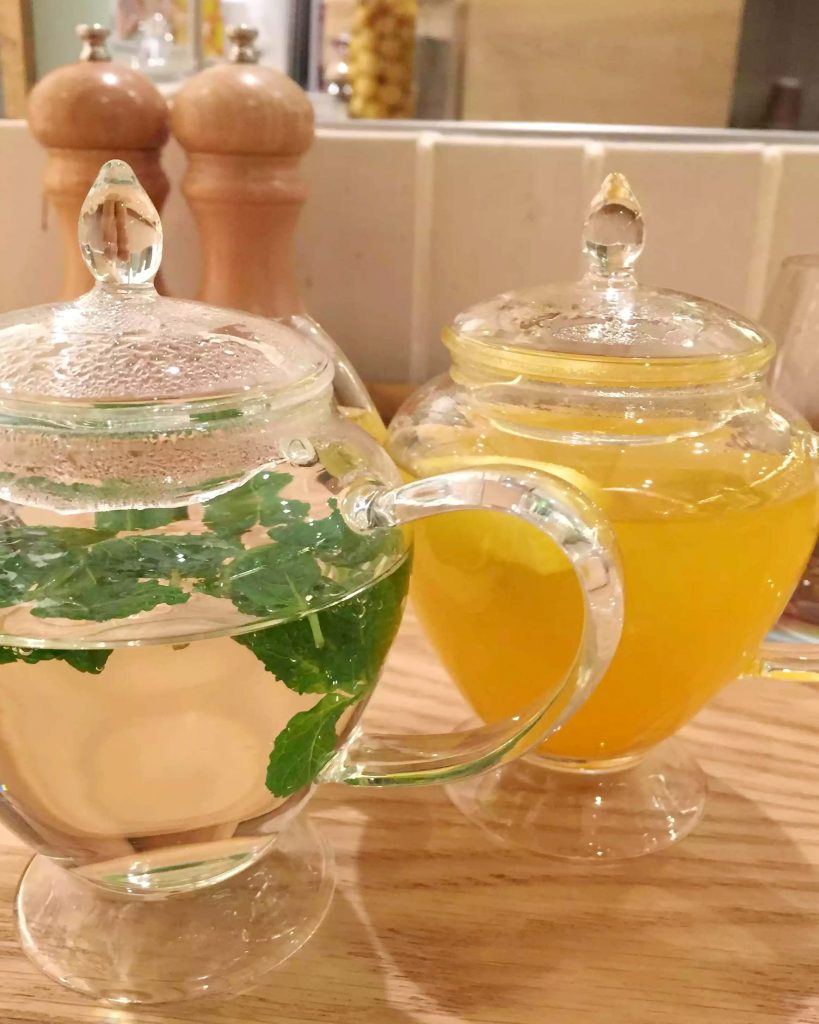 Although we decided on a dry evening, they do serve wines, champagnes and even some cocktails so you can make the event even more of a special occasion if you like!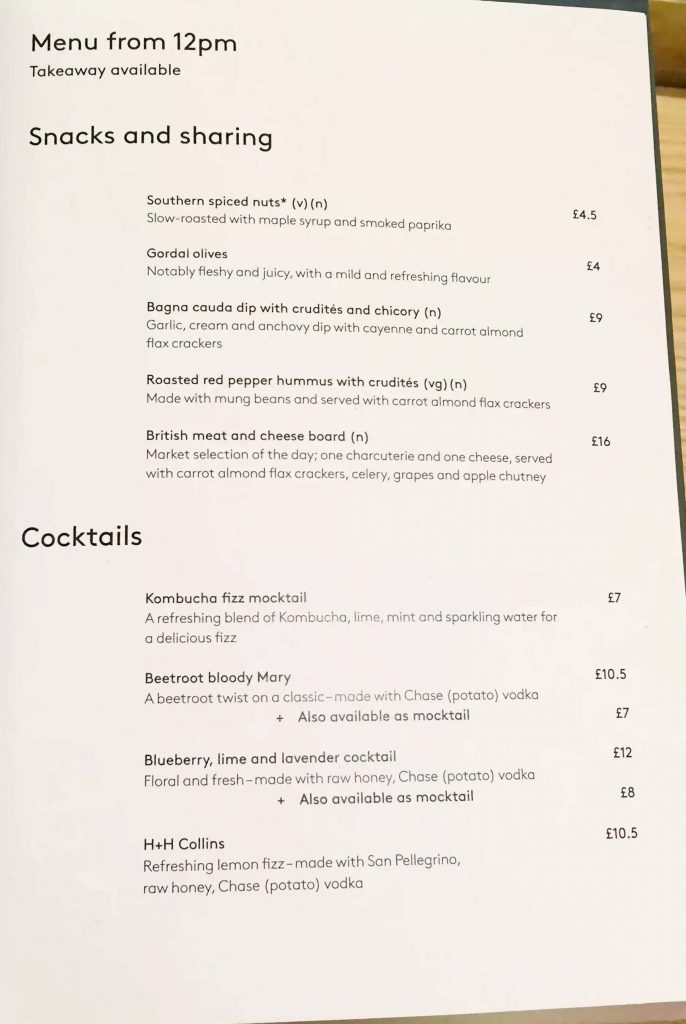 So on to the price, it wasn't cheap – £70 including service for two of us (and that's with no booze) but then healthy ingredients are not cheap unfortunately so there is definitely a cost attached.  It was worth it to have a menu, full of tempting choices to pick from and I'll definitely be back to try some of the other options.  I've also seen that they have a brunch menu with some delicious looking egg dishes on that I'm hoping to try soon so maybe my next Hemsley And Hemsley Cafe encounter will be a morning one!
Pin it for later