This post may contain affiliate links. I may receive products, services or money from the companies mentioned in this post. All opinions are my own. For more information see my Disclosure Policy
Not only are these Chewy Chocolate Chip Cookies insanely delicious – they're actually healthy too!  Thought you'd never hear such a thing?  Well these cookies are free from gluten, grains and refined-sugar and contain only wholesome natural ingredients, so there's no excuse not to treat yourself to one (or a few) every now and again.  The best thing is, they're so easy to make.  Only 5 minutes prep and less than 20 mins baking and you have yourself the most incredible tasting dark chocolate cookie!
I use almond flour to bake with as I eat a grain free diet and this gives these cookies a chewy consistency which I love.  My Almond Flour Cinnamon & Raisin Cookies are one of my favourite treats, but let's be honest – everything is better with chocolate!  The only issue is finding a chocolate with no sugar.  There are a few brands out there that are 100% cocoa with absolutely nothing added – Madécasse and The Chocolatier make a version each.  I used the Madécasse version for this recipe which is available in Wholefoods or Amazon (Madécasse 100 Percent Cocoa Chocolate 75 g (Pack of 4)
as it is a third of the price and fine to cook with but for a real treat The Chocolatier's 100% Madagascan Chocolate Bar
is so much smoother and amazing to eat by itself!  You could also use cacao chips if you can tolerate those but they don't melt like chocolate does.
If you don't have a problem with sugar you can use any chocolate that you can get your hands on.
So, how to make these delicious Chewy Chocolate Chip Cookies?  Start by preheating the oven to 180C (350F) and lining a baking tray with a piece of baking parchment.  Next, melt the butter and add it to the almond flour (ground almonds), honey and vanilla essence in a large bowl and mix thoroughly.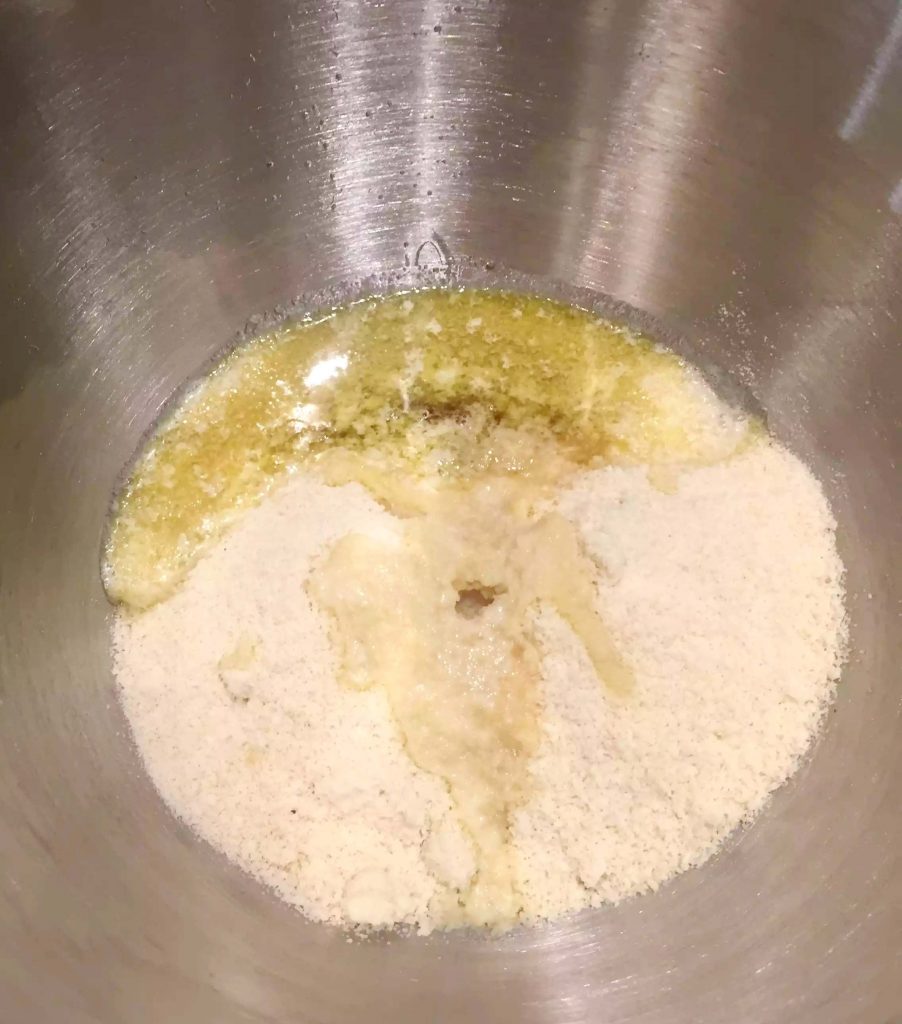 Chop up the chocolate into small chunks and add to the mixing bowl.  Add the baking soda and mix everything well to ensure the chocolate is evenly distributed.
Roll the mixture into 12 equal sized balls and place, spaced out on the baking tray.  Press firmly down on each ball to flatten into a cookie shape.  Try to ensure each cookie is the same thickness all the way through (about 1cm thick).
Place the baking tray into the oven and bake for about 8 mins.  Keep an eye on them as almond flour tends to burn quite easily.  Once the cookies start to brown, flip them (they will be very soft so do this carefully) to get a bit of colour on the other side (5-6mins back in the oven should be enough).  They're done when they're a golden brown colour and slightly crispy round the edges.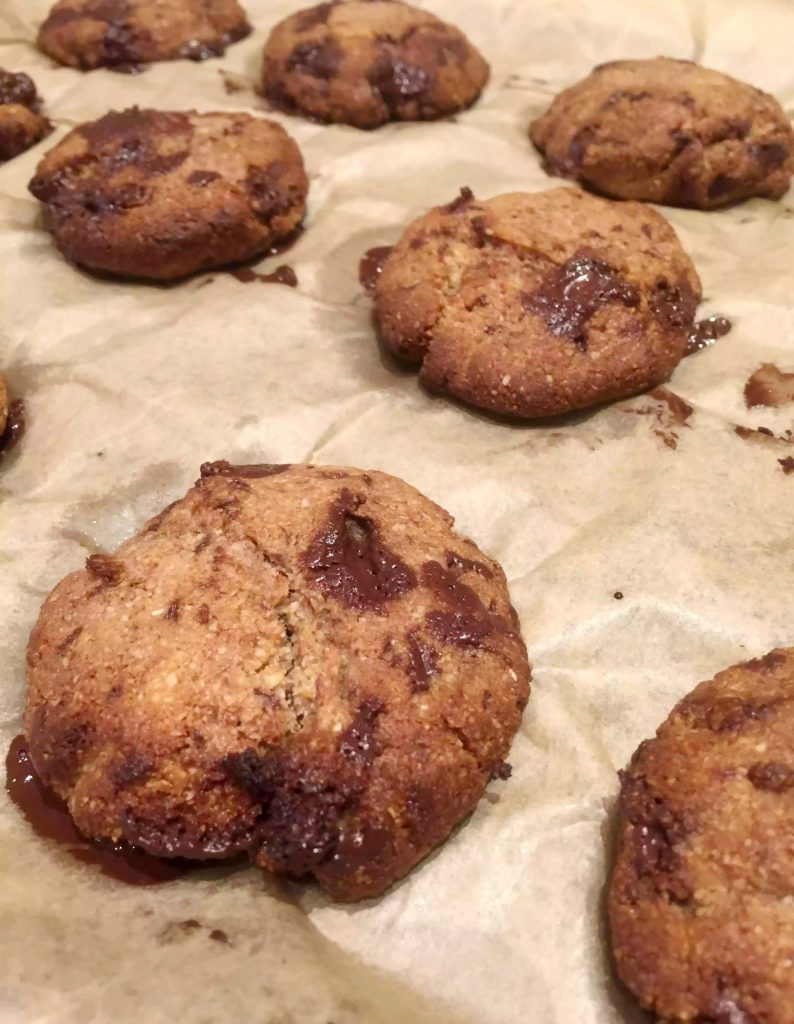 When you take them out of the oven they will be very soft – they'll fall apart if you try to pick them up.  You have to wait for them to firm up a bit as they cool down before you can serve them (or do what I do and eat it straight from the oven even though it falls apart everywhere – you might need a spoon).  If you give them 5 minutes or so they will set firm and you'll be able to pick them up, dunk them into your tea, make an ice cream sandwich with them – however you normally eat your cookies.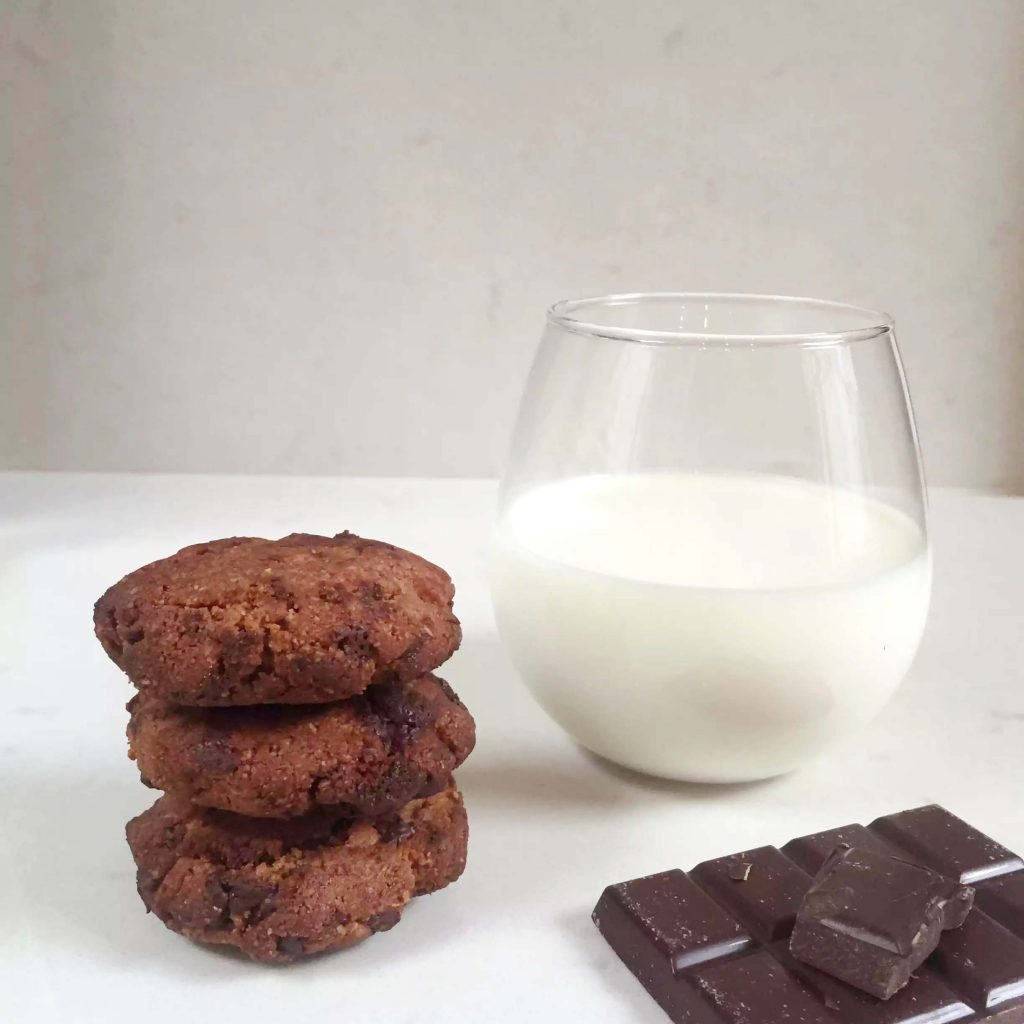 You would never guess from the flavour of these cookies that they are in any way a healthier version.  The chocolate is dark and rich, the cookie is chewy and sweet and they just taste amazing.  Try not to eat them all at once – believe me, it's tough.  They'll keep for up to a week in an airtight container or in the fridge!
What's your favourite cookie flavour?  I've already made Almond Flour, Cinnamon and Raisin Cookies and I'm after some inspiration for my next recipe.  Do you prefer Chewy Chocolate Chip Cookies or Crunchy ones?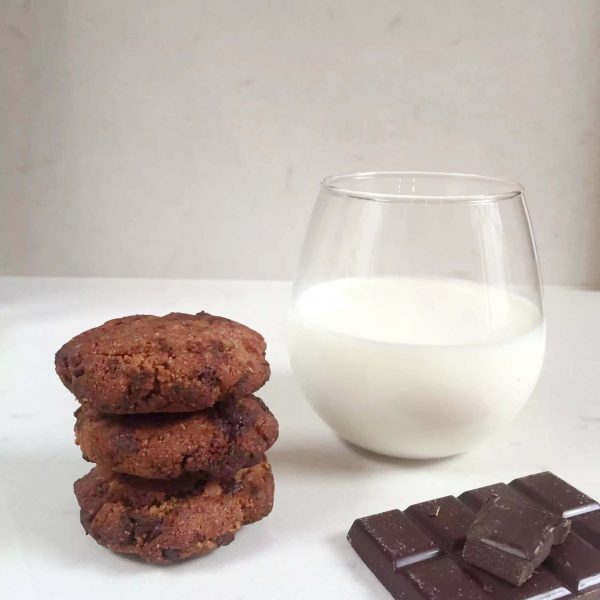 | | |
| --- | --- |
| | |
Preheat the oven to 180C (350F) and line a baking sheet with parchment paper.

Melt the butter and add to the almond flour, honey and vanilla essence. Mix well.

Chop the chocolate into small chunks and add to the rest of the ingredients. Add the bicarbonate of soda and mix well to ensure the chocolate is evenly distributed.

Roll the mixture into 12 equal sized balls and arrange on the parchment paper line baking sheet.

Press each ball down to flatten into a cookie shape, ensuring the same thickness throughout the whole cookie (about 1cm thick).

Place the baking tray into the oven for about 8 mins. Keep an eye on the cookies so that they dont burn. They may be done in less time than this.

Remove the baking sheet and flip the cookies very carefully - they will be very soft at this point and may fall apart easily.

Return the baking sheet to the oven and cook the other side of the cookies for 5-6 minutes, keeping watch so that they don't go too dark, or burn.

Remove from the oven and allow to cool slightly so that they set firm.
Almond flour has a tendency to burn quite easily so keep an eye on these cookies as they bake to make sure that they don't get too brown too quickly.
Once they start to brown, they tend to burn very quickly after.
Dietary & Allergy Information for Chocolate Chip Cookies
These Chocolate Chip Cookies are suitable for the following diets:
Grain-Free, Gluten-Free, Refined-Sugar Free, Paleo, Primal, & Vegetarian.
See my Products Page for Ingredients & Bakeware that I recommend
Pin it for later