This Cinnamon Raisin Bread recipe reminds me of Sunday afternoons in front of the fire when you've had a big roast lunch and you just want something small for your tea.  I got the inspiration for this recipe from my Grain-Free Bread.  It's one of my favourite recipes and I'd been thinking about doing a sweet version for a while and Cinnamon Raisin is one of my favourite flavour combinations.  In fact my Cinnamon & Raisin Cookies are great too – you should check out the recipe!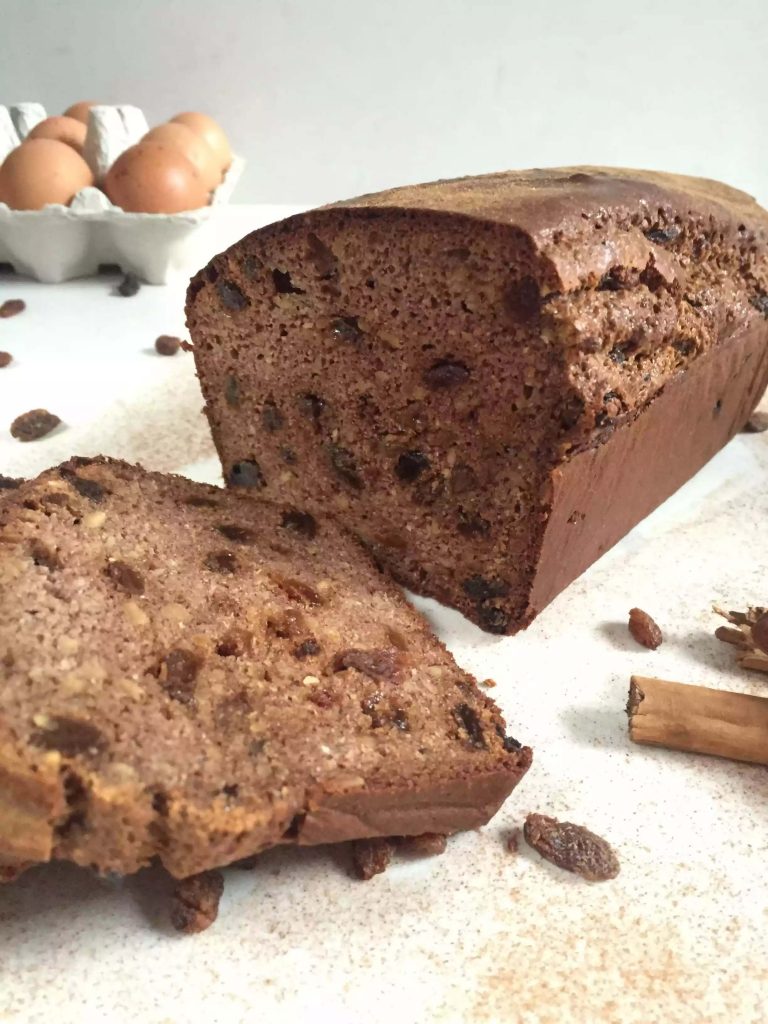 To make the bread, start by preheating your oven to 180C (350F) and line a loaf tin with a parchment loaf tin liner – I like to use these Loaf Tin Liners just because they're so simple and easy to use, but you could always just cut some greaseproof paper to size and use that or grease the tin instead (although I've not tried that way).  For the base of this bread I use Meridian Crunchy Almond Butter.  I think the sweet roasted almond flavour goes really well with the Cinnamon and Raisin flavours and I like the small  almond pieces in it, but you could use the smooth version or a different nut butter if you prefer.
Spoon the almond butter into a mixing bowl and then add the almond flour, eggs, raisins, cinnamon and honey.  It's a one bowl recipe so all you do now is mix everything together which does require quite a lot of mixing in order to make sure everything is combined.  Finally add the bicarbonate of soda and stir everything really well to ensure the raisins are evenly distributed throughout the mixture.  The mixture will be really sloppy – more like a cake batter and not like a dough at all.
Pour the batter into the pre-lined loaf tin – I use this Loaf Tin
 (which is 9×5 inches) and in a tin this size the mixture comes pretty close to the top.  This is fine as the bread doesn't rise very much while baking, maybe only a centimetre or so.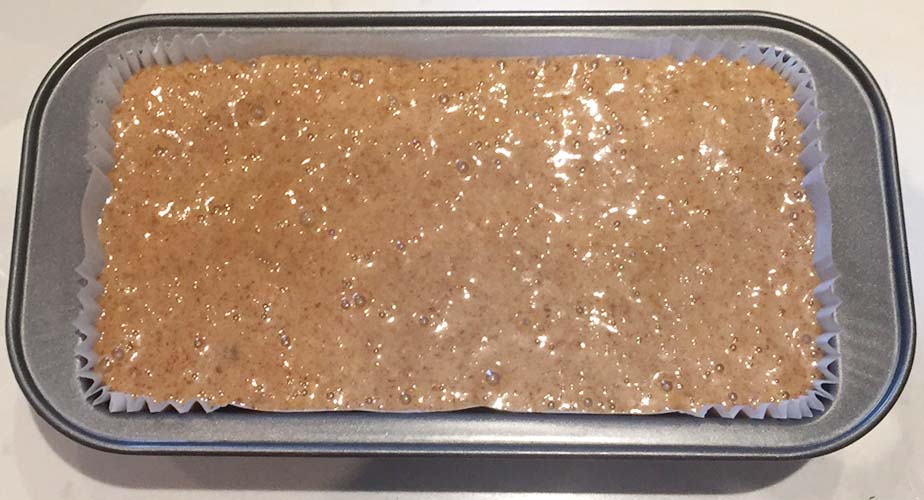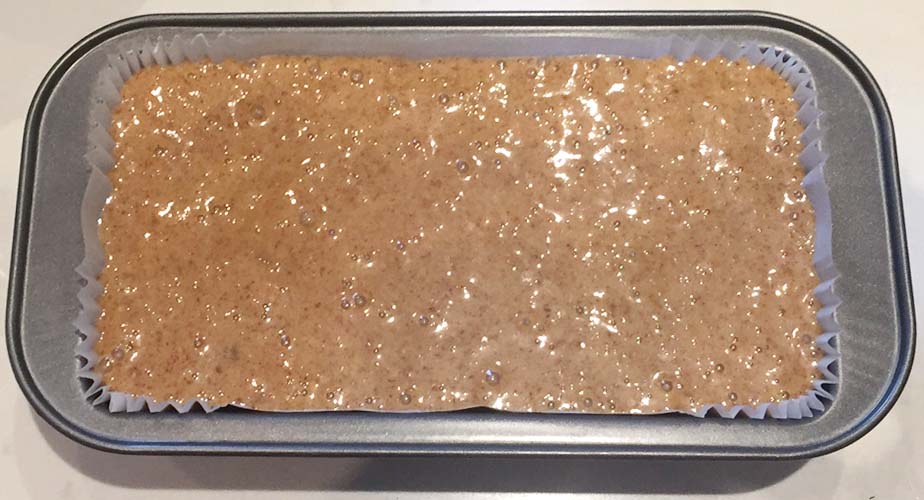 The tin then goes into the oven for 35-40 mins or until a skewer comes out clean when inserted into the middle.  Once baked, turn it out onto a cooling rack and allow to cool down.  If  you're anything like me though you'll want try a piece straight away!  It cuts slightly better when it's cold, but who can wait that long!  And it tastes so much better when it's warm.
This bread reminds me of a malt loaf or tea bread that I used to eat as a child.  The cinnamon flavour is not too strong and the bread itself is not very sweet so it's perfect for adding your favourite toppings to.   I think it tastes best, thickly sliced and toasted with lots of butter – you can also add some honey if you like things really sweet.  I also like it with mashed banana and a sprinkling of more cinnamon!  Delicious for breakfast, dessert or just as a snack!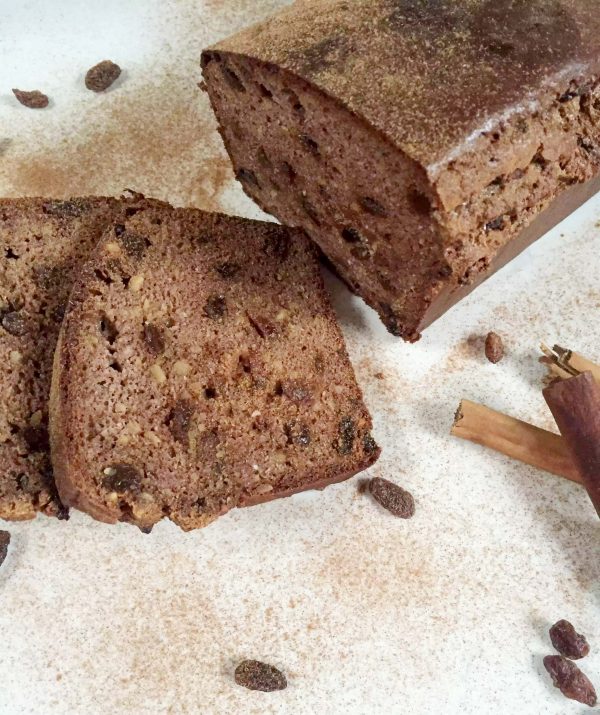 | | |
| --- | --- |
| | |
Preheat oven to 180C (350F) and line a 9x5 loaf tin with a parchment liner or paper.

Combine almond butter, almond flour, eggs, raisins, cinnamon, nutmeg and honey in a large bowl and mix well.

Add the bicarbonate of soda and mix well again to ensure even distribution of all the ingredients.

Pour the batter into the lined loaf tin and put it in to the oven for 35-40 mins or until a skewer comes out clean when inserted into the middle of the loaf.

Allow to cool on a cooling rack. It's easiest to slice once it has cooled down.

Serve thickly sliced (it's best with butter and honey!)
Allergy Information for Cinnamon Raisin Bread
This Cinnamon Raisin Bread is suitable for the following diets:
Grain-Free, Gluten-Free, Dairy-Free, Refined-Sugar Free, Paleo, Primal, Specific Carbohydrate Diet – SCD, Vegetarian.
See my Products Page for Ingredients & Bakeware that I recommend.
Pin it for later