The Ivy has seen quite an expansion in recent years.  From one restaurant in Covent Garden they now have 8 other Grills and Brasseries dotted around London and the UK.  They are also opening a new one in Soho next month along with many others planned for the future.  This year also marks the 100th anniversary of the opening of their first restaurant so it would seem they are going from strength to strength.  My trip to the Ivy Cafe in Marylebone last year was hugely enjoyable so I was thrilled when they invited me to try out their newest restaurant, The Ivy Cafe in St John's  Wood.
We arrived on a very damp and cold winter's night to an extremely warm welcome.  We were asked if we wanted a drink at the bar first or to go straight to the table.  I always like to sit at the bar with a cocktail as it seems like the perfect way to start a meal so we went with that option.
I ordered the Ivy Champagne and Dan had a glass of the New Zealand Sauvignon Blanc.  The drinks were delicious, nice and crisp and a really lovely way to start the meal.  Snacking on some huge olives as we drank our aperitifs we looked around the restaurant.  Similar in style to the other Ivy restaurants I've been to (with leather banquettes, low lighting and a brasserie type feel) it was still eclectic enough to have a personality of its own.  The artwork was stunning – I loved all of the animal prints on the wall, especially the flamingo prints by the bar.  The Ivy Cafe's are a more informal version of the flagship The Ivy, with all the excellence of food and service that you would expect in a more relaxed atmosphere.
Once we'd finished our drinks we were shown to our table.  We we offered the wine menu and chose a bottle of Cotes du Rhone, France, 2014, £32, while we looked over the food choices.  The wine was big and full-flavoured with hints of blackberries, blackcurrants and liquorice and was absolutely delicious – exactly my type of wine.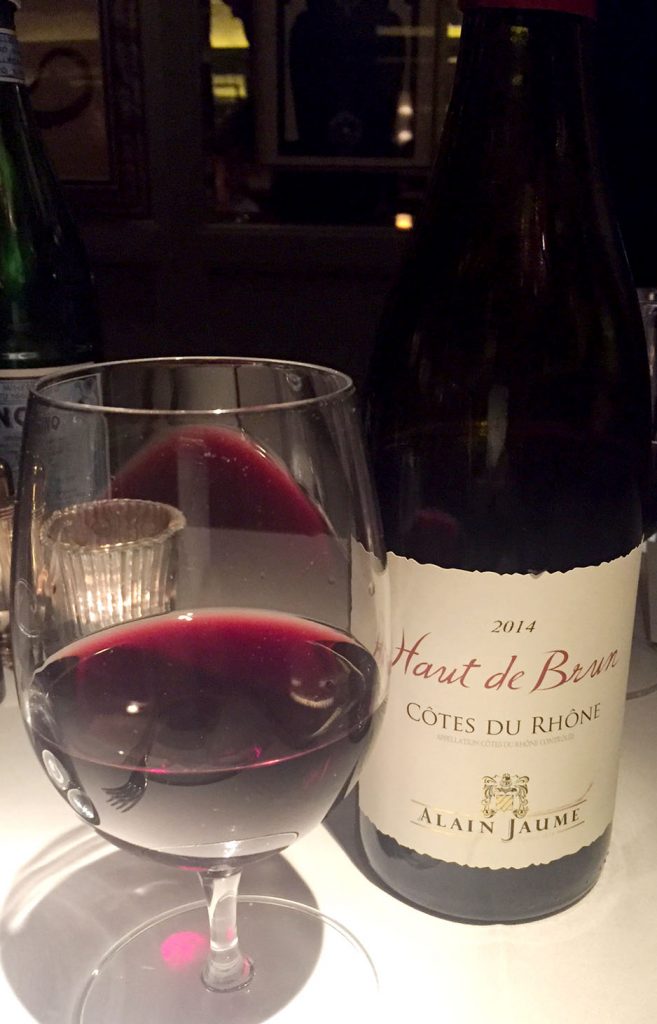 The menu itself is huge – so many options and they all sounded really delicious.  I was spoilt for choice, there was plenty that I could eat.  From the Goats Curd Salad with shaved apple, endive, cranberries and toasted hazelnuts to the Raw Yellowfin Tuna Carpaccio with spiced avocado, lime crème fraîche and coriander shoots, everything sounded delicious.
I ended up deciding on the Burrata to start.  I always go for Burrata when it's on the menu.  The creamy rich texture is just incredible and when it's paired with a tangy pesto it just can't be beaten.   This one came with a clementine salad, toasted pine nuts, pesto and purple baby basil.  Simplicity at its best.
Dan ordered the Wasabi Prawns with salt and pepper squid, wasabi mayonnaise and miso sauce.  By time the starters came out we were more than ready to eat.  My Burrata was stunning – I knew it would be a good one here.  Firm on the outside, giving way to a creamy gooey middle it was absolutely delicious and the fresh citrus salad did a great job of making sure it wasn't to heavy and rich.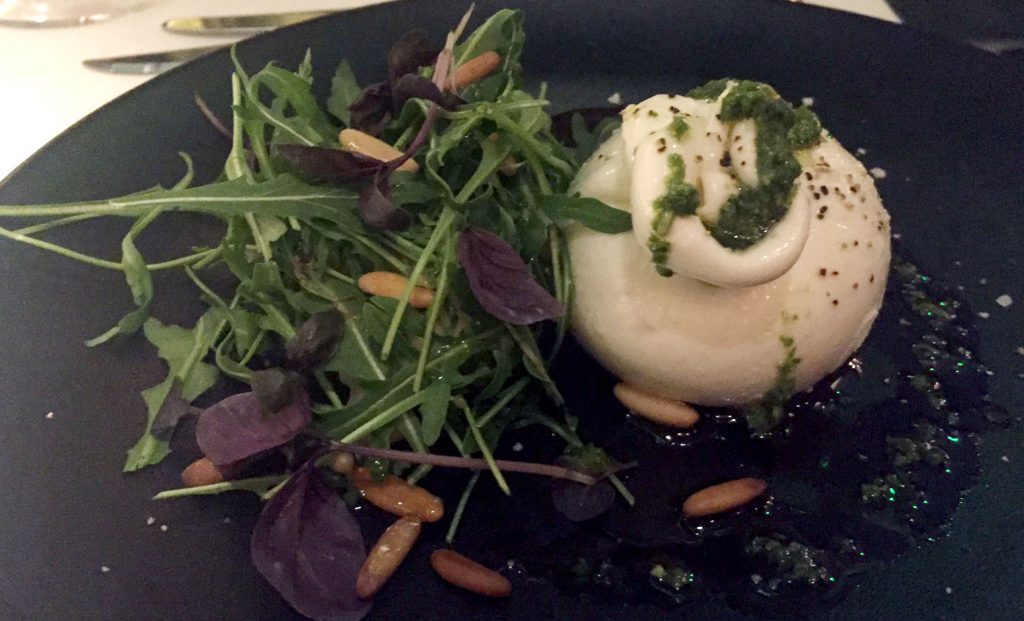 Dan's starter was enormous.  Crispy battered and deep-fried, prawns and squid with a spicy wasabi sauce.  They were crispy and crunchy and definitely not soggy which is always super important.  The squid was tender and not chewy at all.  If he was to find fault he said that maybe the prawns were a tiny bit over battered so the actual meat got a bit lost, but we both really enjoyed our starters and couldn't wait for the mains if it was going to be more of the same.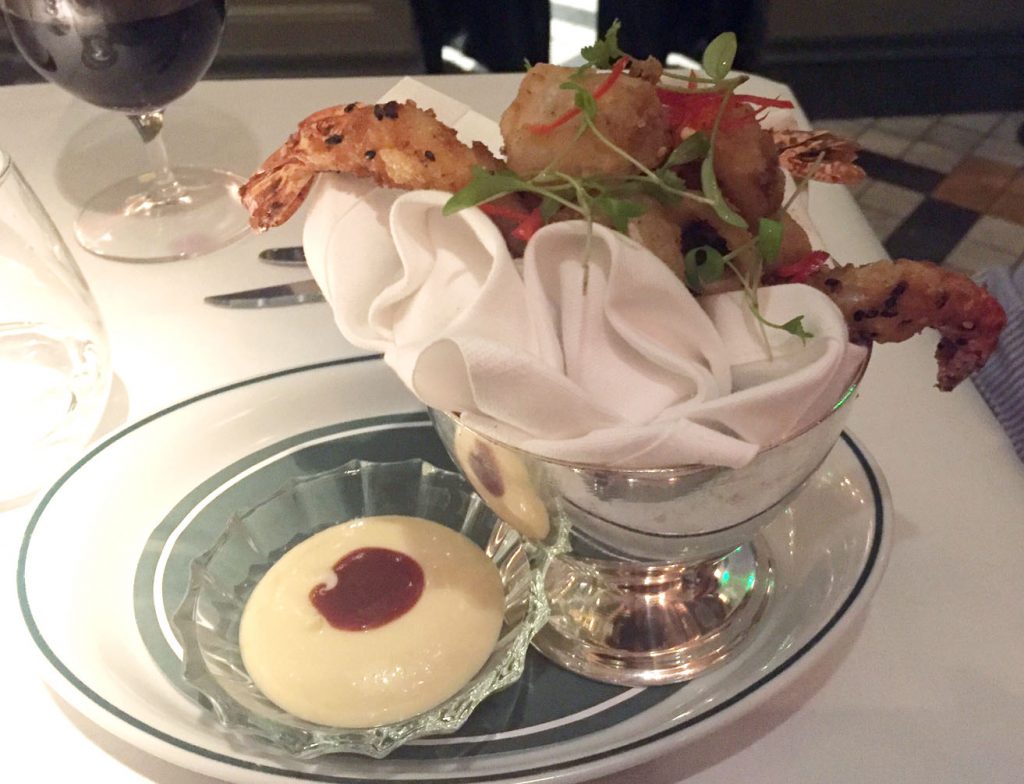 When ordering my main course I was stuck between the sesame crusted tuna salad and the roast salmon.  I asked our waiter which he preferred (always a good tip – they've probably tried everything on the menu at least once!)  He said the salmon was definitely the best choice so I went with that and a side of spinach with Parmesan and pine nuts.  I asked for it rare and it came out cooked perfectly.  Slightly translucent still, right in the middle making it extra juicy, just how I like it.  It came with smoked almonds and a delicious lemon and herb sauce and was a really tasty light dish.
On the other hand Dan went for something much heavier off of the 'Ivy Classics' menu.  The Steak, Fries & Béarnaise Sauce.   An 8oz grass-fed English Sirloin steak which looked so beautiful when it arrived.  Cutting into it you could tell the quality of the meat straight away, the knife went through so easily.  I had a taste and it was amazing.  Perfectly charred on the outside with a slight crust giving you that extra texture.  Pink, juicy and rare on the inside just the way a steak should be and so full of flavour!  Really delicious!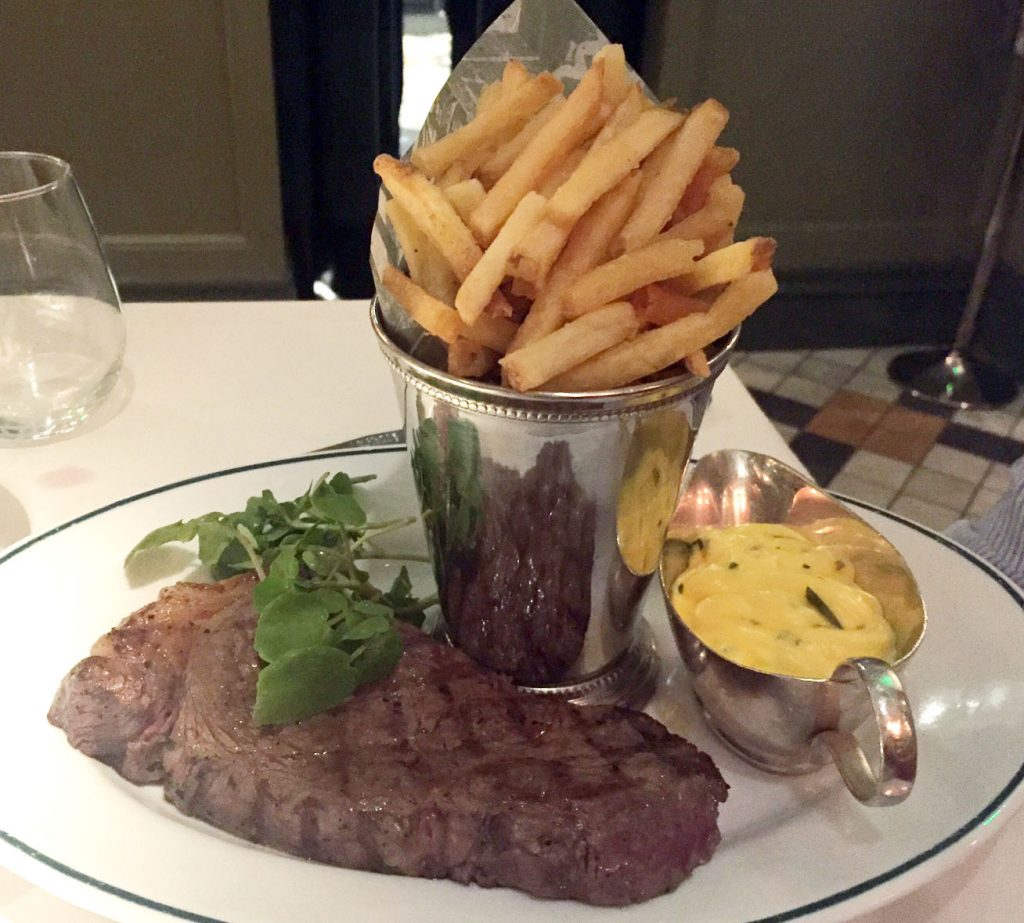 After dinner we were offered the dessert menu.  Not being massive dessert fans, we almost passed until we saw a Truffle Camembert option on the menu.  We decided we just had to share it along with a glass each of the Late Bottled Vintage Port.  It was the perfect ending to our meal, rich, creamy and tasty and the truffle flavour really came through.  If you have more of a sweet tooth though there is plenty to choose from.  And dessert at The Ivy Cafe can be quite a spectacle as the table next door experienced!  Their Apple Tart came with a Calvados Flambée at the table.  Quite the show-stopper!
A delicious meal and we'll definitely be back.  They also have a weekend brunch menu and St John's Wood looks like a lovely place to spend a Saturday afternoon.  I think that's probably next on our radar!  Have you ever been to one of The Ivy Restaurants?  What did you think?  Let me know in the comments!
Pin it for later