As much as I love my Grain-Free Bread, (it's perfect for toast or sandwiches), sometimes I miss the fluffiness and doughiness of a yummy piece of Focaccia.  I set about trying to create a recipe that would calm the craving and I think I got it pretty damn perfect!  It's also a lot cheaper than my grain-free bread as I know a lot of people found the price of the ingredients quite prohibitive!
The best bit about focaccia is the flavours in it.  I haven't actually tried this without any added ingredients but I assume it would taste like a cheese bread.  I personally love mediterranean flavours so I picked sundried tomatoes, olives and rosemary as my extra ingredients but you could pick anything you wanted depending on your own tastes.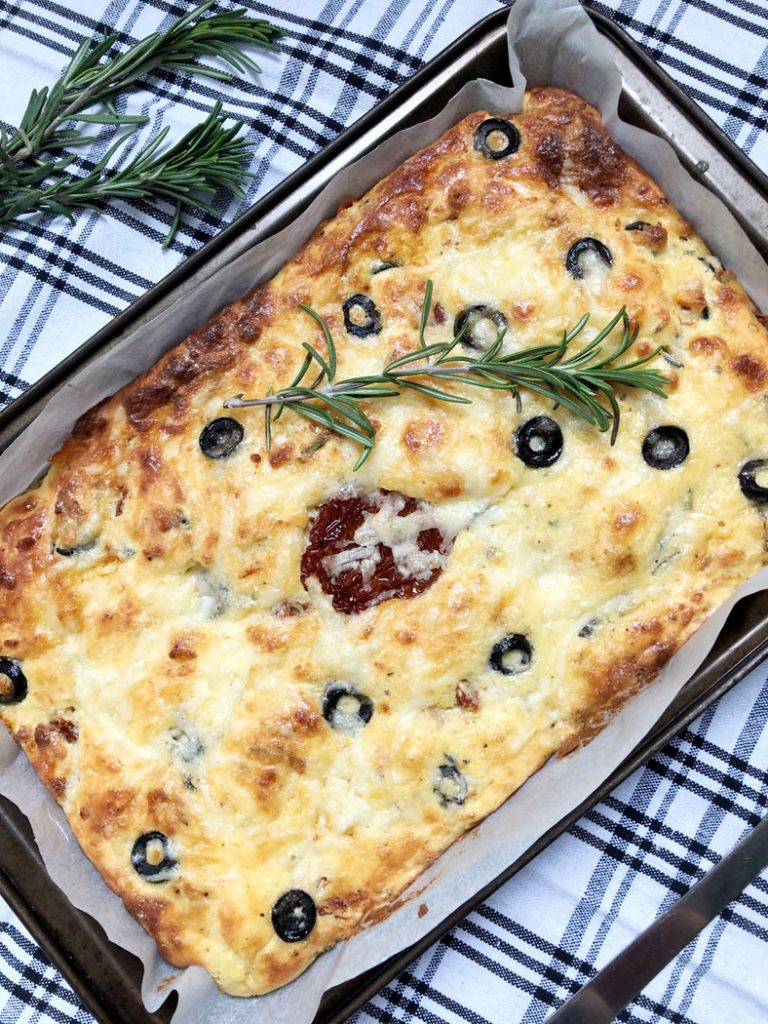 Begin by preheating the oven to 180C (350F) and line a 12×8 inch baking tin with parchment paper.  Start by mixing the eggs with the yoghurt until everything is incorporated.  Then you add the grated cheese and  plenty of salt and pepper to season the mixture.  Mix everything together, the mixture will be quite sloppy at this point.
Then you need to add in the coconut flour.  Stir thoroughly until everything is combined and the 'dough' is much more 'paste-like.'  It should definitely not be a liquid at this point.  If it still is, maybe your eggs were larger than mine or your yoghurt was runnier, but no problem, just add a teaspoon of coconut flour and stir again.  Keep repeating this step until it is the required consistency.
Now you get to add your flavours in.  I used sliced black olives but you could use green ones, kalamata ones etc – just make sure they are pitted or you have taken the stones out.  Add the chopped sundried tomatoes and the chopped rosemary.  Then you add the bicarbonate of soda and mix well again.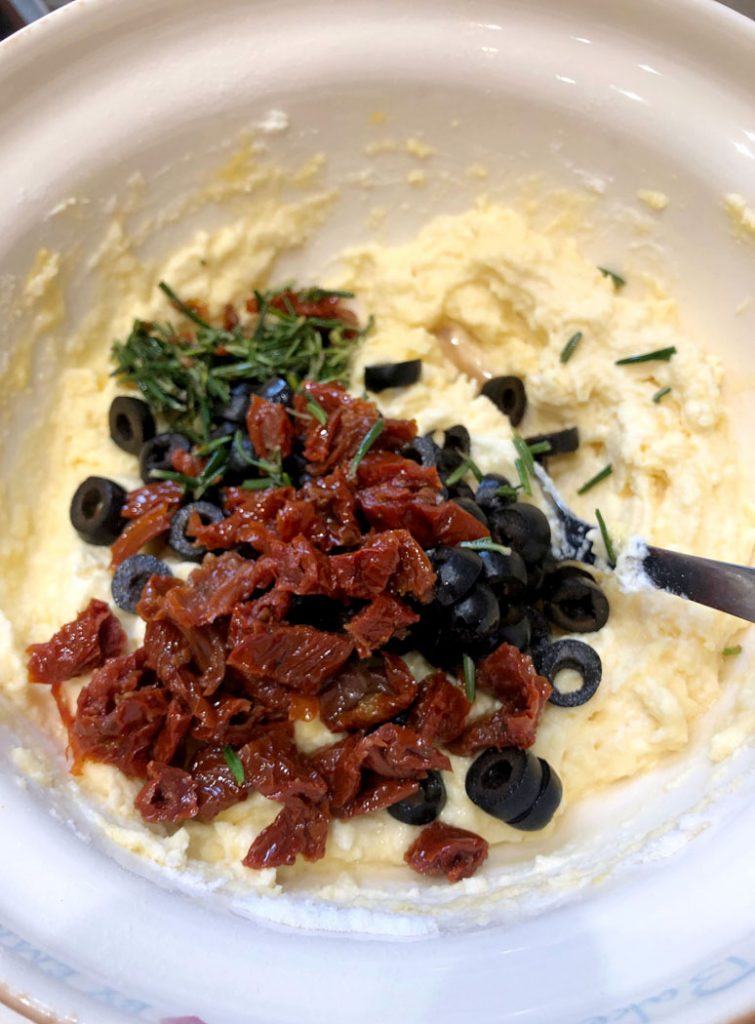 Spoon  the mixture into the parchment lined baking tin and, using the back of a wooden spoon, spread it out until it fills the tin evenly.  Top it with the remaining grated cheese and a bit more black pepper.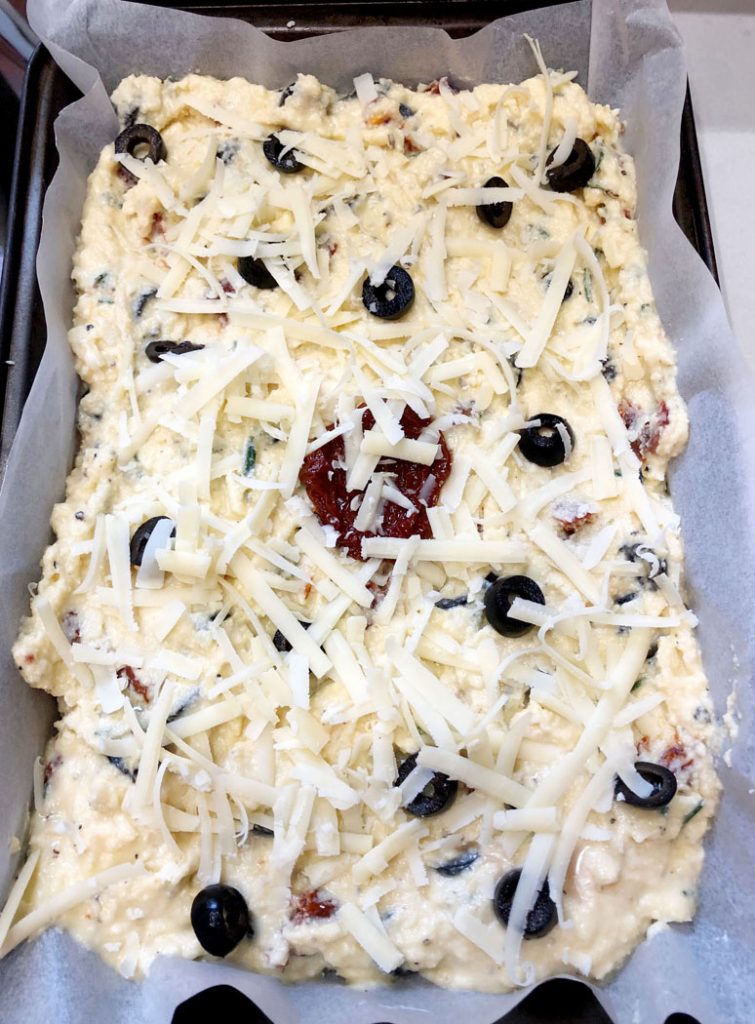 Pop the baking tin into the oven for 20 mins.  You'll know when it's done as it will look irresistible.  The mixture needs to be set and the cheese on top will go a delicious golden brown colour.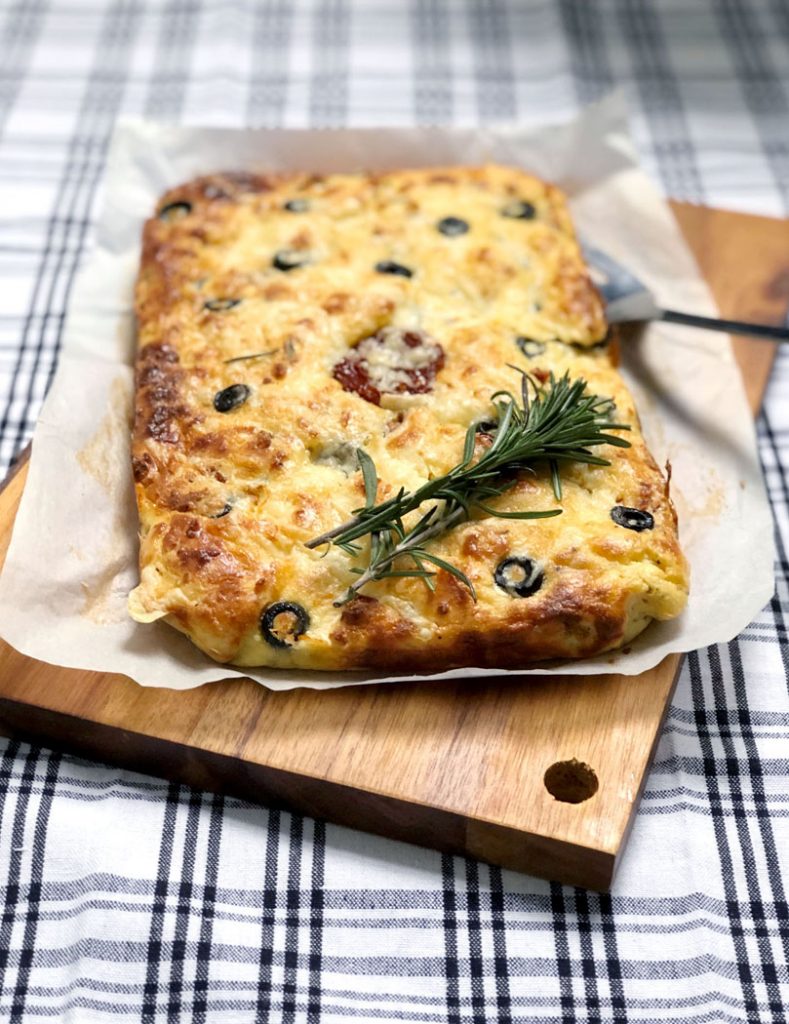 It smelt like a pizza as it was cooking and looked like one when it came out!  I honestly think it is the best bread replacement for that doughy mouth feel that I've ever eaten.  It could easily work as a pizza base if you halved the mixture and flattened it more.
I can't vouch for how well it freezes (it all got eaten that day), but I did take some of it to my parents for a BBQ that evening and we reheated it  in the oven for a couple of minutes and it worked fine.  It also tastes great cold and is great to take as a packed lunch.  it doesn't crumble and you could even spread toppings on it, using it as a base for an open sandwich, or even dip it into houmous/guacamole as it really does hold together very well!
My father (who normally turns his nose up at anything grain-free, gluten-free, SCD etc) loved it!  He even went back for seconds and declared it delicious!!  Dan agreed, and praise from those two on anything I've baked that's adapted to my diet is high praise indeed!  It has to be pretty good to match up to the regular flour bakes that they can eat with no problems!
This Grain free Focaccia is perfectly adapted toy our personal tastes.  I have a few more flavour combinations to try on my radar…
Cherry Tomato, Mozzarella and Oregano – this one was pizza inspired!
Feta & Roasted Peppers
Caramelised Onions and Roasted Garlic
…but you can add in whatever ingredients take your fancy.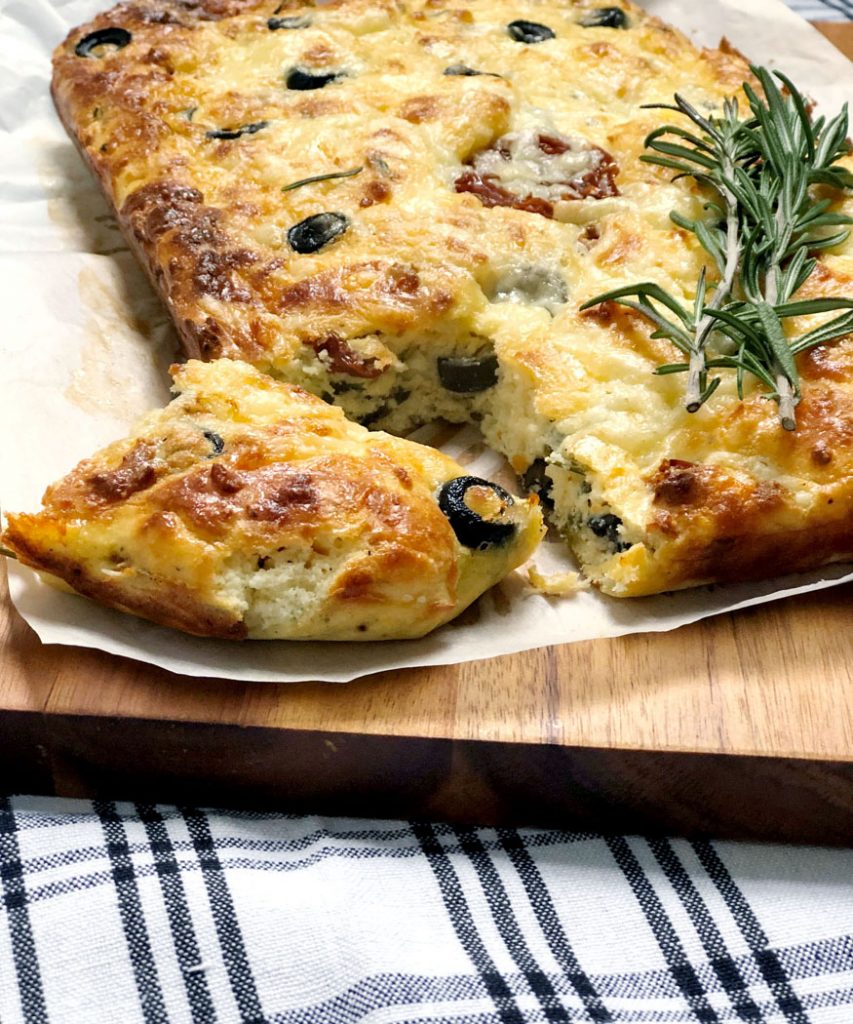 I'd love to hear if you give it a go and what flavour combinations you try out.  Leave me a comment below or tag your photos with #emmaeatsandexplores on social media!
Edit:  I also tried a Pesto & Cherry Tomato version of this which was absolutely delicious.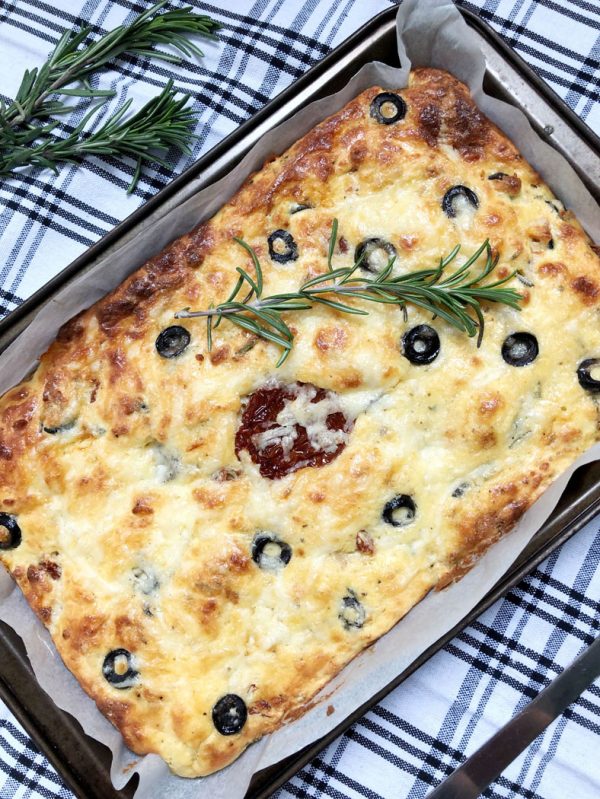 | | |
| --- | --- |
| | |
Preheat the oven to 180C (350F) and line a 12x8 inch baking tin with parchment paper.

Mix the eggs with the yoghurt until everything is incorporated.

Add the grated cheese, plenty of salt and pepper to season, and mix well.

Add in the coconut flour and stir thoroughly until everything is combined and the 'dough' is much more 'paste-like'.

Add the olives, sundried tomato and rosemary and stir through.

Add the bicarbonate of soda, mix thoroughly and pour into the parchment lined tin.

Sprinkle the remaining grated cheddar cheese over the top and pop the tin into the oven.

Bake for 20 mins until the mixture is set and the cheese on the top has browned.

Remove from the oven and slice into 12 squares. Serve warm or cold.
Allergy & Dietary Information for Grain Free Focaccia – Olives, Sundried Tomato & Rosemary
This Grain Free Focaccia with Olives, Sundried Tomato & Rosemary is Grain-Free, Gluten-Free, & Refined-Sugar Free.  It's also suitable for Low Carb, Paleo, SCD & Vegetarian Diets.
See my Products Page for Ingredients & Bakeware that I recommend.
Pin Grain Free Focaccia – Olives, Sundried Tomato & Rosemary for later