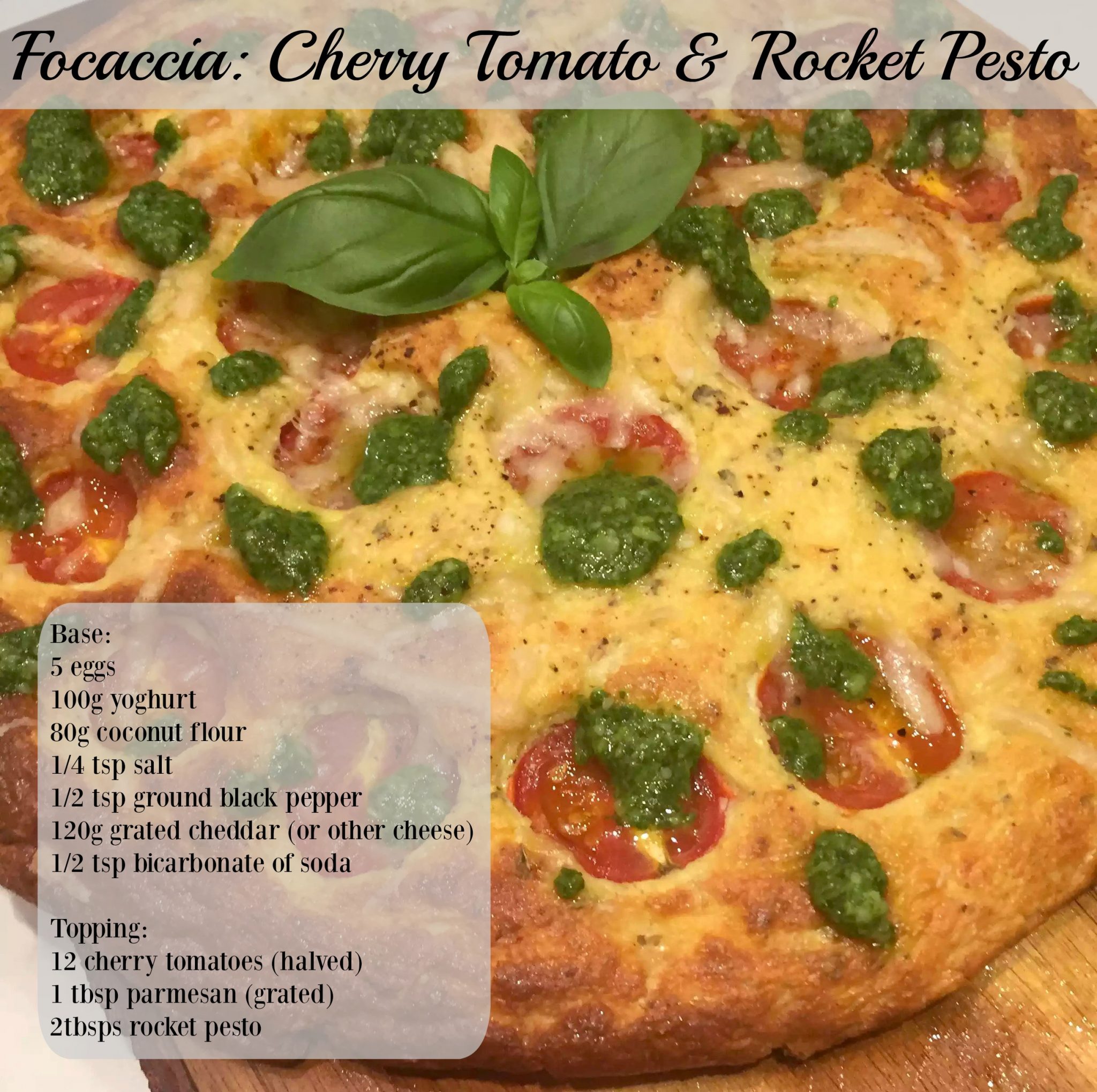 I made my Grain-Free Sun-dried Tomato & Olive Focaccia last week and loved it so much I've been dreaming about it ever since!  Tonight I decided to make it again but change-up the ingredients.  I settled on cherry tomatoes and a homemade rocket pesto to top this one with.
The main 'bread' base was the same as the previous Focaccia so I started by pre-heating the oven to 180C.  Then I mixed up the eggs and yoghurt in a bowl to get a smooth but runny mixture, added the grated cheese, salt and plenty of black pepper and mixed thoroughly.  This time I also added in some dried oregano for that Italian pizza taste!
Then I added in the coconut flour and the bicarbonate of soda and stirred to combine everything to gather to make the Focaccia dough (which should be a kind of firmer cake-batter consistency.  Definitely not a liquid, and I took a better photo this time of what the mixture should look like when you spoon it out onto the baking tray, and how it holds its shape quite well.  If it's too runny then you just need to add coconut flour teaspoon by teaspoon until it thickens up.  You need to be able to 'dollop' it onto a baking tray and then spread it out a bit so bear this in mind.
I used the back of a spoon to spread it out into a circular shape and then I added my toppings, halved cherry tomatoes (in a pretty pattern of course) and a small grating of parmesan.  Then I popped it into the oven to cook while I got on with making the rocket pesto.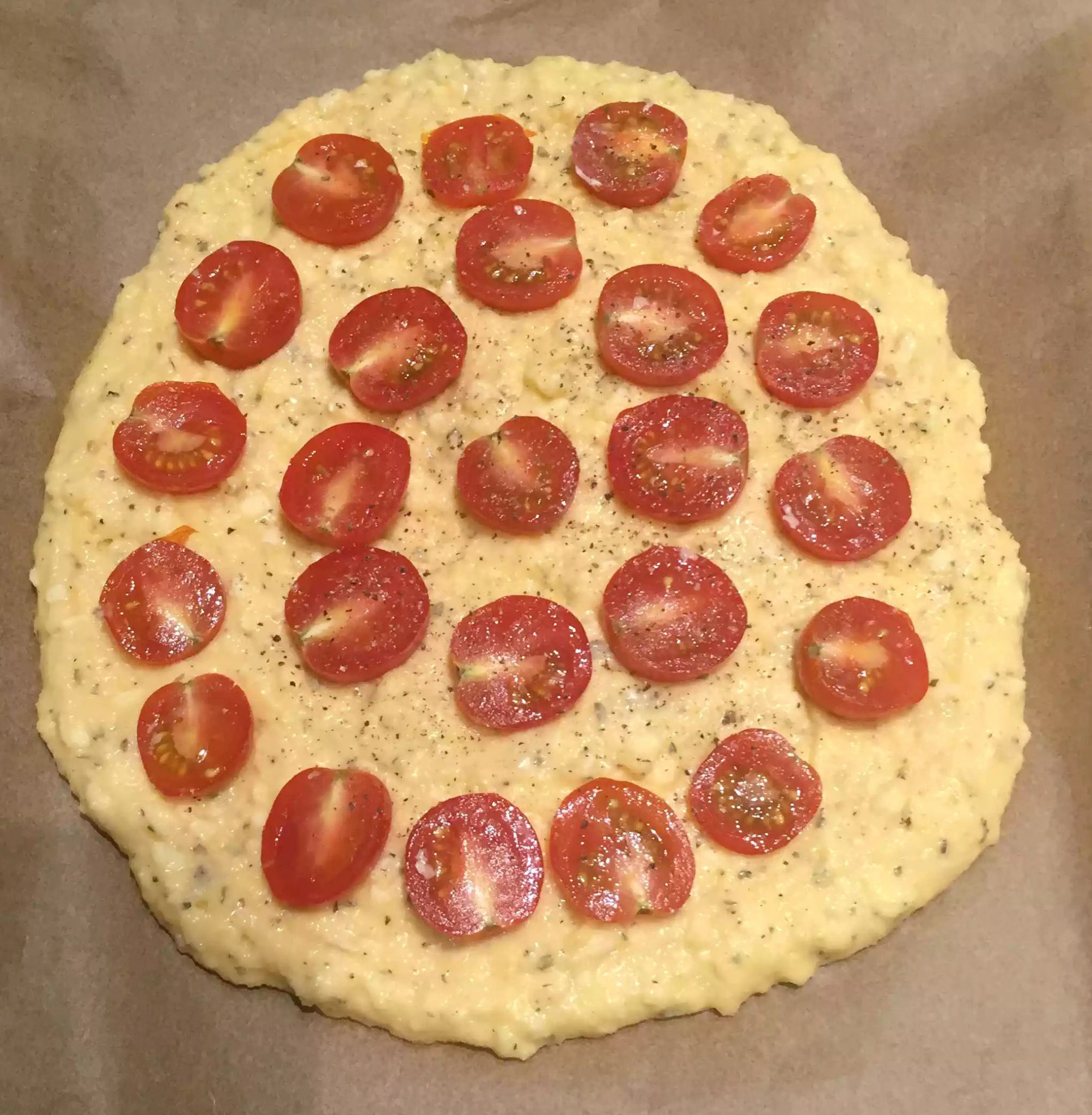 I had initially planned to make a straightforward basil pesto, but my basil plant has been used a bit too much lately and didn't have a huge amount to offer me in the way of leaves, so I decided to bulk it out with some rocket and make my Fresh Rocket Pesto.  I put a small handful of basil leaves and two large handfuls of rocket into my food processor along with a tbsp of toasted pine nuts, 2 tbsps olive oil, 1 small clove of garlic, 30g of grated parmesan a pinch of salt and plenty of black pepper.  I blended this all to a smooth paste.  If yours is not runny enough you can add more olive oil, little by little until it thins it out enough.  It was the most amazing vibrant green colour when I was finished and it smelt fantastic (the stuff you can buy pre-made is really not a patch on the homemade stuff!).
But his time, the baking focaccia was making the house smell amazing.  It had had 20mins so I took it out of the oven and it looked mouth-watering.
Golden brown and doughy and it smelt cheesy and delicious.  I spooned some of the pesto over the top and it was ready for serving with a side of rocket salad!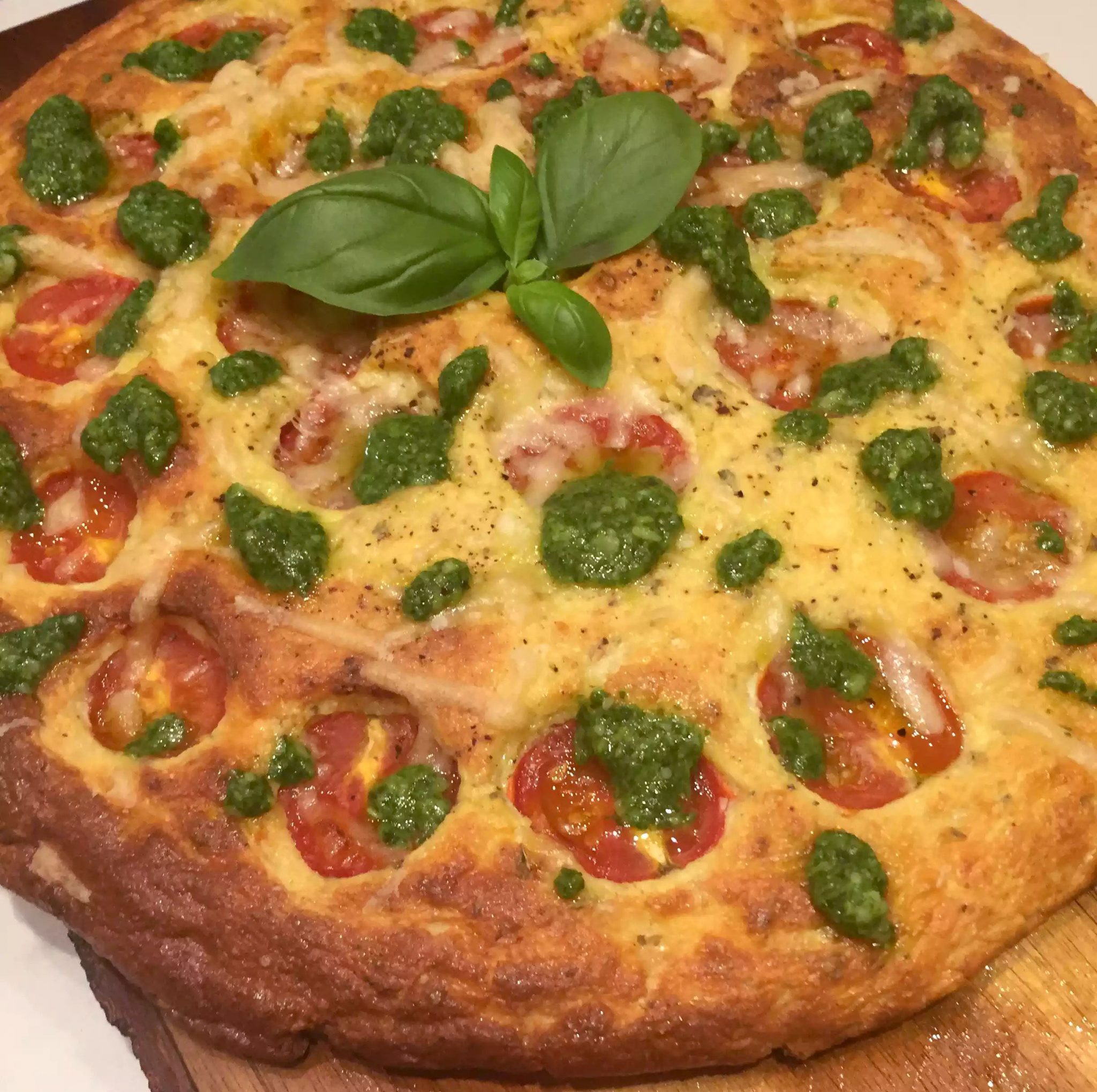 Dinner is served!