With Christmas creeping ever closer I thought it was about time to design my Ultimate Christmas Gift Guide for Foodies.  It's packed full of great gift ideas for the Foodie in your life and there is something for every budget.  From stocking fillers for beginner chefs to more expensive ideas for the Gourmet Masterchef.  If you have someone special in your life that likes to dabble in the kitchen you should treat them to one of these surprises!
Under £10 Stocking Fillers
…"chestnuts roasting on an open fire…"  Christmas wouldn't be Christmas without some nuts (and I don't mean your family members!)  Sitting round the fire, cracking nuts with the family fills me with so much 'hygge'.  Whether it's on Christmas Eve whilst watching a Christmas movie or after Christmas Lunch (there's always room for more food), cracking nuts from their shells evokes so many childhood memories.  Start your own new family tradition this Christmas!
For £3.50 these Forest Feast mixed nuts in their shells are a super affordable way to get that Christmas Feeling!  Available in stores all over the country.
Chocolate!  'Nuff said!  Christmas wouldn't be Christmas without chocolate, but when you can't eat refined sugar you have to dig a little deeper to find something delicious.  Luckily there are a few new bars on the market made with 100% cacao, nothing else is added.  No milk, no sugar, just pure cacao.  This chocolate is so rich and so dark that you only need a square or two to satisfy even the biggest chocoholic.  One new brand I've discovered is this Crude Chocolate from the Red Beetle Website.  At only £4.80 it's cheap enough to gift as a stocking filler and will put a smile on anyone's face on Christmas morning.  Red Beetle also do some other amazing grain, gluten and refined-sugar free foodie gifts like their amazing hazelnut spread or their authentic Italian Olive Oils and Vinegars.
Definitely not the most romantic of gifts for your loved one but this Joie Lemon Fresh Pod is absolutely one of my favourite kitchen gadgets.  I use this everyday!  I'm always using a slice of lemon in my tea or half a lemon in recipes and this gadget keeps the unused part fresh until you need it.  It really is the most used gadget in my kitchen and one that I just wouldn't be without. So many kitchen gadgets end up languishing at the back of a drawer but I promise this one will be used over and over again!  At £2.99 it's an absolute must for any kitchen!
I recently discovered these amazing herb and spice drops from Holy Lama.  Made with no artificial ingredients they are a concentrated essence of your favourite herbs and spices.  Lasting up to 3 years they are so much more convenient that dried herbs and spices and I love the fact that you can add a drop to any dish so easily.  My current favourite is the Mulling Spices which I'll definitely be adding to my Mulled Wine this Christmas.
I also love the Tikka Masala
flavour in my Spicy Chicken Curry and the Ginger or Chai Spice flavours in my tea.  The Cumin Seed
is fantastic in my Roasted Butternut Squash Soup and The Cocktail Collection is also on my radar with a bottle each of mint, rose, lemongrass and ginger flavours.  Perfect for adding to spirits to make inventive Holiday Drinks.  The individual bottles are between £4 and £4.50 and the collections are £15.
£10 to £20
I love cookbooks (I have a whole shelf full) and love flicking through them for inspiration about what to make next.  Living the Healthy Life is one of my favourites that has been released this year.   Rather than just being a standard cookery book, it offers a way to change your entire mindset around food.  It focuses on nourishing your body rather than depriving yourself and places great emphasis on gut health as an important factor in overall wellness.  With easy to follow recipes and plenty of tips for a healthy lifestyle it's a great all-in-one book for anyone looking to improve their overall health!  Available from £10.99.
Mmmm….Truffles, every foodie's dream.  They're so decadent and full of flavour but extortionately expensive.  With this Truffle Oil Selection you can get all of the flavour at a fraction of the price.  Try drizzling them over fish or meat or adding to soups and sauces.  My favourite way to have truffle oil is to drizzle it over roasted butternut squash fries!  Delicious and only £17.00.

Or go all out and buy the Black Truffle Slices
preserved in oil – Perfect for making a truffle pate or adding to eggs for a truffle scramble. A snip at £12.95.

Are you fed up with not knowing what's in your water.  Water from the tap in London doesn't taste all that great to me but since I've been using this Zero Water filter I find it much more palatable.  Great for re-hydrating myself as I know I don't drink enough water!  It's also the only filter on the market to get rid of lead in the water.  Bet you didn't know the other's didn't do that!  With different sized jugs for different capacities you'll be able to find that suits your household easily!  Have great tasting water again in no time!  You can buy the filters separately and they're easy to replace.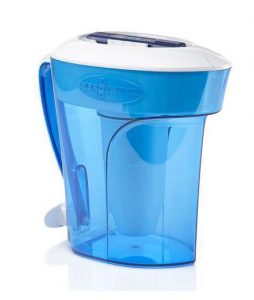 £20 to £50
The perfect gift for any aspiring or competent baker.  A beautiful ceramic personalised mixing bowl from Find Me A Gift!  I love the fact you can include someone's name – Mine says Baked With Love by Emma.  Perfect for anyone who puts a little bit of love into their cooking!  And whenever they're baking they will always be reminded of you!  Use it to make my Banana Cinnamon Breakfast Muffins or my Raspberry Almond Celebration Cake.
This Miniature Oils and Vinegars Gift Set
(£25) from Il Gusto is the perfect gift for anyone who likes to experiment with their cooking.  Containing 8 (40ml) assorted flavoured oils and balsamic vinegars this selection is a great way to spice up your salads.  All the products are of exceptionally high quality.  I love the Lemon Oil drizzled over fish and the Pistachio Oil gives a delicious nuttiness to my salads.  The Raspberry and Date Balsamic Vinegars are delicious drizzled over desserts too!  Give them a try!
One of the biggest cooking crimes is not seasoning your food well enough.  I've looked all over for the best salt & pepper grinders and I think I've found them in the form of these Oxo Good grips ones.  They have 5 different settings so you can specify the fineness of the grind that you want.  Durable, yet sleek and elegant enough for any kitchen counter, these are honestly the best that I have come across.  They aren't cheap at £21.50 each but they will last forever and are a great investment.
OXO Good Grips Stainless Steel Lua Salt Mill

OXO Good Grips Stainless Steel Lua Pepper Mill
£50 to £100
I've been desperate for a Mandolin for ages now.  When you can't eat Crisps or Tortilla Chips etc, the only way you can get a snack with some crunch is to make your own vegetable crisps.  This OXO Mandolin is the perfect kitchen tool to help you out.  Slicing everything so thinly it's very easy to get a
perfect sized slice for frying up into a crisp.  With an assortment of blades you can create up to 21 different cuts from a julienne to a wafer thin slice.  Fantastic for anyone looking to up their food presentation game!  I've used mine for making vegetable crisps and apple chips.  Just be sure to watch your fingers!  It's super sharp!
Over £100
No Ultimate Gift Guide for Foodies would be complete without a Le Creuset Signature Casserole Dish.  Quality doesn't come cheap but there is a reason that Le Cresuet is so famous.  With a lifetime guarantee, their range is durable, beautiful and perfectly designed.  I use my casserole dish for everything, from making soups and stews to slow cooking meats.  It's the best way of making my Sticky Chinese Chicken Thighs and on the lowest heat it will rival any Slow Cooker!
A big investment maybe, but I just wouldn't be without my Kenwood Multi.  When you think about everything that it does, it's such fantastic value.  One kitchen gadget that replaces a mixer, food processor, blender, liquidiser, mincer, grater, citrus juicer
and so much more.  It's fairly compact and so won't take up much room in a small kitchen.  I use mine everyday from blending soups to mixing cake batter to making my Haricot Bean Houmous.  It's £179 but this is reduced from £299 at the moment so it's a bargain! 
So there you have it!  Some things that I would love to receive and some things that I already own but can't live without.  What would be on your Ultimate Christmas Gift Guide for Foodies Wish List?  I'd love to find out what you all want – might give me some more ideas too!
Pin it for later – The Ultimate Christmas Gift Guide For Foodies