This weekend we had escaped out of London to a beautiful country house about an hour's drive away.  We were staying with another 4 couples (all friends of Dan's from University) and a couple of kiddies and had planned to chill out and spend a bit of time together.  Catching up, playing board games, eating and drinking and generally not doing very much.  5 meals, 5 couples so it was suggested that everyone take charge of a meal and cook for everybody else.  Dan and I got lunch on the first day and decided to do a BBQ.  Settling on my Lime & Garlic Salmon Skewers and Dan's Homemade Burgers, we decided to do two salads to accompany them so I started racking my brains.  I knew I wanted to do something with peaches as they are amazing at this time of year and I love paring sweet with salty so I decided to roast them (so they'd be extra sweet) and add feta for the tangy saltiness.  I needed some crunch too so I though Pistachios would be perfect.  My idea for a Roasted Peach, Feta & Pistachio Salad was born!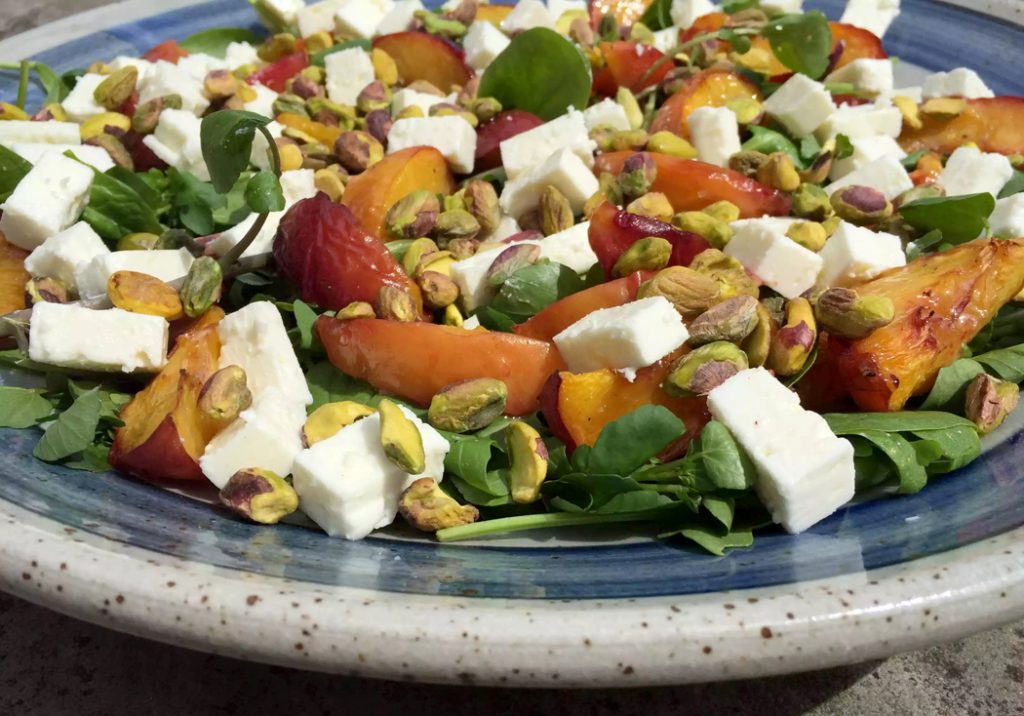 I pre-heated the oven to 180C and started by slicing up the peaches into eighths and placing them in a roasting tin.  I drizzled some olive oil over the top of them and a pinch of salt and popped them into the oven for 20-25mins until they started to soften and caramelise.
Meanwhile I sliced up the feta into cubes about 1cm big and I toasted the pistachios in a frying pan until they had just started to brown.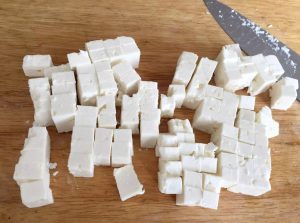 Then it was time to assemble the salad.  I used a base of bagged salad – watercress and rocket and laid the peaches, feta and pistachios on the top.  I seasoned the salad well and then made a quick dressing by mixing together the wholegrain mustard and honey and drizzled it over the top and the Roasted Peach, Feta & Pistachio Salad was ready to take to the table.  (If the dressing is too thick you can thin it out with a small amount of hot water).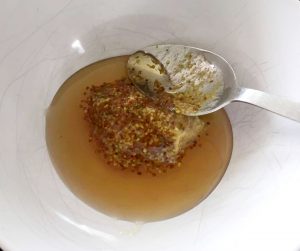 For me personally, it was the highlight of the whole meal.  The grilled peaches were amazingly sweet and I loved the contrast with the creamy, salty feta and the spicy mustard.  I cooked what I thought would be plenty for 10 people, hoping for some leftovers but the entire thing disappeared!  Definitely a crowd pleaser and the most beautiful salad for a hot summer's day!!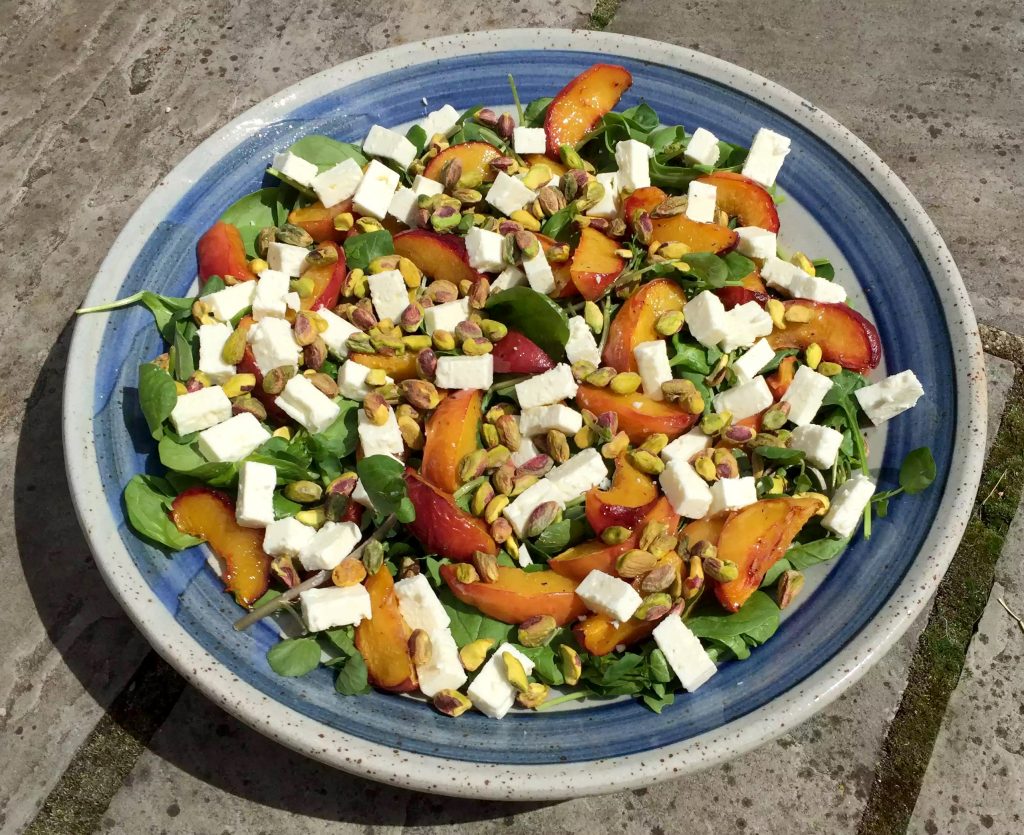 Coming tomorrow…Salad #2 Grilled Halloumi, Caramelised Shallots, Green Beans & Pine Nut Salad with a Lime Dressing!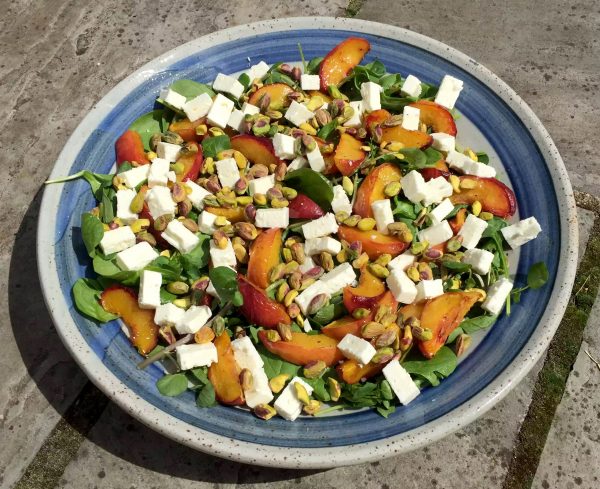 | | |
| --- | --- |
| | |
Pre-heat the oven to 180C (350F).

Slice the peaches into eighths and arrange in a roasting tin.

Drizzle the olive oil over the top of the peaches and add a pinch of salt.

Roast the peaches in the oven for 20-25 minutes until they begin to caramelise.

Meanwhile slice up the feta into about 1cm cubes.

Toast the pine nuts in a frying pan over a low heat until they begin to brown.
In a small bowl mix together the honey and wholegrain mustard.

Thin the dressing with some hot water if it's too thick.
Wash the salad leaves and place in a large serving dish

Top with the peach slices, feta cubes and sprinkle over the pistachio nuts.

Drizzle over the dressing and season with some salt and black pepper.
Allergy & Dietary Information for Roasted Peach, Feta & Pistachio Salad with Honey Mustard Dressing
This recipe is Grain-Free, Gluten-Free, & Refined-Sugar Free.  It's also suitable for Paleo, SCD, Low Carb and Vegetarian diets.
See my Products Page for Ingredients & Bakeware that I recommend.
Pin it for later