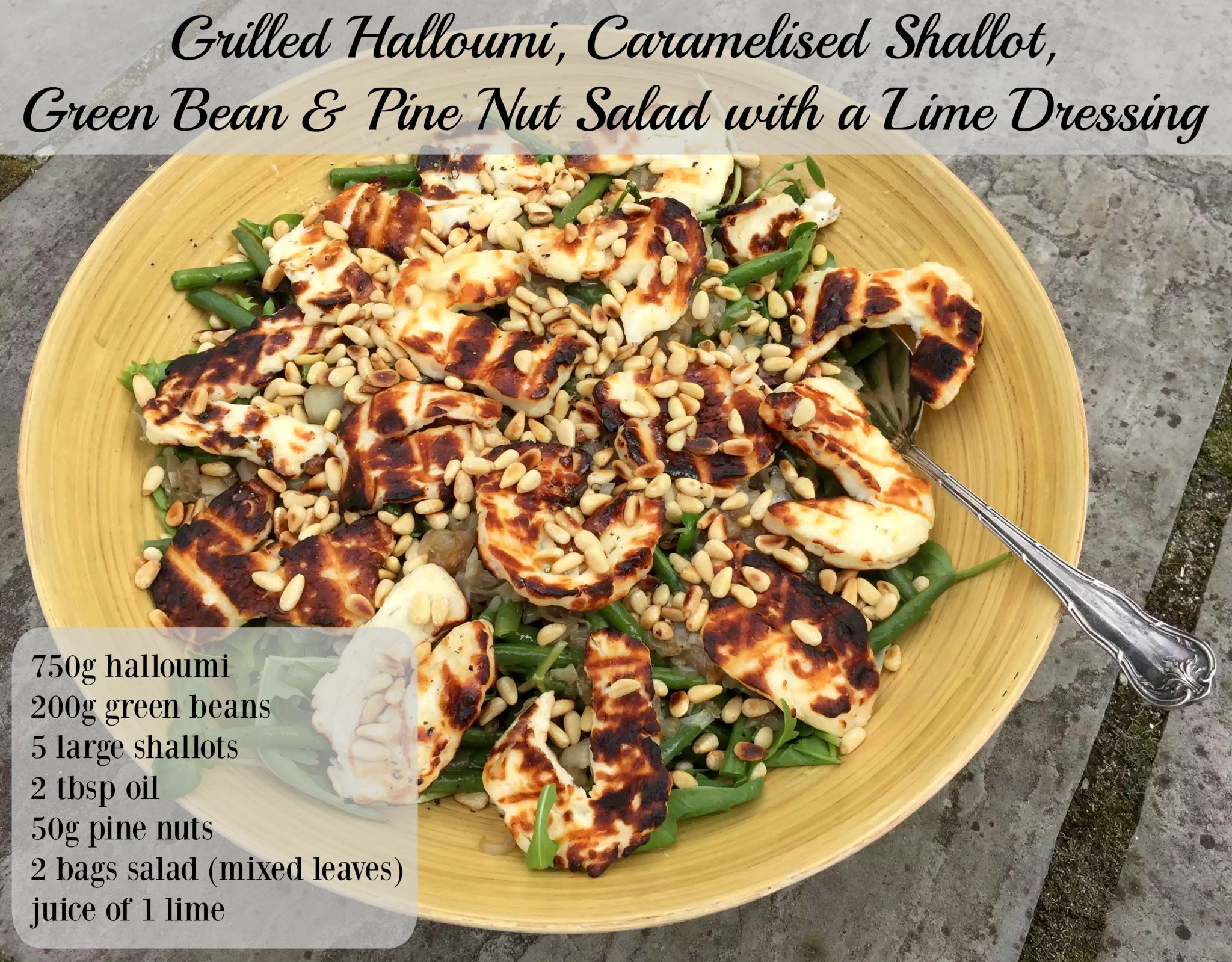 So, after the Roasted Peach, Feta & Pistachio Salad,  the second salad that I decided on for our BBQ lunch was this Grilled Halloumi Salad.  Halloumi is always a crowd pleaser and I think it should be at every BBQ, although if you can't eat halloumi you could always use another cheese that fits with your diet.
I started by peeling and chopping the shallots – I found some amazing banana shallots in the supermarket, but if you use the smaller ones, you may need to use a few extra.  I then heated 1 of the tablespoons of oil (keeping the second back for the dressing) in a frying pan and fried them on a very low heat to soften them without burning them.  They took about 20mins to cook thoroughly.
While I was cooking the shallots, I sliced up the halloumi and took it out to Dan to grill on the BBQ (if you have a BBQ lit you might as well use it!) but you could also do these under the grill indoors or in a pan if you don't have the BBQ alight.  
He bought them back looking deliciously charred on the outside and soft and squidgy on the inside.  While he was grilling the halloumi I toasted the pine nuts in a pan over a low heat until they began to brown and I put the green beans on to steam.  I steamed them for about 3-4 mins as I wanted them to keep most of their crunch to provide some texture in the salad!  Then it was time to assemble the salad.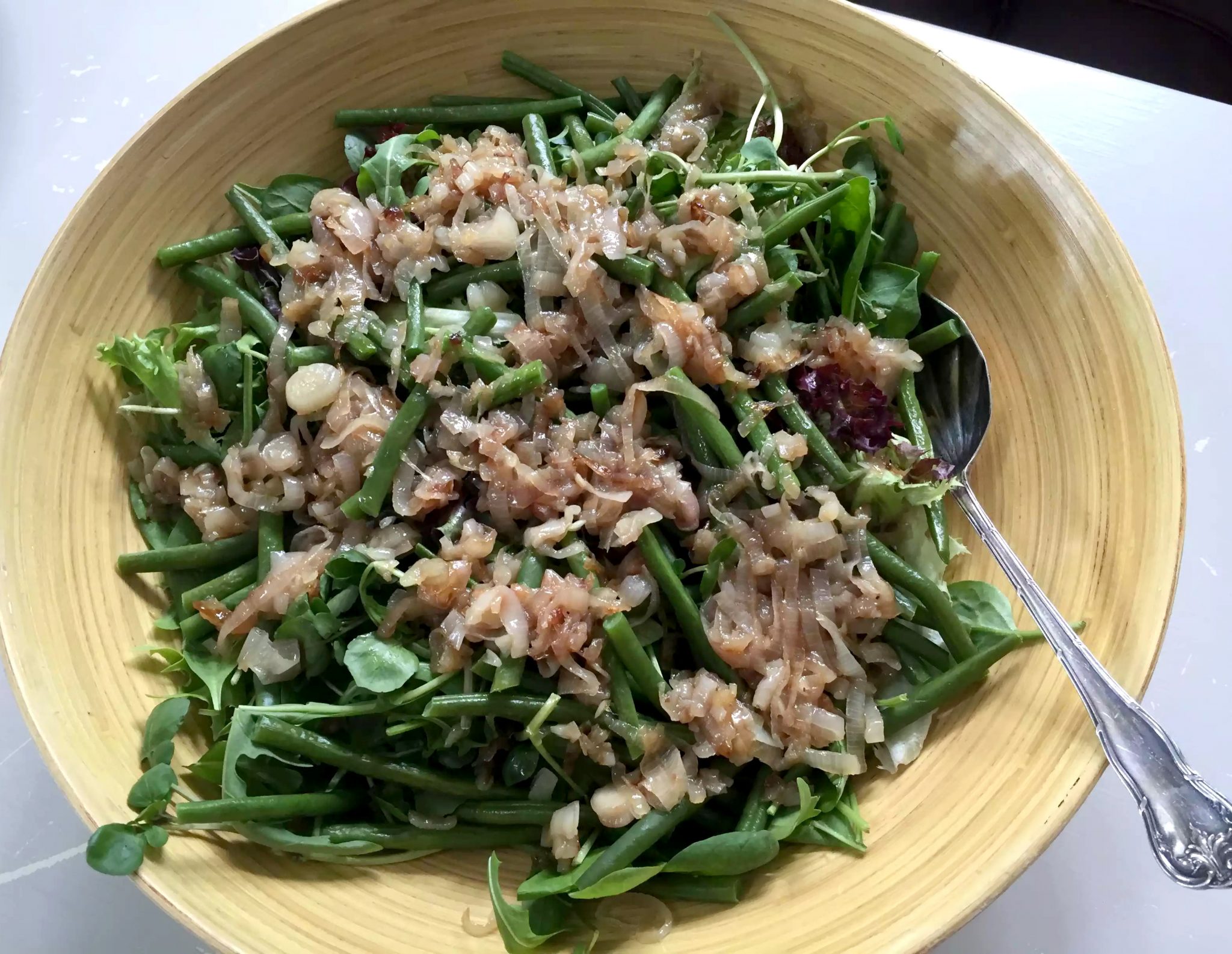 I used 2 bags of mixed leaves (for ease) and scattered the green beans on top, followed by the caramelised shallots.  Then I placed the char-grilled halloumi all over the top and sprinkled over the pine nuts.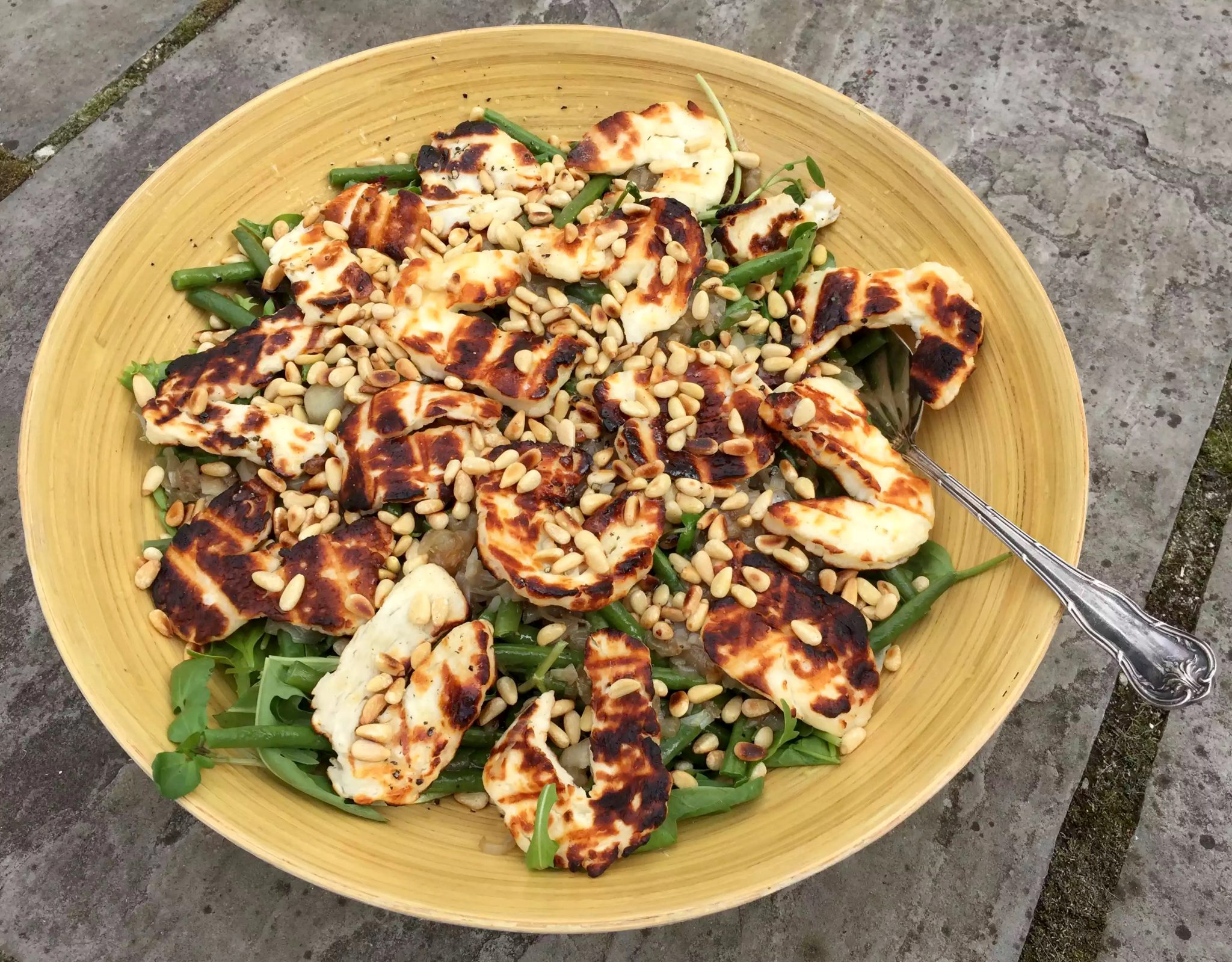 To make the dressing, I mixed the juice of a lime with the remaining tablespoon of oil, lots of black pepper and a tiny bit of salt and drizzled this all over the salad and it was ready to serve!
Tangy from the citrus dressing, the salad felt light  and summery but also filling due to the halloumi.  The shallots added a sweetness and the pine nuts gave a nice crunch and brought the whole salad together perfectly.  Another thumbs up from the group and the whole thing disappeared (again, it made enough for 10 of us)!  It was crisp and crunchy and hearty and full of toasted flavours and was a nice contrast to the fresh juicy Roasted Peach, Feta & Pistachio Salad that I served it alongside!
Pin it for later