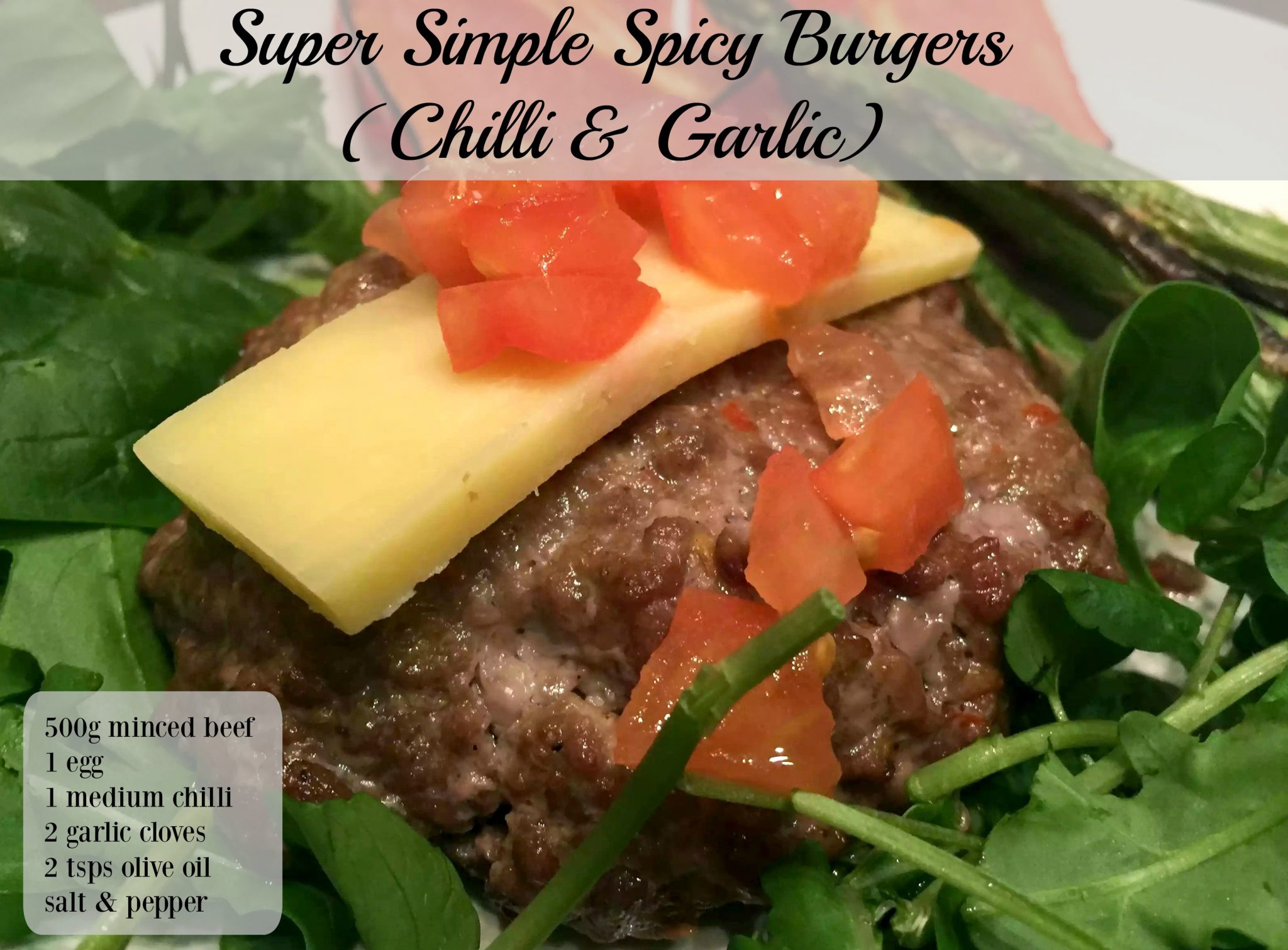 Dan will be the first to admit he's no chef (although he's keen to learn!)  but I believe that everyone has at least one special dish in them and this is his…beef burgers that he makes from scratch and grills on the BBQ.  Always a hit with everyone and cooked to perfection every time, it's the one dish that he's really happy to make for a crowd of people.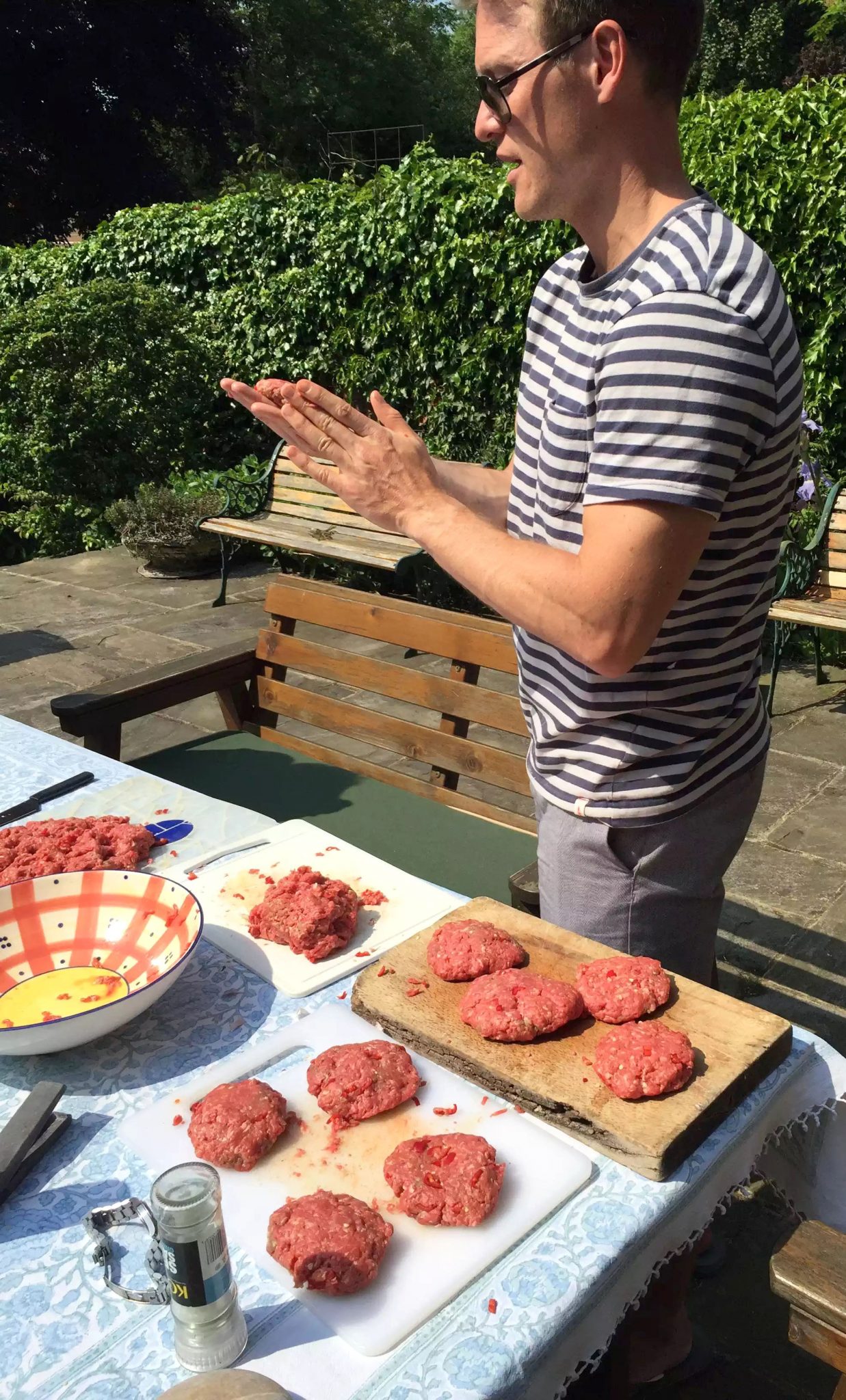 So how does he make them?  For some reason he has to do everything on a chopping board rather than in a bowl.  Just seems messier to me but let's go with it!  (You can add all ingredients to a bowl if you prefer and mix that way).  Edit:  Apparently I've been informed that it's easier to ensure even distribution of the chilli and garlic this way!!
Firstly he chops up the chilli and crushes the garlic, and then fries these off in the oil over a low heat so as not to burn them.  Then this he spreads the mince out on the chopping board and pours the oil, chilli and garlic mixture over the top.  Add the beaten egg to the mix and plenty of salt and pepper.
(We like a bit of a kick to our burgers but you could use less or more chilli depending on your taste (and the strength of your chillis!!))
Then it's time to get in there and mix everything up with your hands (the messy bit).
Shape the mixture into burgers patties (this recipe should make about 4 large-ish ones but you can scale up or down for the amount that you need) and you're ready to cook them.  We like to make them quite thick so that they stay quite pink and rare in the middles, but that's personal preference.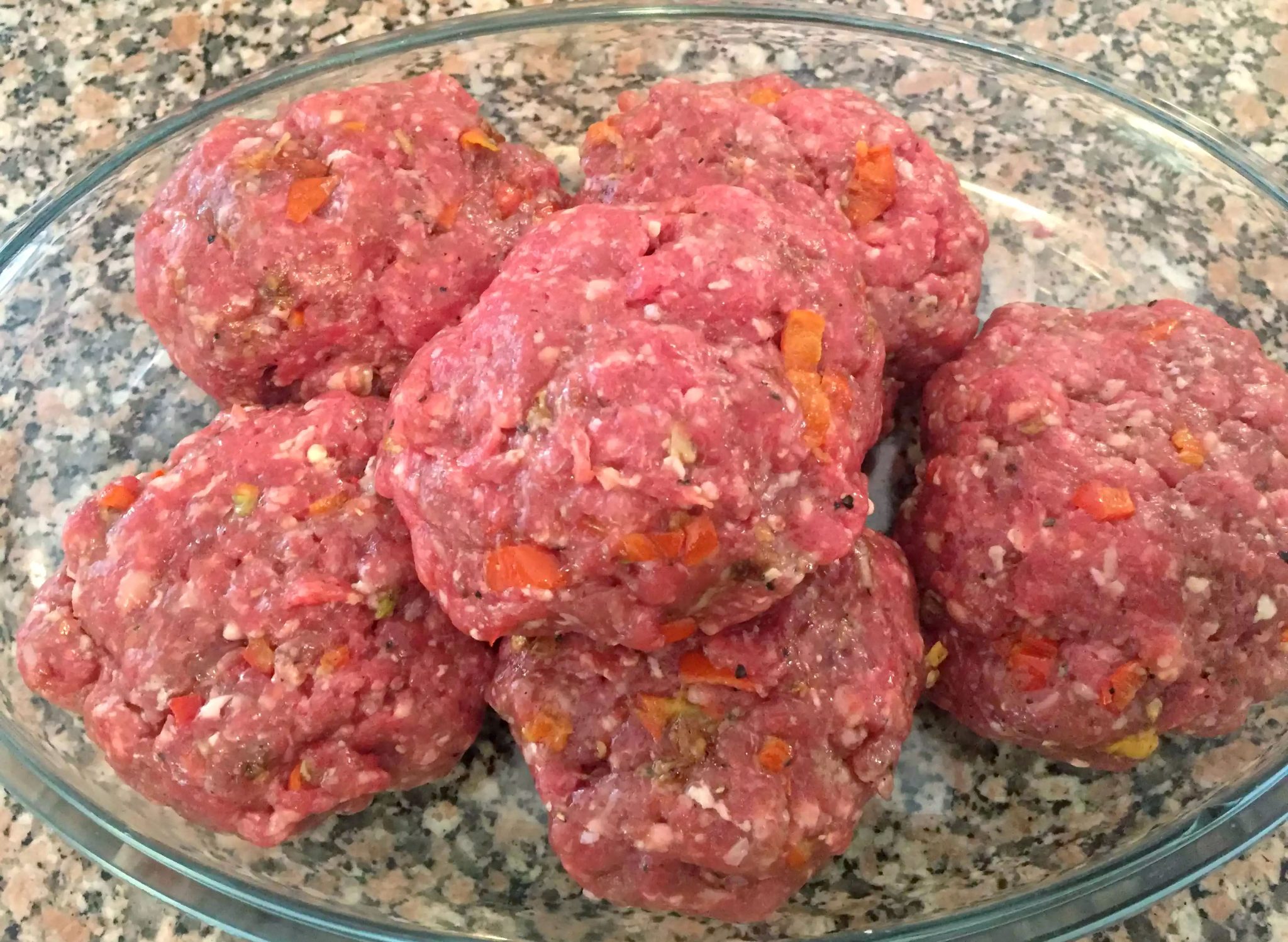 Grill the patties on the BBQ, (we like them rare so about 4-5 mins on each side so that when you take them off they are still raw in the middle – they will continue cooking while waiting to be eaten!)  If you prefer a more well done burger then take them off when the meat is cooked all the way through.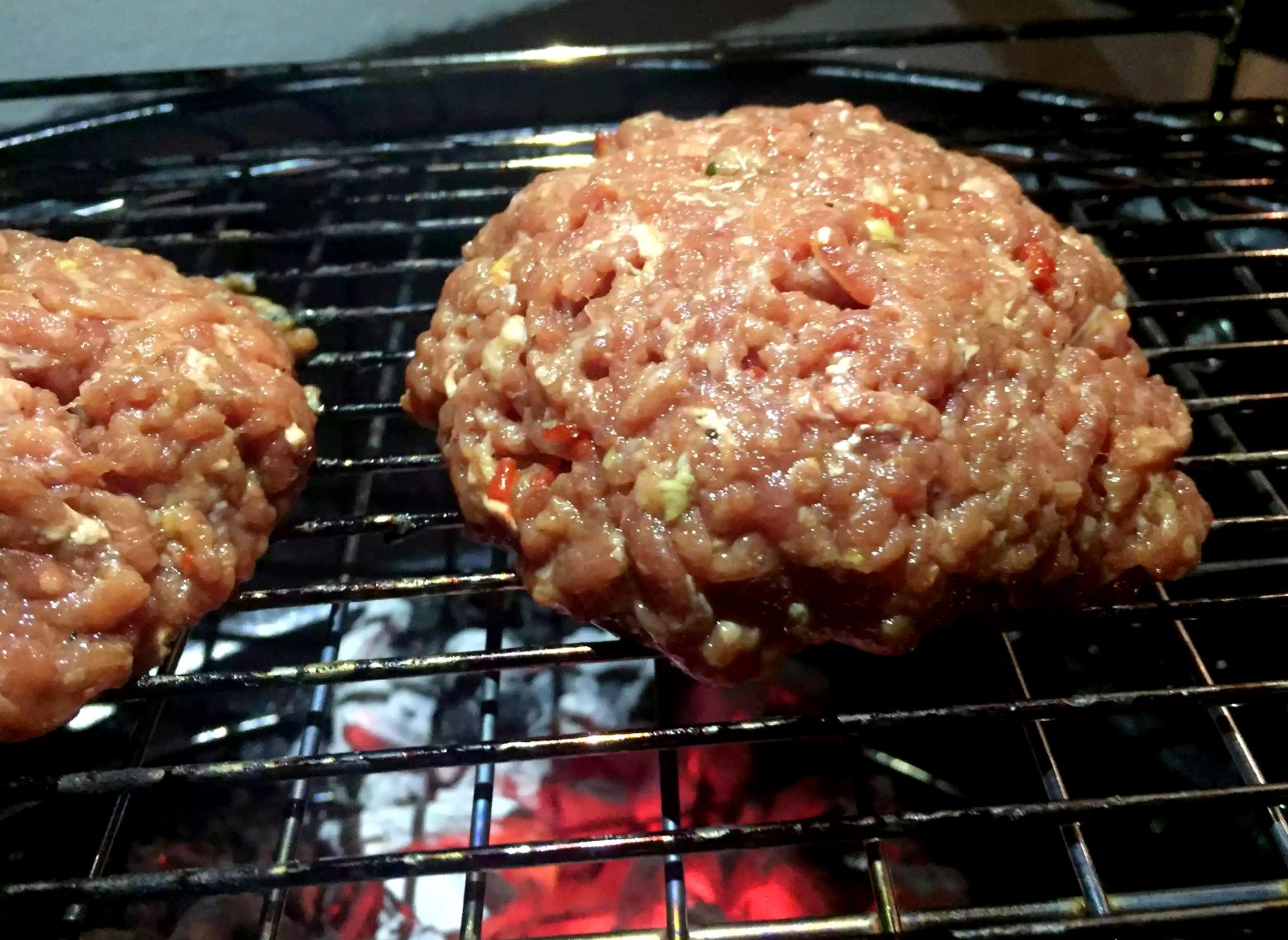 If you don't have a BBQ you can grill these in the oven, pan fry them, cook them anyway you like but Dan likes to BBQ them and at 31C in Central London today, outdoor cooking sounded amazing compared to turning on the oven!
Leave the burgers to rest for a few minutes after taking them off the grill to allow the juices to escape so that you don't end up with a soggy bun, and then they're ready to serve!  Dan likes his served in a toasted brioche bun with some mayonnaise, red onion and a slice of cheddar cheese.
Not being able to eat the bun, I like mine with a side of salad or some fresh veggies that have been grilled on the BBQ aswell or some roasted vegetables done in the oven.  I also think they'd be amazing with some fresh tomato salsa or mango salsa on them, or maybe some guacamole.  We grilled some asparagus and pepper alongside the burgers on the BBQ to have with them on this occasion.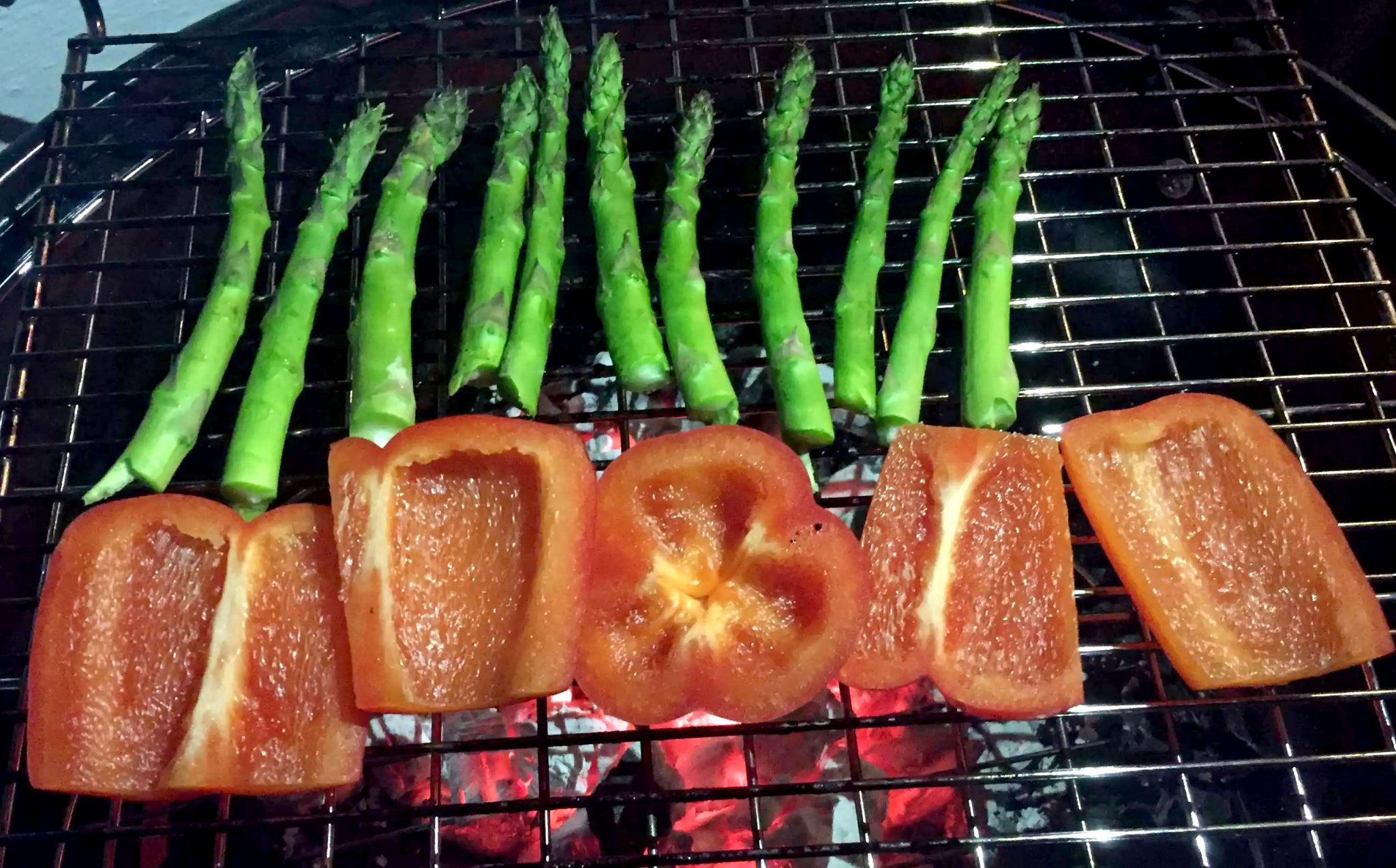 Moist and juicy, he's had many rave reviews about these burgers and they're now a staple at every family BBQ we go to (my family included!)  With just the right amount of spice and a delicious meaty flavour they're the best burger I've eaten (no joke!)
Edit:  I decided to up my burger game to try and beat him and made these delicious Melting Middle Mozzarella Caprese Burgers which I think are even better – just don't tell him!
What's your favourite way to make a burger and your favourite toppings?