Today, I found some amazing yellow cherry tomatoes while I was out shopping for something for dinner.  I definitely wanted to make a salad with them so I racked my brains to come up with something tasty and light pair them with.  A few weeks ago I made Prosciutto Wrapped Jumbo Shrimp and I loved them so much that I decided to turn them into a salad.  They paired so well with the Mango Salsa that I served them with that I decided to incorporate that element into the salad aswell.
I started by making the mango salsa so that the flavours would have time to infuse whilst I made the rest of the dish…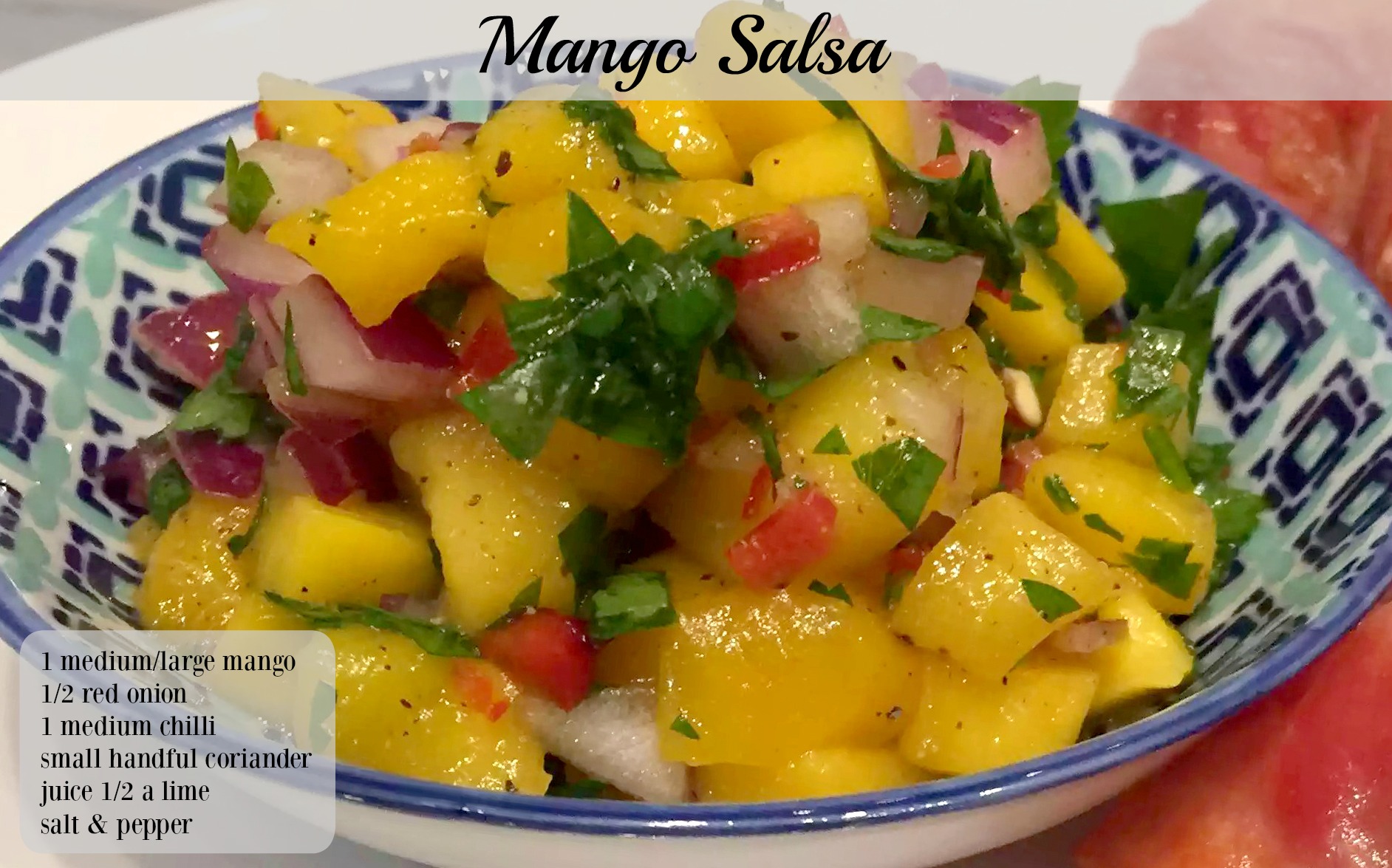 I chopped up all the ingredients, squeezed the lime over everything and seasoned well with salt and pepper.  For a more detailed explanation you can check out the original recipe post here…
Then I set to work making the Prosciutto Wrapped Jumbo Shrimp.  The method and recipe can be found here but it's very easy.  Just wrap the prosciutto around the shrimp, it doesn't need to be very neat or tight as the prosciutto will shrink as it cooks and wrap the shrimp completely.
Then I fried them in a pan with a tsp of oil until the prosciutto was crispy and the shrimp were cooked all the way through – about 2 mins on each side – but depending on the size of your shrimp they may take more or less time.  Just make sure not to overcook them or they will be hard and rubbery – you want them just cooked all the way through so they are opaque and not translucent.
Then it was time to assemble the salad.  The actual salad was just a basic mixed one using rocket, the yellow and red cherry tomatoes, orange and red peppers, red onion and cucumber.  I chopped everything up and then added plenty of black pepper on the top.
I finished it with the prosciutto wrapped shrimp and a very generous serving of Mango Salsa over the top.  It didn't need a dressing as the salsa worked as a kind of sauce for the whole thing.
It was a very light dinner, very summery and very fresh with a hint of spice from the chilli and I loved the sweetness of the mango salsa paired with the saltiness of the prosciutto shrimp.  Also aren't those colours amazing?  It was more filling than the appetiser portion of shrimp thanks to the extra salad but still a very healthy meal.
And the yellow tomatoes?  Not as good as they looked, I'm afraid, they were a bit tasteless but the rest of the meal more than made up for it!