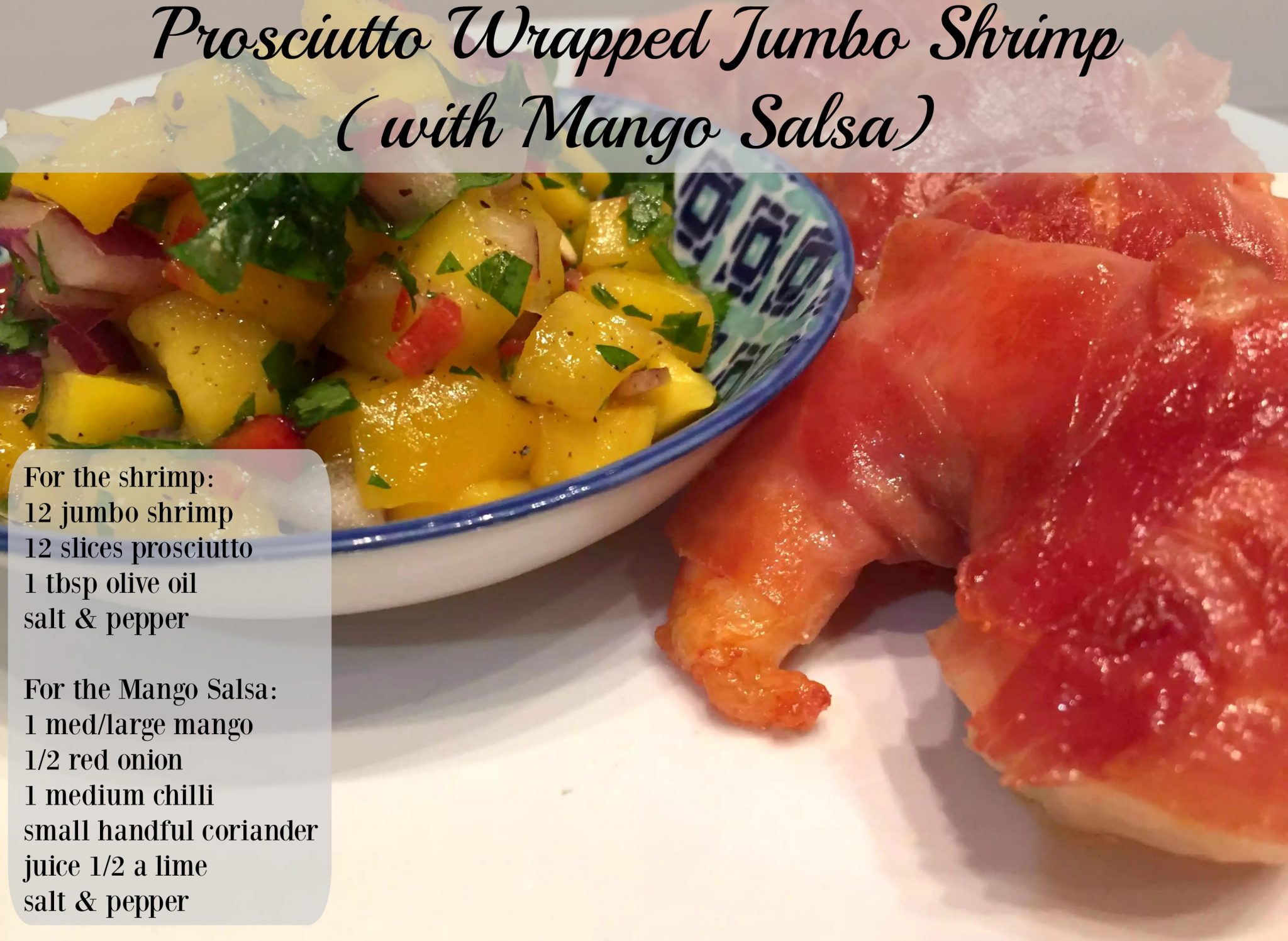 I found some amazing Jumbo Shrimp in wholefoods and they really inspired me to create a recipe around them.
We were having guests tonight and I had already planned the main course, but I hadn't got an appetiser to serve when they arrived.
With my Prosciutto Wrapped Asparagus fresh in my mind from a few days ago I decided to do a similar thing with shrimp.  
Start by seasoning the shrimp with plenty of black pepper (the prosciutto is salty enough so I didn't add any extra) and wrap each of the shrimp in a piece of prosciutto.  I found it easiest to split the prosciutto in half lengthways and do it in two bits, but even so they didn't look very pretty when I'd finished.  It doesn't matter if they're not perfect as when the prosciutto cooks it shrinks and tightens itself around the shrimp, no matter how bad a job you do of the wrapping.  That's all the prep work done and they're ready to cook when your guests arrive.
Previously, when I made the Prosciutto Wrapped Asparagus I baked them in the oven but I thought the shrimp might dry out if I did them that way, as they would take less time to cook than the prosciutto would to crisp up.  I decided to fry  them in a pan so I heated the olive oil until it was quite hot and placed half of the shrimp in.
They should sizzle as they hit the oil – this will make sure that the prosciutto goes crispy.  Cook them in batches so that you don't overcrowd the pan and this will also help them crisp up!
See how neatly the prosciutto tightens around the shrimp!
Cooking time will depend on the size of your shrimp but mine took about 3mins on each side (they were very big though and you don't want to overcook them.  Once they were done I removed them from the pan onto a piece of kitchen towel to soak up some of the extra oil and that's all there is to it!
I served the shrimp with my Mango Salsa as a dipping sauce, but you could equally serve them with a traditional salsa, or a mustard mayo, sweet chilli dip or even a Marie Rose sauce.