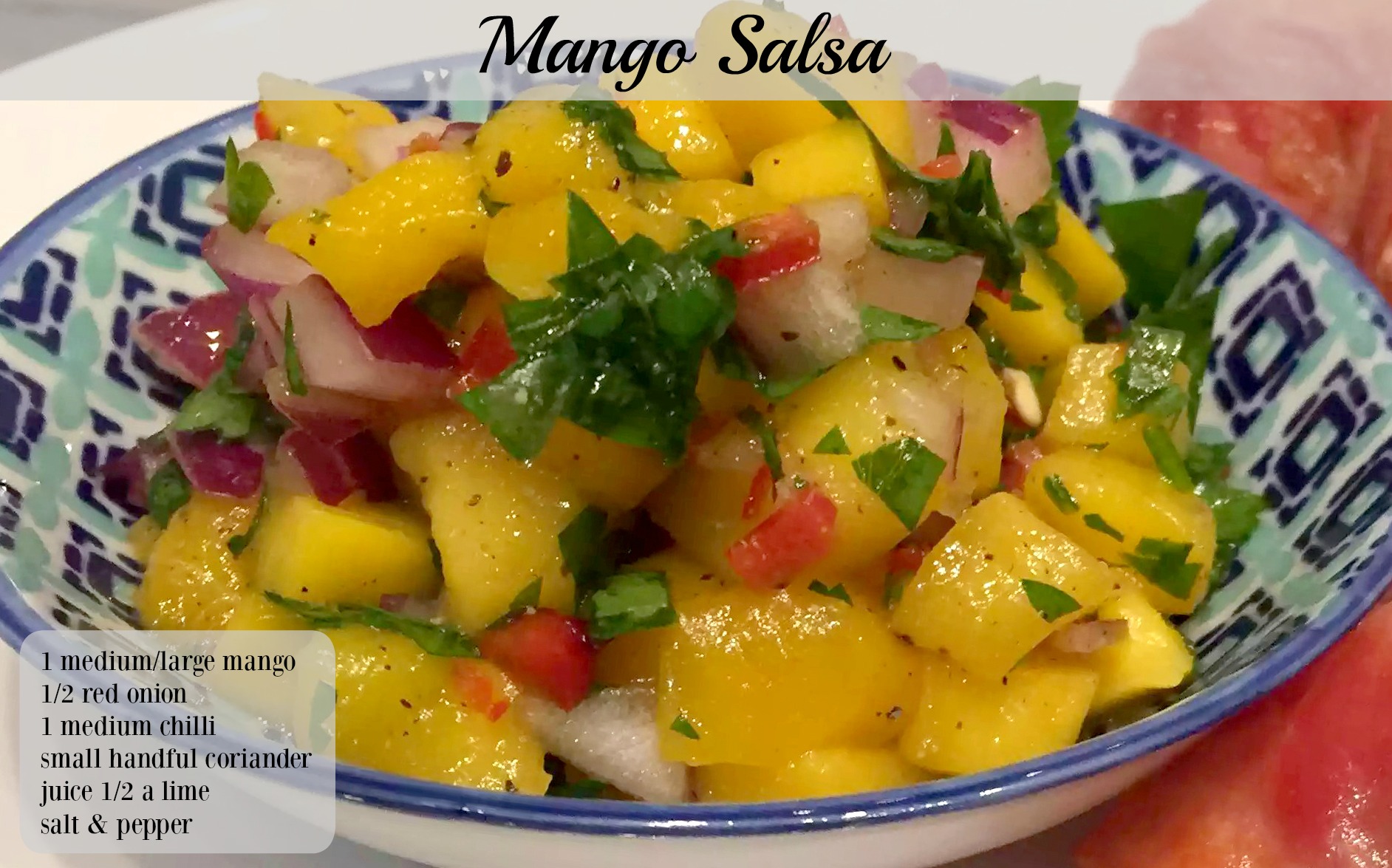 I fancied a change today from my Tomato Salsa so I came up with this mango version of a classic!  Sweeter and more summery than traditional salsa but still packing a punch from the chilli, this is a great alternative and it's perfect with vegetable crisps, crudités, seafood, you can use it as a topping for pulled pork or on tacos or even as a dip for something like this Prosciutto Wrapped Asparagus.
Most supermarket dips are too sugary (any added sugar is too sugary!) and contain unnecessary preservatives so I always like to make my own – it's only a few minutes of chopping and the results are so worth it.  Everything just tastes fresher when you know it hasn't been sitting in a jar on a shelf for months.
For this recipe you need to make sure your mango is really ripe and sweet otherwise the salsa will be too tart and not juicy enough.  Gently squeeze the mango to check that it is not too firm and that it has a bit of give under pressure!
I started by peeling the mango (I just do this with a sharp knife – for a YouTube tutorial you can check out the link here but I just slice the flesh off the sides of the mango keeping as close to the stone in the middle as possible.  These two large chunks are called the cheeks.  Then I take the skin off – just using the knife, trying to get as little of the flesh with it as possible – but you could use the glass trick shown in the video).  Then I slice off the remaining flesh as close to the stone as I can.  (Then you get to eat whatever's left stuck to the stone! Chef's perks!)  Be careful with the sharp knife though!  Those mangoes are 'slippery little suckers!" (Pretty Woman reference!!)
Dice the mango quite finely into about 1/2cm chunks and place in a bowl.  Then peel and dice half a red onion to the same size and add it to the bowl.
I used a quite a large, medium strength chilli for this recipe (and I used the whole thing) as I like my salsa to pack quite a punch but you could use less (or leave it out altogether if you're not a fan of the spice!)  I chopped the stem off, sliced it in half and removed the seeds.  Then I sliced each half lengthwise a few times and then diced each strip very finely – much finer than the mango and onion.  Add this to the bowl as well.
I find it easiest to chop herbs with scissors but you can do it any way you choose, it doesn't really matter how large the pieces or coriander are for this, it's just personal preference.  Add that to the bowl and it's almost ready.
All there is left to do is add the lime juice and season well with salt and pepper.  Mix everything together thoroughly and that's all there is to it!
So quick to make, you know exactly what's gone into it and you know it's good for your body!  I  like to leave it for about half an hour after it's made before eating it so that the flavours have had a chance to combine.  It's so fresh, and the sweetness really adds another dimension to all the dishes I've paired it with so far!  It's quite firey but the sweetness of the mango kicks this back a notch so it's not too overpowering.  The colours in this are also amazing – it brightens up any dish that needs a pop of colour!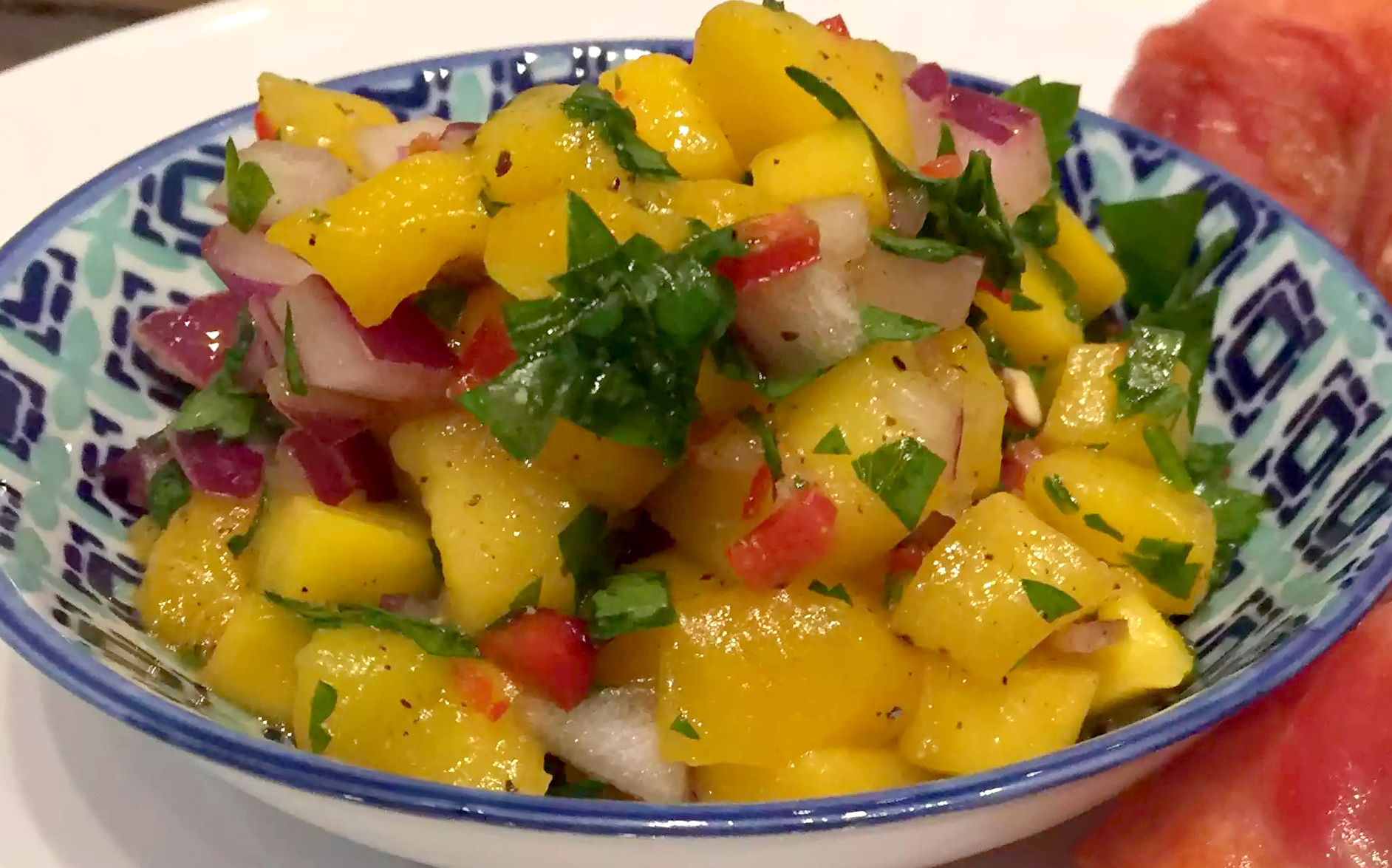 When I make my Chicken Curry again I'm going to use it as replacement for mango chutney and I'm going to try it instead of my Tomato Salsa on my Chicken Fajitas.  I think it would be amazing on grilled swordfish or fish tacos…the options are endless!