Dinner tonight was going to be chicken skewers done on our new BBQ, but the Great British Summer had other ideas!  Not the nicest of evenings so I had a quick re-think and settled on chicken fajitas (done in lettuce wraps for me – tortillas for Dan).  The first job was to marinate the chicken.
I don't like to use spice mixes as they always contain fillers and the fajita ones usually contain sugar so I always make my own from pure spices that I have in the cupboards (at least then I know what goes into it!)  I added the spices into a bowl and mixed them with the salt, pepper, olive oil and lime juice.  I've taken to using lime juice (or lemon) in most of my marinades recently as I find that they really tenderise the meat and make it much juicier when it comes to eating it.  I used paprika, cumin, garlic and chilli as they are normally in fajita spice mixes and then added turmeric, purely for its anti-inflammatory properties (and because I don't get enough of it!)  Then I chopped up the breasts into bite size pieces and poured the marinade all over them and mixed it up so that they were thoroughly coated.  Seasoning them with salt and pepper, I then put these to one side to marinate while we prepped the rest of the meal.
Dan took charge of the guacamole and I let him do his thing with my Guacamole Recipe, so he mashed up the avocado with lime, chilli, onion, cherry tomatoes, garlic and coriander and seasoned it well with salt and pepper.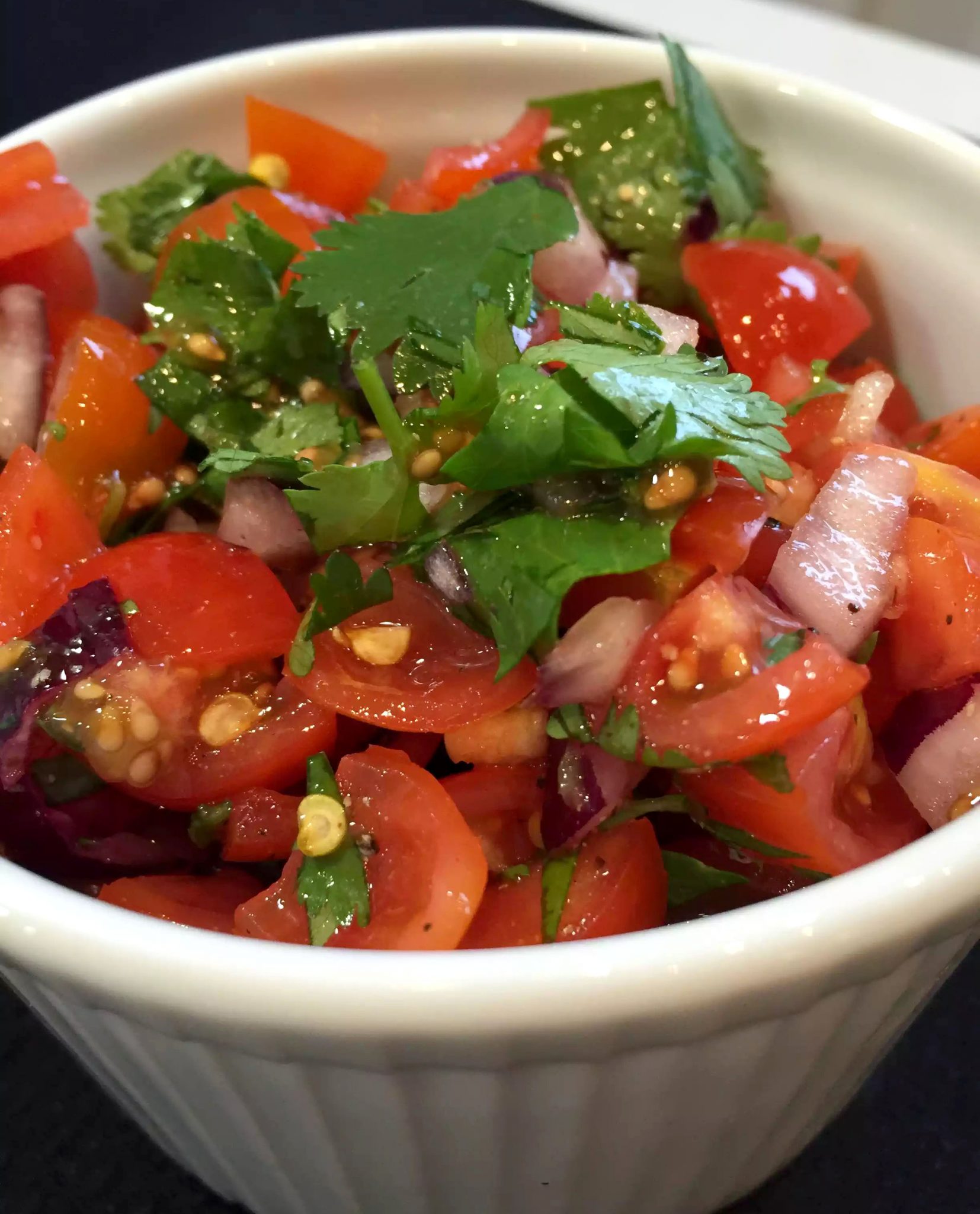 I made the salsa using my Easy Salsa Recipe (fresh, so as to be sugar-free) by chopping up about 20 cherry tomatoes into 8 pieces each, dicing 1/4 of a red onion, chopping a small bunch of coriander, 1/2 a small red chilli and crushing one garlic clove.  I mixed this all with the juice of 1/2 a lime and seasoned well with salt and pepper.
Then I chopped up the peppers and onion and fried them in a pan with some olive oil until they had softened and browned a bit.
Removing them from the pan I added the chicken and cooked that until it was done all the way through (about 8mins or so).  Check by cutting a piece in half and making sure that it's not pink in the middle!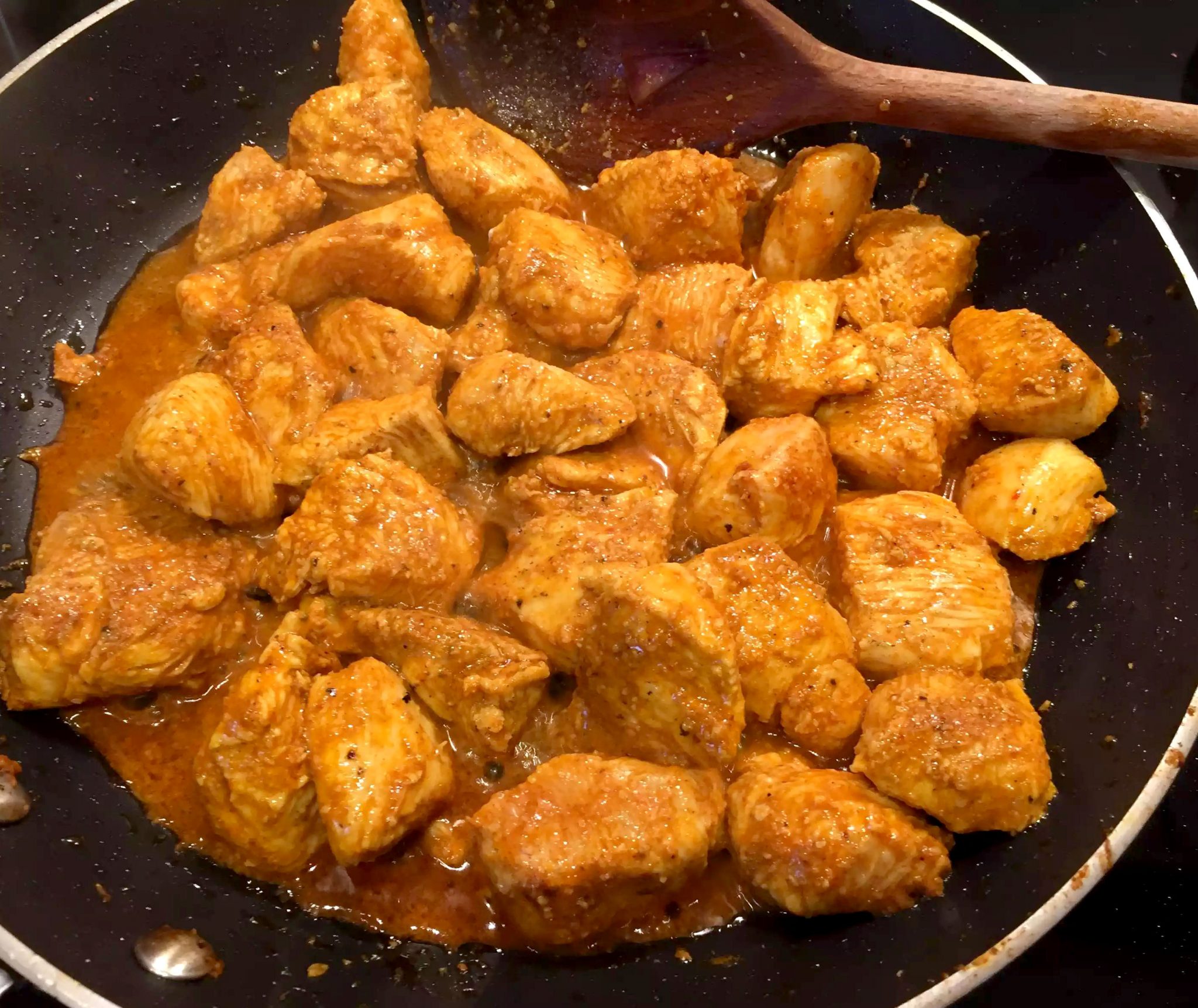 Attempting to be better with my food styling!
I served the fajitas with the guacamole, salsa, some yoghurt and feta (oops, we'd run out of cheddar – but the feta still worked).  I loaded my gem lettuce leaves with a bit of everything, onions and pepper, chicken, guacamole, salsa and yoghurt and, attempting to roll them up a bit (they were pretty full) I dug in.
It's definitely not a meal to make if you're worried about getting messy or impressing someone with your perfect table manners!  In spite of that, they were delicious, and (having had the real deal with tortillas before and felling uncomfortably stuffed afterwards) I was so surprised at how light the meal was.  I couldn't believe how tasty and tender the chicken was – the marinade was absolutely delicious and I'd be happy just eating the chicken on its own!
I love the mix of the spicy and the fresh and the citrus and the creaminess, the dish really does have everything.  You can dial down the spices or increase them depending on how you like it and switch up the meat for beef or turkey or even leave it out altogether and throw in some more veggies, courgette would work well or tofu if you want a meat substitute.  It's also a fun meal for a dinner party as everyone can get stuck in and help themselves and it's a nice communal way of eating.