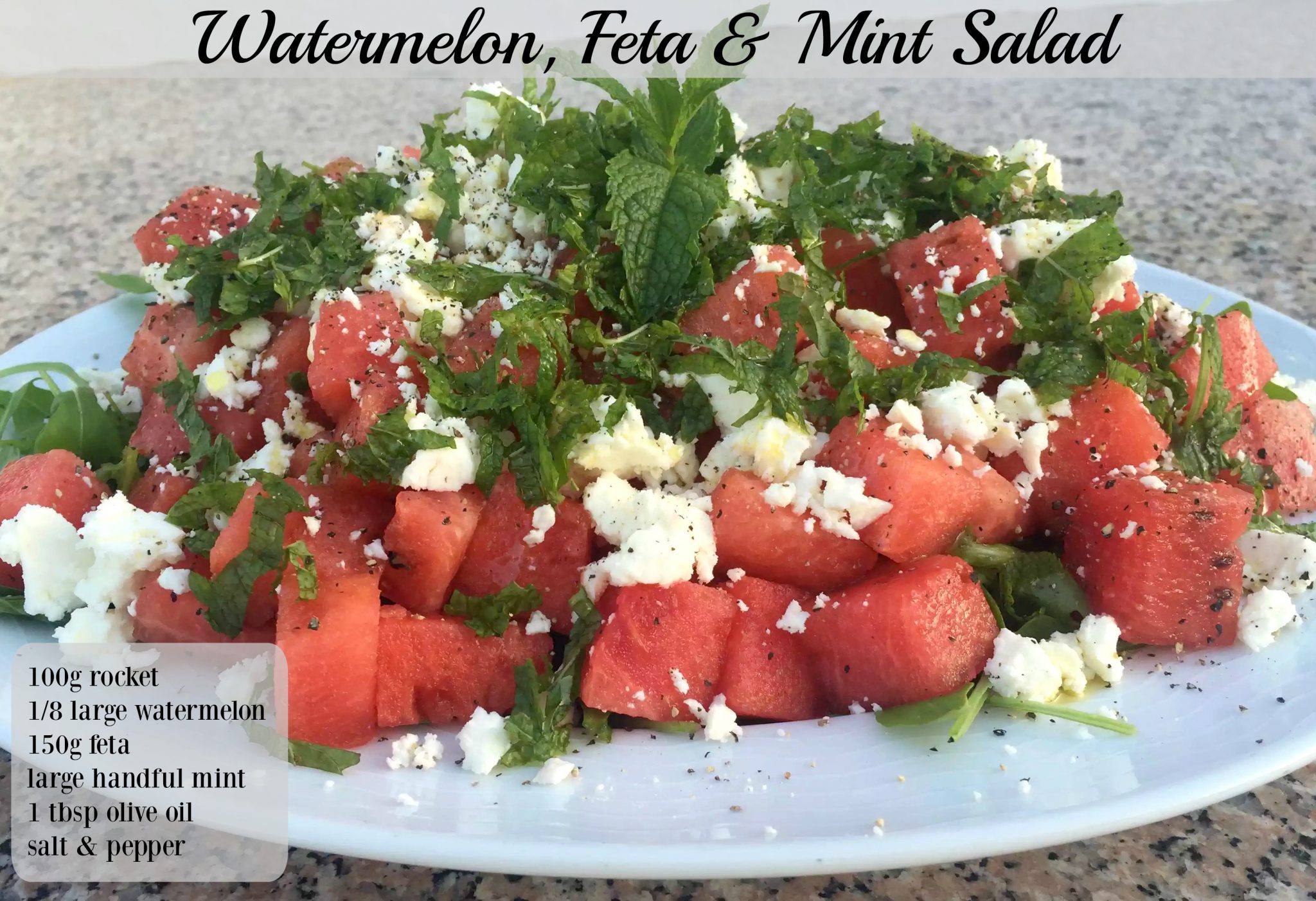 Tonight, out in Portugal we were having family over for a BBQ and, being the food blogger in the family, I was in charge of creating the menu.  After having seen my Roasted Peach, Feta & Pistachio Salad and my Grilled Halloumi, Green Bean & Pine Nut Salad the family had requested a salad and I wanted to do something different.  We were going to be having Prosciutto Wrapped Asparagus as an appetiser followed by Dan's burgers and some sausages on the BBQ, and Garlic Butter Shrimp,  – there was going to be plenty of food around – so I decided to do a light refreshing salad to throw into the mix.
I love the combination of watermelon and feta – salty and sweet gets me every time and to me it just screams summer so it was the perfect side for our BBQ!  it also doesn't take very long so I could focus on the Shrimp and the Prosciutto Wrapped Asparagus while the boys fired up the grill!
I started by dicing the watermelon into large cubes (about and inch square).  I then arranged some rocket on a platter and added the watermelon on top.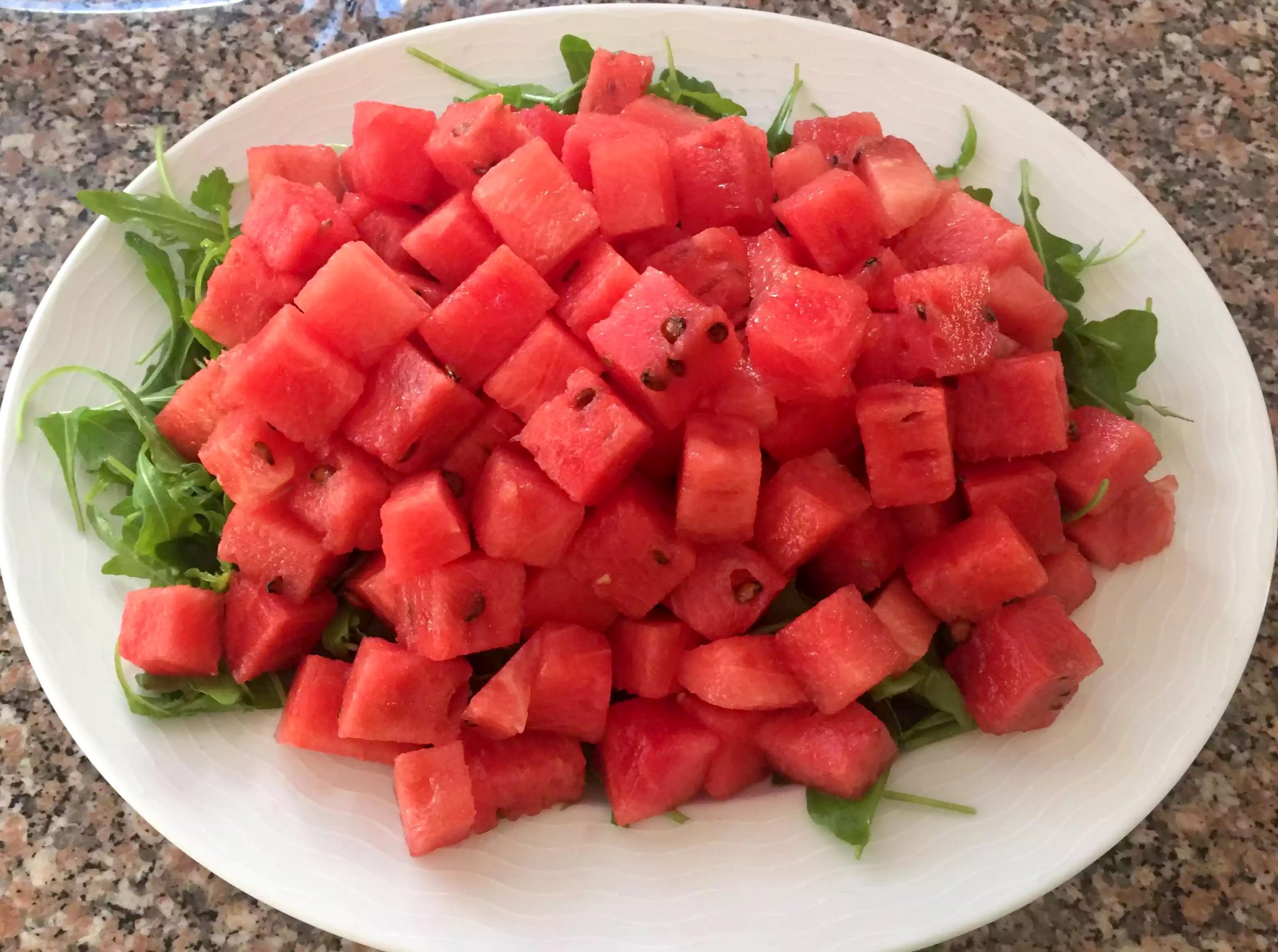 I crumbled the feta over the top (use a lot – it's the best bit).  I chopped up the mint and sprinkled it over the whole salad.
Then I seasoned it with a bit of salt and a lot of freshly ground black pepper.  This salad works so well with balsamic vinegar but as my mum can't have that I just drizzled some olive oil over the top and it was done!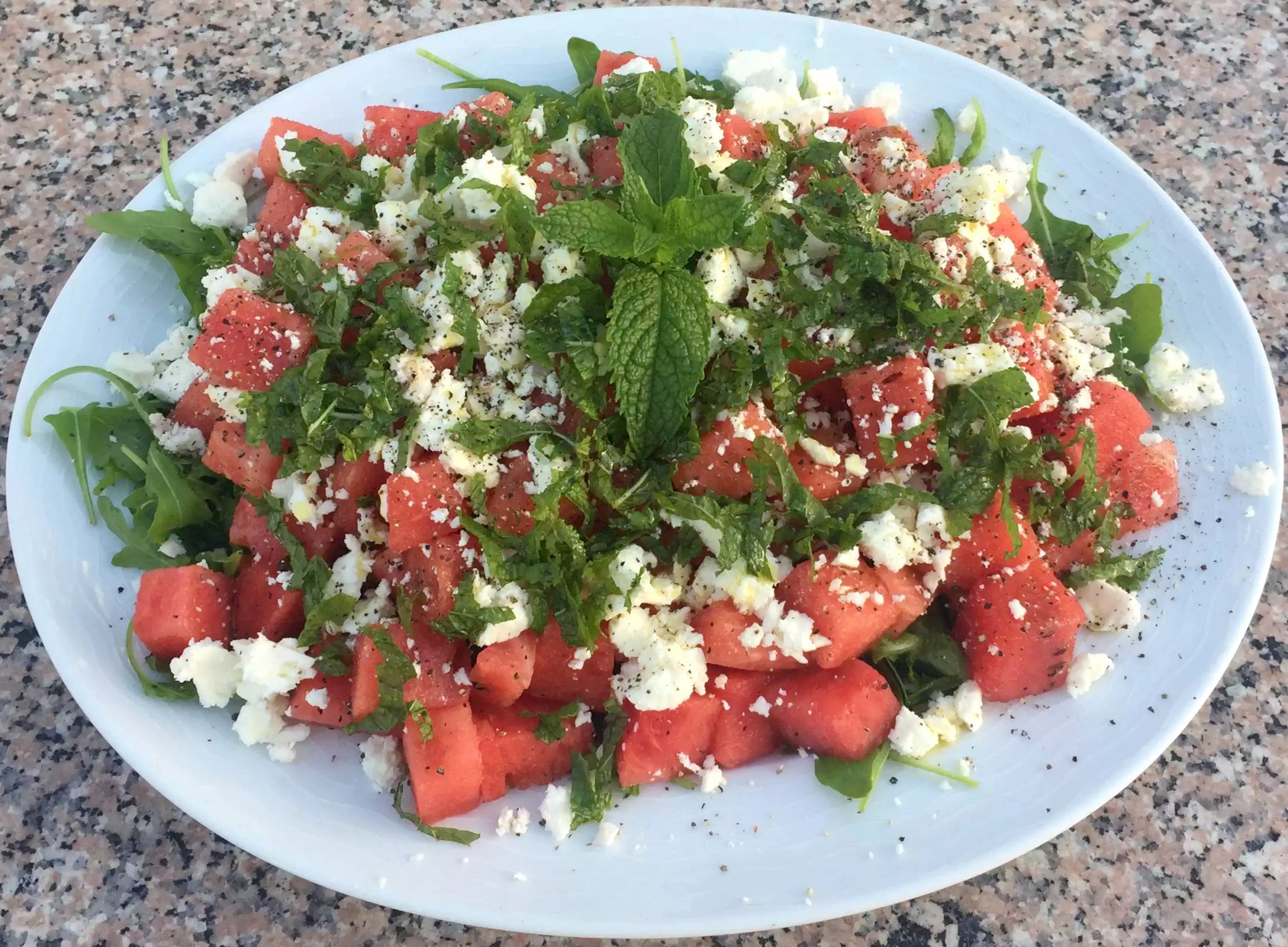 It tasted amazing next to the BBQ meats and really freshened everything up.  Already light and juicy , the fresh mint and peppery rocket really added to the flavour.  I have to confess,  I'd bought some toasted pumpkin seeds to sprinkle on the top for a bit of crunch, but I completely forgot about them until I found them in the cupboard a few days later.  Luckily nobody noticed and he salad didn't really need them but if you make it yourself it might be a nice addition!
This was great as a side and served 8 of us but I've also had this as a starter (when I had Lunch at the Ivy Cafe) and as a main course and it works for all three.  And doesn't food always taste amazing on holiday by the pool!