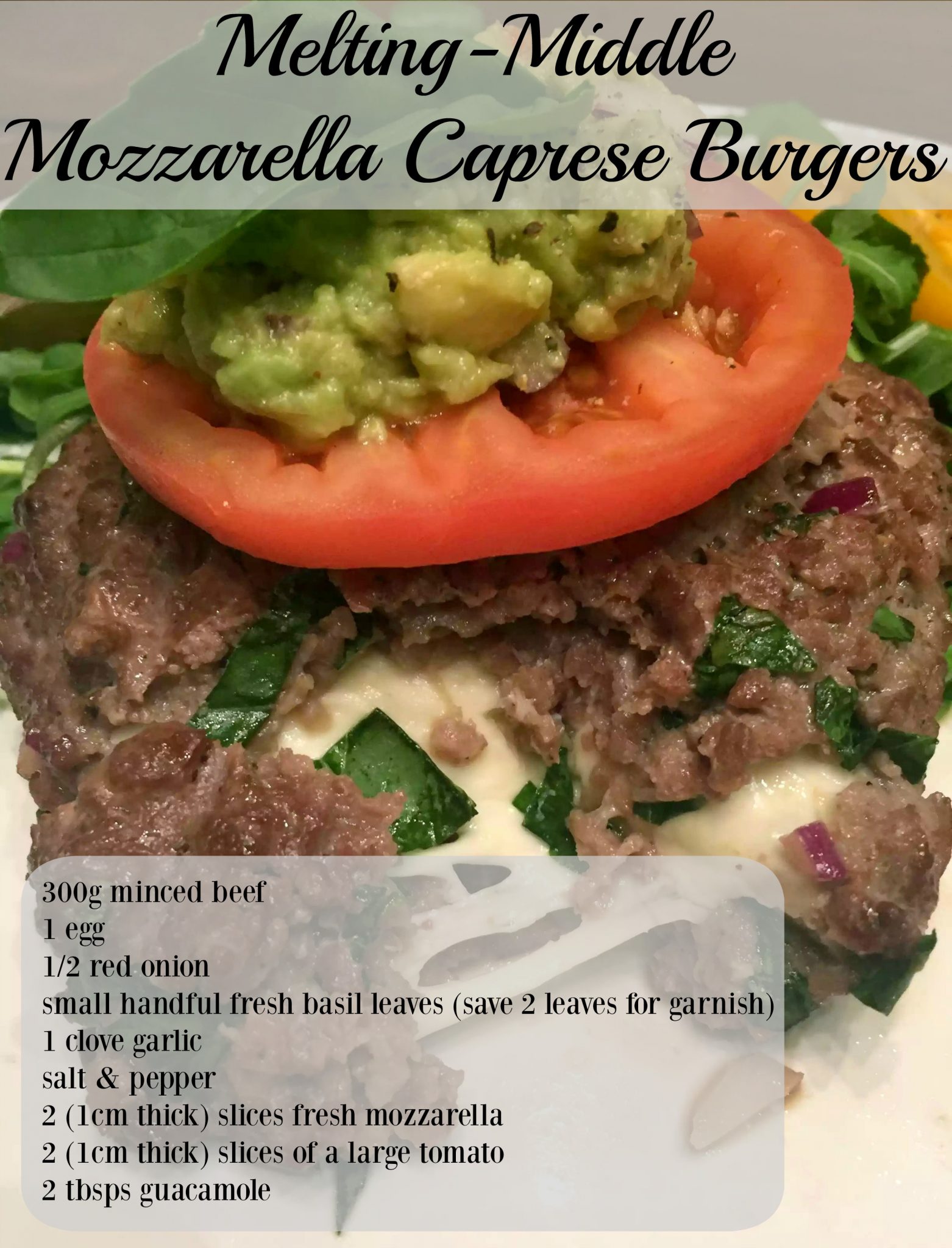 Last night we decided to have a BBQ outside and burgers were on the menu.  Dan normally makes his Super Simple Spicy Burgers but today we decided to up the ante and go for something a bit different.  Melting Middle Mozzarella Caprese Burgers were what we came up with.  Deciding to stuff each burger with a slice of mozzarella was a no-brainer.  Tasty burger (check), gooey melty cheese (check) creamy, zingy Guacamole (check)  and fresh tomatoes (check), it had everything you could dream of.
I started by making the burgers – this recipe makes enough for 2 absolutely huge whoppers!  In a bowl I added to the mince, the crushed garlic, the diced red onion, the chopped basil, the egg and plenty of salt and pepper.  Then you have to get your hands dirty I'm afraid – you could use a fork, but eventually you're going to have to shape the burgers so you may as well get messy now.  Mix all the ingredients with your hands so that they're all combined and then split the mixture into 2 equal portions.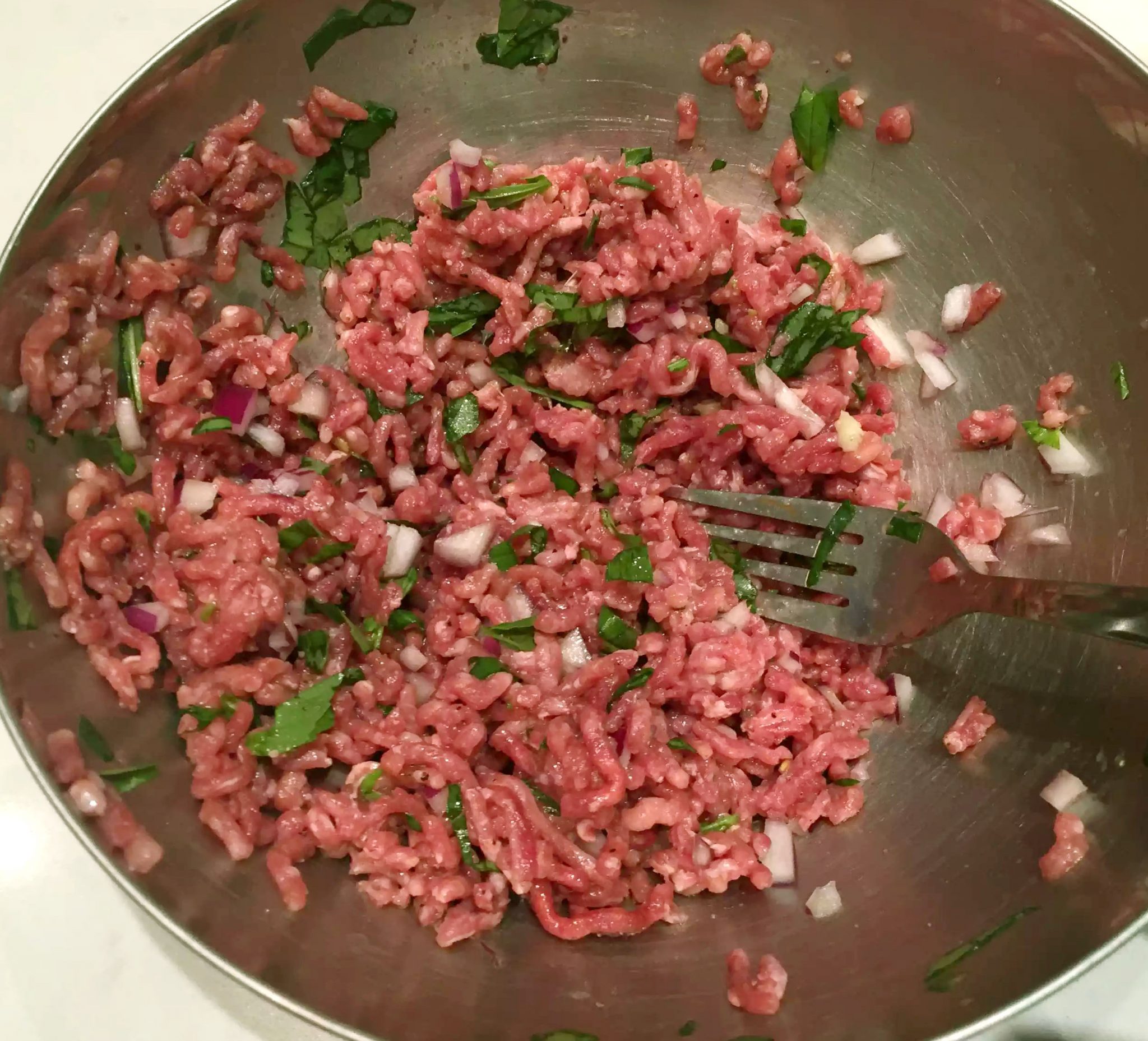 Split each portion in half and shape the half into a round disc.  Lay the slice of mozzarella on top of the disc and then, using the remaining half of the mince mixture, mould it around the top of the mozzarella so that you create a burger that completely encases the cheese, making sure that there are no gaps. (Yes they do end up absolutely huge!)
Repeat this for the other burgers and they're ready for the grill.  Dan took them outside to grill on our BBQ while I stayed inside and made the rest of the meal.  They were huge (and we like them rare) so about 4 mins on each side was perfect for these but you may like yours more well done so adjust cooking times accordingly.  You want them cooked enough all the way through so that the cheese is able to melt!
While the burgers were cooking I whipped up a batch of my Easy Guacamole and sliced up some large tomatoes to top the burgers with to make the Caprese idea complete – I just love those Italian flavours together!
When Dan brought the burgers in from outside we topped each one with a thick slice of tomato and the smashed avocado guacamole.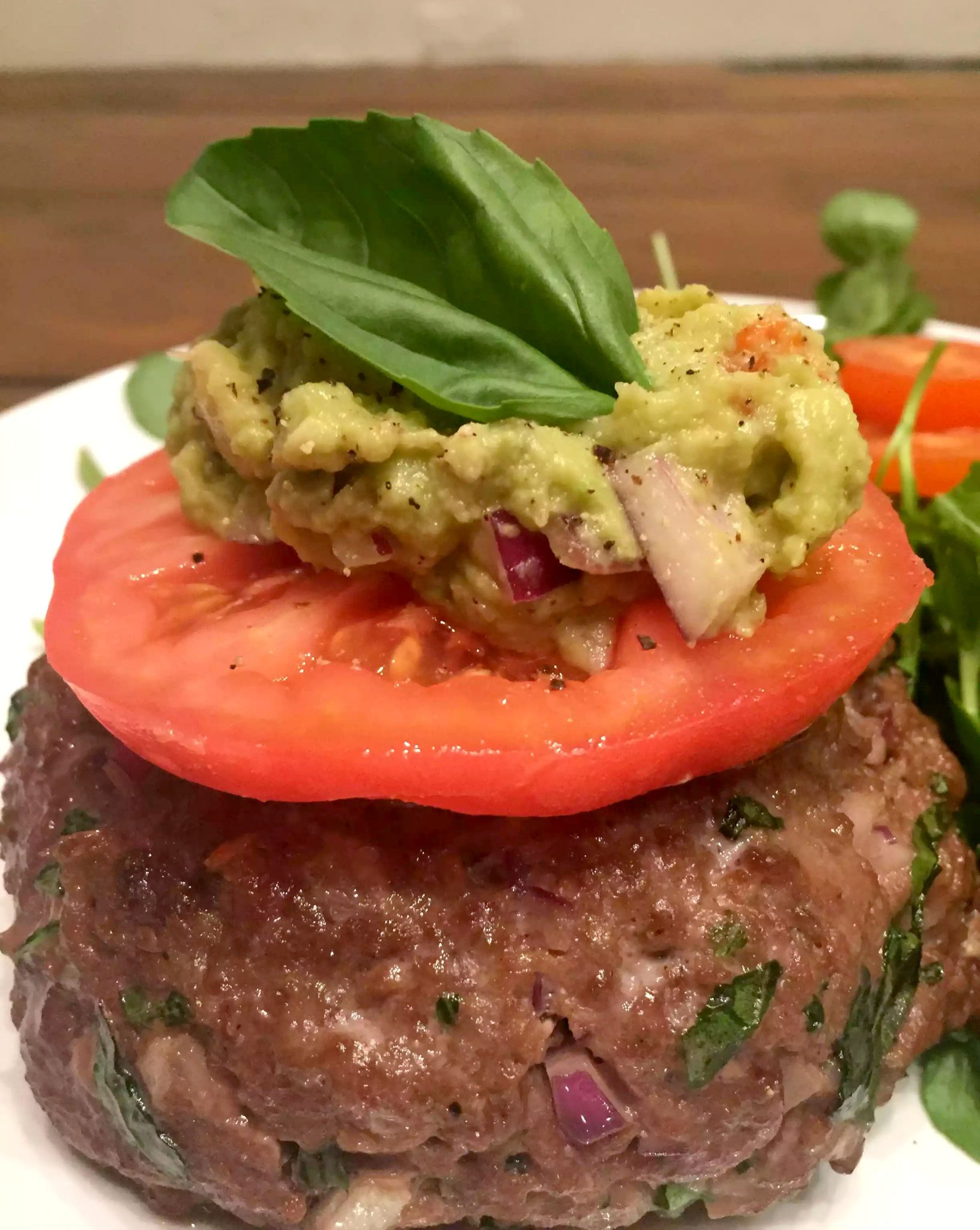 Finish with a couple of basil leaves and they're ready to serve with a salad or some grilled veggies.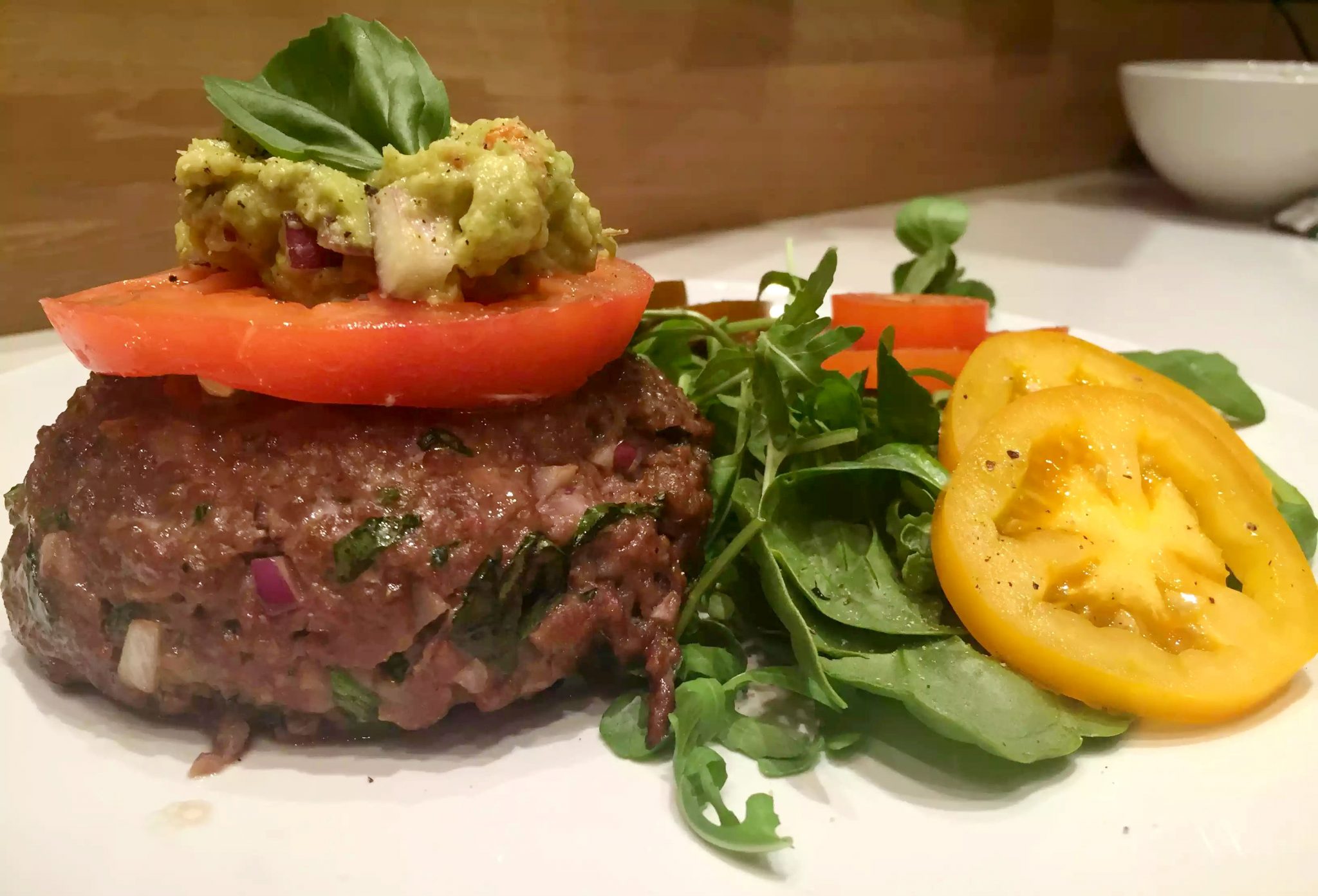 The fun bit with these though is when you cut into them.  The cheese should ooze out of the middle and be stringy and gooey and absolutely delicious.  The flavours together are some of my favourites and even though the burgers were huuuuuuge we managed to eat the whole thing.  They were juicy and flavourful and definitely something I'd try again.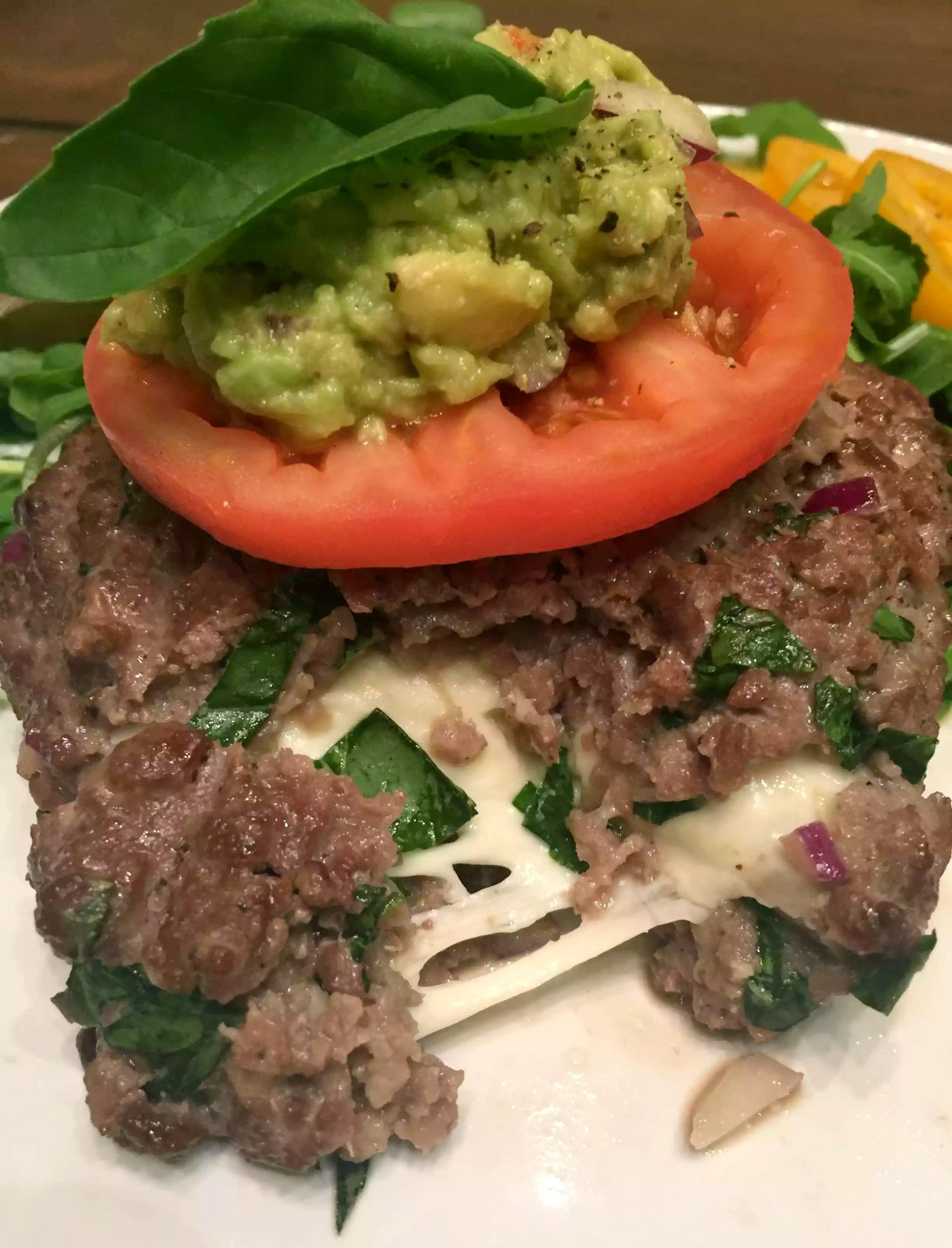 If you can't eat mozzarella you could always use a different cheese to stuff the burgers with.  Brie stuffed bacon burgers are next on my list along with blue cheese stuffed burgers with a crispy prosciutto topping.  There are so many flavour combinations to try out but the process is the same.  Let me know if you try any flavour combinations of your own in the comments section below!