Firstly I'd just like to wish everyone a HAPPY NEW YEAR!  I hope 2017 brings you all health, happiness and prosperity and that you and your loved ones have had fun celebrating the festive season.  We spent our New Years in Madrid (more about that in another blog post), but with memories of Spain fresh in our minds we wanted a little something tonight to remind us of our trip.  On our trip, we had some amazing Chorizo in Bar Allemana and decided to base dinner around that.  Also, the weather here in London today has been absolutely freezing so we knew we wanted something warming and comforting.  A stew was on the cards so I set about prepping all the ingredients.  I decided on chicken thighs as they have so much more flavour than chicken breasts, chorizo and of course, that Spanish favourite, Rioja wine to make a delicious Spanish Style Chicken & Chorizo Stew!
I started by preheating the oven to 180C and then heated the olive oil in my Le Creuset on the stove top.  I absolutely love this dish as it's so versatile – it works on our induction hob, on an electric or gas one and it can go straight into the oven to – it's the perfect stove-top to oven dish and although it's a little pricey it's worth every penny.  Amazon have some great deals at the mo and I have this one at £165 (Le Creuset Signature Cast Iron Round Casserole, 28 cm – Marseille Blue
 – 25% off at Amazon at the mo!) but there are smaller ones like this Le Creuset Signature Cast Iron Round Casserole, 24 cm – Cerise
, ranging from £135 and they come with a lifetime guarantee.  If you're on the lookout for one then I can't recommend them enough!  So on to the recipe…
How to make my Spanish Style, Chicken & Chorizo Stew with Rioja
I seared the chicken thighs in the hot oil until they had browned slightly.  This gives them a tastier flavour in the final stew.  I then removed them from the dish, peeled (sometimes chorizo comes in a papery skin or rind which I think you can eat but I prefer to remove it) and sliced the chorizo into slices about half a cm thick and added them to the pan.
I seared these again for another couple of minutes until the outside was slightly browned and crispy and they had released some of their oil.  I removed these from the pan and set them aside with the chicken thighs.
Then I sliced the red and white onions and diced up the red peppers.  I added these to the pan for about 5 mins to soften and absorb some of the flavours of the chorizo oil.  Then I sliced the garlic (you can crush it if you prefer) and thinly sliced the chilli and also added them to the pan and cooked for a further couple of minutes.
I added the chicken thighs and chorizo back into the pan, poured over the stock and the red wine and turned the heat up so that the stew was bubbling.  I removed the leaves from one of the sprigs of thyme and sprinkled them over the top, added the paprika and then seasoned the whole stew with plenty of salt and pepper.
I put the lid on the Le Creuset and put the entire dish into the oven to cook for about 2 hours – it can probably be ready after about an hour and a half or stay cooking for up to two and a half hours, it's pretty happy to sit as long as it's needed until you're ready to serve it.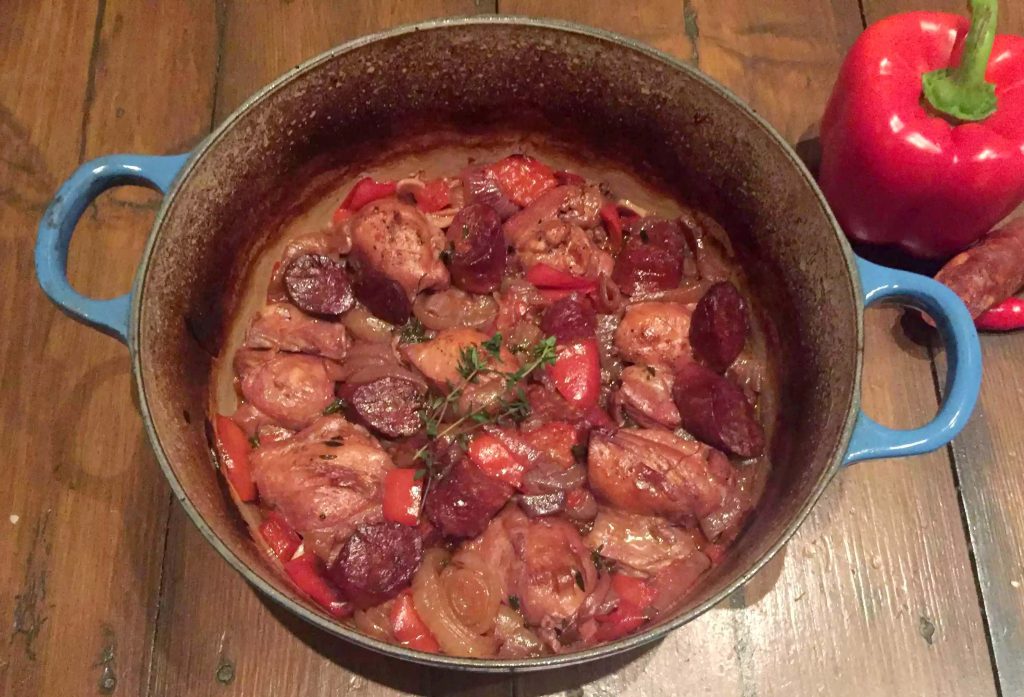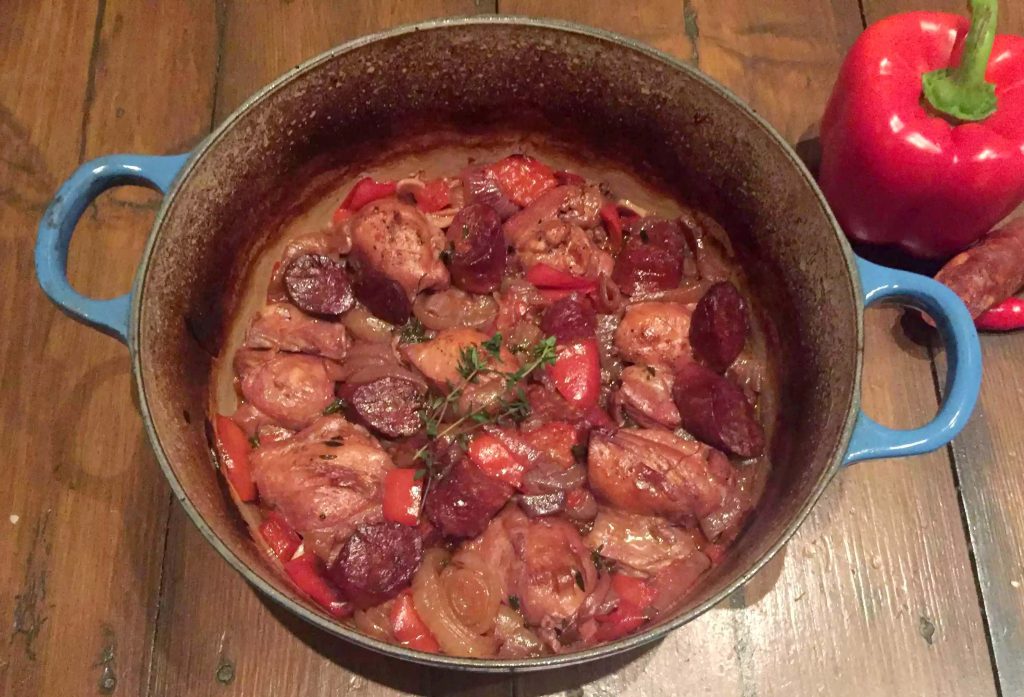 About 5 mins before you want to serve it, layer your serving dish with the raw spinach leaves and spoon the stew over the top.  If you want to serve it in the same dish you could always just stir the spinach through it.  Put the dish back in the oven for a about 5 mins until the spinach has wilted and then the Chicken & Chorizo Stew is ready to serve.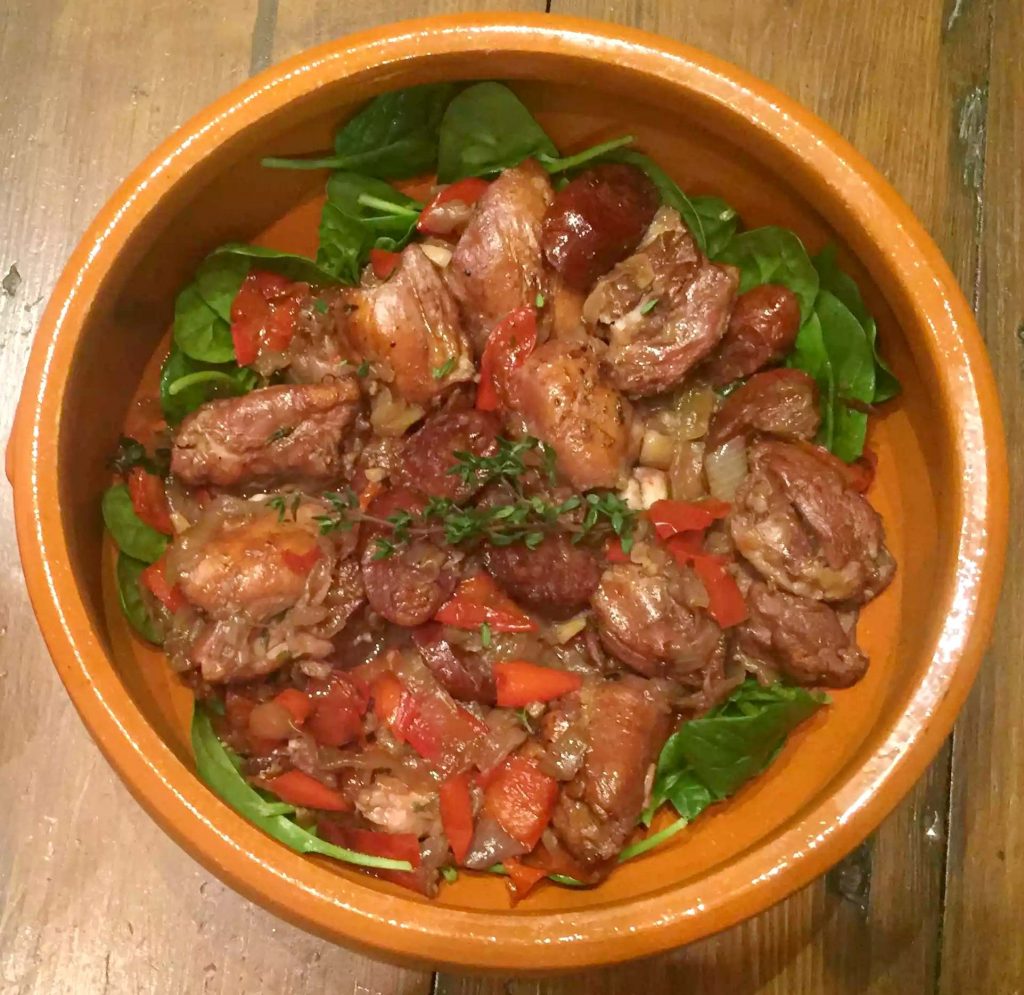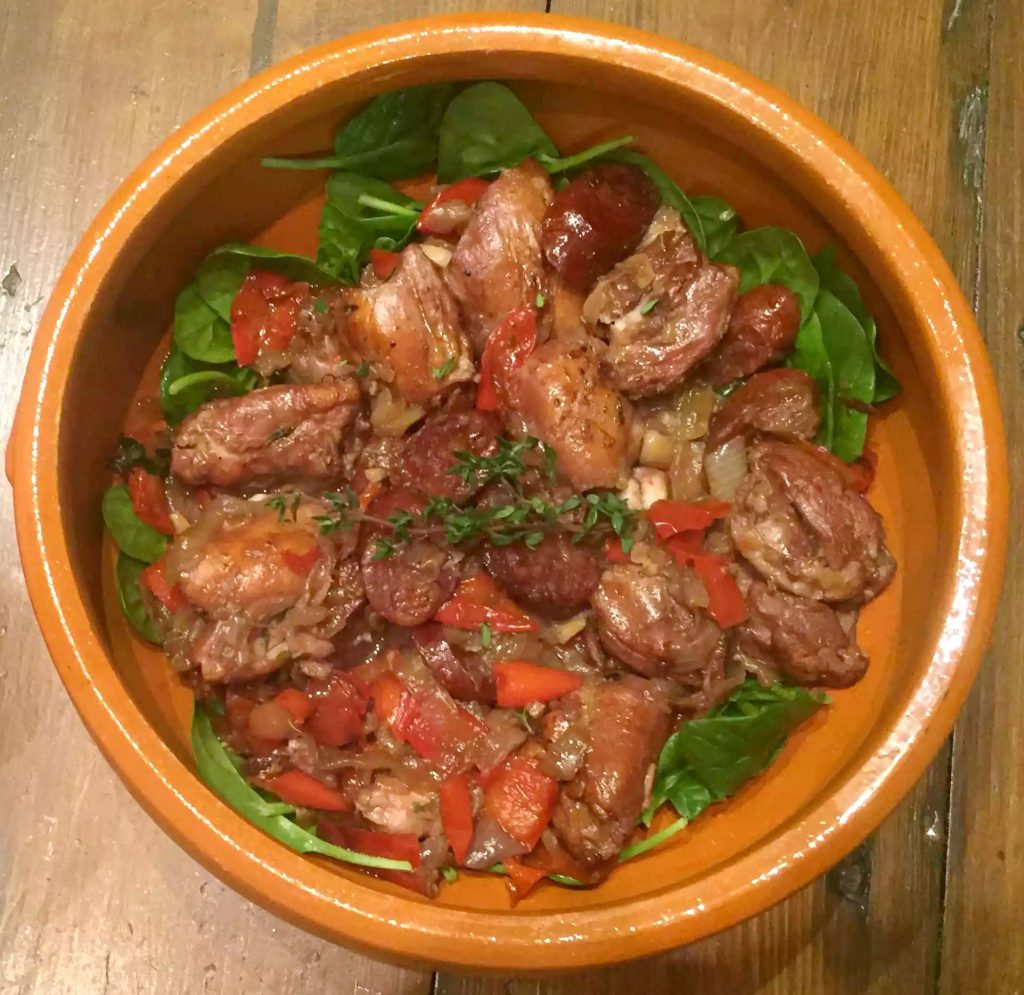 I think it would be lovely to serve it with some cooked chickpeas or some Patatas Bravas (if I could eat them…watch this space as I'm working on a Butternut Bravas recipe) or maybe even some Padron Peppers on the side.  It's spicy, warming and satisfying, full of the smoky flavour of the chorizo and with a little kick from the chilli.  One bite and we were transported back to the tapas bars of Madrid where we'd spent New Year.
Dietary & Allergy Information for Chicken & Chorizo Stew with Rioja
This Chicken & Chorizo Stew with Rioja is suitable for the following diets:
Grain-Free, Gluten-Free, Refined-Sugar Free, Dairy-Free, Paleo, Primal, Specific Carbohydrate Diet – SCD, Low Carb, LCHF.
See my Products Page for Ingredients & Bakeware that I recommend
Pin it for later