The weather today was so much nicer than forecasted that we were invited to a couple of impromptu barbeques.  Today was a BBQ times 2 kind of day.  One at my auntie's house and one at Dan's sister's flat.  Luckily they were a lunch event and a dinner event so we set off for BBQ No1 in Notting Hill for lunch with my family.
I have serious house envy when it comes to my auntie's flat.  A gorgeous Notting Hill town house with huge open plan kitchen/diner that leads out to the garden via huge windows.  Then out onto a private garden for the residents that live round it.  I think it my be my favourite London house ever!
My mum came along and three of my cousins were there.  John, Charles and Richard are always great fun so there was a nice crowd of us for lunch.  The weather was nice enough to sit outside to eat, which was an extra bonus.
My cousin Charles took charge of the food and did all of the prep work and cooking, and I was seriously impressed.  He prepped and oven cooked the ribs and made a spice rub for the chicken.  He chopped and marinated the vegetables and then grilled everything outside on the huge BBQ while my aunt made the salads and new potatoes.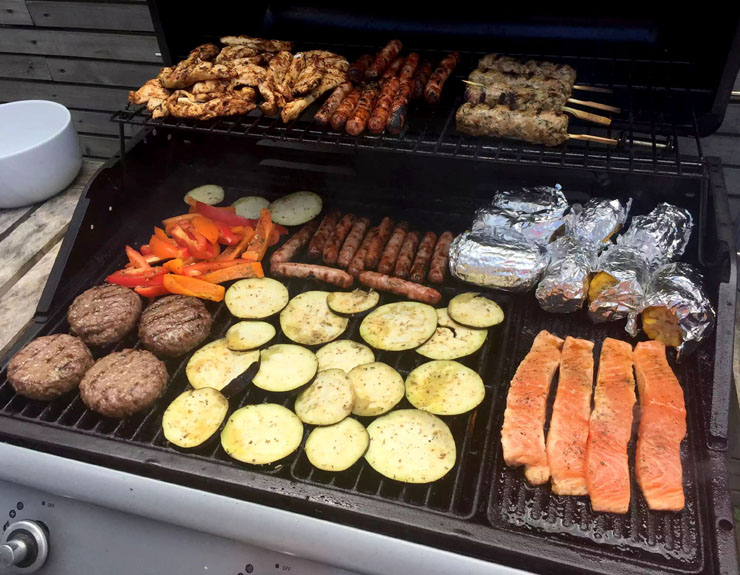 We had sausages, lamb kebabs, grilled salmon, corn on the cob, burgers, roasted vegetables and Charles's secret spice rubbed chicken.  I begged for the recipe but he wouldn't give it to me.  (I've since found out that this is because he doesn't have one.  He throws any spices he can find in a bowl along with some salt and pepper and rubs it on the chicken.  It's different every time.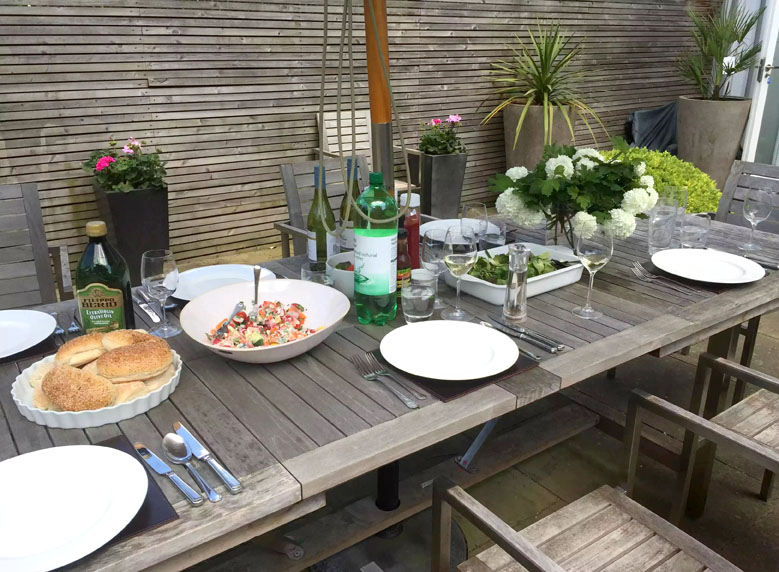 There was also a chopped vegetable salad with a delicious yoghurt dressing, an avocado and lettuce salad with a balsamic dressing and some new potatoes, bread rolls etc and of course the ribs that had been in the oven.  The table looked beautiful and it was so nice to be able to eat outside!  We sat down to eat and there was so much food!! I helped myself to some salmon, chicken, roasted vegetables and the two salads.  Then, out came dessert.  Chocolate Swiss Roll for the boys but I stuck to berries and creme fraiche, and a taster of the cheese plate.
Suddenly it was time to leave in order to get to BBQ times 2. We headed over to Dan's sister's flat for more food and wine and a late celebration of Dan's father's birthday!
BBQ Times 2
We arrived and were offered an Aperol Spritz.  It's one of my new favourite drinks and something that is just so summery and refreshing.  Aperol and Cava/Prosecco topped up with a little soda water and served with a slice of orange.  Nothing beats it on a sunny day.
Lizzie's boyfriend (Boli) is Brazilian so this barbeque was slightly different in style.  A Brazilian barbeque tends to involve cooking the meat all day long, constantly taking bits of and replenishing it so there is always a supply of meat available.  Then, you serve small pieces to everyone over a few hours, with plenty of sides to help yourself to. We had the most amazing starter of Jamon Iberico and Melon.  Boli had bought an entire leg of Jamon and carved us all pieces from it.  Then it was onto the BBQ.  Luckily the food was different so we weren't having exactly the same meal all over again. There were chorizo sausages, beef steaks, spiced pork and tuna steaks.  Lizzie had made a delicious broccoli and pine nut salad and a mixed bean salad which was a welcome break from the huge amount of meat on offer!
Sparkling Red Wine!
A few months ago we had all spent time in Australia and we visited the Hunter Valley to do some wine tasting.  Whilst there we discovered an amazing sparkling Merlot.  I'd never had a sparkling red before but this was delicious.  The company that makes it takes a really good Merlot from a neighbouring vineyard and carbonates it.  This means it's not sickly sweet or blackcurranty and tastes like a fantastic bottle of red that just happens to be sparkling.  Lizzie and I both bought a bottle back to England with us.  She opened her one this evening as the guy at the vineyard had said it was perfect for barbeques.  Heavy enough to have with all the red meat but served chilled so it's more refreshing on a hot day.  It was absolutely delicious and I cant wait to open my one now.
Dessert was cheese or birthday cake and a rendition of Happy Birthday Jim!  Lizzie had made him a chocolate courgette cake!  I'll have to have a go at reproducing it without the grains etc.  I'm very intrigued to try courgette in a cake, but carrot cake works well, so you never know so it's on my radar for a recipe post very soon!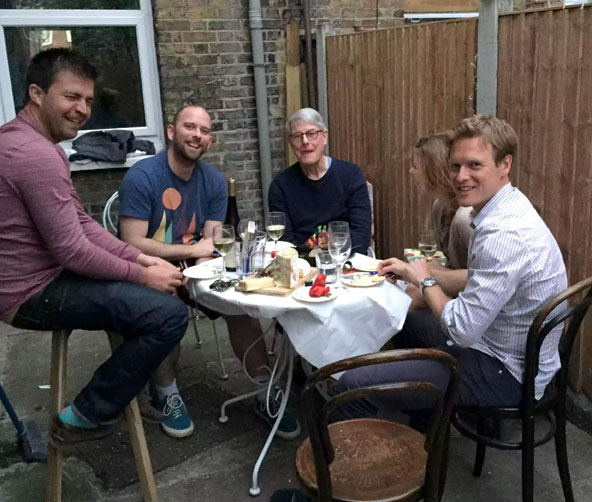 I think Jim enjoyed his birthday party, and as the sun went down we wandered home.
Pin it for later