When the sun is shining I always want something healthy and fresh to eat .  It feels so much easier to make better food choices in the summer with lots of delicious salads available.  I reached out my fellow bloggers for their favourite Grain Free Summer Salads!  Salads are so versatile and can be adapted and customised for a wide variety of dietary needs and specifications.  Whether you eat meat or fish or a vegetarian diet there are endless possibilities and of course, the dressing can make or break the perfect salad.
Here are just a few of my favourite Grain Free Summer Salads and some from my food-blogging friends around the web.  Have go at trying a new one so you don't get stuck in the salad rut! They're all also Refined Sugar-Free and Gluten-Free and if they're not completely SCD or Paleo then they're very easily customisable to be so.
Fruit in salads in such a summer idea to me.  I love the combination of the sweet peaches and the tangy feta in this Grain Free Summer Salad.  Perfect as a side for a BBQ it will go amazingly with any meats you are cooking.  Alternatively, it's filling enough to have as a light lunch so give it a go!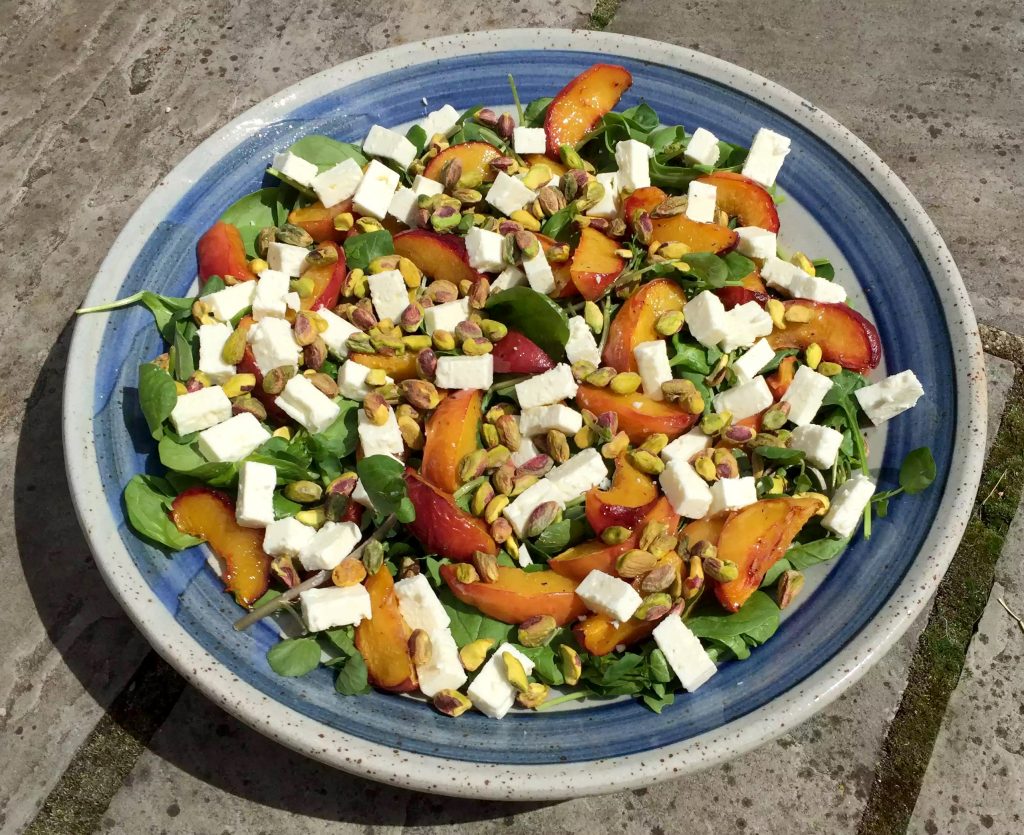 This fresh and vibrant salad from Athletic Avocado is a mix between a savoury salad and a fruit salad and is SCD, Paleo, Grain-Free, Gluten-Free, Whole30 and Vegan!!  It's a winner for a hot summer's day.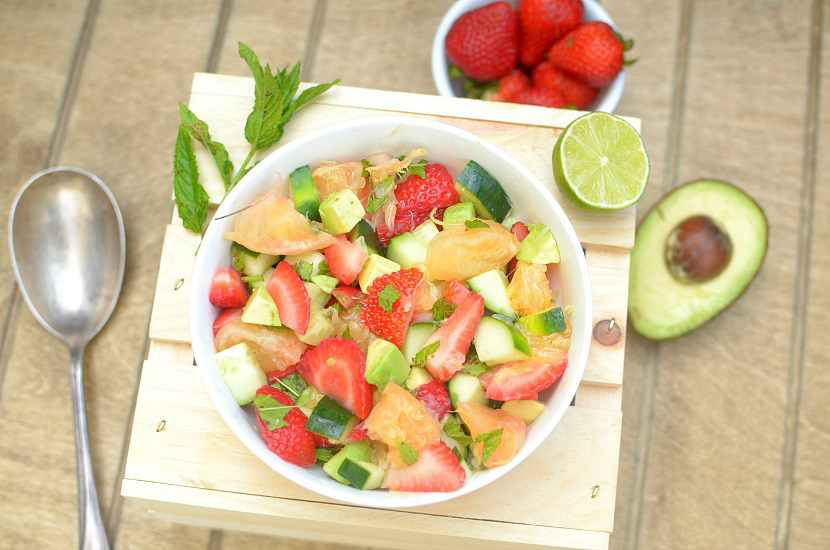 The grilled halloumi in this salads makes it a very filling option so it's perfect to have on its own.  I love the crunch of the pine nuts and the sweetness that the roasted shallots bring to the dish.  It's vegetarian too so it's the perfect dish to serve when your BBQ is a bit meat heavy!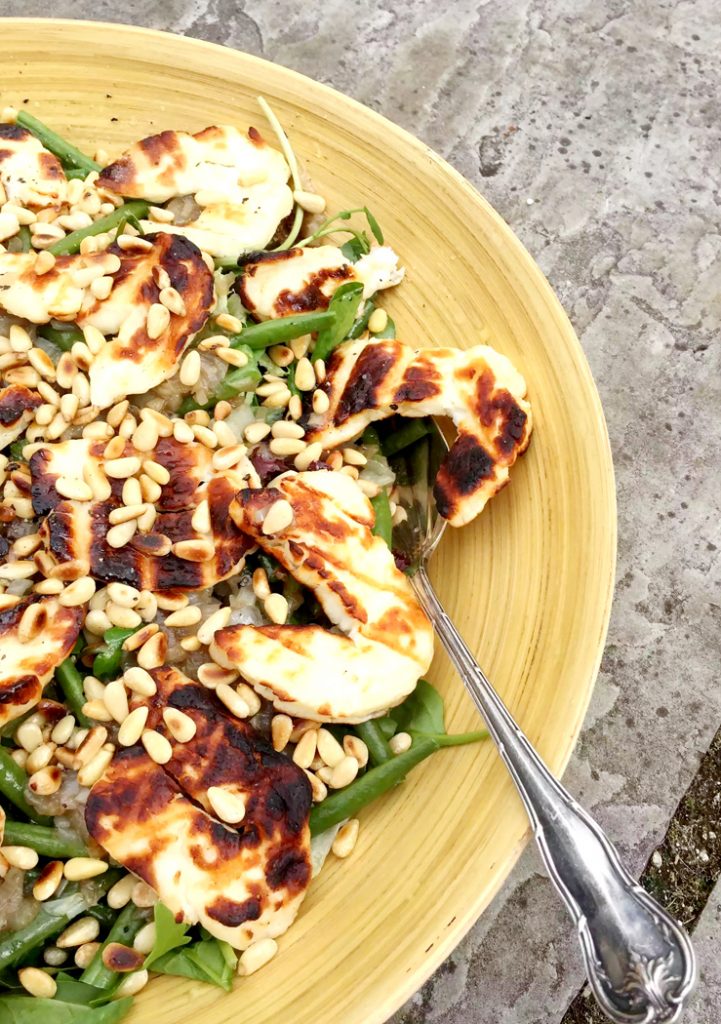 I'd never heard of a Bulgarian Shopska Salad before, but this one from Cooking the Globe makes me definitely want to try it.  A mixed vegetable chopped salad topped with Bulgarian sirens cheese (but you can use feta) and olives.  It's almost like a Greek salad but it's a national dish for Bulgaria too!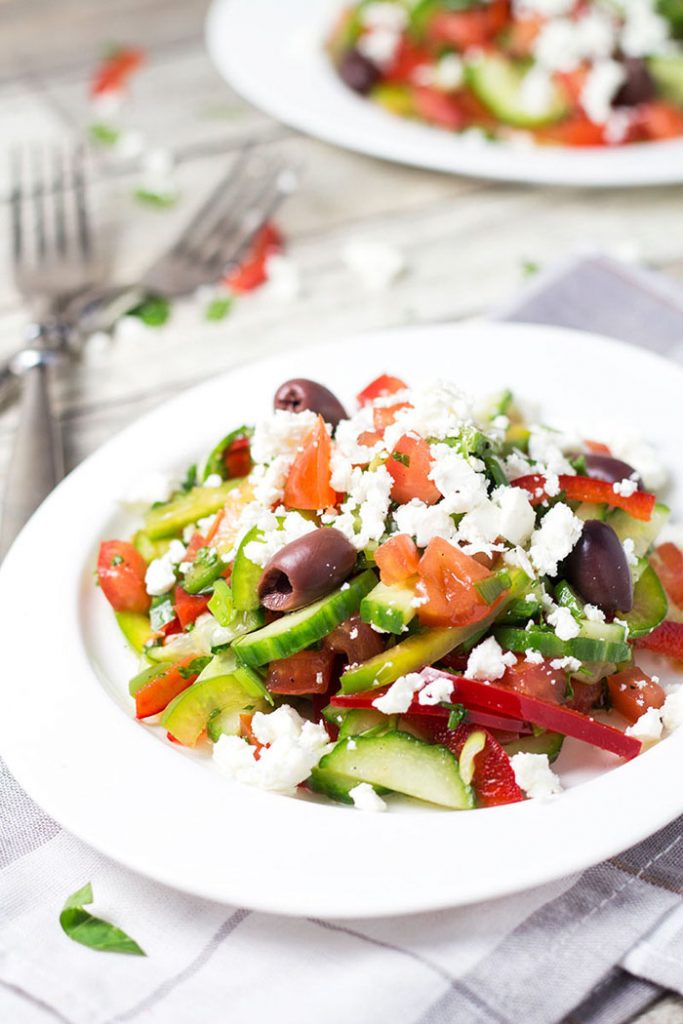 My Cauliflower Rice Tabbouleh is the perfect accompaniment to BBQs thanks to its summer flavours and the fact that it's jam-packed full of fresh herbs and citrus.  Lighter than a traditional tabbouleh due to the fact that it's made with cauliflower rice instead of bulgur wheat.  This makes it perfect for anyone on a Grain-Free diet.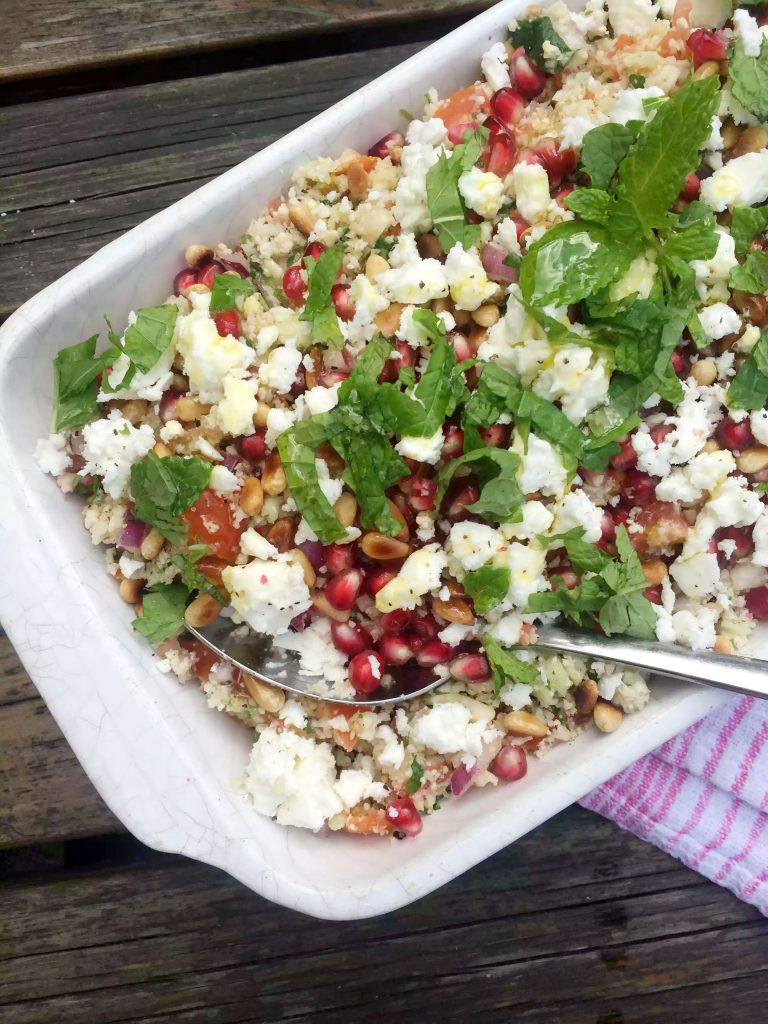 If you prefer something a bit meatier, this Taco Salad from Rainbow Delicious is Whole30, SCD, Paleo and Grain/Gluten-Free as well as Dairy Free compatible and packs a punch of chilli and spices.  A hearty lunch or dinner!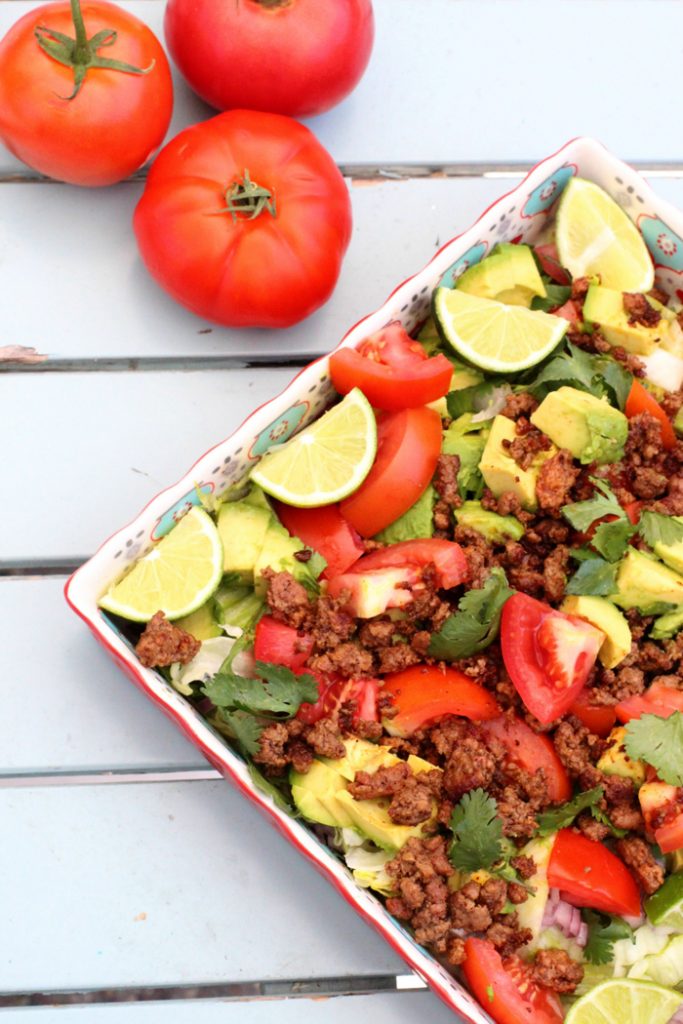 If fish is more your thing then this Honey Salmon & Berry Salad from Everyday Sarah Jane will be perfect for you.  Paired with fruits, it's definitely a new flavour combination for me but one that looks so appetising I'm definitely going to give it a go.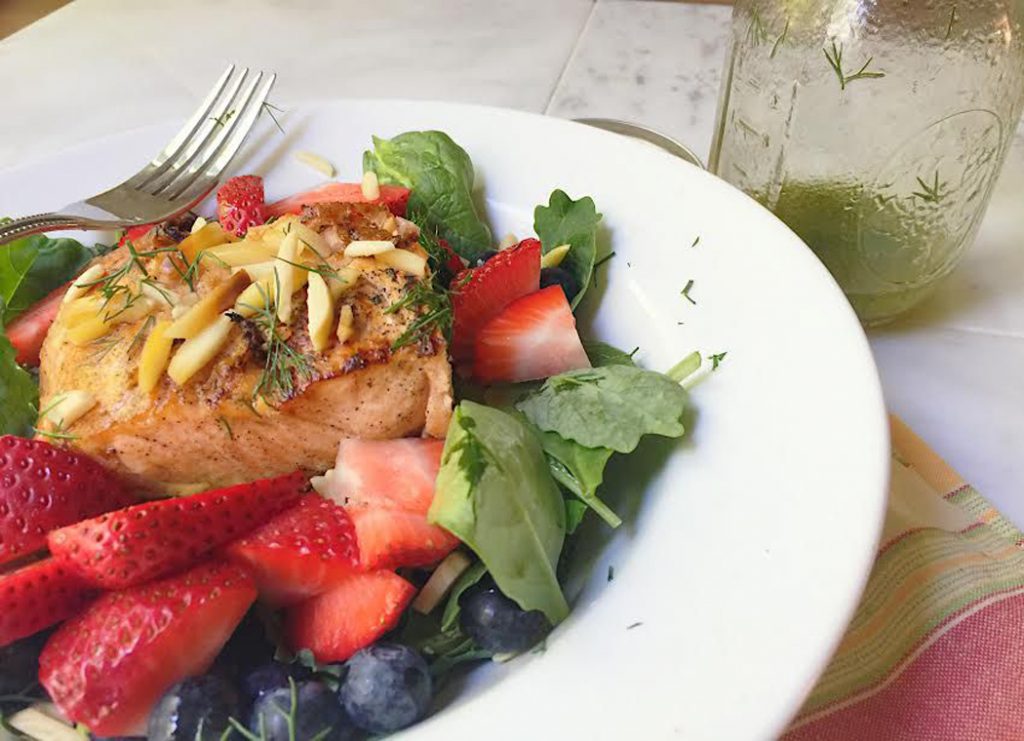 If you've been reading the blog for a while, you'll know how much I love Burrata!  Creamy, rich and delicious it pairs perfectly with the acidity of the tomatoes.  It's a really easy salad to throw together in a couple of minutes.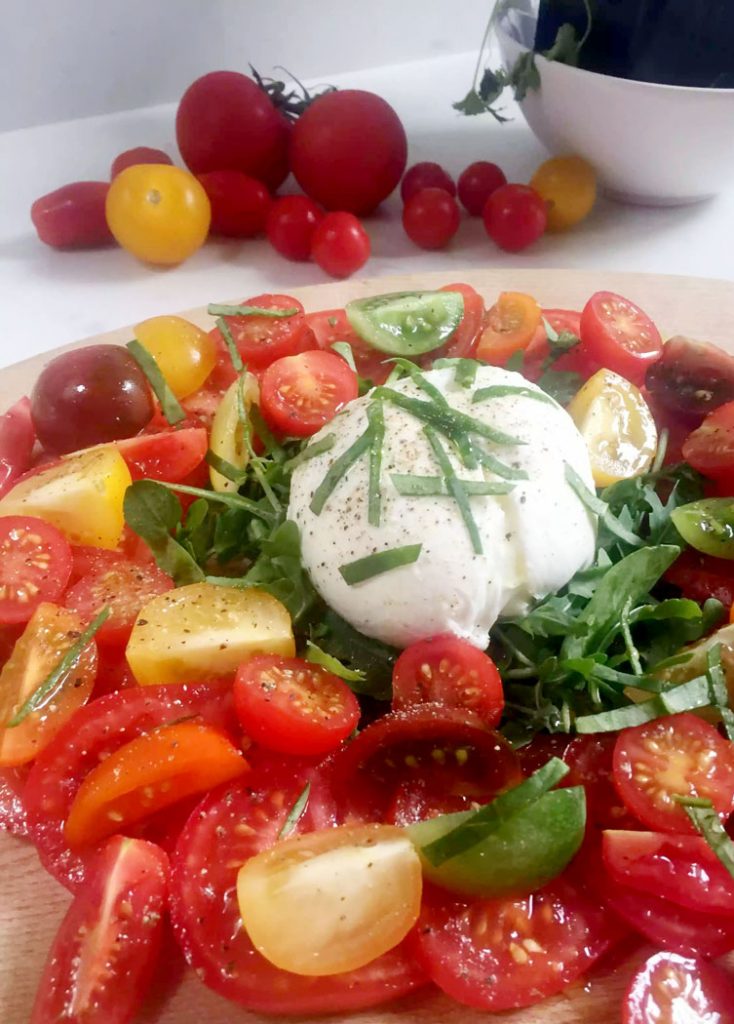 This Melon Salad with Crispy Prosciutto & Feta from The Kittchen really does look like summer in a bowl, and I'm a big fan of crisping up the prosciutto in the pan before serving it.  It concentrates all the flavours and gives a really nice crunch.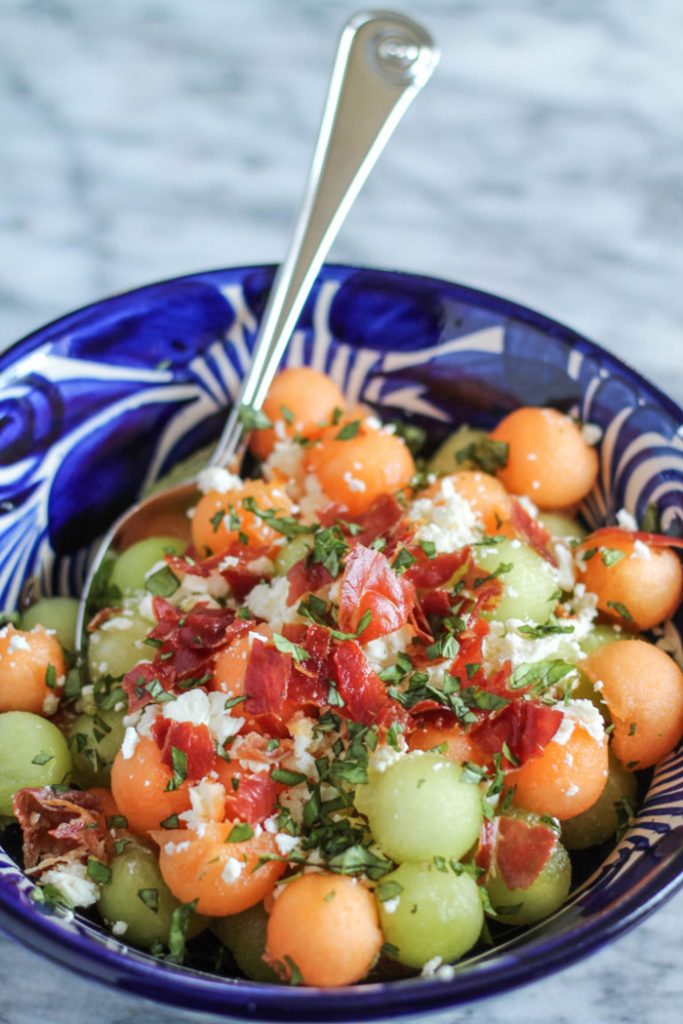 And the pièce de résistance is this Grilled Pear Salad Bowl from the BBQ Bastard.  Sweet and salty is my favourite flavour combination so you can bet this one will be next on my 'to-make' list – and the pistachio oil is an ingredient I've never cooked with so I'm definitely intrigued!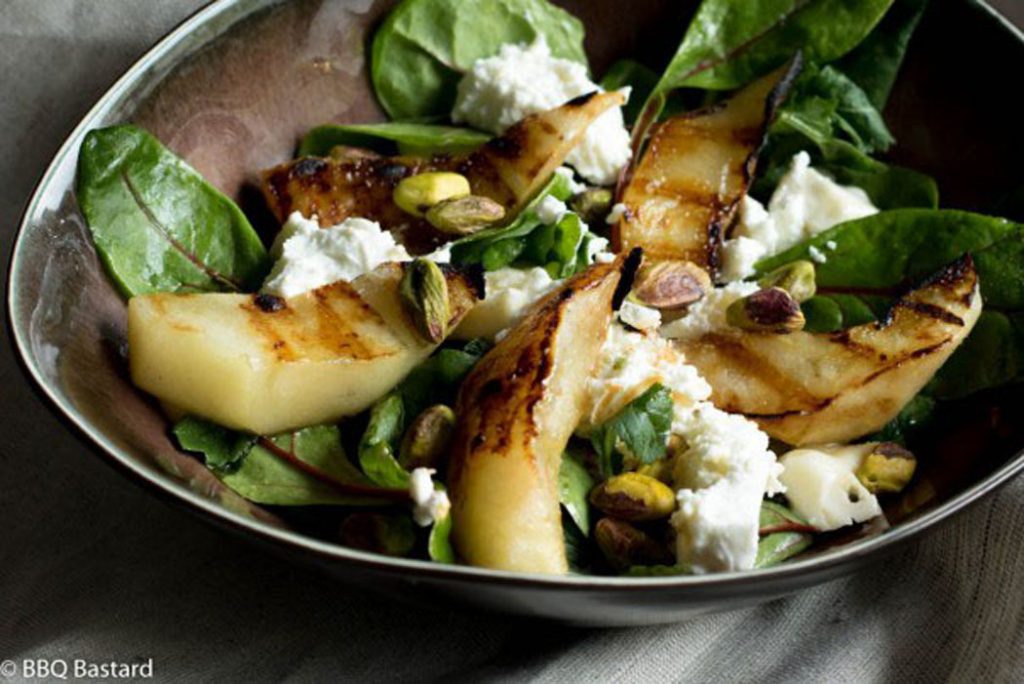 Hopefully you found something in this round-up that makes your mouth water.  Let me know in the comments which one's your favourite!  Or, if you've got a favourite salad to recommend I'd love to hear it!
Pin Grain Free Summer Salads for later