Don't be put off by the strange-sounding name!  This Yoga Mat And Cha Pineapple Gin cocktail is one delicious drink!  I was recently invited to a Cocktail Making Masterclass at Devonshire Terrace in Liverpool St, London and we learnt to make this delicious concoction.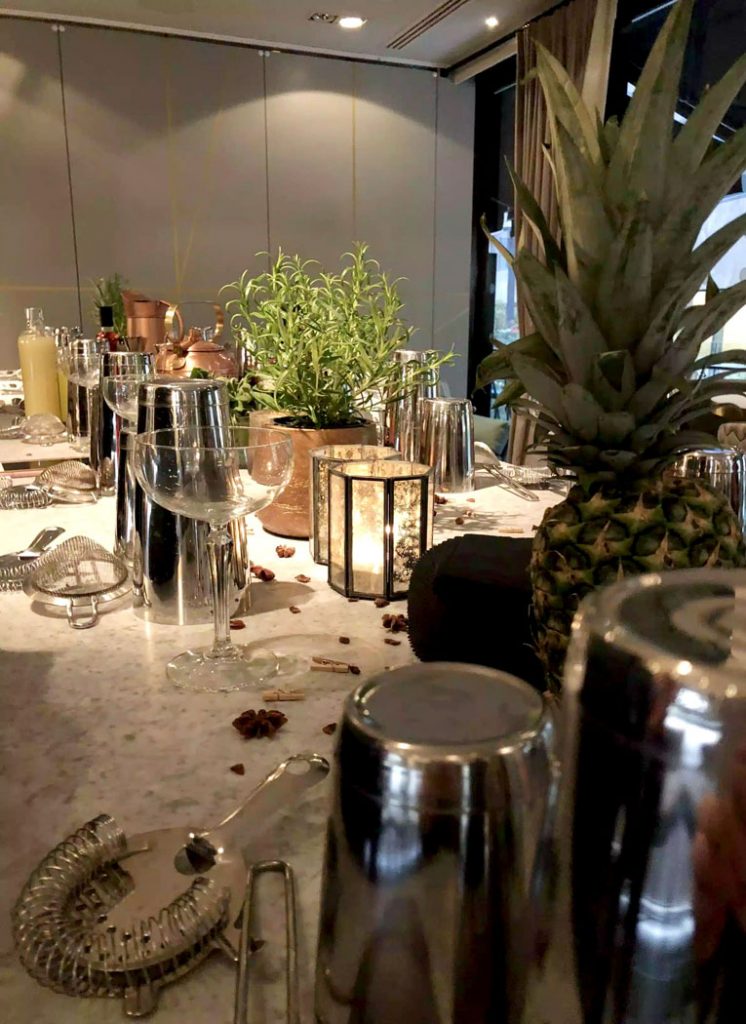 A blend of roasted pineapple gin (yes, it was new to me too), yoghurt and a few other ingredients come together to make this deliciously, decadent drink.  And best of all, there's no refined sugar!  Sweetened with honey, it's like a dessert in a glass!  So how to make this crazy sounding cocktail?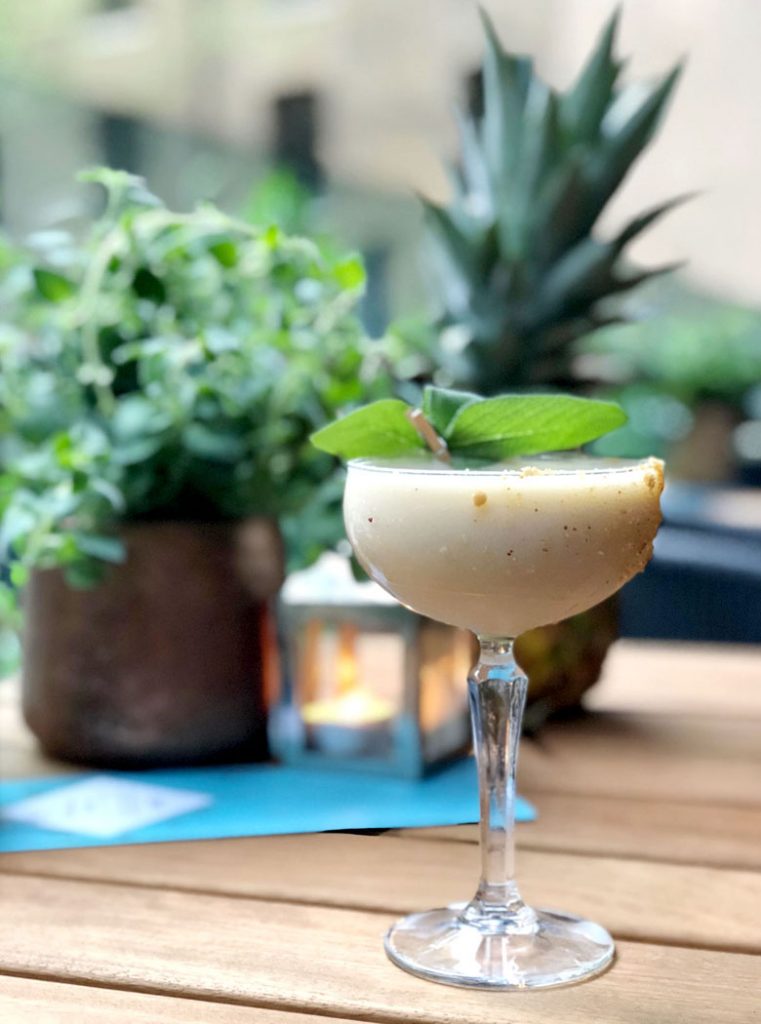 Make the sugar syrup a while before to allow it time to infuse.  Make up a hot cup of green tea and add two tablespoons of it to two tablespoons of honey.  (If you're strict SCD you could use another blend of tea.  Ginger tea or something similar would work or just use hot water).  Allow it to cool and then it's ready to use.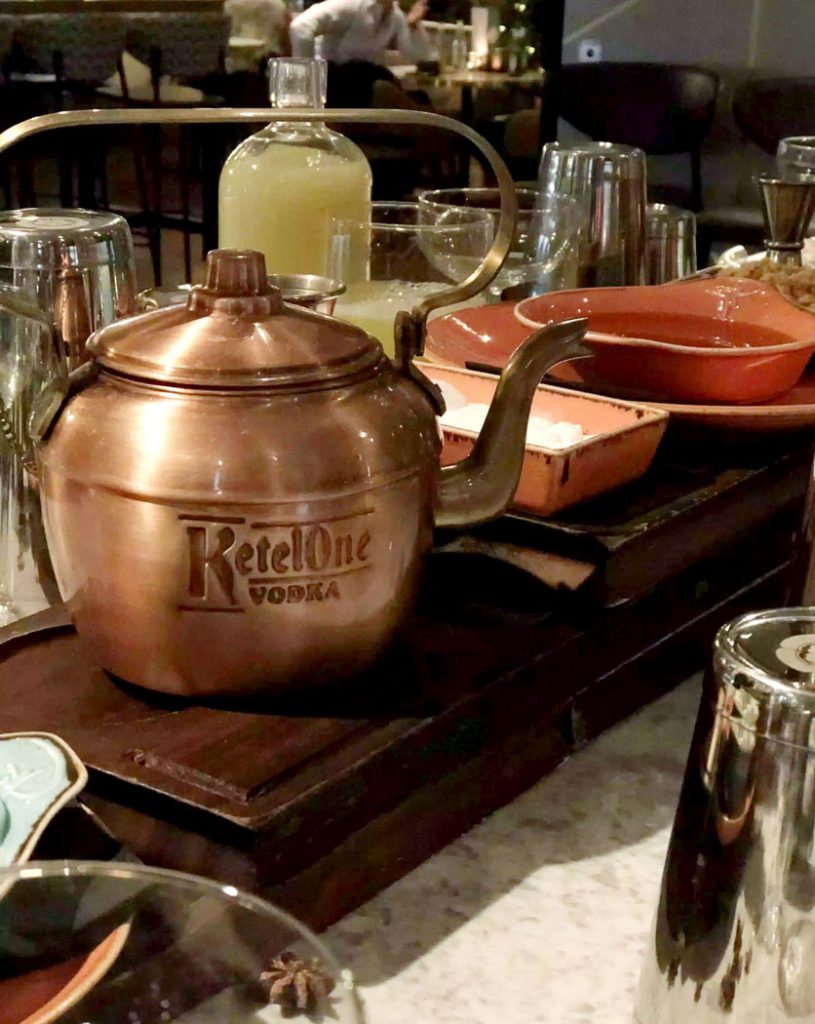 Start by adding a pinch bicarbonate of soda to your cocktail shaker.  Next up is a shot of lemon juice and then a shot of the green tea sugar syrup.  Don't throw away the rest of the syrup as you'll need it later for garnishing the glass.  Add one shot of almond milk and one shot of egg whites.  Now add two tablespoons of yoghurt (SCD yoghurt if you're following the diet).  I've never heard of yoghurt in a cocktail before but trust me it works!
We were taught to add all the ingredients to the shaker before adding the alcohol.  This is how the best bartenders do it apparently.  If you make a mistake at any point you haven't wasted the good stuff!  You can throw it away and start again without having to throw away the alcohol!
Now add two shots of the roasted pineapple gin.  The one we used, roasted the pineapple and then pressed it to extract the juice.  This was then infused with the gin.  (If you can't find this you could always use 1 1/2 shots of gin and 1/2 shot of pineapple juice.
Now it's time to garnish your glass.  Dip the rim in the remaining green tea sugar syrup and then into some crushed hazelnuts.
Next up you do a dry shake. This is shaking the ingredients on their own before adding ice.  Put the lid on the cocktail shaker and give it a good hard mix.  This activates the egg whites to make them frothy.
Then, fill the cocktail shaker to the top with ice and give it another good hard shake.  This will chill everything down.  Strain your cocktail through a strainer or sieve into the glass.  Garnish with a few sage leaves and it's ready to serve!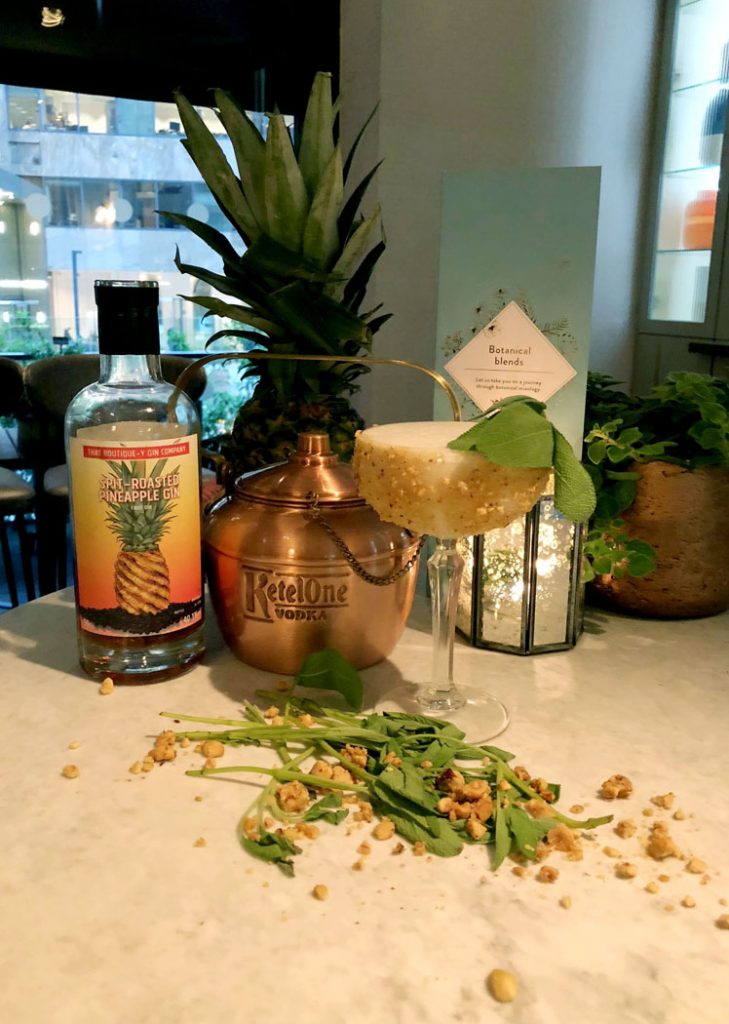 And where does the name Yoga Mat And Cha come from?  Absolutely no clue, but after a couple of these, you wont care either!  It tastes like a seriously delicious pineapple yoghurt!  A bit like a Piña Colada but without the coconut!  Make some for your friends as an aperitif or even as a dessert at a dinner party!  I normally prefer a less sweet cocktail such as a Margarita or a Negroni but even I was swayed by this one!  A Pineapple Gin Cocktail is definitely on my radar now!
Devonshire Terrace is an oasis in the middle of the city.  It's set around a square it's a peaceful sanctuary from the craziness of Liverpool St and is perfect for a lunch or cocktails and dinner after work.  They've got a fabulous new Spring menu with lots of delicious salads so it's well worth checking it out!
If you fancy a Cocktail Making Masterclass like mine you can book one at:
Devonshire Square,
London
EC2M 4WY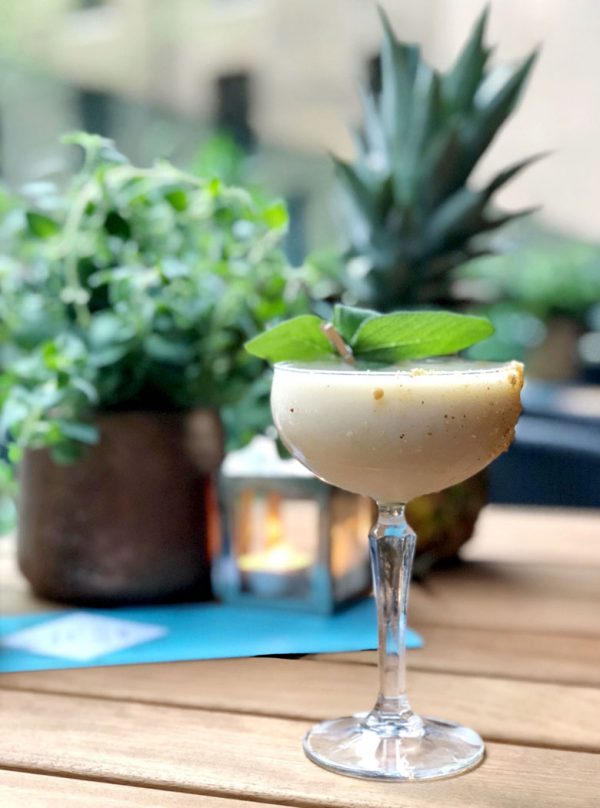 | | |
| --- | --- |
| | |
to make the Honey Green Tea Sugar Syrup
Brew a strong cup of hot green tea.

Add two tablespoons of this to 2 tablespoons of honey and stir to dissolve. Set aside to cool.
Add a pinch of bicarbonate of soda to the cocktail shaker.

Add 25ml of the cooled Honey Green Tea Sugar Syrup, the lemon juice, almond milk and egg whites.

Add the yoghurt and the pineapple gin.

Place the lid on the shaker, shake well to combine the ingredients and set aside.
Dip the rim of the glass in the remaining Honey Green Tea Sugar Syrup.

Roll the rim in the ground hazelnuts so that they stick and coat the glass.
Add plenty of ice to the cocktail shaker with all the ingredients in.

Shake vigourously to chill teh cocktail.

Pour into the garnished glass through a strainer and add a few sage leaves to finish!
Dietary & Allergy Information for (Yoga Mat And Cha) Pineapple Gin Cocktail
This (Yoga Mat And Cha) Pineapple Gin Cocktail is Grain-Free, Gluten-Free  & Refined-Sugar Free.  Also suitable for Paleo, Specific Carbohydrate Diet – SCD & Vegetarian diets.
See my Products Page for Ingredients & Bakeware that I recommend.
Pin it for later