Recently I was invited to Switzerland for the weekend to eat, drink and be merry.  I was on a tour of Lausanne for Foodies and I loved every bite!  Lausanne is a beautiful town on the shores of Lake Geneva (or Lac Léman as it's actually called), in Switzerland.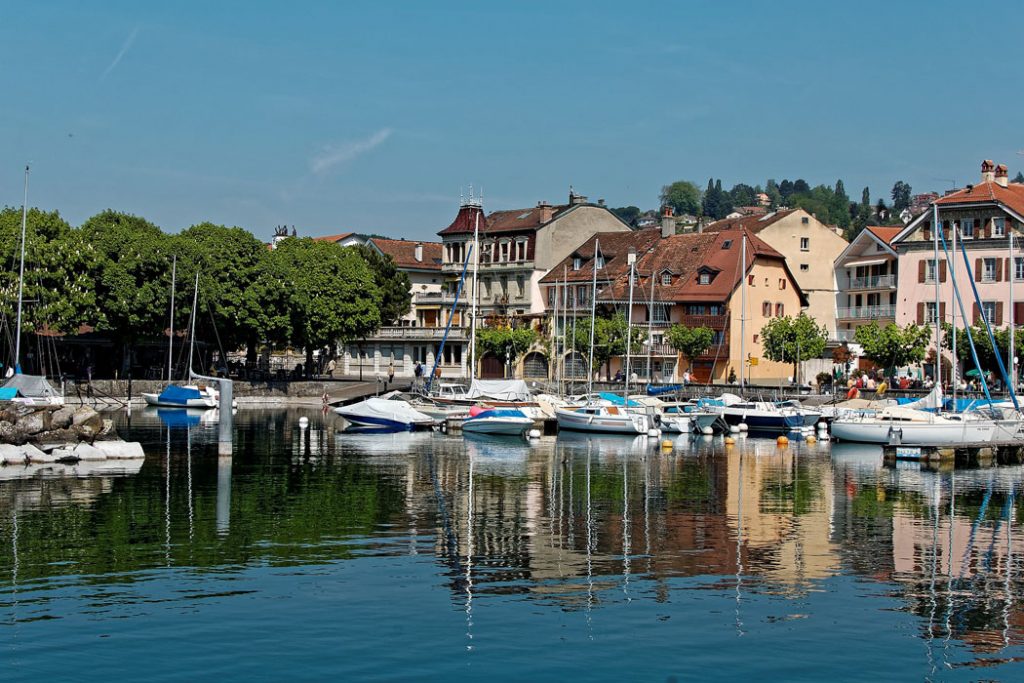 Getting to Lausanne
Lausanne is about an hour's train journey from Geneva airport which is the closest transport hub.  The train station is within the airport and the ticket costs around £20.
Once you arrive in Lausanne, every tourist receives a free transport card with their hotel stay!  This entitles you to free travel on the metro, trams and some ferries and is an incredible perk.  Lausanne itself is very steep and so to get from the Lake to the top of the town is quite a hike.  We relied on the metro quite a bit to get around during our tour of Lausanne for foodies!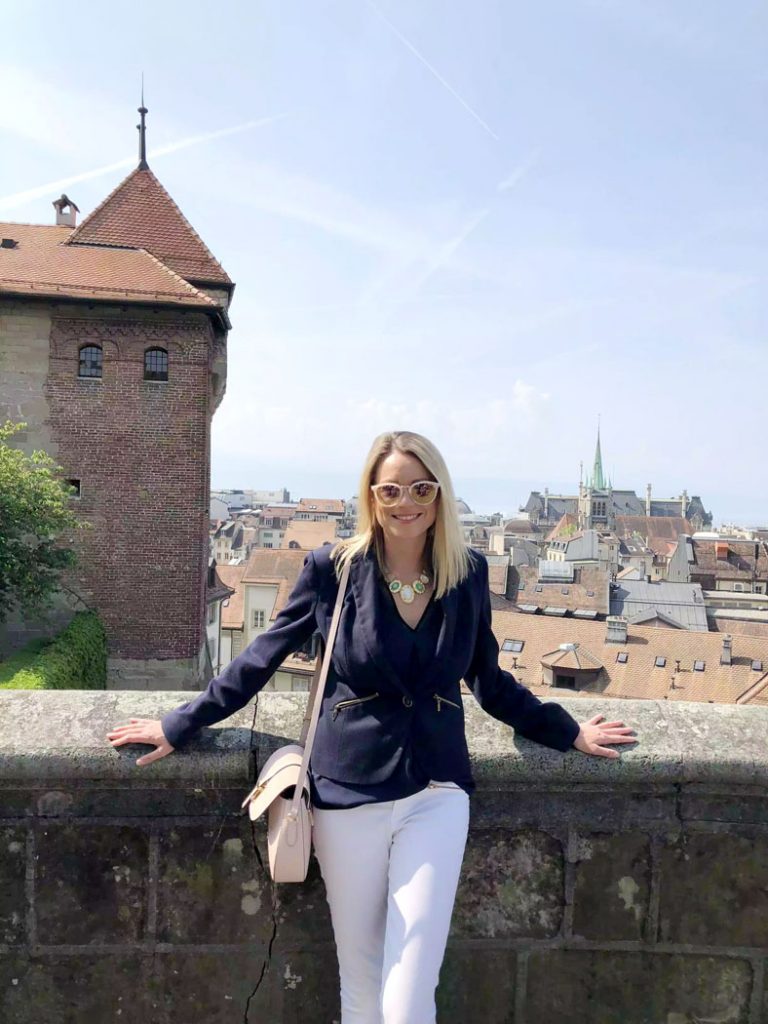 From Fondue to Fine Dining
Lausanne has an incredible array of restaurants and bars.  There is definitely something to suit every palate (and wallet).  From cute relaxed cafés to incredible fine dining establishments. (Anne-Sophie Pic has her 2 Michelin star 'Restaurant-Anne Sophie Pic' here in the Beau-Rivage Palace Hotel).  During my stay in Lausanne I tried many different places to eat.  Here are a few I would recommend:
Our first lunch was at Café de Grancy.  It was a light, relaxed lunch but featuring fabulous produce. A restaurant with a relaxed 'café-like' atmosphere where everything was so fresh and delicious.  I had the Beef Carpaccio with Parmesan and it was a huge portion.  Famished from the flight I still managed to finish it all though.  It was here that I got my first taste of Swiss wine but much more to come on that later.  This is a lovely spot for lunch and comes highly recommended by the locals for brunch too!  This was my first experience of food in Lausanne and it was a great one.
If you want something very traditional you should head to La Pinte Besson.  This is the oldest restaurant in Lausanne, founded in 1780 and the setting is very rustic.  We headed there on the first night for the very traditional, Swiss menu.  Fish, steaks and lots of cheese! I ordered a delicious steak and salad but when the rest of the group ordered a fondue I couldn't help but have a couple of spoonfuls.  I even spooned it all over the steak to make a sauce!  The ultimate decadence!
To contrast completely, we went to a modern fine-dining restaurant for our last night in Lausanne.  Eat Me serves sharing plates from all over the world.  It was a culinary exploration of the different continents.  The menu is split into different areas so you can pick dishes from South America, or Europe, or Asia etc and mix and match different cuisines.  It was a much trendier, more modern restaurant than any of the others we went to.  The food was great but the service left a little something to be desired.  Go for the food, rather than the environment!  I ordered the Italian burrata, the Harissa-marinated lamb chops and the Chicken breast cooked in a spicy tomato sauce and everything was really delicious.
Wine, Wine & more Wine
Lausanne has recently been initiated into the Great Wine Capitals Network due to the incredible quality of the wines that are produced in the region.  Lausanne Wines are quite minerally and light and their most famous grape is the Chasselas.  If you want to try for yourself you can always head to 'Les Caves Ouvertes' (the Open Cellars).  It's a weekend long wine festival in the summer and you can read my blog post all about it here.
If you can't make the Caves Ouvertes weekend there are other places to drink too.  During our stay we had a glass of wine at The Great Escape Bar.  This is a fabulous sun-drenched terrace overlooking the main square, Place de la Riponne.  Follow the noise of the  locals all sitting outside enjoying a sundowner or aperitif!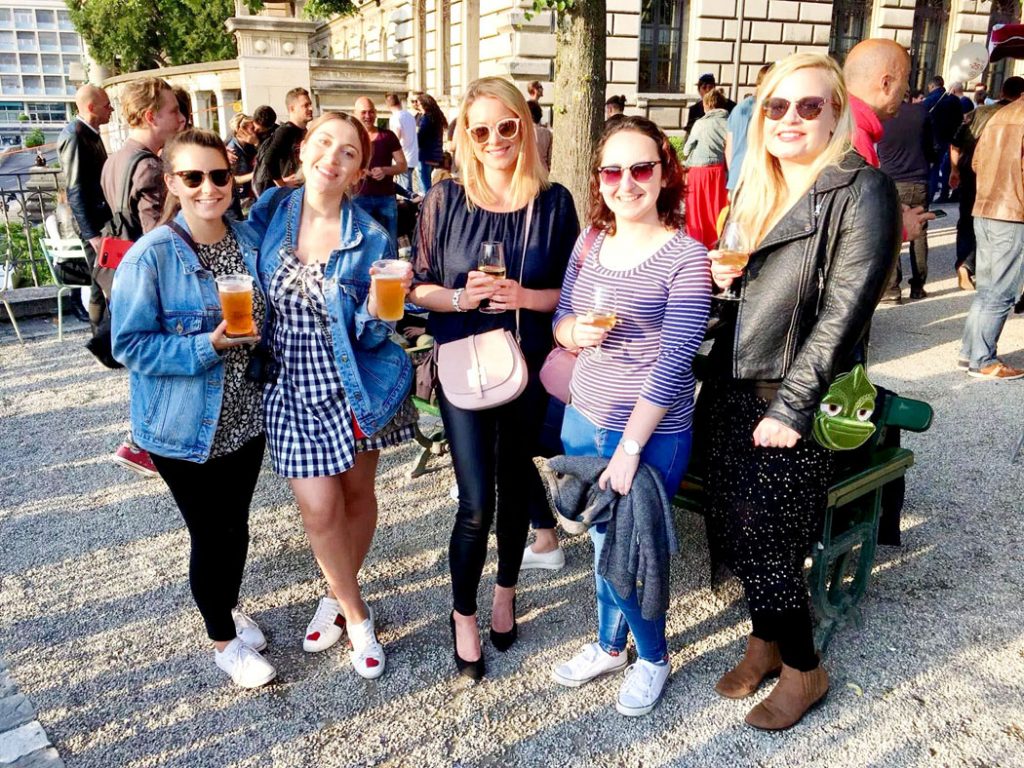 Another top spot for a sundowner is The Royal Savoy Hotel.  It has a gorgeous rooftop bar and terrace, The Sky Lounge,  overlooking the whole of Lausanne.   It has views out over the Lake from one side and then out over Lausanne town from the other.  Make sure you get there early to grab a drink before dinner as it's a popular eating spot too and gets full pretty quickly.  Anyone can visit, not just guests of the hotel so grab a cocktail and take in the stunning view.
Later in the evening, a fun place to grab a drink is Les Arches, a bar under the Grand Pont.  It is buzzing with locals and does a mean gin and tonic!  It is built into the arches under the bridge and the crowd spills onto the street, chatting and drinking until the small hours!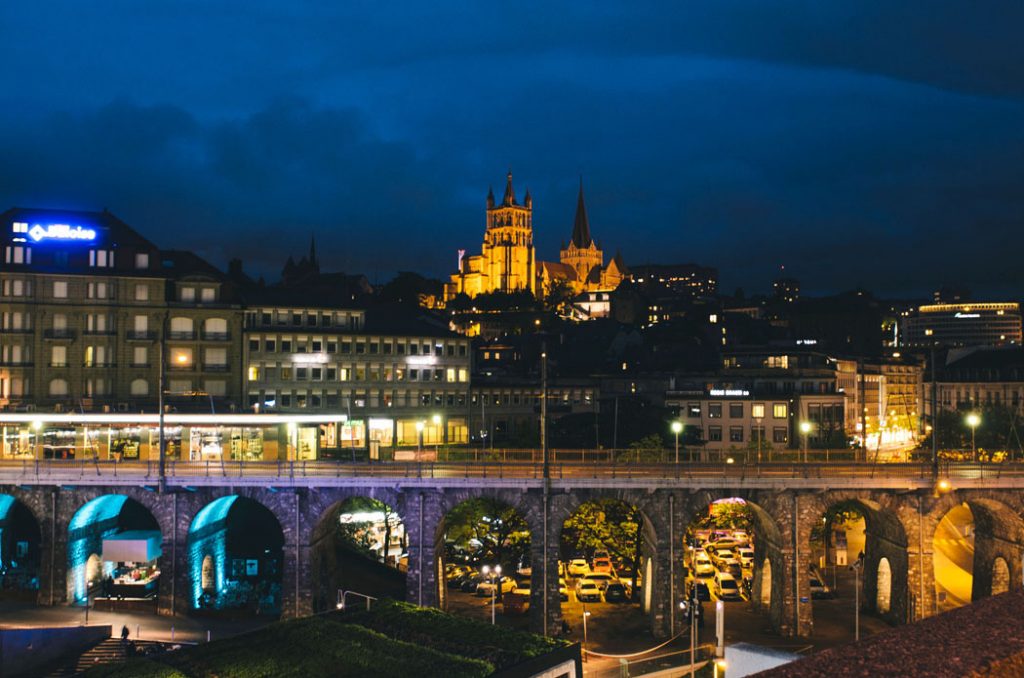 Lausanne for Foodies Experiences
There are also some great food related experiences around so make sure you try and get some of these into you foodie tour of Lausanne.
There is a market in Lausanne every Wednesday and Saturday from 8.00 AM to 2.30 PM, when all the residents come out to enjoy the atmosphere.  Take brunch in the town centre before wandering around the stalls selling local delicacies.  The locals do their main food shopping here but I loved just picking up a few bits and pieces to take home.  After wandering around, treat yourself to a Meat & Cheese Platter at La Ferme Vaudoise.  This is a farm shop just off the market area specialising in local produce from the region.  And it's no ordinary meat and cheese platter!  It was enormous, and they even gave us some local wine to go along with it.  The perfect lunch after a morning spent at the market.
Lausanne is such a Foodie town that it even has a cultural committee purely dedicated to showcasing the food and wine of the region.  The Lausanne Á Table hosts so many different events throughout the year promoting local food and wines!  From pop-ups to wine auctions to farm visits and even a Raclette battle, there's sure to be something going on during your trip.  When we were there we were lucky enough to be visiting on the weekend of the MIAM Food Truck Festival.  This was a gathering of about 50 different food trucks in the main square all serving different cuisines! From pasta to Mexican, or Greek to Mauritian, there were so many different foods to try.
Switzerland is most famous for 3 things, cheese, watches and chocolate!  If you're lucky enough to be able to indulge in some chocolate then you should head to Durig Choclatier.  You can taste to your heart's content and even participate in a chocolate workshop to learn how to make it for yourself.
But if cheese is more your thing you should head for the Fondue Cruise.  A trip out and around Lake Geneva on a beautiful paddle boat with lashings of melty cheese!  What could be a more perfect way to spend an evening.  We took the same Belle Epoque paddle boat back to Lausanne after Les Caves Ouvertes, as it also functions as a cruise boat to take you between all the towns that border Lake Geneva.
So that's it!  We packed a lot into just a couple of days!  So much food and so much wine!  I had such an incredible time experiencing everything food related that Lausanne has to offer.  So, is Lausanne for Foodies?  Most definitely and I've still got so much more to try!  Until the next time Lausanne…
I was a guest of the Lausanne Tourist Board for a weekend but all opinions are my own and I was not paid for this post.
Pin Lausanne for Foodies for later