This weekend I was lucky enough to be on a Foodie Tour of Lausanne and to experience Les Caves Ouvertes de Vaud.  Literally meaning 'Open Cellars,' this is a weekend of wine set against the beautiful backdrop of Lake Geneva (or Lac Léman as it's actually called). Taking place in the canton (region) of Vaud, Les Caves Ouvertes is two days of wine, merriment and a little bit of education about Swiss wines.  Six wine regions participate in the event from all over the Vaud region.  They are Bonvillars, Chablais, La Côte, Vully, Les Côtes de l'Orbe and finally Lavauax (which was the area we would be spending our time in).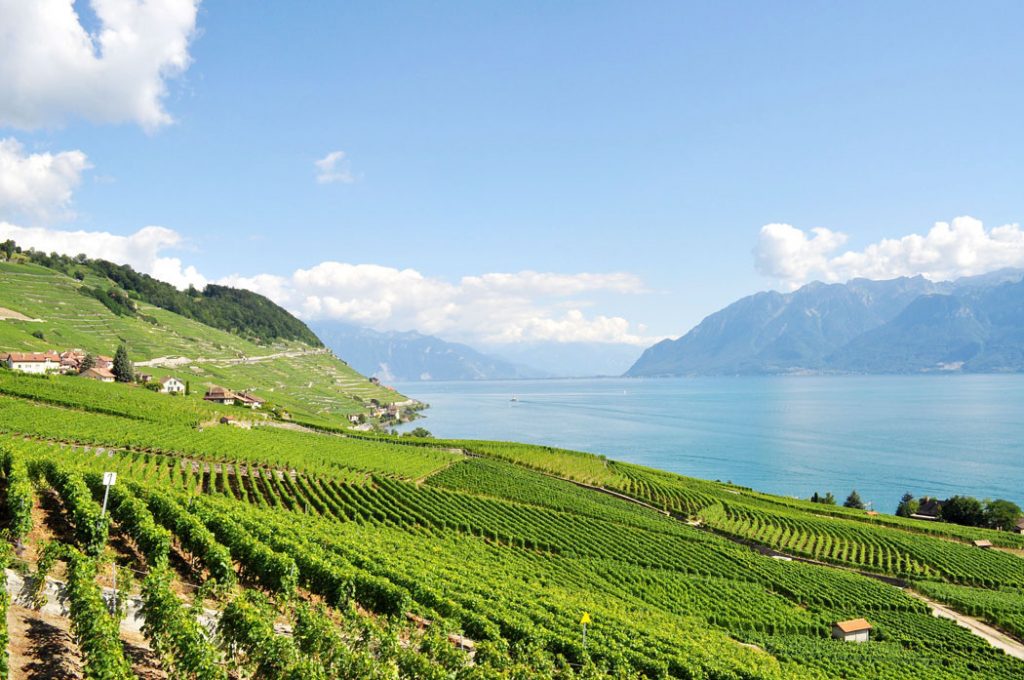 The event is open from 10:00 to 18:00 on the Saturday and Sunday this is definitely not the weekend to abstain!
I've done a lot of wine study but throughout all my courses and tastings I've never once come across any Swiss wine.  The reason for this is that they keep it all for themselves!  Only 2% of it is ever exported outside Switzerland so I was excited to get to try it for myself!
The Lavaux Vineyards
This wine region of Lavaux is a UNESCO World Heritage Site and it's easy to see why.  The beautiful vineyards sweep down to the Lake and the whole region is absolutely stunning.  Lausanne, the closest town, has recently also been initiated into the Great Wine Capitals Network.  There are only 10 regions in the world that are included so for Lausanne, this is an incredible honour.
It goes to show how incredible the wines that they produce really are and means that Lausanne wines can rival some of the best in the world.  Bordeaux, Rioja, Mendoza & Porto are all included so it really is a prestigious title.
The Lavaux vineyards which stretch from high up in the hills to the shores of Lake Geneva benefit from a kind of 'three-fold warmth' for ripening the grapes.  They have the heat from the sun, the reflection of light and heat from Lake Geneva and a stored heat in the many stone walls surrounding all the vineyards which radiate heat back to the vines at night.  This ensures perfect ripening conditions and it's no wonder that this is the source of Switzerland's Grand Cru wines.
The Grapes & Wines
The wines grown here have such interesting characteristics.  Due to the potency of the minerals in the soil you can get wines from neighbouring vines that taste quite different. The whites are typically  quite minerally and light and the most renowned grape is the Chasselas. It's a grape that can be traced back to having its origins in Switzerland and the Swiss are very proud of it.  Because of its minerality and light acidity, I'm told that Chasselas is perfect for pairing with fondue! Sold!
The reds from this area tend to be of the lighter kind.  Gamay and Pinot Noir are grown a lot but there are also some heavier wines.  I had Syrah and Cabernet Sauvignon during the tastings and they definitely had hints of some of the jammier flavours.
How does Les Caves Ouvertes work?
So, on to the tastings!  You can start at any cellar in any of the regions and you buy your 'passport' in the first cellar you visit for 20 CHF (about £15).  This gets you your Caves Ouvertes souvenir wine glass.  You offer this up in each of the cellars to taste the wine.  It also gets you a kind of cloth pocket to carry your wine glass in!  We christened it the wine necklace!  It's very handy, I might just have to get one to wear permanently!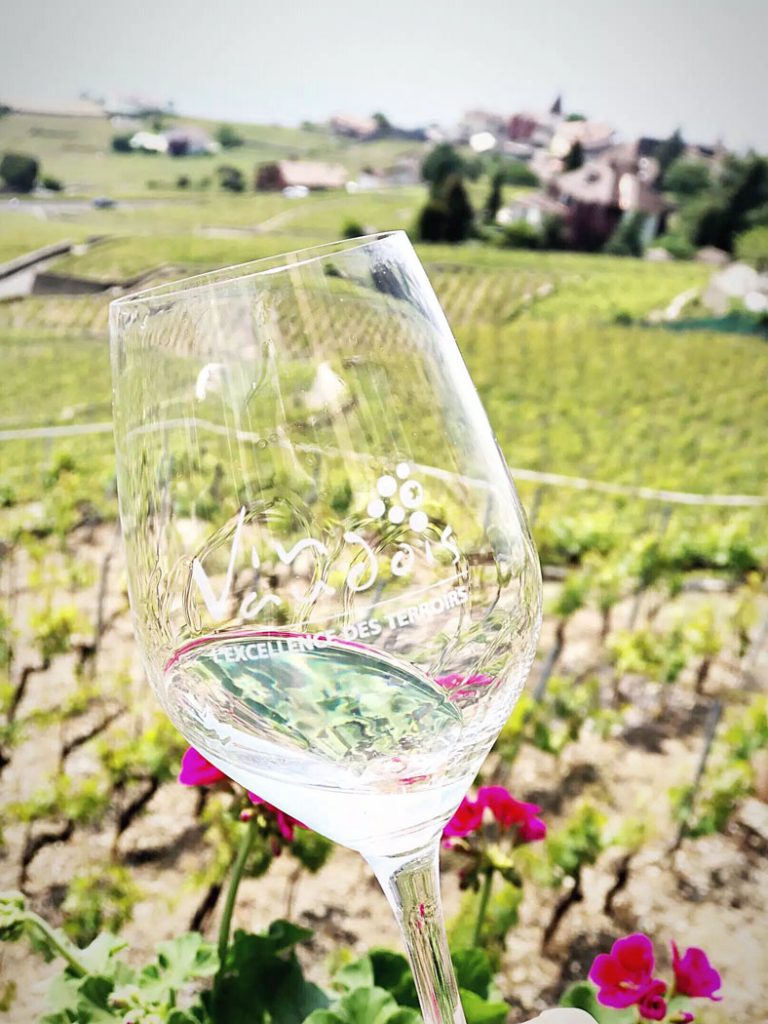 Being Swiss, the event is so well organised!  There are free shuttle buses to take you between the vineyards and even a wine train you can catch.  There is a website which lists all the cellars taking part or you can pick up a map.  Then it's just up to you which ones you want to try.  Wander around and have a lazy glass of wine in a few or have a taste in as many different ones as you can visit.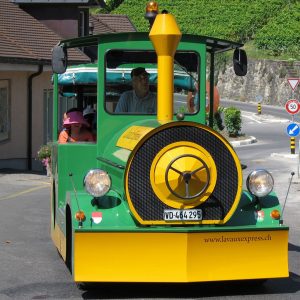 Most of the cellars have regional food available to purchase so you can have a plate of Swiss cheese and charcuterie with your wine.  It definitely helps with pacing yourself.  8 hours is a long time to drink on an empty stomach!
My Experience of Les Caves Ouvertes
We were staying in Lausanne this weekend so we took the short (8min) train from the centre of town to the Lavaux vineyards.  We were blessed with fantastic weather and excited to see how the event played out.  The first cellar we hit up was the Domain Croix Duplex .  It was only about a 50m walk from the train station!
We set ourselves up on the sun-soaked terrace and planned a strategy.  Not wanting to rush (and having found the perfect vista) we decided to base ourselves here for a while and sample a few of the wines that were on offer.  They had more than a dozen to taste, just at this one cellar!
We went inside and offered up our glasses.  From Chasselas to Gamay, to Plant Robert or Calamin, there were so many wines and grapes I'd never even heard of before.
I started with the Chasselas.  When in Lavaux it would be rude not to!  It was a very light wine with a lot of minerality and a small amount of acidity.  It was slightly floral in taste but had quite a neutral flavour.  Not too fruity or acidic it would be perfect for drinking in the sun.  It was light enough to be a lunchtime drink but I'm told it ages well which can make it more complex and richer.
Next up I tried a Rosé.  This was a revelation.  Normally I find Rosés a bit too fruity and sweet but this was more like a blush.  It was elegant and light with just a hint of peach and was probably one of my favourite wines of the day.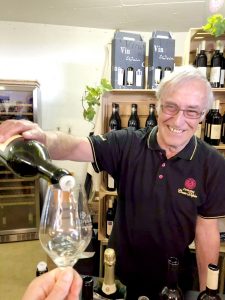 Moving on to the reds I had to try the Pinot Noir.  I normally prefer a heavier red but this is what the region is best known for so I had to give it a go.  It had a bit more to it than a standard Pinot Noir which made it more interesting to me.  It's the kind of wine that I generally find too light unless it has something a little bit different.
Finally, I asked for the strongest, most powerful red that they have.  My favourite kind of wine is a deep, heavy, jammy red so I was pleasantly surprised when they offered me a Cabernet Sauvignon.  I had wrongly assumed that the climate would be too cool to produce wines like these so it was interesting to see that Lausanne produces every type of wine, really well!
With 'one for the road' we headed to our next cellar.  We wandered down the roads through picturesque scenery for about 5 minutes before hitting Fischer Vins, our next stop.  I loved that it's not frowned upon to walk down the roads, glass of wine in hand!
At Fischer Vins we were  treated to some very interesting wines.  Many of their wines had won awards.  Their Merlot was outstanding in particular.  However it was the chat with the vineyard owner that was the most exciting part for me.  He was so knowledgeable about the wine making process that I learned so much from him.  He explained about the new methods they are trying to create different wines in the region.  Hybridisation is all the rage over there and the Swiss are coming up with new grape varieties all the time.  I got to try some Gamaret which is a hybrid grape stemming from Gamay and Cabarnet Sauvignon.  I also tried a Garanoir.  You guessed it, Gamay and Pinot Noir!
However, the most interesting part that they have found is that when making these hybrids they have created grapes that are completely resistant to disease.  They are now trying to see if they can incorporate this into other grape varieties.  It could be a huge turning point for the whole wine industry!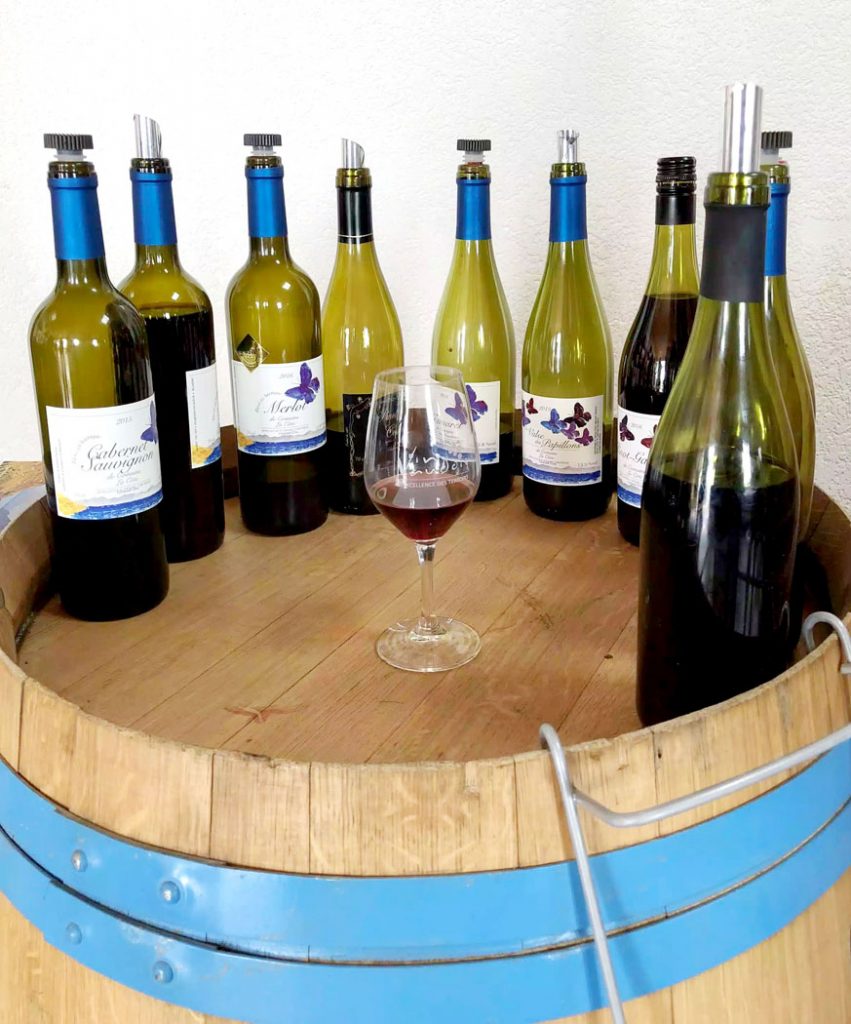 Anyway, enough geekiness, back to the wine!  We experimented with a few different reds here – my favourite was the Valse Des Papillons.  It was a blend of seven different grapes and resulted in a very complex, quite spicy wine.  Soon, it was time to move on so we carried on down the valley to the next stop.
Our final stop of the day was the Domaine Potterat.  The atmosphere was incredible.  Everyone was standing around, enjoying the wine and there was even a band playing.  It was like all the best parts of a summer wedding!  We made our way to the beautiful sunny garden and sat down for a second to plan a strategy.
Heading up to the bar, we tasted a few of the wines and my favourite was the Côtes de Courseboux.  Deciding it was too much like hard work to keep going back to the bar all the time, we bought a bottle to drink in the garden!  All the wines that you try during the Caves Ouvertes Festival are available to purchase.Most are at a reduced rate than they would normally sell at so if there's something you like, it's worth snapping it up.  If you don't feel like carrying it around you can even have it shipped to your home once you're back from holiday.
Relaxing in the garden with a glass of delicious wine I wouldn't have rather been anywhere else.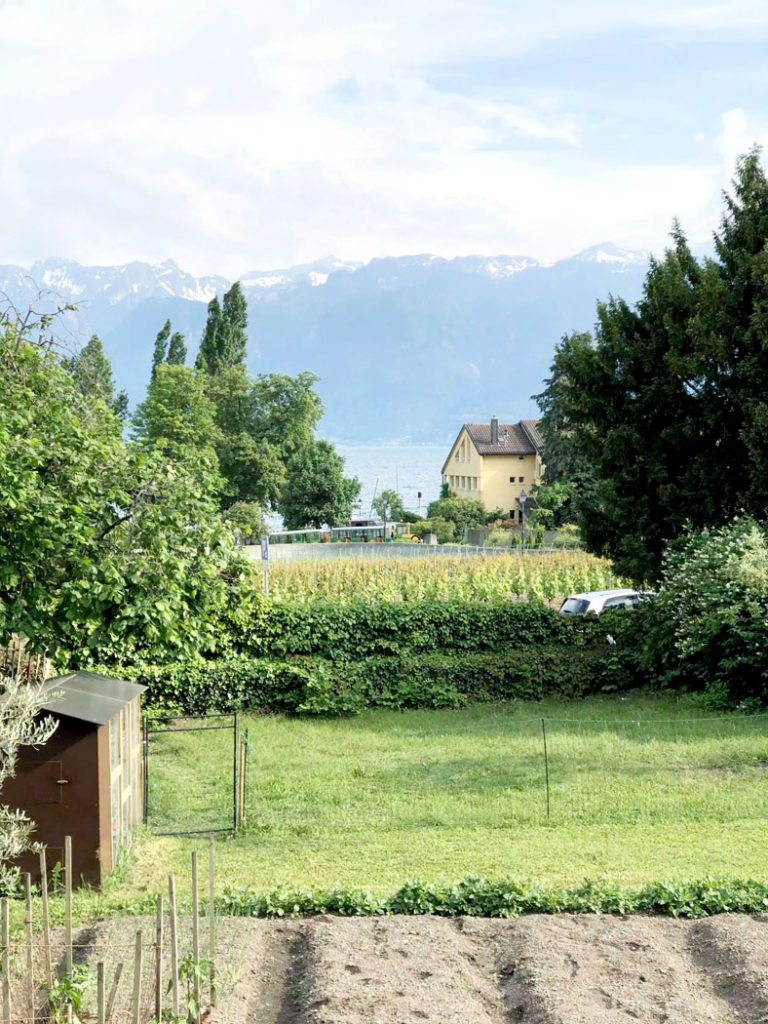 Unfortunately, all good things, must come to an end.  We had dinner back in Lausanne that night to get back for.  However, instead of getting the train back to Lausanne we decided to take the ferry.  It was so beautiful to be out on the lake.  It was just as easy as the train.  The ferry picked us up almost from the end of the garden we were sat in and dropped us back at the port about 5 mins walk from our hotel.  It couldn't have been more convenient.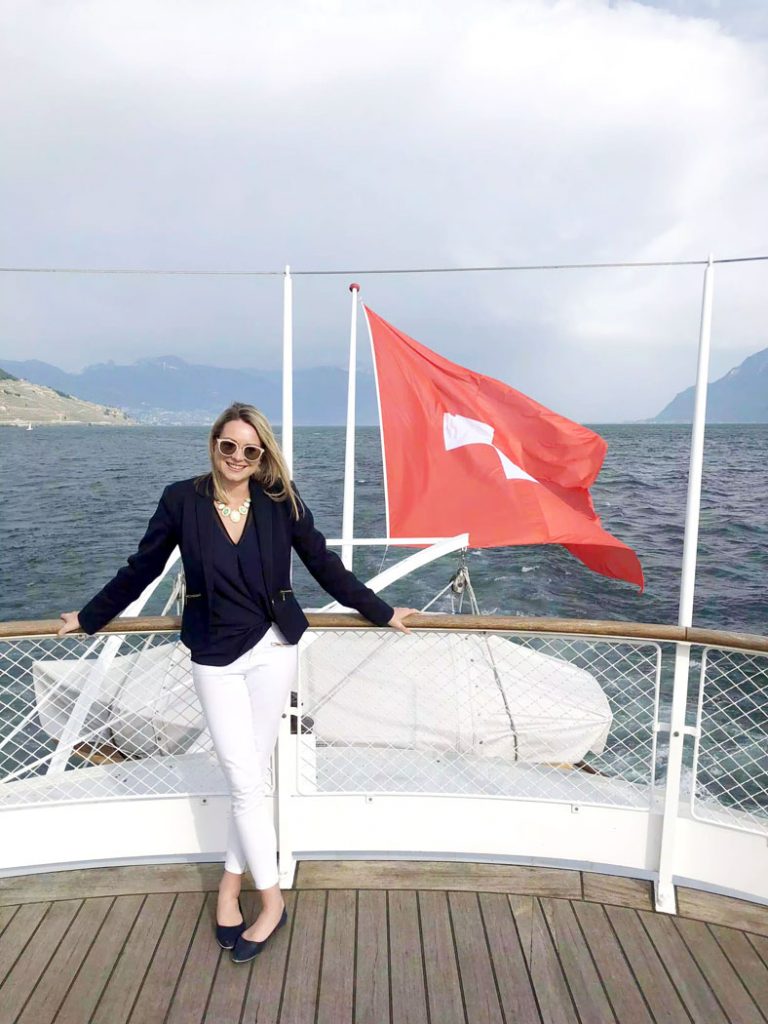 Les Caves Ouvertes was a fabulous day out.  And not just for a wine geek like me.  Everyone was there, enjoying the sun and the wines and the whole place had a party atmosphere.  And if you love the day so much, you can come back the next day and do it all again.  The cellars are open for the whole weekend!
Next year the Caves Ouvertes weekend is scheduled for the 8-9 June 2019.  I'm already planning my trip!
Pin Les Caves Ouvertes for later