Staycity Aparthotels have just opened a new hotel in a central London location!  The Wilde Aparthotel is located just off the Strand in the perfect position to explore everything London has to offer.  I'd been invited to spend the evening there to see what I thought of the new apartments and give a review.
When I arrived I was welcomed warmly and encouraged to check myself in.  Everything is automated so once you arrive, you type a few details into a computer (name, email etc) and your key card is produced for you.  Being a new hotel, the lobby was absolutely spotless and I loved the Instagrammable swing complete with balloons!  The perfect photo opportunity!
Andrea showed me up to my room on the 7th floor.  I was in the Wilde Superior Studio which sells for between £200-£250 per night.  Walking into the room, the first thing that struck me was how bright it was.  I had a corner room and the floor to ceiling windows afforded an incredible view over the Strand and the whole of West London.  During the day they let the light stream in making the room feel bright and airy.  They were fitted with electric black out blinds that cover them at the touch of a button to plunge the room into complete darkness at bedtime.
I loved that everything was contained in one room but due to the brightness it didn't feel like a small space.  There was a kitchen area, a shower room with toilet, and the basin was in the main bedroom.  The bedroom had plenty of space for a table and chairs and I was impressed at all the design features around the place.  Beautiful light fittings and funky prints on the cushions gave the place a very urban trendy vibe.  The 'Wilde' from Staycity Wilde Aparthotel is Oscar Wilde and I loved the quote of his that they used throughout the room.   'Everything in Moderation, Except Moderation!'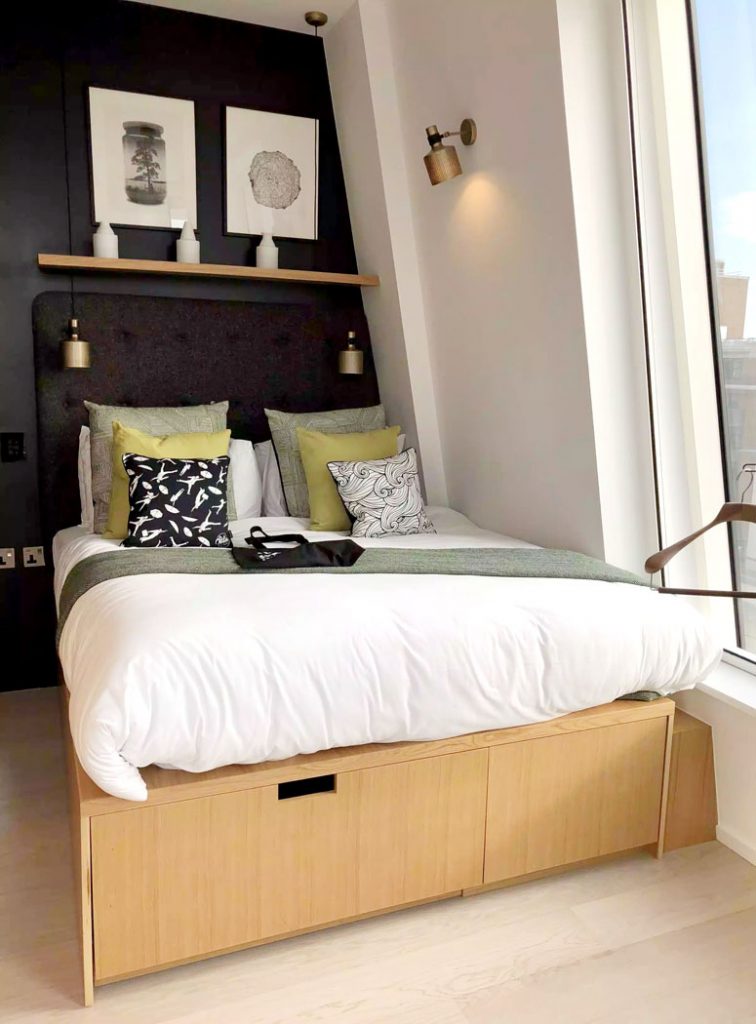 Andrea showed me how to use the control panel for the room.  Everything was very high-tech.  The panel controlled the blinds, the lights, heating, fan and even the towel rail! She showed me around and explained the services that they offer.  The kitchen is fully equipped with everything you would need but they also offer 24 hour room service.  You have your own fridge, hob, dishwasher and microwave.  There are also plenty of plates, glasses and utensils.  Everything is very high spec with a Smeg kettle and toaster and a Nespreso coffee-making machine.  Wilde Aparthotels also give you water, coffee, tea and biscuits complimentary at the start of your stay
We were only there for one night and planned to go out to dinner at Cicchetti's Covent Garden, but it would be really easy to cook yourself a meal if you were staying for a longer trip.  Also you could stock your fridge with breakfast essentials to start your day right before heading out into the city.  Alternatively you could have breakfast cooked for you.  The Wilde Aparthotel has a collaboration with Smith & Wollensky restaurant nearby.  They offer hotel residents a special discounted breakfast offer.  They also offer 10% off dinner there too if you show your room key.
The room has everything you could possibly need and it's so cleverly designed to maximise space.  There's a safe, ironing board and iron, hidden away under the bed.  The shower room has all the toiletries you need and there's a hairdryer to use.  There's also a mini bar stocked with drinks and snacks for you to purchase during your stay.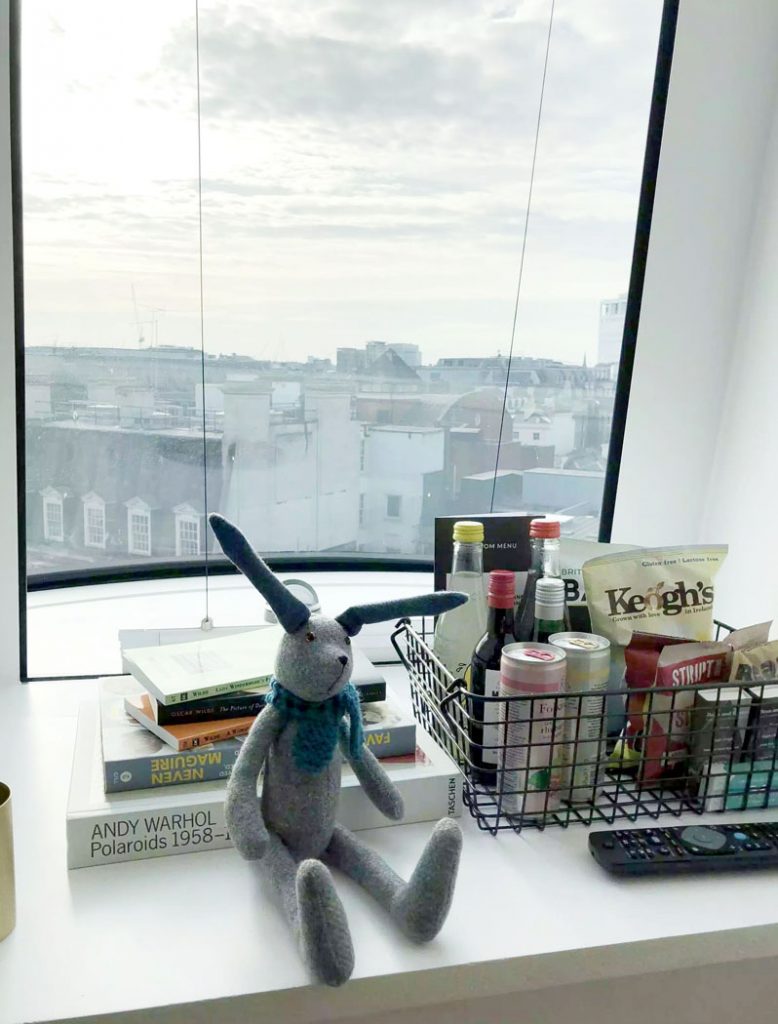 Every detail has been thought of – they even offer you a smart phone to use during your stay.  It has restaurant recommendations pre-programmed along with google maps and the ability to make long distance calls.  Everything you would need on a break in London.  The home screen on the TV allows you to view the room service menu or the breakfast menu or choose to watch regular TV.  There are plenty of plug sockets too and USB sockets for charging your phone/computer.  It can be an often overlooked point but when you travel for work you have so many gadgets that it's nice to be able to charge them all.
And the next morning?
The bed was so comfy that I woke up feeling really refreshed.  I felt like I'd had a mini-break and it was lovely to have the sun streaming in as we lowered the black-out blinds.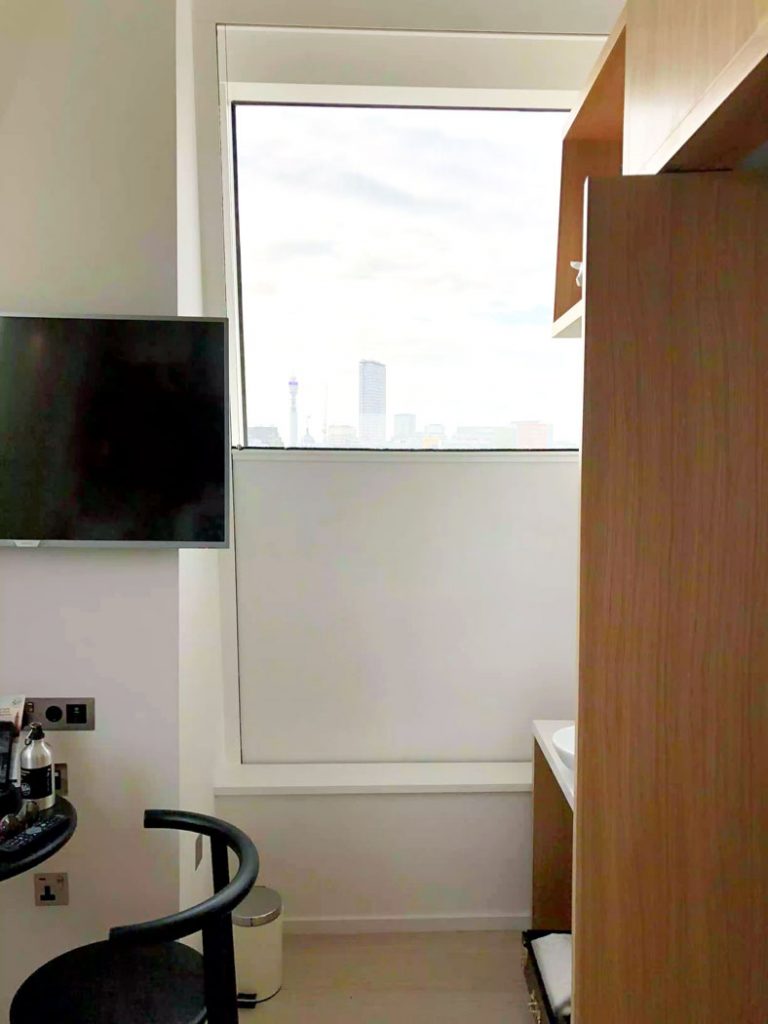 We made good use of the coffee machine.  It felt so decadent to wake up and have an espresso in bed!  The shower was powerful and there was plenty of hot water!  Staying here really set me up perfectly for a day out and about in London.  Such a convenient location and well equipped room!  It makes such good sense if you want to explore the city!  I would definitely treat myself to another mini-break here!
11 Adam Street
London
WC2N 6AA
Pin Wilde Aparthotel by Staycity for later