Today I'd been invited by Abel & Cole to visit the beautiful Albury Vineyard nestled in the Surrey Hills.  Albury is a certified organic and biodynamic vineyard and their wines are now available to purchase through Abel & Cole.  That's right, they don't only do veggie boxes as I've just discovered but they have meat, fish, wine, cheese and all your store-cupboard staples.  Their ethos is great and nearly everything is organic and sustainable.  They've teamed up with Albury Vineyard as they are one of only 15 organic wine producers in the UK.  (The UK has about 600 different vineyards).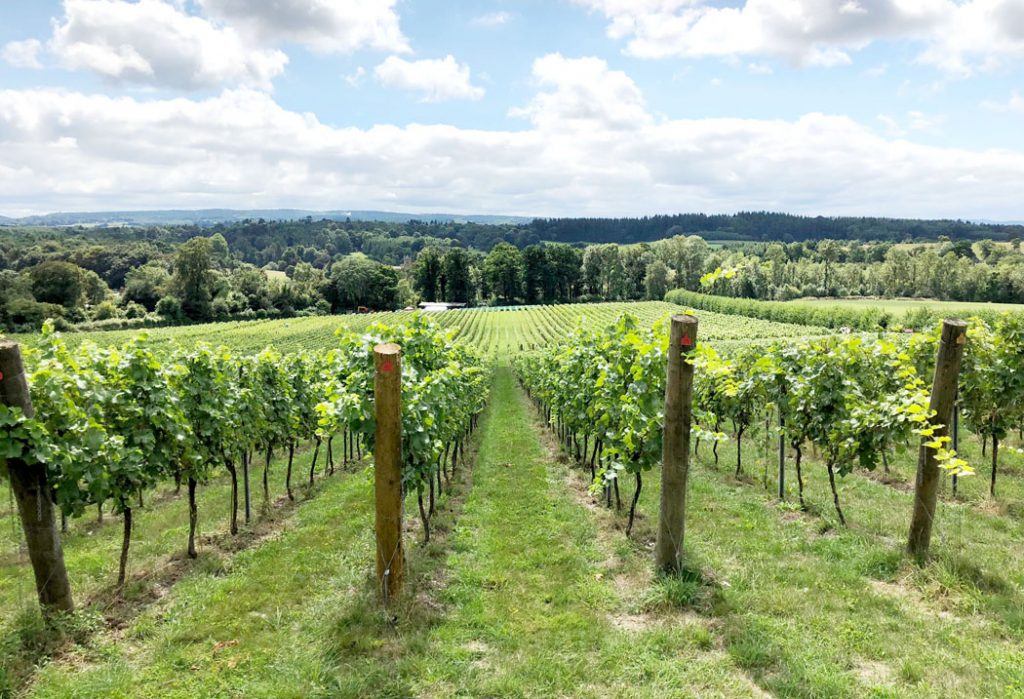 I love my wine and thanks to taking a wine appreciation course, I like to think I know quite a bit on the subject.  I've also visted many vineyards around the world from the Hunter Valley to Bordeaux,  Lausanne to Rioja and many more.  I've even been to a few others in England such as Bolney Wine Estate.  However, I was so interested to find out about biodynamic farming as I'd heard of it before but didn't really know anything about it.
To start with we were given a small overview of Albury Vineyards by Nick the owner.  It's very much a family run business as his daughter works there as well on the marketing side.  Nick's right hand woman is Alex, the vineyard manager who then took us on a tour.  She explained that the climate in the Surrey Hills lends itself best to producing sparkling wines.   Sparkling wines are made with grapes that are slightly more acidic and less ripe than those found in still wines.
As we don't often get the long hot summers that countries nearer the equator do, we would never be able to grow similar grapes to them.  This is why they focus on 4 specific grape varieties.  They plant Chardonnay, Pinot Noir, Pinot Meunier and Seyval Blanc.  The first three grapes are the types that are blended to create the traditional Champagne from France.  Seyval Blanc was a completely new to me variety that I'd never even heard of.
At the moment the vines were heaving with fruit.  It is at this point in the growing cycle that the bunches are thinned out to allow the remaining ones left on the vines to ripen properly.  Harvesting is then done in late September early October.
So Alex led us around the vineyard and explained their ethos to us.  They are certified organic which means they don't use chemical pesticides other than spraying a very small amount of trace elements like copper and potassium onto the vines.  This results in a much more natural method of growing grapes.  Having an organic vineyard means a lot more interaction with the vines.  They have to be checked often so that any problems can be caught and dealt with quickly so each plant gets the personal touch.
Then Alex moved on to explaining a bit about biodynamic farming.  Biodynamic farming is a very holistic type of agriculture which is done in tune with the earth's astrological cycles.  Plants are sown, tended to and harvested at different points in the lunar calendar to ensure maximum harmony between the earth and cosmos.  It focuses on biodiversity within the vineyard itself too.  This means that they allow many wild plants to flourish beneath  the vines which improves the whole ecosystem in the vineyard.  They even have their own beehives to help sustain the natural environment.  Albury Vineyard is one of only two Biodynamic Vineyards in the whole of the UK.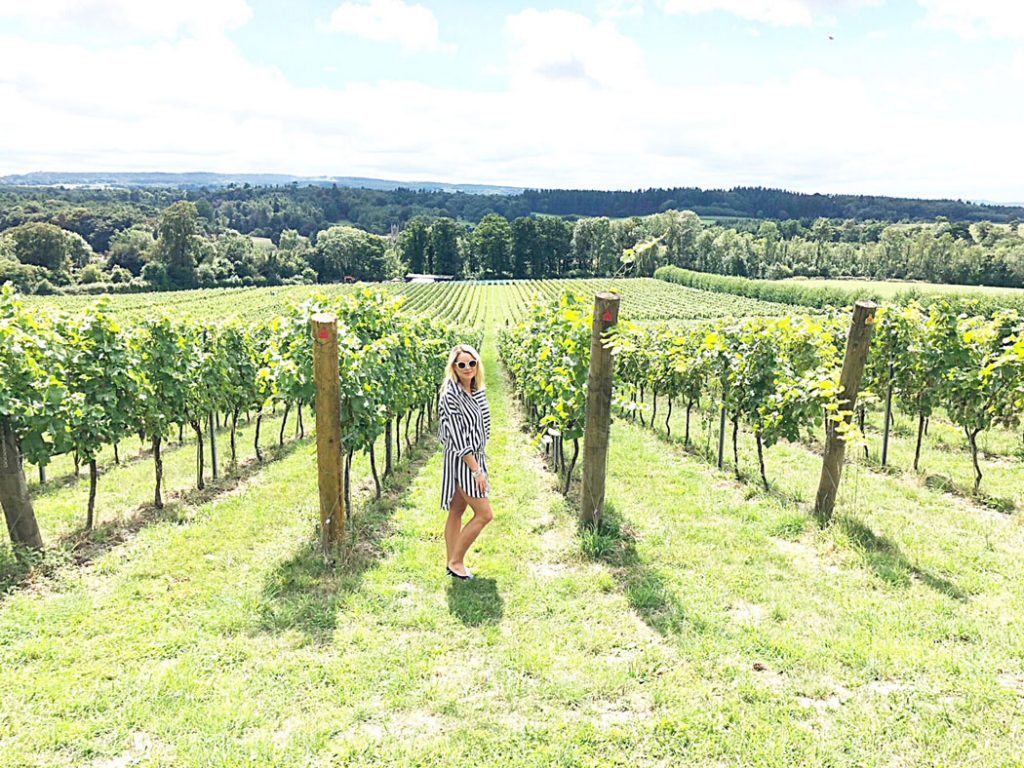 Then it was time to taste the wines.  We would be trying their three main sparkling wines as well as a Rosé that they produce.  First up was the Classic Cuvée.  This is made using the same method as in Champagne and has recently won Gold in the International Organic Wine Awards.  It was light and crisp but with some of the biscuity notes that you expect from champagne.  You could smell some red fruit flavours but I got peach and citrussy notes from tasting it.
We got to compare this side by side with their other award-winning wine, the Blanc de Blancs.  Blanc de Blancs means that the wine is produced from only white grapes.  In this case it is Chardonnay and the Seyval Blanc which I had never heard of before.  It was lighter than the Classic Cuvée with more green fruit flavours.  I picked up apples, gooseberries and pears in particular.  It was crisp and fresh and I surprised myself by preferring it to the Classic Cuvée.  Normally I like the heavier, sweeter more tropical flavours and I love the toastiness that comes with ageing the wine on the lees for a bit longer.  I loved that this wine had a bit more character to it and tasted different from a standard champagne.  Definitely one of the best English Sparkling Wines I've ever tried.
Next up was the Sparkling Rosé.  This is a blend of the two red grape varieties, Pinot Meunier & Pinot Noir.  This was very light in colour and a very elegant looking wine.  It definitely had red fruit flavours such as strawberries and raspberries.  There was a hint of peach but nothing was too sweet so it was still very dry and crisp.
Last on the menu was their still wine, the Silent Pool Rosé.  Again, this was a beautifully light colour in line with a Provençal style of Blush Rosé.  It was so light that it almost didn't appear pink at all when poured into our tasting glasses.  It was fresh, clean and crisp with hints of the same fruit flavours as the sparkling Rosé.
We chose a glass of our favorite wine to pair with lunch.  I went for the Blanc de Blancs as I'd found it to be the most different of all the wines.  Lunch was a selection of charcuterie, cheeses, roasted vegetables, houmous – all my favourite things in fact.  If you visit Albury Vineyards for a tasting, they offer similar lunch platters for you to pick at whilst enjoying the wine and of course the view of the vineyard.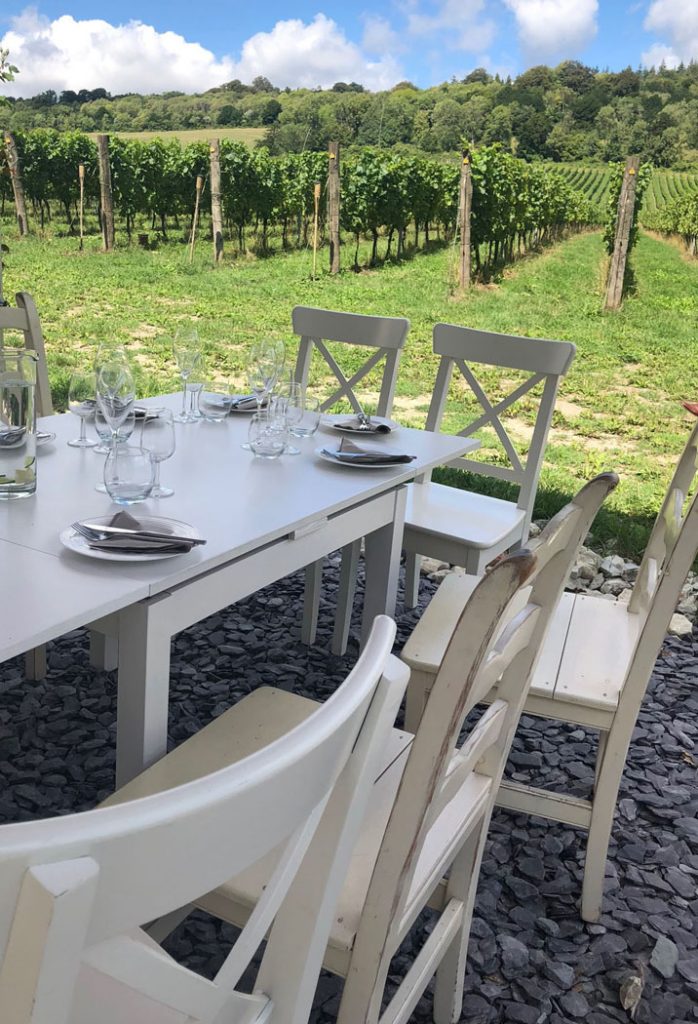 After lunch it was time to meet the Albury Vineyard bees!  The bees here are so important to the vineyard's ecosystem that it didn't seem right not to pay them a visit.  We got dressed up in full bee-keeper outfits complete with wellies, rubber gloves and full on face masks.  I felt like something out of Ghostbusters in my fetching beige boiler suit!
Sergio, the resident bee-keeper took us to take a look a look at some of the hives.  It was incredible to see the colonies of bees all working together and we were lucky enough to spot the queen as well!  (She's about 1.5 times the size of all the other bees).  Sergio explained the hierarchy and how the bees collect and store the honey.  It was so interesting and gave a very different insight into insects that most people are annoyed by or fearful of.  The bees were very docile and far from panicking (which I thought I might do) I found the whole experience quite calming!
Albury Vineyard organise Bee Keeping demos so if you'd like to get up close and personal with the little guys then book yourself in!  It really is so interesting to see them in their natural habitat.
Next up we had a wine and cheese pairing using the Classic Cuvée from Albury Vineyards and some delicious organic cheeses from Abel & Cole.  I got to try Vegan Cheese for the first time – A Roasted Garlic Cashew Cheese!  This kind was actually a kind of fermented cashew nut paste.  It had a really interesting flavour.  It had the umami undertones that you get from a Parmesan type cheese but it was salty, creamy and you could definitely taste the nuts.  I think calling it cheese is a bit of a stretch but it's a nice spread to have on a cracker or with some fruit in place of traditional cheese.
We also got to taste my favourite cheese of the afternoon – the Brighton Blue.  It was a blue sheep's cheese and paired perfectly with the Sparkling wine.  Then, of course we couldn't leave without trying some of the Albury Vineyard Honey made by the bees we'd spent the afternoon getting to know.  Topping some Parmesan with honey felt a bit alien but the sweet, salty flavour combination really worked.
If you want to purchase any of the wines and cheeses I've mentioned then head over to the Abel & Cole website!
The English Sparkling Wine industry is booming.  They are on track to produce over 10 million bottles this year compared to only 5 million last year.  Try some for yourself and if you fancy a tasting at Albury Vineyard you can find them at –
Albury Vineyard
Silent Pool, Shere Road
Albury
Surrey
GU5 9BW
01483 229159
Pin English Sparkling Wine Tasting at Albury Vineyard for later