For Valentine's Day this year I'd bought Dan and I a 'Grand Gourmet' Tour Voucher for a visit and tasting experience at the Bolney Wine Estate in Sussex which has been producing wine since 1972.  We both have a huge love of wine and have done the WSET Level2 wine appreciation course so we thought we'd put our knowledge to good use.  Having been wine tasting in Bordeaux and in Montalcino in Tuscany we thought we'd give English wines a try this time!
English wines are really enjoying great publicity at the moment.  In blind tastings, English Sparkling wine has even been proved to challenge Champagne.  We couldn't wait to see if English wines really are as good as we'd heard.

The schedule was…
2½ hour tour and tasting with an experienced guide.
Glass of sparkling wine on arrival.
Learn about the history of English wine and how theymake the wines on the Bolney Wine Estate.
Walk amongst the vines in the picturesque Eighteen Acre field.
See inside the state-of-the-art Winery and Bottling room and learn about the process.
Enjoy a tutored tasting of 5 wines, matched to a charcuterie-style lunch.
We'd booked this up for June, anticipating good weather.  Just goes to show you can never predict the English summer!  We arrived to grey skies and the threat of rain and made our way into the main cafe/restaurant.

Alicia, our guide, began by showing us to the tasting table and putting on a short video about the history of the Bolney Wine Estate.  She gave us a brief overview of the company.  It's family run, and one of only two vineyards in the UK to have a female winemaker!  We were given our first taster of the day, a sparkling rosé called Sirius Rosé.  It definitely tasted of strawberries but I felt was too tart and acidic for my taste.
Bolney Wine Estate Vineyard Tour
We we taken on a walk around the vineyard and luckily the sun came out as we went outside.  We saw new vines that had just been planted (vines only last about 25-28 years and then they have to be pulled out and re-planted)  Even then they won't produce grapes good enough for wine for at least 3+ years so it's a lengthy process.  We learnt about the different grapes that they grow.  These were obviously cooler climate ones such as Bacchus, Pinot Gris, Chardonnay and Pinot Noir, and plenty of others that I hadn't heard of such as Rondo and Dornfelder.
She explained that only 2 women look after the grapes all year round and it's their job to ensure the entire harvest.  They have ingenious methods of counteracting frost.  An alarm goes off when the temperature drops too low, and day or night they have to jump out of bed to look after the vines!  They also plant their vines higher above ground than most vineyards as they have a problem with the local deer from the South Downs munching on the crop.
At harvest time when they need much more help, they hire staff to pick all the grapes by hand.  These are from the local agricultural college so they're more expert in determining which grapes are the best ones to pick, which are too small/rotten etc.  All the grapes harvest at different times and are constantly checked in their labs to determine the exact point at which they're ready for harvesting.  The sugar content and acidity has to be just right.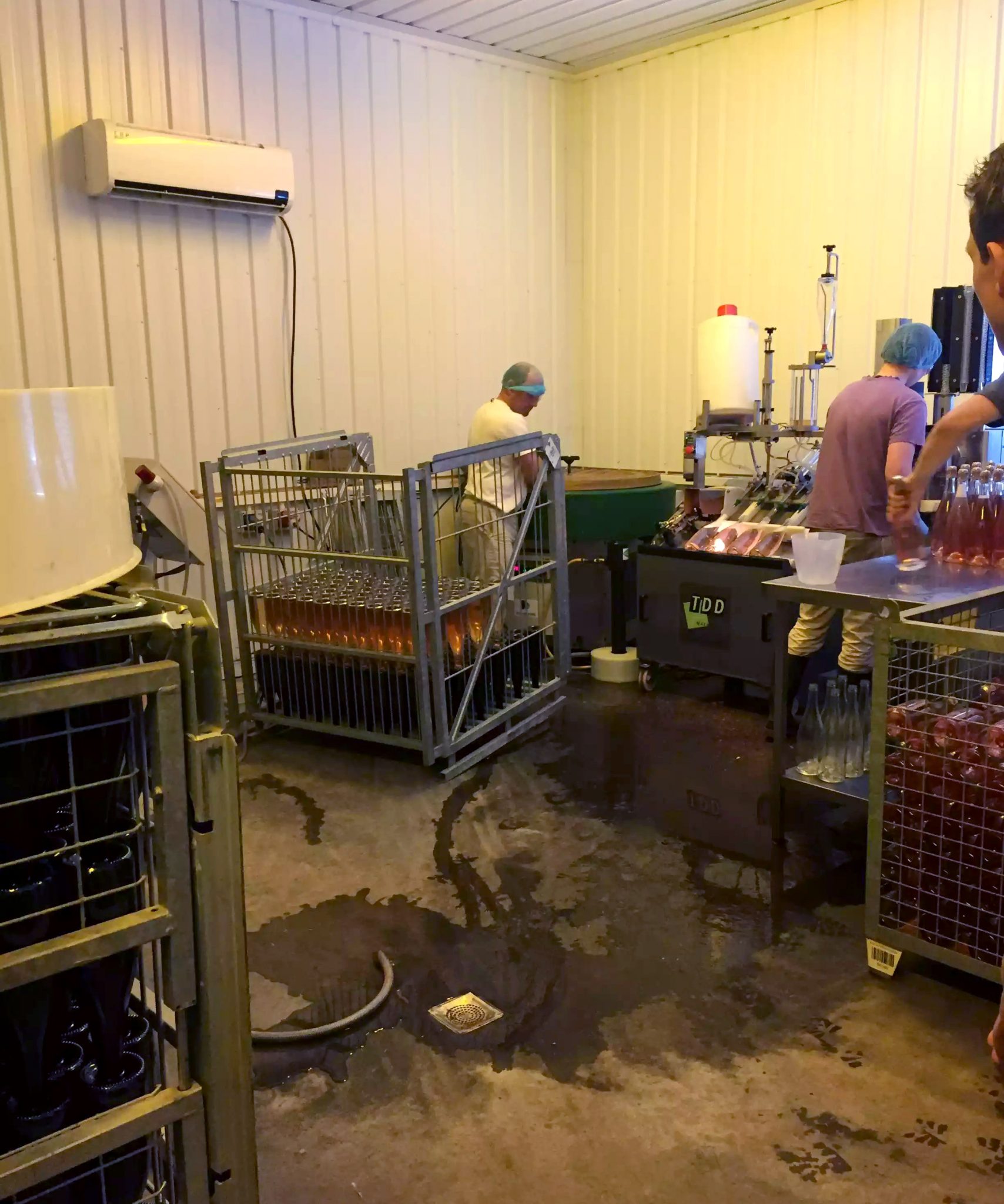 After that she took us to the sorting and fermenting room where she explained the process of making the wines.  We were shown the steel tanks/oak barrels that they ferment them in. She also explained that they're one of the few vineyards with their own winery, so they also produce wines for other vineyards, who ship them their grapes for processing.  They just happened to be de-gorging Sparkling Wine in the room next door so we got to see that happening.
The champagne making process is lengthy one, but in a nutshell, the bottles are placed in a riddling rack and over time (many weeks) the racks are tilted so that the bottles go from lying on their sides to lying upside down.  This means the yeast used for fermentation travels to the neck of the bottle due to gravity.  Once they are upside down, the neck of the bottle is placed in a blast freezer and the plug of ice (containing the yeast and sediment) is forced out under high pressure.  The bottle is topped up with a bit more wine and some sugar (called the doseage) and the cork is inserted and it is ready for labelling.
Wine Tasting & Food Pairing
After this we returned to the Bolney Wine Estate restaurant for our wine and food pairing.  We started with the Bacchus which was paired with a cheddar cheese.  It was very light and fresh and tasted very much like a Sauvignon Blanc to me.  It was full of gooseberries and not too acidic and I found that the cheese cut through it really well and softened it.  A lovely wine but I felt that for £16.99 retail price it was too expensive.  To me it wasn't special enough to merit that price tag.  It was more of an everyday easy drinking wine, not a special occasion one.

Next up was their one of their English Sparkling Wines, the Blanc de Blancs (translated means white of whites so they only use 100% Chardonnay grapes in this – they don't use any black-skinned grapes to make this wine).  They lees age this for around 2 1/2 years.  This means that they leave it on the yeast to give it depth of flavour.  This was one of my favourite wines of the day.  It tasted of citrus and green fruits with oaky and honied undertones.
It was very like a good champagne and cut through the fattiness of the smoked salmon it was paired with.  At £22.99 retail price I felt it could stand up to any main brand Champagne and I'll be looking out for it.  (PS Waitrose sell all the Bolney Wine Estate wines online and in store if I've tempted anyone).
English Sparkling Wine is enjoying a surge in popularity at the moment.  In a recent taste test with experts it outshone Champagne from Epernay and Reims.  Champagne producers such as Tattinger are buying up land in England to plant vines on as it is becoming widely believed that our climate is even better than the traditional Champagne areas of France for producing sparkling wine.

Next up was their Cuvée Noir.  It was a red sparkling wine made with 100% Dornfelder Grapes.  This tasted of cherries but it was very dry, not sweet at all.  I just felt it was a bit thin and definitely not as good as the one I'd bought in the Hunter Valley earlier this year.  It did get better when paired with the pastrami, but to me it just didn't have enough body and flavour.  I am loving that sparkling red is becoming easier to find though.  Until a year ago I'd never heard of it and now I love it with a BBQ.  Served chilled it's perfect when (like me) you prefer a red to a white wine but you want a cool drink when the sun's out!

Our guide also told us that Bolney Wine Estate is the biggest producer of red wine in the UK.  Typically harder to make in cooler climates than white wine as the red grapes need more sun and heat to ripen.  However, Pinot Noir grapes have comparably thin skins so they do quite well in our climate and they've taken full advantage of this.  So next up we tried their Pinot Noir.  This is not normally my favourite type of wine as I prefer something heavier and jammier and I but I did find this more to my palate than a standard one.  It had quite pronounced red fruit flavours and I could definitely taste cherries and raspberries.  It went very well with the salami they suggested it with and I found it very drinkable.  However again, at £16.99 it was too expensive to buy as an everyday wine.

Our final tasting wine of the day was the Bolney Wine Estate Lychgate Red.  Made with 100% Rondo grapes which I'd never tried before, I was intrigued.  Its was much more to my taste, with plum and black cherry flavours and a toasty, spicy taste that comes from being aged in oak for 6months.  Also giving off a farmyard (read 'manure') smell – which signifies bottle ageing – and although sounds horrible, is not actually unpleasant it was definitely my favourite of the lot.  We ate this with the goats cheese and the strong flavours complemented each other well.  Dan and I bought ourselves a glass of this one to drink with our lunch and at £13.99 a bottle it was the cheapest wine on the list (I'm a cheap date!)
I forgot to take pictures of lunch, but they catered for us very well.  It was a buffet style meal with smoked salmon, a cheese platter, a charcuterie platter, quiche, bread, olives, salad and a lemon tart for dessert.  Plenty for me to eat, except the bread, lemon tart and the quiche crust!

There was one wine that we didn't get to try that really intrigued us (you try 5 wines but they actually produce 11) so we bought a glass of the Lychgate White to share while we waited for our taxi.  The reason we were so intrigued by this one, is that the tasting notes boasted tropical fruit flavours such as lychee and passion fruit.  These are flavours normally found in wines from much hotter climates where the grapes ripen more fully in the hot sun.  We wanted to be able to see if they'd actually managed to achieve this in England.
Made from a blend of Reichensteiner, Schonburger and Wurzel grapes (which I've never tried before either), it was delicious.  Everything they'd promised in the notes along with a little hint of elderflower.  At £13.99, much more affordable than the Bacchus (or their Pinot Gris – which we didn't try, but one other guy did and said the Lychgate was better).
The general consensus is that as English Wines get more renowned, the prices will come down but at the moment our taxes are high, the labour intense and the facilities are not so widely available which is why the prices have to be higher.  I have to say that I found the Sparkling Wines and the Lychgate wines very good value for money but the single grape varieties were too expensive for what they were.  So everyone needs to buy English Wines and support the industry to help bring the prices down!  I'm hoping to try a few more English Vineyards so watch this space for other reccommendations.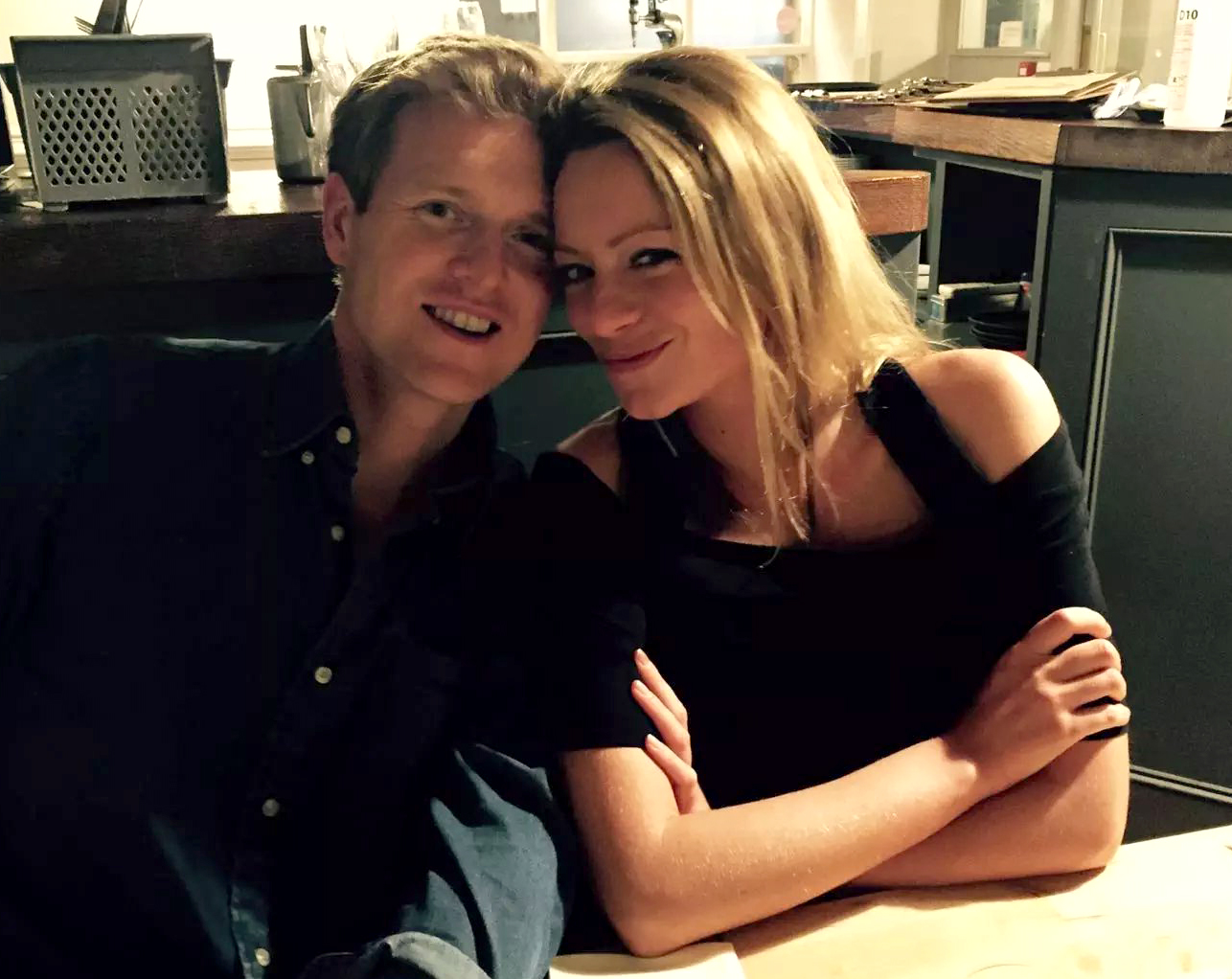 We thoroughly enjoyed ourselves on the tour and I'm off to Waitrose for some Blanc de Blancs, and some Lychgate Red & White…..