This afternoon Dan and I had been invited on a special treat.  We'd been offered a stay at the  Four Seasons Hotel Hampshire including dinner, to try their new menu at the Wild Carrot Restaurant.  The Four Seasons Hotel Hampshire is a restored 18th-century manor set in 500 acres of picturesque grounds.  When you come up the long sweeping drive, the building really is spectacular.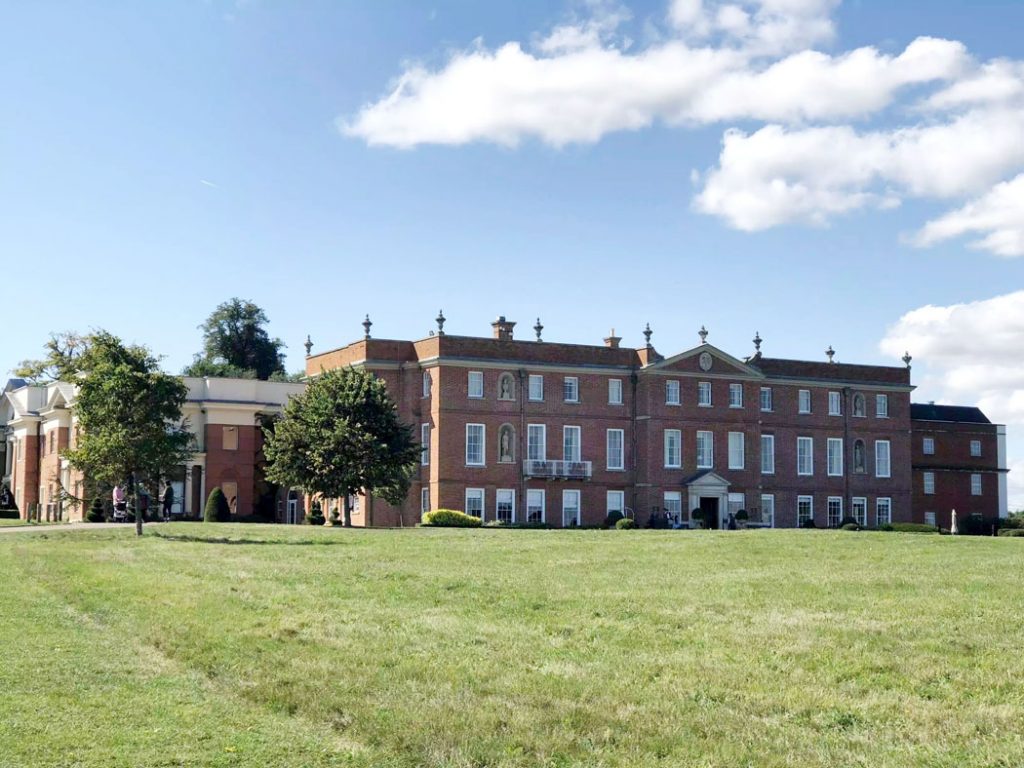 In fact, parts of it have been around so long that it's even mentioned in the Domesday Book.  Unfortunately the building suffered a fire a few decades ago but has been rebuilt in the same style.  These modern additions blend really well with the old style manor house and the mix of the two gives a really interesting feel to the place.  It's antique and contemporary all at one time!
We arrived by taxi and were welcomed warmly while our bags were taken up to our room.  We checked in and had been given a room in the Old Manor House.  This was up a long sweeping staircase and right at the very top of the building.
The Rooms
When we were shown in I was amazed at the size of the room (I say room – it was technically 4 rooms).  We had a small entrance hall and then an enormous bedroom, bathroom and even a dressing room!  The view from the window was spectacular.  We could see for miles, all over the estate.   Firstly, we unpacked and checked out the room.  We had kindly been left some snacks – beetroot houmous and crudités, my favourite.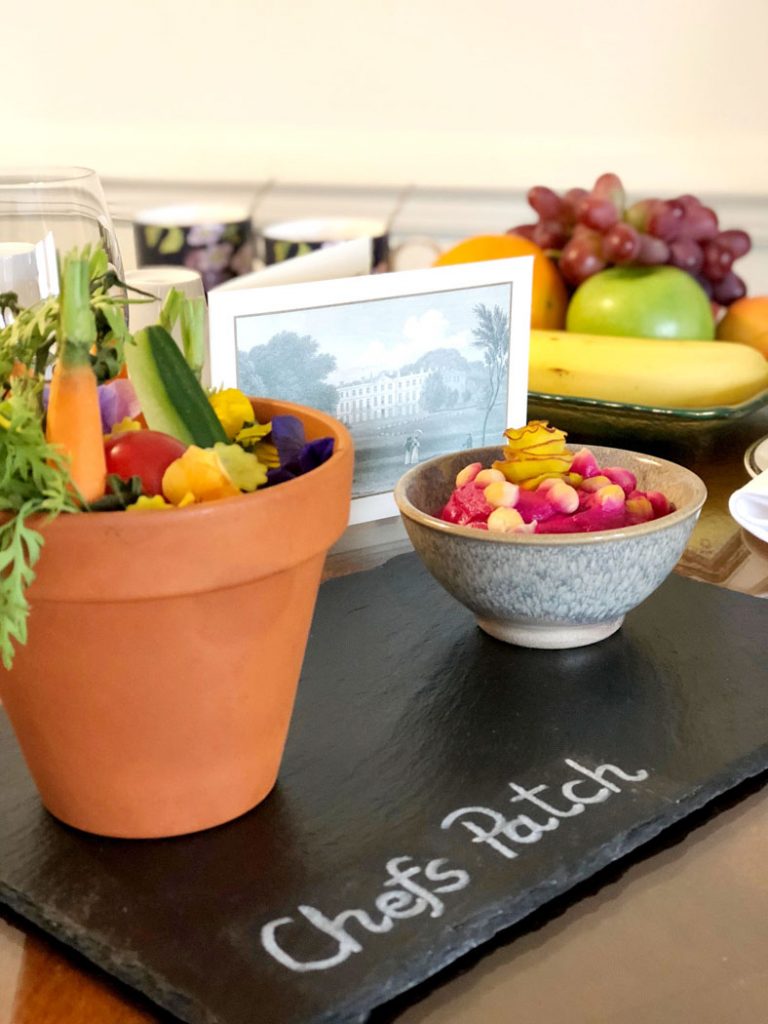 The room itself was beautiful, a huge comfortable bed, elegant roll-top bath, rain-forest shower, what more could you want!  24 hour room service is also available as well as all the usual hotel perks like laundry facilities and mini bar.
Facilities
We decided to head straight to the spa to begin our relaxing evening.  The Zen Spa is housed in the 18th century stable block.  They offer a full range of treatments and even beauty salon services if you want to primp yourself for dinner!  We decided to spend some time in the steam room and sauna to relax and chill out.  It seemed like a world away from London and we felt really refreshed.  There is a fitness centre and a swimming pool available for all guests to use which Dan definitely took advantage of.
The Four Seasons Hotel Hampshire also provides guests with complimentary bicycles to explore the grounds with.  You would need them to explore the vast 500 acre estate.   And if you want to explore with your favourite furry friend, the Hotel is also dog friendly.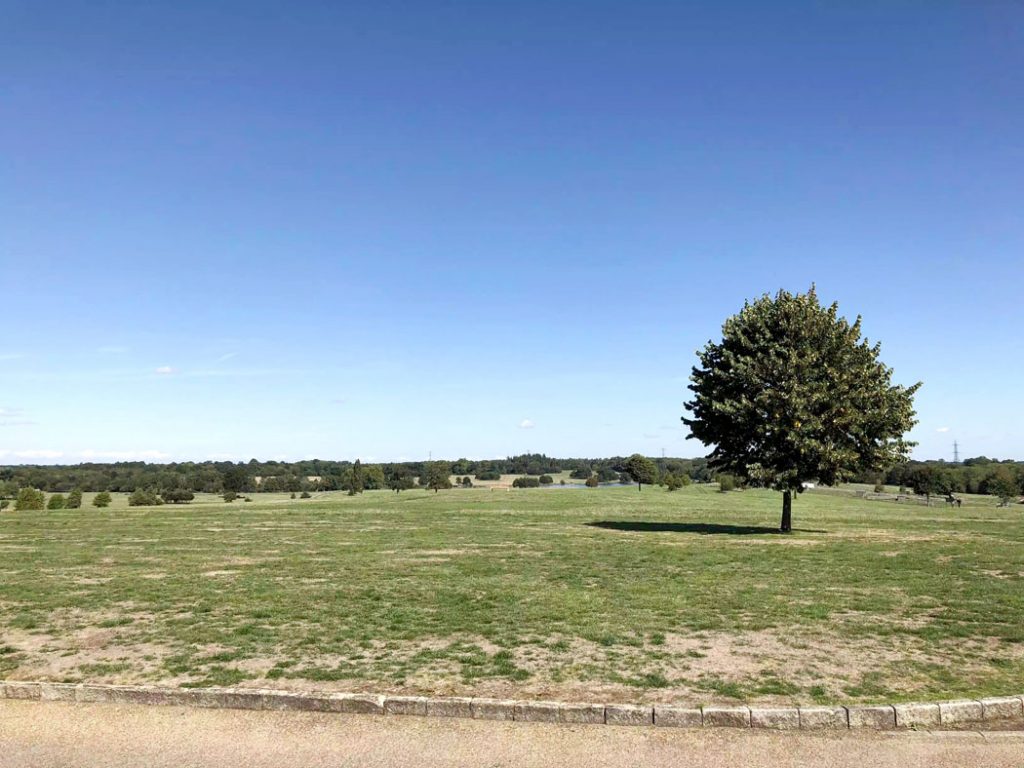 There are also plenty of other activities that we didn't get a chance to take advantage of on our short break.    You can take a yoga class, play croquet, play tennis or go clay pigeon shooting.  For the brave guests, there's even a high-wire adventure to have a go at!  If you're staying with your family then the kids haven't been forgotten about either.  They can hire a pony for a day to explore the area or take riding lessons.  There's a games room too and fishing or falconry excursions!
Eating
The Fours Seasons Hotel Hampshire has two restaurants and two bars.  Café Santé is a relaxed restaurant in the Zen Spa complex and The Library is the hotel bar which also serves an amazing afternoon tea.  They also offer in room-dining so for that extra touch of luxury you can have breakfast or even dinner in your own room.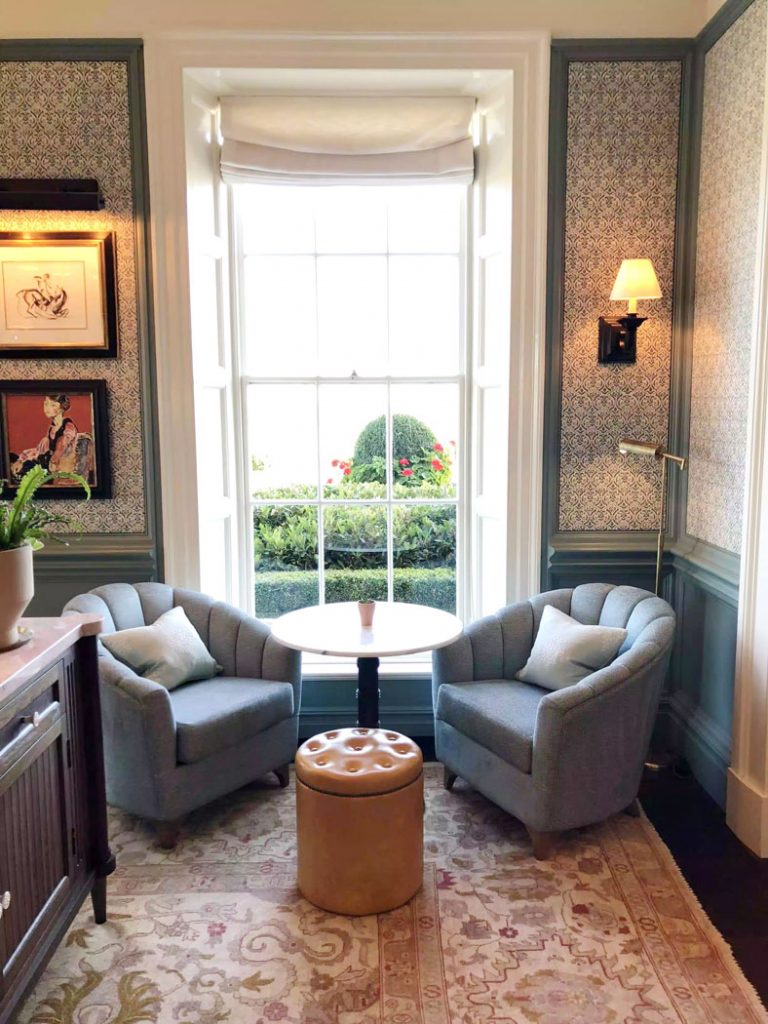 On our stay we dined at the Wild Carrot Restaurant for our evening meal.  It was refurbished last year and the hotel is very proud of what it offers now.  We started with a drink at the cocktail bar (mine is always a Dirty Martini) which was beautiful and elegant.
We watched the amazing sunset before we moved on to dinner in the main dining room.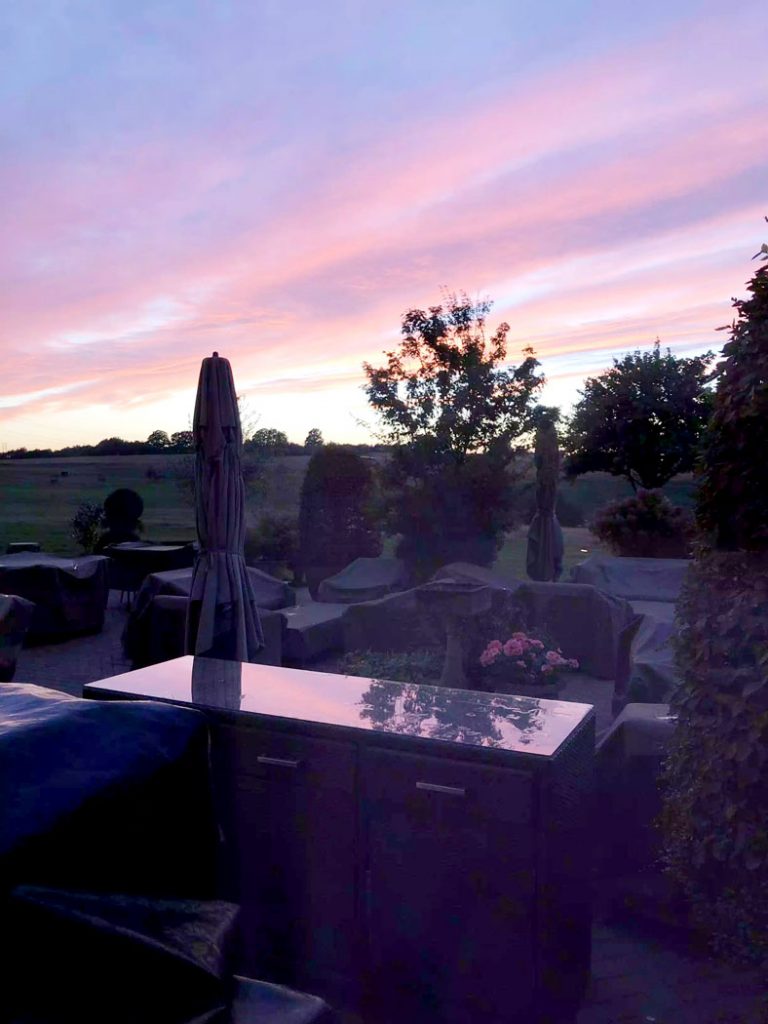 The menu was seasonal and  elegant but not fussy and I was in heaven.  I had so many options to pick from!  Normally,  eating the medical diet that I do (grain, gluten & refined sugar-free), I'm lucky to find anything on the  menu I can eat, let alone have a choice!  In the end I went for the Tuna Mosaic (£15).  It was cubes of raw tuna, watermelon and feta cheese set out in a checkerboard style!  Art on a plate and it tasted as good as it looked.  Fresh and light and I loved the beautiful addition of the edible flowers.  Dan opted for the Crab Mayonnaise (£17).  It was white crab meat mayonnaise served with apple, celery, radish and a kale pesto.
For our mains I couldn't decide between the Dover Sole Meunière or the Braised Lamb Shoulder.  As we'd decided to order a bottle of Rioja to share I ended up going with the lamb (£28) and I'm glad I did!  It was 'melt in your mouth' delicious and came with roasted carrots and parsnips and I had a side of broccoli with toasted almonds along with it.
Dan went for the rib-eye steak (£30) so I just had to sneak a taste of it.  It was juicy and cooked perfectly  – charred on the outside and pink in the middle.  It tasted of actual beef which so many steaks don't these day so I'm guessing it had been aged a while.  The steak came served with roasted tomatoes, chips and a béarnaise sauce and was a huge portion!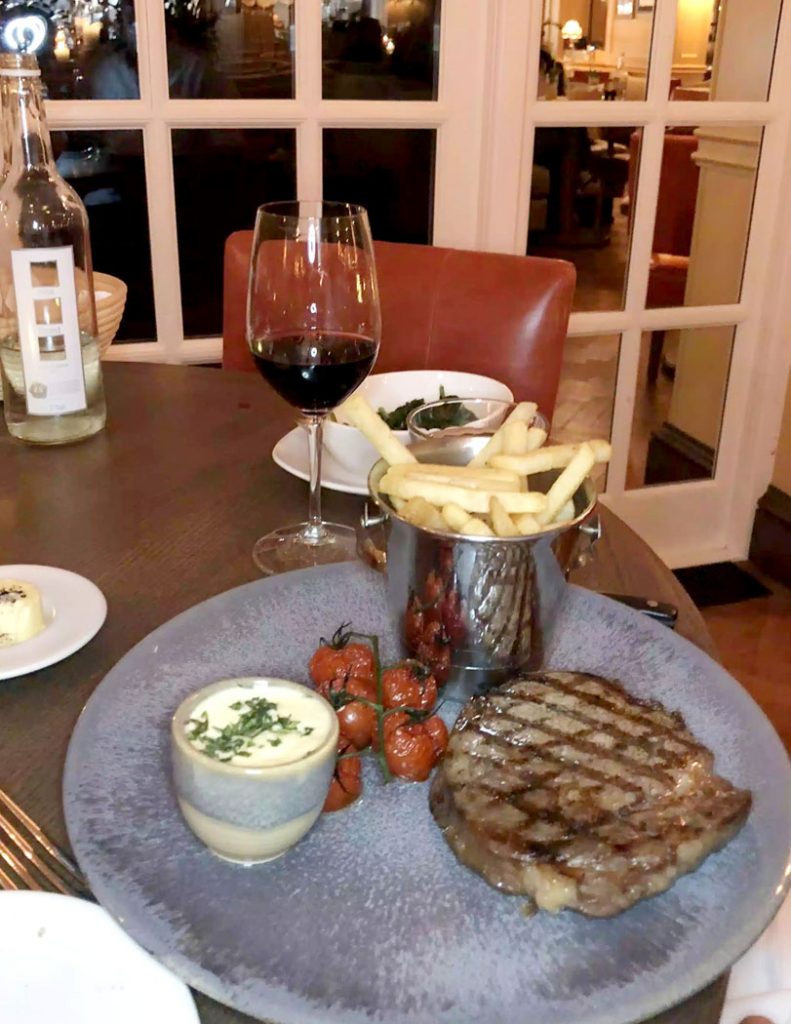 We definitely did not need a dessert but I just couldn't pass up the opportunity to visit the Cheese Buffet (£12).  There were local cheeses as well as all the foreign ones.  There were soft cheeses, hard, blue, goat and all the accompaniments.  I opted for a few cheeses with some walnuts and grapes but you could have had crackers or quince jelly or honeycomb if you wanted.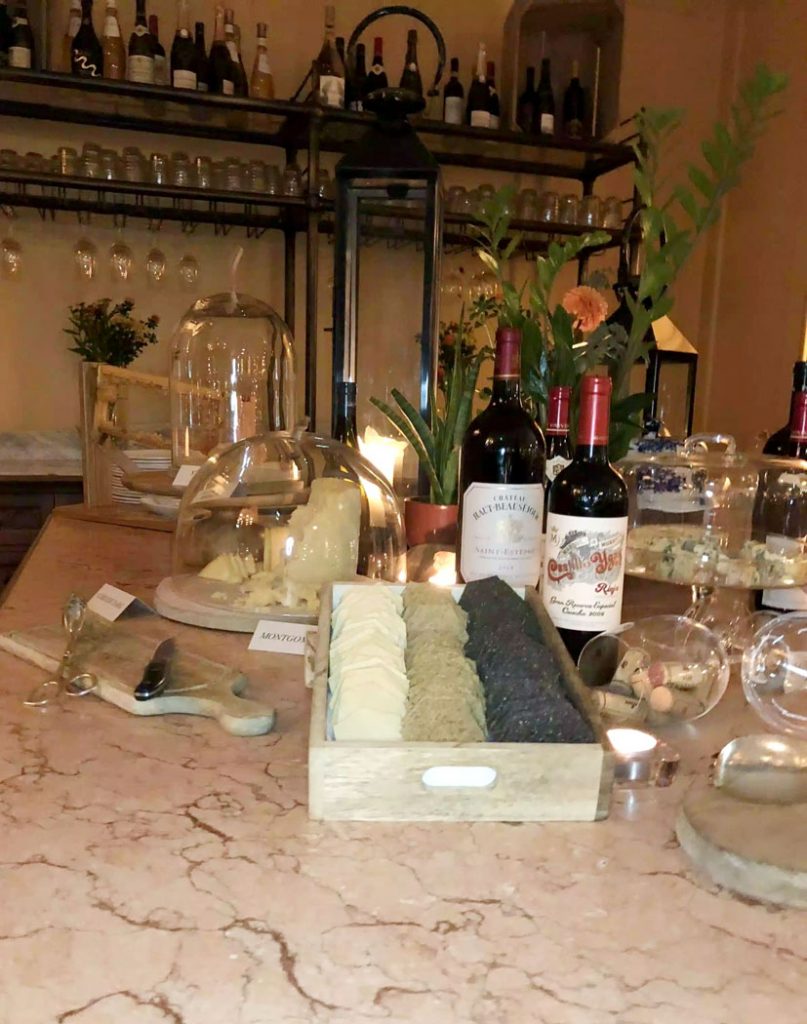 Full to bursting we headed up to bed to relax for the night.
The next morning we also returned to the Wild Carrot restaurant for breakfast.  And what a spread it was.  There were all the usual continental offerings and much more.  The standard pastries, breads and bagels sat alongside local cheeses, jams and even homemade yoghurt.  All the cooked options were there too, scrambled eggs, mushrooms, hash browns, sausages and even two types of bacon!  (You know they've thought of everything when they offer back bacon AND streaky bacon.
We sipped our coffees whilst we decided where to start.  Dan opted for a couple of pastries and then we both had the fruit and homemade yoghurt.  There was a fruit bar and plenty of toppings to load on – I went for hazelnuts and goji berries!
And then of course I had to try the bacon!
After breakfast we headed out on foot to have a look around the estate ourselves.  The walled gardens are beautiful and we walked all the way round the house.
We found the tennis courts, croquet lawn and even the hire-wire course.  Then we ventured further afield to the duck pond.  There's a cute little hut next to it that I think would be perfect to have a picnic lunch in!
Getting here
All too soon our time at the Four Seasons Hotel Hampshire had come to an end but we know we'll be back.  It's so easy to get to from London.  The train is less than an hour from London Waterloo to Fleet! Then, the Four Seasons Hotel Hampshire is about a 10 minute taxi journey from Fleet Railway station.
There is also a residents car park if you want to drive.
And don't forget, you don't have to be staying at the hotel to experience the Wild Carrot Restaurant or the Zen Spa so you can book yourself in for a spa day and dinner as a day trip!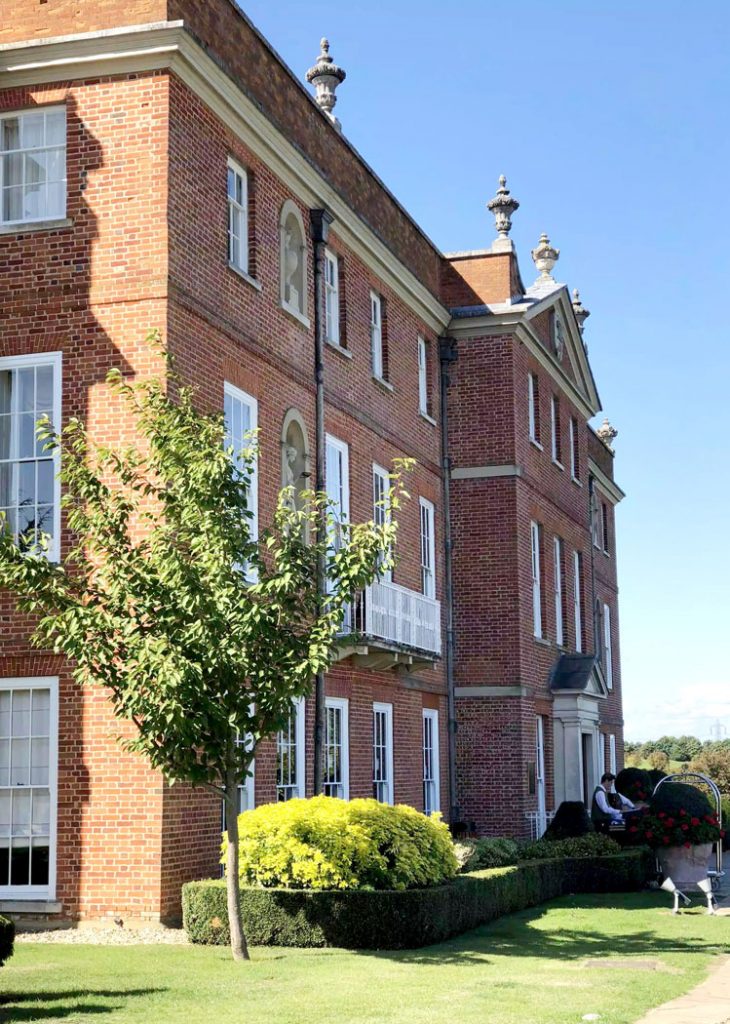 Dogmersfield Park
Chalky Lane
Dogmersfield
Hampshire
RG27 8TD
Pin Four Seasons Hotel Hampshire for later