After our fabulous Bottomless Brunch at PerBacco Stefano invited us back to try his dinner menu.  They have recently redesigned the menu and it now has a lighter Spring feel for the warmer weather.  It's a small menu focusing on fantastic produce with a few specials that change weekly.   We were excited for Dinner at PerBacco to see what he had to offer us this time having loved the food so much previously.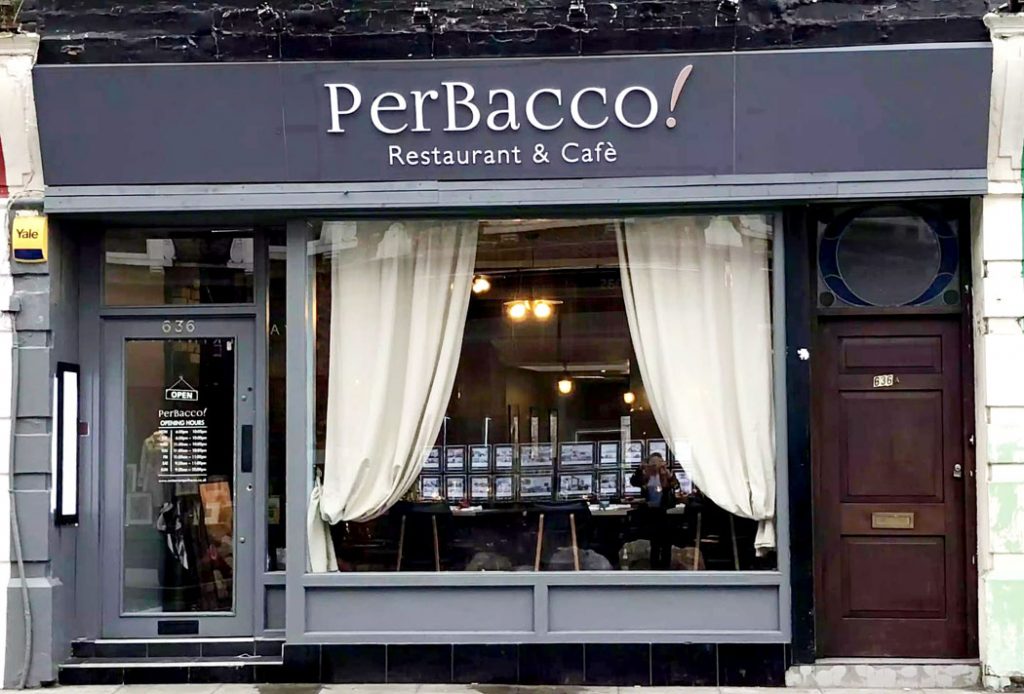 We arrived and were shown to our table where Stefano came out to greet us.  He explained the concept of the new lighter menu to us and filled us in a bit on his impressive kitchen experience.  He is originally from Lake Como so the menu has a strong Italian base in the ingredients and flavours.  However, Stefano has also worked in Switzerland, Dubai & Singapore at Michelin Star restaurants and aims to fuse Italian with more global flavours to create something really special.  He is bringing his wealth of knowledge from all the different cuisines he has mastered together to influence his cooking.
We were offered a cocktail while we took a look at the new menu.  It was Prosecco with cherries and mint which was absolutely delicious and really set the tone for the yummy evening ahead of us – a decadent dinner at PerBacco!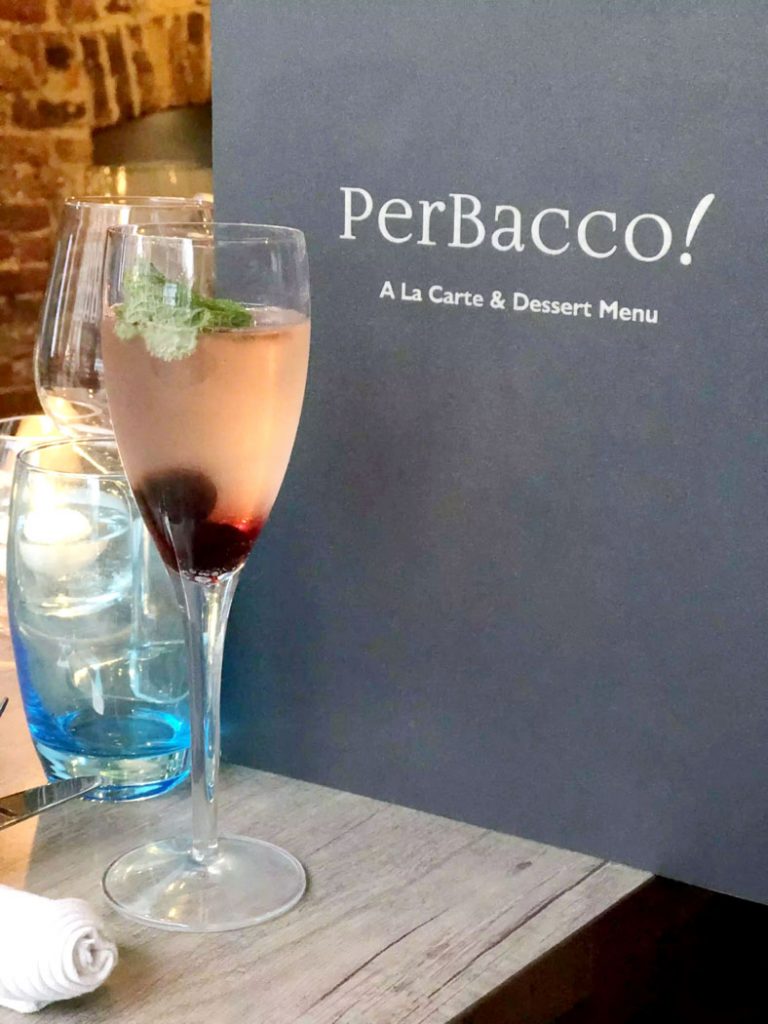 The menu is divided into sections such as Street Food and Antipasti so we decided to have a few of these small plates between us to start.  Dan was desperate to try the Spicy Braised Squid (£11.90) and I had my eye on the Pan Seared Scallops (£11.90).  Until I saw the Parmigiana (£9.90).  It's my absolute favourite and to have it topped with creamy burrata and salty capocollo ham was a dream come true.  Unable to decide we ended up going with all three!
We ordered a bottle of Puglian, Primitivo to share and waited for the starters to arrive.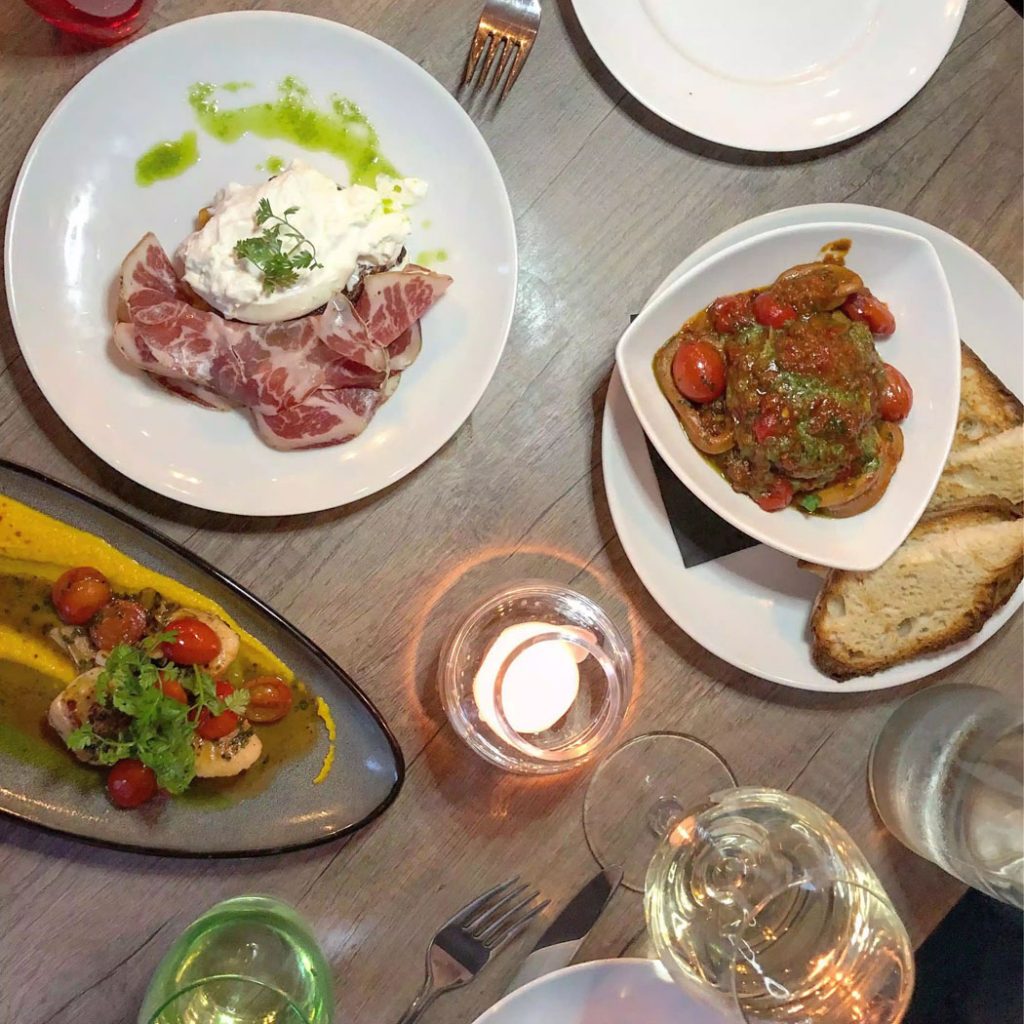 They came out looking absolutely stunning.  Stefano's presentation is flawless and everything looked too good to eat…almost.  The squid was braised with a tomato 'nduja (spicy sausage) sauce.  It was perfectly cooked and the sauce was delicious.  Just the right amount of spice so as not to detract from the delicate squid and such a huge portion!  The scallops were perfectly caramelised and melted in my mouth.  They were served with a garlic butter and carrot vanilla purée.  I was worried that the purée might be a bit sweet as vanilla is such an overpowering flavour but there was just the tiniest hint of it which went so well with the buttery scallops.
The stand out for me though was the Parmigiana.  It was so garlicky and the layers of aubergine had just the right amount of bite to them.  The creamy burrata was absolutely delicious.  You can see how much pride Stefano takes in sourcing incredible produce.  The capocollo was new to me but the salty pork marbled with plenty of fat that melted on your tongue was the perfect addition to the dish.  Of course, you could have it without the ham if you were vegetarian.  Stefano is happy to adapt dishes for most dietary requirements.  He even told me he boiled all of his pots before cooking for a coeliac customer in case there were traces of pasta flour on them!
For the main course I had gone with the Bacon Wrapped Monkfish served on a broccoli mash (£21.90).  Dan had chosen the Slow Roasted Pork Cheeks with Caponata and Thyme Mashed Potato (£20.90).
Both main courses were large portions.  Stefano really believes in value for money and not sending people away hungry!  My monkfish was moist and the crispy bacon it was wrapped in complemented it perfectly.  It added a salty component to the dish which cut through the buttery broccoli mash.  It was incredible!  I've only ever had cauliflower mash before but broccoli mash with plenty of butter is on my radar now.  I'm going to have to give it a go at home.
Dan's pork cheeks melted in the mouth.  They were the perfect comfort food especially with a large helping of the mashed potato.  Stefano has shelved this dish at the moment in favour of lighter, summer food.  He's now offering mains such as Grilled King Prawns and Wagyu Beef for the summer along with a Seafood Stew.
Despite the large amount of food we'd eaten, I couldn't resist a dessert.  My diet doesn't normally allow me to eat dessert other than fresh fruit or a cheese plate but here was one I could have!  A saffron poached pear with Gorgonzola, toasted walnuts and honey (£5.90)!  That combination of salty and sweet is just such a flavour explosion and the Gorgonzola was so creamy.  And at Stefano's recommendation, Dan, the man who doesn't like sweet things opted for the Chocolate Dessert (£5.90).  It was a dark chocolate mousse flavoured with black garlic.  Covered in a chocolate ganache and served with a vanilla cream it was a decadent dish, made even more so with addition of gold leaf.
Stefano explained to us that black garlic doesn't have the regular pungent flavour that normal garlic does.  It has a sweet caramelised flavour and you could just get the barest hint of it coming through the rich chocolate.
And we just had to order dessert wine to accompany our treats.  I ordered a glass of the Moscato (£7) and Dan ordered a Chianti Vin Santo (£6). They were the perfect way to finish an extremely decadent dinner.
Dinner at PerBacco is an experience you just have to try for yourself.  Italian Cuisine with a twist you wont forget.  With different specials on the menu every week we'll be back to try it all!  Stefano is ready to welcome you, so pop in!
636 Fulham Rd
London
SW6 5RT
0044 0207 3717 467
info@perbacco.co.uk
Pin Dinner at PerBacco for later