PerBacco (meaning Oh Wow! in Italian) is a relatively new Italian restaurant on the Fulham Rd in Parsons Green.  It's only been open for about 3 months but already it has had some fantastic reviews on Trip Advisor.  Chef Stefano is in the process of redesigning the dinner menu for Spring, which we would get to taste in a few weeks.  However on this occasion, we were excited to be invited to try the Bottomless Brunch at PerBacco first.
On Saturday lunchtime we walked into to a very modern, brasserie type restaurant.  Exposed brick work and a deep turquoise colour made for an urban, trendy feel to the place.  It felt light and fresh and airy and we were shown to a table by the window.
Stefano is the chef owner and when we were seated he came out to welcome us.  I think it's a lovely touch when the chef makes an effort to leave the kitchen to speak to his customers.  He was very attentive throughout the whole meal, always coming to check that we were enjoying the food that he'd prepared for us.
To begin with we were offered coffees and then it was time for the Bottomless Brunch to begin.  Our glasses were topped up with Prosecco which just kept coming throughout the whole meal.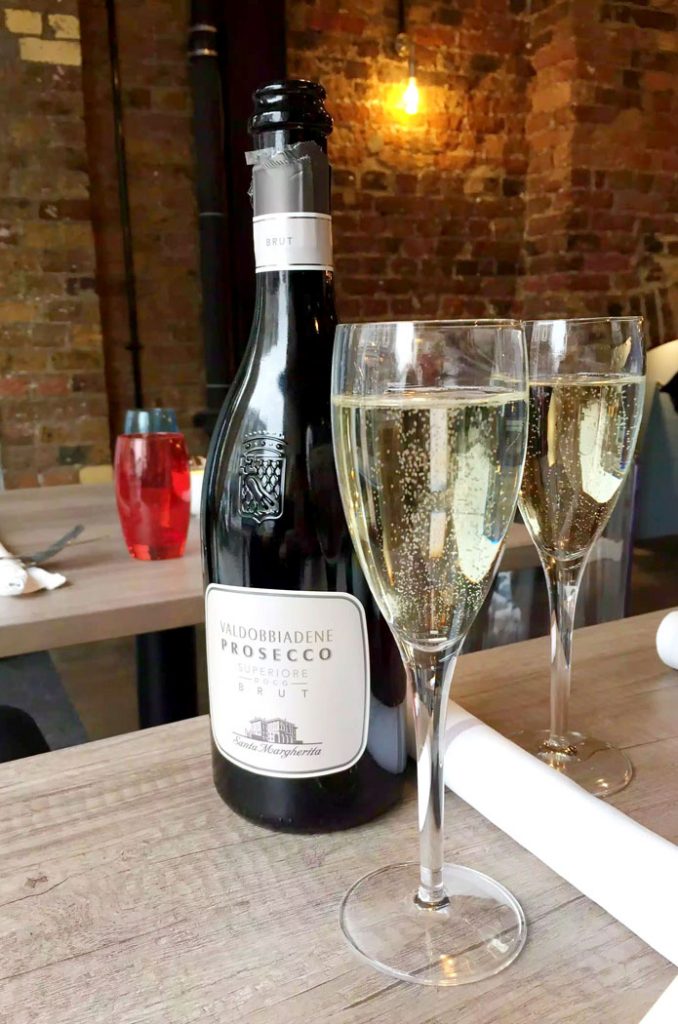 The Prosecco was a Valdobbiadene Prosecco and was actually very good.  All too often at Bottomless Brunches, the restaurants opt for the cheapest Prosecco possible.  It was lovely to have a Prosecco that we actually enjoyed drinking.  It was fruity and bright and very well-balanced.  The flavours of apple and peach came through well and there was creaminess to the finish.  A really decent offering that bodes well for Stefano's wine list that we hope to try on our next trip.
The Bottomless Brunch at PerBacco (£28.90) includes a coffee, a main course, a pastry and as much Prosecco as we wanted.  We were offered the menu to choose our main dishes.  You can choose between a sweet or savoury breakfast.  The sweet options include pancakes and waffles and french toast, but we both decided on a savoury choice.
There is also a Brunch Set Menu with a glass of Prosecco, main course and coffee or tea (£16.90).  Alternatively you can also just choose a dish from the a la carte menu if you don't want to take advantage of the Set Menu or Bottomless Brunch.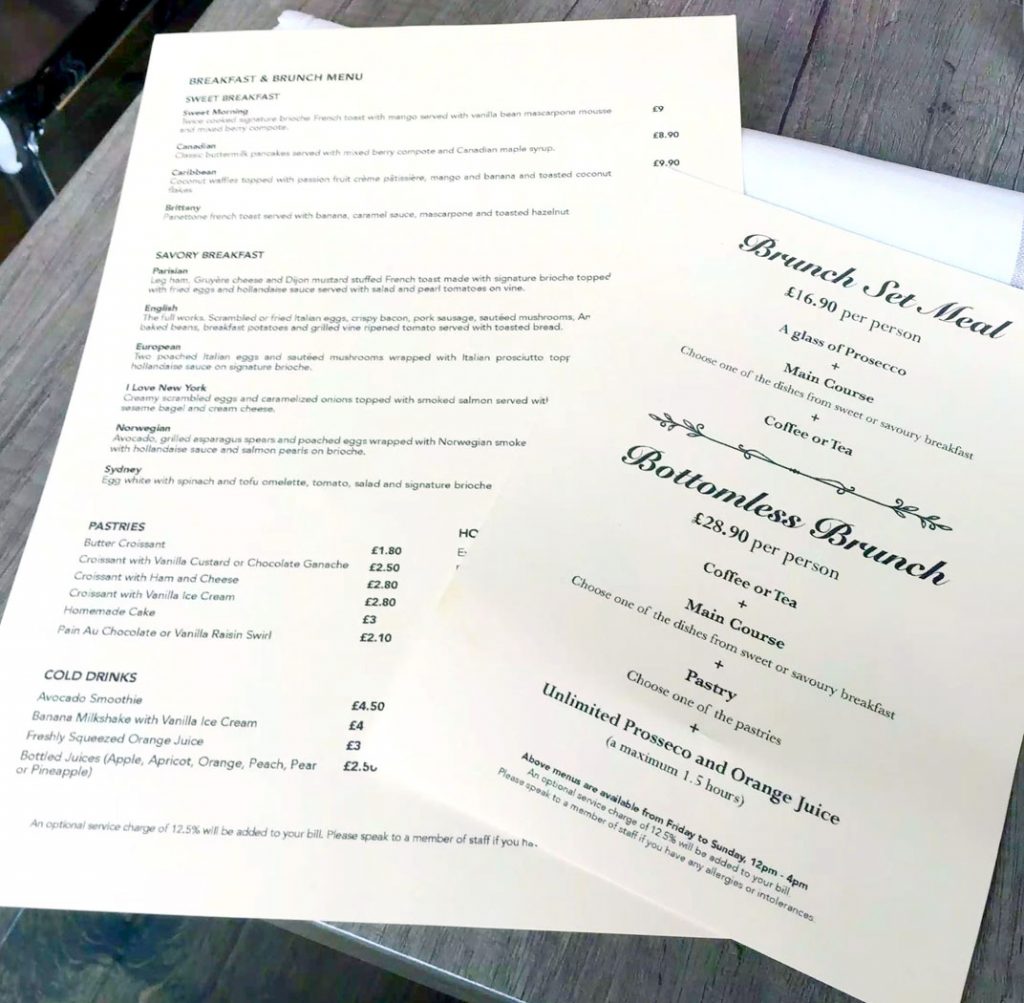 I went for the Norwegian Breakfast (£11.90).  It was a modern twist on Eggs Royale.  A plate of avocado, grilled asparagus spears and poached eggs wrapped with Norwegian smoked salmon.  The whole dish was topped with hollandaise sauce and salmon pearls and served on brioche.  Stefano was kind enough to make me a version without the brioche.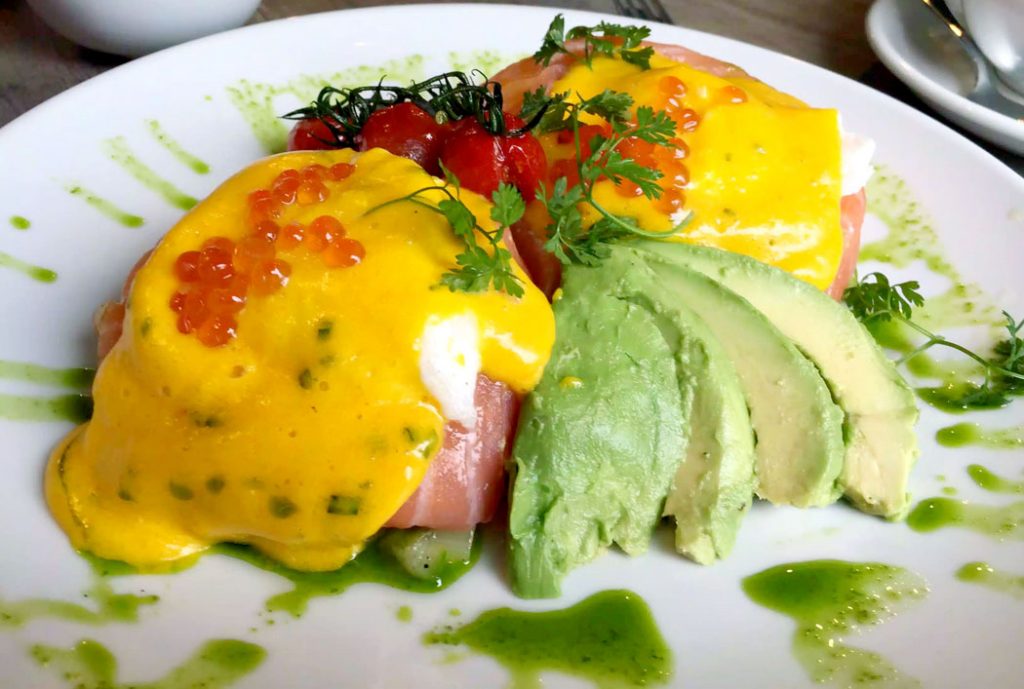 When it arrived it was enormous.  If you're coming for brunch at PerBacco, make sure you're hungry!  I was in heaven.  It was a plate full of so many of my favourite flavours.  The first thing that struck me was the colour of the hollandaise.  It was such a vibrant yellow and when I cut into the eggs the reason became clear.  The yolks were a really deep orange colour.  Using them in the hollandaise had made a much darker coloured sauce than I'd ever seen before.
I asked Stefano about the eggs and he said that they had come from Italy.  It's clear that he chooses all his ingredients with great care and attention.  Everything was delicious.  The salmon was thick and tasty without being too salty and fatty.  The tomatoes were deliciously sweet and the avocado was perfectly ripe.   I also loved the pop of the salmon roe on the top which added a little bit of decadence.  An extra special touch that shows Stefano's attention to detail.
Dan had chosen the Parisian (£8.90) as his main course.  This was ham, Gruyère cheese and Dijon mustard stuffed French brioche toast.  Then it was topped  with a fried egg and hollandaise sauce and served with salad and grilled pearl tomatoes on the vine.  It was a kind of cross between Eggs Benedict and a Croque Madame.  Dan said that the ham was lovely and thick and amazing quality.  He was a big fan of the hollandaise too.  It makes such a difference when the hollandaise is made fresh and not from a jar.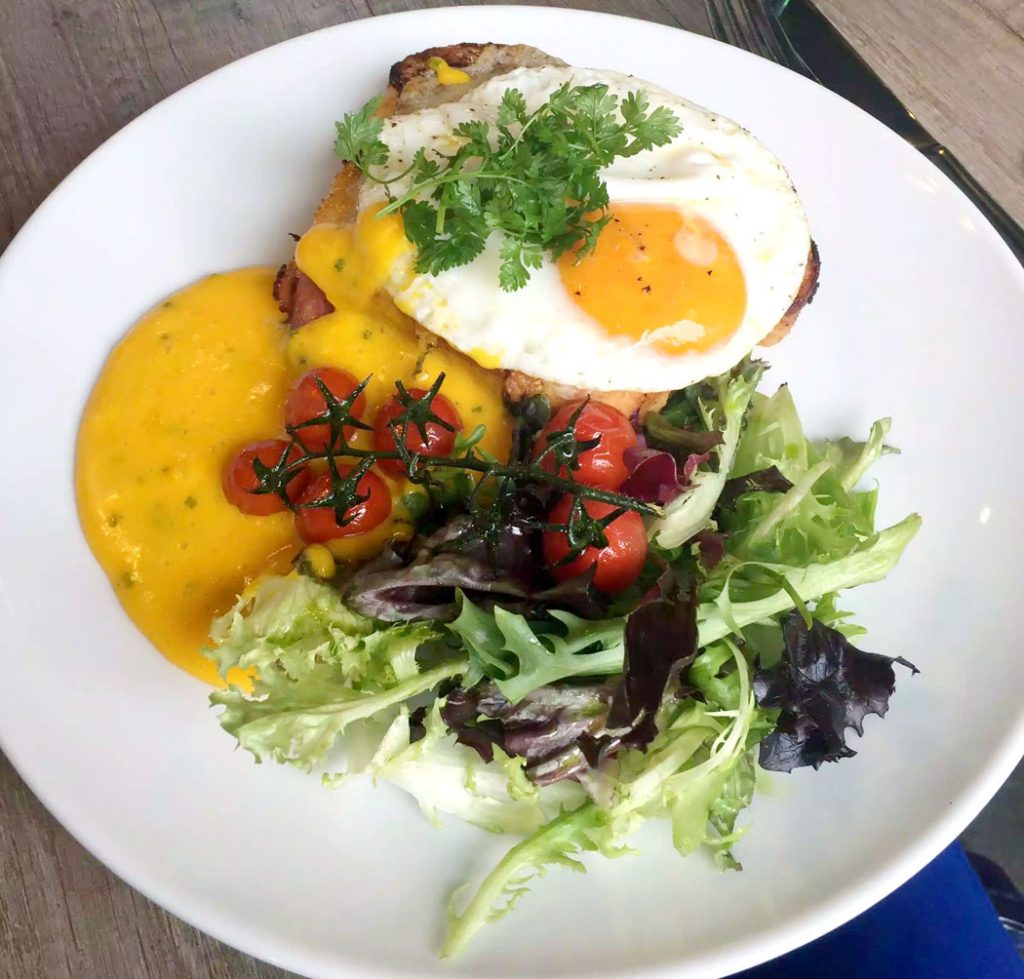 Needless to say, in spite of the huge portions, we ate everything on our plates.  We really didn't need any more but the bottomless brunch includes a pastry as well as a main course.
I couldn't eat the pastries so I ordered the Avocado Smoothie (£4.50).  It was thick and creamy and you can definitely taste the avocado.  It felt more like a milkshake or a dessert than a smoothie.  I wish it had tasted a healthier and fresher as it was a bit too sweet for my taste.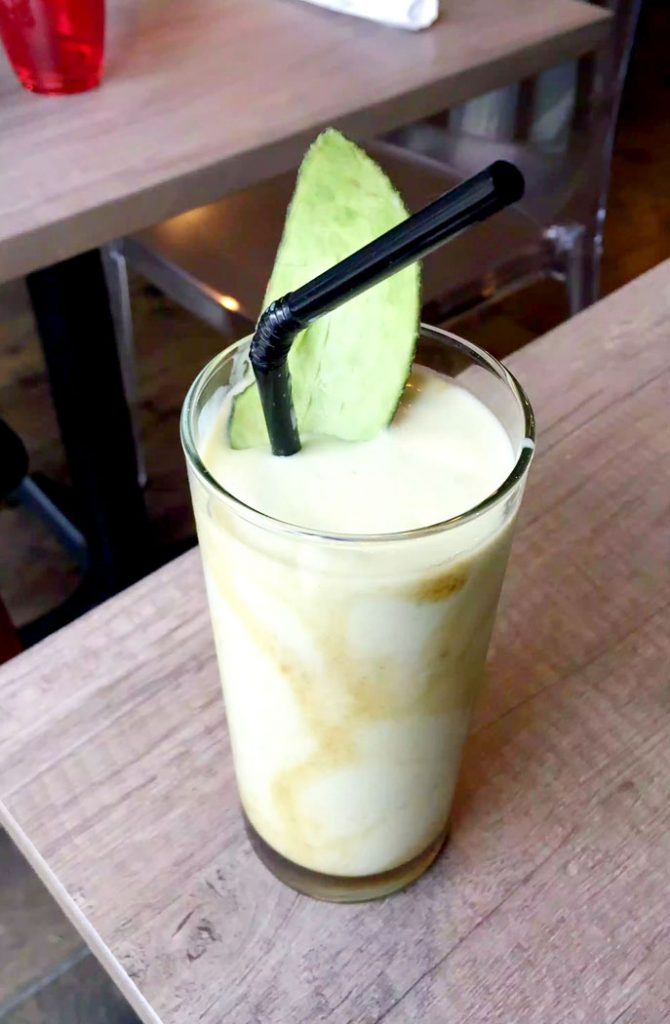 Dan  had no problems choosing a pastry and opted for the Croissant with Vanilla Ice Cream (£2.80).  It was enormous.  A huge croissant filled with three scoops of vanilla ice cream, fruit , chocolate, sugar work and a crème brulée type custard on the side.  The vanilla ice cream tasted of real vanilla, you could see the vanilla seeds in it, no artificial stuff here!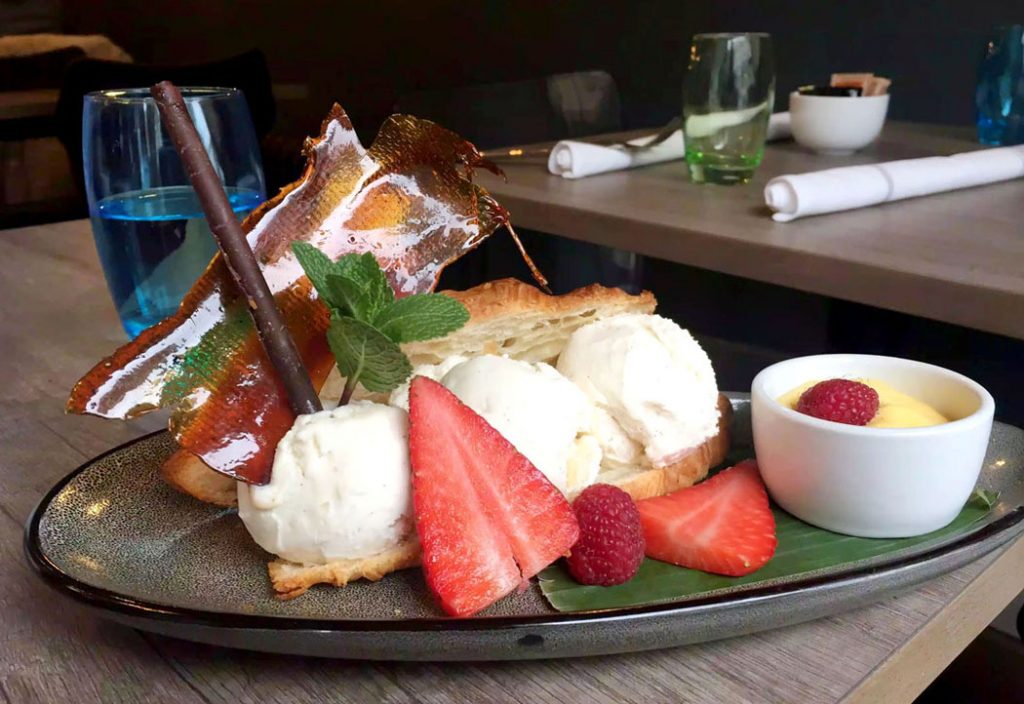 Brunch at PerBacco is great value for money.  I was full and tipsy and I didn't even eat any of the pastry selection!  Both courses were huge and the Prosecco was definitely free-flowing.  As soon as our glasses were less than half full they were topped up straight away.
Brunch at PerBacco is available at the times listed below
Wednesday, Thursday and Friday : 11am-4pm
Saturday and Sunday: 9:30am-4pm
Stefano has also generously offered a free glass of Prosecco for customers who order a standard sweet or savoury brunch and who mention Emma Eats & Explores!
We can't wait to re-visit to try the dinner menu.
Cheers!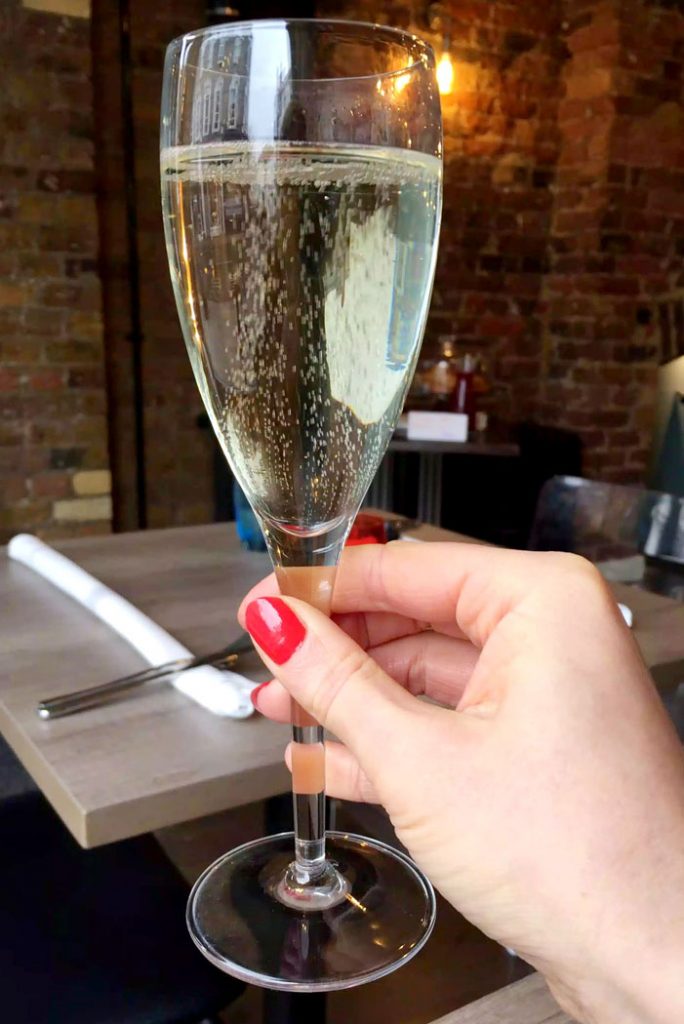 636 Fulham Rd
London
SW6 5RT
0044 0207 3717 467
info@perbacco.co.uk
Pin it for later