Tonight we'd been invited to the The Dead Dolls House in Islington, London!  The name conjures up all sorts of imagery so we were intrigued to find out what was in store for us.
I'm not sure what I was expecting, maybe a house of horrors but it was a lot less intimidating than I imagined.  Rustic, sanded wood floors and a blue and white colour scheme it would look bright and fresh in the daytime.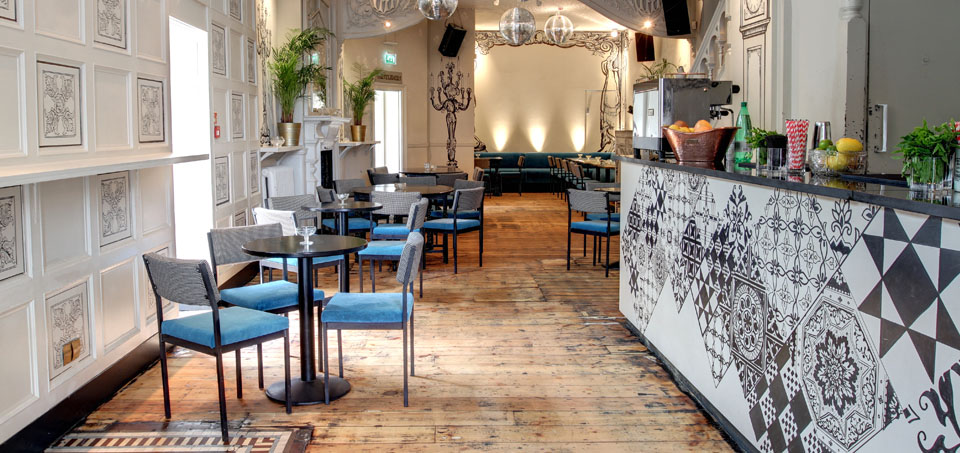 We were  there at night and the velvet booths and candlelight made the whole place very cosy.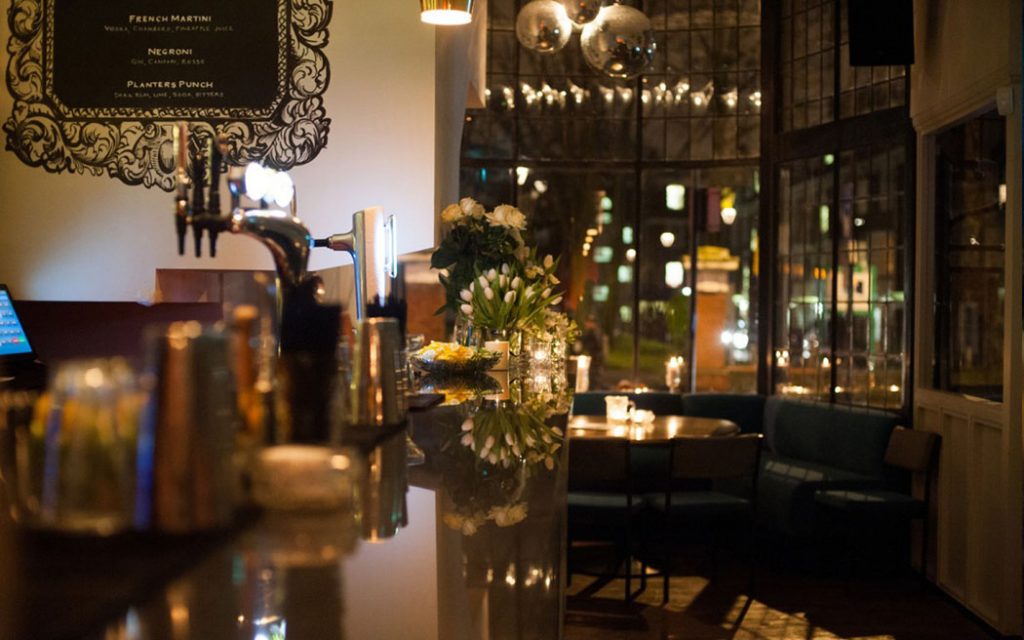 The menu at Dead Dolls House is less fine dining, more comfort food although they have added some healthier options to their menu recently.  And not only their food menu.  They have a range of drinks they call the OMG Healthy Cocktails which I was definitely keen to try!  Not being able to eat refined sugar I was thrilled to see that they were sweetened with things like honey and agave.  We just had to start with one of these!
Looking through the menu, the one that immediately caught my eye was the  Orange & Turmeric Margarita (£11).  It was a blend of tequila, lime, turmeric agave and orange with a turmeric & ancho chili salt rim.  Turmeric is one of the best supplements out there for reducing inflammation in the body.  I normally take it in capsule form but tonight I would be taking it in cocktail form!  A much more pleasurable experience!  It had all the flavours of a normal Margarita with just a hint of orange and a kick of chilli from around the rim.
Dan opted for the Deep Blue (£11).  This was rum, Pinot Noir, lemon, Angostura, strawberry, blackberry and blueberry.  We weren't sure what to expect from the mix of Pinot Noir and rum but it ended up being similar to a sangria.  Wine, fruit juice and hard liquor with just a hint of spice from the bitters.
Both were really refreshing and while we knew they weren't actually good for us, it was nice to think they weren't as bad for us as they could've been.  I'd definitely pick one any day over the usual sugar or cream laden concoctions.
We looked at the menu while sipping on our cocktails.  I liked the sounds of the dips as a starter and asked if I could be brought some veggie sticks to have instead of the bread.  The dish was a trio of dips, hummus, guacamole and tzatziki, normally served with charcoal grilled bread (£6.50).
Dan went for the buffalo chicken wings with blue cheese & buttermilk (£6).  Wings are a big thing on the menu at Dead Dolls House, as are their bao buns which come in a variety of flavours too!
For my main course I decided on one of their Healthy Bowls.  I chose the green bowl which was kale, broccoli, feta, pomegranate, avocado, poached egg and dukkah (£12).  Dan went all out with the bogun burger (£13).  Beef, smoked pancetta, aged cheddar, beetroot, pineapple and a fried egg – all served in a brioche bun.
All the food arrived at the same time along with the glasses of wine that we'd ordered.  A glass of the 2015 Chakana Malbec (£6.10) for me and the 2012 Victoria Park Cabernet Sauvignon (£5.60) for Dan.  The Malbec really surprised us, it was absolutely delicious.  It was full of jammy dark fruit flavours with a hint of pepper and chocolate.  It was a great wine that was definitely really good value!
The dips were nice and light to start.  I loved having all three flavours to try and it was very sweet of them to substitute the bread for carrot sticks for me.
Dan's wings were very messy!  Luckily they bought a finger bowl for him to clean up afterwards. He dug in with gusto and said it had the perfect amount of spice.  He got the sauce everywhere but was pleased to be able to clean up properly before we went for the main courses.
The green bowl was delicious.  It was exactly my kind of food.  I love an energy bowl and this had the best ingredients for me.  The poached egg was cooked perfectly and oozed out all over the salad to create a dressing.  I love the charred broccoli which brought a smokey flavour to the dish.  The feta gave a nice creamy tang and the pomegranate seeds meant a sweet crunch in every bite.  And everything is better with guacamole!  All my favourite flavours in one bowl, what more could you ask for?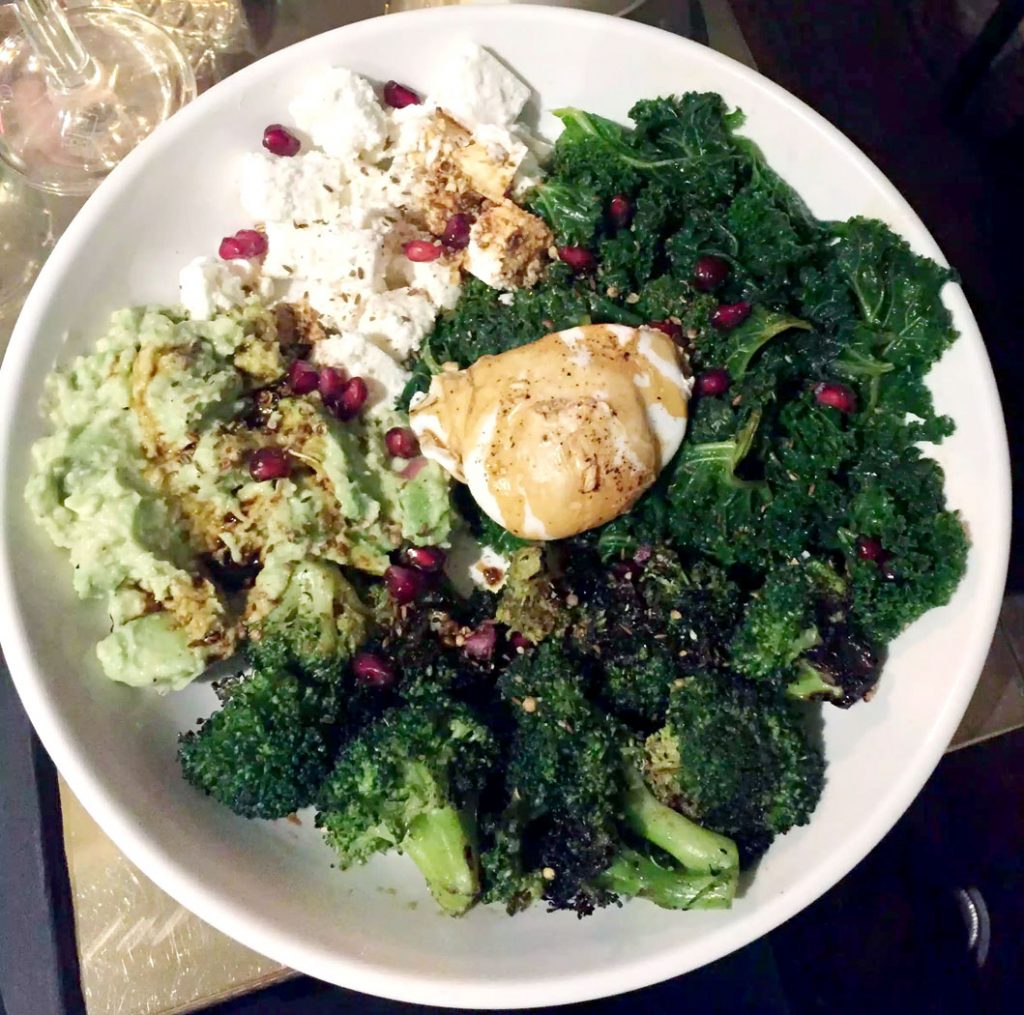 A big fat burger I guess…Dan's burger speaks for itself really!  It was absolutely huge!  Yet another messy meal as the egg yolk oozed everywhere after the first bite.  The whole burger was a good 6 inches high and was almost impossible to eat in the normal way.  After a few bites he admitted he was beaten and had to resort to a knife and fork.  The ingredients were great quality though.  The pancetta was a really thick piece and the beetroot and pineapple were a very different addition to the standard fayre!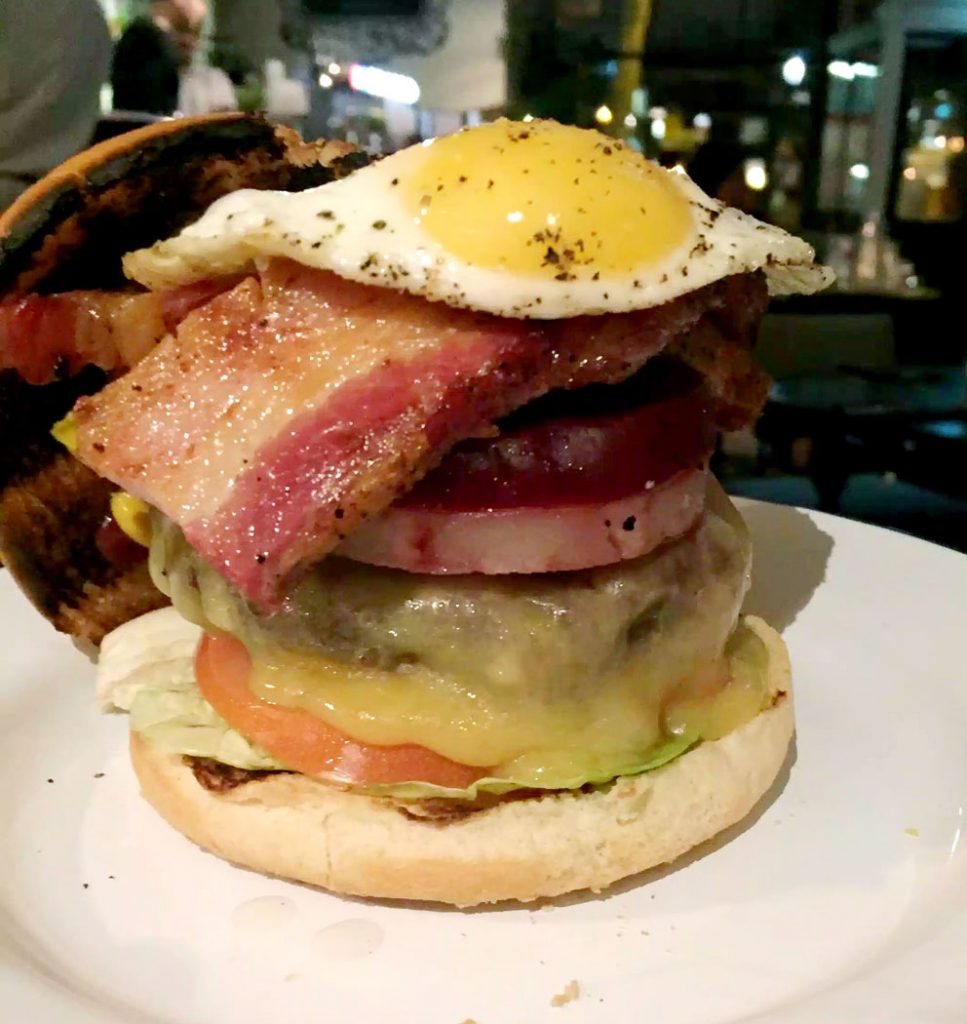 So looking back on dinner at the Dead Dolls House, Dan and I had very different experiences.  I opted for the healthier options whereas he went for the full on messy, heavier dishes.  All the food was great though which just goes to show there's a bit of something for everyone on the menu.
I got the feeling that this is more of a bar/club than a restaurant.  Dead Dolls House was certainly getting busier as we were finishing up.  I think it's definitely the place to go for after work drinks or for cocktails on a night out.  The disco ball and DJ booth lend a nod to wild nights.  The food is the kind you could share and pick at with a group of friends although the healthy option would be great for a lunchtime treat.
181 Upper Street,
London
N1 1RQ
0207 288 1470
islington@thedeaddollshouse.co.uk
Pin it for later