Catch up on Puglia the First Night, Puglia Day 2, Puglia Day 3, Puglia Day 4
Bouncing out of bed, I ran to the balcony of our hotel room, knowing the view was going to be spectacular and I wasn't disappointed.  Cloudless blue sky and crystal clear waters sparkling in the sunshine, it really was the most amazing way to wake up – (for those of you who done know, I am most definitely NOT a morning person, but if there is one thing guaranteed to wake me up early, it's the sunshine!)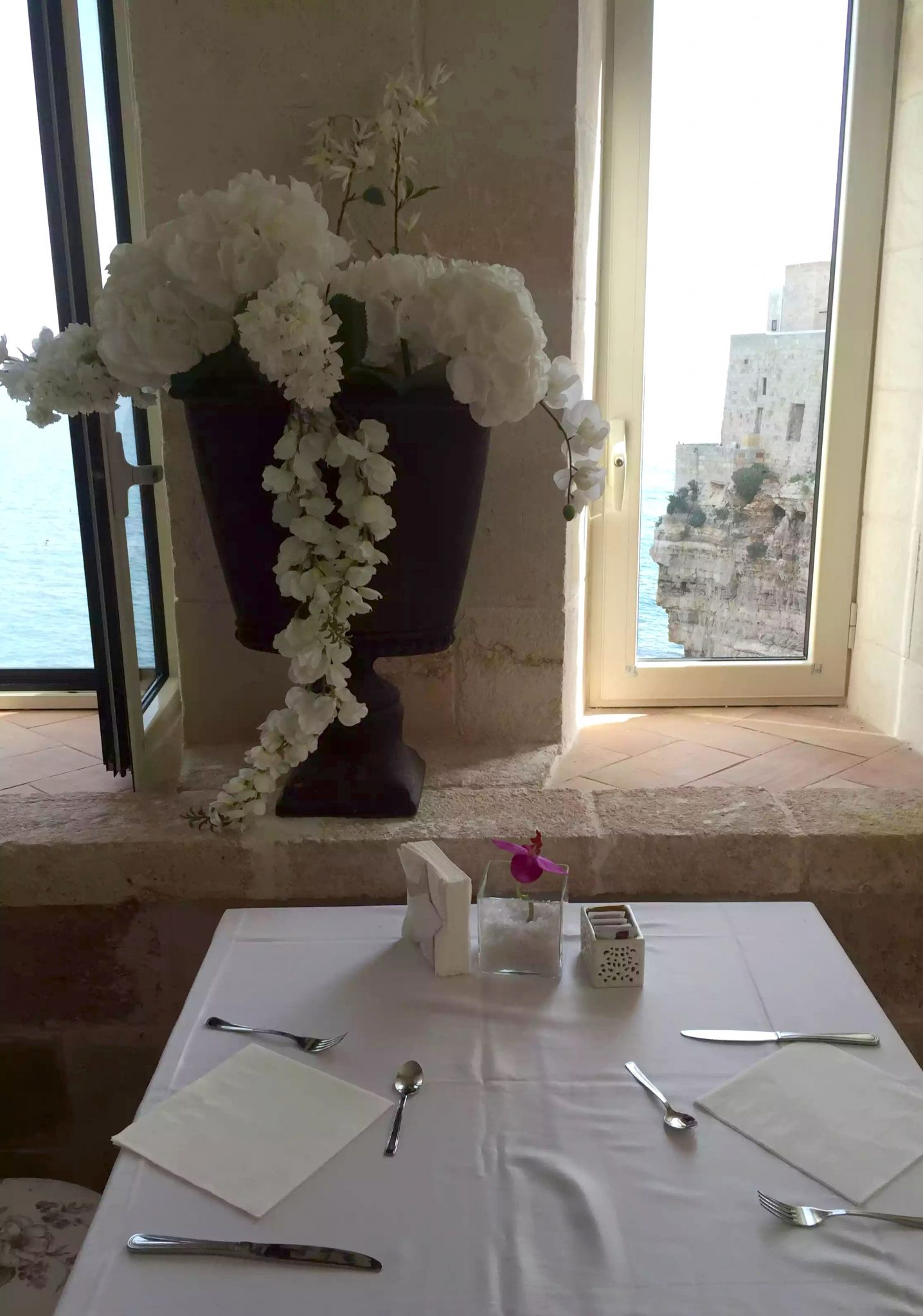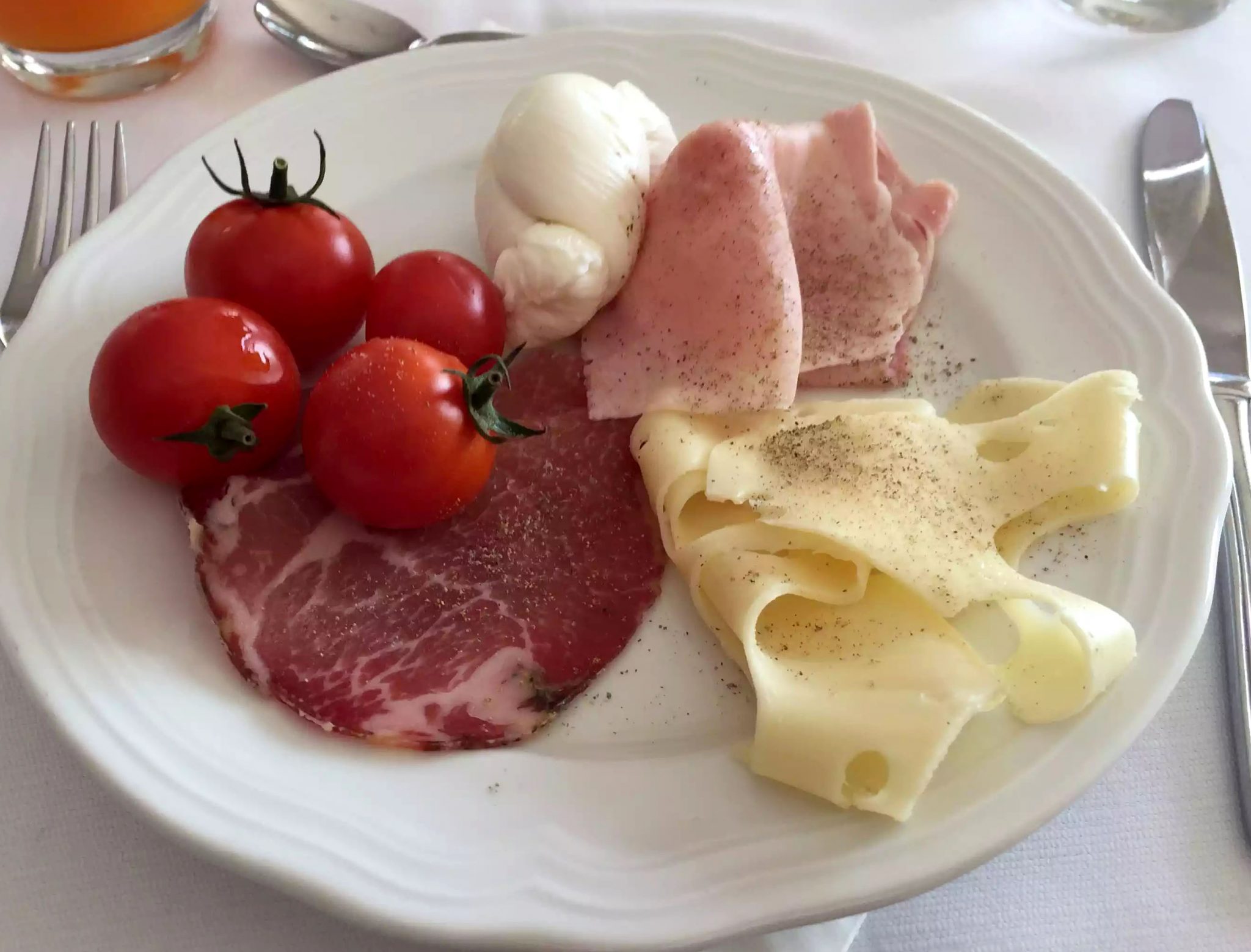 We headed down to breakfast where the most amazing views awaited us.  The dining room looks straight out onto the sea so it was definitely breakfast with a view.  It was a buffet style breakfast, so I decided to go all Italian with some cold meats, cheese, mozzarella and cherry tomatoes which was a lovely, different start to the day.  We packed up our room and headed out to explore Polignano A Mare in the sunshine.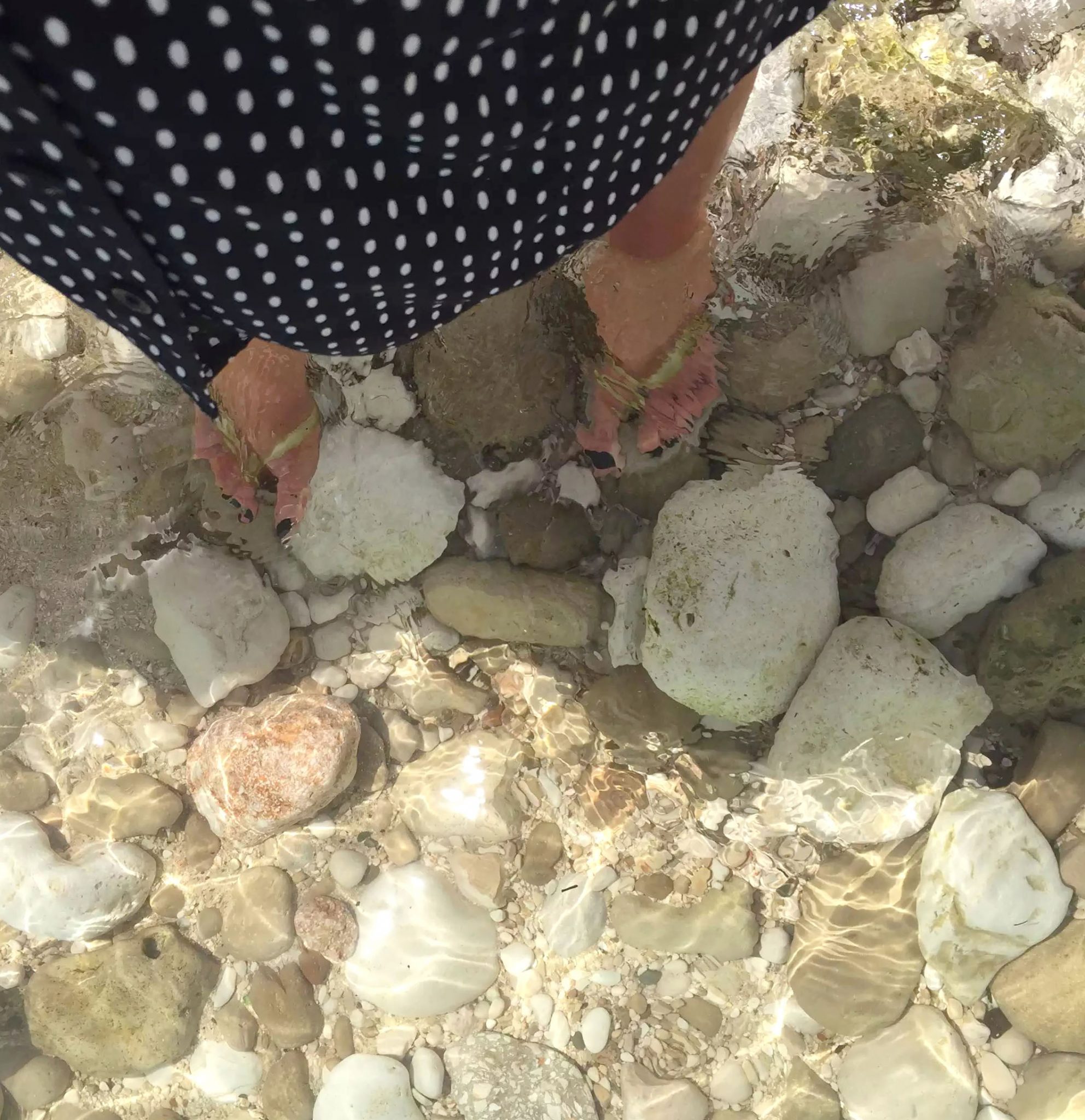 Well, it was beautiful, and I'm sure the photos don't do it justice. I knew it was pretty as it was one of the places I'd done some research on and told Dan that I'd like to visit, but it was more that.  It was completely picturesque.  The famous beach, photographed so many times, was even more beautiful in person and I can honestly say, I've never seen water so icy blue and crystal clear.  We spent some time on the beach and then wandered around town a bit more before scouting out the venue of my birthday treat for a few days time, the Grotta Palazzese, a restaurant set into the side of a cave, which I'd been begging Dan to visit for months.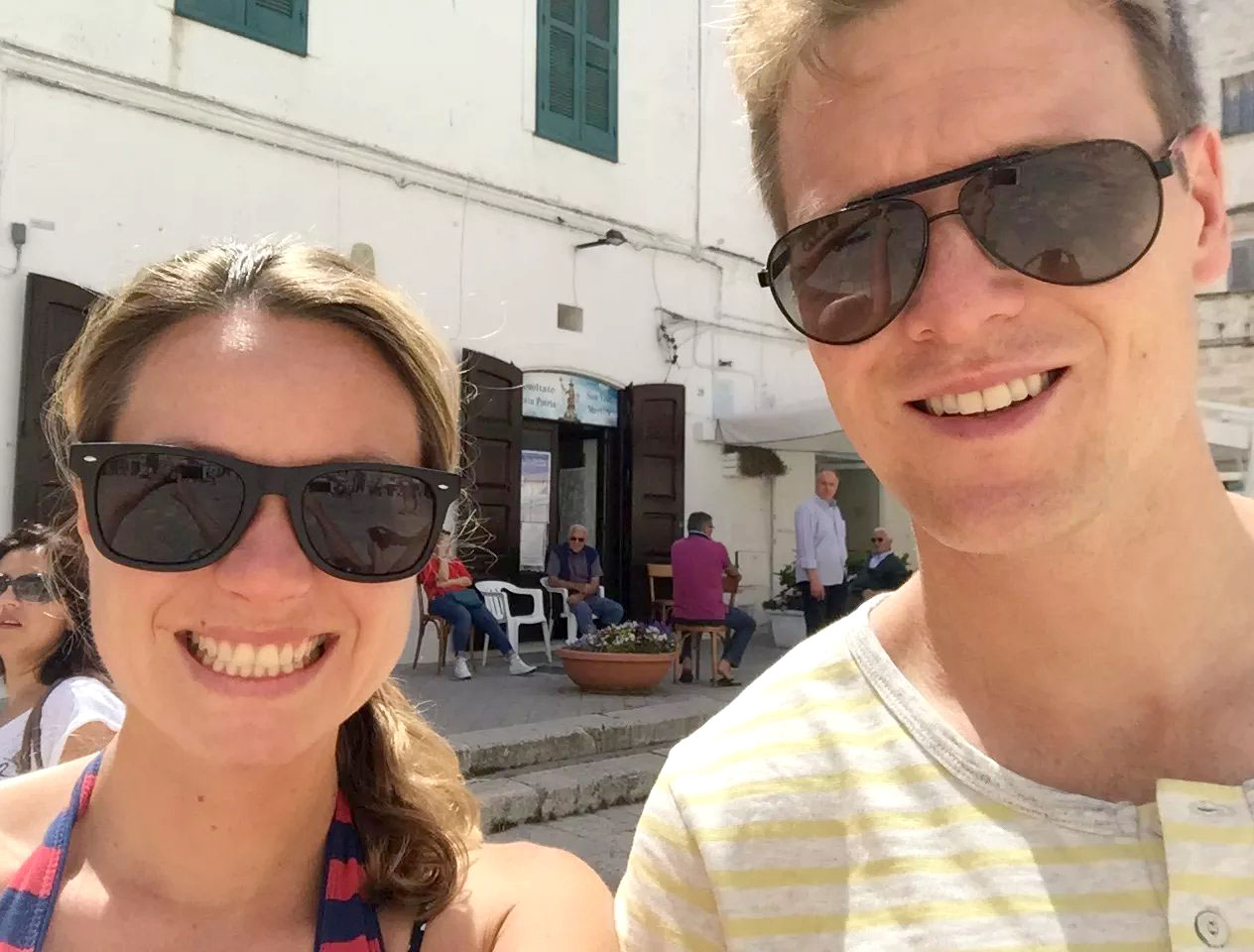 Our next destination was the Taverna de Santos Beach, near Torre Canne, a 20min drive away – recommended by my godmother.  In Italy we've found, there tend to be public beaches (which anyone can visit and use for free) and 'hosted' or 'private' beaches (where a restaurant has put up sunshades and loungers which you can pay to use and also use their facilities – showers, toilets etc).  Taverna de Santos is a beautiful restaurant complete with its own private beach so we arrived, paid for a couple of sun loungers and were met with the most amazing view, a rocky coastline, almost volcanic it seemed with those crystal clear waters again.  Settling in to relax for a few hours, we chilled in the sun, chatting and dozing until it was time for lunch.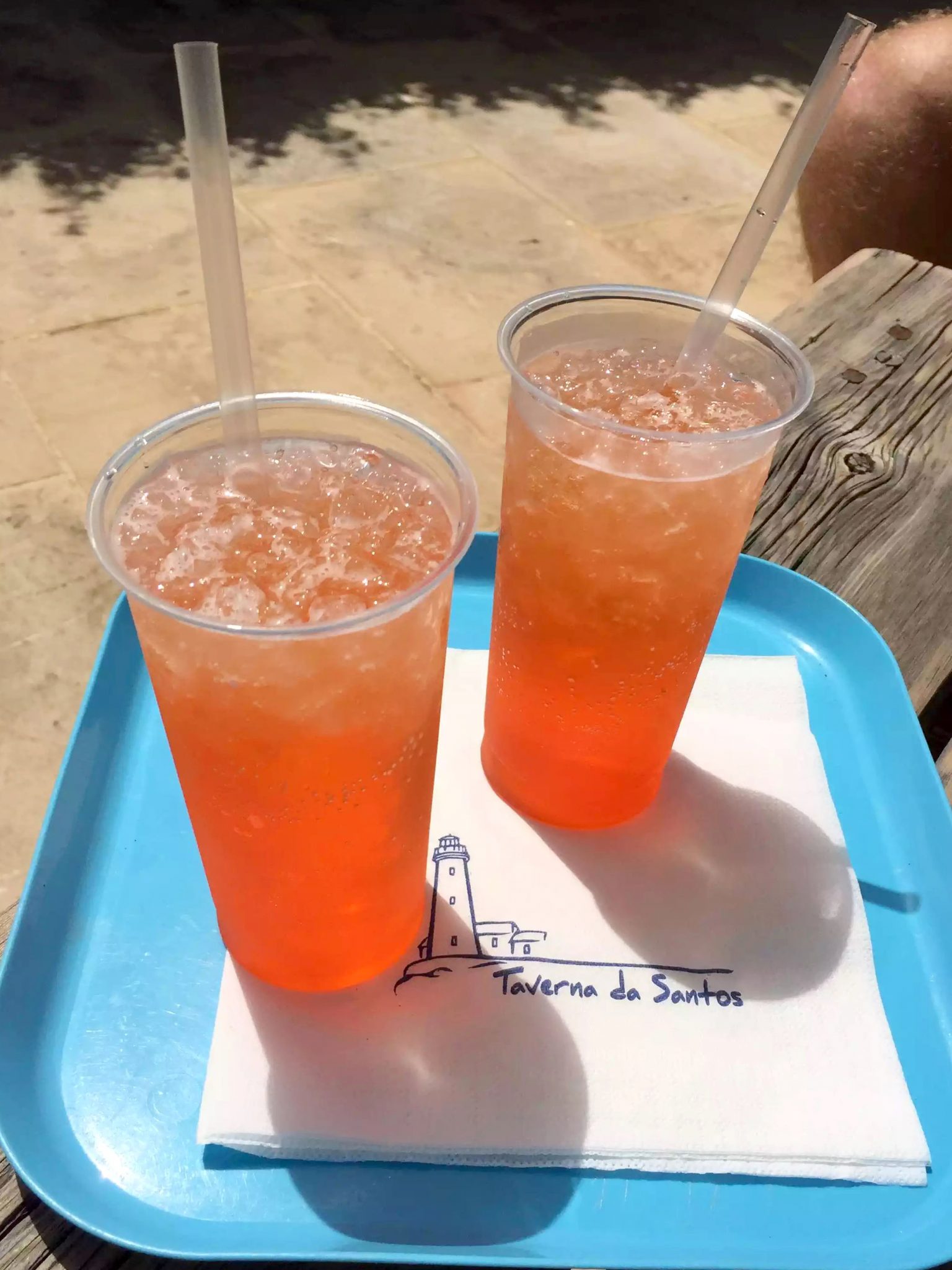 We decided to start with an Aperol Spritz in the chill out, bar area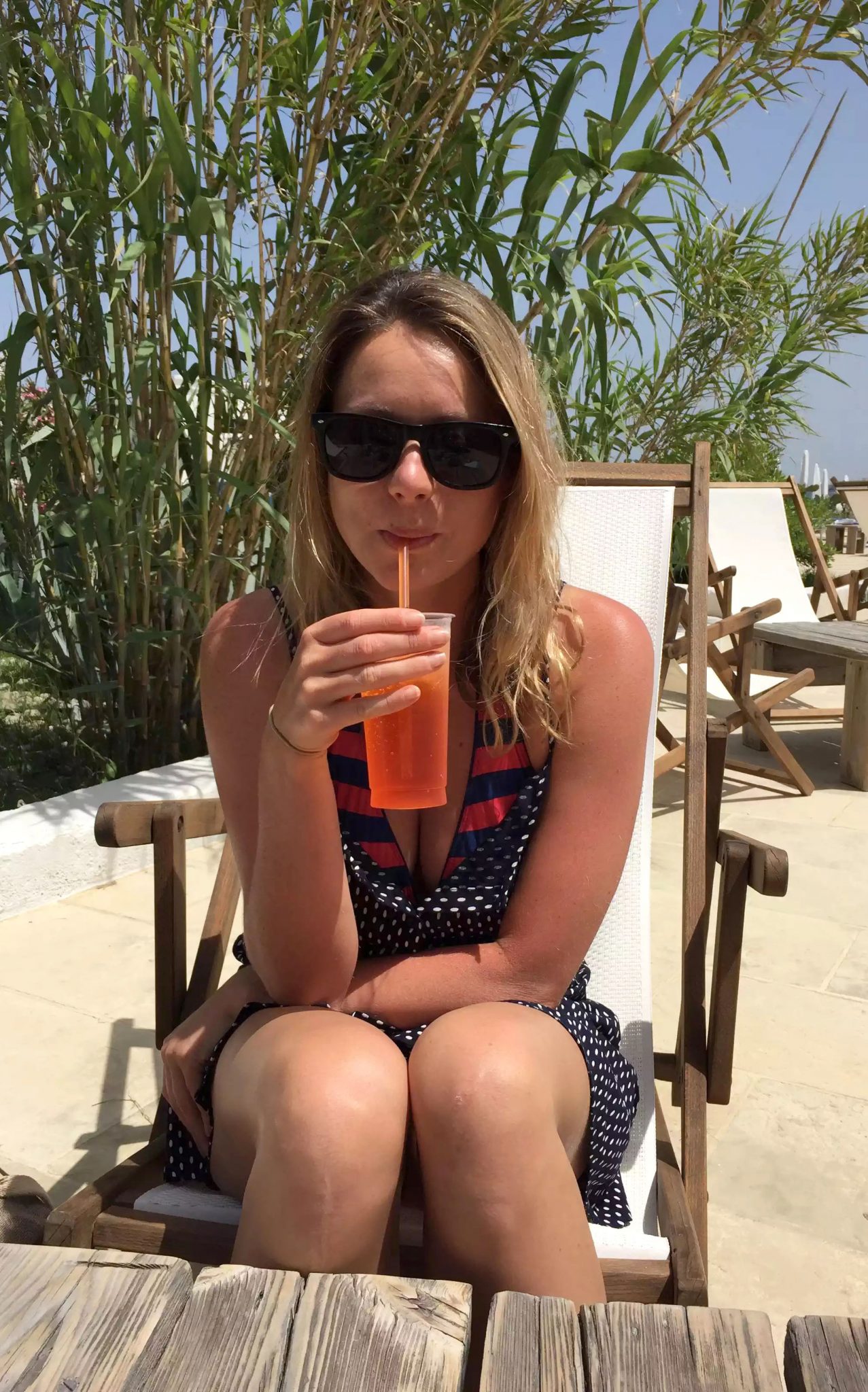 before heading to our table for lunch.  The restaurant was in the most beautiful setting, just back from the beach and we had a nice outside table on the terrace.  The menu was half Greek, half Apulian, so I decided to start with the Swordfish Carpaccio and Dan went for the Feta Saganaki.  My carpaccio was beautiful, so fresh and delicate, on top of a rocket salad, with just the tiniest dressing of proper Italian Extra Virgin Olive Oil and lemon juice and some peppercorns.  It was perfect in the hot sun, really refreshing.  Dan's feta was also pretty good, but what's not to like about fried cheese!  Topped with the thinnest layer or filo pastry and a sprinkling of oregano, he ate the lot and I had to beg for a taste of the cheese!
Not wanting to eat too heavily in the sun, I had a second starter as my main, a Caprese Salad.  The tomatoes were the stand out in this dish – obviously local, they tasted so sweet and fresh and they were just incredible when paired with the fresh basil and olive oil – I almost didn't need the mozzarella!  Dan went for the chargrilled octopus which looked and tasted delicious, again, just made very simply with  olive oil and lemon.
For this evening we had to get to our hotel on the west coast (we were on the east at the moment) and it was going to be an hour and a half drive.  We decided to sunbathe for a little longer, and when the wind picked up a bit we decided it was the right time to head for Marina di Pulsano, our base for the next few days.
We drove right through the middle of Puglia, through a pretty town called Ostuni and through vineyards and olive groves, the scenery was pretty amazing and then we got to Hotel Eden Park in Marina di Pulsano.  It was in on a secluded street, surrounded by pine trees and seemed very peaceful and quiet.  We pulled up to the door, not really sure what to think.  It definitely didn't look glamourous from the outside, quite run down and in need of a lick of paint (or a bit more).  Once inside, it was quite stunning.  It was obviously from a throw-back era as there were chandeliers everywhere, lots of marble and ballrooms etc and must've been the place to be seen a few decades ago.  It was still beautiful now but just looked a bit tired.  We checked in and went up to our room, which was very basic but clean and had everything we needed though.  The stand-out was the view from the balcony though, right over the pine forest and down to the beach and sea.
We decided to head down to the beach and into town to see what was going on.  Nothing was the answer – it was all very odd.  As we walked the mile or so into town, we barely saw anybody, it was bizarre.  It was like one of those postapocalyptic or zombie movies, where tumbleweed was blowing by, and neither of us really knew what to think.  I think we'd been expecting a holiday resort, but this wasn't that.  'Nobody on the road, Nobody on the beach' as the Boys of Summer song goes.  We passed a couple of bars, each with one or two people in but there was literally no-one around, it was like a ghost town.  We stopped at one bar, El Caribe, which seemed to be the buzziest one (with all of about 6 people in) and ordered a drink.  The owner came over and introduced himself as André, he was from London, and was pretty shocked to meet us.  He explained that Marina di Pulsano wasn't really known outside of Puglia and so wasn't really a tourist destination, they get hardly any foreigners and it's mainly Italians that come and holiday for the summer.  Also, today wasn't warm enough to bring the Italians out, which explained why there was no-one around.  In a month, the place would be absolutely buzzing and it would be tough to find a spot on the beach, but it seemed like we'd picked a good time to come, we had the place to ourselves!
Dan had done a bit of research for dinner tonight and had suggested we try Casa Mita for dinner, a family run B&B in town, with great reviews for the restaurant.  André confirmed it was a great place to eat so we called up to make a booking.  They could fit us in at 9pm so we headed back to the hotel to change for dinner.
We pulled up to Casa Mita and headed into a really cute dining room where we were shown to our table.  The waitress explained to us that there was no menu, her father just went t the market everyday and bought what he thought looked good and cooked it how he liked.  There would be a few different plates of antipasti to share and then we could choose a main course.  Were we OK with that?  I explained my dietary requirements as best I could and she understood and said she would tell the kitchen.
We ordered a bottle of Primitivo from the wine list and the waitress told us she would be back with the food!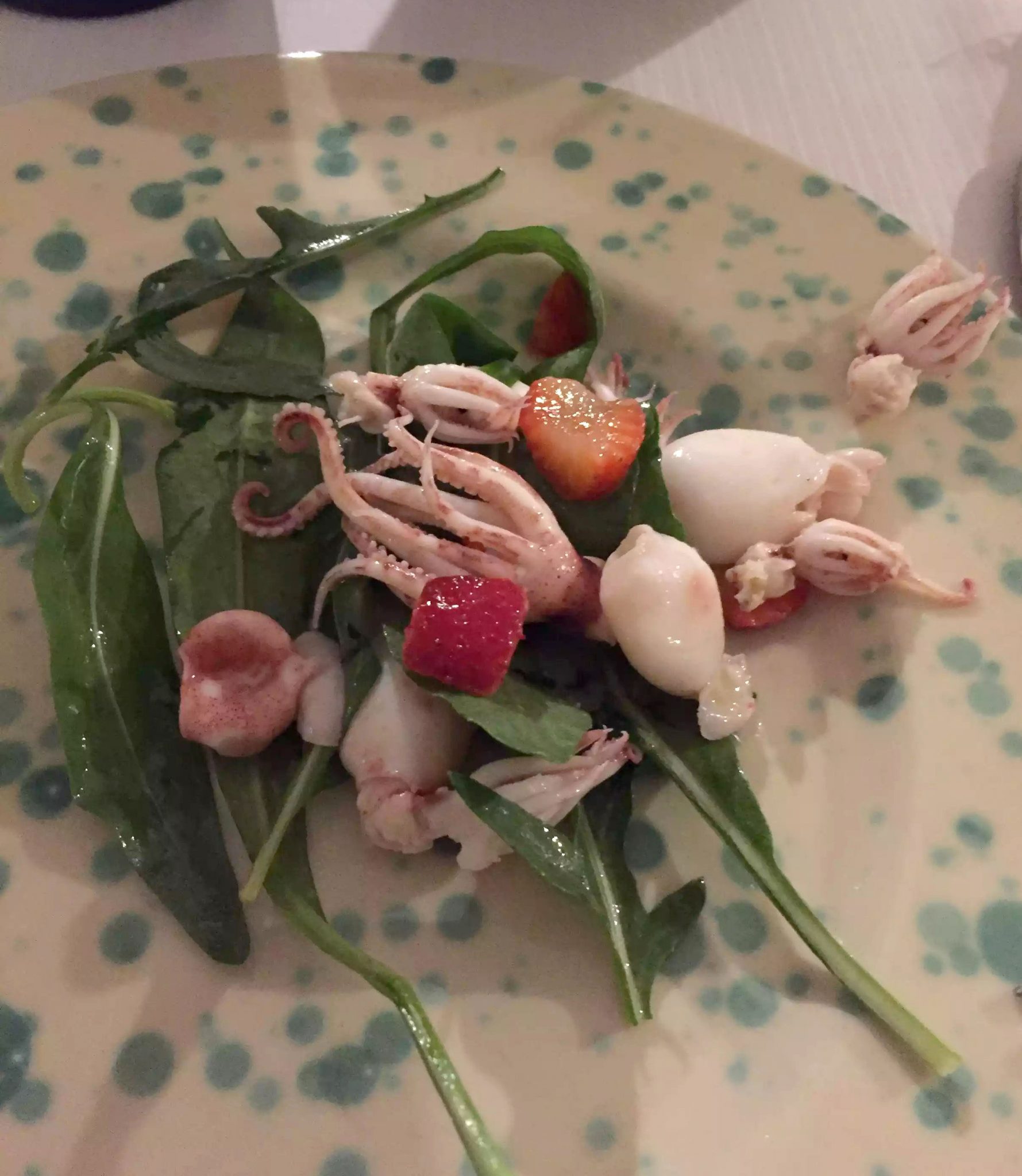 Out came our first appetiser – baby squid salad with strawberries!  We both looked at each other with raised eyebrows, but gave it a go.  It's a combination that I hadn't had before and which sounds like it shouldn't work but which strangely seemed to.  (I've had sushi with strawberries in before, once in L.A. which was delicious so I guess this was an extension of that).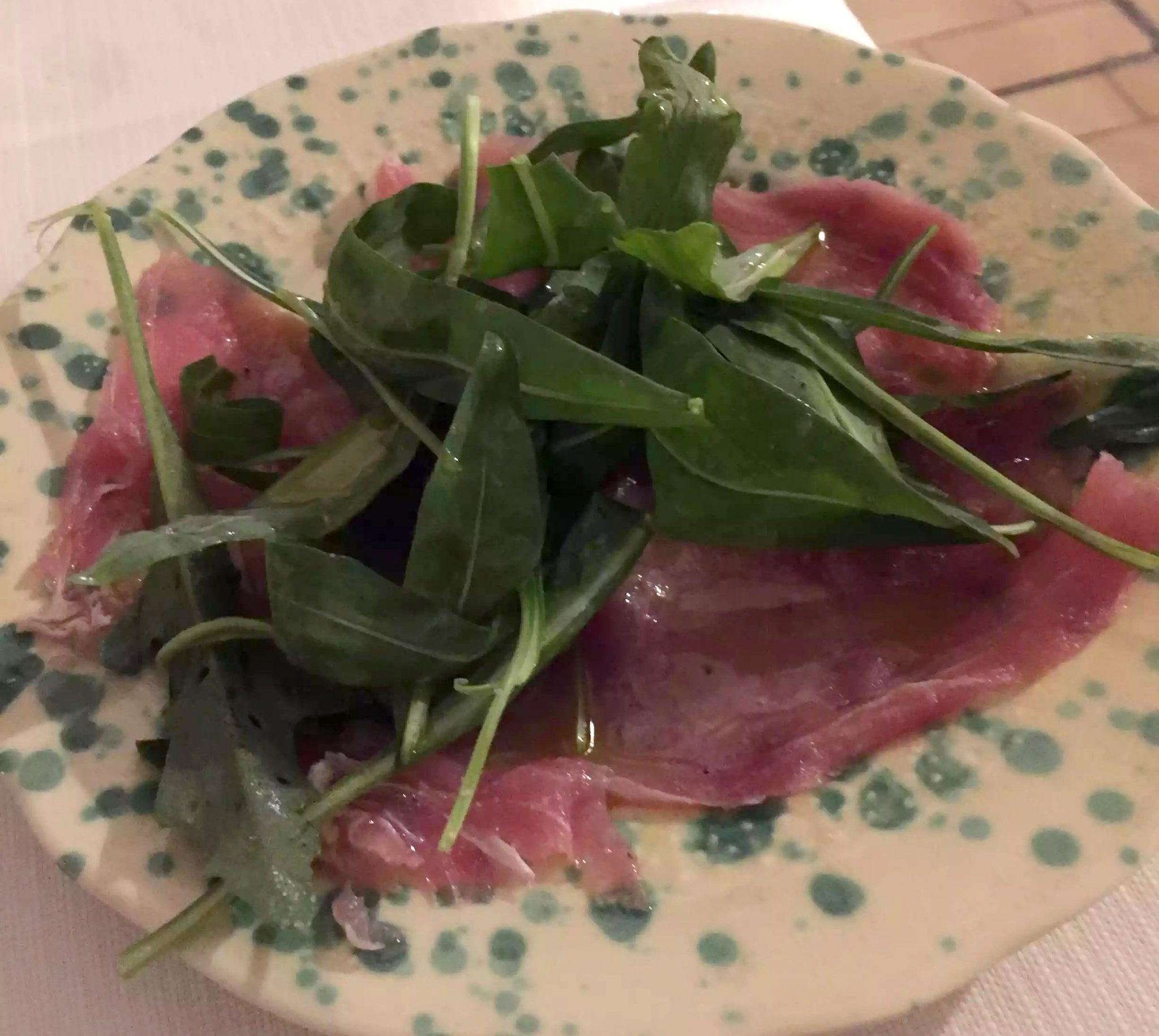 Then some tempura prawns arrived (just for Dan) but I got a delicious tuna carpaccio on a bed of rocket, drizzled with olive oil and it just melted in my mouth, it was absolutely delicious.  A huge plate of formaggi fresca, tomatoes, mozzarella and basil was next up and again, it was the tomatoes that were amazing.  So sweet and juicy and tasted nothing like what we get in England.  Dan wasn't done yet as some meatballs arrived for him and we were getting worried that they were going to keep going!!
Finally the waitress came and spoke to us about the mains – she had a couple of beautiful Entrecôte steaks that she could serve with a salad, picked freshly from their garden outside.  Was that OK?  Of course it was OK with us.  It sounded delicious, and it was, and it was enormous.  Chargrilled to perfection and pink on the inside, it tasted perfect, just as it was, with no sauce or anything.  You could tell the produce was great quality and the salad was so fresh but we were just so full, we could only manage half a steak each.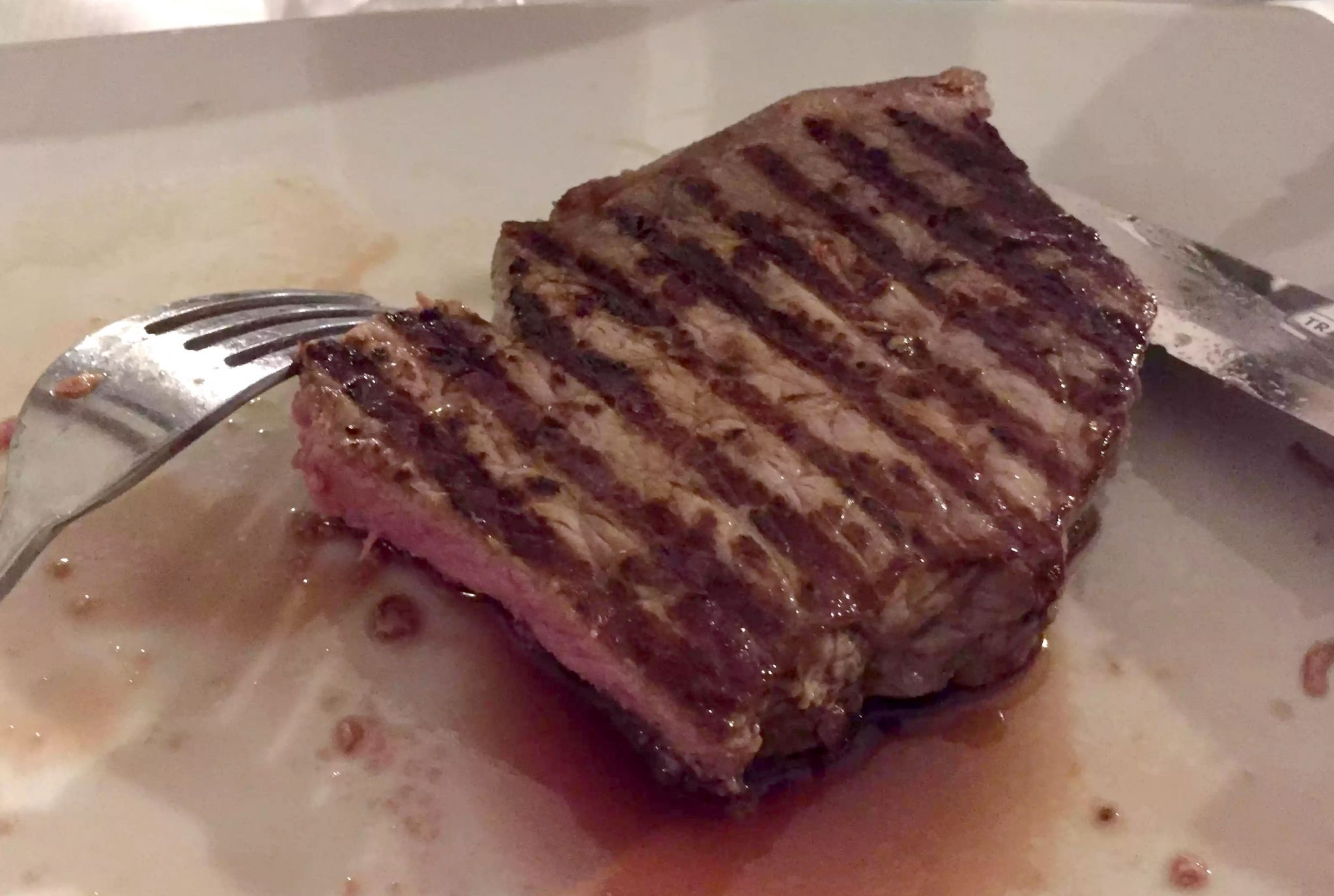 It was at this point I realised that we hadn't seen a menu (as they didn't have one) and so hadn't seen a price list.  We'd eaten so much fantastic food and drunk some great wine, the same meal in England would've cost £100 a head or thereabouts.  With trepidation we asked for the bill and were absolutely astonished!  15 euros each for the antipasti and 15 euros each for the steak.  The wine was 12 euros so we managed to eat the most amazing meal for 36 euros a head each (less than £30!)
We paid up and the waitress came back with a bottle of Amaro for us to have 'drinks on the house.'  They really wouldn't do enough for us and after dinner she showed us round the B&B, looking in some of the rooms and getting to see the fabulous terrace where you can reserve a table for dinner in June or July, or have your breakfast looking out over the sea if you're a guest!  They're obviously keen to introduce more tourists to the area and we told them we'd spread the news!
Wandering back to the hotel we decided to have one more drink at El Caribe, Prosecco for me and a local beer for Dan, before calling it a night!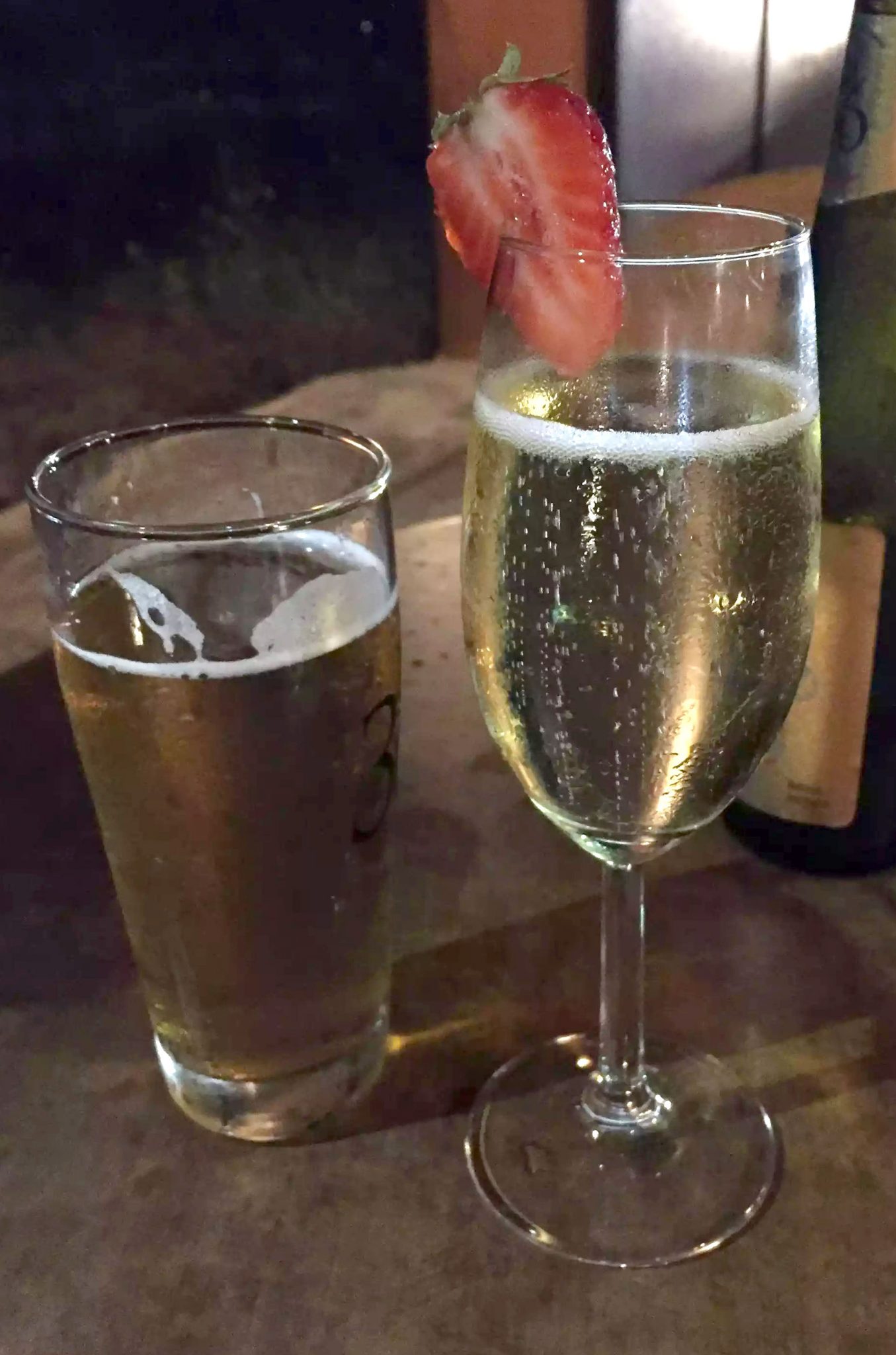 Catch up on Puglia the First Night, Puglia Day 2, Puglia Day 3, Puglia Day 4