Catch up on… Puglia Night 1, Puglia Day 1, Puglia Day 2, Puglia Day 3
Now anyone that knows me will know that I'm a bit of a birthday princess!  I've even been accused of stretching my birthday out to a birthday month, encompassing the whole of June, but I honestly believe that everyone's birthday should be the most special day of their year and I try to go above and beyond for other people's special days.  So Dan was truly dreading today – 2 years we've been together and last year the pressure was diluted as I threw a big family BBQ at my parent's house, but this year, it was all on him to spoil me today!
Setting my alarm for 7am so as not to waste a second of the day (I really am just a big kid at heart) I jumped out of bed and threw open the curtains to gorgeous sunshine…a pretty good start!  Dan had snuck a token present (a spiraliser recipe book – think he might know me too well) into his bag along with some birthday cards that had arrived early at the flat for me, so it was a treat to open those in bed.  Then we got ready, packed and checked out, ready for a day of fun.
We were heading back to the east coast today as Dan had booked dinner, but we had a few hours to spend on the beach first so we headed to Torre Canne, which has one of the few sandy beaches in the area.  We wandered along and found a nice spot to have my second treat of the day – Prosecco in the Puglian Sunshine!  This area was much more geared up for tourists than the west coast, with hotels and beach bars all along the coast – but still very few foreigners, mostly Italians – so we found a lovely hotel on the sea front to relax in and enjoy the view and the sunshine (and another glass!)
Heading back to Polignano a Mare for lunch we headed to Il Grotta Pallazzese, for lunch.  This is the restaurant set into the side of a cave which I'd been desperate to go to and which Dan had booked up for my special birthday lunch.  You enter at street level and head down about 60 steps until you come out right in the middle of the cliff, with this view…
We rounded the corner, and the spectacular dining room came into view.  It was absolutely beautiful.  About 20 tables set with white linen against the backdrop of the black cave was absolutely stunning and it felt like a very special place.
Dan had told them it was my birthday so we got the best table in the house, in the corner and right on the edge so there was nothing between us and the sea.  It truly was the most spectacular view I've ever had while eating.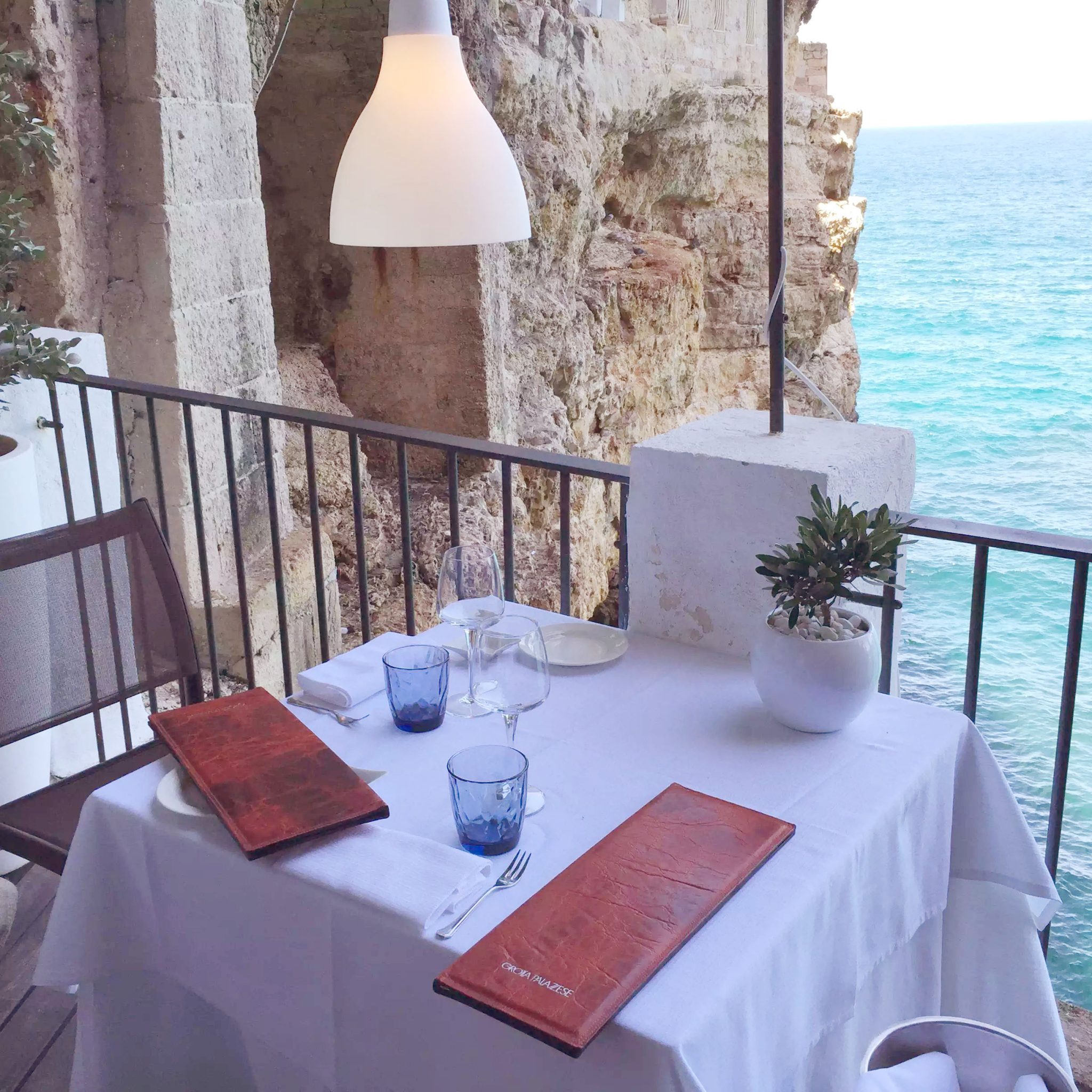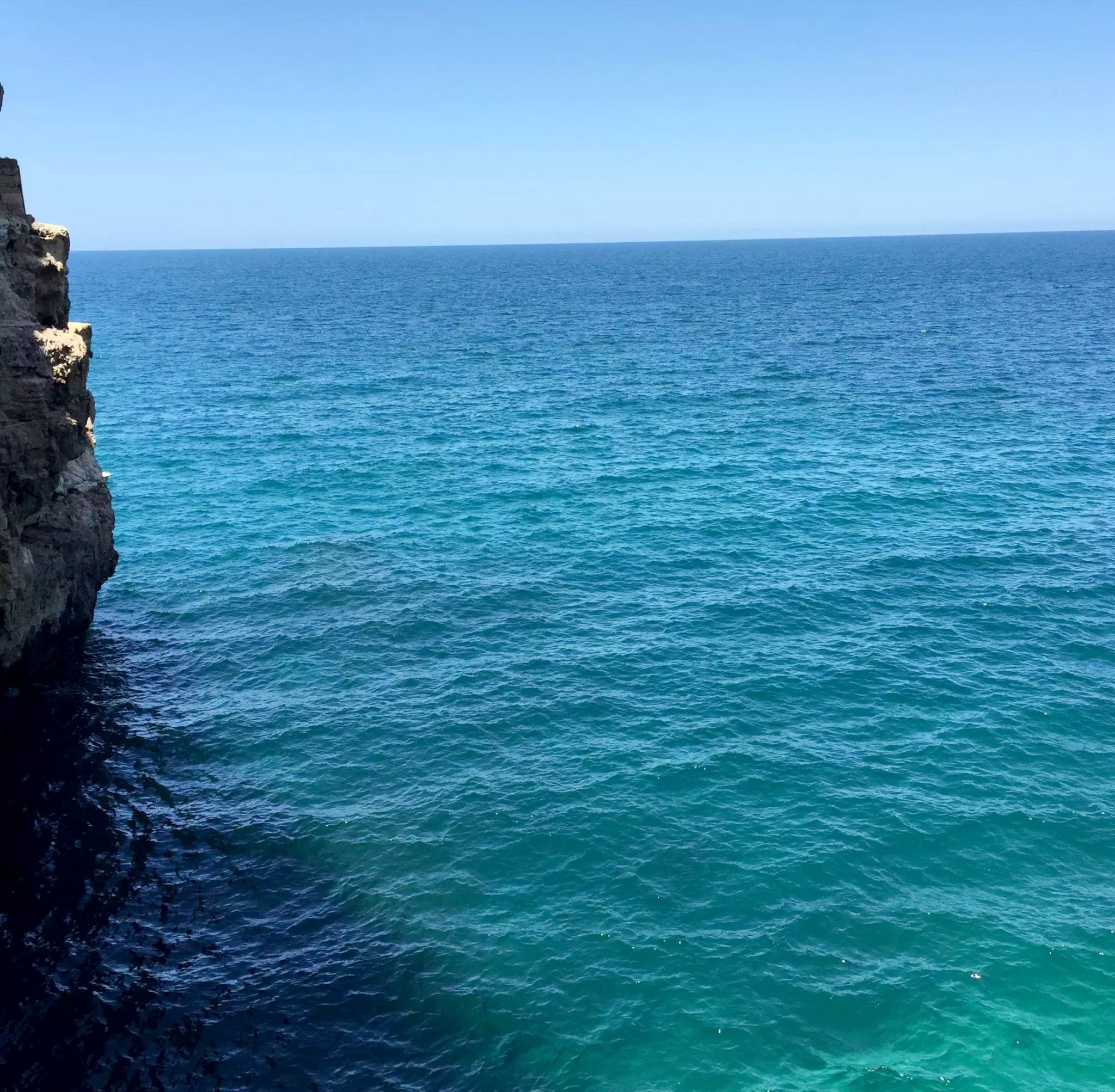 We were offered the wine list, and having not had any good Puglian white wine so far, we settled on a barrique-aged Chardonnay (my favourite) and it was absolutely delicious.  Toasty and creamy we felt like we'd hit the nail on the head finally (birthday princess luck!)  Whilst looking at the menus we were offered an amuse bouche of a tiny chopped salad (tomatoes, cucumbers and onions) with olive oil and some breadcrumbs on Dan's one – I guess it was like an un-blended gazpacho and was absolutely delicious, the ingredients were all so fresh.  They also brought us a basket of homemade rolls in different flavours, one type was herbed, one was olive and one was walnut.
We looked at the menu and I settled on courgette flowers stuffed with ricotta with a terrine of sun-dried tomatoes and an olive mousse.  It was beautifully presented and delicious.  The flavours went so well together and Dan and I both agreed it was the best starter.  He'd picked the codfish with cucumber sauce, caper berry crumble and chiffonade of carrots, which, although nice, was nothing special.  (I should probably add here that the starters were very expensive – the pricing concept seems a little odd, all of the starters were the same price as all of the mains which I found a bit strange, and they're not cheap.  Every dish was priced somewhere between 35-40 euros, acceptable for a main in a smart restaurant but very expensive for a starter!)
For our mains, I chose the home-smoked salmon with yellow pepper cream and béarnaise sauce.  Dan had the calamata pasta with monkfish 'amatriciana,' crispy bacon and pecorino.  My salmon was smoked amazingly, quite strong, just the way I like it and the sauces complemented it beautifully, but I could have done with some vegetables or a salad to go with it.  I would've preferred it a bit rarer as it was cooked all the way through but I enjoyed the dish.  Dan's portion of pasta was quite small, but he said it was delicious – although I feel it was very expensive for what he got.
At this point I needed the loo, which is normally way too much information for a blog post but I just had to mention the 'Loo with a view.'  it was round the corner, so you could see all the way back to the restaurant – I don't think any other loo has a view quite like it!!
As it was a special lunch we decided to have dessert, which we don't normally.  I chose the Spumone (ice cream) which was a bit like a cassata, with layers of strawberry, chocolate and vanilla ice cream, while Dan choose the Mango and Chocolate Parfait with Salty Cocoa Crumble and Caramel Sauce.  This sounded delicious, but didn't quite live up to its name and was slightly bland whereas my ice cream was really tasty – definitely the best option.
I didn't see the bill but I know it was a substantial amount as I saw the prices of the food on the menu.  So all in all I had a fabulous time.  I would say that the food wasn't necessarily worth the value but you are paying for the environment and atmosphere and the views and for a once in lifetime treat it was definitely worth it.  I definitely felt spoilt and loved every second of it and it really was, lunch in the most amazing setting!  It might have been a bit chilly in the cave, had it not been such a fabulous day so it's worth taking a cover-up just in case.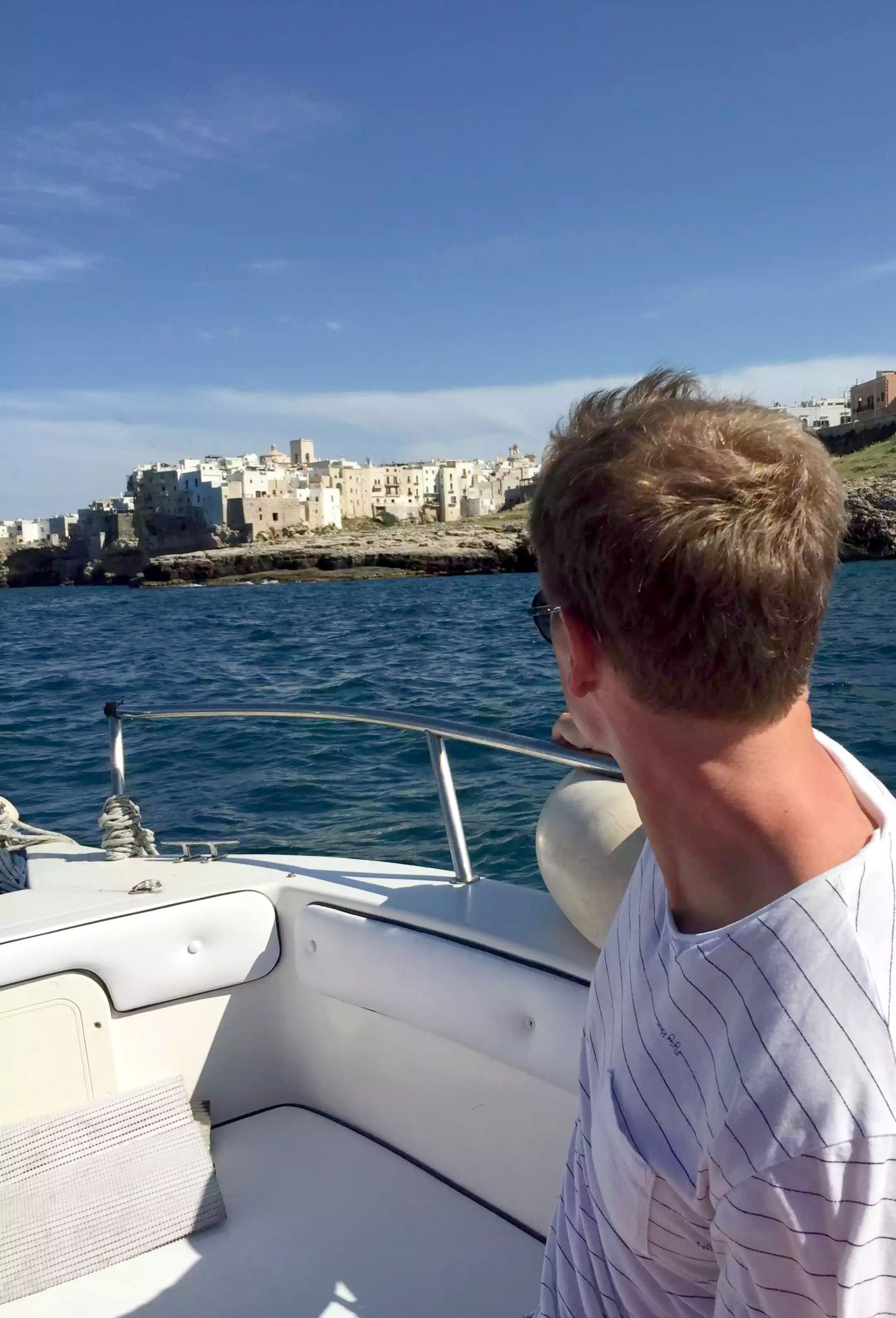 After lunch we headed down to the quay to meet our speed boat that was going to take us on a tour of the caves.  From lunch, we'd spotted him taking others out so we know we were going to get a good look at the restaurant from the outside, and hopefully explore some of the other caves too.  Our guide didn't really speak much English but was very enthusiastic in trying to explain to us all the different caves and local stories and he had that way of speaking that English people tend to do when talking to foreigners (just speak slower and louder and hope they understand you!)  Well we didn't, but with a bit of imagination and sign language we got the gist of most of what he was trying to tell us.  We went in and out of a few caves and it was amazing to see how much the water has hollowed out the cliffs (we were surprised some of the cliffs hadn't slid into the sea judging by how far back some of the caves went).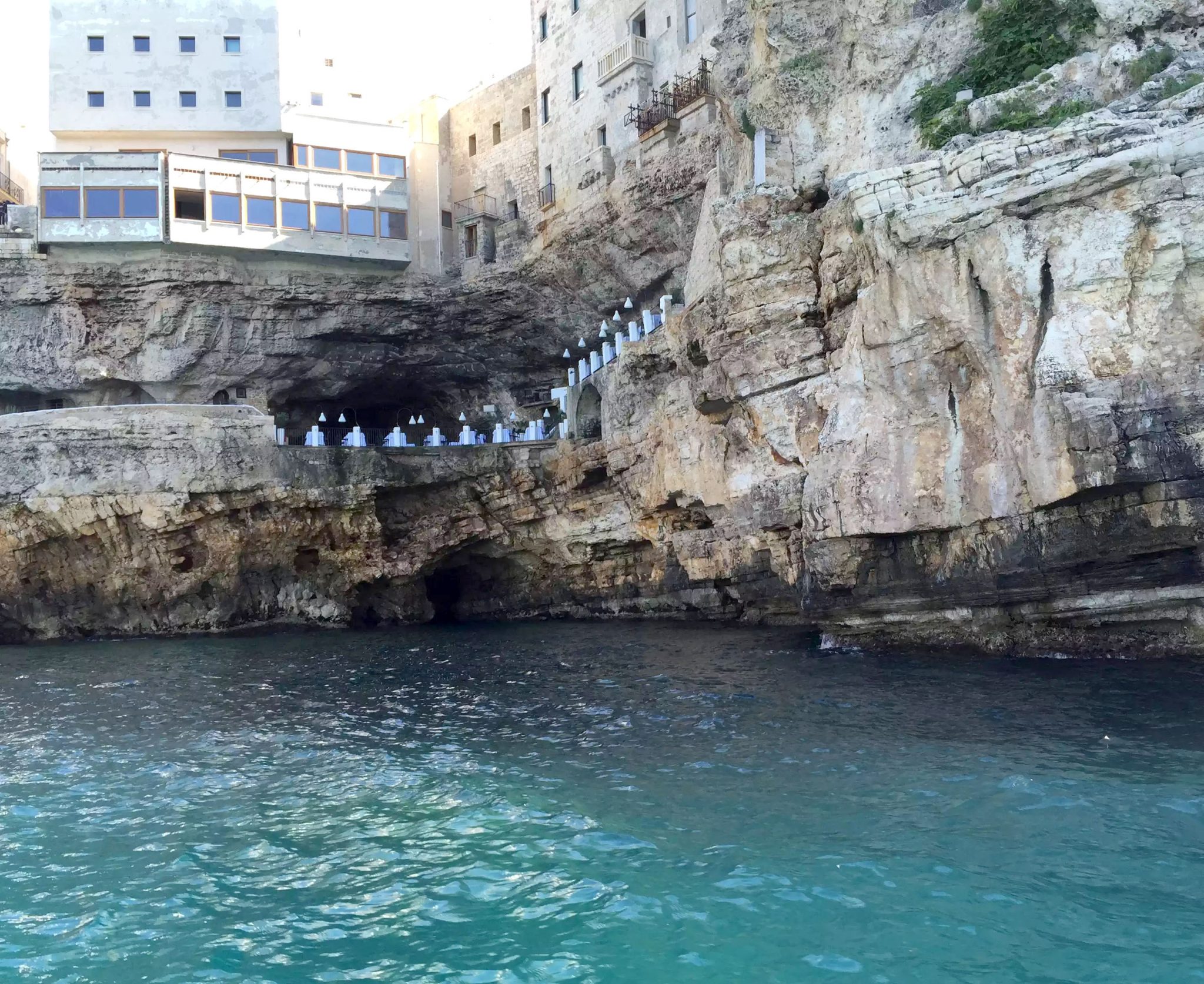 We rounded a corner and came face to face with Il Grotta Pallazzese from the other side which was beautiful and we even managed to go into the cave underneath it to have a look around.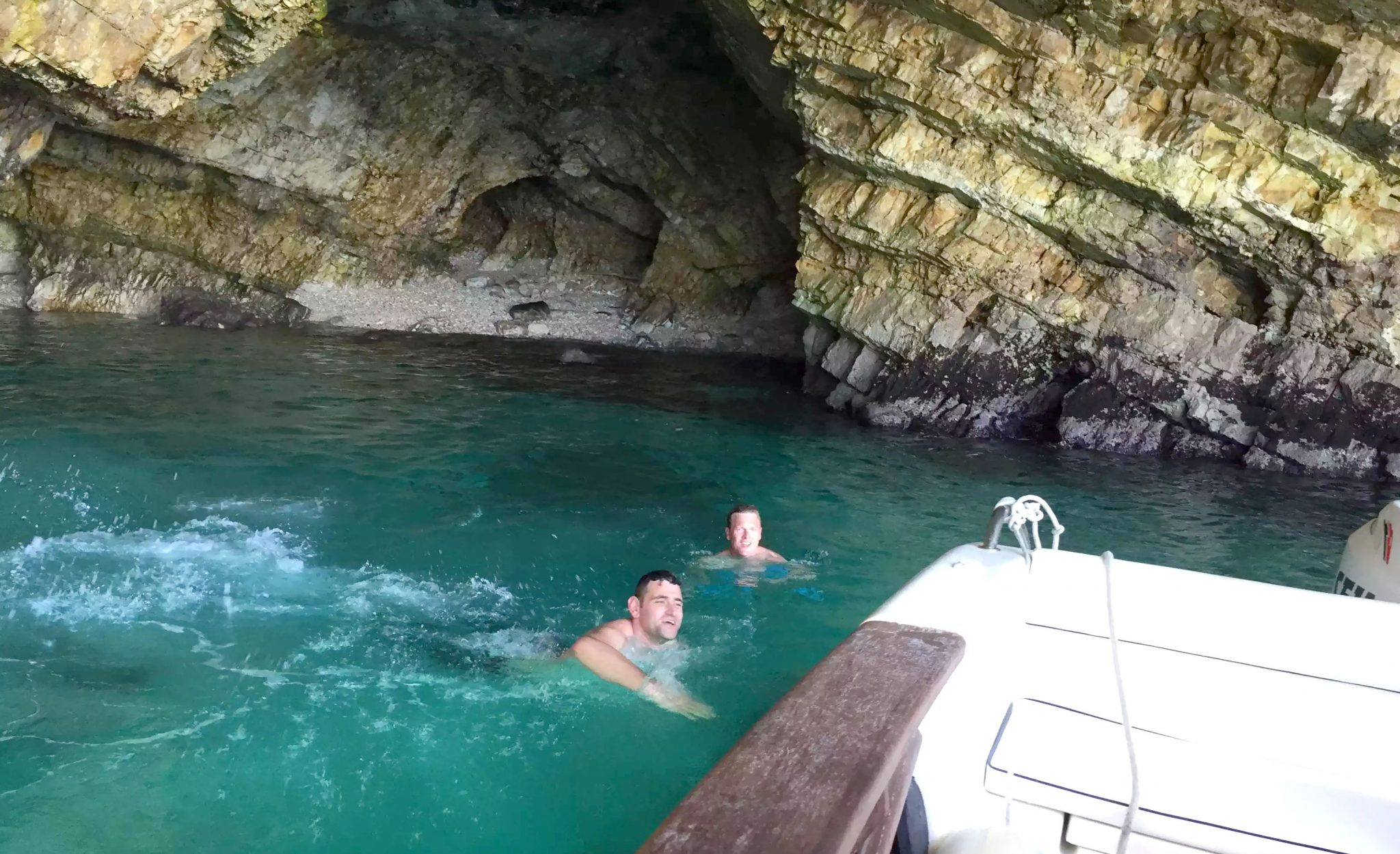 The coastline was absolutely stunning and we went in and out of caves all along the cliffs.  In one of them, the captain suddenly killed the engine and shouted 'jump, jump. jump!'  Dan was all too happy to oblige and went cave swimming with the other guy on board.  The trip lasted about an hour and we were dropped off back at the dock (they offered to take us out for another hour, (for free!!) but we had to finish up and head back to the airport fairly soon, so unfortunately we had to decline).
Soaking up the last of the rays, I lay on the dock for a few mins while Dan did a bit of cliff jumping, and then we headed back into town for our last meal. Quite full from lunch still, we decided on a mixed ham and cheese antipasti plate to share at Dei Serafini again and weren't disappointed.  A huge plate of prosciutto, mortadella, salami and three types of cheese, with a glass of Primitivo was the perfect way to end the trip.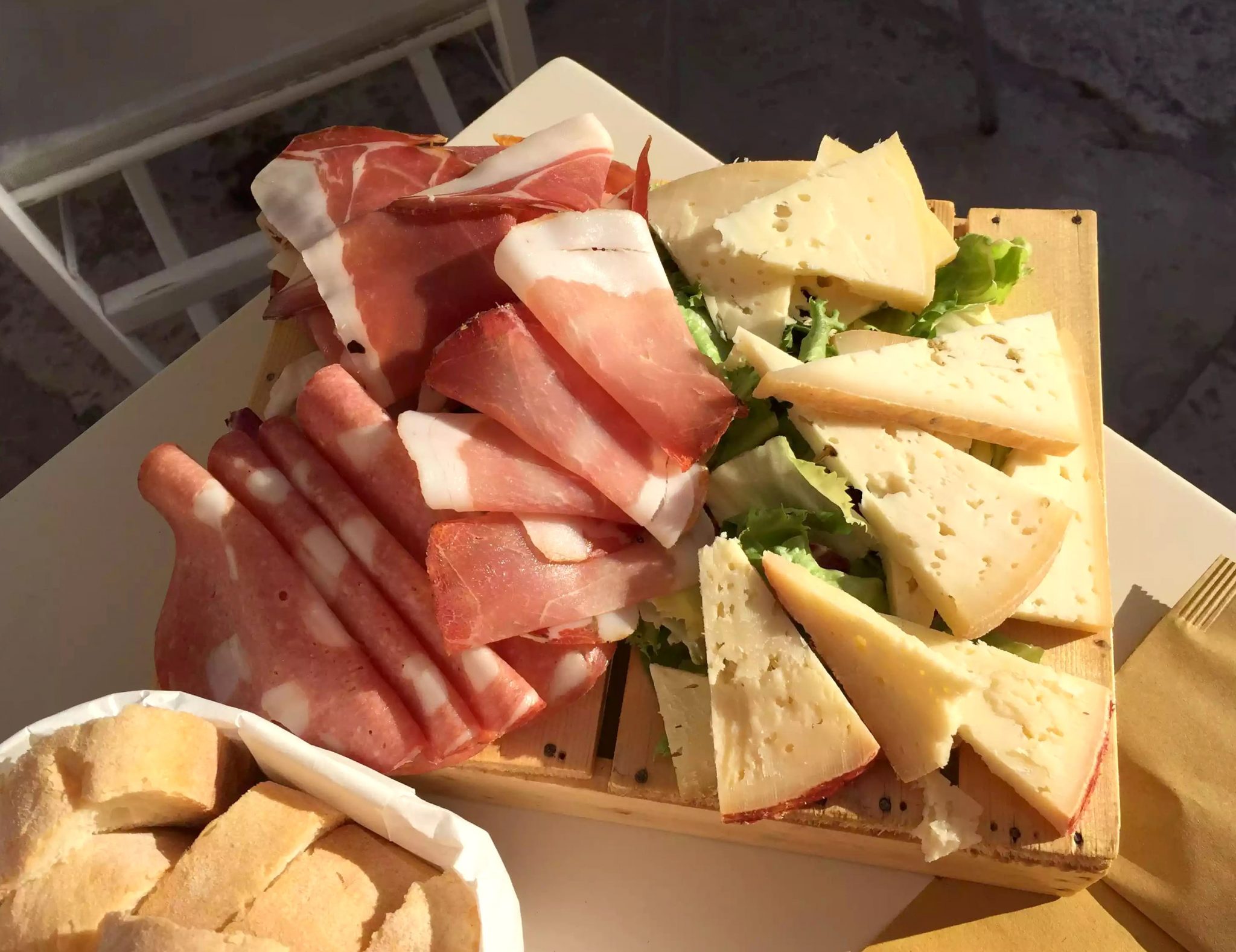 Sad to leave, but leaving with some great memories and a new-found love for Puglia, we headed back to the airport and to London.
Puglia Round Up
I'm almost a bit scared to put these posts out there, as i don't want everyone to find out about this hidden gem.  The tourist industry really hasn't hit Puglia yet, especially on the west coast and so it remains completely unspoilt.  The waters are like nothing you could imagine and the people are all so friendly and accommodating.  I think they'd love for it to become more of a tourist destination, with all the extra money that would generate, but I'd be worried that would ruin the natural beauty of the place.
I was also amazed at the wealth of food on offer for people with my dietary restrictions.  In the land of pizza and pasta I ate like a queen (or a princess ;)) There was never a menu I couldn't find something on, nothing came with a sauce/breading that wasn't mentioned on the menu, which happens all too often.  Fresh produce, cooked simply, and tasting amazing, I was spoilt for choice everywhere we went.
Catch up on… Puglia Night 1, Puglia Day 1, Puglia Day 2, Puglia Day 3