This weekend Dan and I were in Puglia to celebrate the festival of the Tavole di San Giuseppe.  'The table of St Joseph.'  We've been to Puglia before but never to the Salento region (the very South part).  We were lucky enough to be staying in the beautiful Palazzo Ducale Venturi in Minervino di Lecce.  It's a gorgeous 5* boutique hotel and we were thrilled to get to stay in such a luxurious setting.
The first thing that strikes you as you pull up to Palazzo Ducale Venturi is the size of the entrance door.  You actually walk in through the little cut-away part on the bottom right!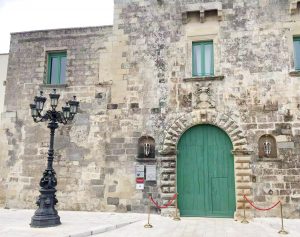 Walking through it you enter a complete oasis of calm and tranquility.  The drawing-room is light and airy and decorated in very bright neutral tones.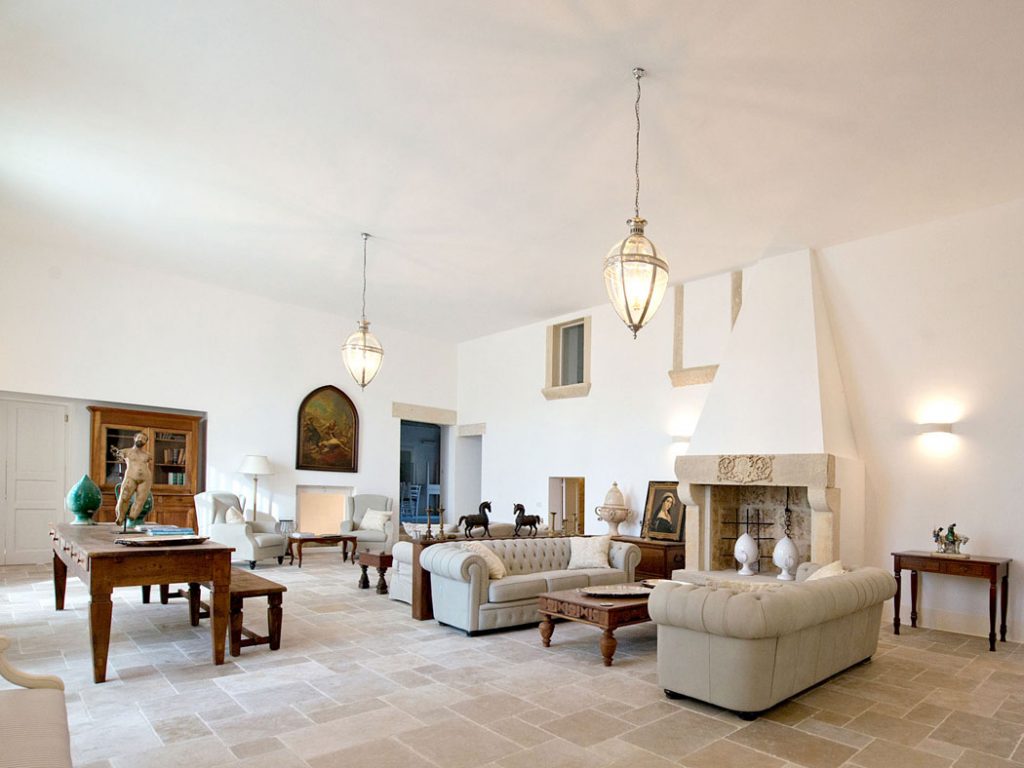 We were shown to our room by Martina and given the chance to settle in.  The kind staff at the Palazzo Ducale Venturi had left us a bottle of Prosecco on ice along with some snacks.  It was the perfect welcome for two hungry and thirsty travellers!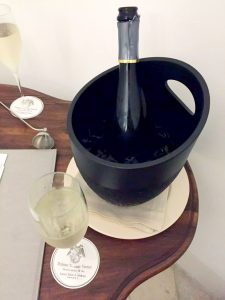 Our Bedroom
Our room for four nights was one of their Deluxe Rooms of which there are 9 in total. We had a seating area, complete with complimentary whisky (we had a glass in bed at night after a long day).  It's the little touches like that which make you feel so welcome here.
The bathroom was enormous with a double sink and walk in shower.  If I had one criticism it would be that the water wasn't as piping hot as I would like it.  Dan said it was fine by him but I like my showers to be really hot.  This wouldn't be a problem in the warmer months but in March when it can get chilly at night, it's nice to warm up with a hot shower before bed.  Luckily the heating worked very well so we were never chilly in our room!  And the heater is also an air-conditioning unit so you would be cool in the summer months too.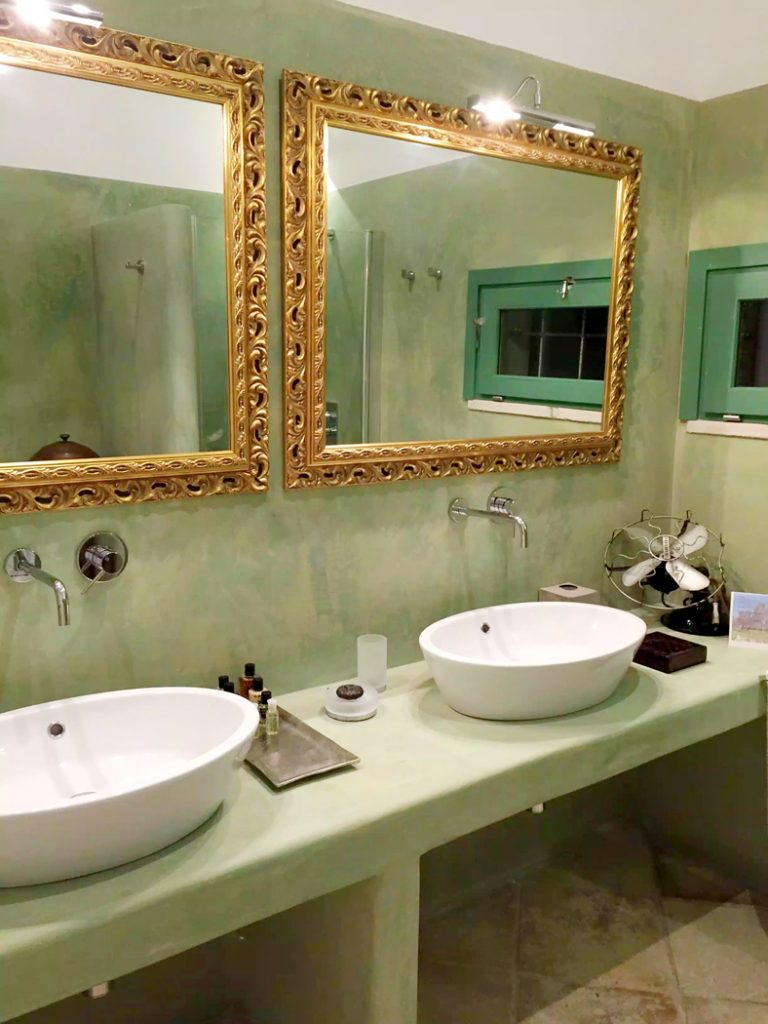 The room had all the facilities you would expect from a luxury hotel.  There was a huge wardrobe to store all your clothes and robes and slippers to lounge around in.  There was a mini bar which was re-stocked every morning and the soft drinks were complimentary.  Tea and coffee-making facilities were available and all the amenities you would expect.  The room had a safe, a hairdryer, and a TV, although only a handful of English channels (mostly World News).
History
 Once we were settled in, we were given a guided tour of the hotel by Martina.  She explained a bit of the history of the Palazzo Ducal Venturi  to us as she showed us around.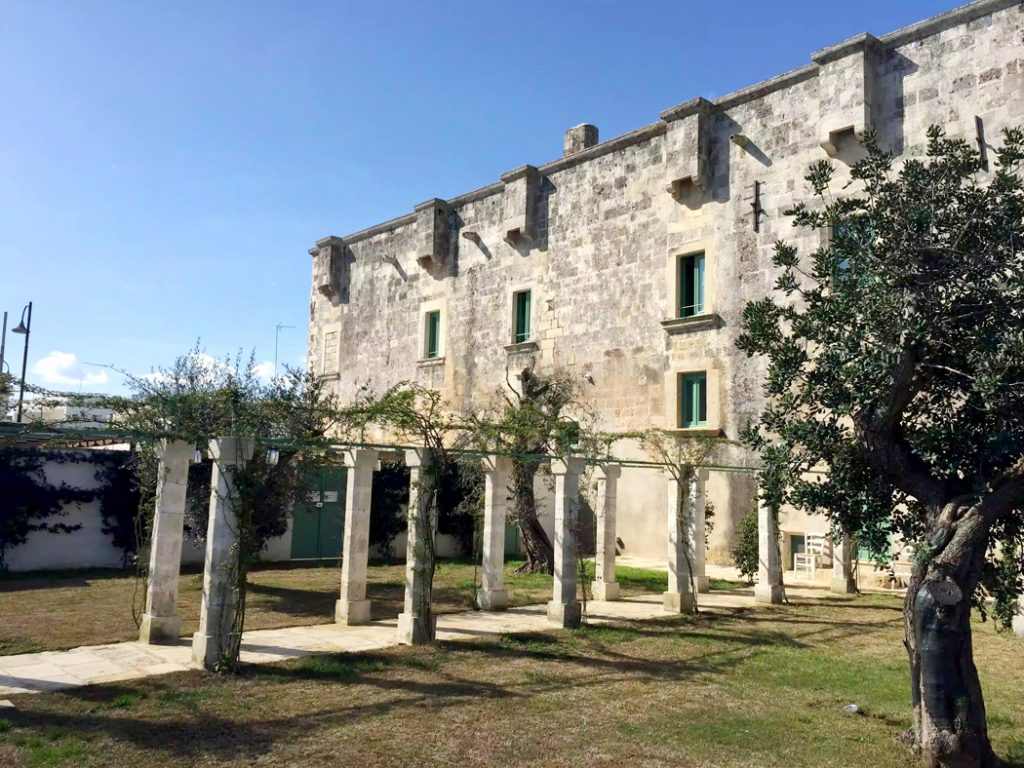 The palace was built in the 1500s for the Duke Venturi of Minervino.  Legend says the Duke fell in love with the Abbess of the nearby Convent and began a passionate love affair with her.  The Duke  had a secret underground passage built which connected the Palace to the Monastery.   However, after a few years, the Duke became enamored with another young nun.

The jealous Abbess drugged the young nun and buried her alive in the secret underground tunnel.  She then sealed it up and closed it with a door taken from the dungeons of Otranto.  The Abbess lost her faith and threw a curse on the Duke's bedroom 'hic amor mori' ("here love died"). However, the curse was removed and the evil forces were dispelled by Saint Eligio.  A fascinating legend but no-one is really sure if it's true! 
Renovations
After falling into disrepair, the Palace has recently been lovingly renovated.  This was done under the supervision of the head of cultural heritage to maintain as much of the original features as possible.  During the work and excavations the team managed to recover antique ovens, star vaulted ceilings in Leccese stone and "chianche" (a type of local old stone) flooring.  There were also incredible  frescoes discovered on the ceilings of the dining rooms and some of the bedrooms.

Martina then showed us the most fabulous rooms in the hotel, the Ducal Suite and the Abbess Room.
The Ducal Suite has the most beautiful vaulted fresco ceiling and is the only room on the ground floor.  This means it has direct access to the gardens and the pools.  In the morning you can just step outside your front door and have your coffee in the garden.
The Abbess Room was my favourite.  It was so quirky with a tiny circular staircase leading to a double bed on a mezzanine floor.  If you continued further up  you reached your own private  roof terrace with views over the whole of Minervino di Lecce.  I've definitely got my eye on that room for my next visit!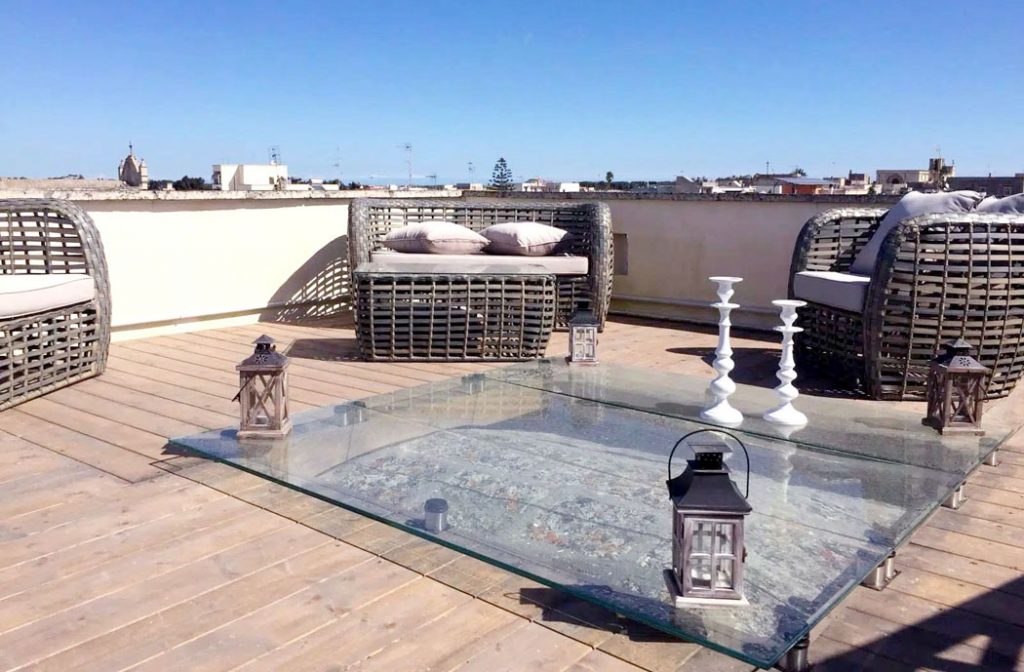 Breakfast
The next morning we got the chance to experience breakfast at Palazzo Ducale Venturi.  And what an experience it was.  The breakfast buffet was a sight to behold.  All the usual culprits were there, fruit and yoghurt, cereal, bread and pastries and a meat and cheese selection.  But there was so much more.  Special dishes appeared everyday.  From gooey chocolate fondant cake to crispy ham and cheese filo parcels, to spinach and ricotta quiche.  There was always something new and delicious to try.  And of top of this you could also order hot food.  There was bacon and eggs, omelettes and even pancakes on offer!  And of course it wouldn't be an Italian Breakfast without coffee.  The espresso was delicious and it was one of the best hotel breakfasts I've ever experienced.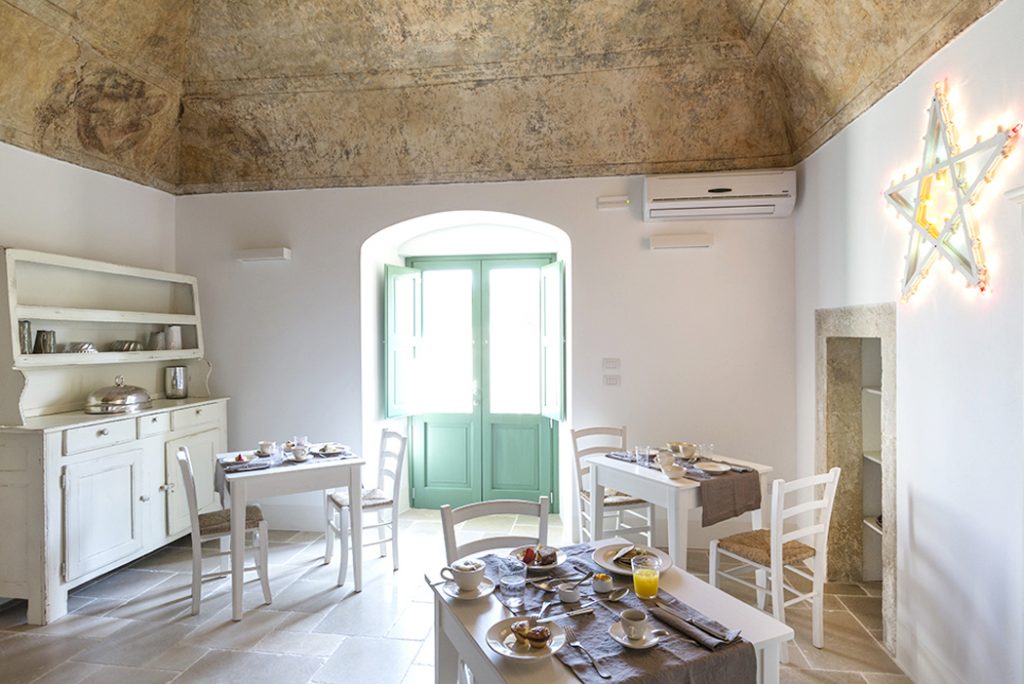 You can even take breakfast outside if the day is nice enough.  The staff will set you up a table in the garden and you can enjoy breakfast al fresco!  It was the perfect way to start the day and really set us up for a full day of sightseeing.
Facilities
The Palazzo Ducal Venturi is also a spa and wellness hotel.  They have a large pool outside in the main garden.  It's salt water and surrounded by plenty of sun loungers to relax on.  There is also a gym, massage centre and an outdoor bar.  The garden on the other side of the palace is the secret garden.  It's full of fruit trees and scented plants and herbs.  It's a fabulous place to take aperitivo (Italian drinks and nibbles) before dinner.
There is also an incredible underground heated  spa pool which we used a couple of times during our stay.  Just let the staff know what time you'd like to book the pool for and they will arrange everything.  They turn the lights down and light the candles to create a relaxing atmosphere.  The spa pool is also saltwater and is as warm as a bath – a bath you can swim in!  There are built in massage jets so you can turn it into a Jacuzzi and it is just so luxurious.  It's also really warm down there, almost like a sauna so you can just relax on the loungers if a swim doesn't appeal to you.  Even Dan was a fan and he normally rejects anything luxurious and pampering outright!
The main areas are beautifully designed and decorated.  They are cool and airy during the day but cosy at night with the fire and candlelight. There is a bar for ordering drinks and the kitchen does a 24 hour room service menu.  Dan and I enjoyed a glass of wine one evening in front of the fire and an Aperol Spritz as an aperitif on our last night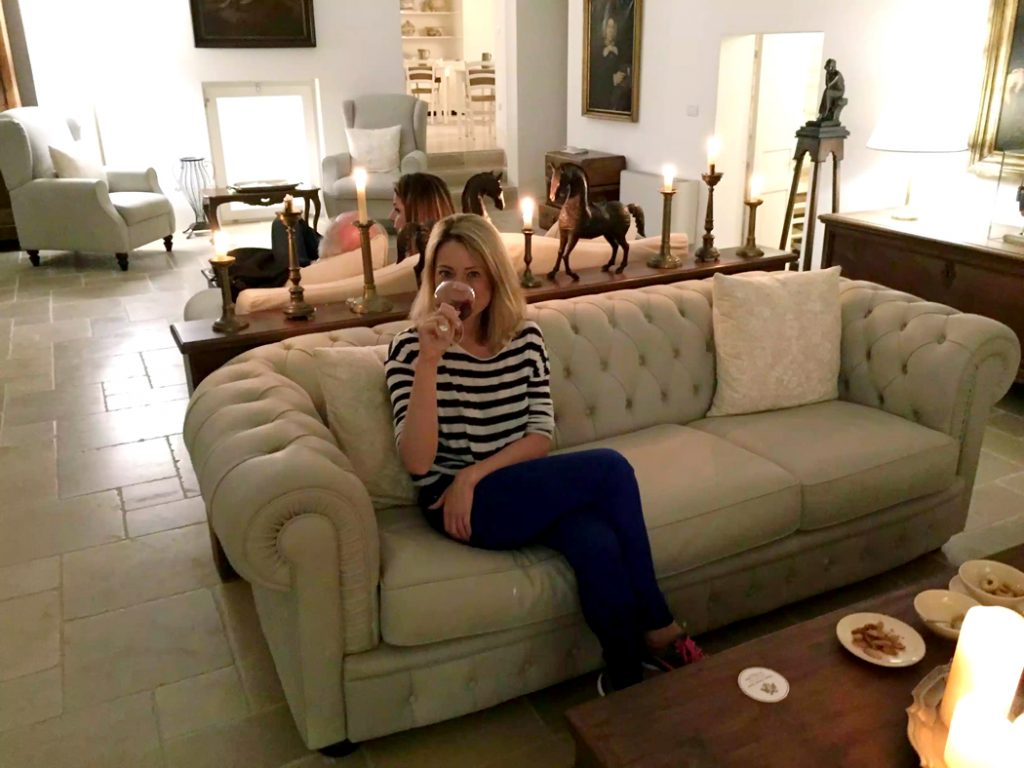 Service
This was the most amazing part about the whole hotel.  The staff really couldn't do enough for us.  From organising our spa visit to preparing drinks for us, they were always available to help out.  Every tiny issue we had, was dealt with instantly and nothing was too much trouble.  It seemed like every time we left our room someone came in to tidy it up!  They made our stay relaxing and I can't thank them enough.  And not forgetting the chef of course.  The food was of incredible quality and I just wish I had been able to experience the dinner that they offer.  I'm sure it would have been as exceptional as the breakfast.
A truly luxurious and relaxing stay and I can't recommend the hotel highly enough.  Book your visit now!
Palazzo Ducale Venturi – Via Podgora 60, 73027 – Minervino di Lecce (LE), Puglia
Disclaimer – I received a complimentary stay at the Palazzo Ducale Venturi as part of a Press Trip to the Salento region.  However all opinions are my own and I was not asked to write this post, nor have I received any payment for it. I really do think this hotel is an exceptional place to stay and enjoyed every moment of my visit.
Pin it for later