To read more about my Italy Trip see blog posts A Day in Talamone, A Wedding In Siena, A Weekend In Siena, Brunello Wine Tasting in Montalcino
Our final stop on our tour of Tuscany was the beachside town of Viareggio, just outside of Pisa. We chose Viareggio as we had a ridiculously early flight the next morning back to London from Pisa and wanted to be a short drive away from the airport.  We also wanted to get some more beach time in after spending the last few days exploring Siena.
The drive from Siena was about an hour and a half and we left early to make the most of our day on the beach.  We arrived about 11 and lucked out with our hotel!  We had originally booked a different hotel but were told that due to 'unforeseen circumstances' the hotel could no longer put us up, so other accommodation had been found for us.  We were given a night in the Grand Hotel Royal for the same price which was a definite upgrade.  The hotel was one of those from a bye-gone era but was still beautifully decorated and very grand, as per its name.
We pulled up, unloaded and checked in and decided to have a wander around town, chill on the beach and find somewhere to have lunch.
Beaches in Italy seem to work in a different way from most other beaches in Europe I've found.  Each beach bar is responsible for a certain area of the beach and they put out sunbeds, deckchairs and umbrellas.  You have to pay to use them but you get all the facilities (toilets, showers, lifeguard) included.  Our hotel had an affiliation with one of the bars for half price beds but we decided to go for a walk instead of sitting down as it was a lovely day, but not quite hot enough to sunbathe.
If you don't want to pay for a bed, there are a few public areas on the beach where you can lie on the sand on your towel but these are few and far between – most people tend to pay for the sunbeds (bit of a rip-off I think to make it almost mandatory to pay to sit on the beach!)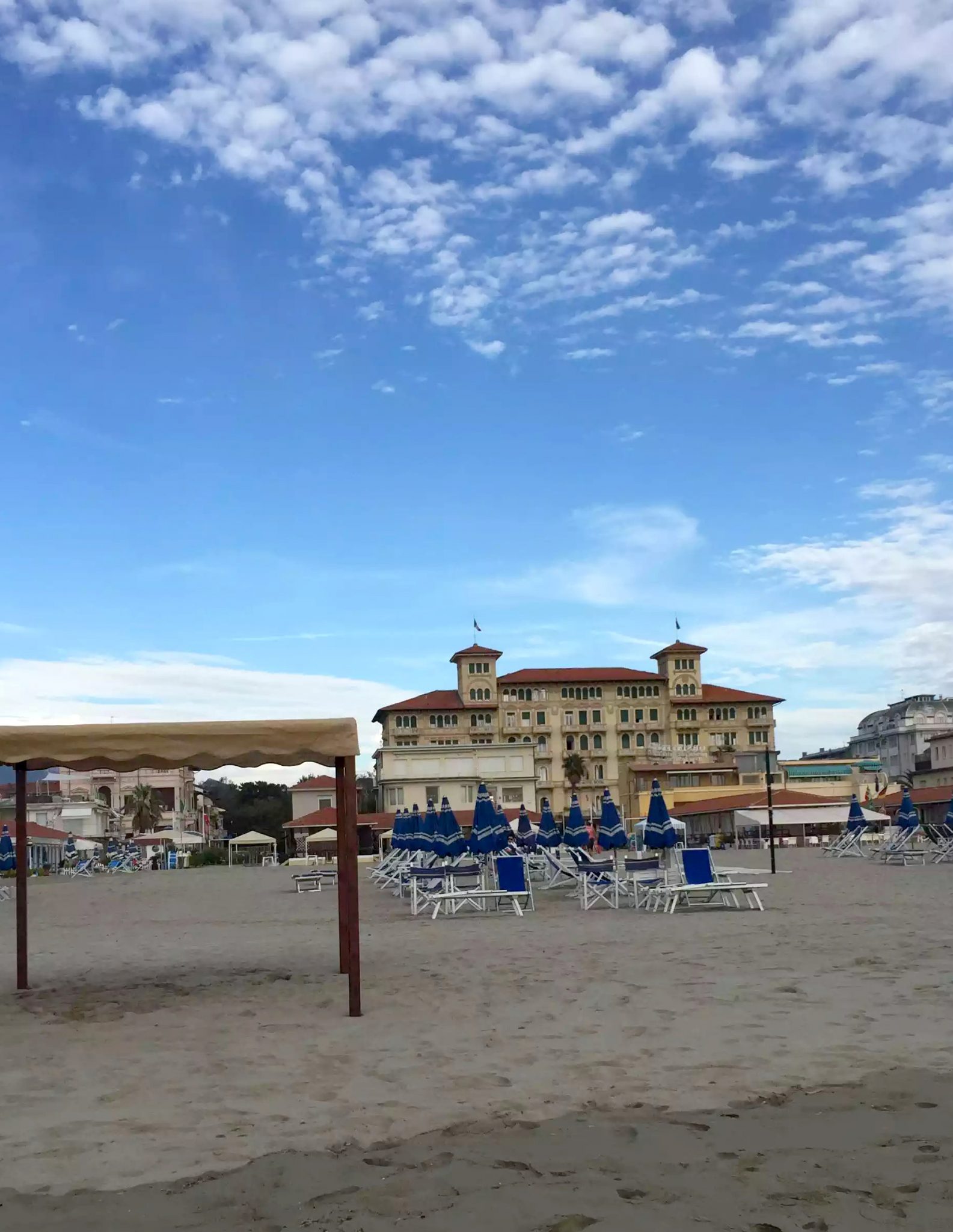 We walked the length of the town on the wide promenade, looking at all the shops, restaurants and bars and we ended up in the port at the far end for lunch.  We found a nice restaurant to have some food in, a pepperoni pizza for Dan and…surprise surprise, Parma ham and melon for me – I just can't get enough of the stuff.
After lunch we wandered back along the beach.  I think the season had probably finished as there weren't many people around and most of the private beaches were empty, or with only a handful of sunbeds taken.  But I can imagine how full this place must get in the summer – there were at least 50 private beaches, each with at least 300+ sunbeds, all tightly packed together, so I guess this is a holiday hotspot in July and August!
Wandering along the beach I found this poor little guy washed up but just had to take a photo because it was such a stunning colour!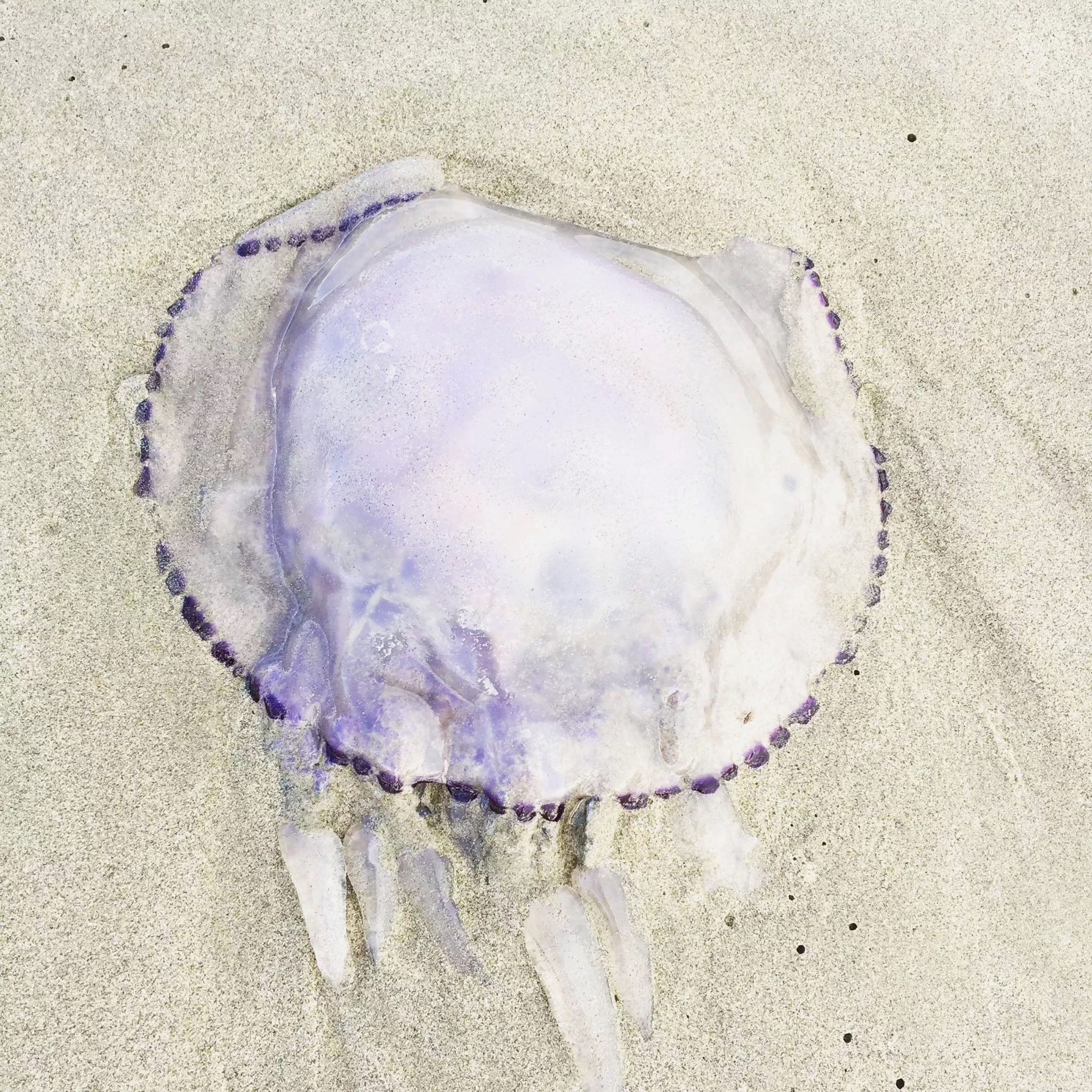 As the sun set we headed back to the hotel to get ready for our last drinks and dinner in Italy 🙁 .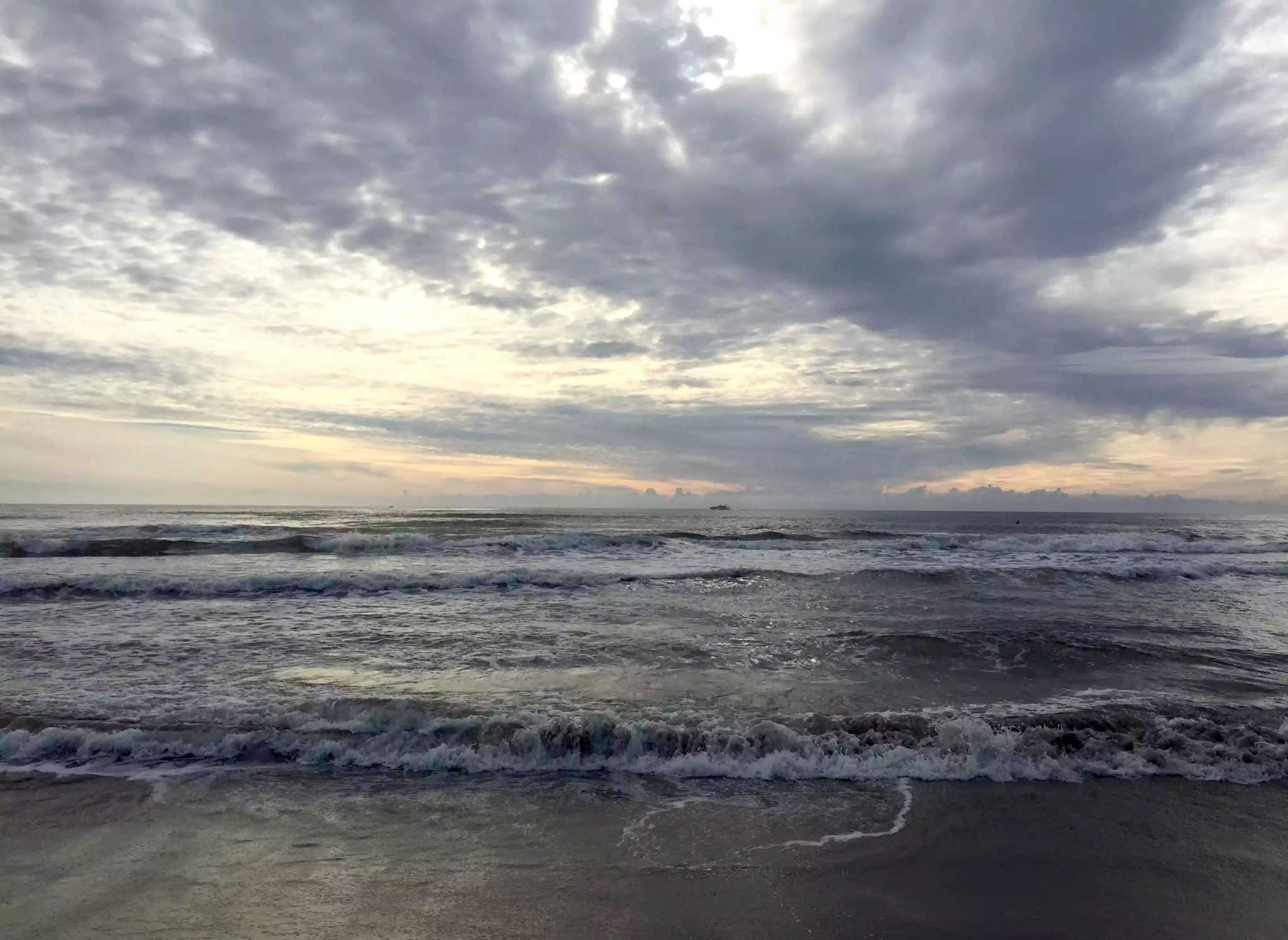 The bar at the hotel looked like it something out of an old James Bond film so we decided to give it a go and have Aperitivo in the hotel garden.  The hotel bar had a pretty extensive cocktail menu.  I went for a Negroni Spritz and Dan went for a very manly drink…
I think it was something like an Old Fashioned but not served in the usual way…
They brought us a lovely plate of aperitivo to have with our second drink (A Campari Spritz for me and an Elderflower Gin Fizz for Dan), everything from ham to cheese to pizza to fruit and we tucked in and sat back enjoying the evening.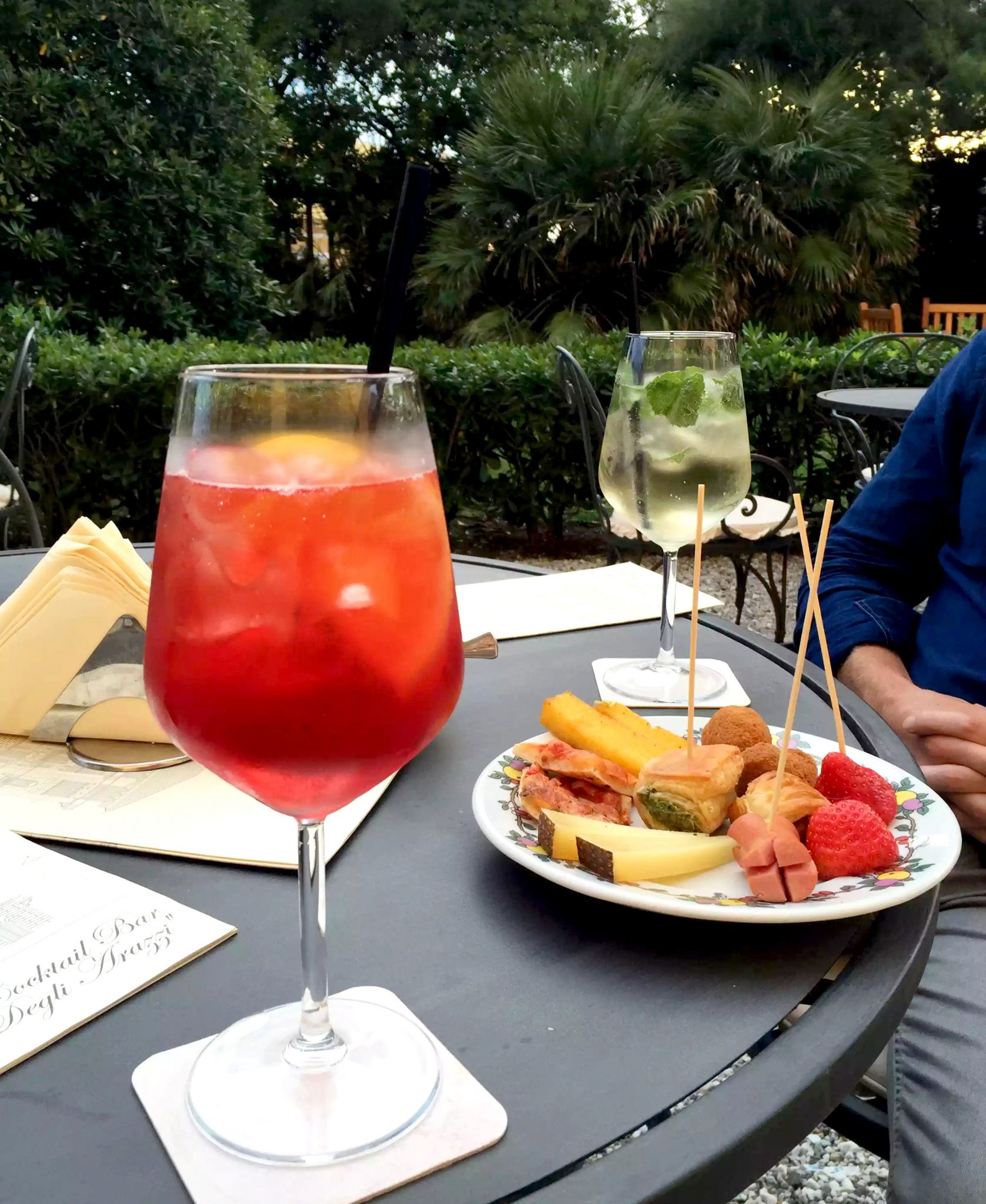 We soon realised as other people came down for their pre-dinner drink that we were the youngest people in the hotel by about 40 years!  Viareggio in September is obviously a hotspot for the retirement community – later, we even found a bridge room in the hotel, and the music that the bar played was from the 1940s!  It felt like we'd stepped back in time and was really refreshing to have a different experience.
After our second drink we decided to hit up Trip Advisor to see what they had to say about local restaurants in the area.  We settled on a restaurant called Antica Locanda da Luca as it looked authentic (in one of the back streets away from the tourist hotspots on the promenade), cute (all open brickwork and vaulted ceilings) and had great reviews for the food.
We arrived and were shown to our table.  We both ordered the steak, mine with aubergine and Dan's with chips and I have to say it was one of the best meals we'd had all weekend.  A perfectly cooked steak (charred on the outside, rare in the middle, just how I like it) with some melanzane parmigiana on the side and fresh grilled vegetables.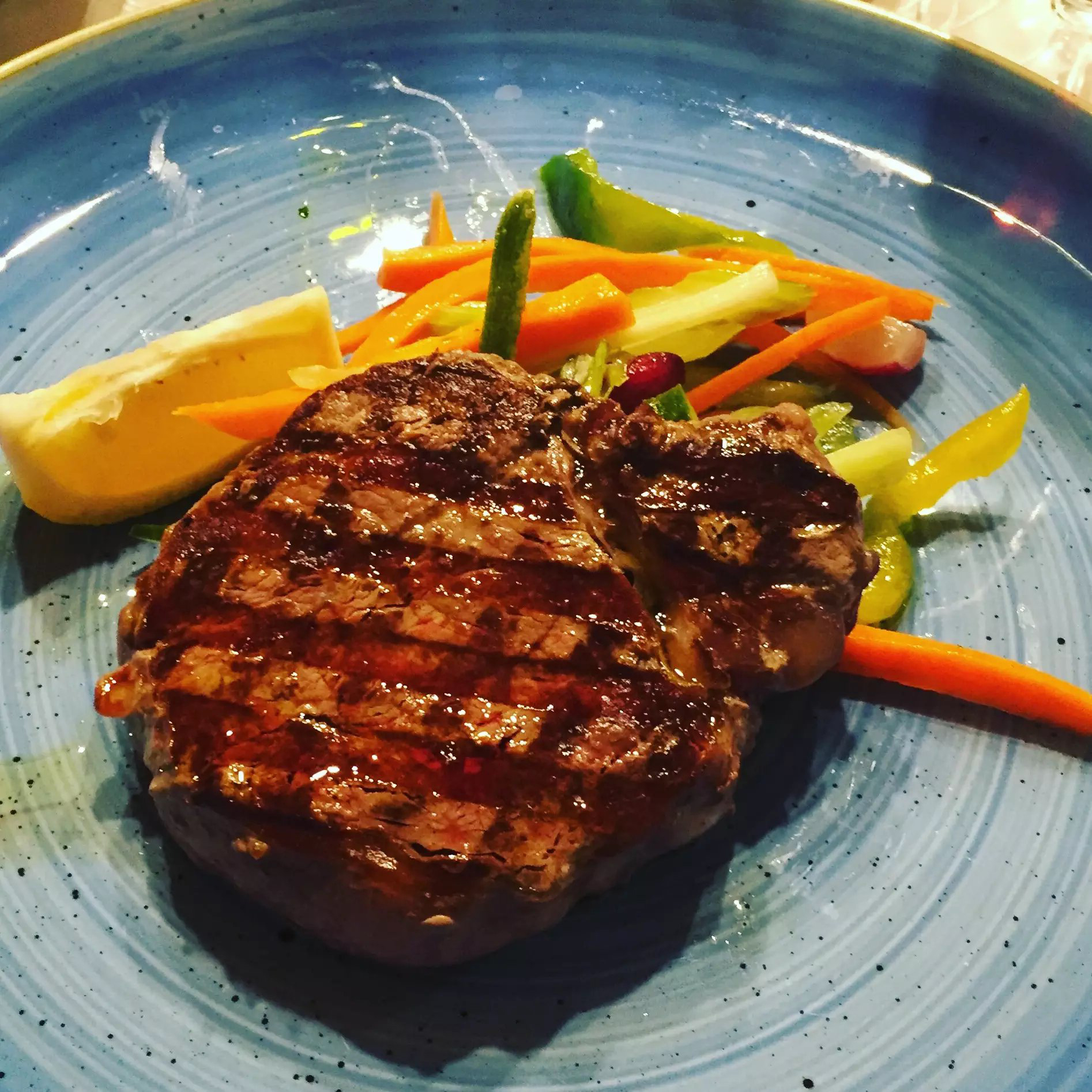 We ordered a lovely Brunello to wash it all down with and sat chatting, not wanting to head back to the hotel as it would mean the holiday was over.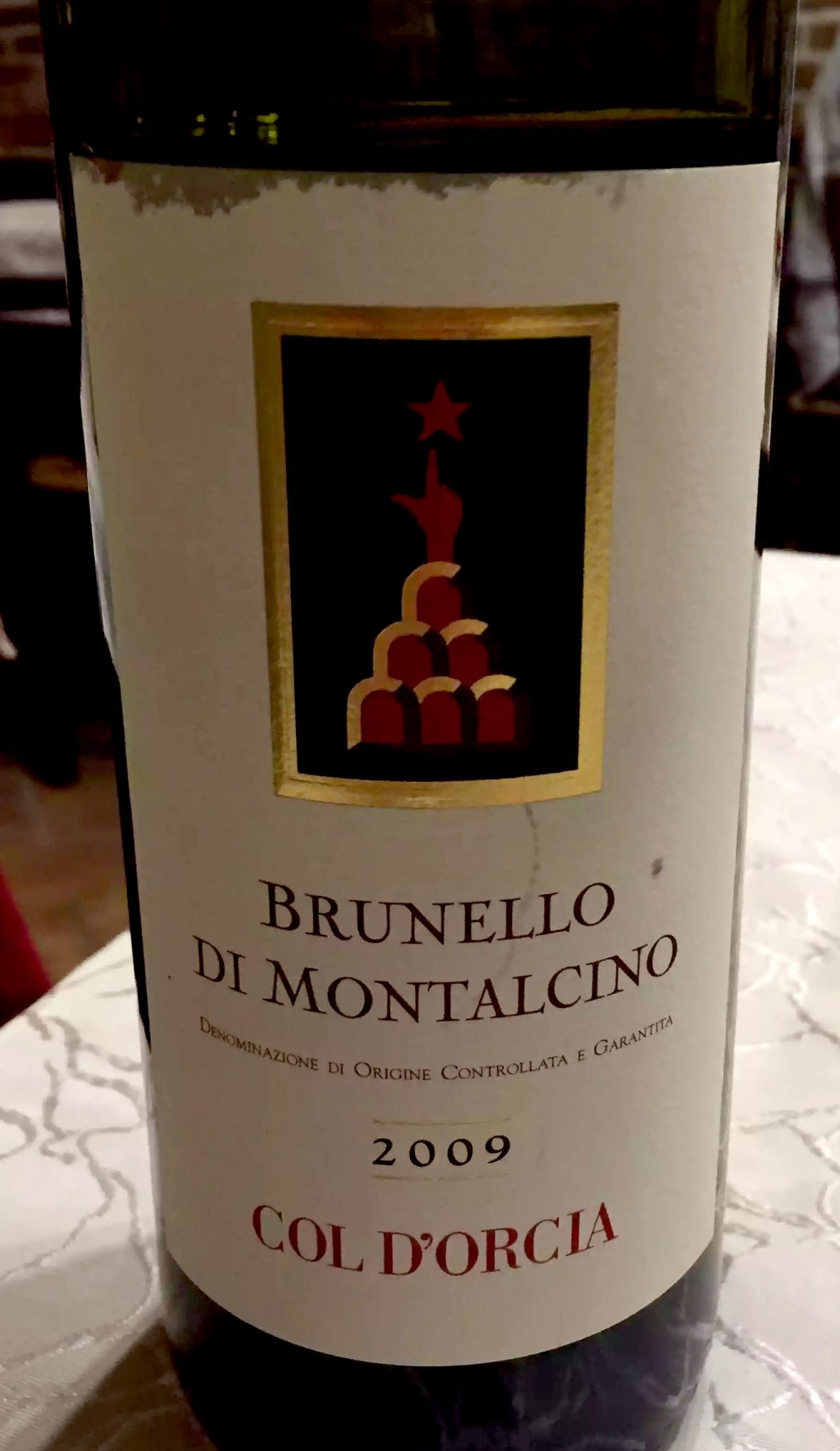 Eventually we turned in fairly early to bed to make sure we got some rest before the super early flight the next morning back to reality!
Pin it for later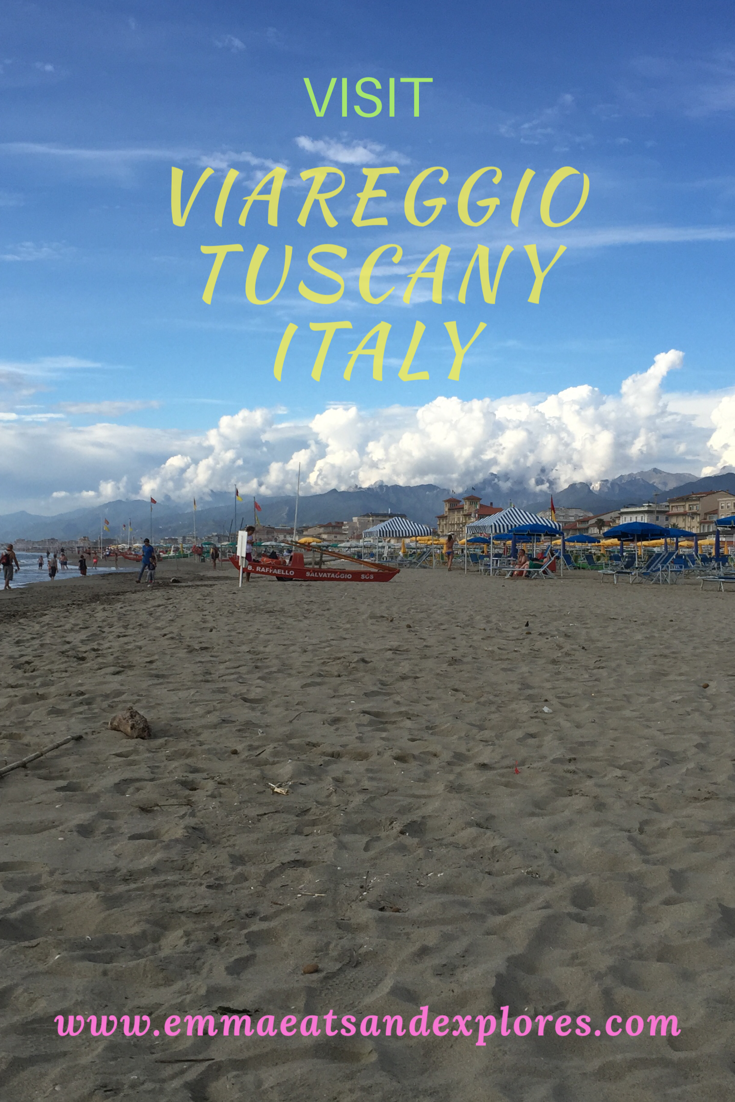 To read more about my Italy Trip see blog posts A Day in Talamone, A Wedding In Siena, A Weekend In Siena, Brunello Wine Tasting in Montalcino