To read more see A Wedding In Siena, A Weekend in Siena, Bunello Tasting in Montalcino and A Trip to Viareggio
A weekend in Siena in Italy was on the cards for Dan and I, as we'd been invited to the wedding of my friend Mylene to her fiancé Tommaso.  Deciding to extend the trip for a few days we wanted to spend some time on the coast either side of our stay in Siena.  Having googled many coastal towns in Tuscany we settled on Talamone to start with, an old fort town on a peninsula which looked tiny, beautiful and not your typical tourist trap.
We arrived very late on the Thursday night (4am – thanks Ryanair for the delay!) so we checked into our hotel, the Baia di Talamone and went straight to bed.  The next morning we got up early (I'm never able to sleep in when I'm on holiday) and, well it wasn't exactly blue skies!  Big threatening rain clouds hung in the sky but we decided to risk it and go and explore after a coffee at the hotel.
Staying in the port, we headed up to the old town to have a look at the fort and the views out to sea which were stunning, but suddenly the heavens opened so we ran to the nearest restaurant to grab some lunch and wait out the rain.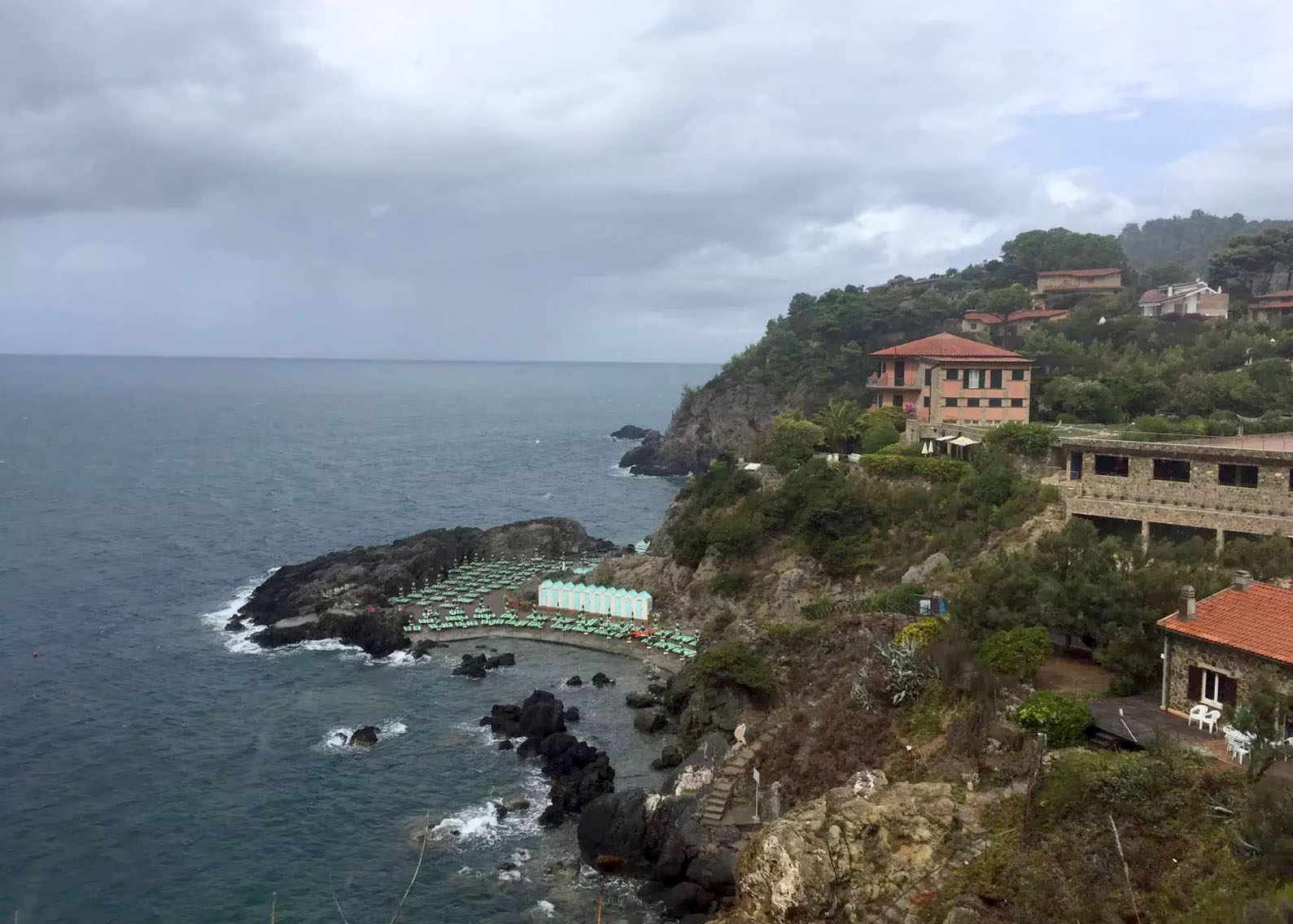 The restaurant, Locanda dei Mille, was in the main square and looked busy and full of locals, so although we didn't have much choice due to the rain, it seemed like a safe bet.  We ordered a carafe of the house white and Dan went for pasta while I chose the sea bass done three ways.
The wine left a little to be desired but when we got the bill, it was only 4 euros for the whole carafe so I guess we shouldn't have expected much.  The sea bass was lovely, cooked perfectly and served on three different vegetables, courgettes, carrots and potatoes (which I pushed onto Dan's plate).  We waited out the rain and were rewarded with sunshine and a beautiful view from the main square just outside the restaurant.
As the rain had eased up we decided to move on and spotted a beautiful little restaurant called La Buca.  It was old and looked very traditional so we put our names down for dinner there later that evening.
We decided to see some more of the town so we set off exploring…or at least we tried to.  We got as far as the beach before another torrential downpour so we abandoned that idea and ran to the nearest bar.  What better way  to wait out the rain than with a glass of Chianti and some Tuscan olives!
Deciding that exploring wasn't really going to be on the cards we headed back to the hotel for a little afternoon siesta, having not got much sleep last night due to our late arrival.  We awoke just in time for Aperitivo (a tradition in Italy where you get some – fairly substantial – nibbles with an aperitif) so we headed to the wine bar in the town centre.  We ordered a glass of Brunello each and were given some ham, cheese and salami to eat with it.
Soon, it was time for dinner at La Buca, the restaurant we'd booked earlier.  We were shown to our table inside, and the restaurant was as cute as we'd imagined.  Stone walls and vaulted ceilings, it was definitely a very old building with a lot of character.  I chose the pan-fried sea bream and Dan went for the sea bass with roasted potatoes and we shared some grilled courgette on the side.  All washed down with a bottle of Chianti it was lovely dinner, just what we were after and we thoroughly enjoyed ourselves.
We headed to a bar on the way home for nightcap and met up with some friendly locals who extolled the virtues of Talamone to us and promised us the weather would be better tomorrow and we'd get to see it in its full glory.
They were right and the next morning we awoke to beautiful blue skies (that was more like it).  We checked out and got a coffee in the sunshine and afterwards decided to head back to the old town for a look around in the glorious weather!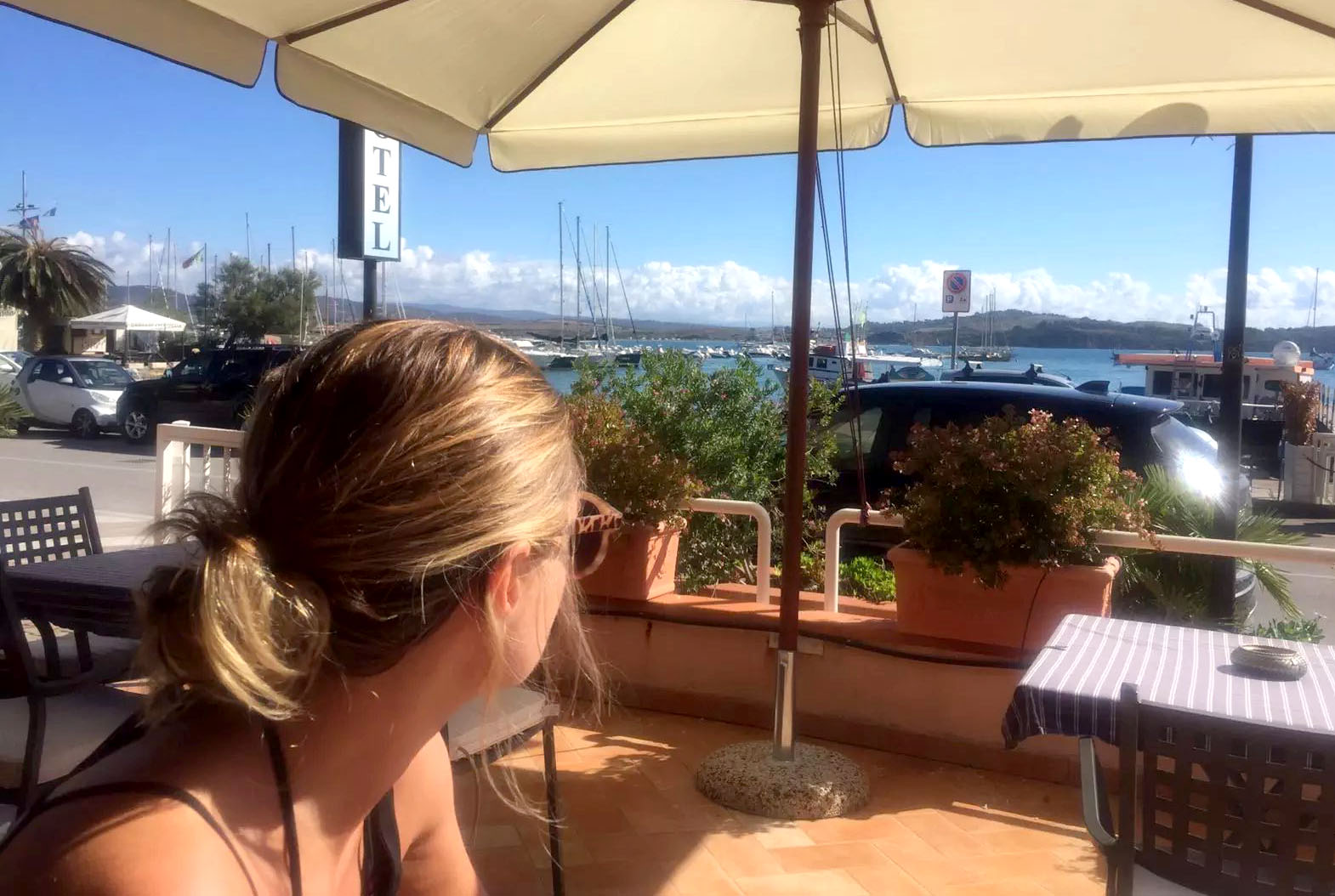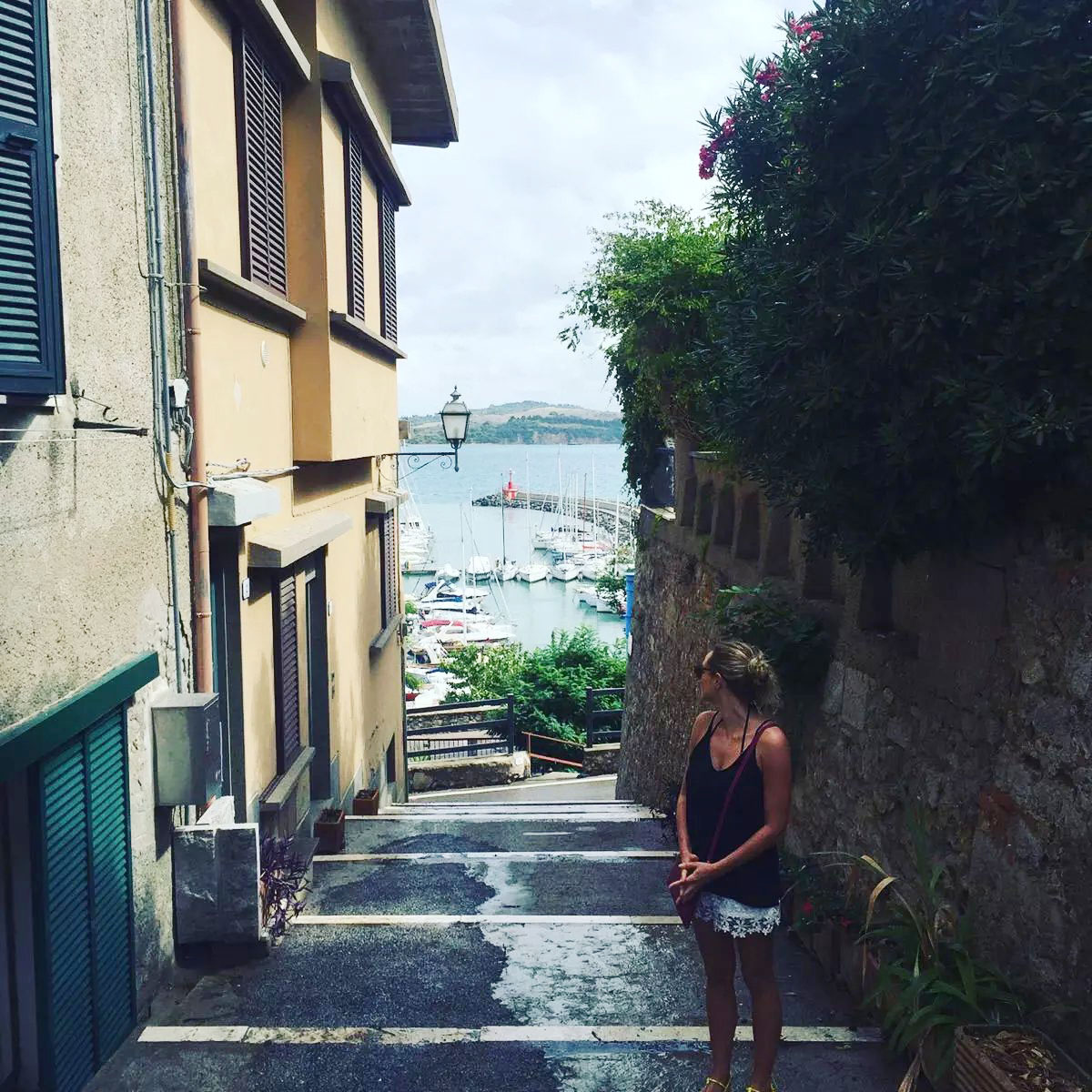 It's amazing what difference a day can make!  Much better weather to take travel pics this morning!  Everything always looks so much better in the sunshine!  The town was beautiful now that it was painted in its best light, with tiny cobbled streets and old stone walls, there were really only one or two main streets – it was a tiny place.
Finally Dan wanted a quick dip in the sea before we drove to Siena so we headed down to the beach to spend an hour there.  There was a cafe so I sat there and read my book while Dan went in for a quick swim.
Someone is obviously excited at the prospect of a swim!
Gorgeous crystal clear, blue waters!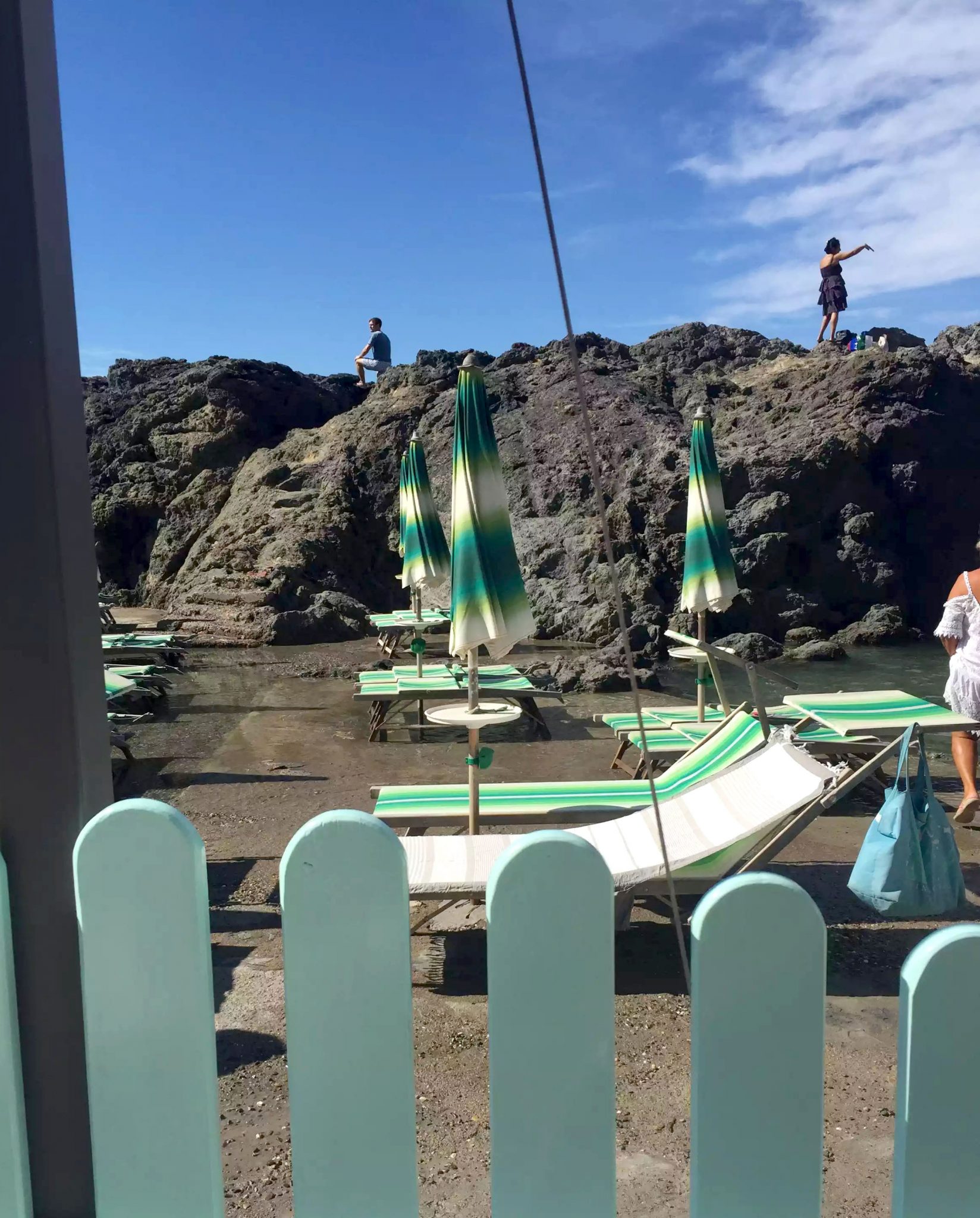 We hopped in the car for the hour and a half drive to Siena, the next leg of our journey, for Mylene and Tommaso's wedding that afternoon…
To read more see A Wedding In Siena, A Weekend in Siena, Brunello Tasting in Montalcino and A Trip to Viareggio
Pin it for later