To read more about this trip visit my posts on Talamone, Viareggio, Montalcino and a Wedding in Siena!
After a day in Talamone we headed to Siena, which was to be our base for the next few days – as it was the venue for Mylene & Tommaso's wedding.
We drove the hour and a half to get there and parked up in a car park on the outskirts of the city (cars aren't allowed to enter the Old Town so you have to park outside – it's not cheap, €2 an hour (and we were going to be there 3days!!) but there are lots of free spaces on the road.  Unfortunately they were all full but we managed to move the car the next day to a free spot so the fee wasn't that bad!)
We had a couple of hours before we were due to meet our AirBnB host to get the keys to our apartment so we headed into town to look around and grab some lunch.
Siena is on the top of a hill so all the roads up to the town are quite steep – not so great when you're dragging a suitcase – but it wasn't far and soon we were in the heart of the city.
Siena is a fairly small city with fantastic views over the area.  The buildings are all very old and the streets very narrow so there's not much light that gets in but that adds to the romantic feel of the place.  We wandered around, getting a feel for the city but soon our stomachs told us that it was time to stop for lunch.
We knew we weren't going to be eating until after the wedding that evening so we decided to grab a quick lunch in a cute little Trattoria, Ristorante Da Renzo in a square down one of the back streets that we just happened to come across.  For lunch I ordered the melon and Parma ham and Dan went for the Pizza.  Both were great and filled us up so that our stomachs wouldn't be rumbling throughout the ceremony.
And they had diet coke in a pink can!! Love it!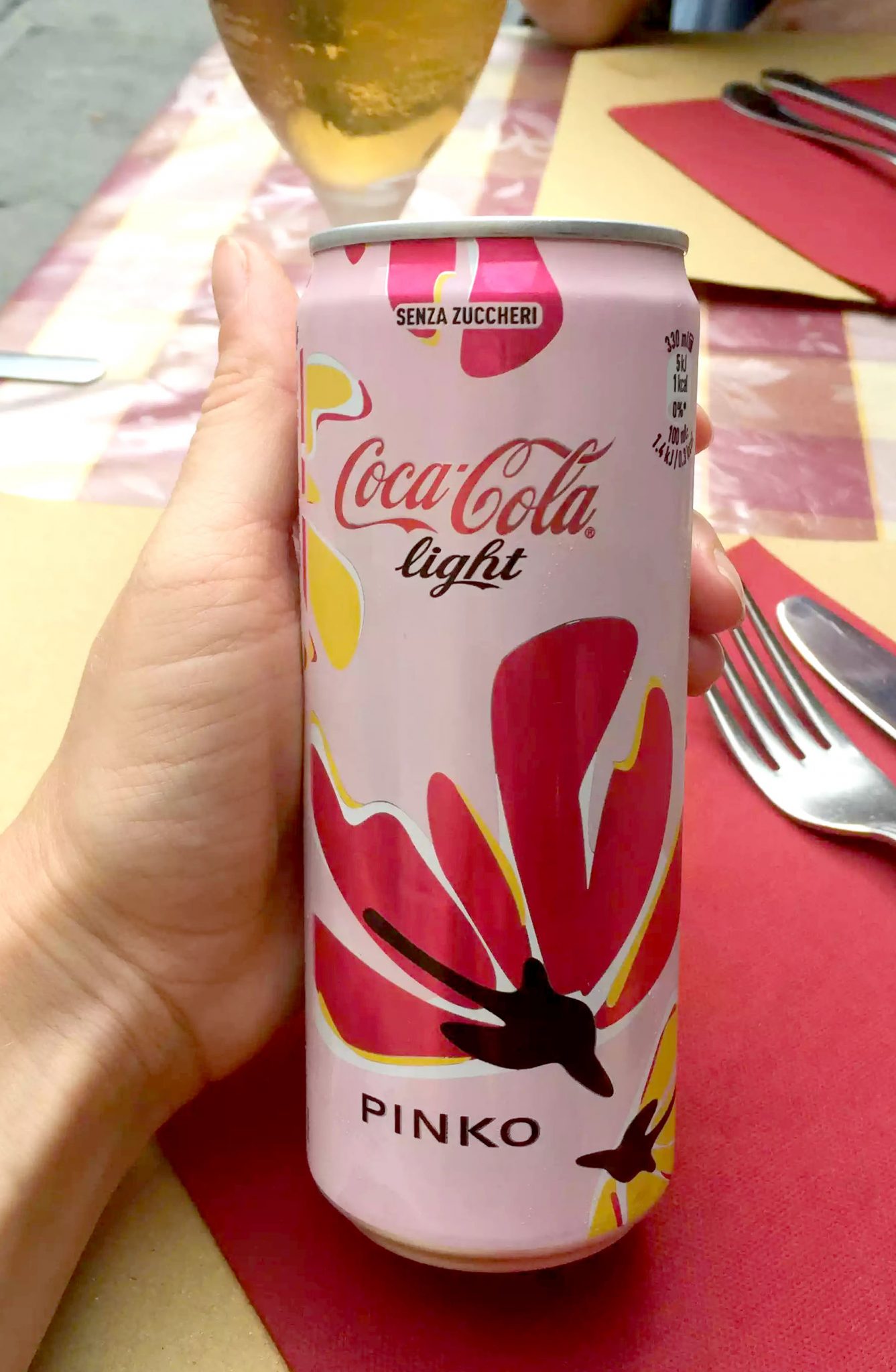 With lunch finished, we headed to meet our AirBnb host and get the keys to our flat.  The flat was a very sweet little studio flat, right on Via Fontebrande and very central – a 2minute walk to Piazza di Campo – the main square.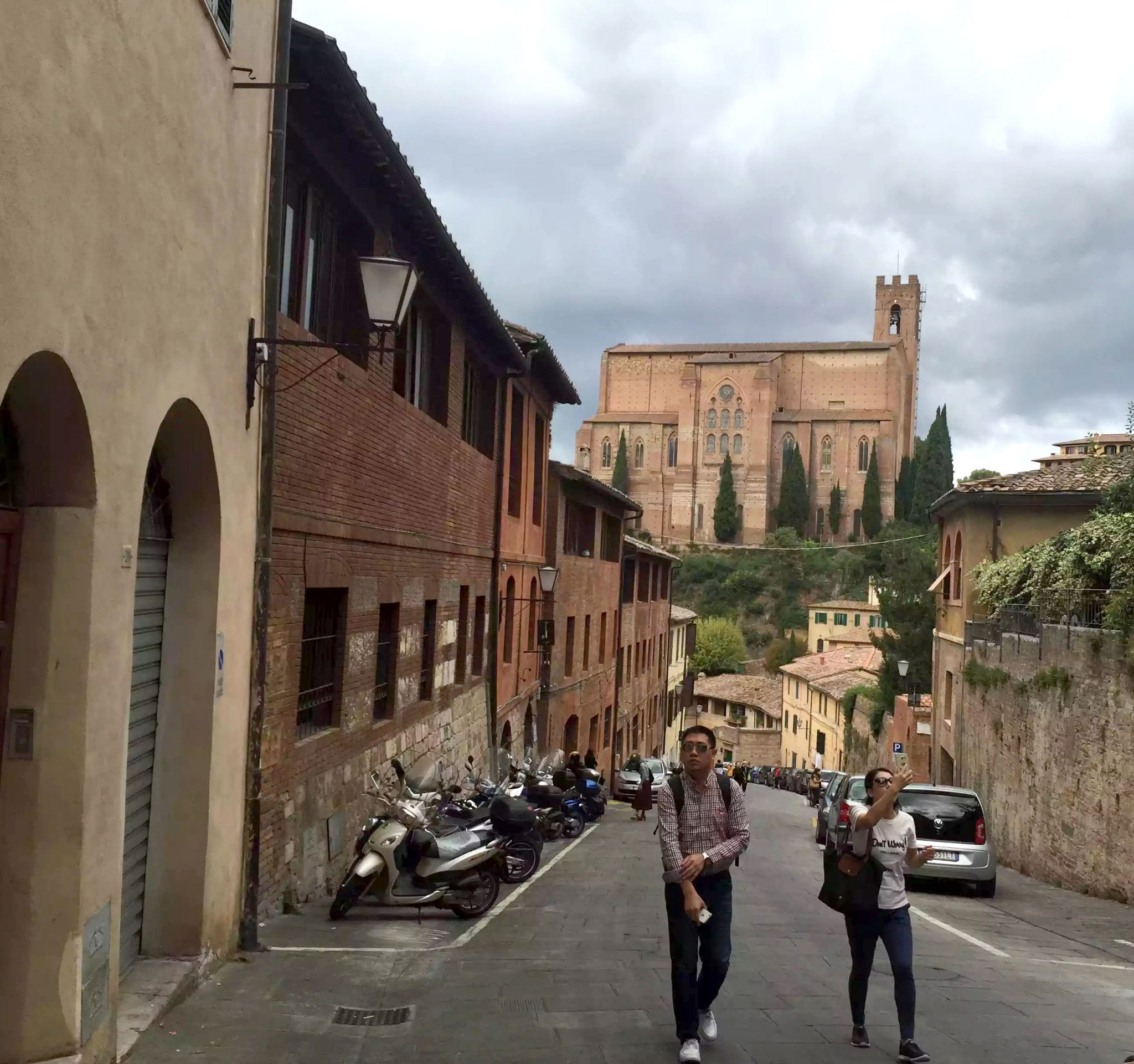 We had a quick change into our smarter clothes and then it was time for the wedding of Mylene to Tommaso which you can read all about here.
The next morning we woke up and had the whole day ahead of us to explore Siena. We decided to start back in the Piazza di Campo (where the wedding ceremony took place) to have a coffee and get out bearings.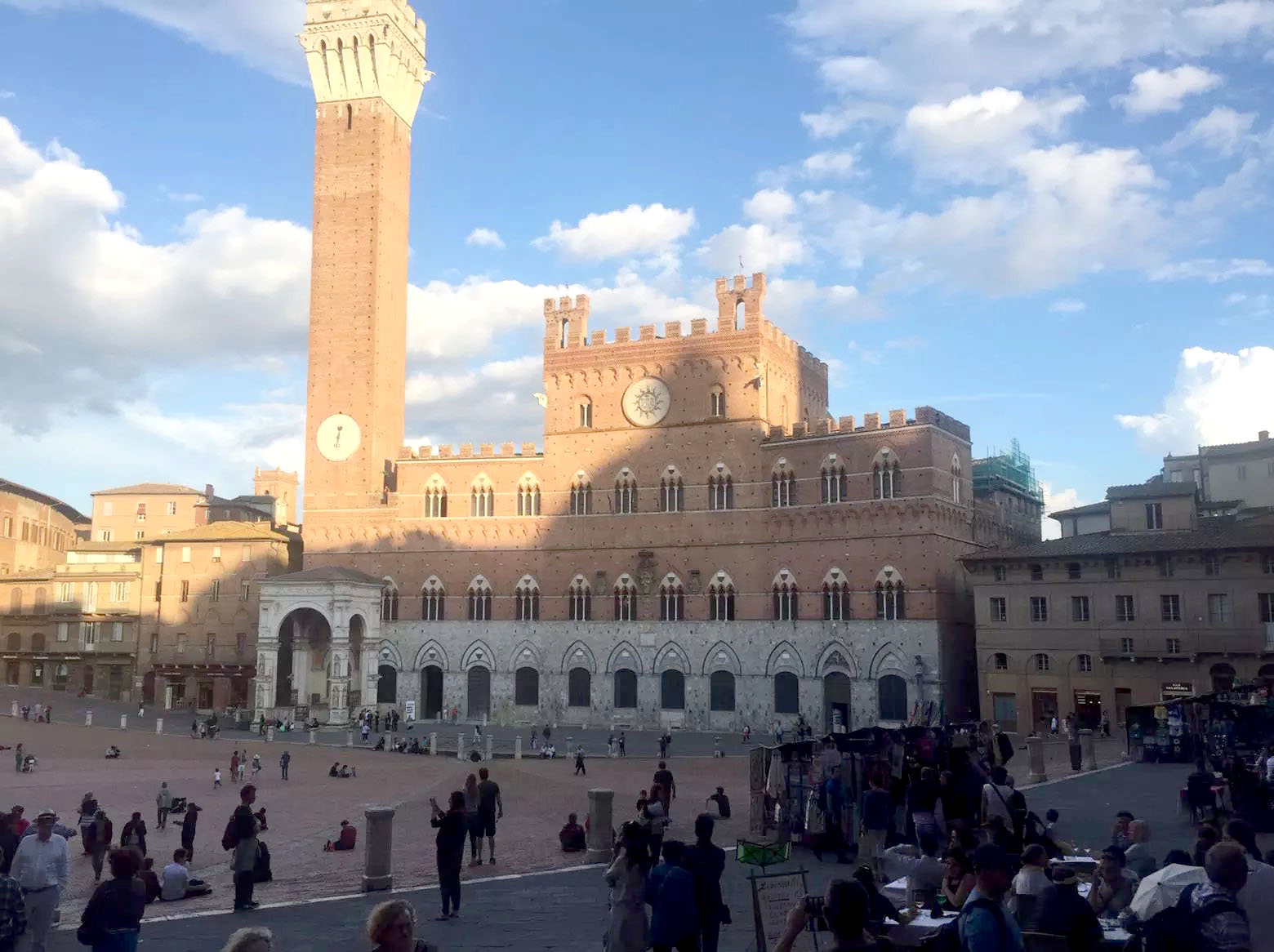 We wandered around, down all the back streets, getting more of a feel for the place. Siena itself is pretty small and I definitely think you could do it in a day.  The streets around the Piazza di Campo are the main touristy ones with plenty of shops and cafes, but we headed off the beaten track a bit to try to find somewhere where locals eat their lunch.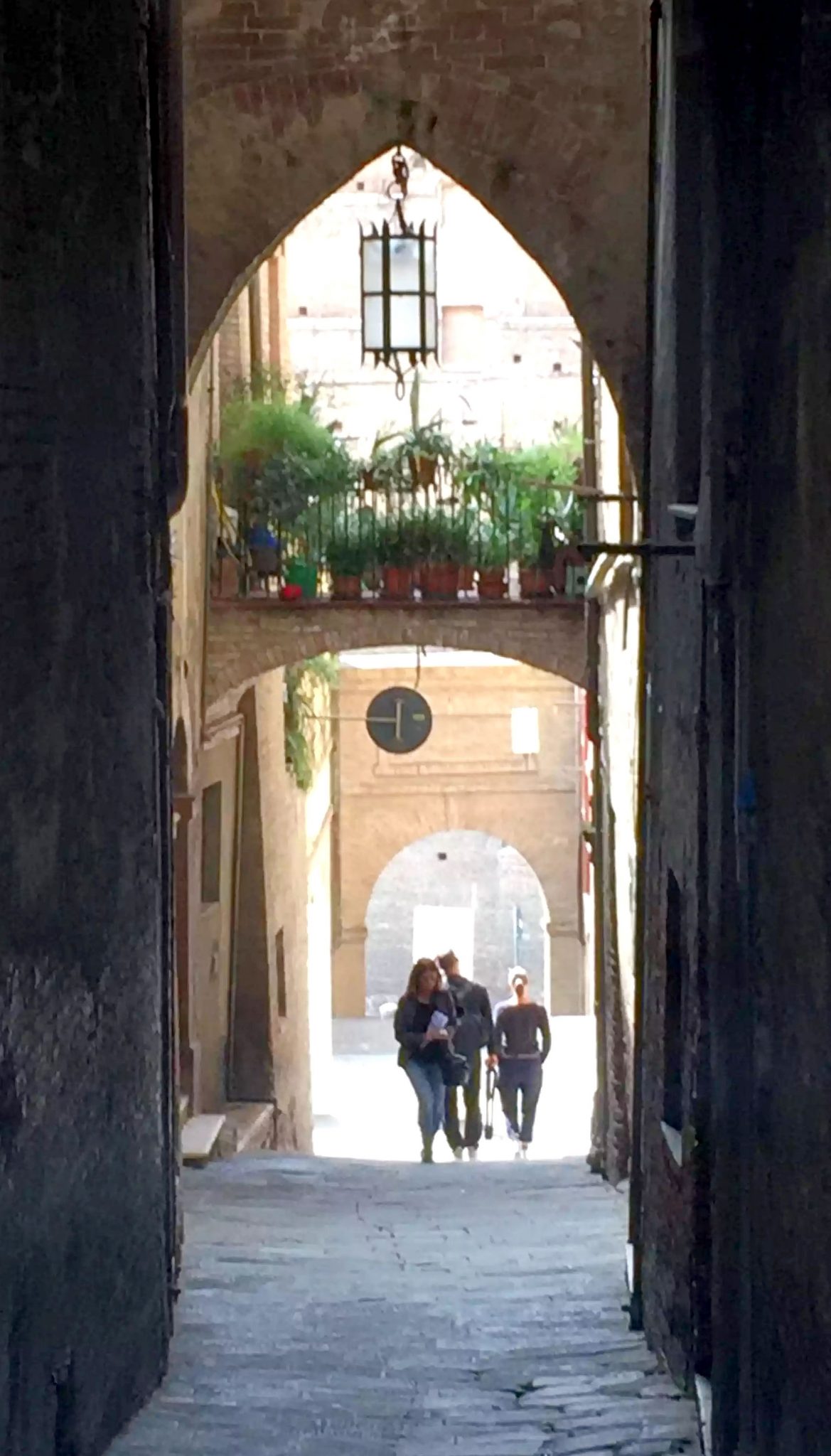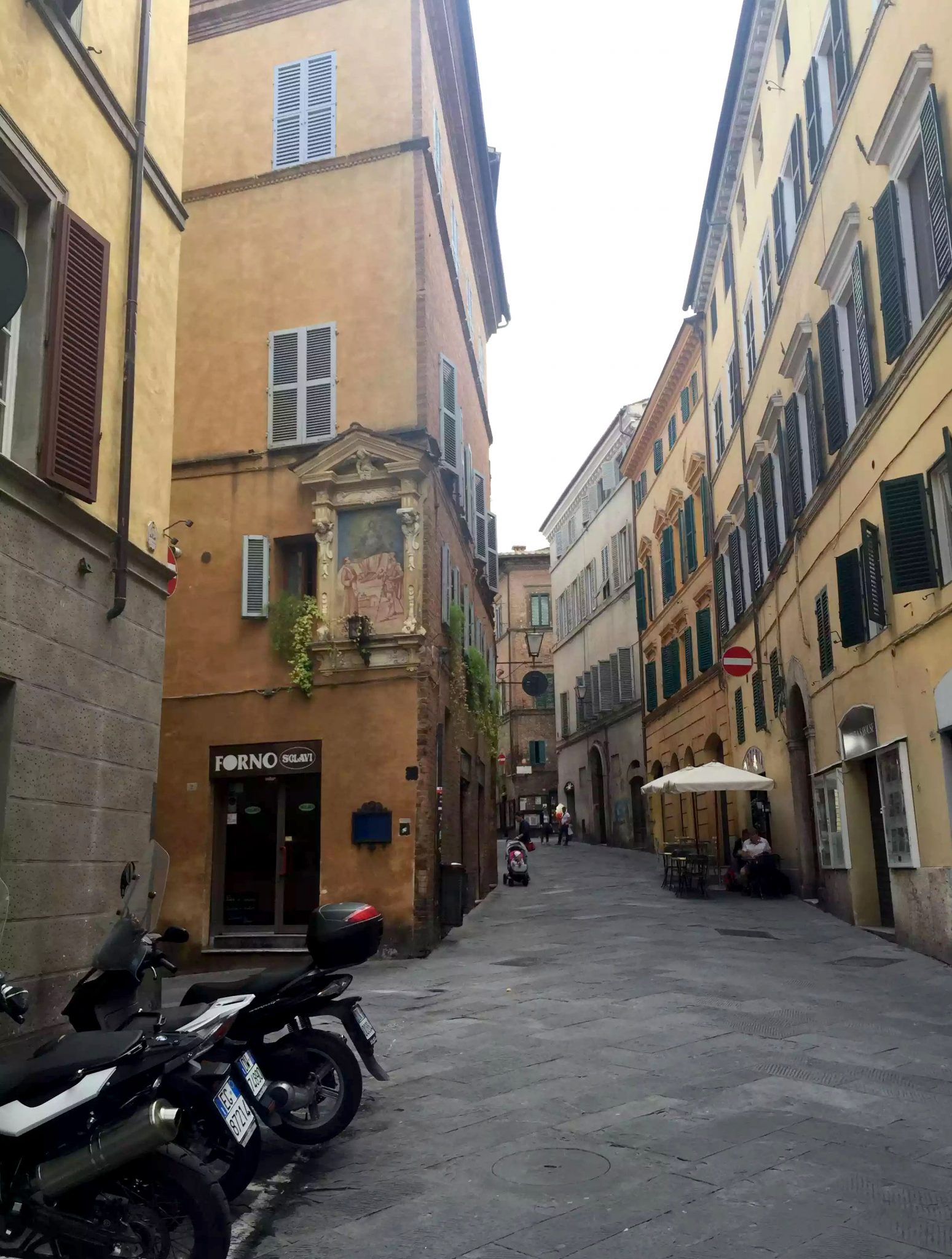 However, by the time we were hungry most of the places that weren't touristy had shut for lunch.  We managed to find one place, Trattoria la Tellina which said that if we chose and ate quickly they'd serve us
I ordered the Parma ham and Pecorino and a tomato salad while Dan had pasta with bacon and tomatoes.  I have to say it wasn't my favourite meal that I ate in Siena.  The ham was a bit dry but the tomato salad was absolutely delicious – why do tomatoes always taste fabulous everywhere except England?  We ate quickly and headed back out to look around some more.
Suddenly the heavens opened and we began to get absolutely drenched.  Sheltering in a doorway we made a plan to head to the nearest bar and dived into Campagnia dei Vinattieri  and found a little gem!  It was a gorgeous underground restaurant with vaulted ceiling and old stonework and if we hadn't only got one night in Siena for dinner (and already picked the restaurant) I would definitely have come back for a meal.  We ordered a glass of red wine each and it came with the most amazing and the most amazing tomato jelly.  It tasted just like a gazpacho, spicy and garlicky but with a jellyish texture – I absolutely loved it and am definitely going to be trying to re-create it at some point.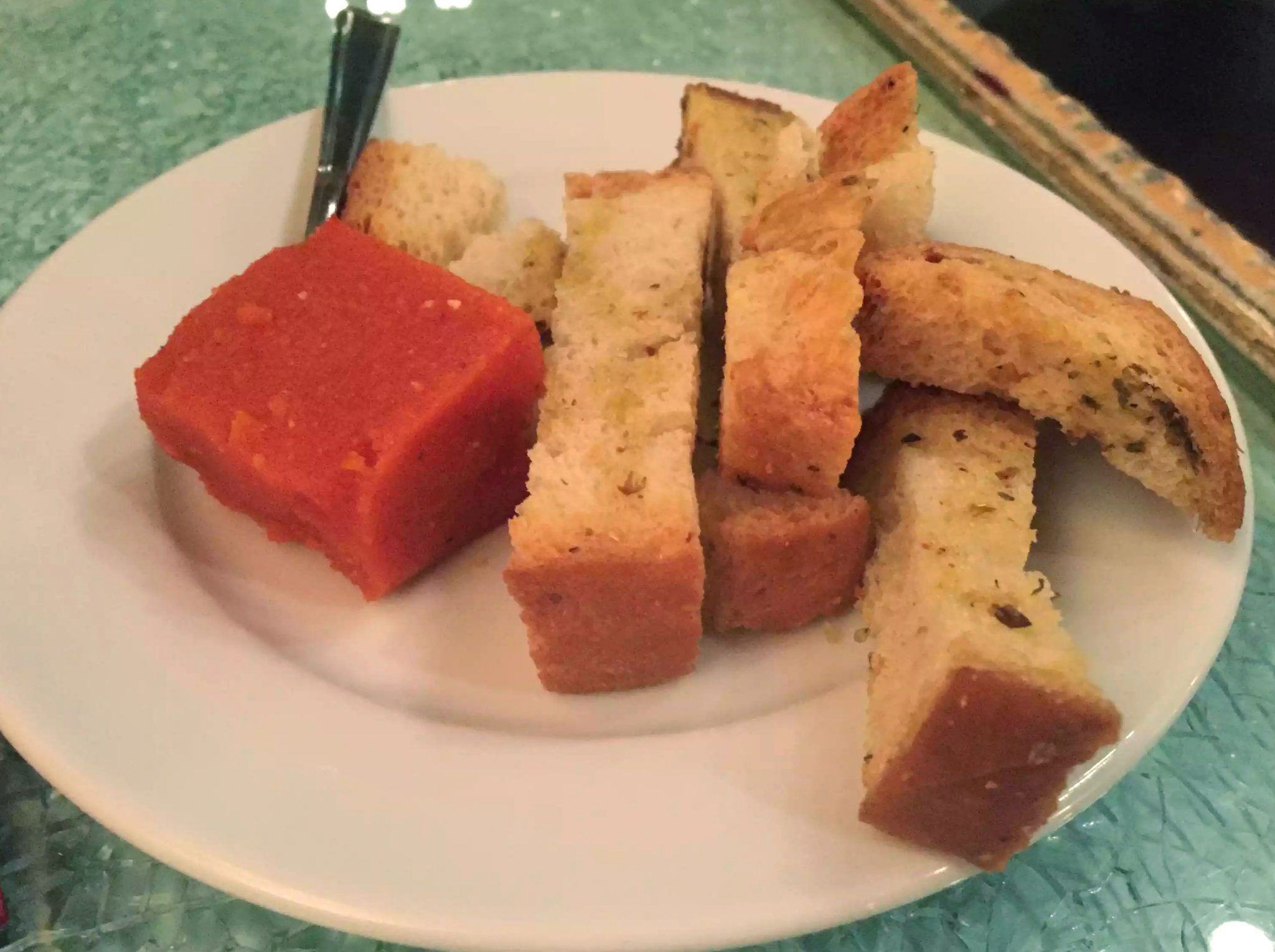 With the rain still pouring outside we dashed across the road, straight into another bar.  We ordered another glass of wine (to wait out the rain – it seemed like all we would be seeing of Siena was the inside of bars and restaurants!) in Da Trombicche.  A really cute, authentic Italian Trattoria full of locals and serving fabulous cuts of meat and local wine.  We went for the house Chianti and a plate of prosciutto and watched the world go by for an hour or so until the rain let-up a bit.
Then it was time to hurry back to the apartment as we had to get changed for the evening's festivities.  We were going to Borgo di Poneta, a fabulous little village in the Tuscan Hills, 20 mins out of Siena that the wedding party had rented (yes, the whole village!) to stay in.  There was a final farewell dinner going on there to re-connect with everyone after the wedding which had been the day before.
It was raining hard again so we ran through the streets of Siena, getting absolutely soaked, to meet our friends to share a taxi to the party.  There'll be a blog post about the party to come shortly!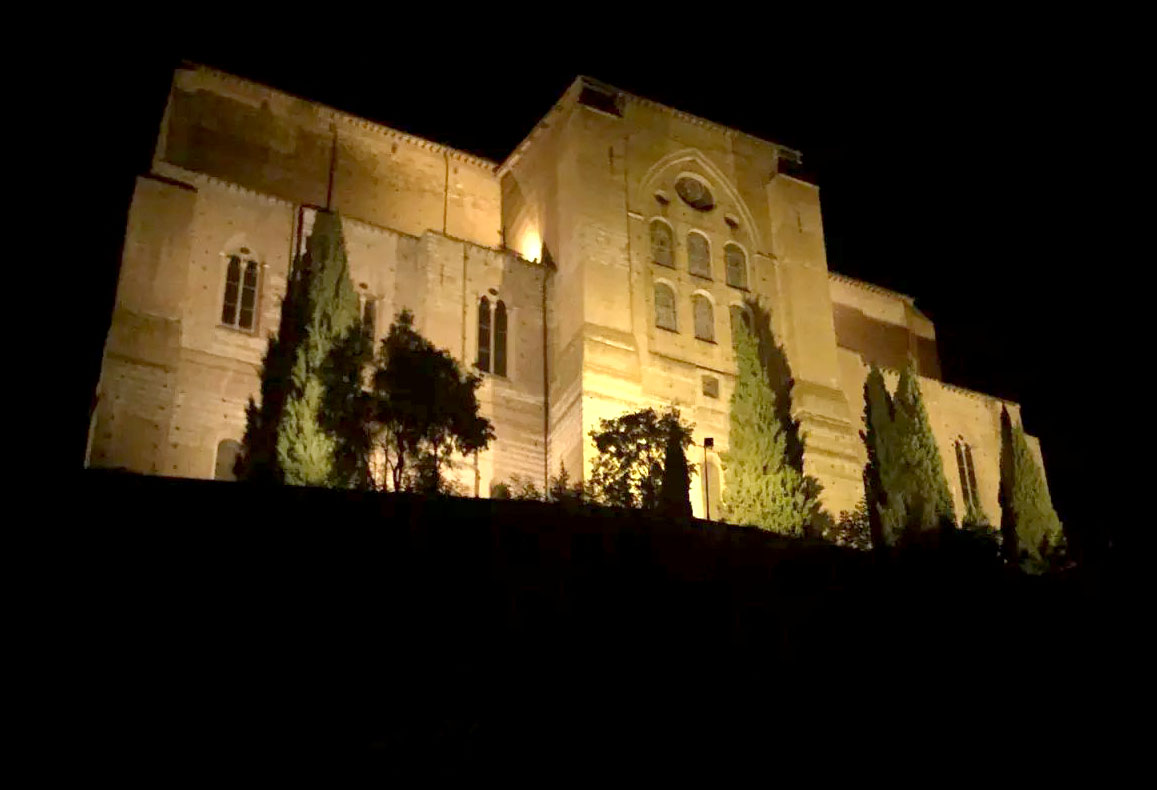 The next morning the skies were blue (Finally!!) and we'd decided to spend today exploring the Tuscan Hills by doing some wine tasting in Montalcino, as Brunello is both of our favourite kind of wine.  You can read all about our trip here.
Having spent a lovely day in Montalcino we headed back into Siena for aperitivo and our last dinner there.
I'd read up on the best places to have aperitivo in Siena so, armed with a list, we set out for the first bar Liberamente Osteria, which just happened to be back in Piazza di Campo. We were a bit sceptical as most of the restaurants on the Piazza were very touristy, but this one had had good reviews so we decided to give it a go.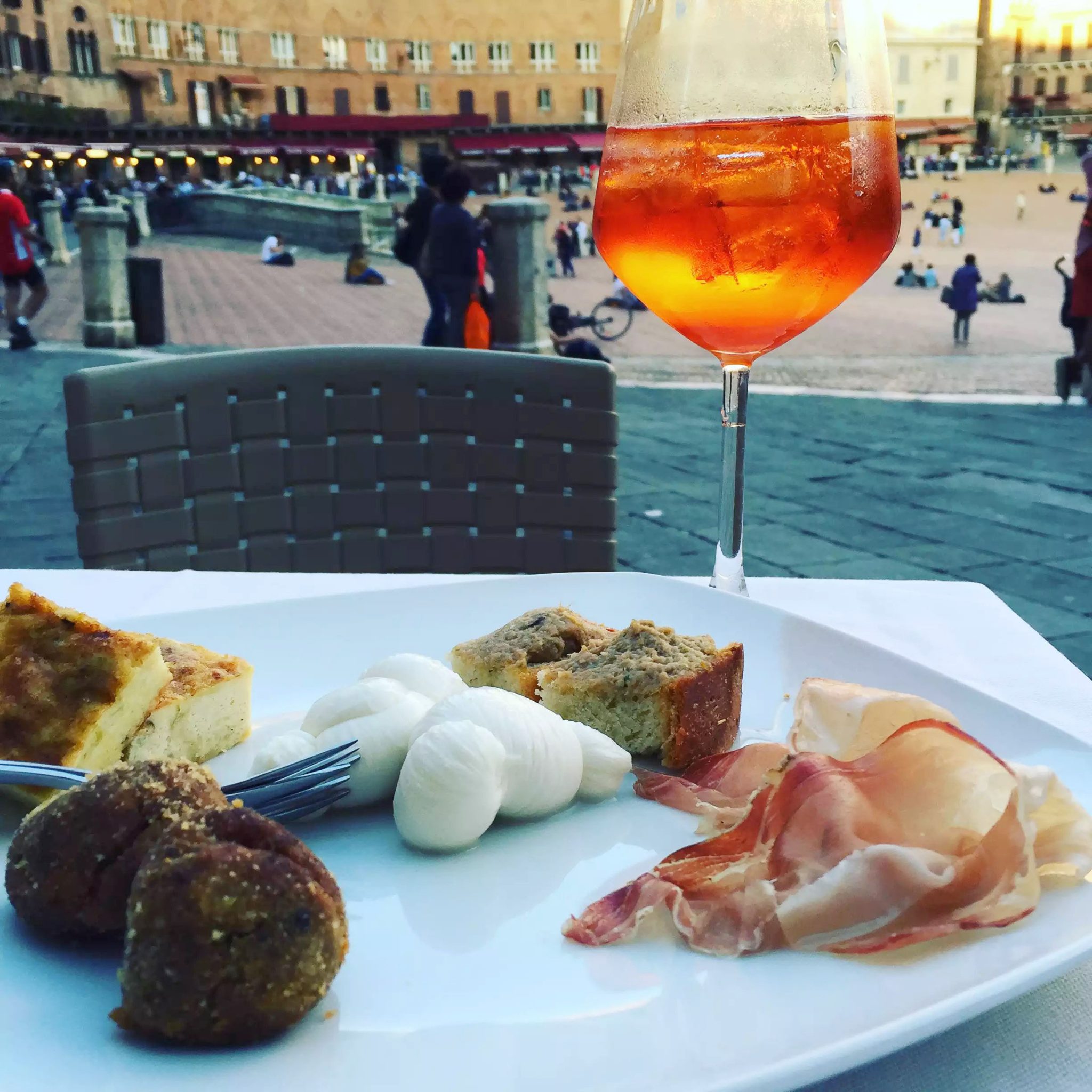 We had an Aperol Spritz as the sun set over the Piazza which was absolutely beautiful and the Aperitif was absolutely delicious – I especially loved the fresh mozzarella knots but the frittata was pretty amazing too.
We headed to one more bar before dinner, Osteria La Chiaccera and ordered two glasses of wine, (his and hers – but mine was the red and his was the white).  It was only house wine but at €2 a glass you can't really go wrong.  It was so nice to be able to sit outside and enjoy people watching after yesterday's rain forced us inside all day.
Then we headed to Osteria Le Logge for dinner which had been recommended to us by people in Talamone and our AirBnB host. It certainly looked the part.  Housed in a very old building but with an extremely modern kitchen, we'd been promised a fantastic culinary experience with amazing wine.
We ordered a pretty expensive bottle of Brunello (as if we hadn't had enough already that day) from the vineyard of the family that owned the restaurant.  We were actually slightly disappointed with it as it wasn't a patch on some of the ones that we'd tasted and bought that afternoon.
To start with I ordered courgette stuffed with burrata in a tomato sauce and Dan went for the cod croquettes.  Mine was delicious – the tomato sauce tasted so fresh and the burrata was melt-in-your-mouth creamy.  I definitely went for the best option, Dan's cod croquettes were not that tasty – more potato and batter than fish.
We both decided on the slow-cooked lamb as a main course which was deliciously tender and fell apart but we left feeling a bit disappointed – for a fairly expensive meal we hadn't felt like we got great value for money.  Everyone we met had raved about this restaurant but we didn't find it to be anything particularly special at all.
We wandered back to the apartment for an early night so that we could get up and out early the next morning and head to Viareggio on the beach – our last destination.
Pin it for later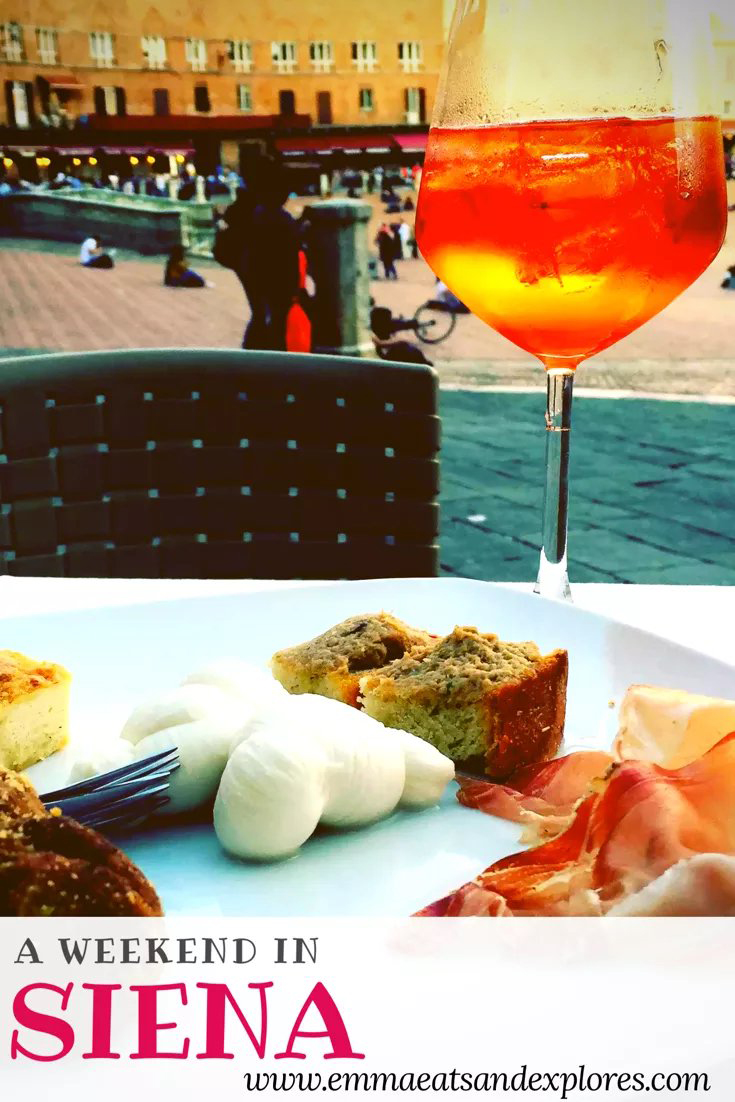 To read more about this trip visit my posts on Talamone, Viareggio, Montalcino and a Wedding in Siena!
For great accommodation in Siena click here!