This weekend we were heading to the Lake District for the Windermere Wedding of our friends Jonathan and Kate.  Usually when we're heading up to The Lakes we drive, but on our last trip we got stuck in horrendous traffic.  It took us 8-9 hours to get there (it should be about 5 on a good day!)  We decided to give the train a go this time as it was 2h45mins direct from London Euston to Oxenholme.  It seemed like a much nicer way to pass the time.  Plus it meant one of us (ahem Dan!!) didn't have to drive!
When I originally looked at the prices, it was going to be about £100 a person to get there and back – ouch! After a bit of messing around on the web, I managed to halve it!  We bought a Two Together railcard for £30 *Little travel tip for you*.  It covered itself in one journey – and gave us a third off all standard tickets for a year if we travel together!
By fiddling with different routes/stations etc I got it down to £50 return a head!  So we hopped on at Euston, opened a bottle of wine, and jumped off at Oxenholme nearly 3 hours later.  What a breeze!
We were starving when so we looked up nearby pubs on the train.  We picked the Brown Horse Inn in Winster, on the way to the hotel for a bite to eat.  It was a lovely old country pub and the food was spectacular.  Duck for Dan and Slow Roast Lamb for me followed by a local cheese plate to share.  The perfect start to our Windermere Wedding weekend away.
After dinner we took another taxi to Storrs Hall.  This would be our base for the weekend and it was where the wedding would take place.  A beautiful, old, country house on the shores of Lake Windermere.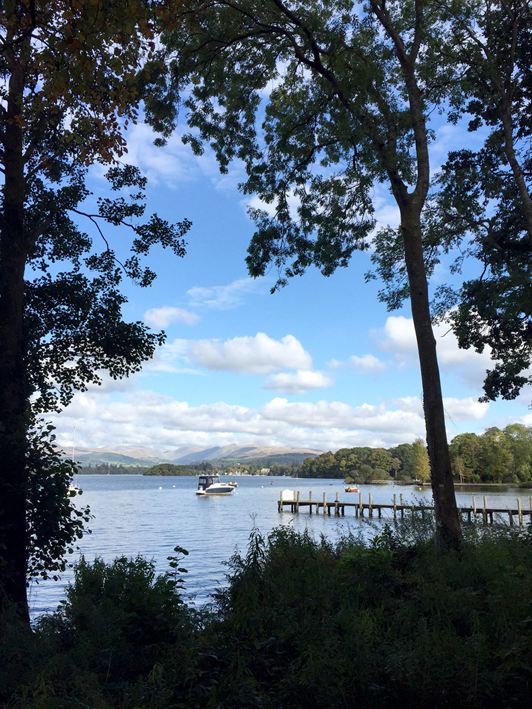 We checked in and went up to our room.  What a treat!  We don't normally shell out for expensive hotel stays but it was so nice to have a lovely room to stay in.  It even had a TV over the bath!  I could get used to travelling like that!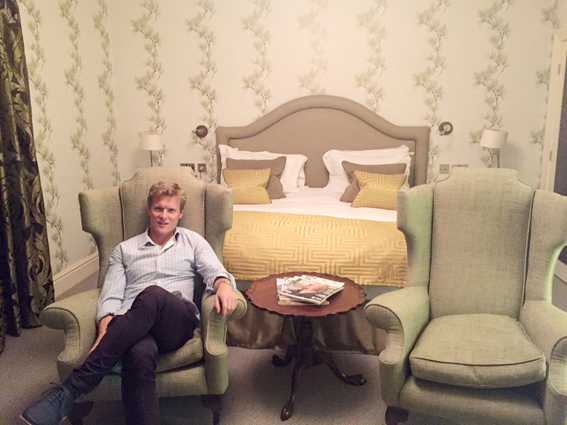 We had a quick drink in the bar with some of our other friends before an early night ready for the big day tomorrow.
We woke up nice and early and headed downstairs for breakfast.  I love good hotel breakfast, it's always such a treat!  Fruit and yoghurt to start, followed by bacon, eggs, cheese, parma ham and roasted mushrooms all washed down with a cup of really good coffee.  A great way to start the day!
Talking over breakfast, the boys began to hatch a plan.  We could see the lake from the breakfast room and they decided it looked so inviting that it would be rude not to have a swim.  Needless to say I didn't share their enthusiasm!
We headed upstairs to change and arranged to meet back in the lobby in half an hour for Mission Lake Swim (they weren't sure if they were allowed to swim or not so it had to be a stealth mission!)  It was such a beautiful day and the Storrs Hall's grounds on the edge of Lake Windermere were so stunning that my camera got plenty of action!
The boys headed off in search of the perfect place to enter the water…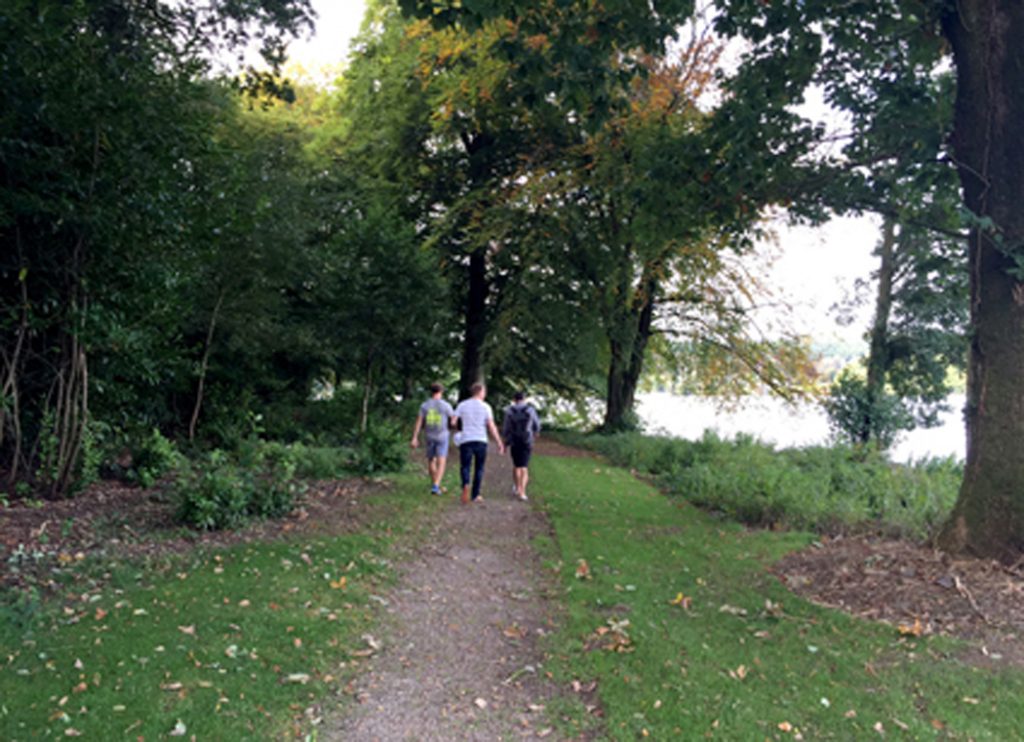 I'm told it was very 'refreshing!' but I wasn't tempted at all to have a dip.  Way too cold for me and we had the wedding in an hour or so!  I hung back and took lots of beautiful photos of the stunning scenery (whilst debating whether or not to run off with all their clothes!)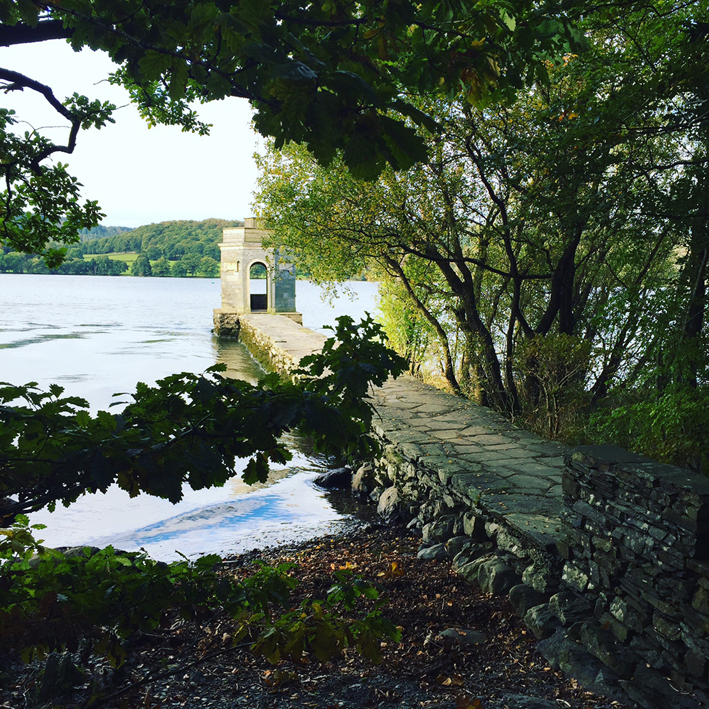 After the swim we went back to the room to get ready for the ceremony.  The Windermere Wedding was about to begin!

Spot the selfie takers before the Windermere Wedding started!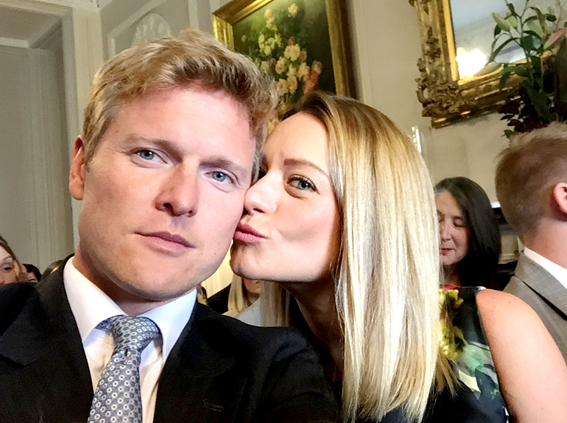 The ceremony was lovely with lots of beautiful readings from their friends and family.  I personally loved the Winnie the Pooh one about how life is better when there's two of you.  Set in a stunning room with a view out over the lake it was the perfect location.  I definitely misted up at one or two moments!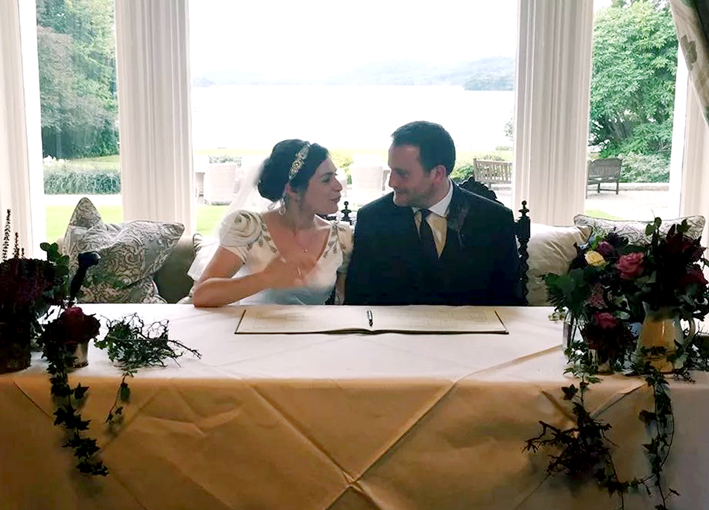 After the ceremony was over we all headed outside on the lawn to throw the confetti.  Some of Kate & Jonathan's nieces and nephews were handing out the confetti wearing big 'Confetti Kids' badges.  So cute, and they obviously felt very important!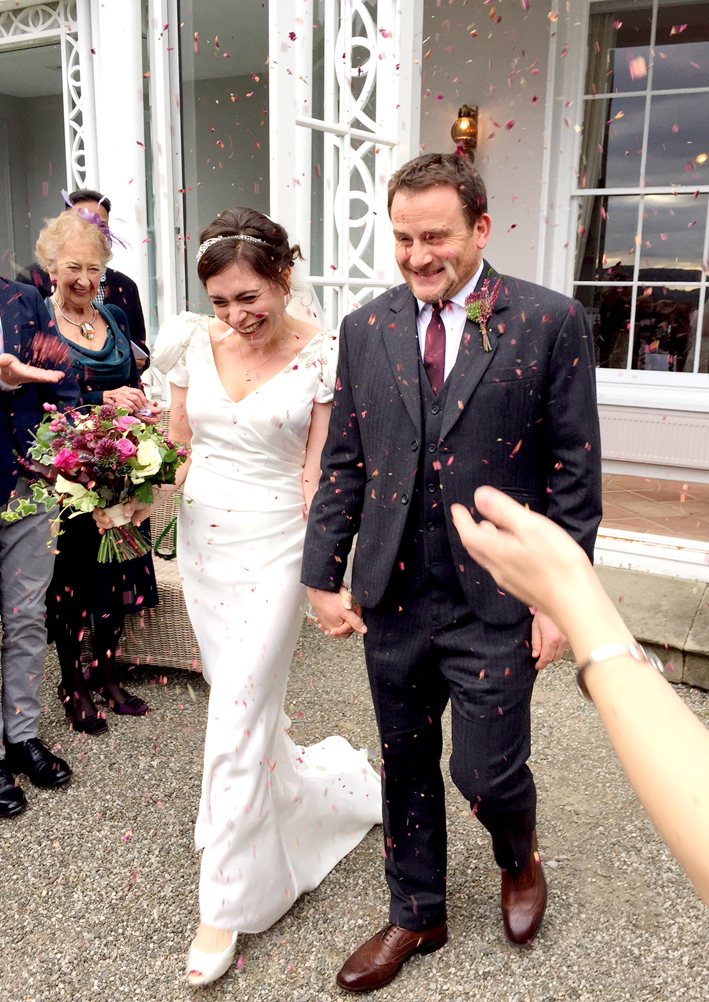 We were so lucky with the weather that we were able to stay outside on the lawn for champagne and canapés and the wedding photos.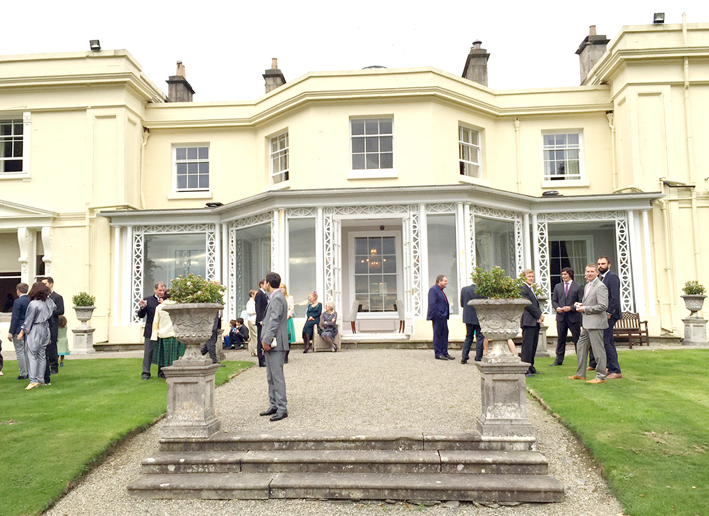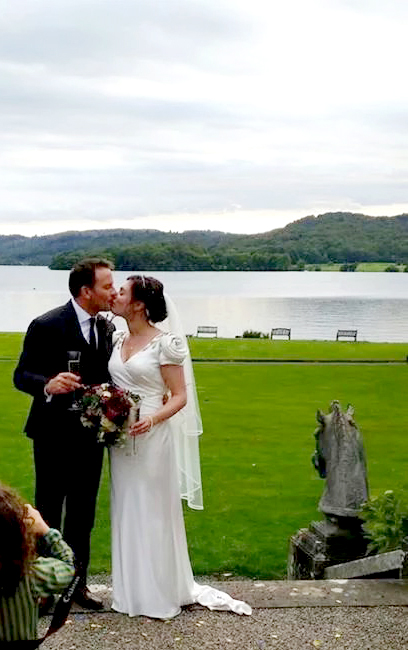 After drinks and the photos we were shown inside to the dining room for dinner, looking out over the lake.  The table decorations were so creative and had a very autumnal feel.  I love the use of  the figs in the arrangements!
The starter was a huge thick piece of smoked salmon with a lemon sauce and pickled cucumber.  I absolutely loved that the salmon was a chunky piece of fillet and not a thin slice like it normally is.  It completely changed what is such a standard dish and made it so much more creative.  And it was quite heavily smoked which is just the way I like it – tons of flavour!
The main course was venison with a red wine jus and fondant potatoes and veg.  It was cooked perfectly for me, quite pink in the middle and it was delicious.  I've grown to love venison recently and find it such a nice change from the standard beef or lamb that you're normally given.  I skipped the potatoes but the venison and veg was more than enough to fill me up.  Great choice Kate & Jonathan!
Dessert was a Lemon Tart but as I can't eat sugar I gave it a miss.   The dessert fiends out there on our table said it was lovely, really delicate and not too sweet.
After dinner it was time for the speeches which were great fun, heartfelt but also funny, with a fantastic last line from the best man which I've never heard in a wedding speech before.  A lot of them tend to re-hash the same old jokes!  *Look deep into each others eyes Kate and Jonathan.  Look deep and know in your hearts that the person you're looking at…………………………….is statistically the person most likely to kill you!*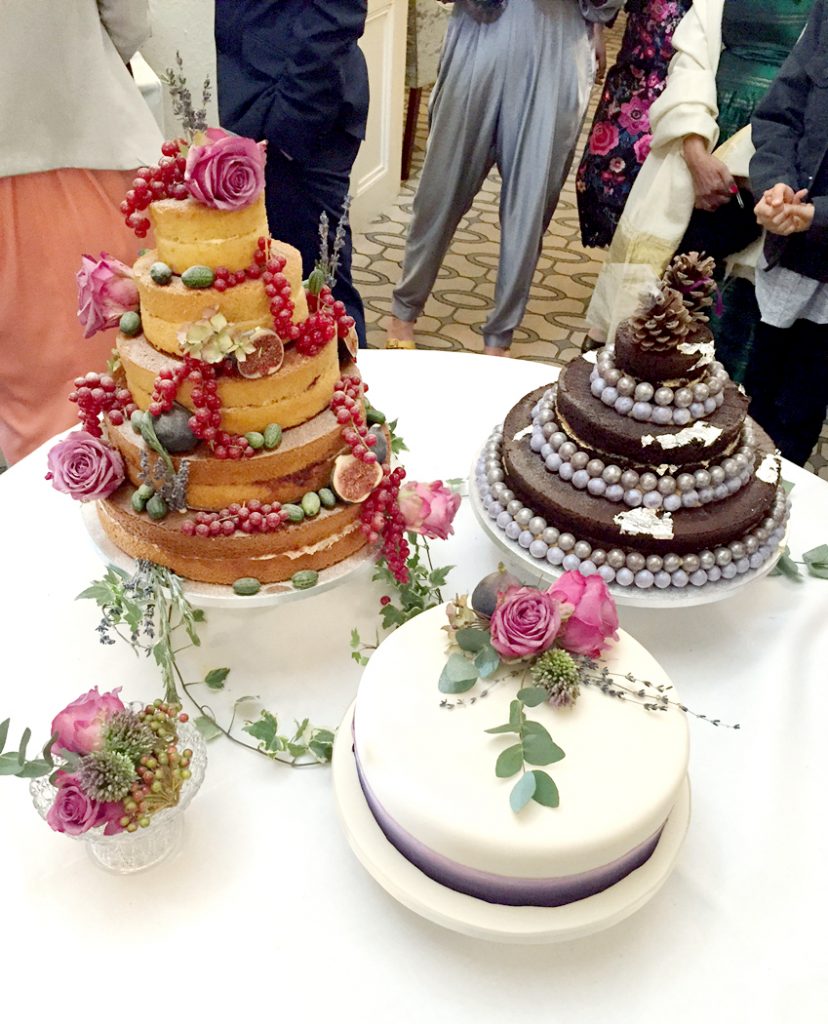 Kate and Jonathan cut their cakes and then came the dancing.  The DJ was great playing cheesy classics and some more recent songs.  My personal favourite was the Dirty Dancing Medley – I love wedding discos!  At 11pm the bacon rolls came out which satisfied all the hungry dancers.  I stole some bacon from the middle of one. It gave everyone some sustenance and meant that we could carry on partying till 1am!  Windermere Wedding over but not our Windermere Weekend!
The next morning we didn't wake up so early and missed breakfast but we went to Kate's parents house a short drive away for a bagel brunch.  Being Jewish, Kate grew up with the tradition of bagels on a Sunday and asked her mum to re-create it for all her guests.
And what an amazing spread.  There was every kind of filling you could ask for, cooked salmon, cream cheese, ham, salad, humous, huge plates of cheese, soup and fruit and wedding cake for dessert.  Just what we needed after a little too much celebrating the night before!  I chose some soup and a cheese plate which was a delicious lunch.
Most of the guests left to go home after breakfast but a few of us were staying another night and making the most of the weekend.  Kate & Jonathan invited us back to the Boat House (Storrs Hall's version of the bridal suite) to hang out for the afternoon in their outdoor hot-tub.  We didn't need to be asked twice!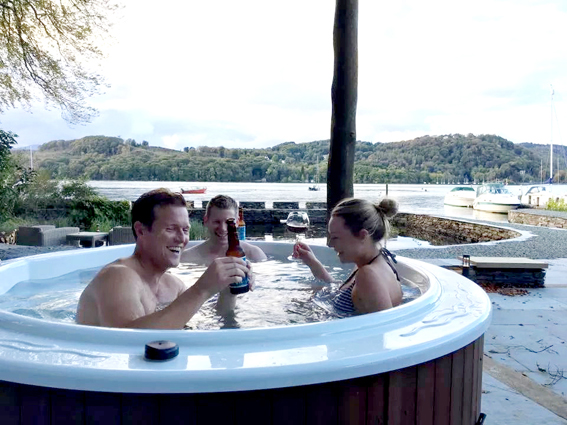 Hot-tub action!
It was so lovely to be able to sit outside by the lake (in October nonetheless) and not be cold but still have the amazing views, and as the sun set the views got even more spectacular!
We spent the evening chatting and reminiscing about what an amazing weekend it had been before heading back to the main house to turn in.  A wonderful Windermere Wedding and a great Weekend of fun.
Read about the next day's hike up to High Dam in my next blog post….coming soon!
Pin it for later