A few months ago, when I was last in the Lake District for a wedding, I entered a competition on Instagram to win a free night's stay at The Swan Hotel Newby Bridge.  It's a beautiful Spa Hotel just on the southernmost tip of Lake Windermere, and well, I WON!!  Dan and I started planning a weekend trip to the Lakes and last weekend we travelled up there for a weekend of hiking and relaxing.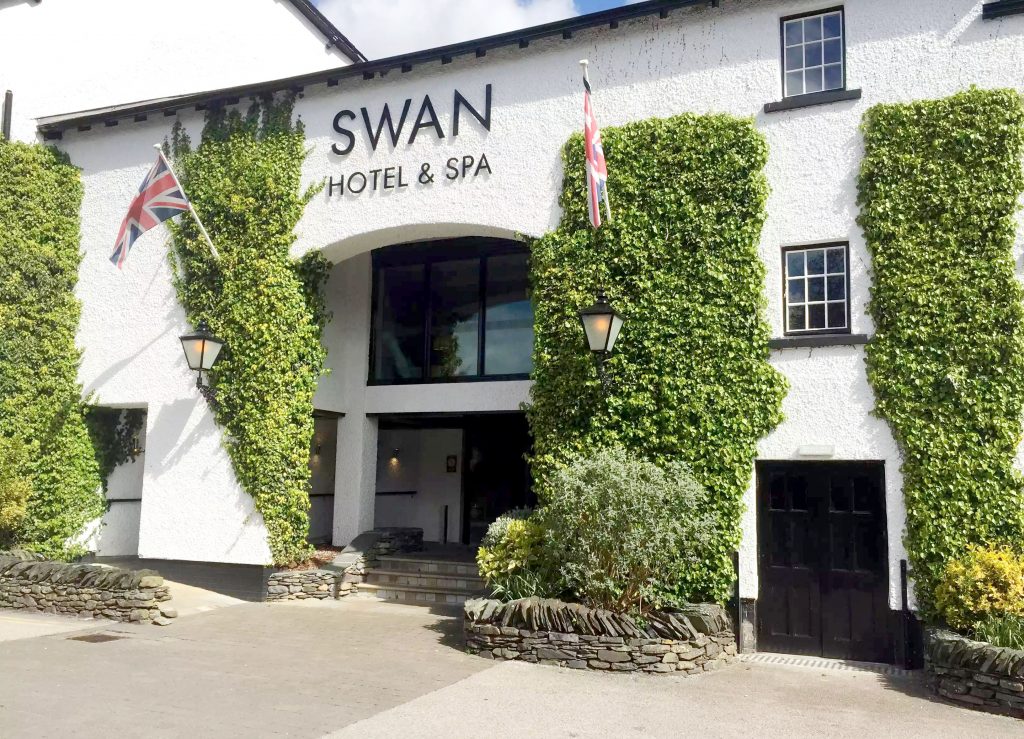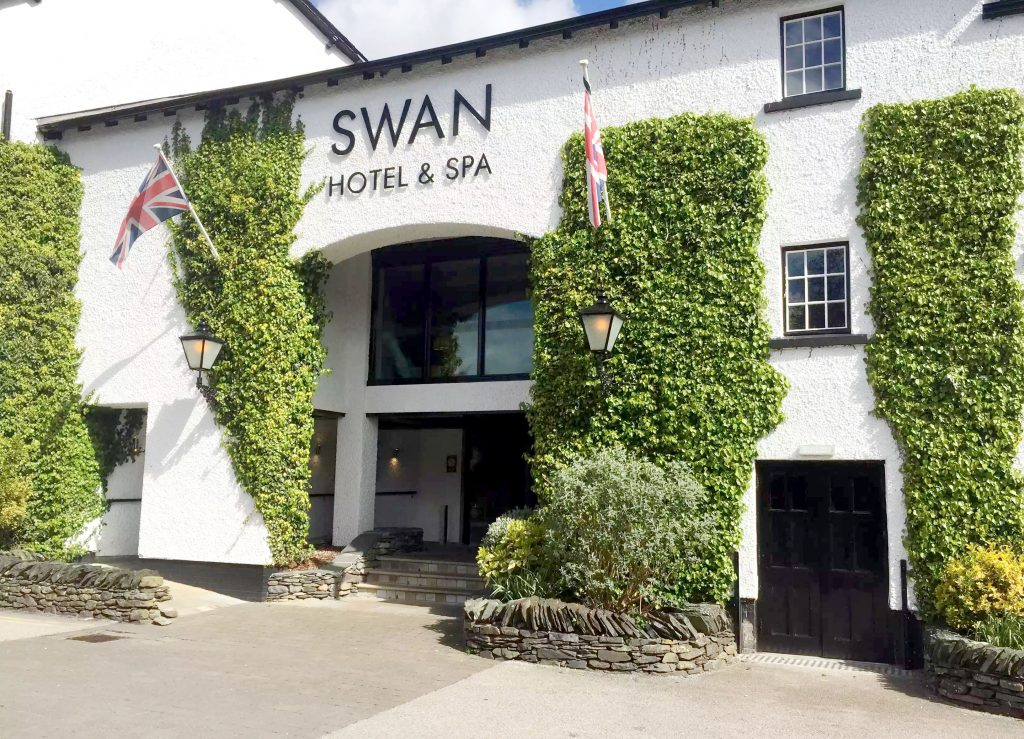 The day before we left, the kind staff at The Swan Hotel Newby Bridge actually rang me to say we'd been given a free room upgrade.  We'd be getting one of their Loft Suites so we really lucked out!  We arrived on the Saturday afternoon and were checked in quickly and shown to our Loft Suite.  We were both stunned, so light and bright and airy and so big!!  It was enormous, up in the eaves with so much character!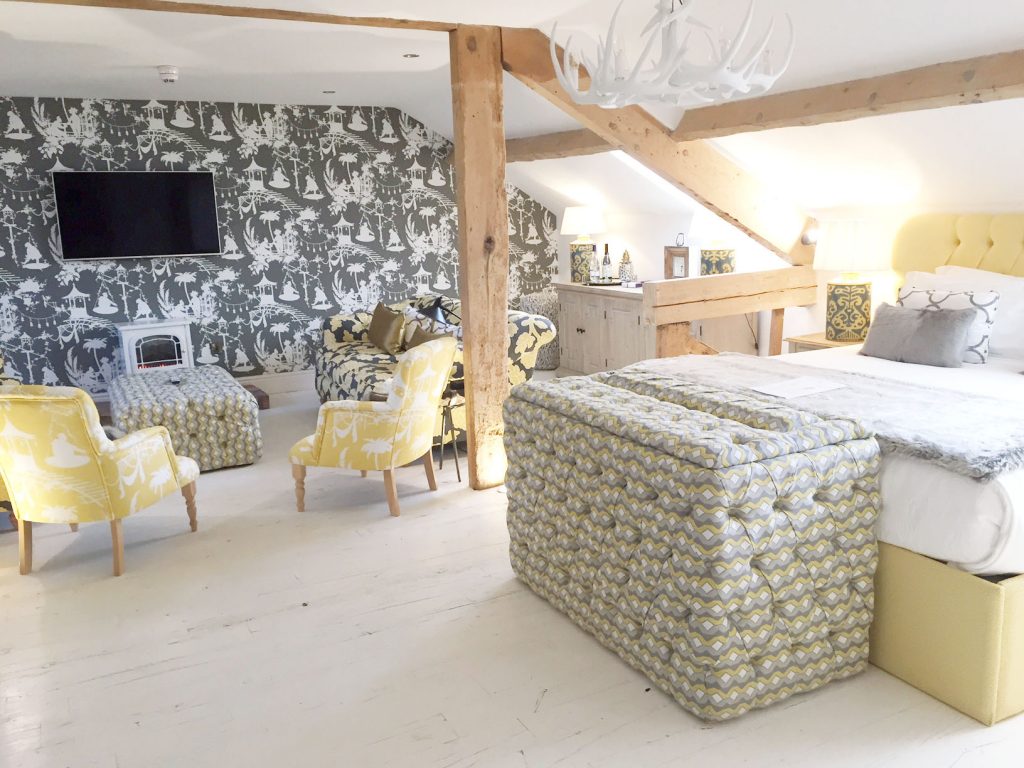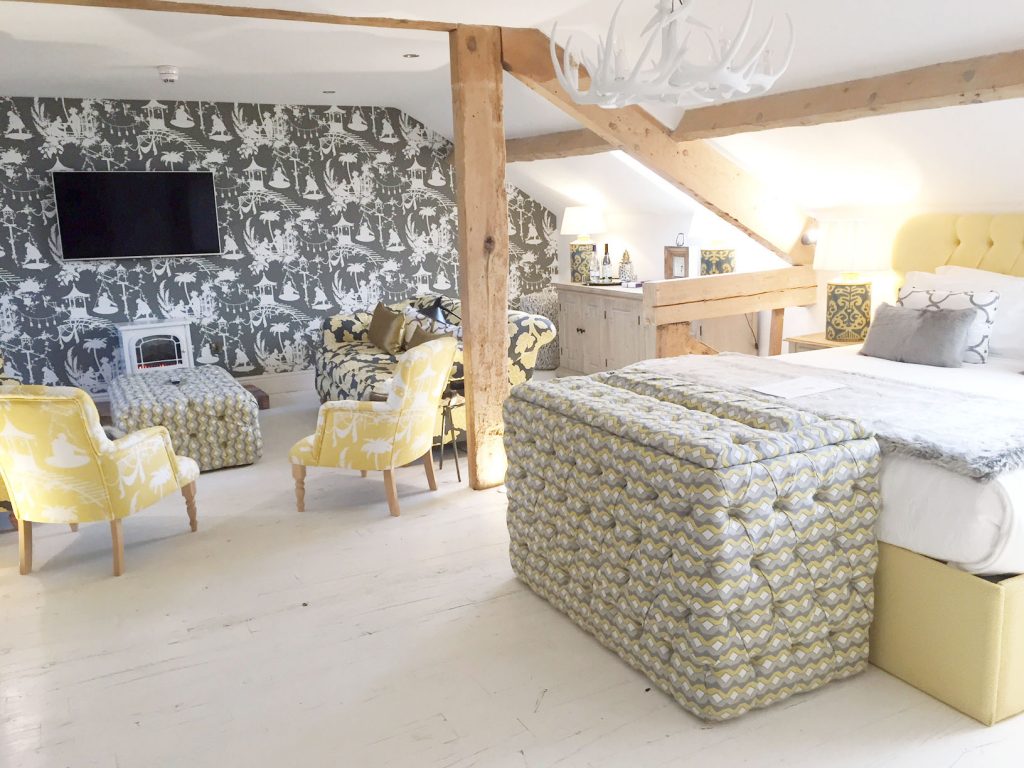 The Loft Suites
There was a sitting area centred round a fireplace, and a large widescreen TV on a stunning feature wall.  I loved the bold use of colour and prints.  Everything should've clashed but it all worked really well together and I loved the yellow and grey colour scheme.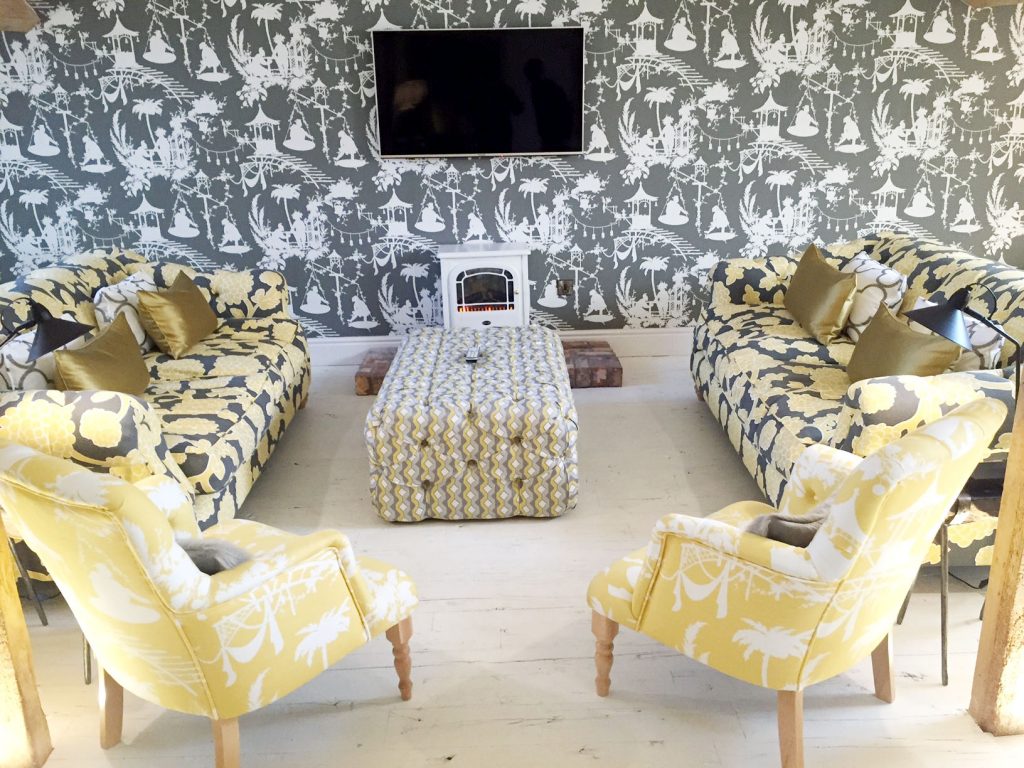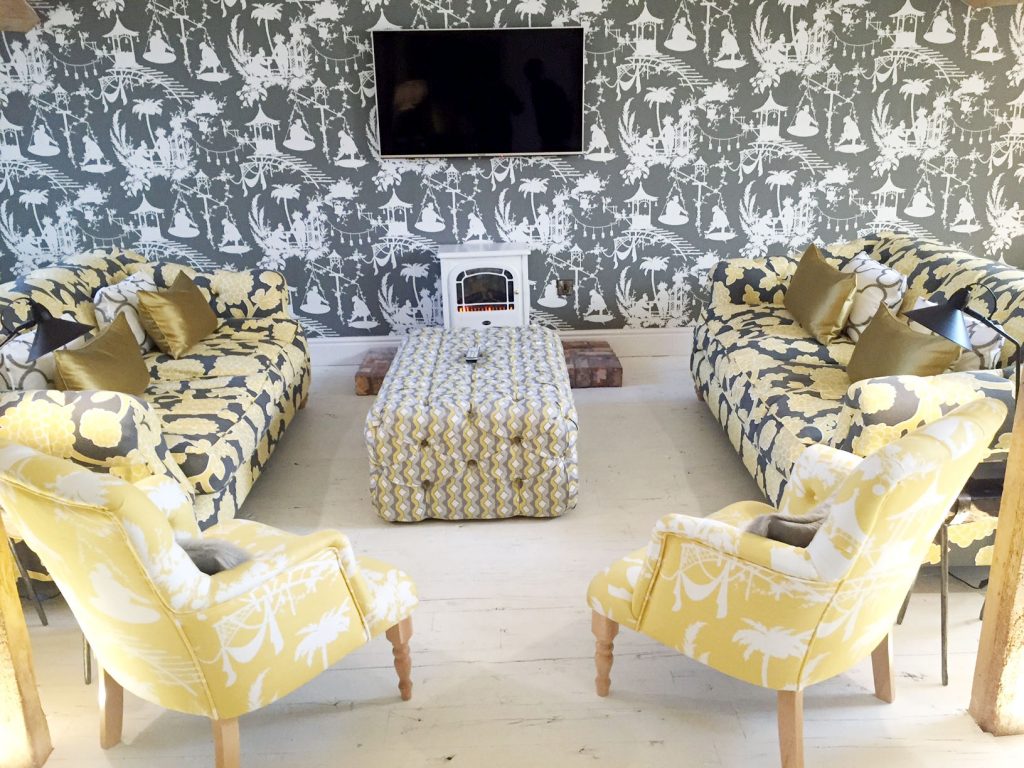 There was even a bathtub in the main room which seemed so decadent and the bed was huge and so comfortable.  The trunk at the foot of the bed concealed another widescreen TV that rose up, out of it at the push of a button.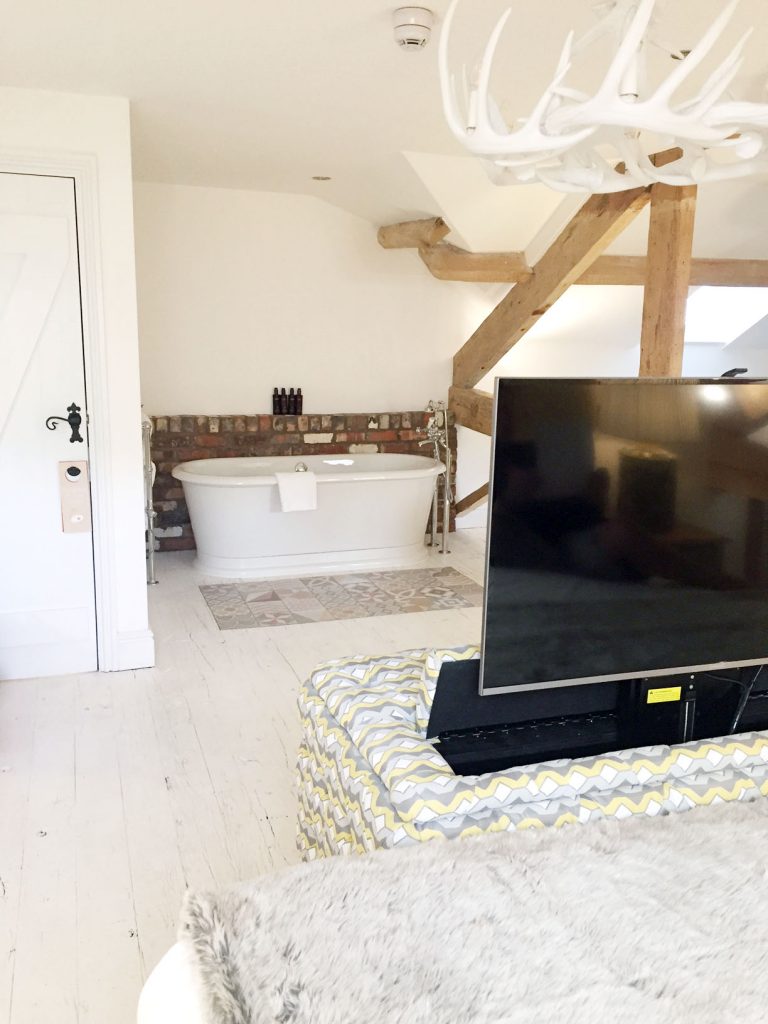 Everything had been thought about at the Swan hotel Newby Bridge.  There was a dressing table complete with hairdryer (so important!) and robes and slippers for us to wear during our stay.  There were lots of spa products to use and complimentary bottled water.  They'd even left us an umbrella to use (luckily we didn't need it!)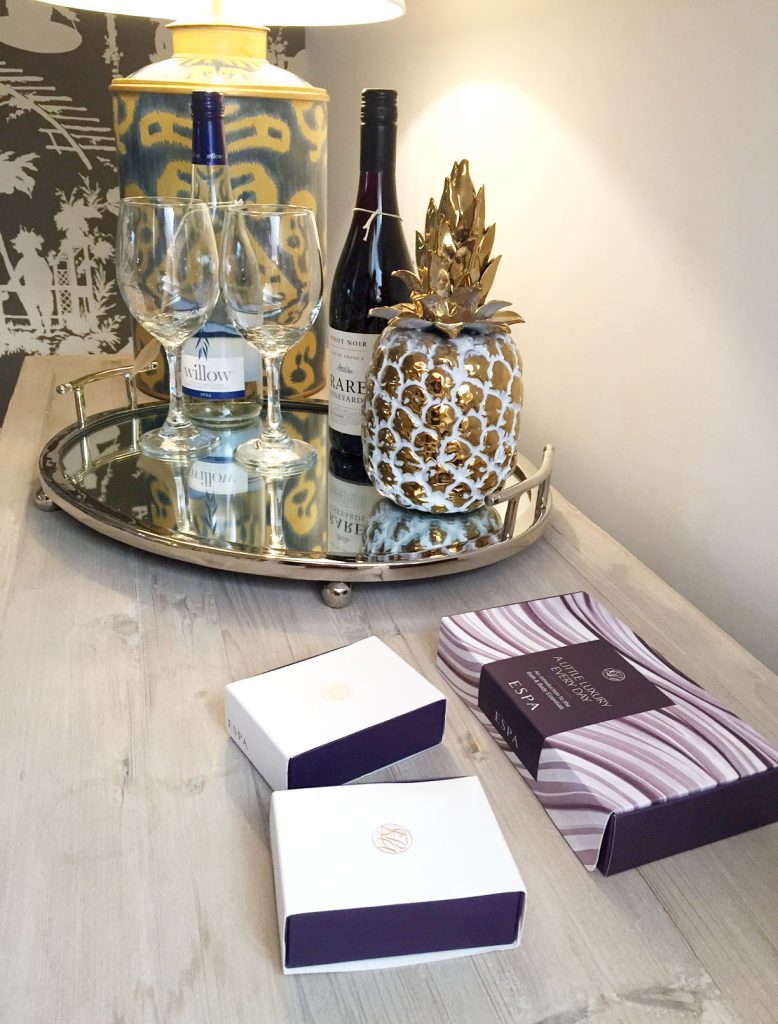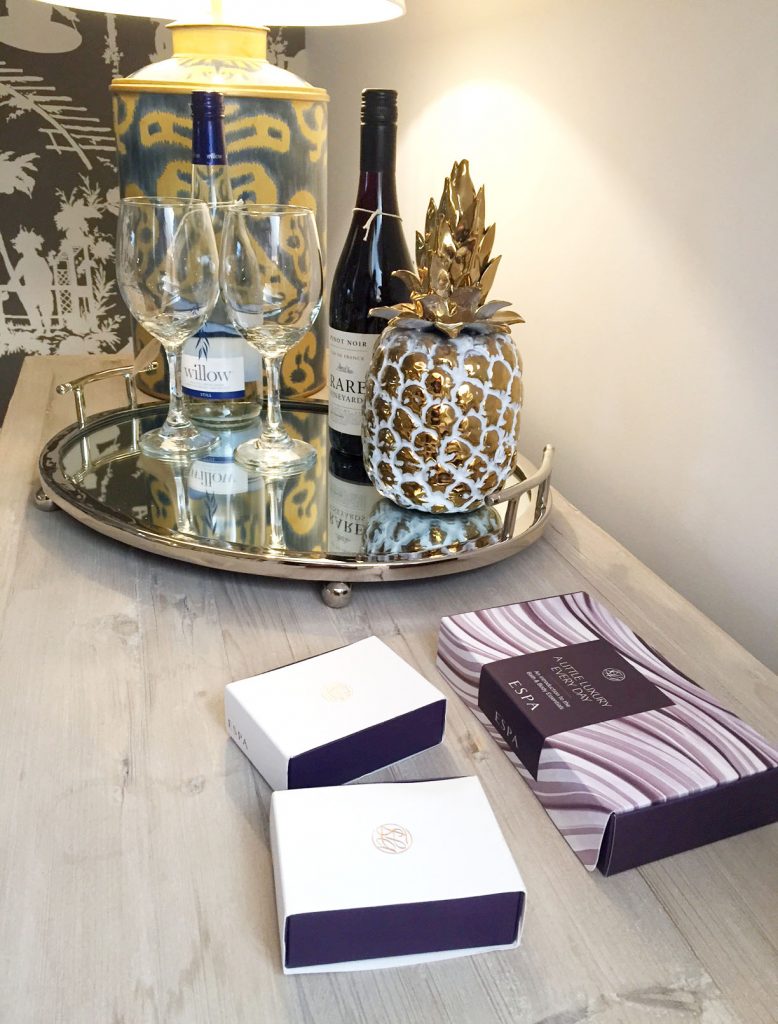 The bathroom had underfloor heating and an enormous shower with two shower heads!   All of the toiletries were products used in the spa downstairs and very high quality.  The shower (one of the most important things in a hotel room for me) was fantastic and there was plenty of pressure and hot water.
We were asked if later that evening we would like the complimentary turn down service.  A member of staff would come in and turn down our bed, set up the fire and leave us some damson gin to enjoy before bed.  Who'd say no that?
The River Views
We got ready for dinner early.  We'd booked a local gastro pub but decided to have a drink downstairs by the river first as it was such a lovely evening.  I ordered a Pinksters Gin
 and Slimline Tonic and it was beautiful!  How gorgeous does it look?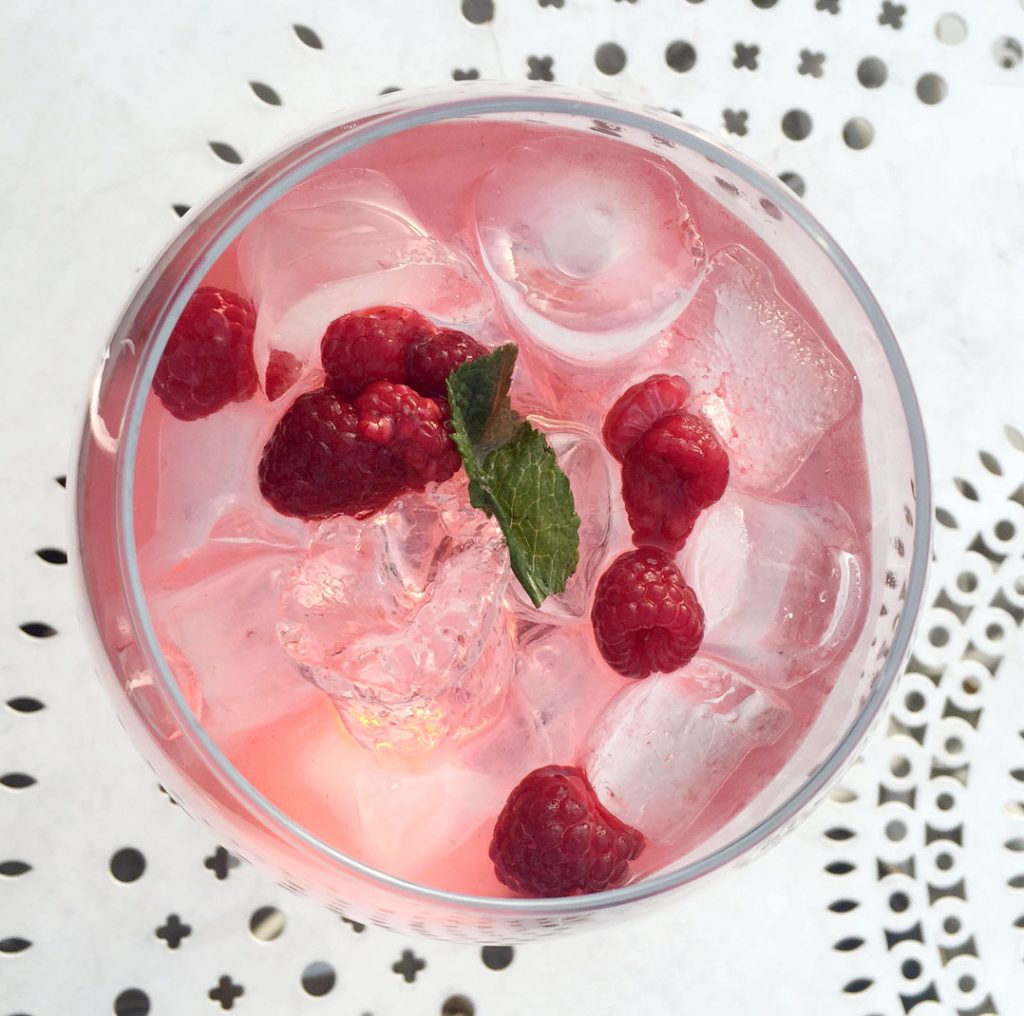 The gin itself was slightly pink as it's made with raspberries and they added extra raspberries and a mint leaf.  I just had to take a picture of the beautiful sunset too!  Such a stunning location right on the river.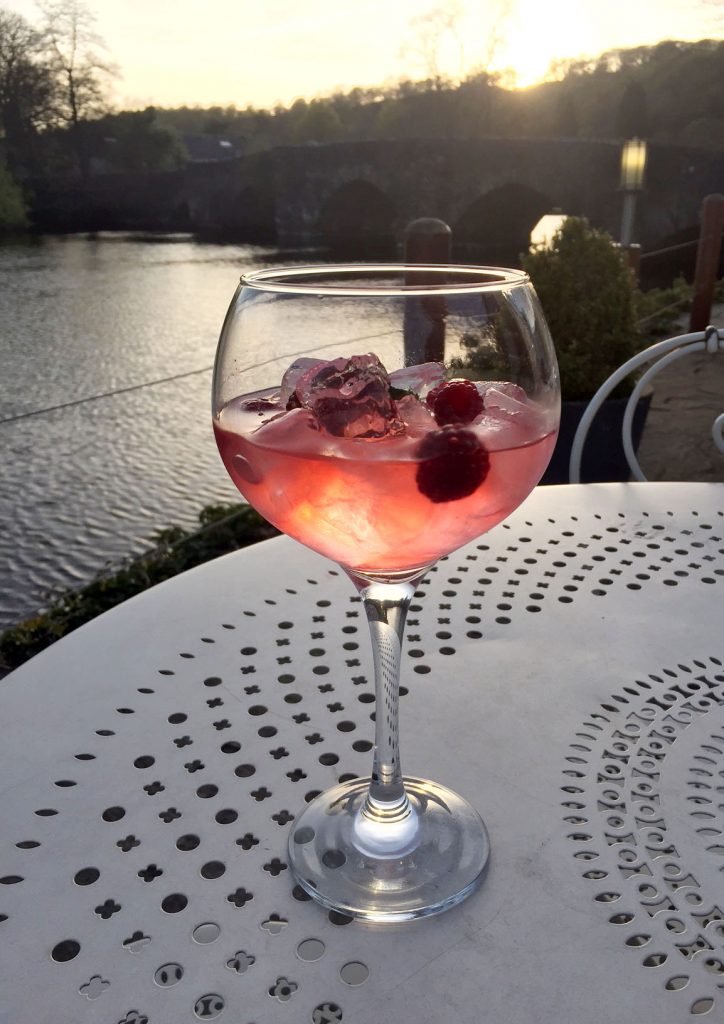 After dinner we headed back to our suite and it had been made so cosy and welcoming.  The fire was such a nice touch.  It had been bright and sunny during the day but there was quite a chill in the evening so it was nice to walk into a warm room.  The damson gin was such a sweet touch (along with two shortbread swan biscuits) so we took a glass of gin to bed with us each and watched a movie on the TV at the foot of the bed!  We fell asleep feeling utterly spoilt!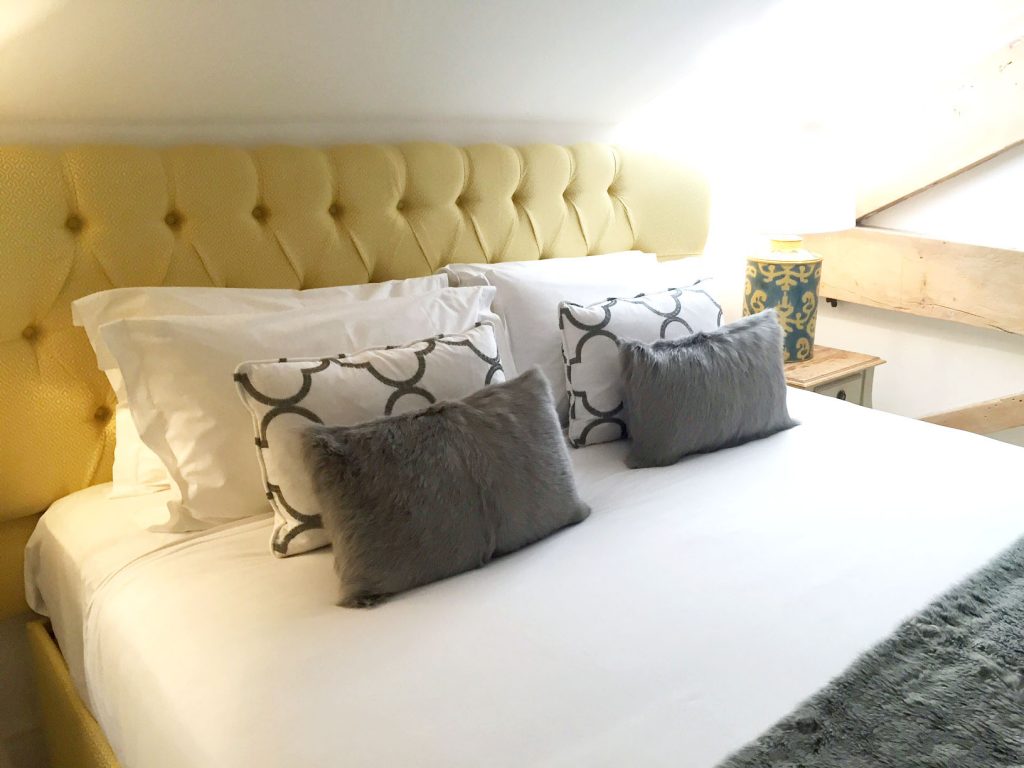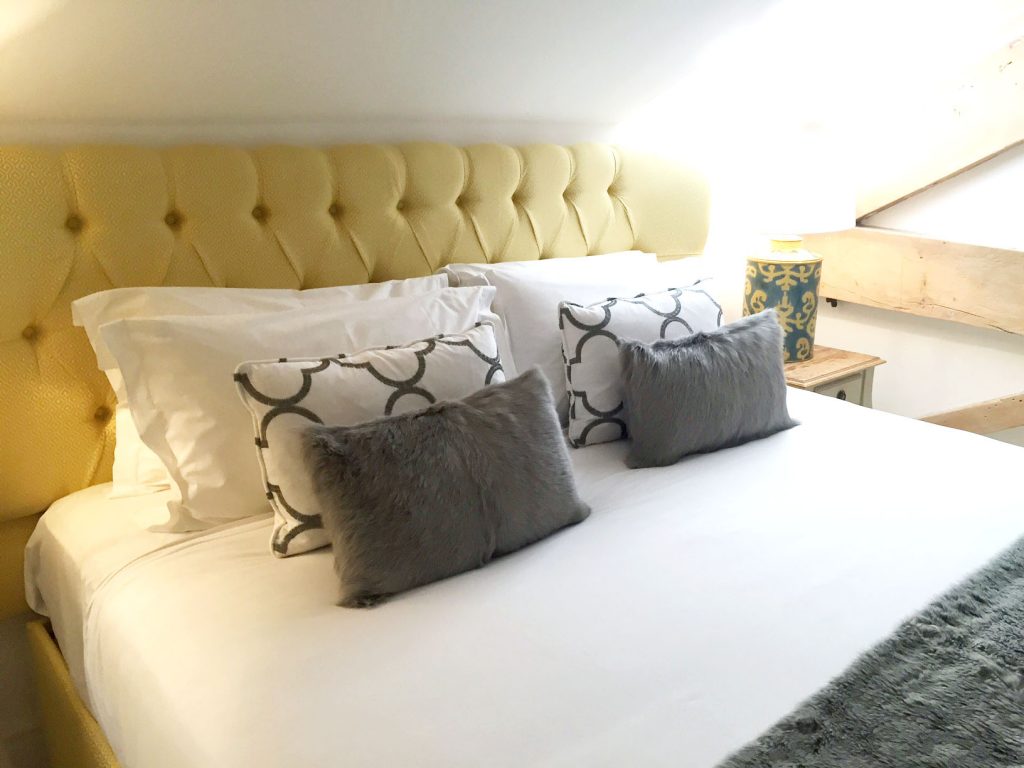 The next morning we woke up feeling fully refreshed having had a really comfortable night's sleep.  We showered and dressed quickly and headed downstairs for the complimentary breakfast.
Breakfast
Breakfast was in the bright, airy dining room with spectacular river views.  The room is stunning, again with bold clashing prints everywhere but this time with a pink theme.  Even the breakfast crockery was just so pretty.
There was a delicious buffet spread out for you to help yourself from.  Cereals, fruit, yoghurt, pastries, toast and juices, everything you could wish for.  There is also an à la carte menu that you can choose one hot dish from.  I went for the smoked salmon and scrambled egg while Dan went for Eggs Florentine but you could have had Porridge, a Full English or even Pancakes!
With full bellies we were nicely set up for the walk we were going to do that day.  We packed up our room and checked out, however that wasn't it for The Swan Hotel that day.
The Restaurant
After our walk we made it back in time for lunch and a glass of wine, sat by the river in the sunshine as it was such a beautiful day.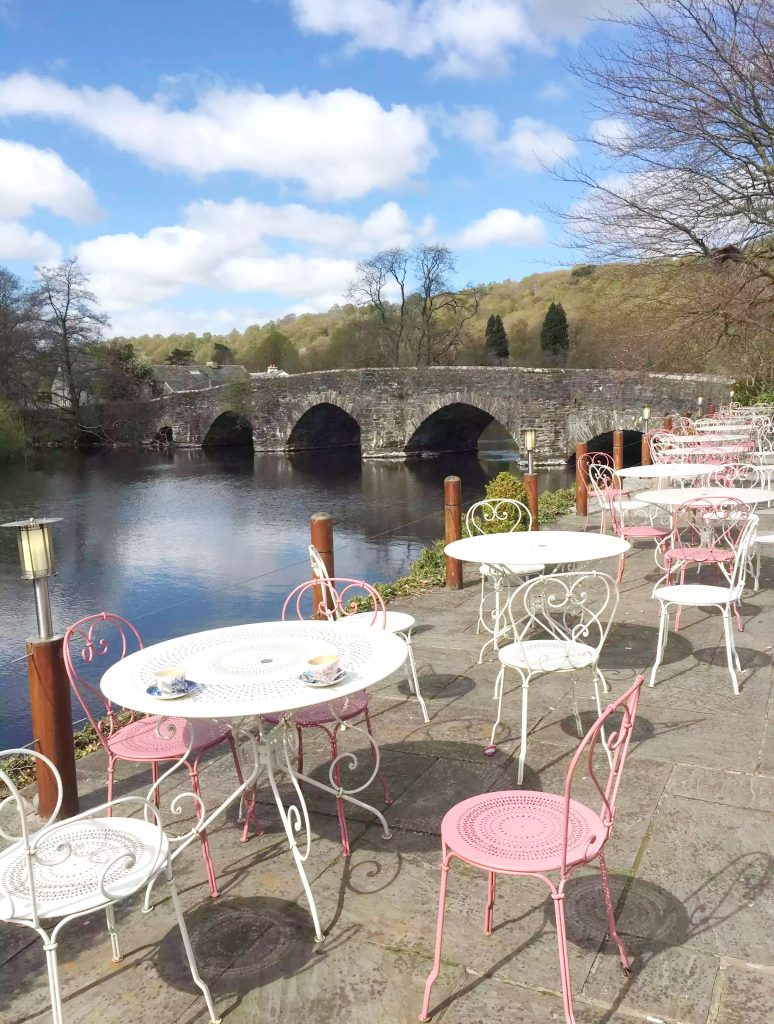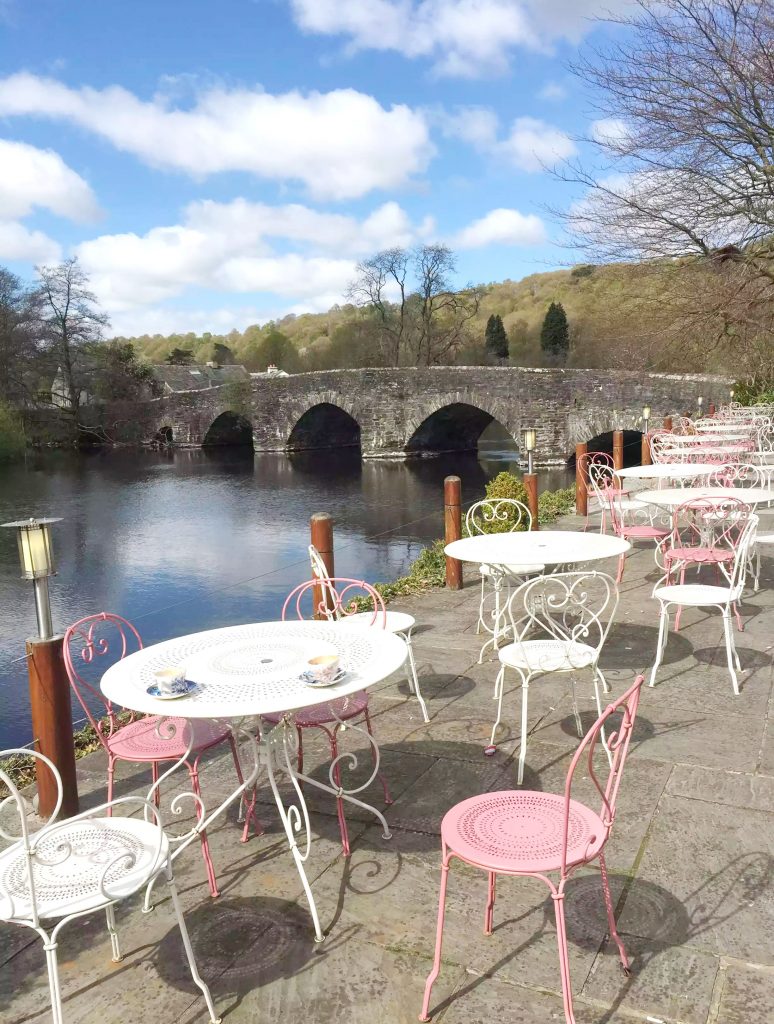 The restaurant at the Swan Hotel Newby Bridge is very well regarded in the area.  Many people come for lunch and dinner, not just hotel guests.  The menu is large and there is something for everyone.  From burgers to chicken to salads to fish and chips and plenty of specials that change every day.  We ate lunch here when we came for our friends' wedding in October after our hike to High Dam and I was so excited to find that that they did a Courgetti Spaghetti (Zoodles) dish.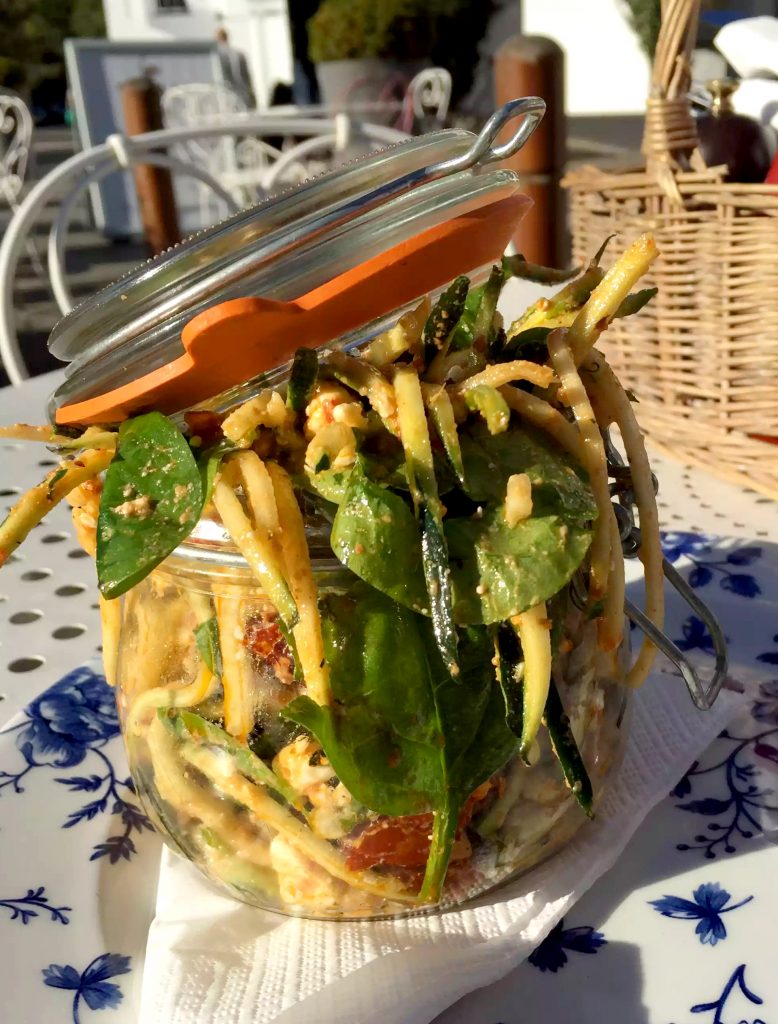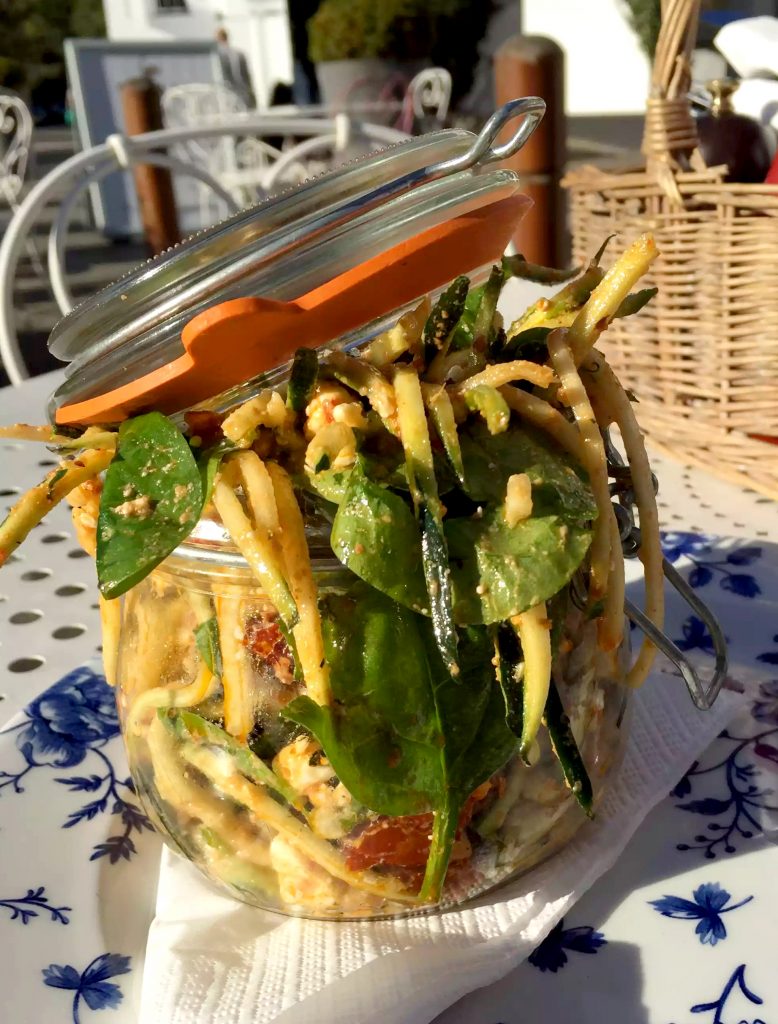 This time round I had the hot smoked salmon salad while Dan had the rotisserie chicken.  Sitting by the river was the perfect ending to a wonderfully relaxing stay.
Our first stay at The Swan Hotel Newby Bridge was definitely an incredible one and you can bet we'll be back soon!  I need to try out the Spa!
Other Facilities at The Swan Hotel Newby Bridge
The Swan also has so many other amazing facilities that we didn't even have a chance to try out.
There is a Pool for guests's use and a fully equipped spa offering all the treatments such as massages, manicures, facials etc.  Perfect after a hard day's hiking in the hills around the Lakes.
Children are welcome and there is a playground outside as well as plenty of board games and a pool table in the games room.  There are plenty of chill-out areas at the Swan Hotel, all with a slightly different feel.  From the light, bright, airy reception to the cosy snug complete with open fireplace, you'll be sure to find somewhere to relax that suits you.
The Swan Hotel has many different types of rooms.  From standard twins and doubles, to the loft suites that we were in to cabins situated within the grounds.   Definitely something for every requirement and budget.  They also host events, in fact I think there was a wedding reception on the evening that we stayed there.
If you're ever in the Lake District I really recommend staying at The Swan Hotel.  You'll feel welcome, well looked after and very relaxed!  You can book your room easily and cheaply with this affiliate link.
Pin it for later