Hi guys and welcome to a new series I'm trying out – Friday Favourites.  My chance to fill you in on all the things I've been loving each week.
Through my blog I get access to some incredible products.  I'm often approached by great small businesses who are out there creating amazing things but just don't have huge marketing budgets.  Hence the fact that you or I have never heard of them!  I hope, through this series to be able to show you some new products that you might never have seen before.  I also plan on sharing a bit more about my life.  What I'm up to, where I've been etc.  I'd love to hear about things you're loving this week in the comments.
So what are my Friday Favourites this week:

I can't put this book
down – it's a real page turner!  I've found it so interesting.  Written by Dr Tom O'Bryan, a specialist in autoimmune diseases and gluten sensitivity it explains how gluten intolerance and sensitivity affects many more people than ever thought.  Anyone with a sensitivity may not know it but this book explains the damage it is causing internally.  Autoimmune diseases are actually on a spectrum and anyone not experiencing complete body health may already be on the road to a full blown condition.  If exposure to gluten continues it will almost certainly develop into an autoimmune disease and this book aims to reset your gut health and microbiome (the good bacteria in your system) before the disease develops.
Slightly too late for me, I suffer with the autoimmune condition Lupus, it made me realise what damage I was doing through eating gluten and other allergens and I wish I'd found this book
earlier.  I am however going to do his 're-set diet' to help heal my gut so that things don't get any worse.  He also mentions that certain conditions are reversible so while I know Lupus isn't, maybe a stronger gut will mean it doesn't deteriorate further.  The book
has a 3 week plan for eliminating most major food allergens to heal the gut and I'll let you know my experiences with it.
If you suspect that you may have a sensitvity to gluten or are experiencing any unexplained fatigue, brain fog or other symptoms this book is a must!  It's very accessible and easy to read and it may just save you from chronic health problems!  Do something about it before it's too late!
Holiday Dreaming
I'm off on holiday next week and it cant come soon enough!  Dan and I have planned an epic Road Trip, starting in Bordeaux, France and ending in Bilbao, Spain.  Along the way we'll be travelling through Cap Ferret, Biarritz, San Sebastian, Rioja, San Vicente de la Barquera, Santander and Castro Urdiales.  I'm so excited to see some amazing places, eat some fantastic food and taste some delicious wine!  If you have any tips for any of these places, please leave me a note in the comments section.  Restaurant recommendations and sight seeing ideas would be very welcome!  And any holiday reads?  I'm planning on a lot of beach time!  Now I'm just praying for some fabulous weather!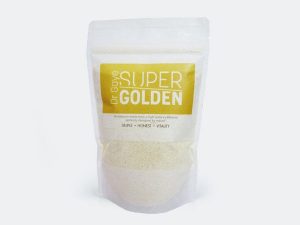 I'd never tried Turmeric Tea until Dr Gaye kindly sent me a pouch of Super Golden to try.  I've heard all about the anti-inflammatory benefits of turmeric recently.  I now take a turmeric capsule every day but I'd never had it in this form before.  Boy was I missing out.  It's like a hug in a mug!  It's delicious, comforting, warming and I look forward to every single cup.  It comes as a powder and you mix it with a bit of water to make a make a paste and then top up with hot water.  Sweet and spicy at the same time and the ingredients are 100% natural and the powder only contains…
Coconut Milk Powder
Turmeric Powder
Cinnamon Powder
Ginger Powder
Cardamom Powder
Black Pepper
Chilli Powder
so it's perfect for SCD, Paleo, in fact all diets.  I love this turmeric tea so much I even took it on holiday with me when I went to the Lake District.  Dan started off by calling it my 'Thai Green Curry Drink' (it does smell a bit like that) but now he asks for a mug too!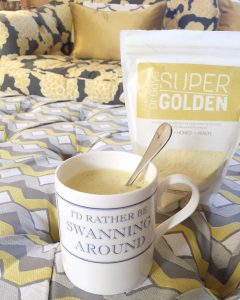 The ethos behind the company is great.  Dr Gaye has created a range of healthy products to help you get all the vitamins, minerals, fats and proteins that you need in easy to use products.  Everything is Raw, Organic, Vegetarian & Sugar/Grain/Gluten/Dairy Free.  They make getting all you essential nutrients very quick and easy.  Great for me as I definitely don't have time in the mornings to prepare a healthy nutritious breakfast.  I've tried the Super Super Cereal (a kind of grainfree granola) which I love on my yoghurt in the morning or on a smoothie bowl.
I also have the Super Porridge which I'm looking forward to trying and I'll let you know what I think when I've given it a go.  Dr Gaye is also about to launch a Summer Cleanse program if anyone is interested?  10% off her Super Shakes and daily personalised emails to help you achieve your wellness goals!
And they've even given a special discount code to my readers for any of their products!  If you add the code EMMA at the checkout you can receive 20% off your total until the end of June!!  Give it a try – I promise you wont regret it.  Go for the Turmeric Tea!
My Mama
This weekend is my Mum's birthday and I'm looking forward to some quality time with the woman who is not only the most amazing mother in the world but also my best friend.  We've had our fair share of adventures and always have so much fun together…
In the last few years we've been to Madrid, Portugal, Dublin & Paris together and I hope there will be loads more girlie weekends away in the future!
I cant wait to spend a day celebrating her and treating her.  Her love and affection for her family knows no bounds.  I can honestly say she is the most selfless and giving person I know.  Happy birthday Mama and I hope we all make it a day as special as you are.  Love you always xx
What are you loving this week?
I'd love to know what you've been loving this week.  Leave me a note in the comments and I hope you all have a fantastic week!  Until next Friday…