When I wrote my Top Places to Eat in the Algarve Round-Up I wasn't able to give Bovino Restaurant much of a review having only eaten there once.  However, Love Brunch is a new concept from Bovino Restaurant this year and having seen it advertised all over Quinta do Lago we thought we'd give it a go for brunch one Sunday.  The concept is an all you can eat buffet brunch followed by free entry into their pool party afterwards (or you can just pay to go to the pool party too if you don't want the brunch bit!)
It's from 11am – 3pm, so, to maximise time at the buffet table (!) we headed over for 11am. We had made a reservation which I'd probably recommend, as the restaurant was quite full.  On arrival it certainly seemed like they'd rolled out the red carpet for us, literally!
We were given a wristband to wear which would guarantee us entry into the pool party later on and were shown to our table on the terrace.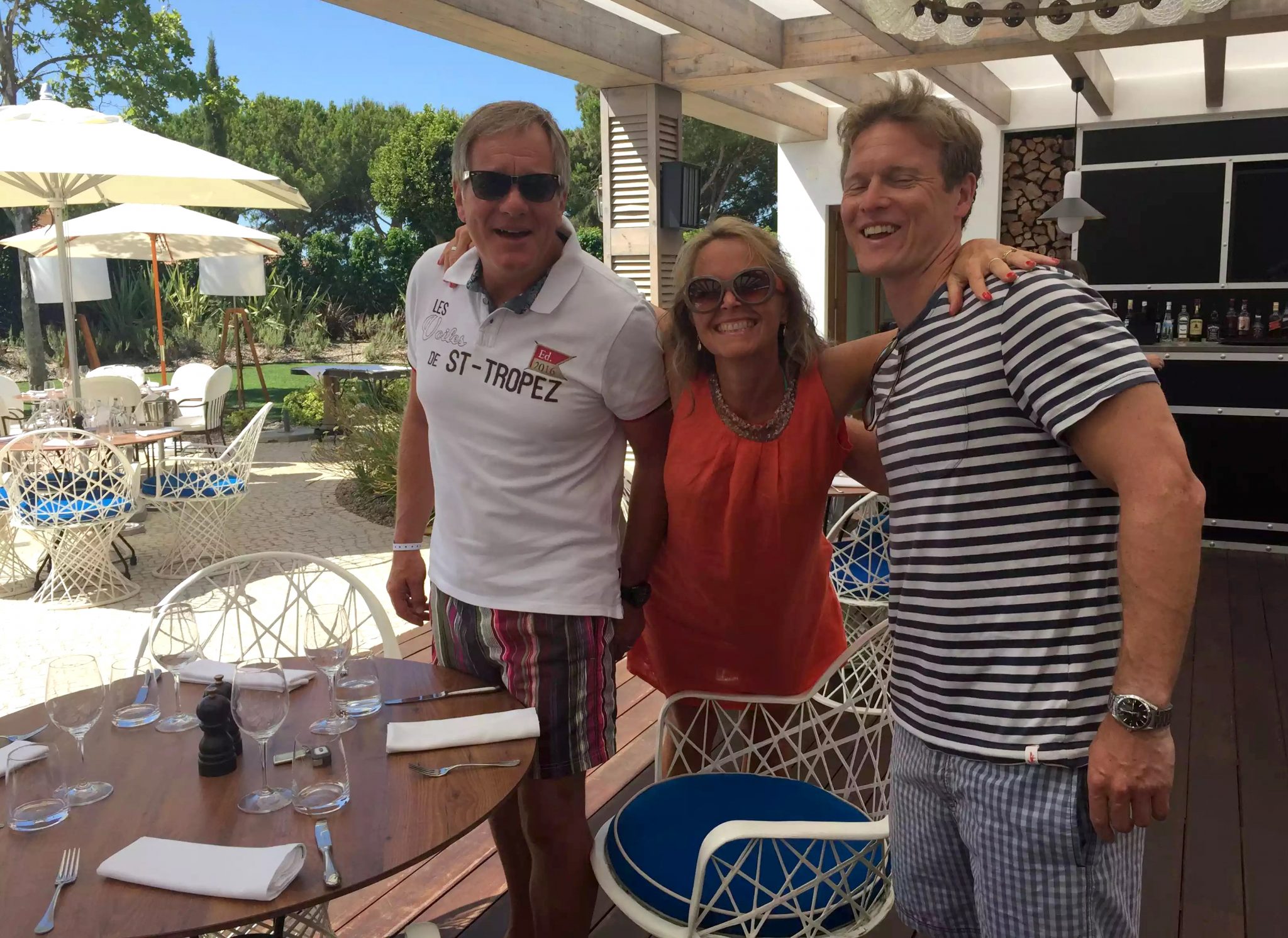 So once at our table, the waiter came over and explained the brunch format to us.  For €48 a head (€24 for under 12s – under 3s eat free) you could visit the buffet as many times as you wanted and all soft drinks, water, tea and coffee were included.  Any cocktails, beer, wine etc would be extra.  You could spend all day there sipping quite happily on their amazing fresh fruit juices (I recommend the watermelon) but we decided to go all out and we ordered a bottle a Cava to start with.  We chose a Portuguese Cava, a risky choice as the Portuguese aren't exactly renowned for their sparkling wines, but…when in Rome…
We chose an Albino Armani at €35 and were very pleasantly surprised.  Much cheaper than all the champagnes on offer but still made in the traditional champagne method it was very similar in style and who doesn't love a Champagne brunch?  Dad decided to go down the cocktail route and started off with a Bloody Mary which was pretty impressive when it came out and tasted different and delicious – there was fresh rosemary in it which was a nice addition!  
So, on to the food, mum and I decided to have a wander around first, looking at everything as we knew there was no way we were going to be able to eat a bit of it all – we needed to have a strategy!
The first thing that caught my eye was the seafood stand.  There was an amazing pile of fresh oysters, all displayed beautifully on an ice sculpture of a scallop shell.   All the fixings were there, shallots, vinegar etc and it just made me wish that I liked oysters!  (I keep trying them every opportunity I get but I really just can't get my head around the taste – not for me!)  The other thing that stood out was a beautiful plate of huge tiger shrimp.  They looked so fresh and juicy that I knew they'd be one of the things I decided to go for later.
But where to start…for me, I decided to go continental and headed straight to the cheese and charcuterie station for my first course.  You can never go wrong with cheese and I was in heaven!  Look at that incredible cheese tower!
I filled a plate with goats cheese, manchego, camembert, stilton, and some of the most amazing fig jam and then headed to the charcuterie station for some bresaola, salami and prosciutto.
Getting back to the table the boys had gone for pastries and mum had gone for the salad selection.  She said they were delicious, especially the beetroot and goats cheese one and I fully intended to get round to them at some point but I just didn't have any space left when it came down to it.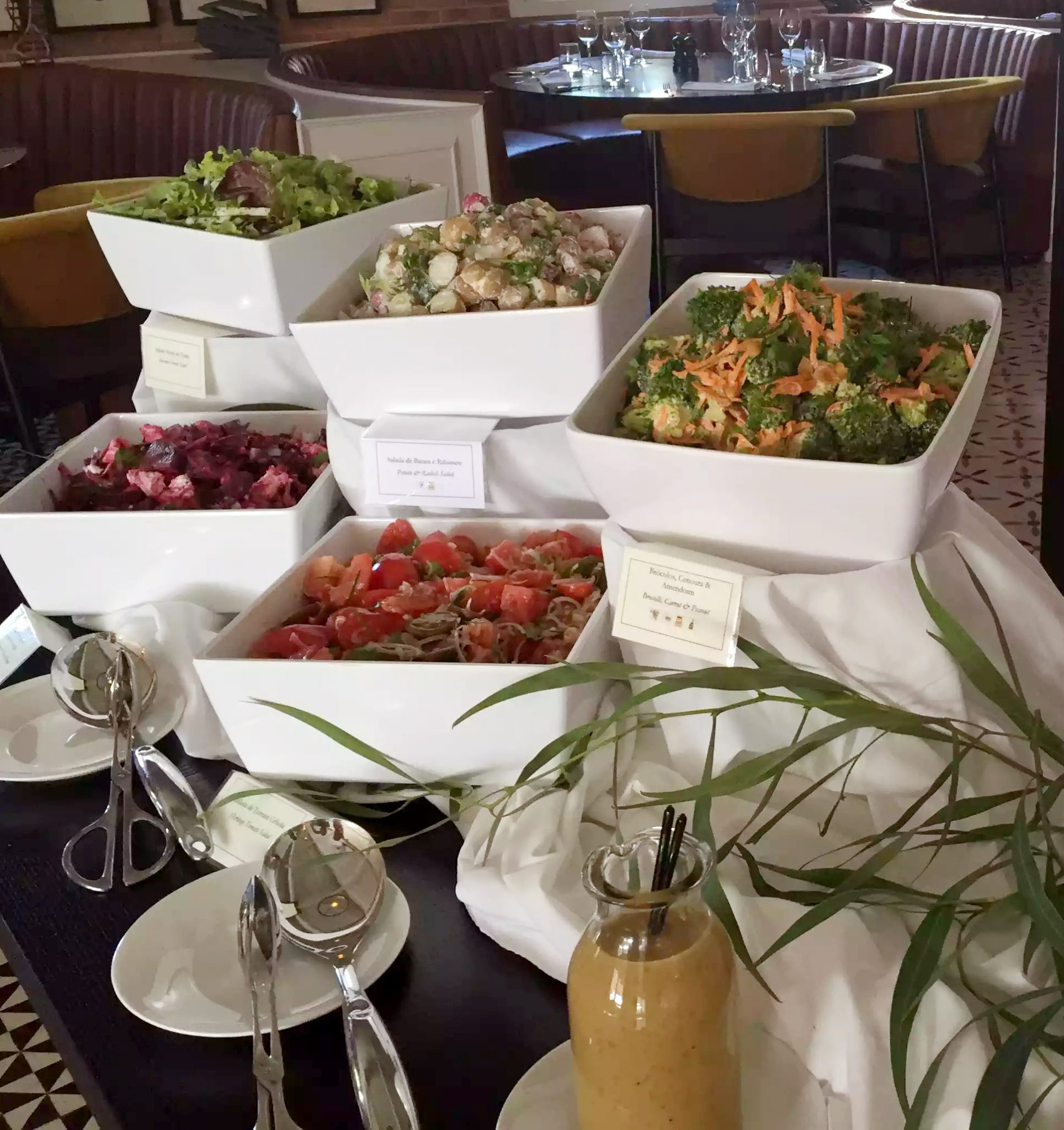 The cheese that I had picked was delicious, so many different flavours and textures but the real star of the show was the homemade fig jam – I just couldn't get enough of that stuff and it seemed to pair perfectly with every type of cheese!  The charcuterie was the one thing from the buffet offerings that I found pretty disappointing.  They had an authentic leg of Iberico Jamon on display, yet the charcuterie cuts on the platter were all processed/packaged and not all that tasty.  They should have had someone slicing the real thing for you – it would definitely have made a difference!
On to round two!  Keeping it light I decided to go for some sushi this time – needing to pace myself.  I chose salmon and tuna sashimi as I couldn't eat the maki because of the rice, and the sushi chef sliced up a large piece into thin strips for me as I was waiting – definitely an impressive skill to master!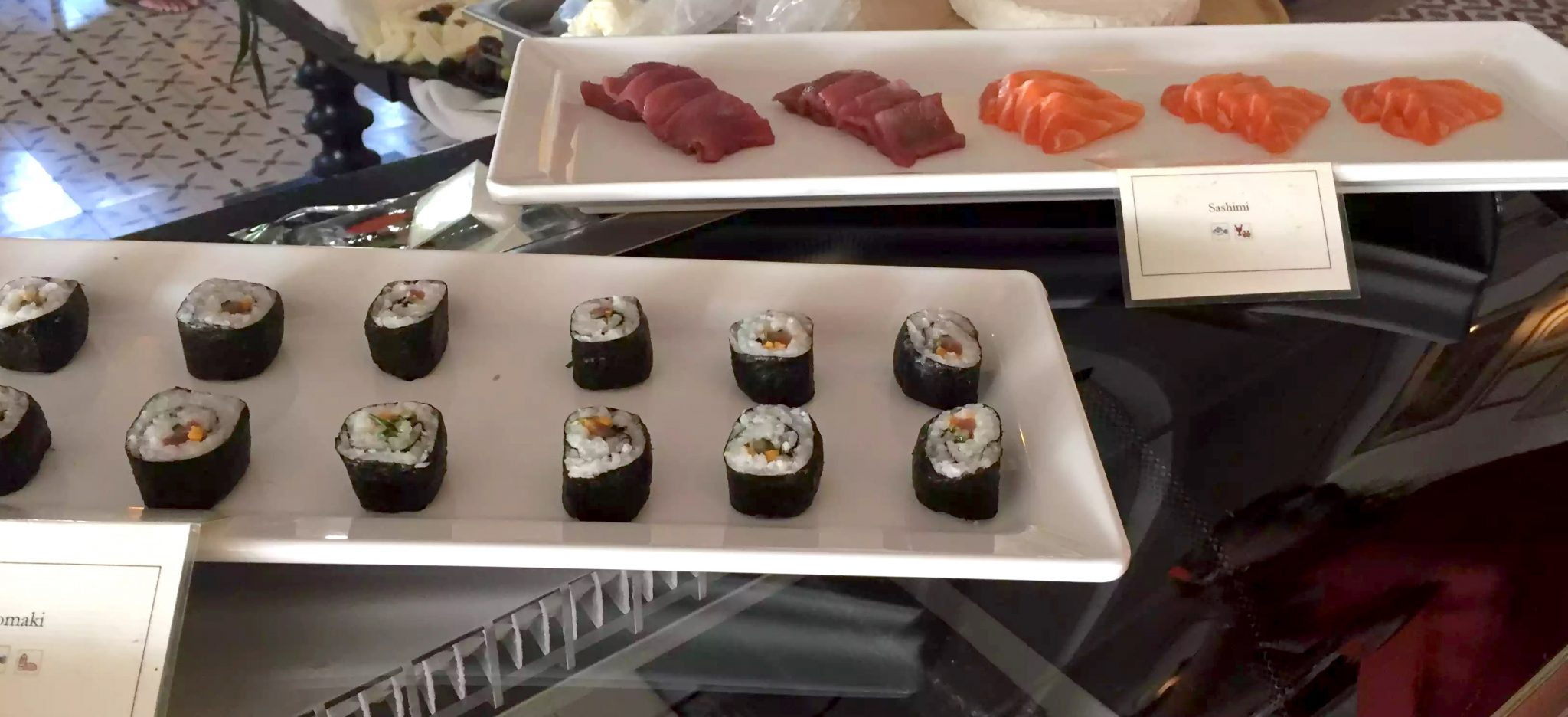 I added one of the delicious prawns to my plate along with some ginger and wasabi and headed back to the table.  The sashimi was honestly the best I've ever eaten.  It was so fresh – sometimes sushi can be a bit slimy and pulpy but this really was incredible.  I loved every bite of it and it went perfectly with the Cava and was very refreshing in the hot sun.  The prawn was delicious as well – fresh and juicy and very meaty and it was obvious that the seafood was very high quality.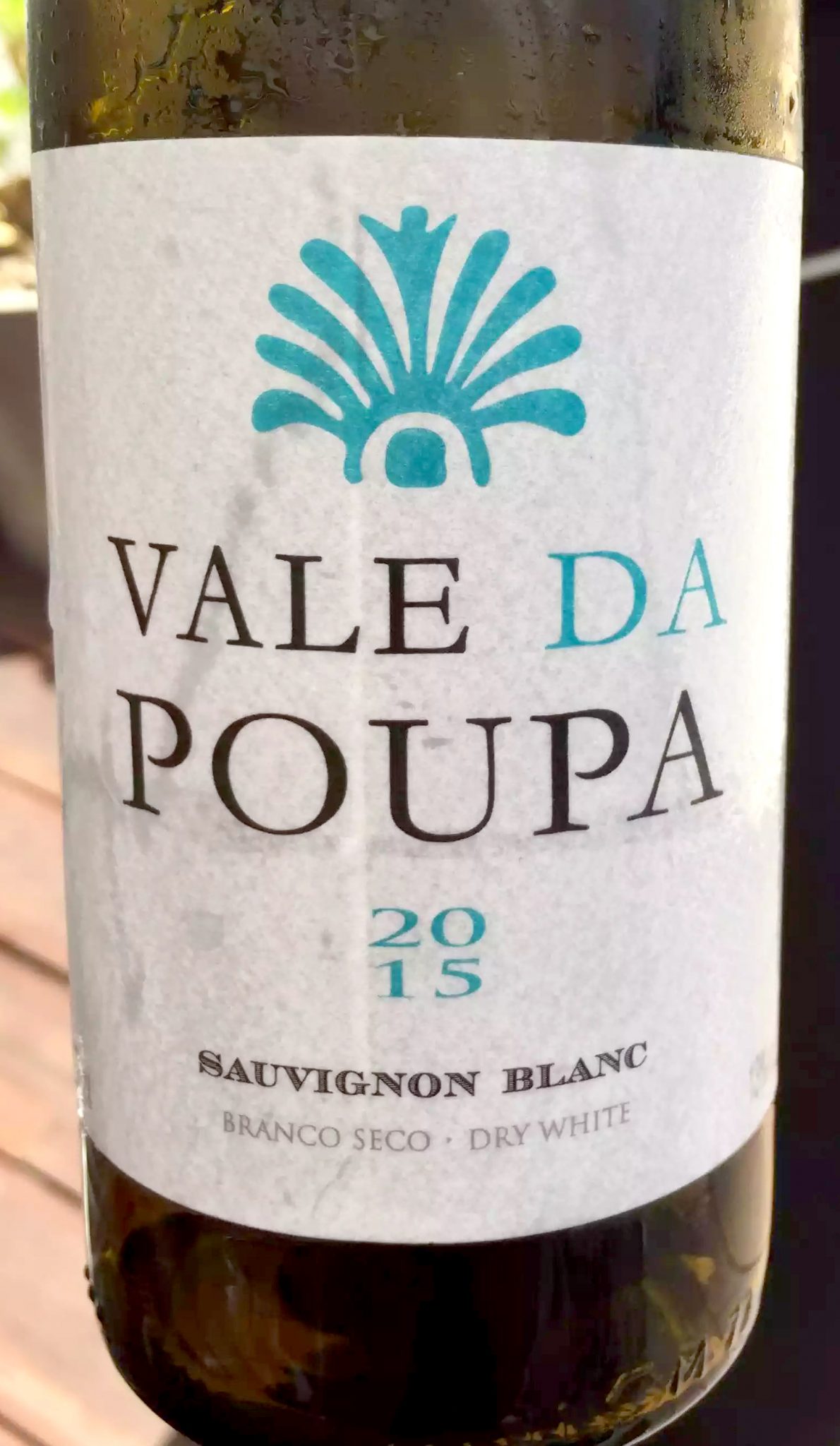 Soon the Cava bottle ran dry and so we decided to order a bottle of white wine to share.  With some help from the sommelier we chose a Vale da Poupa Sauvignon Blanc which was not expensive at €30.  It was fruity and crisp and served very cold which is exactly how I like it.
Needing to give our stomachs a break before heading back to the buffet table for course number three, we took a little break from all the food and sat back to enjoy the wine, while listening to the band and chatting amongst ourselves.  The band that was playing was really fantastic, 2 girls with very beautiful, soulful voices, backed up by live musicians playing chill out versions of popular classics such as Amy Winehouse, Ellie Goulding, Kings of Leon etc and the result was a very relaxed vibe throughout the whole restaurant – the perfect kind of music for a chilled Sunday brunch.
After a bit of a break it was time for round number 3.  The omelette station was calling to me so I went and lined up.  The omelette chef told us to take our plate and put on it whatever fillings we wanted from lots of little bowls on the counter.  I chose smoked salmon, spinach and fresh herbs but there were so many options, you could've picked ham, cheese, chorizo, mushrooms, peppers, potatoes etc.  Once you had decided on  your filling you handed them over to him and he put them in a frying pan with the beaten egg.  A few shakes of the pan and a perfectly  folded omelette was handed to me.  Amazed, I asked him the secret to cooking a perfect omelette – apparently it's all in the eggs, most people add milk but that is the biggest mistake as it just produces a runny, scrambled eggs type result.  It should be pure beaten eggs, with a knob of melted butter in the pan, don't shake the pan too much and don't overcook it.  Seems simple but it turned out that in his last job he'd had to practise omelettes for 3 years before the head chef would actually let him cook them to order – I'm guessing it's obviously not as simple as he made it seem!  Dan and I are going to give his method a go but to me it looked like the secret was having a really good frying pan – maybe we'll need to invest in something better than the ones that we have at home!
The omelette itself was fluffy, perfectly seasoned, slightly gooey inside (just how I like it) and very light, not greasy at all – I'd better get practising if it's gonna take me 3 years to learn how to produce a similar one.
Suddenly we noticed a magician wandering around the tables and he came over to ours to do a couple of tricks.  He did a sleight of hand coin trick on my mum but the really amazing trick was the card trick he pulled on my dad.  Placing a deck of cards on the table he asked my dad to choose any card he wanted from a pack of playing cards and say it out loud (he picked the 8 of diamonds).  Then he took the deck (that he hadn't touched at all) and opened it to reveal the 8 of diamonds face up and  all the other cards face down.  He then flipped over the 8 of diamonds to show it had a completely different colour back and didn't even belong in the same deck as the other cards.  Not sure whether it was mind manipulation or sleight of hand but it gobsmacked all of us – great entertainment!
By this point I'd nearly reached my limit but decided to end on a fruit course.  It all looked so light and refreshing that I chose a bit of everything to end my meal with.  Or did I?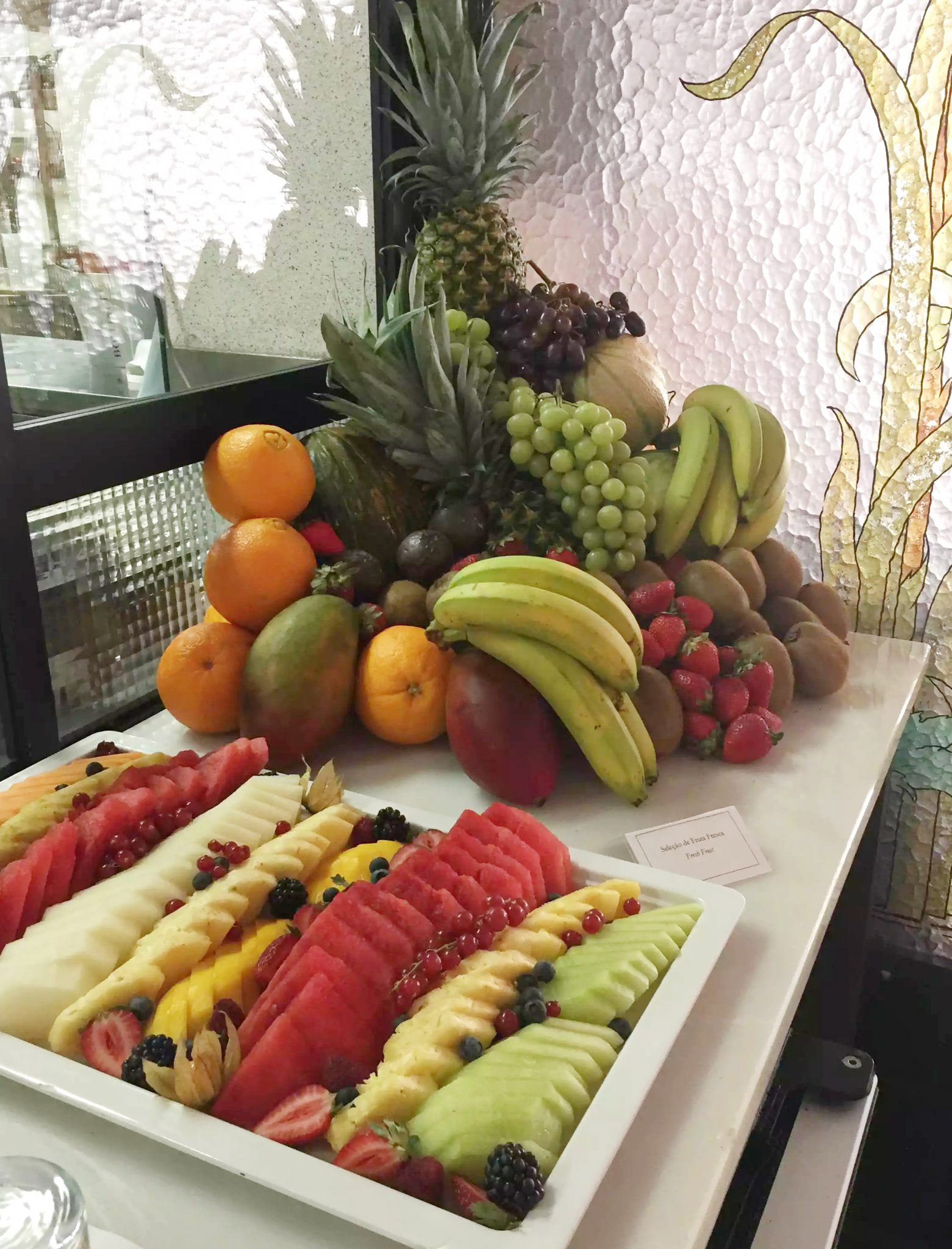 Really not needing anymore food, unfortunately, right from the beginning of the meal, the ice cream bar had caught my eye.  I'm not normally a big fan of anything sweet and I don't eat sugar – but they had a coconut sorbet there that I just couldn't get out of my head.  It was the last day of the holiday so I decided to treat myself and went up to get a scoop.  Horror of horrors it was mislabeled and was actually a lemon sorbet 🙁 not my favourite, so I made do with a scoop of the mango one instead.  The kids all absolutely loved the ice cream bar, they could go to the toppings station and load up on fruit, chocolate sauce, marshmallows, jelly beans etc and there were plenty of ice cream smiles around the restaurant.
And for the bits that I didn't get around to …  there was so much of the brunch that I never even got the opportunity to taste.  The salads to start, the hot food (there were bain-maries filled with meat, fish and vegetables) sea bass, tuna steaks, salmon fillets, steamed veg, ratatouille, along with perfectly cooked sliced steak and a variety of different sauces to go with them all if you wanted more of a lunch than a breakfast.
There was a pancake station – another big hit with the kids where you could choose your own toppings, just like at the ice cream bar.  There was the good old English Breakfast section with bacon, tomatoes, hash browns, sausages, mushrooms etc and eggs, cooked to order however you would like.
Yoghurts and nuts and compotes and dried fruit and so many pastries and breads, with jams and spreads, there really was something for everybody.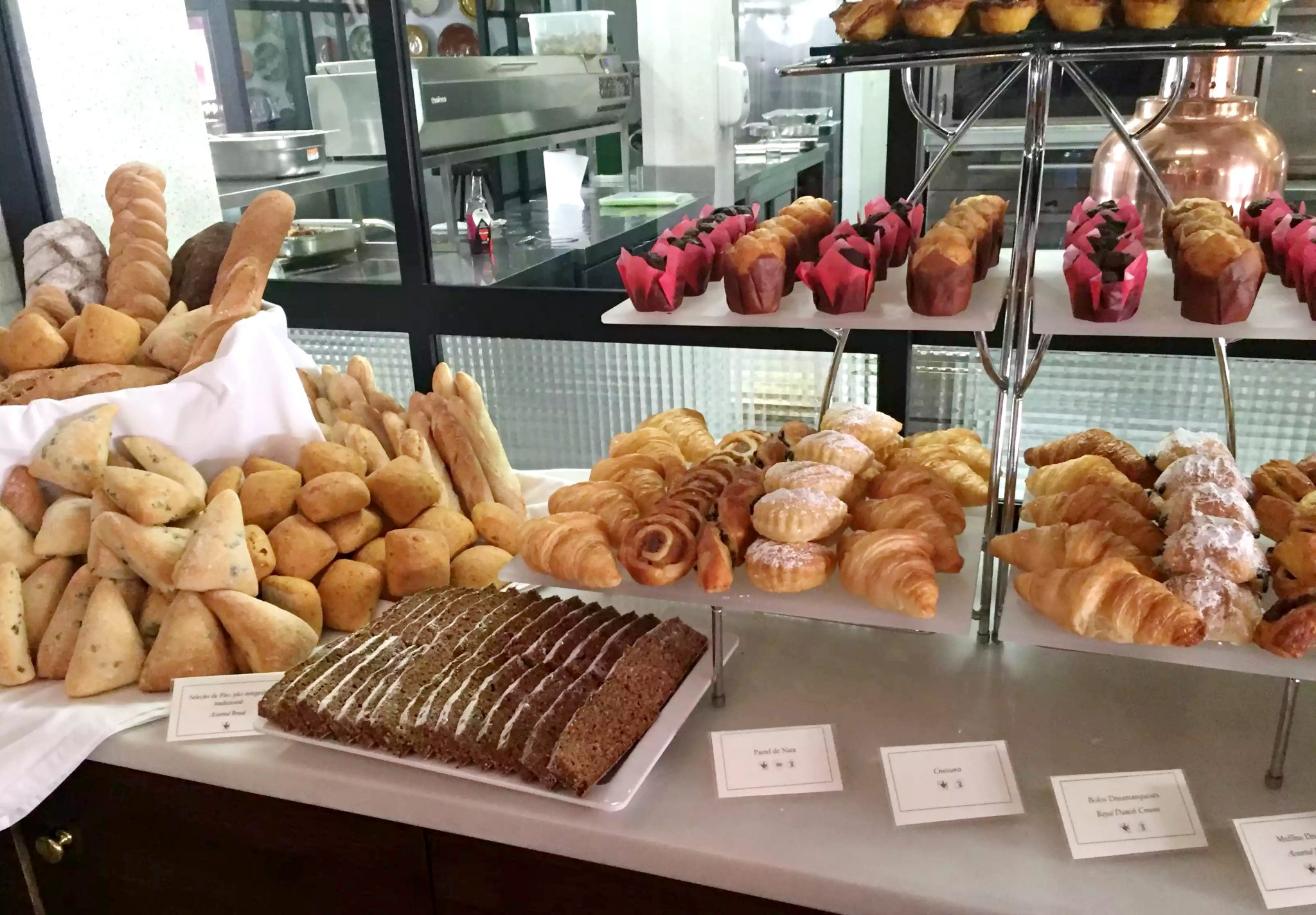 Having definitely eaten our fill we decided on a round of coffees and asked for the bill.  It's always a nice surprise when you're charged less than the stated price and it turned out that the price for brunch was only €43 a head and not the advertised €48 – BONUS!  I thought it really was great value for money considering the quality and selection of the food.  You could have dined out on oysters and prawns all day if you'd liked and the food was so fresh and tasty.
Absolutely stuffed we decided to head outside to see what the pool party was all about.  It was in full swing when we went outside, with people sitting around and in the pool drinking cocktails while listening to the DJ.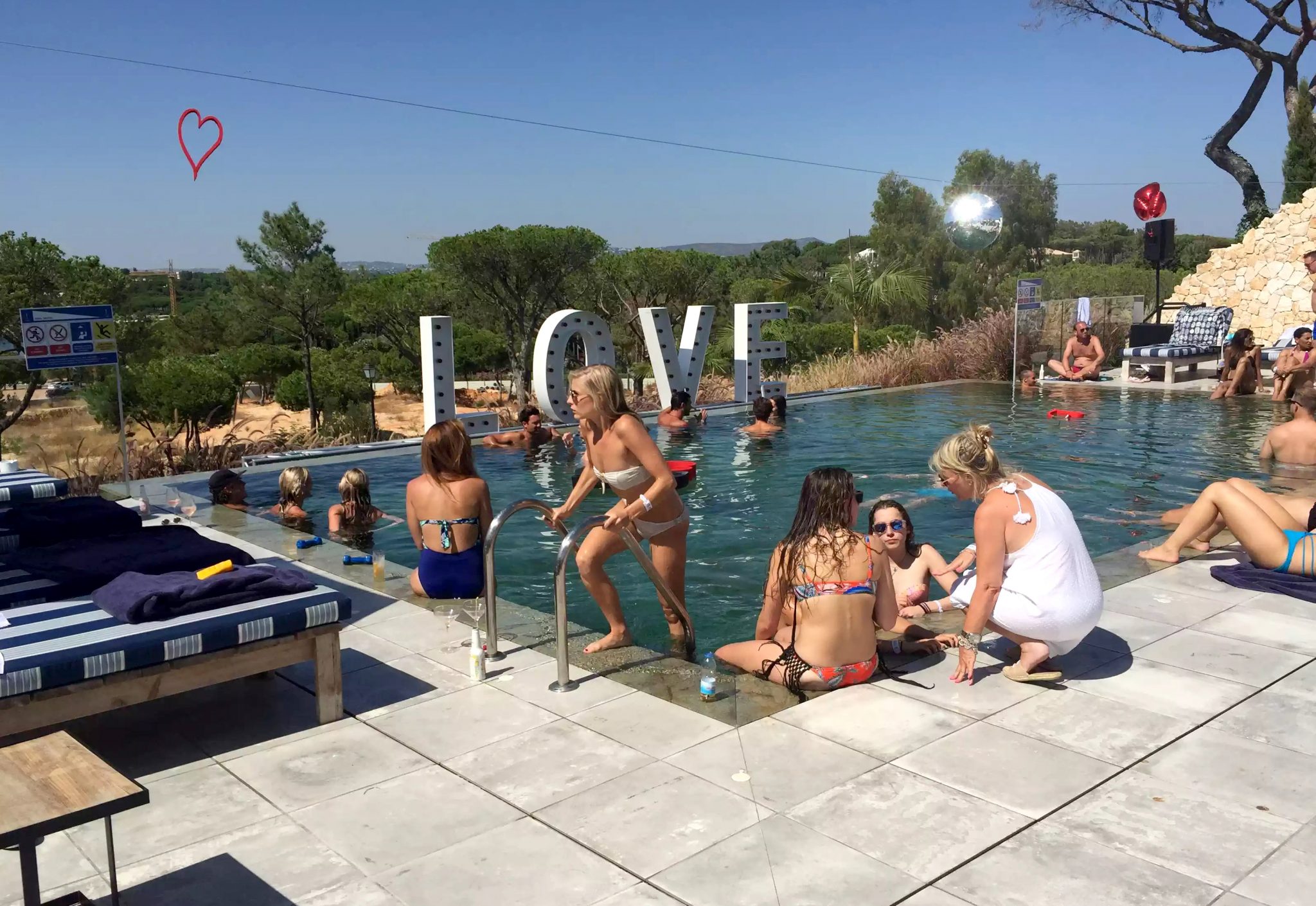 We decided to stay and have a drink so we went to the outdoor pool bar to order a round.  Dan & I wanted an Aperol Spritz each, mum a Gin & Soda and dad a beer.  We were told that the outdoor bar only served spirits and mixers and beer and wine – if we wanted any cocktails etc you had to order them from the indoor bar.  Dan and I changed our order to a beer and and a gin & soda but we were then told that we couldn't pay with cash, we had to top up a pre-payment card at a desk around corner and then use that to pay for all drinks purchases.  It was all a bit annoying to be honest – I understand some people at a pool party might not want to carry cash if they're in and out of the pool all the time but I think there should be the option to pay in cash if you want to.
Dan's very pretty but not very manly looking beer.
Anyway, we got our drinks and went to hang out by the pool.  The atmosphere to me seemed a bit lacklustre – it didn't seem like they'd fine-tuned the whole experience yet.  There weren't enough people at the pool-party for it to have a crazy, wild atmosphere, but there were too many people to be able to get a seat or a lounger if you wanted to relax.  I also wasn't a massive fan of the music choice – it was hip hop and I thought something a bit more chilled would have gone down better.  We decided to have one more drink while my parents left to spend a few hours at the beach.  We went inside to order a couple of Aerol Spritzs but then found out that you could only pay with cash at the indoor bar, not with the pre-paid card so we had to get a refund of the money we'd put on the pre-paid card and it was all a bit annoying.
We headed home as everything was finishing up at 6pm – I think that for the atmosphere, it should've gone on later but then I suppose they are trying to attract a dinner crowd aswell.  It would have been lovely to sit in the pool with a cocktail and watch the sun go down (the views out over the Ria Formosa and to the beach are amazing) but this wouldn't work if tables started arriving for dinner at 7 so they either need to not have a dinner service on Sun evenings or work out a way to keep the atmosphere going at the pool party.
I would definitely go back for the brunch – in fact we've already talked about booking a table for next year – the food was amazing and well worth the money but I think I'd probably skip the pool party next time and head to the beach for the afternoon – sleep off all that decadence!