Last weekend the Come to Hamburg Program kindly invited Dan and I for a weekend in Hamburg to experience everything that the city has to offer.  3 days full of fun, food, ferries and fish markets which you can read all about below!
The First Night
Travelling after work, we arrived late into Hamburg Airport and got a taxi straight to a restaurant that we'd booked.  Having done some research we picked Kleine Speisesaal.  It was a cosy, neigbourhood restaurant which came highly recommended on the internet and they were kind enough to stay open for us to be able to eat at 10pm.  The meal was delicious, the staff were so accommodating and we were so pleased that we'd picked somewhere close to our hotel rather than having to head into the City Centre that night.
For more information on Kleine Speisesaal and our meal, you'll have to wait for my upcoming blogpost Hamburg For Foodies.
We then walked the 20mins to our home for the next three days, the Heikotel am Stadtpark.  Located just outside the City Centre it is 4 minutes walk to the nearest U-Bahn station and so very convenient to use as a base.  We were exhausted and so pleased to have a fast, seamless check in and to be able to head straight to our room.  The room itself was perfect for what we needed.
Spacious, spotlessly clean and with some lovely touches such as the fruit gift basket, complimentary water and all the information on Hamburg we could ever need including some tickets to attractions and our Hamburg Passes, generously given to us by the Come to Hamburg Program.
We fell asleep full and happy, ready for the first day of our Weekend in Hamburg in the morning.
The First Day – Weekend in Hamburg
The next morning we woke up ready (or maybe not, as it was at 11am!) for our first activity – Wine Tasting!  We'd been invited for a complimentary wine tasting at Rindchen's WeinKontor.  According to Miriam our host, wine tasting is best done around noon because (new to me information) that is when your senses are at their most heightened for taste and smell!
We walked the short distance to the nearest U-Bahn (underground) stop and jumped on for a few stops until we were at our destination.  The U-Bahn really is such an easy way to get around.  We used the Hamburg Card to get around which was a great travel pass that gets you unlimited use of all the public transport systems, including the ferries which we definitely planned to take a trip on!  You can also get discounted entry into some of Hamburg's main attractions and restaurant discounts, so it really does pay for itself if you plan to see a lot.
We arrived at Rindchen's Weinkontor to a warm welcome and Miriam asked us what we'd like to lean about.  I explained that we had quite a good grounding in Wine Appreciation thanks to the WSET Course that we'd done but our knowledge of German wines was definitely not up to par!  We asked for her to help us out and she picked two whites and two reds to show off German Wines to us. She started by explaining to us a bit of the history behind Rindchen's Weinkontor and how it is a family run business.  They now have a few locations all over Germany but the ethos has stayed the same.  They look for fanstastic wines at low prices and great value and they interact a lot with the local community aswell.  They hold tastings, arrange wine pairing events with local restaurants and even organise vineyard tours to some of their suppliers.  You can even buy a glass to drink at the cute tables outside the store – they've thought of everything!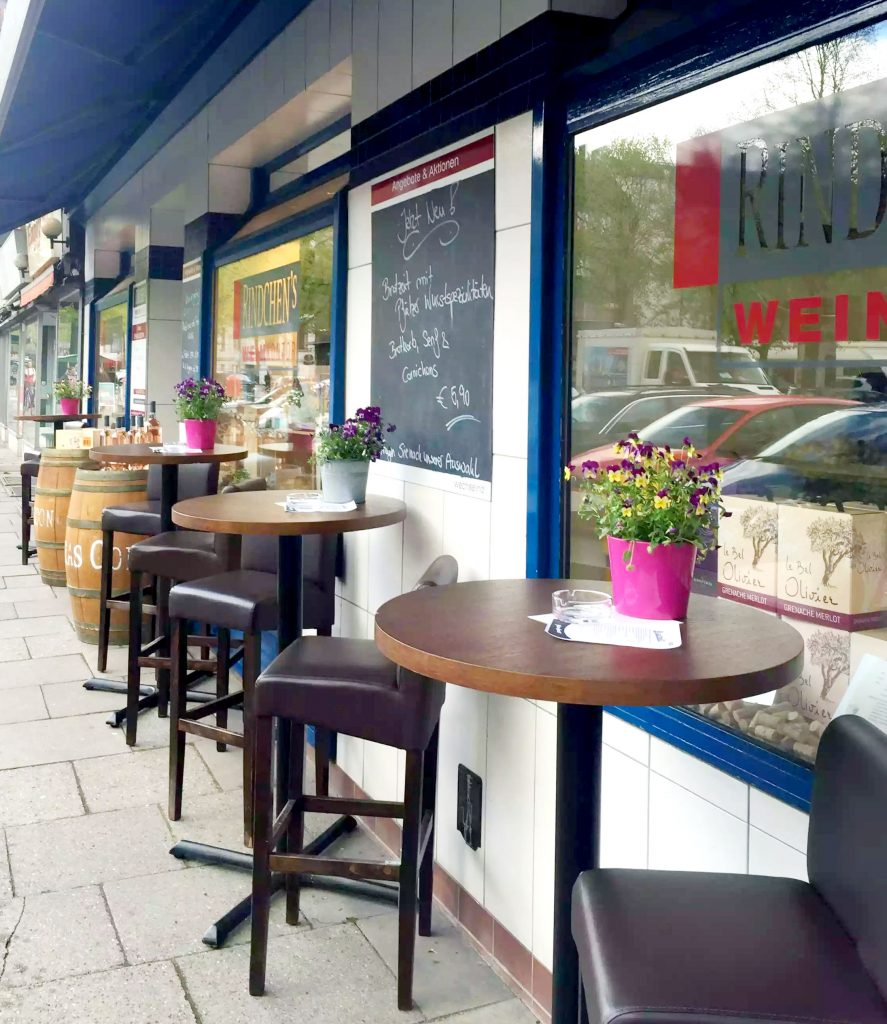 We started with a Grauburgunder white wine (a grape I was unfamiliar with) but it was light, fruity and with a hint of fizz on the tongue.  Tasting young and green Dan and I both agreed that it reminded us of a Portuguese Vinho Verde and we really enjoyed it.  Next we moved on to the famous German grape that everyone has heard of, the Riesling.  Riesling has had a pretty bad reputation in the past but this reputation is definitely improving.  This Riesling was dry, crisp and elegant with a lot of minerality – a world away from those warm sweet wines at an 80s dinner party.
As Germany is best known for its white wine I was very intrigued by the red wines she had for us to taste.  We started with a Pinot Noir, a light red grape which grows well in cooler climates like that in Germany.  It was light and fruity and full of red fruit flavours – exactly what a Pinot Noir should be.  It was the next red that intrigued me the most however.  Miriam wanted to show us that Germany could also produce a heavier, more full-bodied red wine so she'd picked a Cabernet Cubin blend that I'd not heard of before.  She was definitely right though. Powerful and punchy it was a full-bodied red with a smoky flavour thanks to the oak barriques it had been aged in.  Blackcurrant fruit flavours and a hint of spice, it's the kind of wine that I love.  Cabernet Cubin is a grape hybrid created from Blaufrankisch and Cabernet Sauvignon and it was lovely to try something I've never had before.  Definitely one to look out for in the future.
The wines Miriam picked definitely showcased a broad spectrum of German Wines and she even gave us a bottle of Rose 'Secco (Sparkling wine made in the same way as Prosecco) to take away with us.  We felt like we left with a much wider knowledge than before and looked forward to testing this out over the weekend.
Wine tasting done, we decided to go for a wander to see more of Hamburg. One problem though, the weather was not playing ball.  Rainy and drizzly there was only one thing to do next…Beer Tasting.  We decided to head to Altes Madchen, a nearby beer hall so that Dan could have his first German Beer of the trip.  The Beer Hall is reached through a huge Beer Shop and when we arrived we were given an enormous list of beers to choose from.  Not knowing where to start, Dan was relieved to see the tasting selection (5 small servings of beers, served on a mermaid platter) and ordered that.  Having been told by Miriam that Germany made a good 'Secco (Sparkling Wine) I went for a glass of that (wine is definitely an afterthought in this place – it's all about the beer!)
Needing a break at this point we decided to walk off the alcohol and head towards the harbour for some lunch. We wandered through town all the way to the Grosse Elbstrasse and came face to face with Hamburg Harbour.  It was so lovely to be on the River and to see a working harbour in action.  Out in the river there are so many loading and unloading bays for the cargo ships that come in and the harbour was a hive of activity.  So many ferries and boat tours driving in and out and it showed how much can be done with the waterfront area – we definitely don't make the most of it in London.  There are bars and restaurants all along the riverfront and the jetties and it really is a destination area to sit and spend some time.
We found a lovely restaurant called La Vela, overlooking the river where we grabbed a very light lunch.  Dinner was only a couple of hours away and as it was my Date Night Treat tonight, Dan had done lots of research and picked a lovely restaurant and we didn't want to ruin our appetite.  I ordered a small Rocket & Parmesan Salad and Dan had a small plate of pasta, just to take the edge off our hunger!
Next we decided to head further along the Grosse Elbstrasse and we found a quirky bar called Haifisch to wait out the rain in.  With fishing nets hanging from the ceiling along with captain's hats, plastic sharks and plenty of other fishing paraphernalia it was a very cute bar, full of locals and a cosy atmosphere.  A gin and tonic and German Sea Shanty songs was the perfect way to escape from the downpour!
Wandering further along the street we found a WeinLand which was a shop and a wine bar all in one.  We decided to see if we could put what we'd learnt that morning to the test.  Wandering around we realised that we had actually gained a lot of knowledge from Miriam this morning and could identify a lot of the wines on the menu.  We chose a Riesling – a dry one – and it was crisp, clean and delicious – maybe we were getting the hang of these German Wines!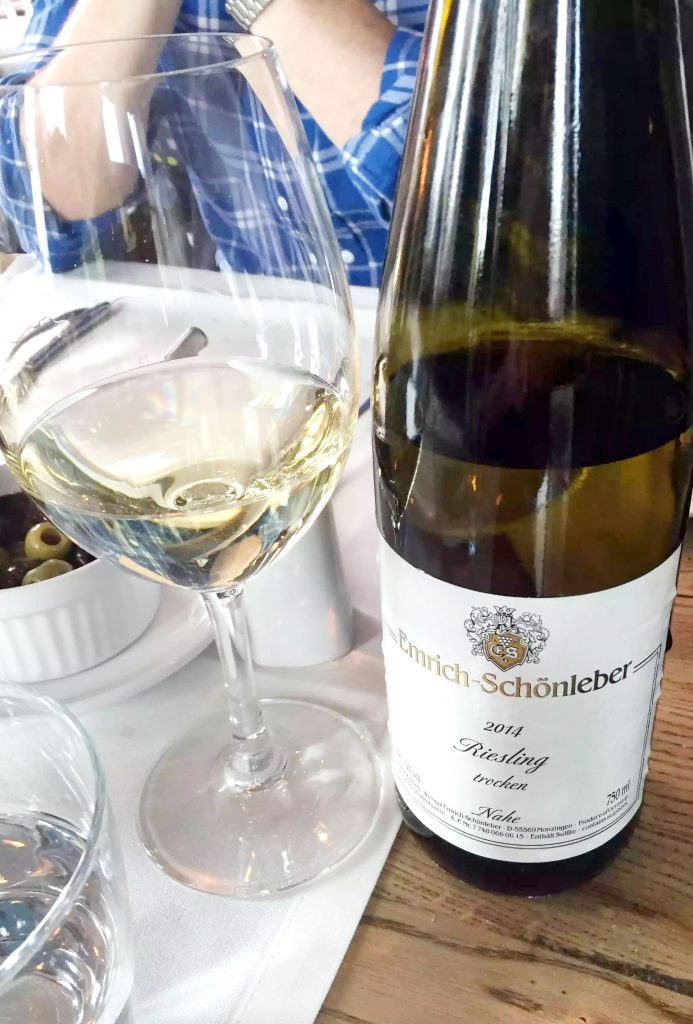 Dan had booked dinner that night at Hamburger Elbspeicher.  A cute seafood restaurant looking out over the river.  It was such a treat  to be able to eat with a river view and the dining room itself was very quaint.  It was a shame not to be able to eat out on the terrace as I imagine in the summer that would be lovely.  It was much too cold tonight though so we made ourselves cosy in the dining room.
Dan had the Plaice cooked with bacon and served with Bacon Roast potatoes whereas I went for the Grilled Dover Sole with Lemon Butter Sauce and Vegetables.  Delicious, fresh and cooked beautifully we couldn't fault the meal.  I loved that all the fish was caught locally and couldn't wait to visit the Fish Market early the next morning!
Day 2 – Weekend in Hamburg
The next morning the Weather Gods were definitely smiling on us.  There was not a cloud in the sky!  I got up early to get to one of Hamburg's most famous spectacles.  The Sunday morning Fischmarkt!  Every Sunday, the bank of the Elbe is filled with market traders, selling everything from meats to fruits, to clothes and of course Fish!  It runs from 5-9.30am in the summer and was in full swing when I arrived at 8.30.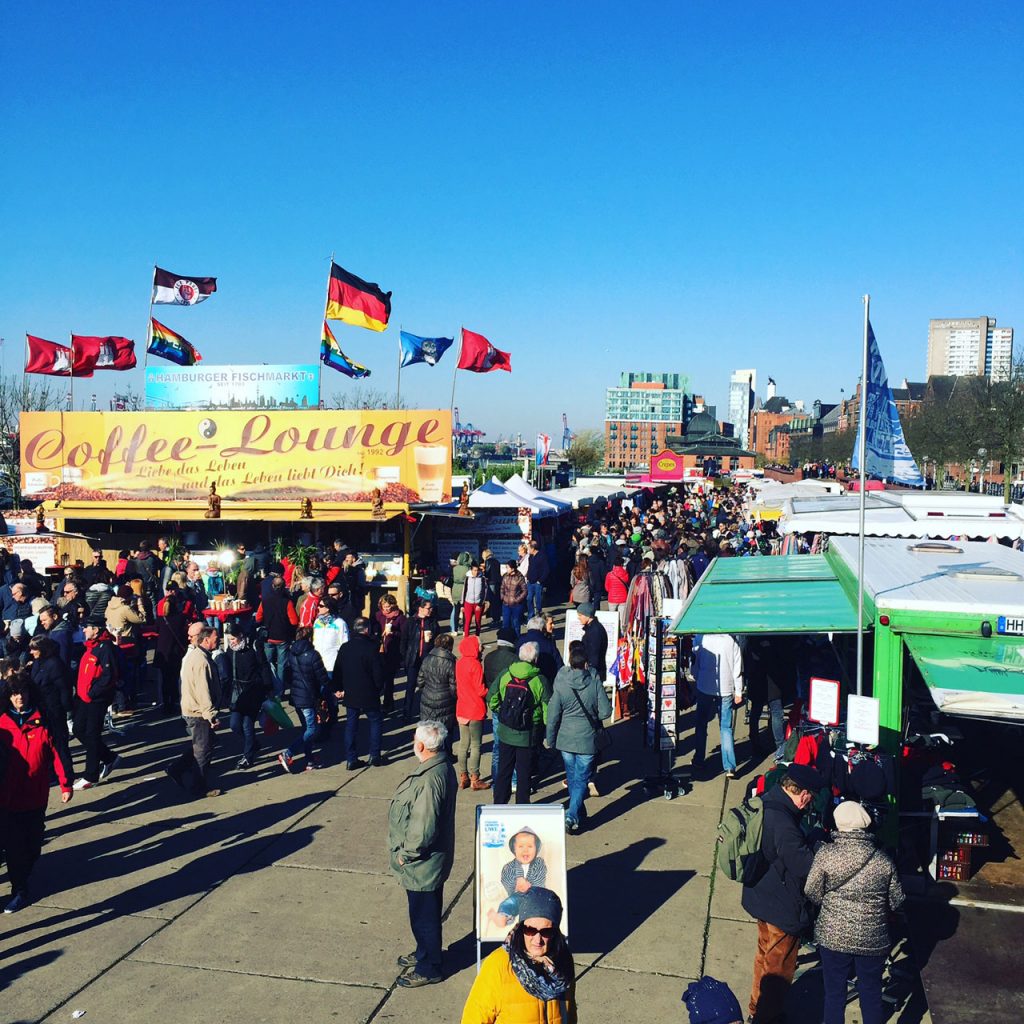 I loved wandering around the stalls looking at all the amazing produce to buy.  This is definitely not just a tourist event.  All the locals were wandering around and doing their weekly shop!  Everything looked so fresh and delicious.  I almost wished I had a kitchen I could cook up a delicious meal in as there was so much I wanted to try!
Wandering further I headed into the indoor section of the Fischmarkt to be confronted with a live band and pop-up bars selling beer and wine! It was obvious that most of the people hadn't even been to bed yet and were just desperate to carry on the party.  They were drinking beer and dancing to the live band and it was only 9am!
Hamburg is famous for its Fischbrotchen – a fish sandwich – and there were stalls all over the market with people queuing up to buy them.  Unfortunately I couldn't eat one but they looked and smelled fantastic.  I would definitely recommend one for Sunday Brunch if it's something you're able to eat.  Leaving the market I found this lot singing 'What shall we do with the Drunken sailor!'  It seems like everyone in town gets involved in the fishy atmosphere on a Sunday morning!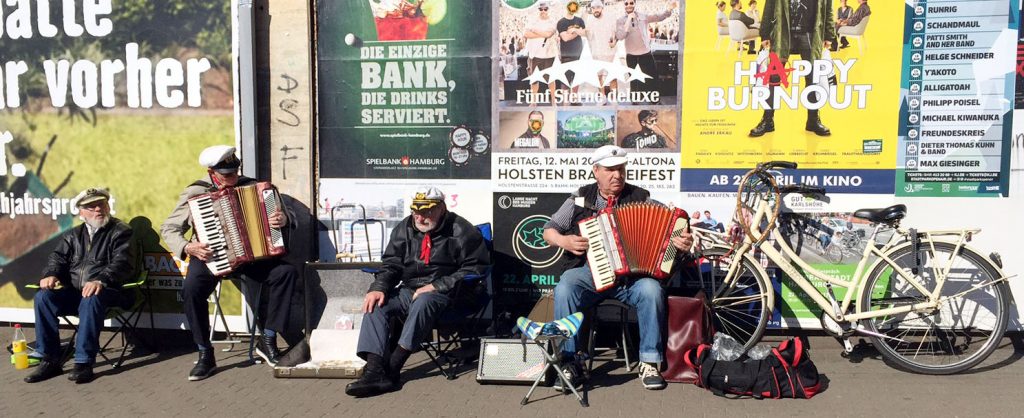 As it was such a lovely morning I decided to wander round some of the different neighbourhoods.  I walked all along the riverfront and crossed over to the HafenCity area.  This is one of the newest districts in hamburg that has been completely regenerated over the last few years.  The architecturally beautiful Elbphilharmonie dominates the skyline and the rest of the area is lush and green.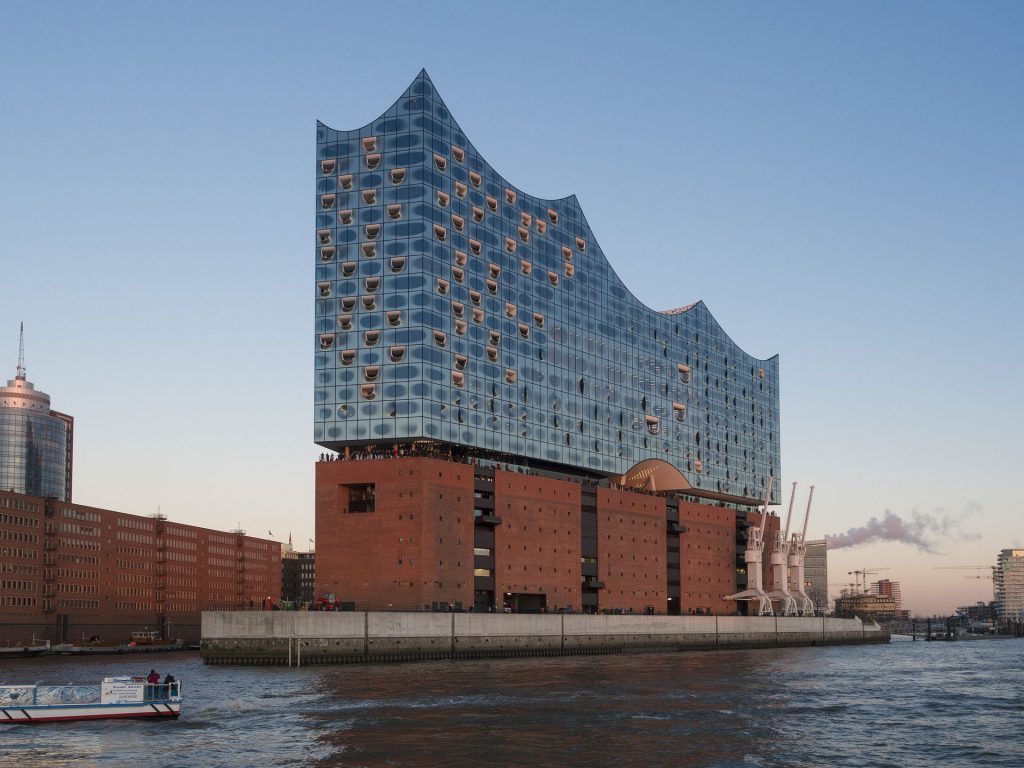 It has huge open spaces, lots of cafes and restaurants with outdoor terraces and plenty of  river views.
It has a very cosmopolitan vibe and I thought it would be perfect for a long elegant lunch, overlooking the river.  From there I wandered back into town through the warehouse district , a series of buildings built right on the water and separated by canals.  The ships obviously used to sail right up to the buildings to deposit their goods as there were no roads and everything was connected by the waterways.  A few medieval streets remain and the buildings really are all so architecturally different.
We wandered back into the Old Town and decided to head towards the Alster Lakes for a brunch with a view.  It really is a beautiful spot.  Two enormous lakes with Cafes and Bars dotted around the edges.  It felt so lovely after yesterday's rain to be able to sit outside in the sun, on the lake and eat our brunch.
There were so many people out and about enjoying the weather.  The banks of the lake were full of joggers, fishermen and people out for a Sunday stroll.  Had we had more time I'd have loved to take the afternoon wandering round the full perimeter of the lake and exploring further.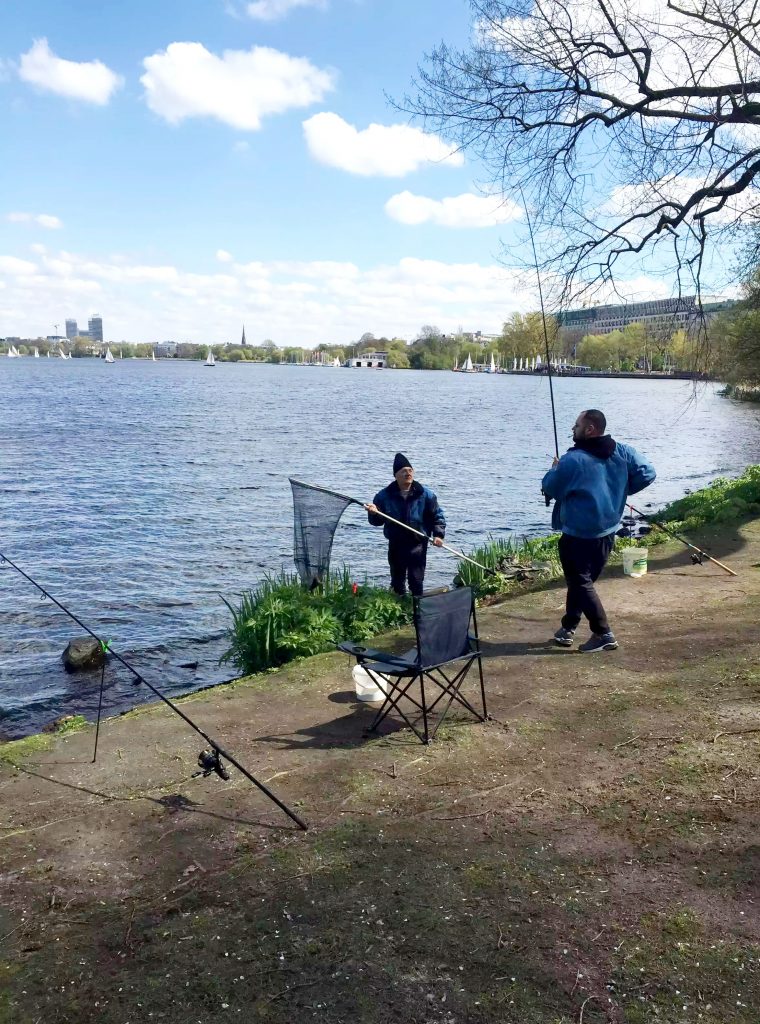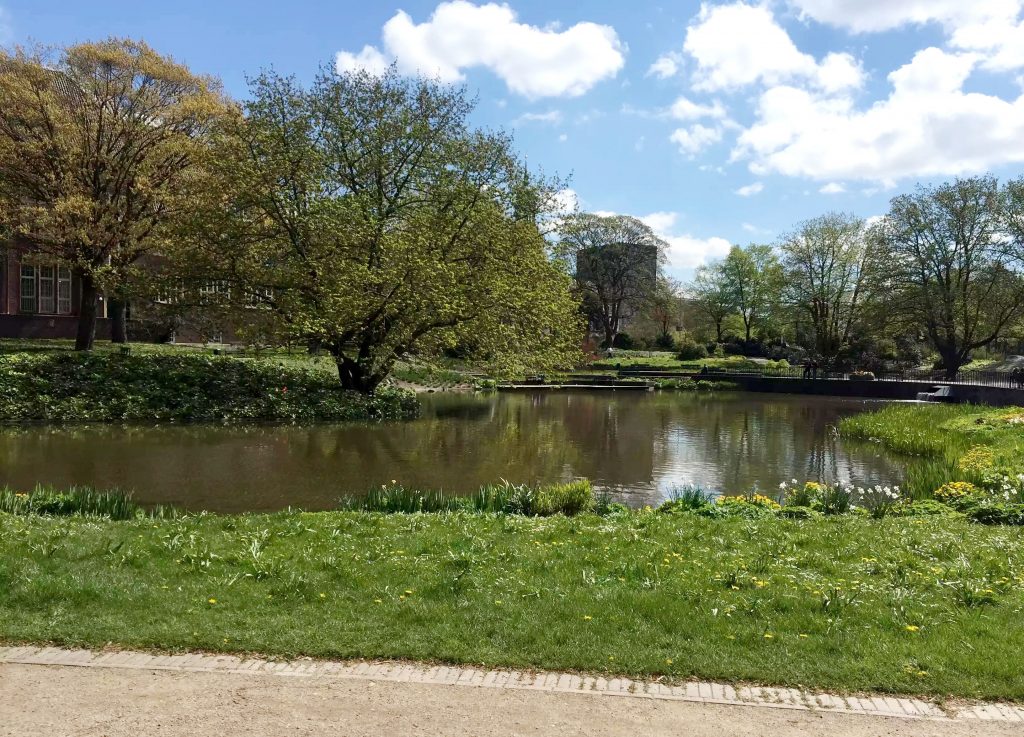 We headed back to the Harbour Front wandering through the gorgeous Planten un Blomen Park and decided to make the most of the sunshine by heading to one of the Harbour Front 'Beach Bars.'  Crammed full of deck chairs and with plenty of sand underfoot, this must be where the locals go at the weekends when the sun is shining.  Hamburg del Mar is a kind of man-made beach/beach club in the middle of the city and it was a lovely place to sit and stare out at the water in the sunshine!  And enjoy another glass of amazing Riesling!
Dinner that evening was planned for a cute restaurant in a small suburb of Hamburg called Ottensen so we decided to wander there along the riverfront.  We walked for an hour along the river enjoying the scenery until we headed up, through a beautiful park (Donners Park) and came out on the quaint village of Ottensen!
It really was like its own little village, you'd never know you were still in Hamburg.  We wandered through the town square and local streets and came across this amazing bar in a Launderette!  It was a working launderette and there were people in there doing their washing, in and amongst the bar customers!  We found the perfect spot, outside in a sun-trap for an aperitif while we waited for our dinner reservation.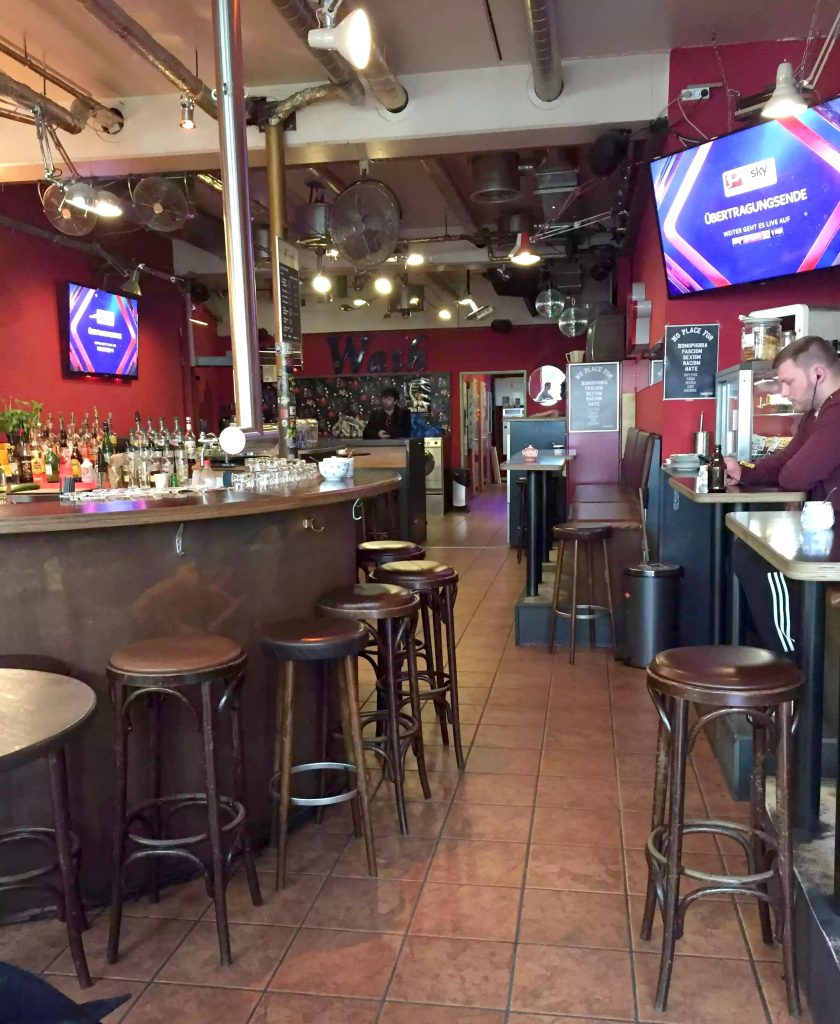 After some research online, Dan had found another fabulous restaurant for us to eat in tonight, Kleine Brunnenstrasse.  A neighbourhood restaurant with a fabulous reputation it was pretty hard to get a table at so we were very excited.
The food was absolutely exquisite.  It had a very modern feel to it but it was simple cooking and the quality of the ingredients shone through.  I had the goats cheese salad followed by the Sea Bass and Dan opted for the asparagus soup and then the Lamb Rump.  We also found a nice smokey, oaky bottle of full bodied German red wine to go with our meal so we were in heaven.
As this was our last night in Hamburg we decided that we couldn't leave without paying a trip to the Reeperbahn.  The Reeperbahn is a famous street in Hamburg's red light district with a seedy past and reputation.  Lined with bars and restaurants it is also notorious for the sex shops and prostitution but there's plenty of fun places to eat and drink to avoid that side of things.  We found a really lovely cocktail bar and had an after-dinner drink.
Having had such an early morning at the Fischmarkt, one nightcap was enough for us and we headed to bed ready for our last day in Hamburg.
Day 3 – Weekend in Hamburg
The next morning we woke up,  and decided to check out the Rindermarkthalle  – a foodie paradise full of stalls and stands selling amazing produce, a bit like the Food Markets I love in Madrid.  Unfortunately it was closed as it was a Bank Holiday in Germany, but we had brunch in the Markt Koenig restaurant next door which specialises in food using products from the market.  I had a delicious fruit and yoghurt plate while Dan went for the scrambled eggs with bacon and rye bread.
As the weather was good again today we had decided to try out the ferries.  Our Hamburg Card gave us free travel on all the public ferries so we decided to use one of them instead of paying for a Harbour Ferry Tour.  We wandered down to Landungsbrucken, where all the ferries departed from and hopped on the number 62 as it had the longest route.  We took it to Finkenwerder, the furthest point away that you can get to and then back to the Oevelgonne stop to check out the beaches.
We wandered along the sand to a beach bar I'd heard about called Strandperle and we had a glass of wine in the sand looking out over the river.  It felt like we were at the seaside – not in a huge city.  This area must be absolutely packed in the Summer and it made me realise how much London really needs a lovely sandy beach along the Thames.  It would make such a difference.
Dinner that evening had to be an early one as we had a flight to catch.  We headed for Zum Alten Lotsenhaus as we'd heard that they did all day-dining and we weren't sure anywhere else would serve us at 5pm!  We definitely made the right decision.  It was set back a bit from the river in beautiful gardens and is one of the oldest restaurants in all of Hamburg. The food was delicious, again, more of that to come in my Hamburg for Foodies blogpost but they really do know how to do seafood in this city!

Begrudgingly we headed back to our hotel to pick up our bags and travel to the airport.  There seemed to be still so much that we just didn't fit in!  Oh well – I'll just have to return!  What a fabulous Weekend in Hamburg!
Pin it for later