I've always been a big fan of Côte Brasserie.  I love French food and although they have multiple restaurants all over the country, each one that I go to seems to have its own personality.  It feels like a little French Bistro and reminds me so much of the year I spent living in Paris.
This Valentine's day, Côte Brasserie are offering their special Saint-Valentin 3 Course Set Menu in all their locations.   They offered me a chance to get a preview of the menu and I jumped at the opportunity.  The nearest one to us is the Charlotte St venue so we popped along a few days before Valentine's to sample the dishes.
We walked into the cosy, candlelit restaurant and were shown a table by the window.  The waitress offered us a bottle of their house filtered water and handed us the menus to take a look at.
The Saint-Valentin (St Valentine in French) set menu costs £26.95 per person which I think is amazing value.  You can up the ante a bit if you like and include a Kir Royale and wine pairings with each course which will still only cost £36.95 per person.  This was the option we were going with.  Having done my Level 2 WSET wine accreditation last year I like to think I know a bit about wine pairings.  I was very interested to see how the wines they had chosen went with the specific dishes.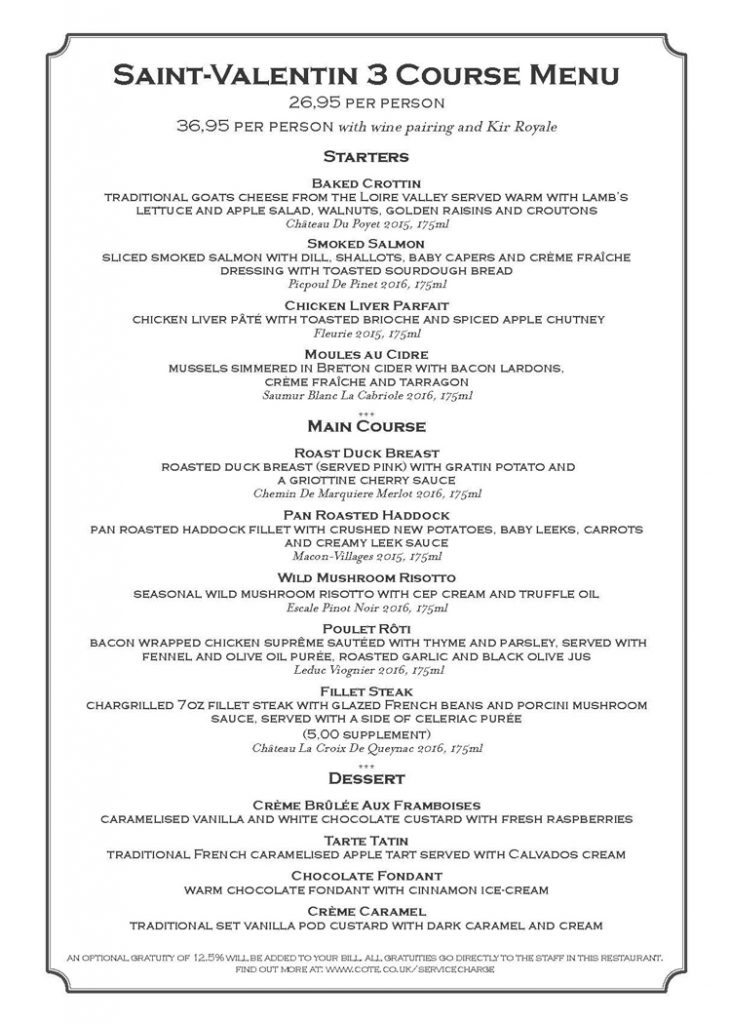 What I love about the menu is that there are so many options.  Having all the special dietary requirements that I do, set menus are often not a great option for me.  Having to pick between 1 or 2 dishes doesn't work when you have so many food intolerances.  Côte Brasserie has 4 starters, 5 mains and 4 desserts on the Valentine's Menu so there's plenty of choice and I was easily able to find something that suited with a few adjustments.  In fact I could have eaten all of the starters, just by removing the bread or croutons from each one.  Fantastic!
We were offered our Kir Royale to start with which was a fantastic way to begin.  Who doesn't love a cheeky glass of bubbles to start a night with?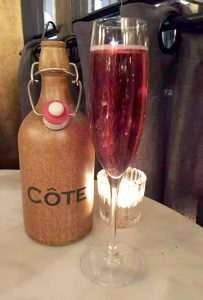 In the end for my starter choice I went for the Baked Crottin.  A delicious, traditional goats cheese from the Loire valley served warm with lamb's lettuce and apple salad, walnuts, golden raisins and croutons.  I just asked for it without the croutons. It was paired with a glass of the Chateau du Poyet 2015.  This was clean, crisp Muscadet which was citrussy and fresh with just the tiniest hint of toastiness.
It was a great choice to pair with the rich creaminess of the Goat's cheese.  I love a Goats Cheese Salad and this one was to die for!  Grilled slightly so it was melted inside it was a perfect contract to the crisp freshness of the salad and apples.  All complemented by the sweetness of the raisins it had every element you need from a dish.  I didn't even miss the crunch from the croutons as the apple was so crisp!
 Dan had the Smoked Salmon to start which came with dill, shallots, baby capers and creme fresh.  It was served on toasted sourdough bread with a small salad and a glass of Picpoul de Pinet 2016 to pair it with.  This again was light, fresh and citrussy with a hint of green apple.  The fresh acidity cut through the fattiness of the smoked salmon and made for a light but satisfying starter.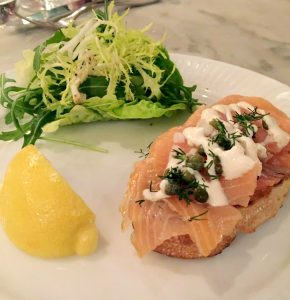 Then it was onto the main course.  Again, I was spoilt for choice.  If they swapped out the potatoes for extra veg, I could eat all of the dishes other than the risotto!
In the end, after much deliberation I settled on the Fillet Steak.  It was served with a Celeraic Mash which I was keen to try, as it made such a refreshing change to have a dish that wasn't served with potatoes!  I also fancied the Château La Croix De Queynac 2016, that it came served with!  It was a fruity
Bordeaux
which was quite complex, with notes of jammy fruit, violet and blackberries.  The perfect red to hold up to a Fillet Steak.
I'd asked for the steak served rare and it was perfectly cooked.  I didn't get any sauce with mine which I think must have been an oversight by the kitchen but the rest of the sides were delicious.  I loved the celeriac mash, it was comforting and filling and the green beans were cooked perfectly al-denté.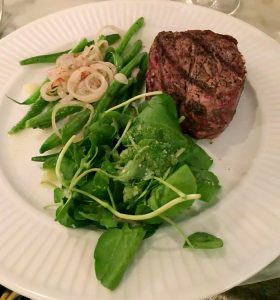 Dan had the Roasted Duck Breast (served pink) with gratin potato and a griottine cherry sauce.  His dish came served with a glass of Chemin De Marquiere Merlot 2016.  Well, he definitely had the dish of the day, it was enormous!  There was so much duck and it was so beautifully prepared.  Pink and tender, I just had to try a bit.  He said the sweetness of the cherry sauce was not overpowering and was quite tart at the same time.  He liked that the wine didn't have a lot of tannin.  It was easy to drink and the plum and blackberry flavours matched well with the rest of the dish.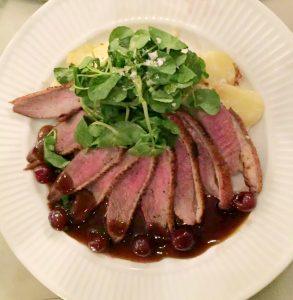 Next up were desserts.  I spoke to the staff and told them that unfortunately I couldn't eat any of the desserts due to the fact that I can't eat sugar.  They were kind enough to bring me a little cheese platter instead.  They were so accommodating to all my
dietary requirements
that I was really impressed.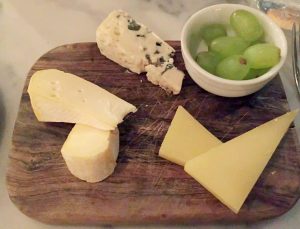 Dan doesn't have any issues with sugar so he went for the Warm Chocolate Fondant served with Cinnamon Ice Cream.  When he cut into it, the centre oozed out, just as it should.  It was cooked to perfection.  Sweet and rich but well-balanced by the cinnamon ice cream he thoroughly enjoyed every bite.  And this comes from the guy who never eats desserts! Praise indeed!
We left feeling like we'd had a wonderful evening.  My favourite part was the amount of choice that the menu offered and the fact that there was the wine pairing option.  I would definitely head back to try out the main menu another time and their wine list.  If you're looking for somewhere one Valentine's Day that matches great quality with a very reasonable price, then Côte Brasserie definitely ticks all the boxes.  Oh, and Happy Valentine's Day!
We went to :
5 Charlotte Street,
London
W1T 1RE
020 7436 1087
charlottestreet@cote-restaurants.co.uk
But Côte Brasserie have locations all over the country.  Find your nearest one here for a fabulous meal!
Pin it for later