This evening Dan and I had been invited to try out the new Coach Maker's Arms Pub in Marylebone, London.  The restaurant has only been open 6 weeks so we were excited to see what was in store for us.  The Coach Maker's Arms is part of the Cubitt House pub group and is set over three floors.   In the basement there is a cocktail bar, the ground floor is the pub and the first floor is the restaurant.
I'd had a look online and seen that the cocktail bar looked very inviting. We arrived early for our reservation so that we could have a cocktail before sitting down.  The ground floor was very busy, full of people drinking after work with a few eating some of the bar snacks.  We carried on downstairs to the basement to find the Cocktail bar, 72.  It was dark and cosy and we were shown to a table for two and offered the cocktail list.
I chose the William Pear Martini (£11) which was a blend of Stolichnaya Vodka, pear purée, honey & lemon juice.  Perfect for me as it had no refined sugar.  Dan went for a Spicy Coach (£11) which was Olmeca Altos Plata Tequila, Manzana Verde, lime juice & green jalapeños.  They were both very fresh and clean and a really delicious and a relaxing way to begin our evening.
After we'd finished our cocktail we made our way up to the dining room on the first floor.  It was a gorgeous room with huge windows out onto the street below.  We were given a cosy banquette booth and the menus.  We ordered a bottle of the House Red which was the Cubitt House 'Garnacha' Rioja (£32).  It was a 2014 blend of Garnacha and Tepranillo aged very lightly in oak.  So lightly in fact that it was very hard to detect  This meant that the fruitiness came through a lot more and the wine felt much lighter.  It was full of juicy red fruit flavours but quite spicy at the same time and was a really drinkable bottle of wine.
Whilst we were enjoying the wine, the host came over to explain the menu to us.  He explained that the standard menu is small but there is a huge specials board which changes daily.  He told us that at the Coach Maker's Arms, the ethos of the menu is food that is sustainable, local and seasonal.  On the back of the menu you can even see where your meal came from.  They list the farms and fisheries that they source their produce from and are very keen to promote local producers..
I certainly felt like I was spoilt for choice.  There was something for everyone with plenty of meat, fish and vegetarian dishes to choose from.
Burrata is one of my absolute favourite ingredients ever.  I just had to order the Burrata with glazed baby carrots & sesame crisp (£9).  Dan decided to go for one of the specials.  He opted for the Spiced Lamb, Feta stuffed olive with date yoghurt (£8).
I wasn't disappointed.  It was quite possibly the most amazing Burrata I've ever had.  It was unbelievably creamy and when I cut into it, the centre oozed out.  I've usually eaten Burrata with light summery flavours, such as tomatoes or peaches etc.  It was really different and interesting to see it paired with heartier root vegetables and I was surprised to see how well it matched.  The sesame crisp added a lovely crunch to the whole dish and I'm planning on re-creating them for the blog very soon!
Dan's Spiced Lamb was a twist on a Scotch Egg which was a very different idea.  At the centre of the ball was the feta stuffed olive, surrounded by the spiced lamb meat and then breadcrumbed and deep-fried.  I managed to sneak a taste of the date yoghurt which was delicious.  The perfect sweetness to pair with the savoury lamb.  It gave me the idea to add date syrup to my morning yoghurt instead of honey in the future to change things up a bit!
Next up were the main courses.  I'd decided on the pan-fried cod with caramelised shallots, olive tapenade and lemon dressing. (£19.50).  I loved that I could see the fishery where my cod came from on the back of the menu and that it explained that they only use cod from sustainable sources.  Dan had chosen the roasted leg of venison with bitter leaves, garlic mayonnaise, redcurrant jelly and fries (£16.50).
My cod was perfectly cooked, flaky and moist with a crispy skin.  It was fantastic that the menu had some lighter dishes such as this one.  When you love to eat out as much as I do it's definitely necessary to pick the healthier options some of the time and this dish really fitted the bill.  I loved the rainbow chard it was served with and with the sweetness from the onions and the tartness from the lemon sauce is was a fresh, light balanced dish.
Dan's was a less healthy option!  Again, they'd done a twist on a classic.  The Venison came served in a bagel so it was almost like their version of a steak or pulled pork sandwich.  Perfect for the man who likes his carbs!  The venison was cooked really well, nice and pink, and he really enjoyed the dish.  For me, I would have liked some salad or vegetables on the plate, but that didn't bother him.
Our last course was the cheeseboard (£11.50).  It was enormous and had a selection of four cheeses, one hard Cheddar type, one blue, one creamy Brie, and one gooey one.  (The gooey, stinky one was definitely the best!)  It came served with biscuits and quince jelly which I couldn't have, but I loved the addition of grapes and apple slices.  We had our cheese served with a glass of port which was a 10-year-old Tawny Port  from Quinta de la Rosa in the Douro region of Portugal (£10).  It took me right back to my summers spent in Portugal sipping a glass of Port after dinner at Pequeno Mundo or A Quinta.  Sweet, juicy and full of ripe berry notes it was the perfect accompaniment to the salty, tangy flavour of the various cheeses!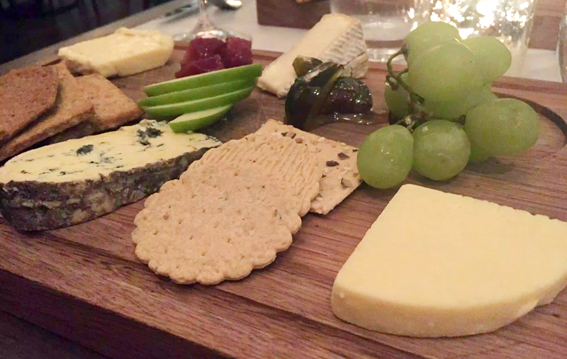 We left with full bellies having had a delicious meal.  We'll have to make sure to try some of the four other Cubitt House venues now!  If they're anything like the Coach Maker's Arms we'll be in for some great food and service.
88 Marylebone Lane
W1U 2PY
T: 020 7224 4022
reservations@thecoachmakersarms.co.uk
Pin it for later