Catch up on Madrid Day 1, Madrid Day 3
Apologies for the extremely long post yesterday, but we did so much and I didn't want to leave anything out.  Hopefully today's will be a bit more concise!…
Another absolutely gorgeous day and this morning the plan was to head to the Mercado San Anton, another market like the Mercado San Miguel and buy some food to eat on their open rooftop.  That all went to pot when we came across Primark on our walk there.  We went inside and I was in heaven.  not only was it the biggest Primark I've ever seen, but the building itself was stunning and it was so clean and tidy (unlike the UK Primarks)!  There wasn't a single garment out-of-place, or on the floor, it was shopping heaven and we spent a couple of hours in there and walked out with a bag full of purchases each.
By this time it was getting on for lunch so we decided to head to Mercado San Anton to buy that instead of breakfast and then take our goodies to the Retiro Park for a picnic in the sunshine.  We wandered around taking in all the sights and smells and decided to head out to the terrace for a glass of wine in the sunshine and to decide what we wanted to buy.  The terrace was glorious in the sunshine (which we hadn't seen much of having spent most of the morning in Primark!)  We decided on jamon, chorizo, a few cheeses and some fruit and veg to have it with, along with a bottle of wine and went back in the market to make our selections.  Edit: I wrote about this market and a few others in my Round-Up of the Best Food Markets In Madrid.
At the cheese counter we decided to pick all Spanish cheeses, and new ones that we'd never tried before, so we ended up choosing a soft cheese called Massimo, a blue cheese called La Peral and a hard cheese called Vicente Pastor.  We got some sliced jamon iberico and chorizo from the counter and from the fruit and veg stall we got an apple, a pear, some cherry tomatoes and some grapes.  I picked a bottle of Muga, one of my favourites and we were all set for lunch.
We headed up the road to the Retiro park, an enormous park to the East of the city.  It's huge and when you're inside you can barely hear the traffic noise so it feels very peaceful.  You can also sit anywhere and there are so many different parts to it and little gardens that you can always find somewhere away from other people.  We picked a spot and set up our picnic in the sunshine.
Bellies full, we lay in the sunshine for a little bit before deciding to explore the park a bit further.  We came across the boating lake, and the Palacio de Cristal before entering an area that was much denser and made us feel as if we were in a forest, rather than a park in the middle of a city.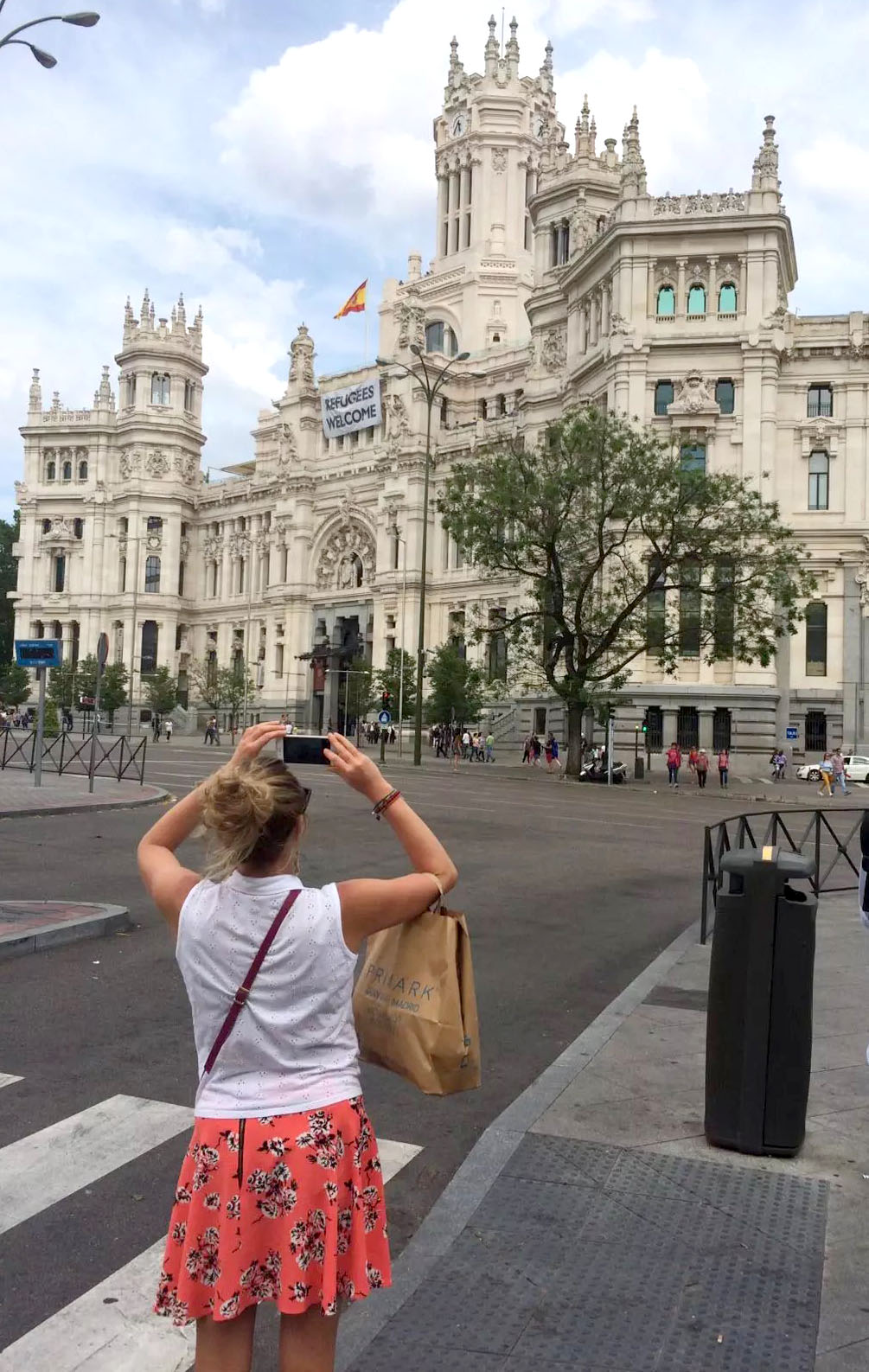 Leaving the park we headed for the Circulo de Bellas Artes as I'd heard they had a rooftop bar with a 360° view over the whole of Madrid.  We passed the stunning Banco d'España on the way and had to take a photo.  We queued to go up to the rooftop and the view was stunning.  You could see for miles and you could walk round the whole building so you could see in every direction.  Dan wanted me to buy my mum a birthday drink from him so I bought us both a Hendrick's and Soda -16 euros! – huge rip off, but she's worth it!  We enjoyed the drinks and the view for a little while before heading back to the hotel to prepare for dinner.
Tonight was the first of my birthday treats for my mum.  She'd been desperate to see a Flamenco Show, so I'd some some research on the best ones and booked us a couple of tickets at Cardamomo.  The Flamenco was absolutely stunning and very moving.  They had two guitarists, two singers and a male and female dancer.  Everyone was spellbound when they started dancing.  There was so much passion and emotion in their dancing that it's impossible to express it in words.  (Apologies for the blurry pics but we weren't allowed to use flash).
After the Flamenco we wandered to dinner which tonight was at Posada de la Villa.  Another typically Spanish restaurant, similar to Botin and situated on Calle Cava Baja, the road with all the Tapas Bars.  It was like a beautiful old Spanish Villa type Farmhouse inside and the dining room was really beautiful.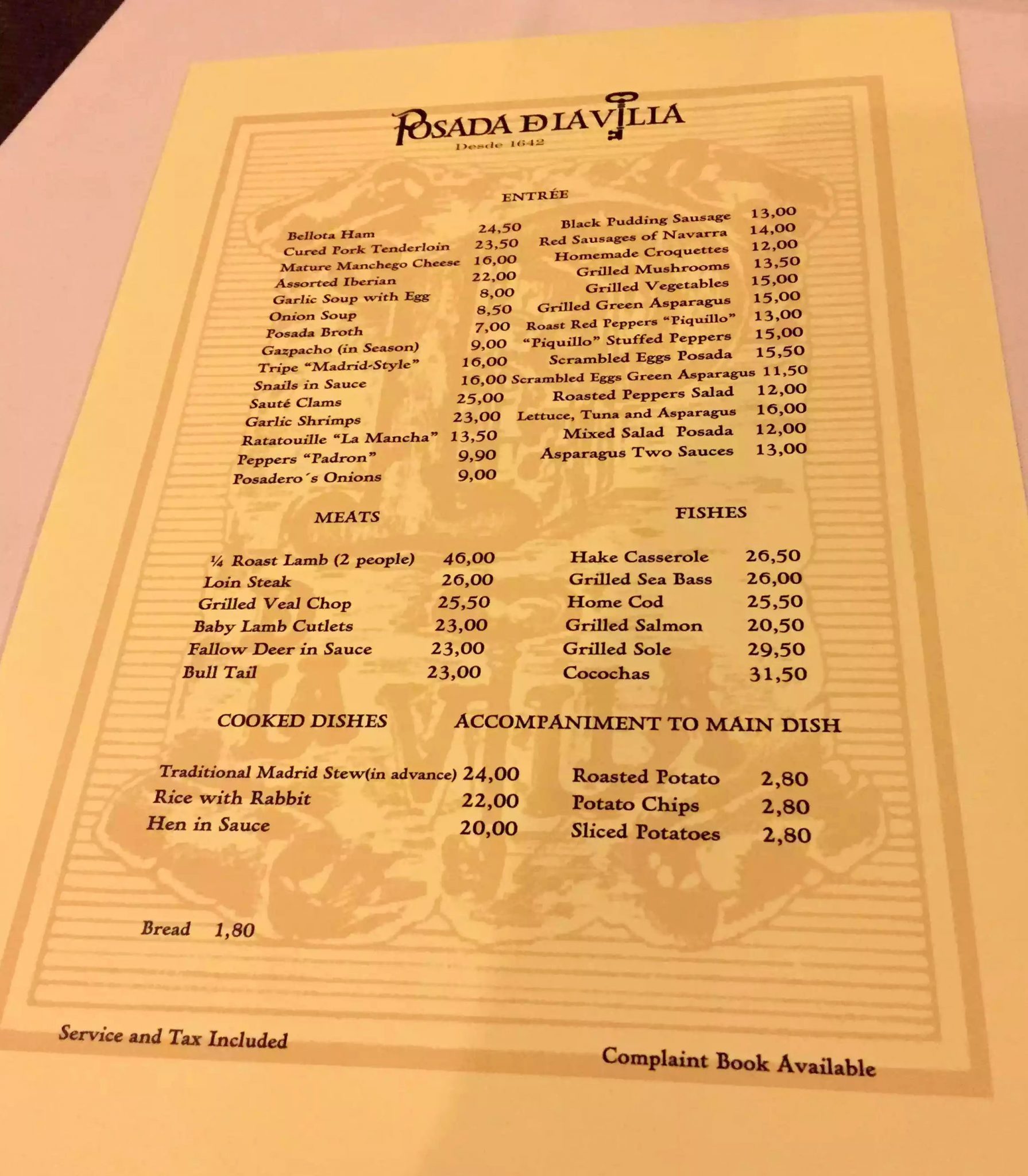 Sitting down we noticed that all the chairs had names engraved on them of famous people and the waiter said they'd all eaten in the restaurant.  Mum got Javier Bardem's chair!  We were going to choose a few starters and share them all but then the table next to us ordered the 1/4 lamb.  It looked so amazing we changed our minds and ordered it to share instead along with a side of mixed vegetables.  It was definitely the right option.  It was the House Speciality and it was delicious.  It had been slow cooked so that the meat just fell off the bone and was so tender and succulent.  I'm still not sure what made the vegetables so amazing also, maybe it was the way they were cooked, or the herbs they were cooked with but they tasted incredible!
I also ordered a beautiful bottle of Macan Classico Rioja which went perfectly with lamb, and we left feeling very full.
Also see…Madrid Day 1, Madrid Day 3