Recently, a friend of mine celebrated her 40th birthday and hired a Villa in Cassis.  We were all invited for the weekend with a special treat for lunch on her actual birthday.  A 7-course tasting menu at 2 Michelin starred Villa Madie, Cassis.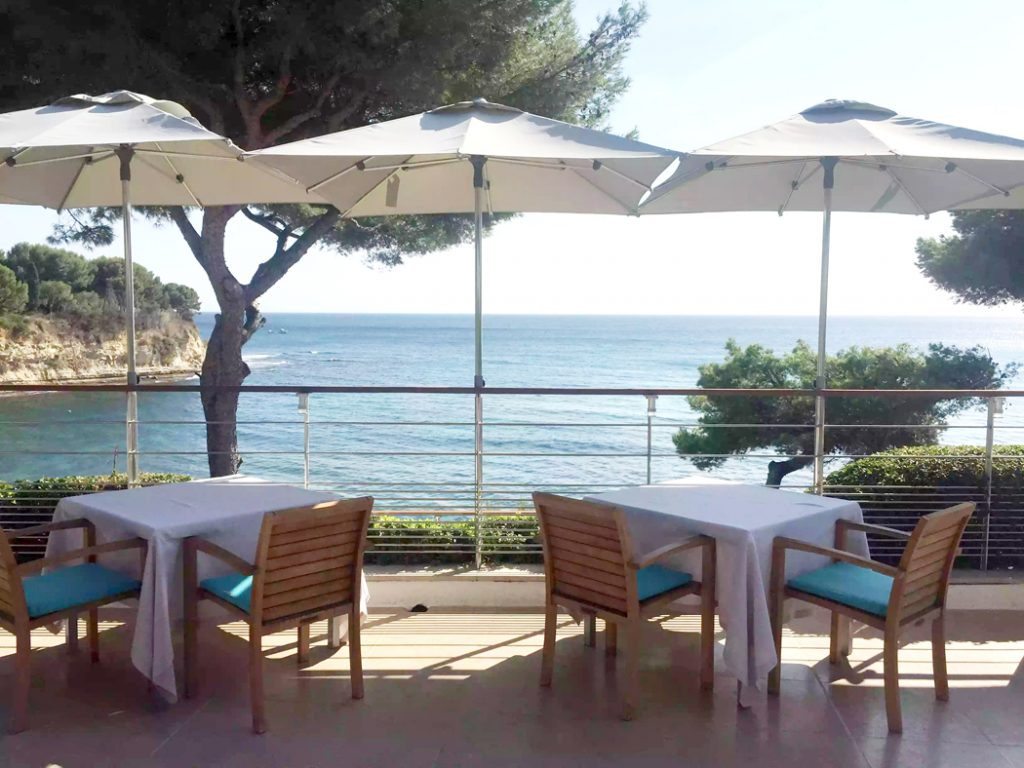 Set just a little way out-of-town, we arrived to the beautiful Villa Madie.  A stunningly elegant restaurant in the most beautiful surroundings.  Perched up on a cliff top with a view out to the ocean and the beach below it really was lunch in paradise!
We were poured a welcome glass of Rosé Champagne and the weather was so fabulous that we headed to the beautiful chill-out sofas to drink it in the sun, overlooking the sea.  It was so quiet and peaceful and the view was absolutely breathtaking.
We were then invited to our table for canapés to start our incredible meal.
The canapés were beautifully presented and they were all variations on a Sea Bass theme.  There was a puff pastry parcel filled with smoked sea bass paté.  A cracker of wild rice topped with sea bass and wasabi.  And finally, the one I could eat (I don't eat grains, gluten or refined-sugar) a smoked sea bass purée sandwiched between two wafer thin discs of seaweed.  I loved  how much flavour they were able to cram into such a tiny mouthful.  Smoked fish paté is one of my favourites so it was an instant hit.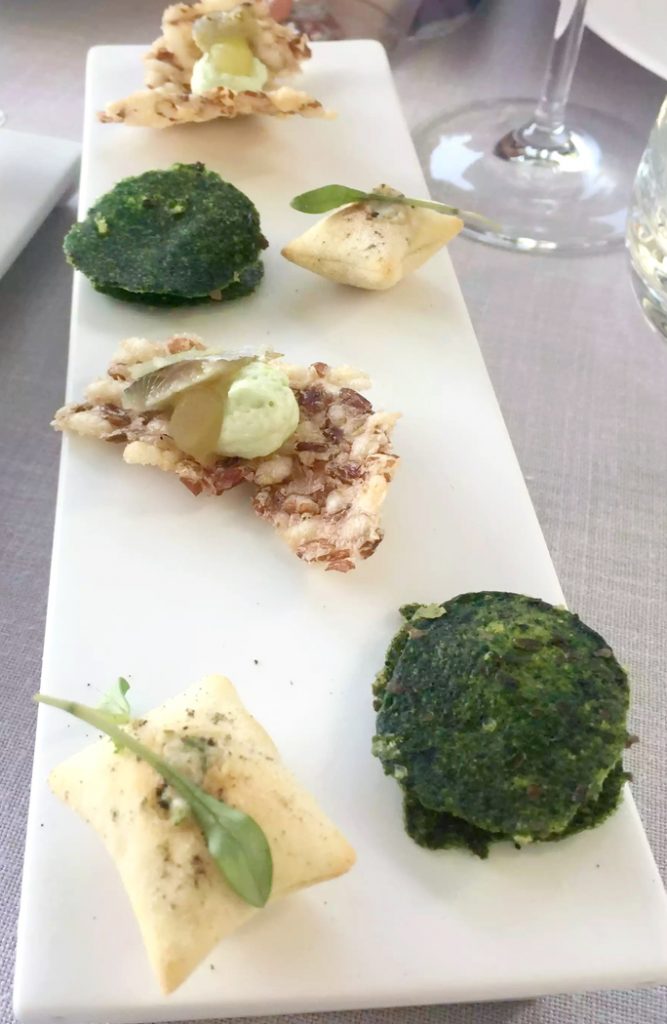 There was also and a sea bass ceviche with paprika jelly and an Artichoke mousse.
The sea bass ceviche was light, elegant and refreshing and the artichoke mousse was the complete opposite.  It was so delicate, rich and creamy.  It had hazelnuts in and was sprinkled with a small amount of ground coffee – flavours that shouldn't go together but worked perfectly!  I think it was my favourite of all the canapés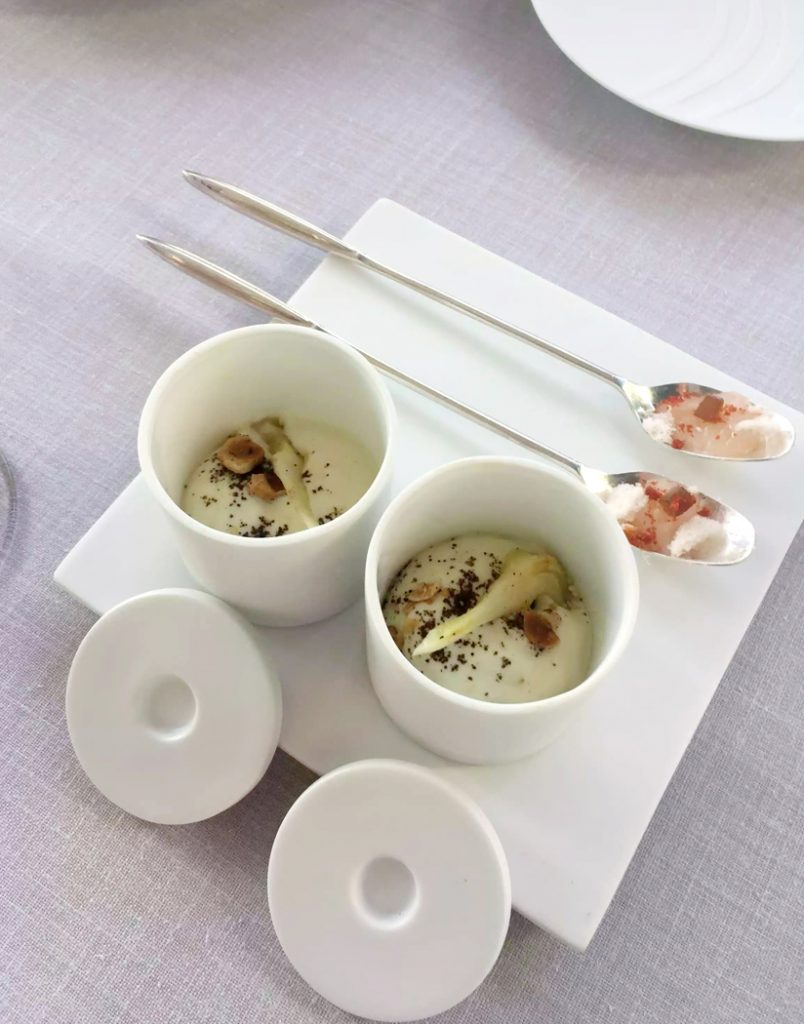 Then it was on to the main event!  We were having the 7-course tasting menu for the whole table which changes every day but always uses locally sourced, seasonal ingredients.
The first course was an amuse bouche (or a 'mouth-pleaser'), created by the chef to excite your taste buds and prepare you for the flavours to come.  Today it was burrata (my favourite!) with tomato foam and a basil sorbet.  The burrata was creamy and rich and the tomato foam was a complete surprise.  So full of tomato flavour but it wasn't even orange!  It was bizarre but delicious and this course was actually one of my favourite of the whole meal!  The basil sorbet was incredible – so full of flavour and something that i would love in the middle of a meal as a palette cleanser.  I just love burrata and all these Mediterranean flavours – this dish was right up my street!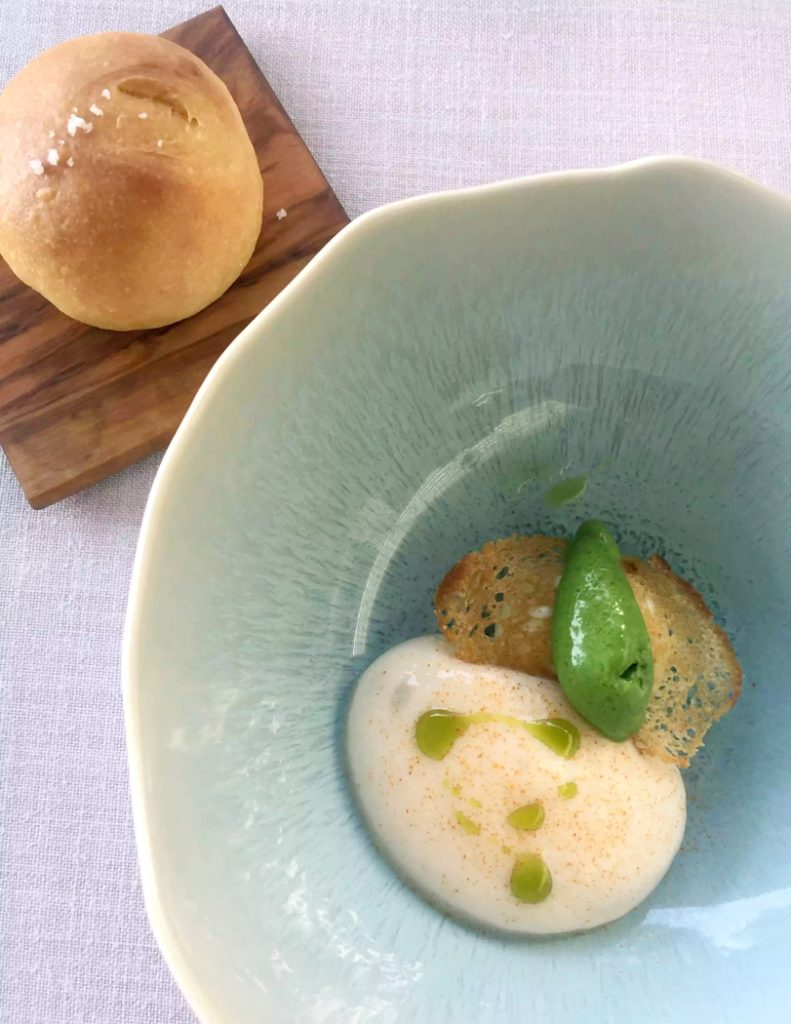 Next up was our first fish course, it was a local fish, caught that morning, plated in a de-constructed Niçoise style.  The fish was a meaty, white one and was absolutely delicious.  The rest of the dish paired with it perfectly.  There were the standard elements of a Niçoise salad, anchovies, tomatoes, olives, cucumber etc.  But then the whole dish was elevated to another level with the addition of  a tomato sorbet, edible flowers, compressed watermelon, artichokes, and everything was brought together with a Niçoise dressing.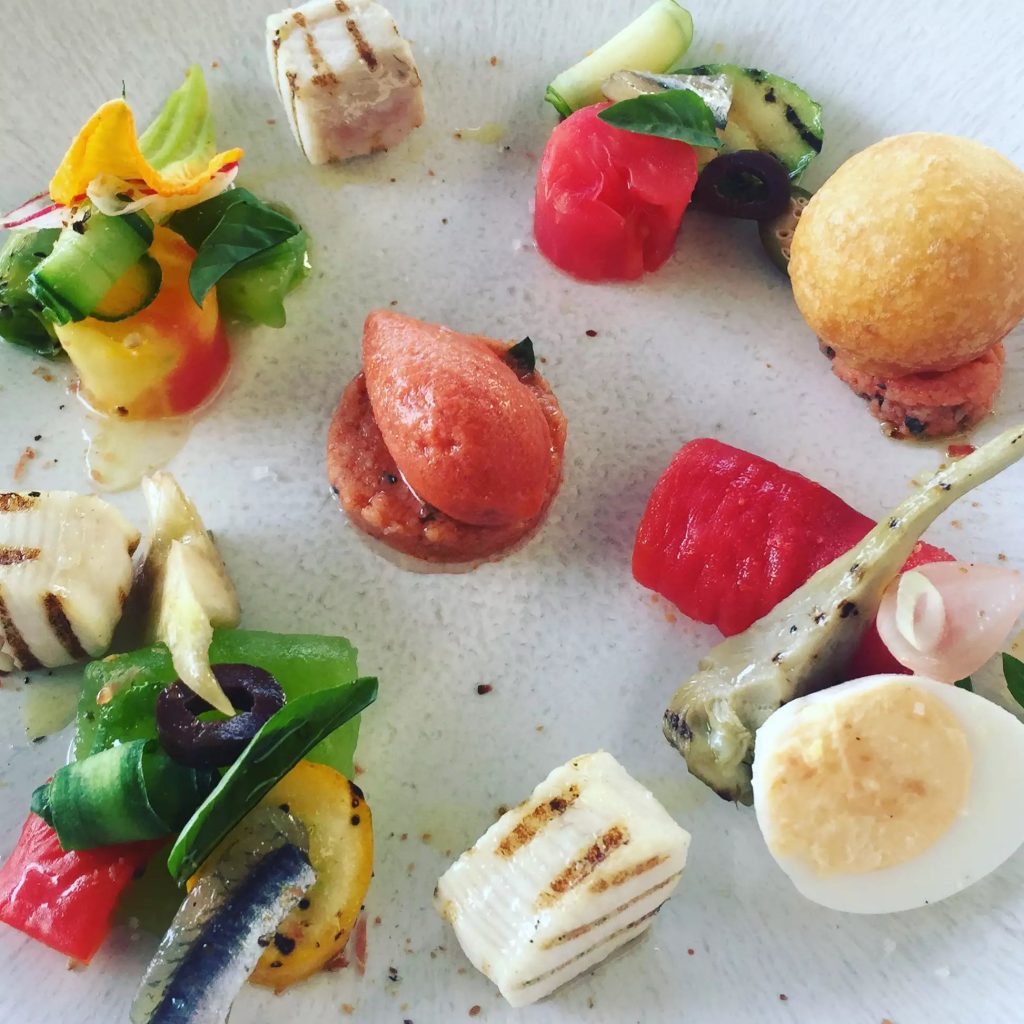 By now, we'd finished the Rosé Champagne and it was time to start on the wine.  We ordered a Bordeaux, Sauvignon-Semillon blend to pair with the Niçoise salad.  The wine was aged well and had a light oaky flavour but was still very fruity thanks to the Sauvignon Blanc.  A perfect wine to pair with a light fresh fish dish.
Next up was course number 3.  A Sea Bass with  crispy skin, an iodine foam and a kaffir lime sauce.  Served with baby turnips and an oyster wrapped in vine leaves.  The dish was brought to the table at which point they poured the sauce over the top for a bit of added theatre!  The fish was perfectly cooked, moist and flaky but with a crispy skin.  The oyster was an interesting addition in both flavour and texture and brought a completely different element to the dish which I thoroughly enjoyed – massive oyster fan here!  I couldn't really taste the iodine foam, it got a bit lost in the kaffir lime sauce, but that in itself was delicious.   Full of flavour and slightly creamy but acidic enough not to over-power the delicate flavours of the oyster and the fish, it was another stunning dish.
We paired this dish with a Condrieu, a wine from the Rhone Valley in France.  Condrieu is a wine made from 100% Viognier grapes.  It was a dry wine but with peachy and tropical fruit flavours rather than  the citrussy flavours of the previous wine.  It smelled a lot sweeter than it tasted so it was a nice surprise to get the lighter freshness on the palate.
The next course was up and it was another fish dish.  Turbot this time, with fennel hearts and an aniseed stock.  I'm a bit of an enigma when it comes to aniseed.  I don't like the flavour and can't stand Sambuca or Pernod or Liquorice, but I do love fennel.  I think the aniseed flavour is just light enough to not overpower me!  A lovely dish but not my favourite one of the day but that's just down to my personal preference.  I enjoyed the fish and the fennel but the stock was slightly too strong for my taste.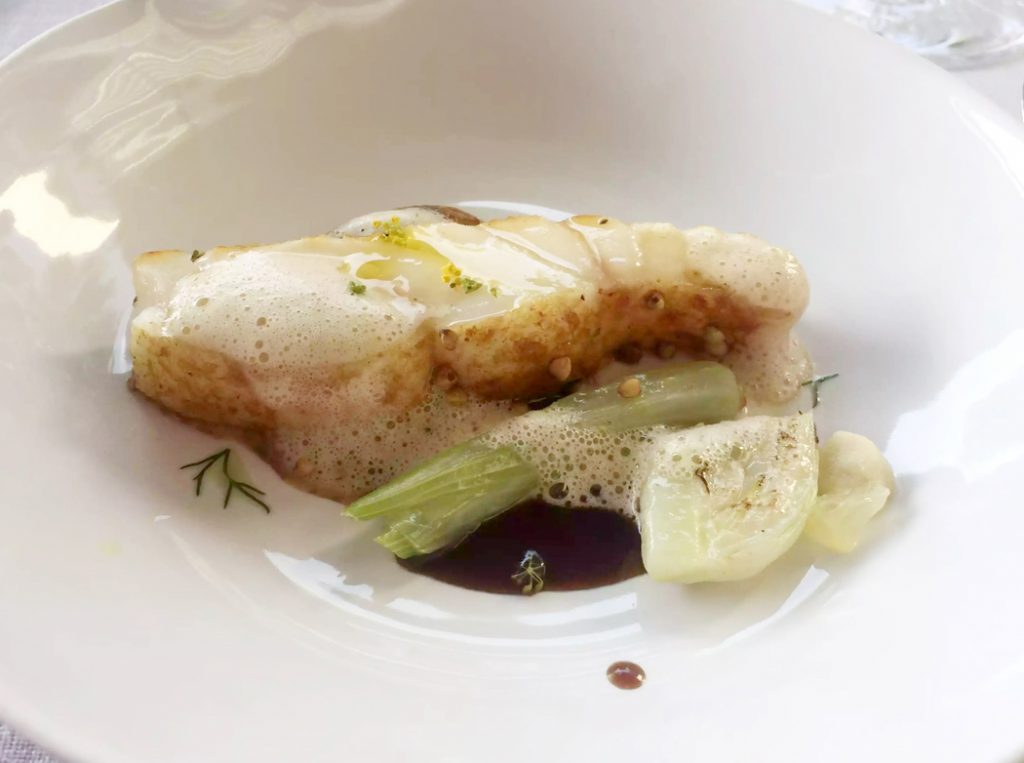 However the wine that we paired this course with was my favorite white of the day.  A delicious oaky Chardonnay which was buttery and light but with a creamy depth of flavour.  Exactly the type of wine that I love the most and I enjoyed every sip.
The final savoury course was a meatier one.  It was pan-fried pigeon breast with a pigeon leg bon-bon, romanesco cauliflower, pistachios and cherries.  I've only tried pigeon once before and wasn't a fan of it.  I found it too gamey but maybe I just had a bad one as this was delicious!  Meaty in texture and yes, a gamey flavour, but not overpoweringly so.  The bon-bon was delicious and it was so nice to taste the different meats from the breast and the leg (I'm usually a dark meat fan myself when it comes to poultry – it's where all the flavour is!)  It added an interesting texture too, as did the pistachios and I loved the sweet and sour flavour that the cherries brought, which cut through the richness of the meat.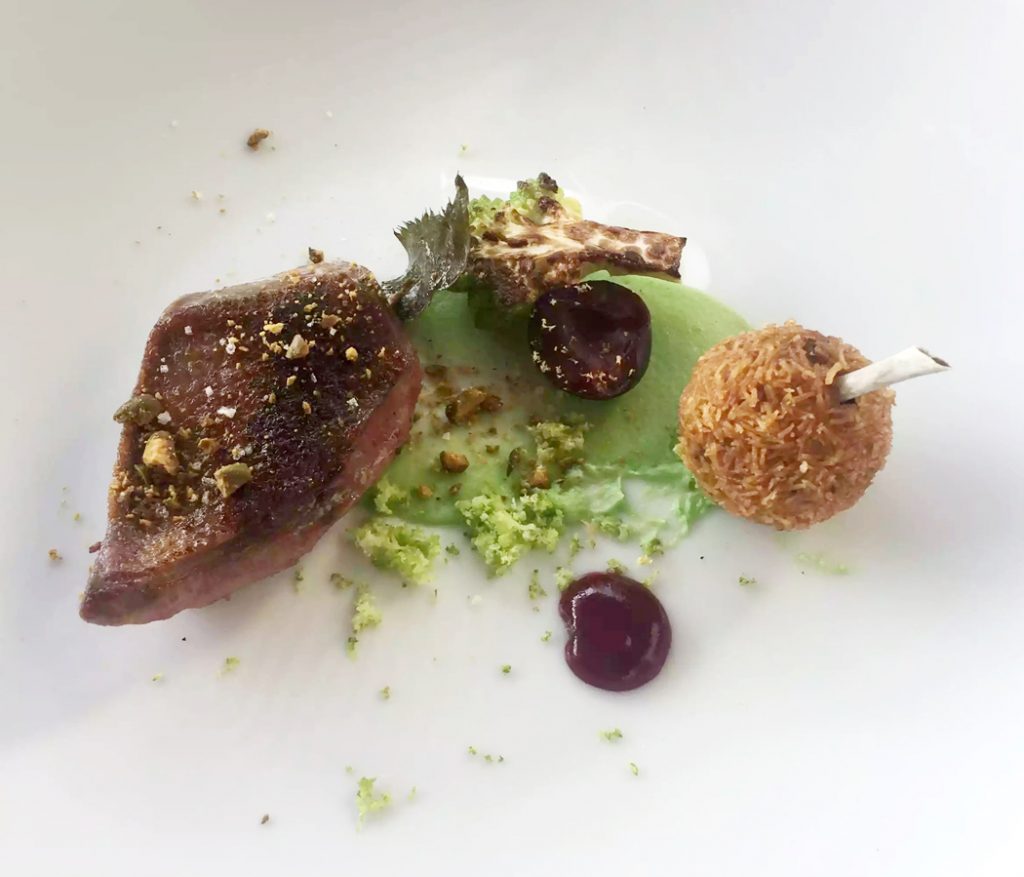 A stunning dish to end on, which deserved an equally stunning wine to pair it with.  Onto the red for this course and we chose a Burgundy Pinot Noir.  Light enough for the setting, a warm summer's day, yet rich enough to pair with the gaminess of the pigeon.  This wine was delicious and had the distinct farmyardy taste that Burgundy Pinot Noirs are known for.  This may sound odd but is actually rather delicious.  For want of a better word the wine gives off an aroma that can only really be described as manure (a farmyard taste sounds a bit less crass).  It gives the wine a depth of flavour and if you haven't tried a wine like this you should really give it a go.  Rich and leathery these wines can be really amazing.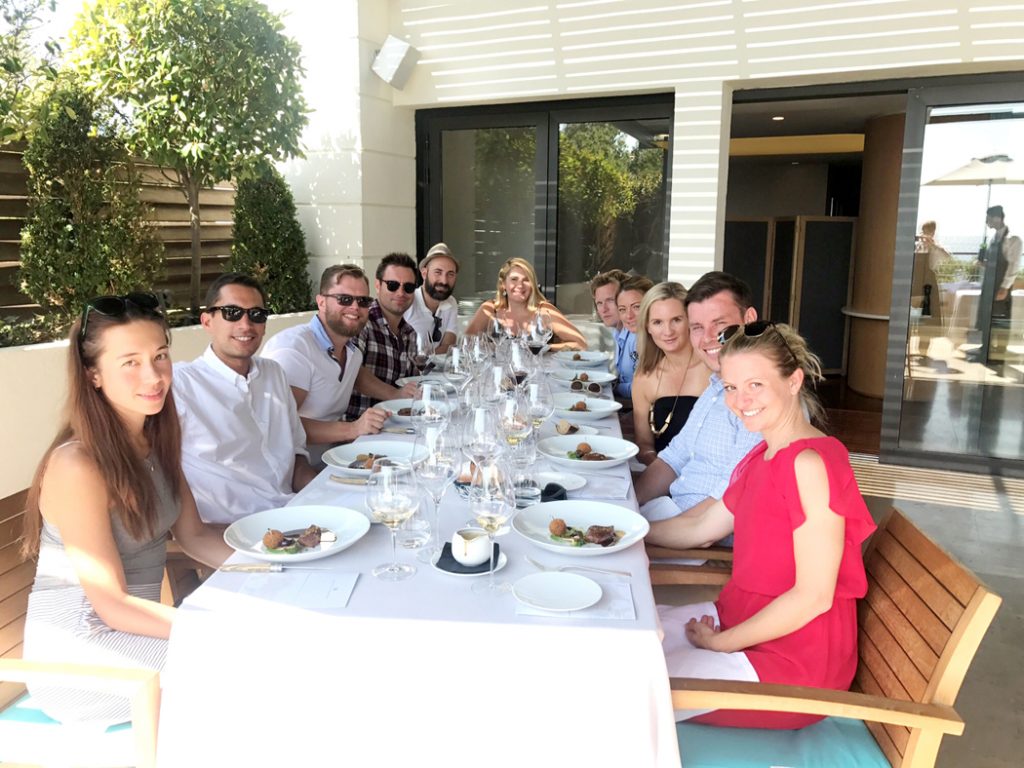 Next, out was wheeled the most incredible cheese trolley stocked with mainly french cheeses with a few other well-known ones included.  Villa Madie, Cassis has such an amazing selection.  In England we'd usually have cheese at the end of a meal but actually, cheese should really be eaten as a bridge between the main course and dessert.  We were offered a choice from the trolley and I asked for a selection of the strongest ones.  I know I got some Epoisses (the smelliest cheese around!), some Dolcelatte and a few other semi-soft stinky ones!  All were delicious and when paired with the salad that was served alongside it, it was a great way to prepare for dessert.
Dessert was a palate cleansing, deconstructed Lemon Meringue Pie.  Champagne sorbet on a lemon curd with a shortcake biscuit meringue shards and lemon thyme leaves.  Served with a lemon gel it looked visually stunning but sugar doesn't really agree with me so I skipped this one.  I'm told it was rich yet fresh and the perfect combination of sweet and sour.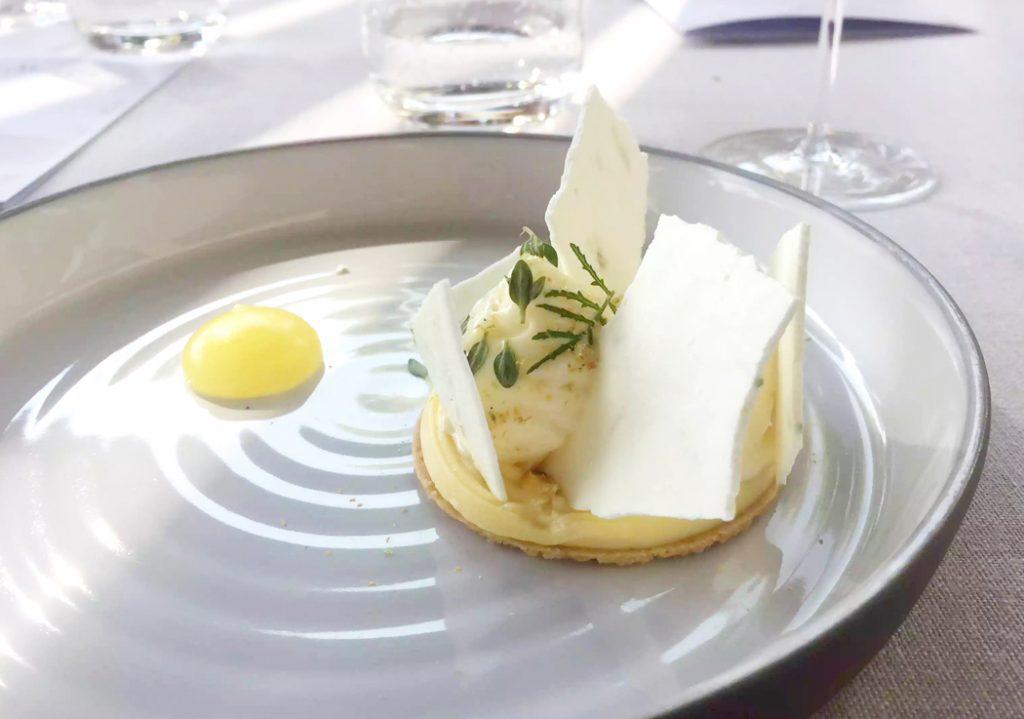 Time for the dessert wine and for this, we took the advice of the sommelier.  Katy wanted a sweet, but not syrupy wine and what the birthday girl wants, she gets!  The sommelier recommended a Dessert Wine from Cassis and brought us a bottle.  He definitely knew his stuff.  Sweet without being syrupy and gloopy it was a really lovely, light dessert wine which was exactly what Katy was after.
Dessert comes twice at Villa Madie, Cassis.  The second offering was a Chocolate shell filled with a creamy basil mousse, blueberry sorbet, raspberries and a buckwheat tuile.  It was such a beautiful plate, so refined and elegant.    I shouldn't have but I just had to taste the basil mousse – it sounded so intriguing.  Cracking open the crisp chocolate shell, the vibrant green mousse oozed out.  You don't really think of basil and chocolate as being flavours that go together but I can tell you that the small bite that I had was one of the most incredible taste sensations of the day.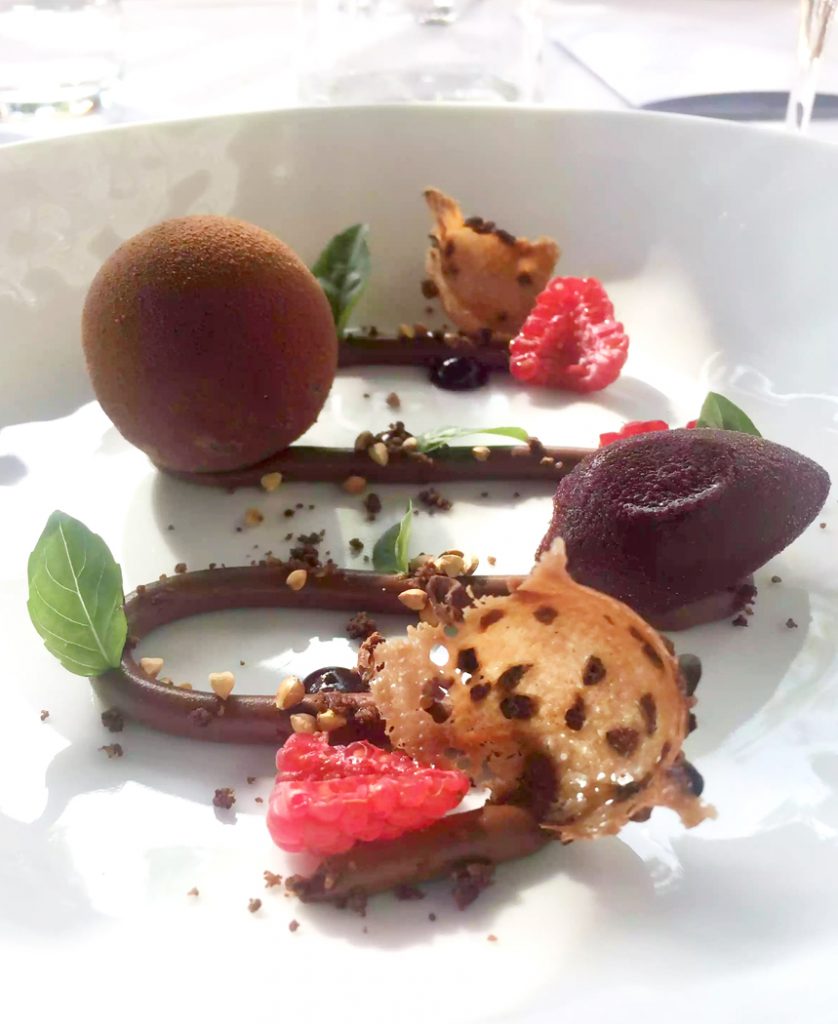 We decided to have coffee back on the terrace so we headed there with a group photo on the way!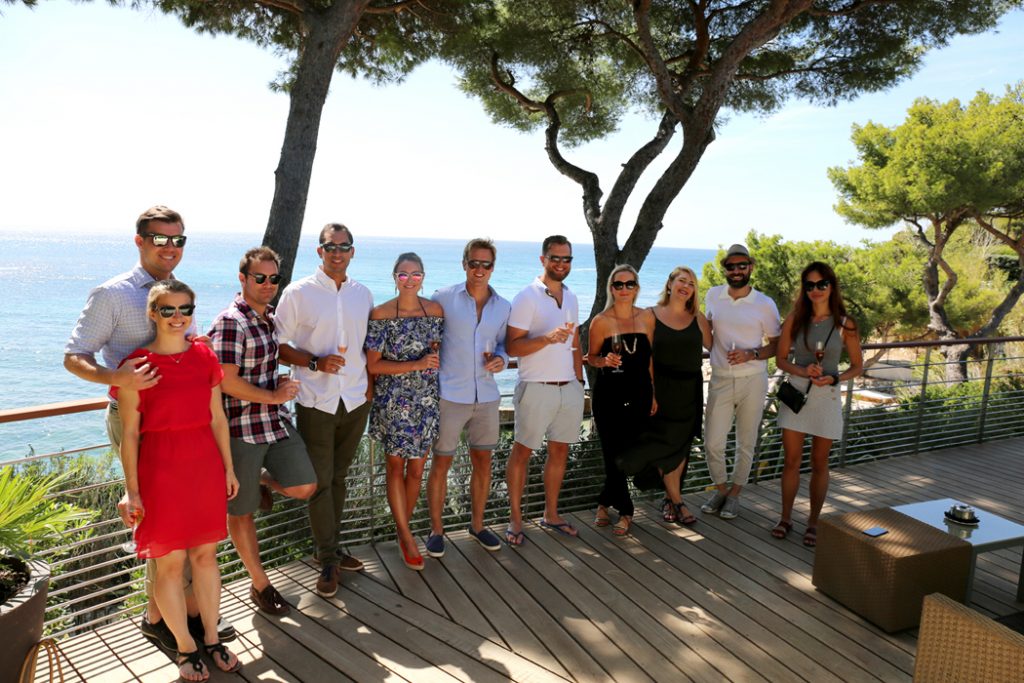 Even the coffee list at Villa Madie, Cassis has to be seen to be believed.  We were offered coffees in varying strengths and flavours from Sumatra, Italy, Kenya, Jamaica and a few other countries.  I went for the strongest one and they all came out with a beautiful plate of petit-fours.  Whether it was all the wine I'd drunk wrecking my palate, or the fact that they just tasted similar, I couldn't discern any differences between my coffee and Dan's, even though we'd picked different ones on purpose.  Maybe I'm just better with wine comparisons!!  The petit-fours were a selection of hazelnut puff pastry filled with a hazelnut cream, lemon marzipan cakes and blueberry tart.  They all disappeared even though everyone was saying how full they were.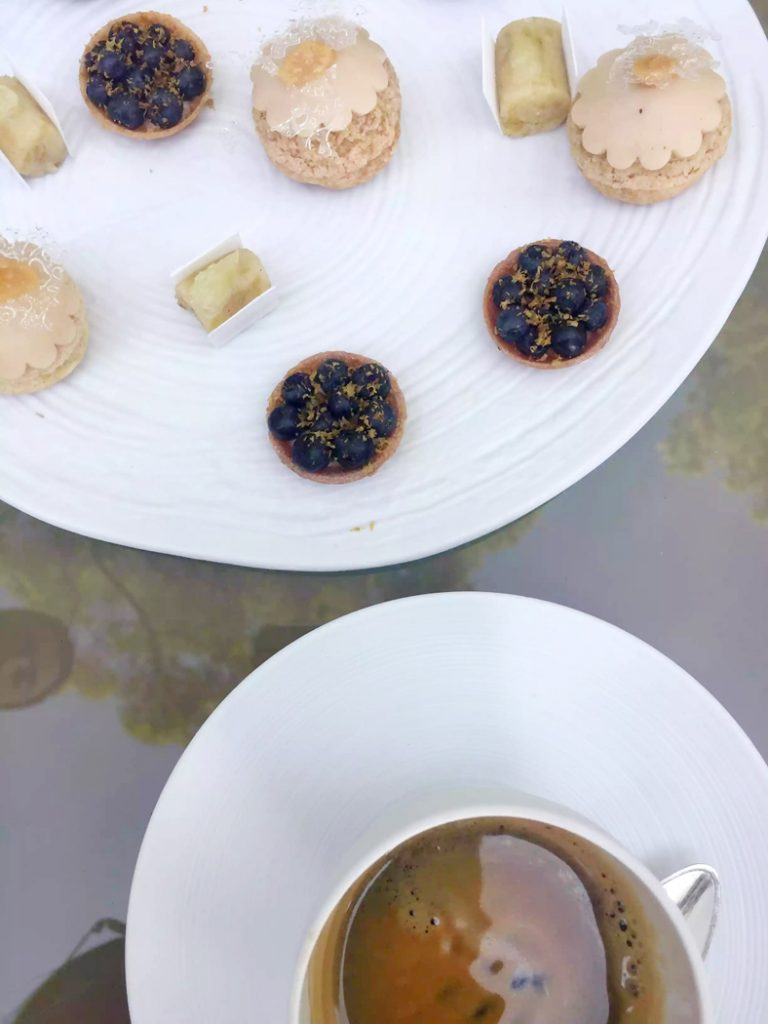 I think, including the canapés, cheese and petit-fours we ended up having 10 courses that lunch!  Utterly decadent and definitely not a usual occurrence but a memory that will last for a long time.  Fantastic food, wine and company in a beautiful setting – what more could you want.  Lunch at Villa Madie, Cassis was definitely an experience.  The service was second to none and the food and wine were exquisite.  Happy Birthday Katy!!  Here's to the next one!!
Villa Madie, Avenue de Revestel-anse de Corton, 13260 Cassis, Provence, France
Pin it for later