After yesterday's BBQ which was pretty meat heavy, something a bit lighter was on the menu for tonight.  I was originally just going to and easy go-to meal of do Pan-Fried Salmon with the Avocado Salsa but when I opened the fridge to get out the ingredients there was a half empty jar of Harissa staring at me so I decided to marinate the salmon first before pan frying it.  I spread the Harrissa Paste all over the Salmon and then ran to the gym to get in 30mins on the cross trainer while the paste did its thing.
Harissa is a spicy, fragrant paste which comes from North Africa, specifically Tunisia.  It is typically a blend of roasted red peppers, crushed chillis, garlic, olive oil and other spices and herbs.  Some herbs and spices that are often used are saffron, coriander, caraway, cumin, mint, lemon, rosewater – there are plenty of variables.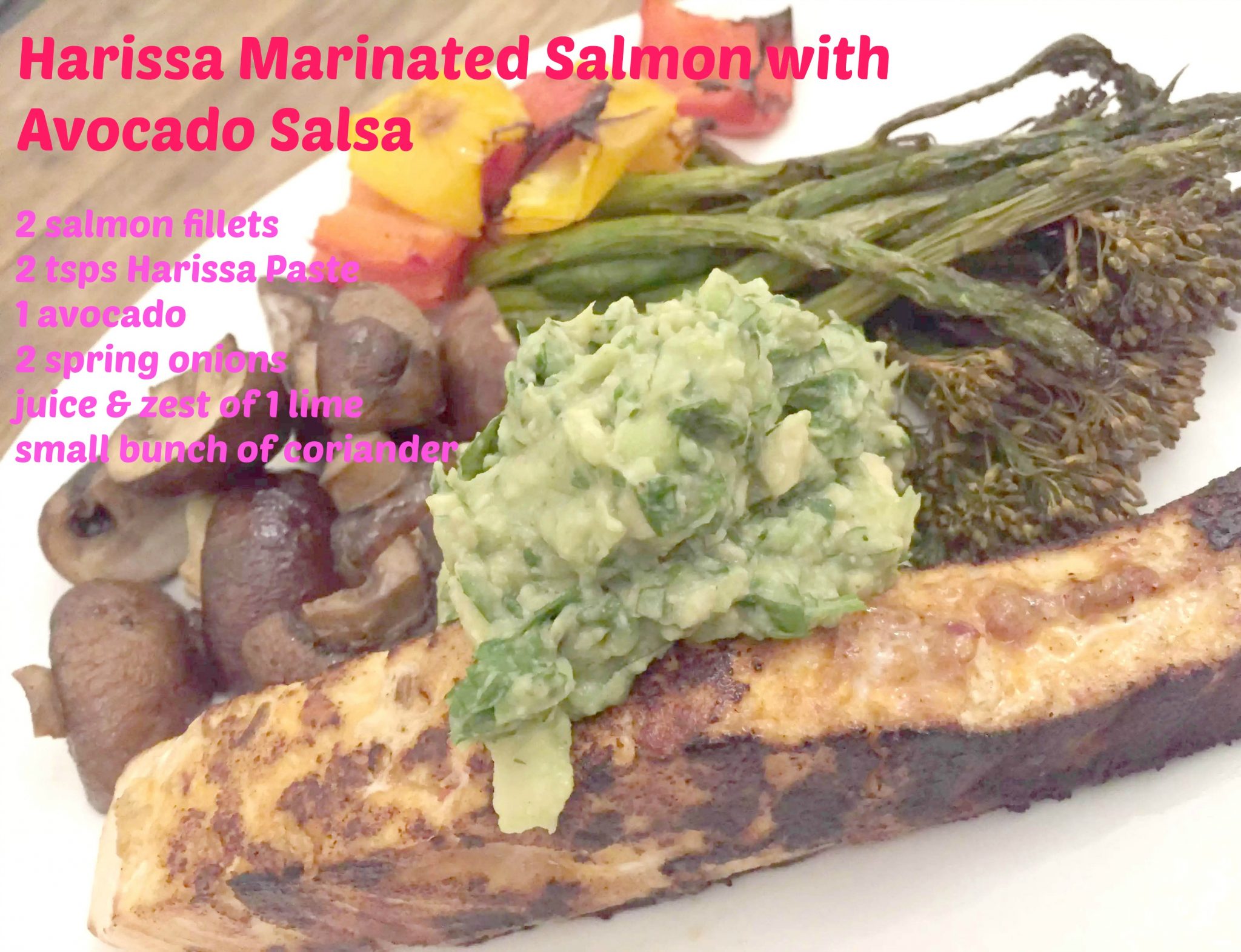 So to make this recipe, I rubbed the Harissa all over the salmon fillets and left to marinate for about 40mins in total.  Longer would be better, you could do it overnight if you had the time!  I just used the time it took me to roast my vegetables! I roasted my vegetables for about 30 mins in the oven while I prepared the rest of the meal.  I made the avocado salsa by mashing up one avocado, finely chopping two spring onions, juicing and zesting one lime and chopping up a small bunch of coriander leaves.  I mixed all of this together and seasoned with salt and pepper.  Once ready, I dry fried the salmon in a hot pan (the harrissa paste I used was already mixed with oil so it wasn't necessary to use any extra).  I probably cooked the salmon for a minute to a minute and a half on each of its 4 sides – but I like my salmon fairly pink in the middle so you may want to do it for longer.  Alternatively you could grill it or oven roast it, both of which would work just as well.  This made enough for two of us but the serving of avocado was very generous.
I served it with garlic roasted mushrooms, roasted broccoli, asparagus and peppers (and some roasted potatoes for Dan).  For more information you can check out My Ultimate Guide to Roasted Vegetables.  The punch of lime from the avocado salsa really cut through the fattiness of the salmon and the meal was very light and fresh.
Is it an Avocado Salsa or is it just a Guacamole?  Not entirely sure what the difference is, but Avocado Salsa sounds a bit different so that's what I'm going with!!