Tonight's dinner had to be a quick and easy, but tasty one, for two reasons…
BODY PUMP class doesn't finish until 7.30
Our hungry guests were arriving at 7.30!!!
Tonight two of our friends from Sweden arrived in town to spend some time with us for the next few days.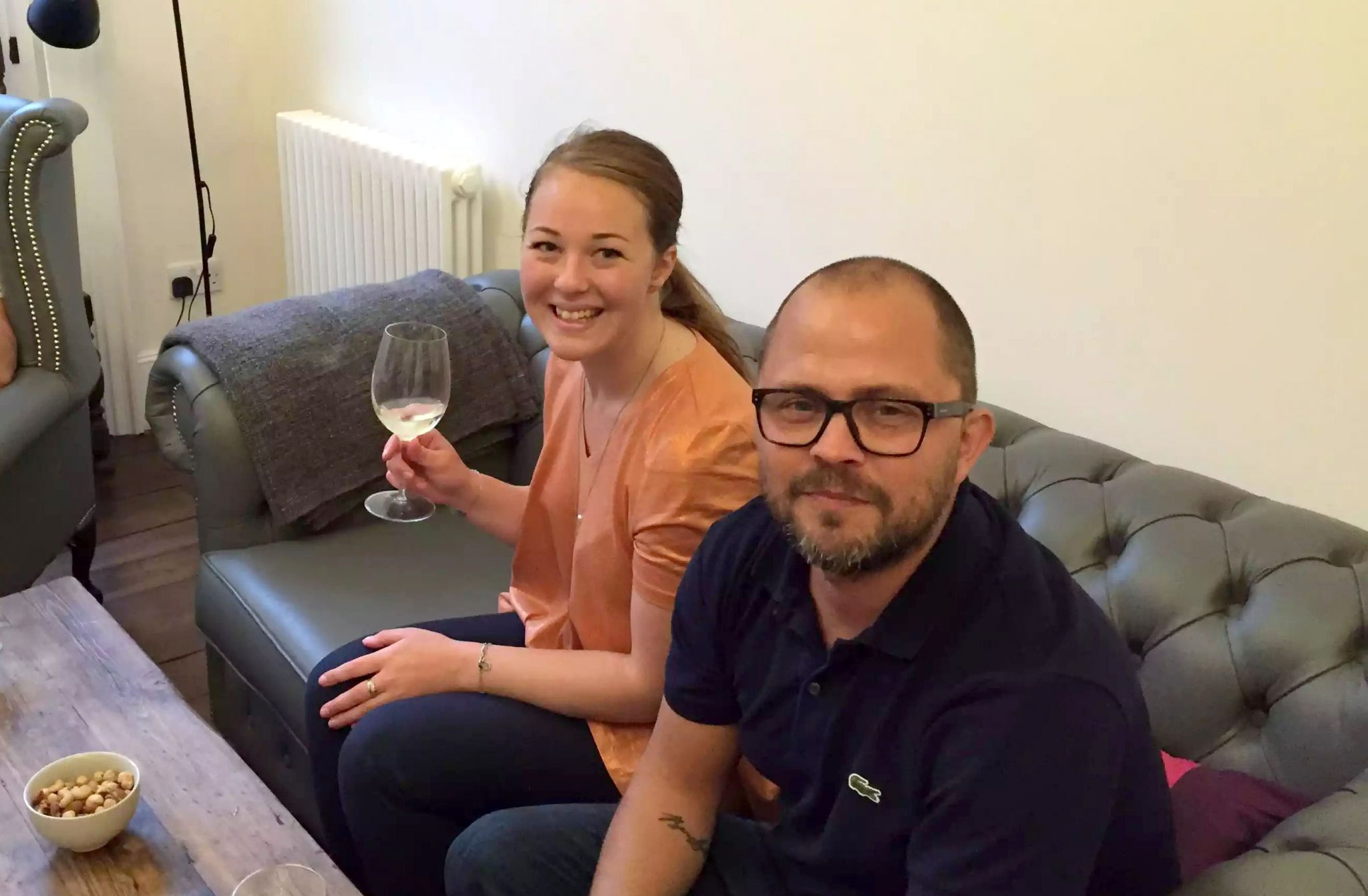 We met Mats and Matilda through Dan's business partners (and friends) Josephine and Liam and we all ended up travelling around Australia together earlier this year (ending with Josephine and Liam's wedding in Melbourne).  We hadn't seen each other since then, so were thrilled when they said they were coming to London and wanted to stay with us.  Pics are from our trip to Bondi Beach – Take me back!!!
Arriving at ours from the airport at about 7.30, I'd promised to cook them dinner so I picked Pesto Baked Salmon with Roasted Vegetables and a Feta & Lentil Salad, as I knew I could throw it all together fairly easily and then we could chat and catch up while it was all in the oven.
Dan and I ran back from BODYPUMP to start prepping the dinner.  He chopped and peeled potatoes and butternut squash, while I prepared the roasted vegetables (fennel, peppers, red onion and asparagus).  We spread everything out on baking trays, coated everything in oil, salt and pepper and got them into the oven quickly at 180C.  You can check out my Ultimate Guide to Roasted Vegetables for more information.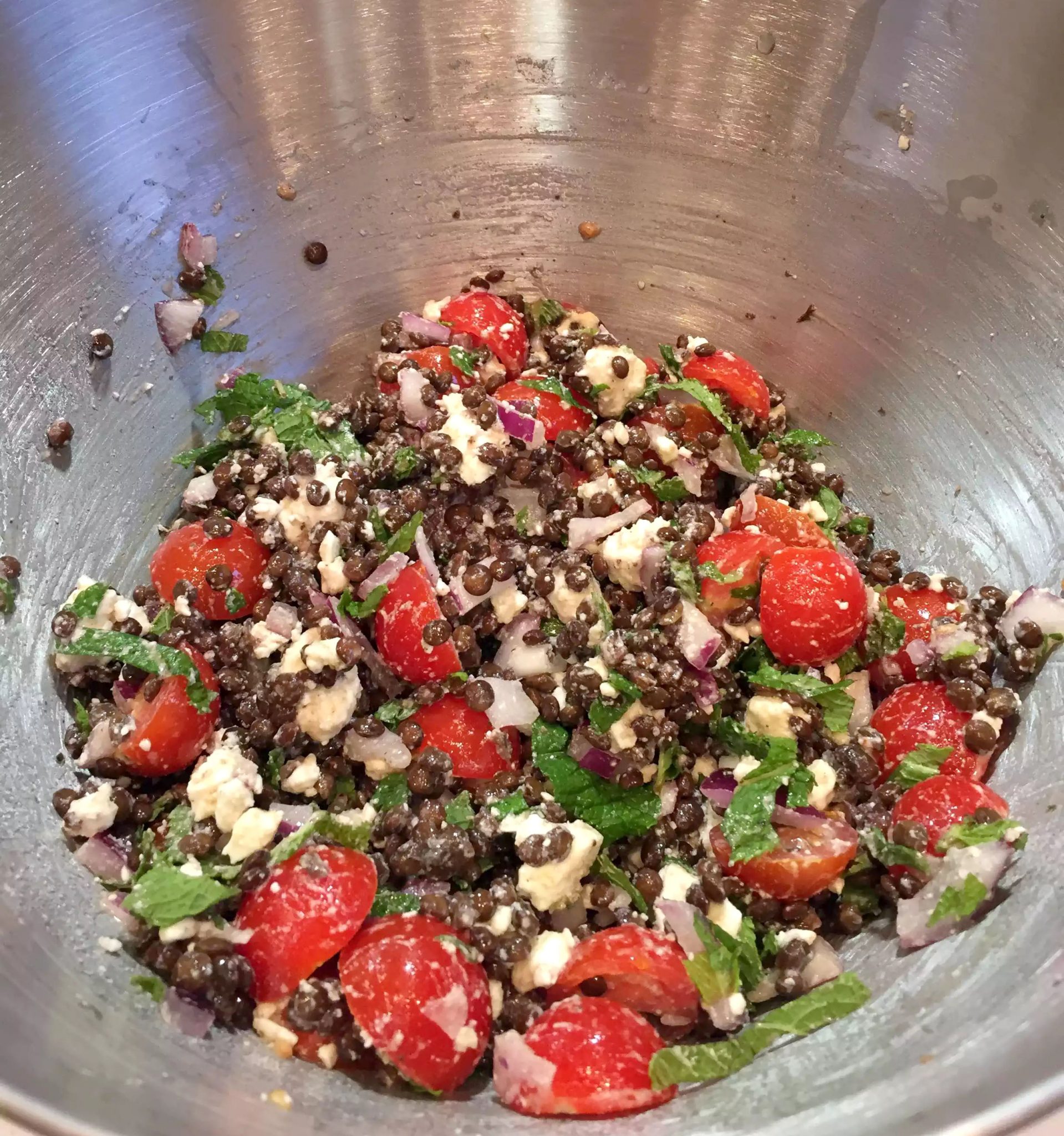 Then it was onto the salad.  I'd bought pre-cooked puy lentils and to them I added the crumbled feta, halved cherry tomatoes, diced red onion and chopped mint.  Then I drizzled some olive oil and lemon juice over the top and seasoned it with some salt and pepper.  Mixing everything up, it came together pretty quickly and we'd managed all this before they'd even arrived.  Edit: This salad was so amazing I gave it it's own blog post – Check it out here
They got here as everything was pretty much prepped.  All I had to do was spread (shop bought :o) pesto on the salmon and leave it to marinate for a short time.  I would definitely normally make my own but time was of the essence tonight.
After the vegetables had been in for 30 mins, I added the asparagus (it needs a much shorter time to cook, and would burn otherwise) and also added the dish of salmon into the oven.  I love a dinner where you don't need to do anything last-minute.  It was great, as it meant I could relax and catch up properly with Mats and Matilda for the last bit of cooking time.
We opened a bottle of wine while everything cooked for another 15 mins – I like my salmon quite pink in the middle and hate it to be overcooked so I always err on the side of caution.  If you like your fish cooked all the way through then I'd probably leave it in for another 5 mins.  Luckily it was cooked perfectly and we set the table so that everyone could help themselves.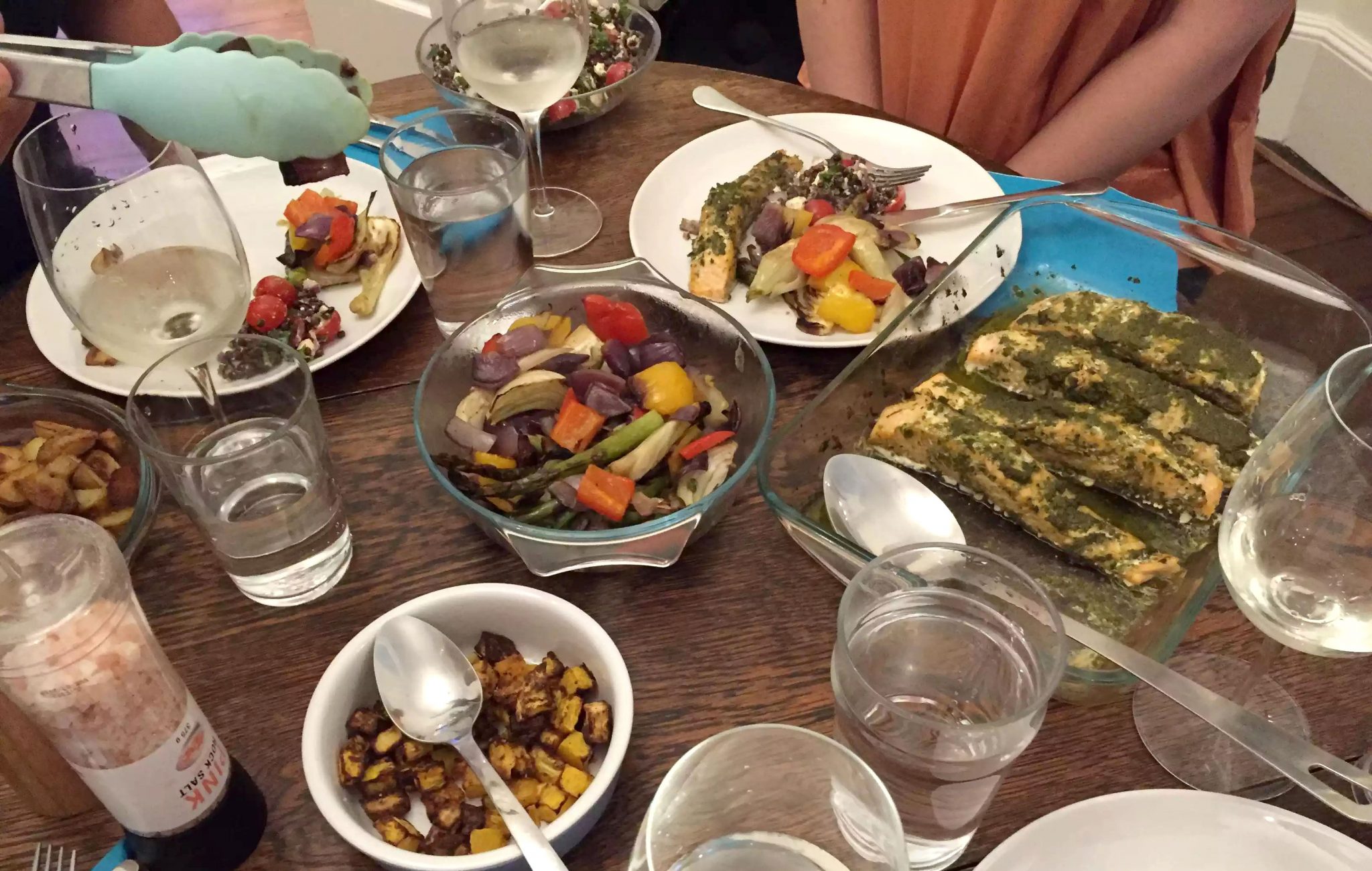 Everyone loved the food and said it was great, but for me the stand-out dish was the salad – I had seconds.  I loved the freshness of it, It was quite like a tabbouleh with the mint, onions and tomatoes, and everything tastes better with feta anyway!  It was a nice change for me as I don't normally cook with lentils…I'm always unsure how long to cook them for, so the pre-packed version was great to start with.  I'll have to have a go at soaking and cooking my own sometime,  but baby steps first!