Our friend Craig turned 40 recently and had a big party whilst we were in Tarifa.  We were gutted to miss it so decided to throw him a surprise dinner with another friend, Laura, to make up for it.  He'd been wanting to try the restaurant German Gymnasium near Kings Cross so we booked him up for the night but didn't tell him where we were all going – just made sure that he was free to come out.  Well that night, Laura met up with him and they took the tube together as he tried to guess where it was that they were heading.  I think he clocked it when they got to Kings Cross, but by the time we arrived they were sitting at the bar having a cocktail and he had a big grin on his face.
The restaurant itself is stunning, set in an old gymnasium, the building itself is spectacular but the interior design and the layout of the restaurant was absolutely amazing.  There's a nice terrace and outdoor seating area for warmer nights, or pre-dinner drinks and the restaurant is set over two floors, a ground floor dining room and bar area and a first floor bar aswell, with tables around the balcony.  Everything looks very elegant and sophisticated and the floral display in the middle of the room was simply stunning.  There are even portraits of gymnasts on the walls to give a nod back to the building's original function.
We ordered a cocktail at the bar to start.  I had an 1866 which was vodka, blood orange liqueur,  Aperol and lime juice, served in a martini glass.  It was delicious, and a cross I guess between an Aperol Spritz and a Negroni, but not quite as sweet.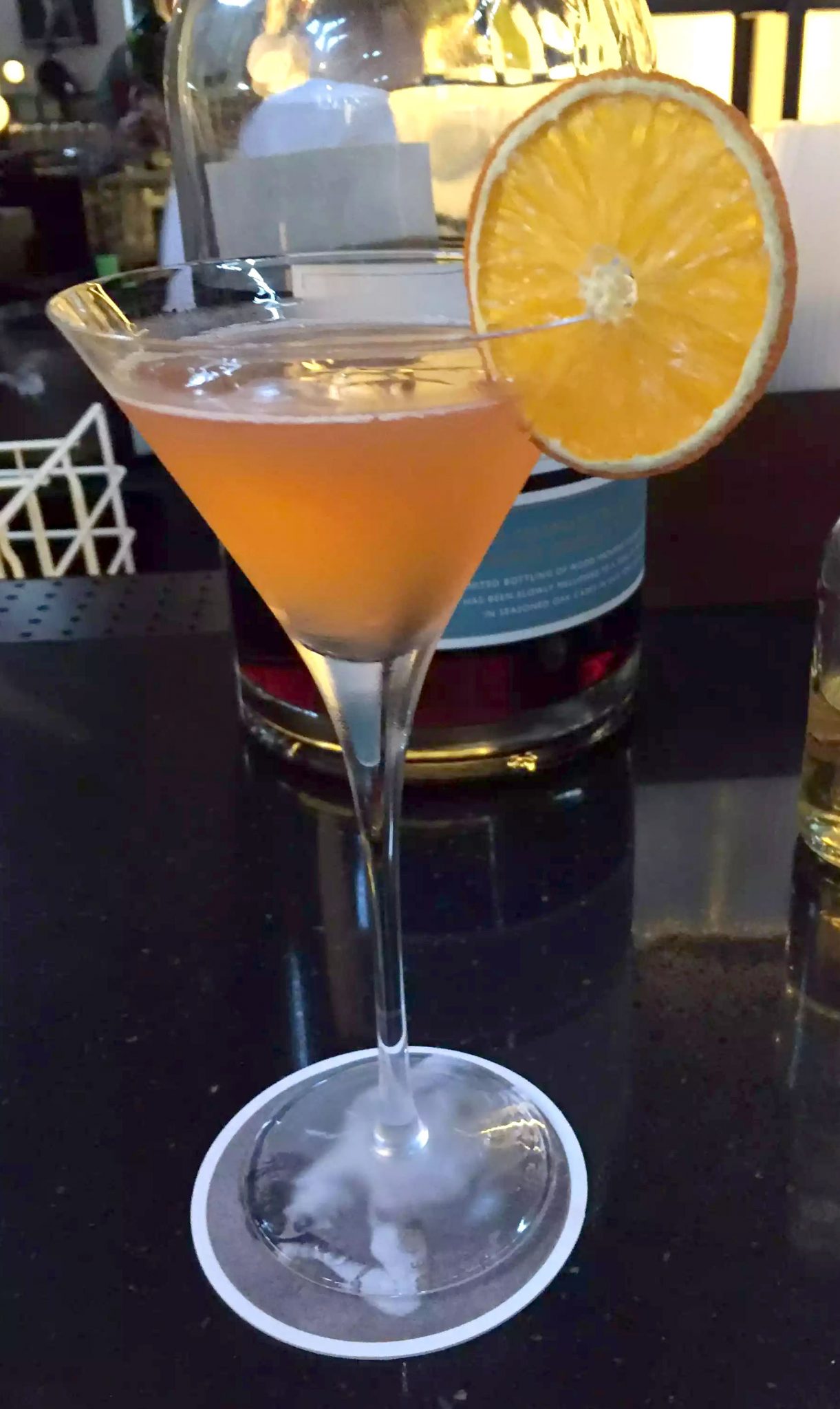 We were shown to our table and had a look through the wine list.  I like to think after my WSET course that I can find my way around a wine list but we were completely clueless.  Many of the wines German or Austrian, even from Romania and Luxembourg.  We settled on a German Riesling to start '100 Hills Riesling' from Rheinhessen which didn't mean too much to us but we wanted to try something different and something German, seeing as that's what we were going to be eating.  It was very dry, crisp and with citrus and grassy notes, but a bit too tart for my taste, I prefer a sweeter Riesling or a fruitier wine in general.
Dinner could be described I guess, as 'German with a twist' or German cuisine elevated to a higher level.  When I think of German food I think of sausages, schnitzel, dumplings, noodle soup etc and this was all on the menu, but done to a fine dining standard.  We ordered some starters to share which were, Wurstsalat (frankfurter salad), liver dumplings in beef broth and salmon tartare.  The salmon tartare was my favourite (although maybe not very German?) but the salmon itself had been smoked and mixed with cucumber, yoghurt and dill.  I tried the liver dumplings again, just to say I had, but nope, same as last night, I just can't get my head around the taste.  The frankfurter salad was different, delicious and I loved the mustard dressing it came with – it felt like the most German of all the dishes.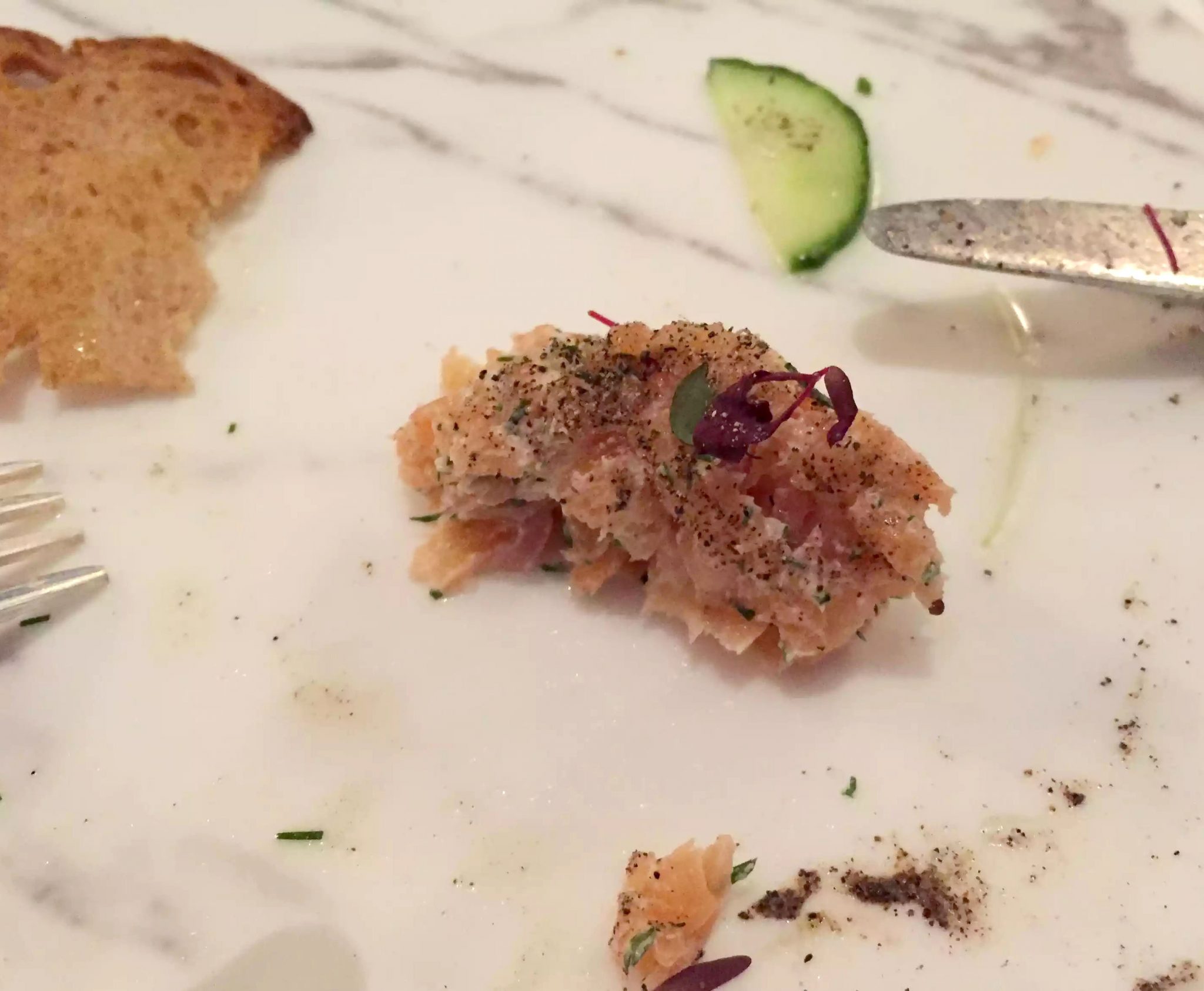 As usual, I forgot to photograph anything so all I have is the salmon tartare, almost completely demolished.  The presentation was lovely though, and I kept my phone in my hand from that point so that I wouldn't forget to photograph the mains.  We ordered a bottle of red to go with the mains, a Cuvée (blend) from Villány, which the sommelier told us was a blend of Cabernet Sauvignon, Cabernet Franc and Blaufränkisch.  It was delicious, well-rounded and maybe lighter than I would normally go for but lots of ripe red fruit flavours.  It paired very well with my main which was the steak with crispy onions.  It was a delicious aged rib-eye and was cooked perfectly (normally I love a rare steak but I tend to go medium rare unless it's a fillet so that the fat has a bit of a chance to break down).  The red wine jus that it came with was also delicious and I passed on the Spätzle that it came with which was a kind of buttery gnocchi type pasta, but the boys loved it.  Dan had the lamb rack which he said was absolutely delicious and came with a wild garlic leaf and barley risotto.
We were stuffed and didn't really need desserts, but Craig wanted to something sweet so we decided to share a couple.  Craig and Laura shared a cheesecake and Dan and I shared the cheese plate. I definitely wouldn't have wanted one to myself, it was more than enough for two people, with a selection of 4 cheeses (a goat, a blue, a soft brie type and a harder cheddar type), but the stand out was the fig mustard.  A fig jam with a powerful hit of mustard that paired perfectly with the cheese.
As we walked out there was a beautiful sculpture of a birdcage, all lit up, complete with a swing in the middle of it so we just had to have a go!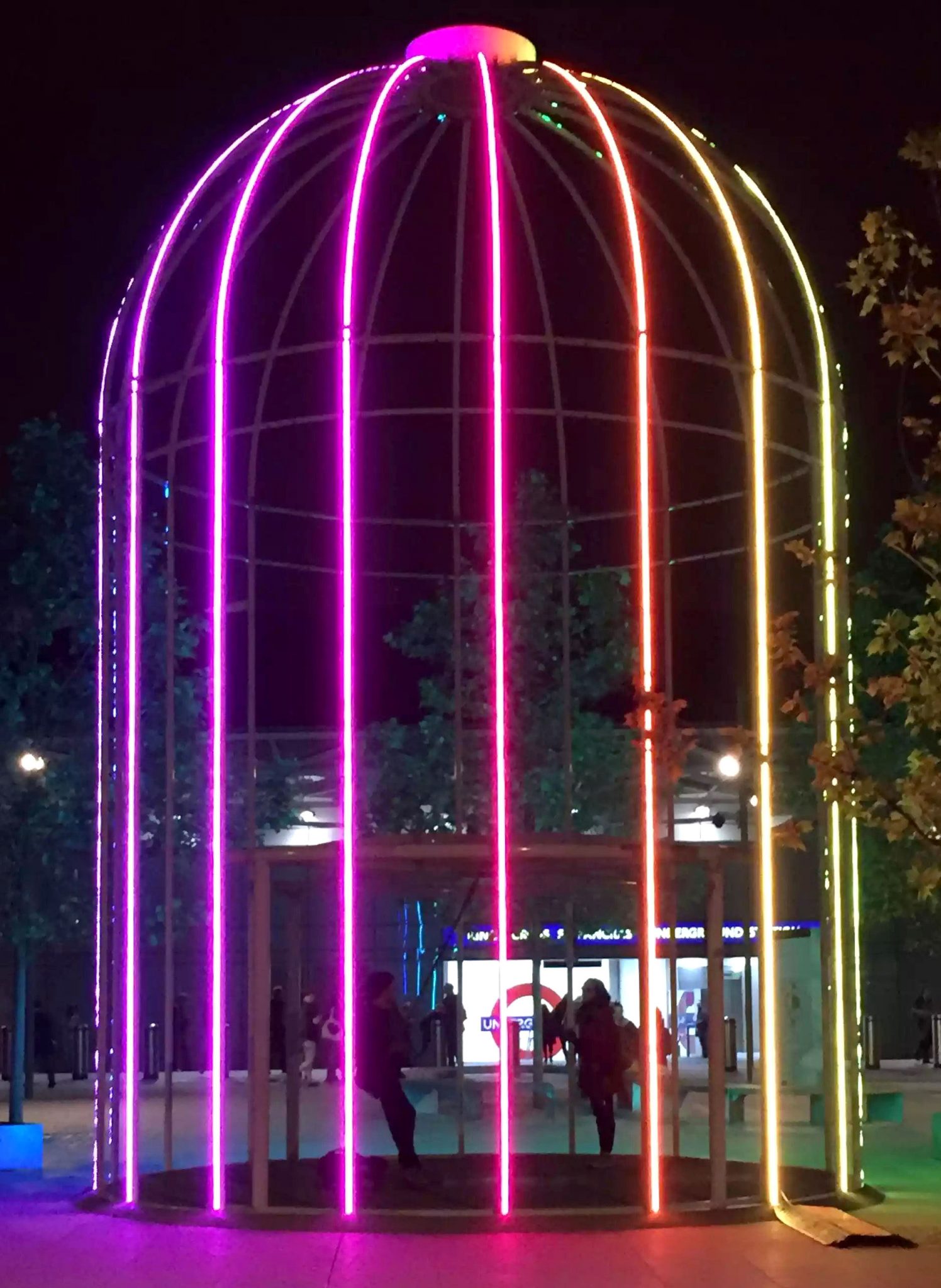 All in all, a lovely evening with good friends and I think Craig thoroughly enjoyed his evening.