Today was Melissa's birthday, one of my best friends, and as she works round the corner from me I decided to treat her to lunch at a restaurant of her choice.  She chose HUSH Restaurant, Mayfair London.  A restaurant in Lancashire Court with a pretty little outside courtyard to sit in and enjoy the sun…well the weather had other ideas.
Hush Restaurant, Mayfair is in the Mews behind Claridges Hotel so I'd asked for an outside table if possible.  When we arrived it was raining but we were shown to one under a huge umbrella with outside heaters so we decided to sit there rather than go inside.  We ordered a glass of wine each, a Chianti for her and a Malbec for me.  A bit extravagant for a working lunchtime but it was a special occasion!
We were served our wine while we looked at the menu.  Suddenly the heavens opened.  Feeling fairly smug about being undercover we chatted and looked at the menu as the rain came down harder and harder.  Suddenly we both realised we were getting wet.  The rain was coming through the joins in the umbrella so we hurried inside to order and eat.
I picked the pistachio crusted, seared tuna steak with fennel salad, roasted vegetables and horseradish mayonnaise.  True to form, I forgot to photograph it!  Well nearly, I was already part way into it when I remembered so apologies for the half eaten dish!  It really was very good.  I had asked for my tuna rare and it could have been even rarer for my taste.  I understand though, that not everyone is as keen on that as I am so it was a pretty good compromise.  If I was making the dish I would probably have roasted the pistachios a bit first.  I feel that brings out the flavour a bit more and makes them taste a bit nuttier which would have been a nice contrast.  The horseradish mayonnaise was perfectly spicy and the fennel was crisp and refreshing alongside.
The rain stopped just in time for us to take our coffees back out into the courtyard and enjoy the brief sunny spell.  A bunch of flowers and a cute card rounded off her celebrations.  Happy Birthday Milly!!!!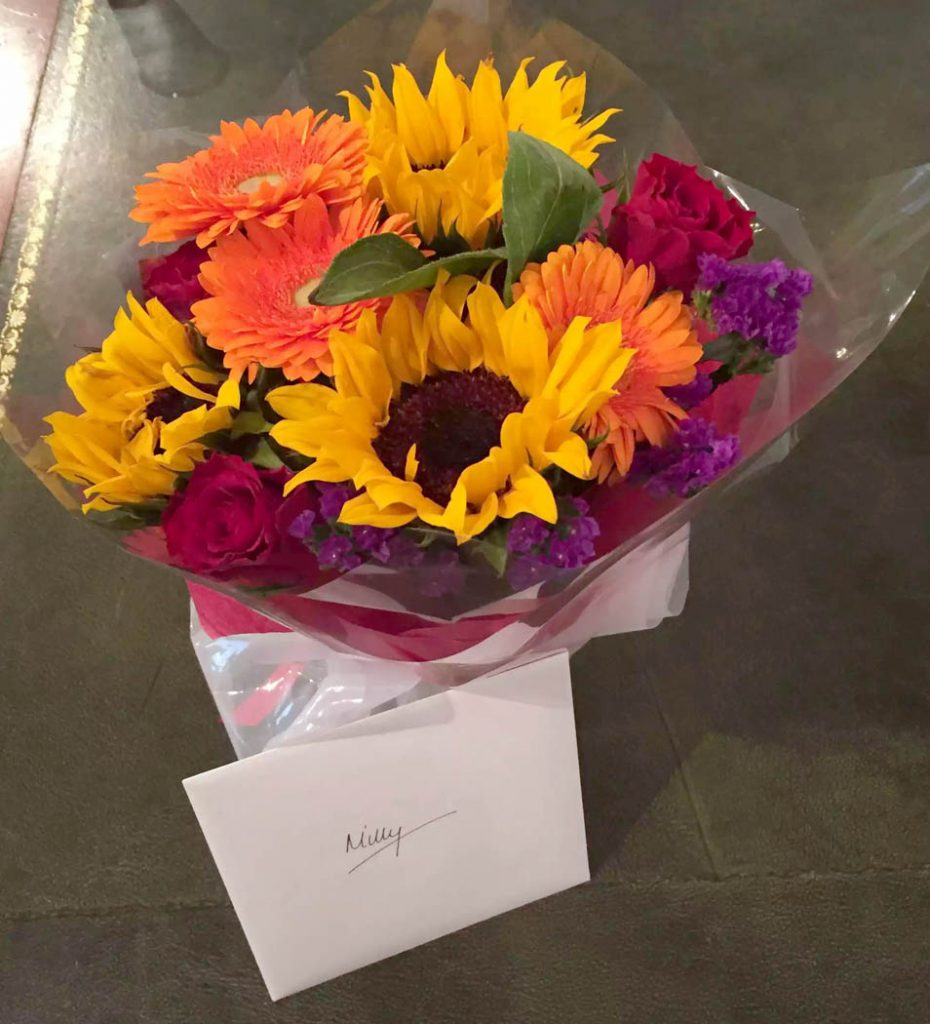 No.8 Lancashire Court,
Brook Street,
London W1S 1EY
Telephone: 020 7659 1500
info@hush.co.uk
Pin it for later