Craving some greens and a fairly high protein meal after a work-out at the gym tonight I settled on a Seared Tuna Nicoise Salad, complete with a gooey poached egg and topped with my homemade Rocket Pesto.
To start with I steamed the asparagus (only for 2mins or so so they were still crunchy) and set them to one side – you could also use French beans which would be truer to a traditional nicoise salad but the shop had run out!  Next I toasted the pine nuts in a dry frying pan until they began to brown and set those aside too.
I sliced up the pepper and halved the cherry tomatoes and created the salad base by layering the spinach (you could use any salad leaves that you like) on the plate.  I added the  tomatoes, the pepper, the asparagus and the olives on top.
Next I whipped up a batch of my homemade Rocket Pesto in the food processor (it takes less than 5 minutes) and put that to one side while I prepared the rest of the dish.  You could always use a store-bought one if you want to skip this step but once you've made your own you'll never go back to the stuff in the jars!
I heated a pan of water and put the eggs in to poach – You can follow my easy foolproof guide to poaching eggs here.  Or you could hardboil them if that's how you prefer them in your salad.
Whilst they were in the pan I set about cooking the tuna steaks.  I salt and pepper both sides and then cook them in a dry pan (but you could use a bit of oil if you prefer) for less than a minute on each side.  Obviously the length of cooking time will depend on how thick the tuna steaks are but I like mine very rare – just seared on the outside and still completely raw in the middle.
By the time the tuna was done, the eggs were ready as well.  I added them to the salad and I topped everything with the Rocket Pesto.  A sprinkle of pine nuts and a small grating of Parmesan and dinner was ready.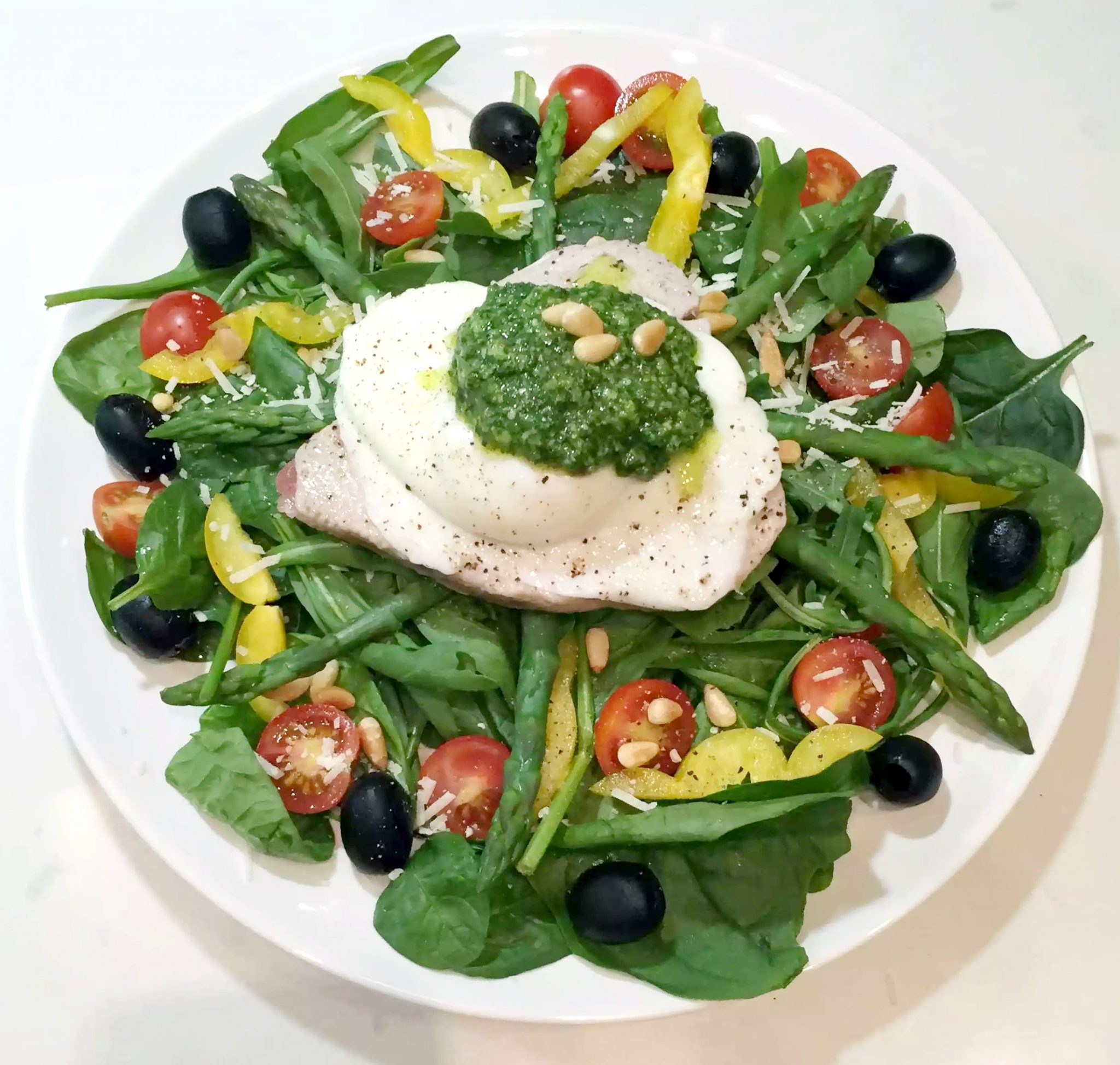 I just had to pierce the egg to get a good shot of how perfectly runny the yolk was.  It definitely didn't need any dressing as there was plenty of egg yolk and pesto, coating all of the salad.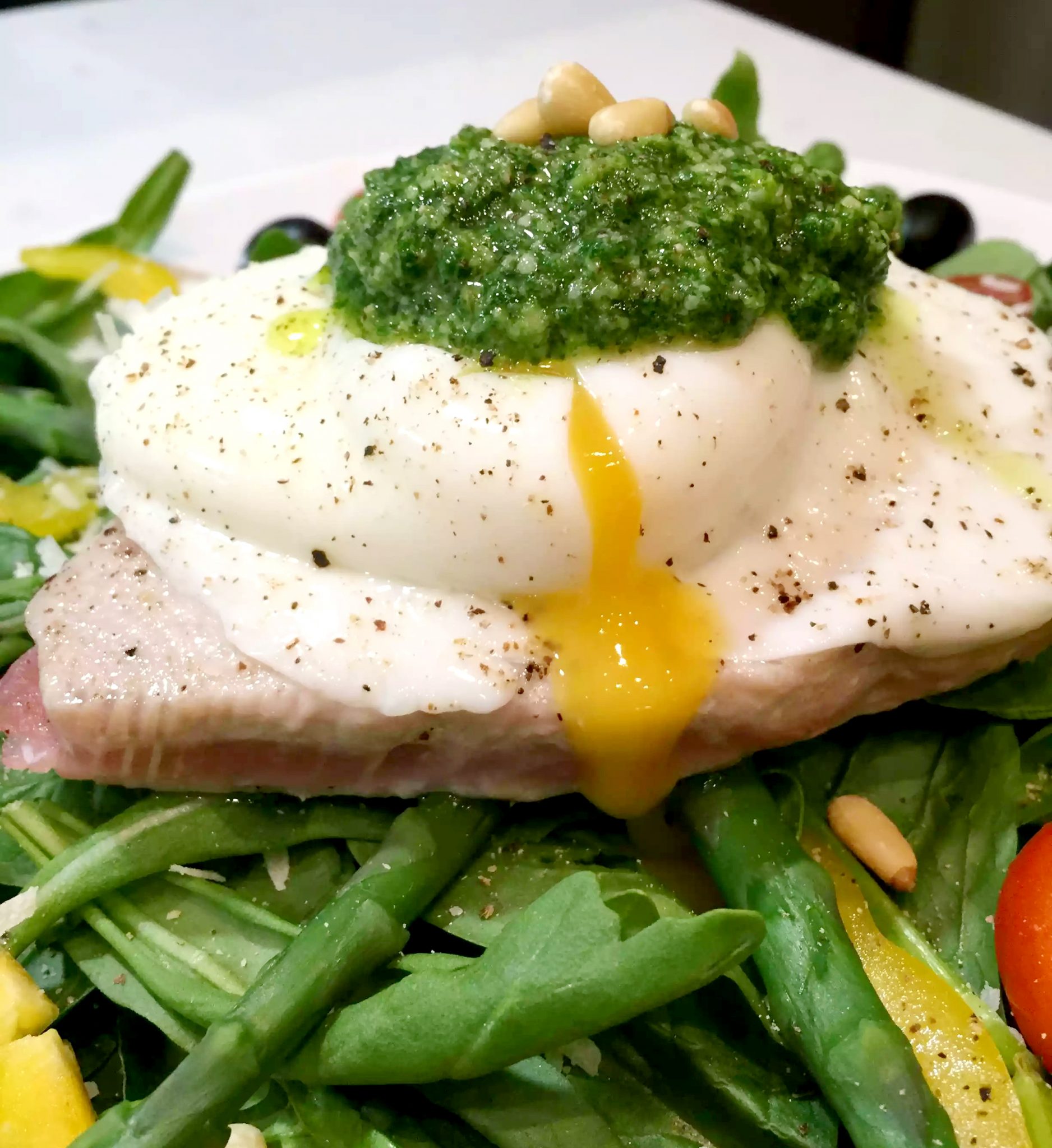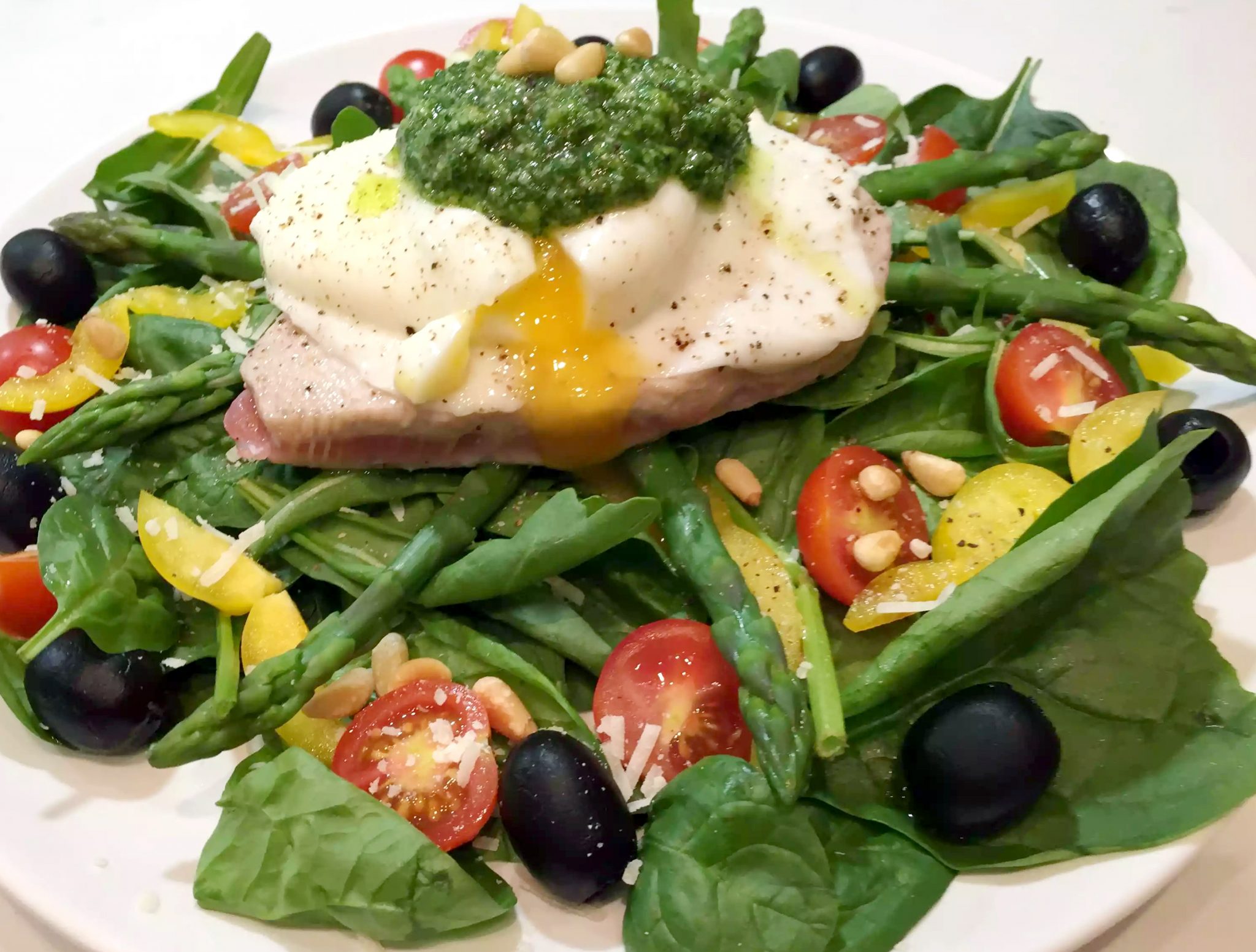 Obviously this is a really easy one to adjust to your personal tastes.  A real Nicoise Salad tends to have boiled potatoes in but I can't eat them so I just left them out.  You can change-up the salad vegetables, add in capers or anchovies, add a dressing if you wanted and of course you could use canned tuna instead of fresh if that's what you have to hand – you can really make it your own.  This recipe serves two as a main meal – it's a fairly generous portion!  You could make it dairy free by eliminating the parmesan on the salad and in the pesto and replacing it with a dairyfree cheese or just not using it altother.
Delicious – and about as healthy as it gets.  Good fats from the egg yolk, olives and pesto, protein from the nuts, egg and tuna and plenty of vitamins from all the salad vegetables!  A real winner for dinner!
If you like this then check out my Salmon Nicoise Salad recipe too!
Pin it for later